Best Kids Snow Jackets Reviewed & Rated for Warmth
In a Hurry? Editors choice: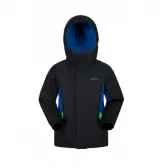 Test Winner: Mountain Warehouse Raptor

Well, winter's rolled around at last. How do we know this? Well, we're just making assumptions based on speculations born from the 10 inches of
snow
that has effectively buried your house. But that could mean anything, really. In all seriousness, it's time to break out the winter gear for everyone including the kids. Kids snow
jackets
have a very unusual role to play as snow jackets. Apparently, they have to protect the kiddies from the cold, but if they implement the usual amount of padding they do for adults, then the kids wouldn't be able to move. So, a kid's snow jacket needs to find the right balance. And today, we're counting down the top ten kids snow
jackets
that did precisely that. They knew exactly what to do to help keep kids warm on a snowy day better than anyone else.
Standout Picks
Criteria Used for Evaluation
Materials
One of the most important factors to consider was what made up the outer shell of the jacket. The reason for this should be obvious to anyone. The outer shell is the part that's actively going to be interacting with the outside world, so you need to make sure that the jacket you get constructs its outer shell out of the right stuff.
But what is the right stuff, you may be asking? Well, there's fleece, but that's considered more of inner shell material, meant more for conserving body heat, and not as durable as an outer shell material needs to be.
If you want good materials for the outer shell, then you need to look no further than polyester or nylon. Both of these complement insulation materials used on the interior well, while also being durable enough to be used on the exterior.
Now onto the interior. Like we said, the most common material used for a snow jacket is fleece. It's warm and comfy, while also helping you to conserve your body heat. There is a wide range of other materials, but they aren't quite as well used as fleece tends to be.
Insulation
If a snow jacket can't insulate very well, then it's a pretty lousy snow jacket, isn't it? Insulation is the single most important aspect that a snow jacket must fulfill. Especially one used for children, as they will be all up in that snow the minute you put their jackets on. They need to conserve their body heat as much as they possibly can. What you're looking for in this regard is thickness. The thicker the jacket is, the more insulation it has, and the warmer you'll stay. There are a few different types of insulation, either down insulation or synthetic. Both have their upsides and downsides, and frankly, synthetic technology has come such a long way that nowadays it really does come down to personal preference.
Value
Like any clothes worth having, if you want the really good stuff, then you have to be willing to pay the money to get it. The reason for this can vary depending on the type of coat and what brand makes it. For instance, The North Face is a foreign company, and thus you have to add the cost of imports onto the price that was already there. Which, as you can imagine, ends up being pretty steep. The price is also affected by the number of features added onto the jacket, which is why technical jackets tend to cost more than casual ones. The higher costs the manufacturer has to pay to get the materials needed, the higher the price the product will be. The consolation being, of course, that the jacket in question is almost always worth it in the end.
10 Best Kids Snow Jackets
1

. Mountain Warehouse Raptor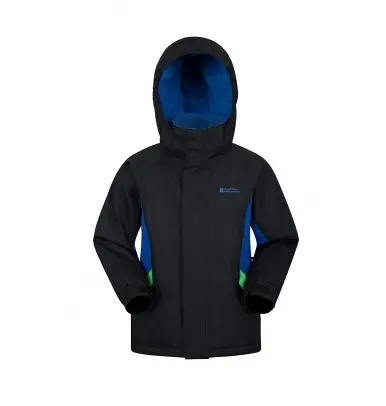 Starting off our list on the right foot, we have our #1 pick, the Mountain Warehouse Raptor Snow Jacket. Mountain Warehouse isn't the most well-known winter gear manufacturer out there, which is a real shame, because as you can see by its placement, it's one of the best kids snow jackets on the market right now. What makes it so good? Let's take a closer look to find out.
Snowproof
One of the things you definitely need to look for in any snow jacket, but especially in those meant for kids, is snowproofing. This is essentially the same as waterproofing, with the outer shell of the jacket treated with an exceptional durable water repellent that makes it repellent to any water that hits it, frozen or otherwise. And when you're dealing with little kids, who won't be able to resist the flurry of frozen rain that blankets the ground, this is something you need to have.
Integrated snow skirt
Much like how a jacket meant for windy weather needs to keep the wind from getting into the jacket from the underside, so too do snow jackets need to have a solution for snow getting under them and ruining the warm atmosphere inside by coming up through the bottom. In this jacket's case, it has an integrated snow skirt underneath, which repels any snow that tries to get up under it.
Cost and Value
Like almost all of the entries on this list and elsewhere, you'll find this jacket comes in a variety of sizes, and with it a variety of prices. The price range of this coat is actually somewhat fair, given what it's offering in return.

2

. Columbia Alpine Action II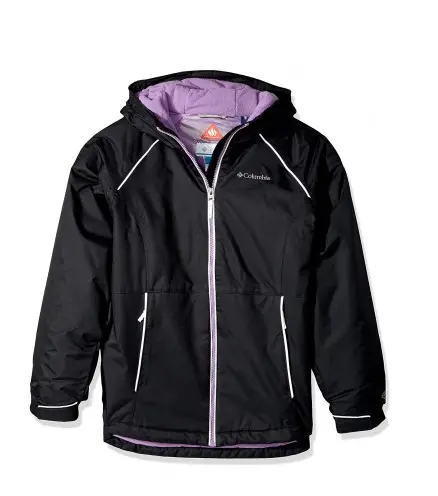 In 2nd place, we have one of the undisputed masters of winter gear, especially for children; Columbia. What makes Columbia and other brands like them that we'll see real soon is that they consistently implement as many high-quality materials and technology into their winter jackets. This jacket isn't just windproof, waterproof, and every other kind of proof you can name, it also has a few unique features to it.
Omni-heat reflective fabric
One of Columbia's secret weapons when it comes to their winter gear, Omni-heat reflective fabric is a material designed by Columbia. Its purpose is to aid in retaining warmth and regulate body temperature. The interior of the jacket is entirely made of the stuff, reflecting your body heat back onto you, circulating the warm air until your torso has an entire warm atmosphere under your jacket.
Very breathable
You would think that such interior fabric would not make for a very breathable coat. However, this jacket is in fact very breathable. It keeps things from getting too hot by letting just enough cool air in, while keeping the really cold winds out, so it doesn't get too chilly. On top of that, the fabric, both inside and out, is very good at wicking away any moisture, so your child sweats less, and can thus play more.
Cost and Value
The price range of this jacket is a bit more intense, but it's nothing to get too worried about. As long as your child is of average build, you shouldn't end up having to pay for the higher prices in this coat's range.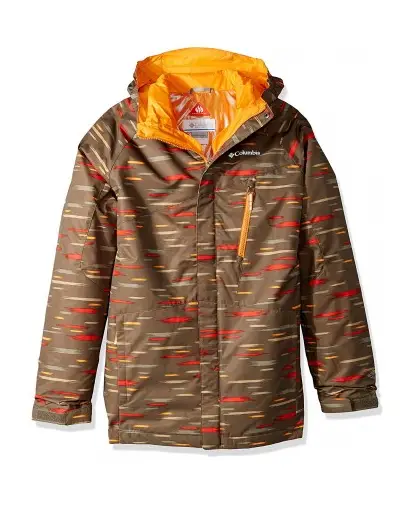 Finishing up our top 3, we have the Columbia Whirlibird Interchange Jacket. Expect to see quite a bit of Columbia and its more direct competitors from here on out, with the occasional exception. What can we say? When you're the best, you're the best. And the Whirlibird interchange is most definitely among their very best.
Omni-tech breathable critically seam sealed
Of course, this jacket's interior is also lined with an Omni-heat thermal reflective liner. But what we want to concentration on for this jacket is the Omni-tech breathable critically seam seal. This is how these jackets manage to retain breathability and yet retain the majority of your body heat at the same time. With this, you can keep warm and toasty without actually cooking yourself in the middle of a snow day.
Draft flaps
Not only do you have that extra bit of insulation on the inside, but the other point that would otherwise be avenues for the cold air to get in are also covered, such as the front zipper. The zipper is outfitted with an interior and exterior draft flap, keeping the cold out and the warm in.
Cost and Value
Whereas before the price range was just a little out there, this one is much higher. However, with everything this jacket gives you, including everything we haven't mentioned about it (which is a lot) considering all of that makes this a much better deal than first glance would tell you.

4

. Columbia Katelyn Crest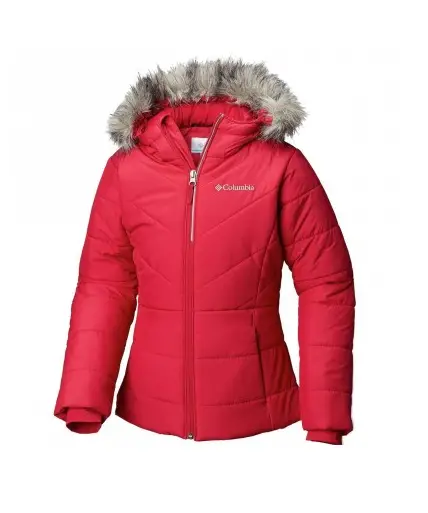 In the #4 spot, yet more fun with Columbia, with the Columbia Katelyn Crest Jacket. If you have young girls instead of young boys, this is about as great a snow jacket as you can possibly get for them without having to drain your wallet dry for something from Patagonia. So, what makes this coat so awesome for your girls?
Farenhot synthetic insulation
It isn't precisely Omniheat, but it's very close. Farenhot is an interior insulation system that keeps the wearer warm, even on those chilly hiking trips, where the higher you go, the colder it gets. Unlike the previous 3 entries, this is very much a heavy-duty jacket, make no mistake.
Removable faux fur hood
It just isn't a high-quality winter jacket without a hood that can be put on or removed at will. And the hood on this jacket is very high quality, made from the same insulating fabrics of the rest of the coat, while also being stylish for that girl who wants to look her best, even in the dead of winter.
Cost and Value
The price range on this coat is a good bit more reasonable than the previous entry, not costing you nearly as much for smaller sizes, while larger sizes are also fairer.

5

. Columbia Nordic Strider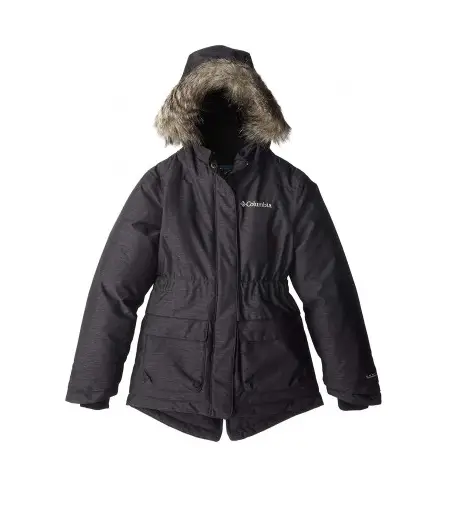 In the 5th place spot, take a wild guess. Yes, it's another entry from Columbia, this time with the Columbia Nordic Strider Jacket. Like the previous two, this jacket is perfectly suited for the snowiest of snow days, outfitted with the same reflective insulating liner as the others. However, it's what's new that it sports that we're here to discuss.
Fleece lined hood
With other snow jackets, your kids have likely brought up to you how the hood doesn't really keep out the cold as it should. After all, because of its nature as a hood, there's kind of a big hole at the front that any halfway stiff wind can get into, chilling your ears down to the cartilage. Which is why that isn't faux fur that the hood is lined with, it's fleece, as is the inside of the hood. There are few better fabrics at circulating warm air than fleece, so it doesn't matter how much cold gets in, your ears are staying nice and toasty.
Elastic Waist
A big problem with jackets for girls is that sometimes you get a jacket that you can tell was designed to fit onto a Barbie doll, not a real human being. Which is why this coat comes with an elastic waistline, which not only stretches out to accommodate the wearer's size but also helps retain body heat, even when a cold breeze makes it up into the jacket.
Cost and Value
This jacket, in terms of the price range we've come to expect from Columbia, and high-quality snow jackets, in general, are priced rather average in that regard.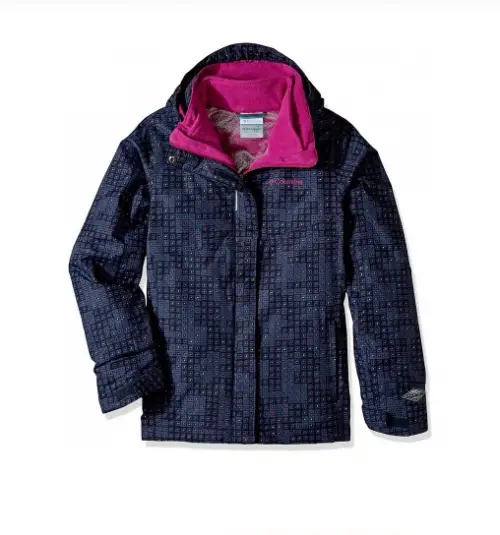 In 6th place, we finally reach the last entry from Columbia, with the Columbia Bugaboo Interchange jacket. However, just because it's the last entry from this brand on this list doesn't mean it's the worst. We found that one near the beginning of our research and swiftly forgot it. This jacket is still something very special.
Outgrown system
Going back to what we went over in the introduction to this article, buying a new snow jacket for your kids can be annoying, especially when you know they're just going to outgrow it next year, and you'll have to spend over a hundred dollars on a new one. Well, Columbia jackets have you covered, as this jacket comes with an adjustable "outgrown" system, wherein the jacket grows as it needs to along with the child wearing it. It won't last forever, of course, but it will definitely last a while.
Machine washable
You wouldn't think this would be all that special in this day and age, but alas, most high-quality sweaters and jackets are still strictly dry clean only. Appreciatively this is not the case with the Bugaboo, which is perfectly machine washable.
Cost and Value
The big problem with the Bugaboo is the price range. In general, it doesn't offer a lot that's completely different from the other Columbia entries on this list, and especially not enough to warrant such a high price range, the latter end of which is one of the highest prices on this list.

7

. The North Face Greenland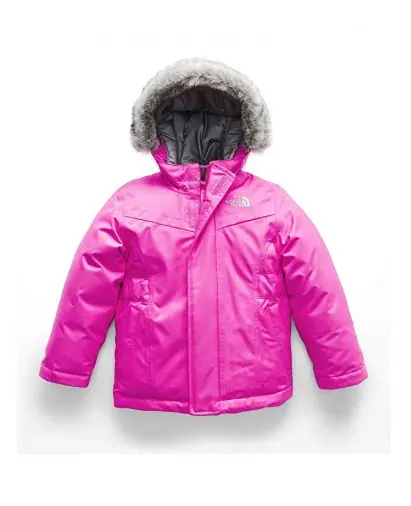 In our #7 spot, could it be? It is! An entry that isn't Columbia. It's like we're making a balanced list or something. But anyway, The North Face has been around almost as long, if not a bit longer than Columbia, and are just as good at making high-quality winter gear for both kids and adults. And the Greenland Down parka is about as good an example of this as you can get.
Real down
Ducks have some of the best natural insulation from the cold out there. And considering the heights they tend to fly to, that's to be expected. As such, there's nothing quite like genuine down for your jacket's insulation. And with the 550-fill rate that this jacket sports, you're in for some toasty times wearing this.
Zipper closure
You wouldn't think that cold air could get through your zipper after you zip it up. After all, it seems pretty airtight from where you're standing. However, when you look close, you see all the little gaps between the metal teeth that air is so very good at getting between. Which is why it's so important that snow jackets have these zipper closures and draft flaps to keep the air out and maintain the interior atmosphere.
Cost and Value
There's a reason that Columbia's products ranked higher than the North Face's. And that reason is that if you thought Columbia was pricey, The North Face's price ranges dwarf anything Columbia asks of you.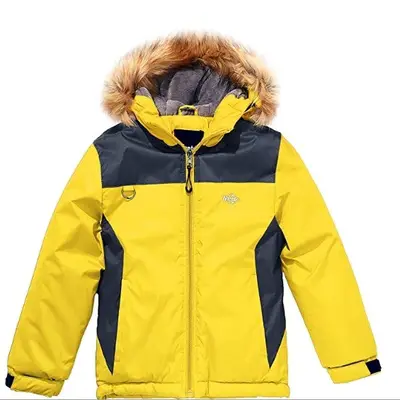 Kicking off our final three, we have the Wantdo Boy's Waterproof Winter Coat. Featuring a black and yellow aesthetically pleasing exterior perfectly paired with an adjustable hood that showcases a detachable fur collar in order to accommodate numerous different people. Furthermore, the coat comes with a bold, reflective stripe on the top for an added security element in low light settings. This additional feature is great for parents that would like a bit of comfort when their child is outside during the evening time.
Added Warmth
A kid's winter jacket is supposed to do one thing and one thing alone- keep your child warm regardless of how intense the winter months can be. Featuring a super soft fleece lining paired with an additional layer of cotton padding to make this coat the ultimate heat retaining jacket all-around. The fleece goes throughout the entire coat to ensure warmth is spread evenly from top to bottom.
Waterproof
What is better than a warm jacket that is great with heat retention? A warm jacket with superior heat retention and an added dose of waterproof fabric. Having this waterproof feature is excellent for rainy and snowy days, as it will keep your child dry the entire time for a more comfortable experience when doing outdoor work or play.
Cost and Value
Featuring a pretty cool exterior with bold colors and waterproof fabric and a warm fleece interior, this jacket comes at a reasonable price. Furthermore, it has a windbreaker feature that helps effectively fight off the wind and keep you warm, making the price even more cost-effective due to the quality that you're getting.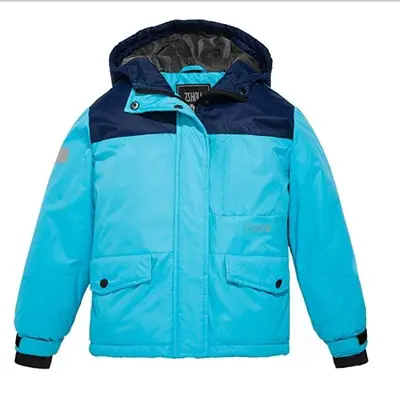 In our second to final entry, we have the ZSHOW Boy's and Girl's Outdoor Waterproof Parka. Just as the name states this parka was constructed specifically for the great outdoors during the most brutally cold winter months. Designed specifically to keep kids warm all-year-round this jacket comes with numerous features that work beautifully together to achieve an exceptional warming effect.
Multifunctional Design
Let's face it kids grow up extremely fast, so much so that they tend to need not only heavy-duty items but pieces of clothing that are multifunctional as well- this jacket offers just that. Bringing forth an intuitive design that includes: multiple functioning pockets, one on the chest for easy yet safe storage, two large capacity hand warmer pockets and thick safeguards that light up bright in low light settings.
Extra Dose of Warmth
Featuring a windproof fabric exterior paired with 100% cotton padding and a fuzzy, comfortable liner this coat makes keeping your child warm its top priority. Furthermore, the coat is waterproof which is perfect for those snow-filled months as the water and snow will simply slip off and never touch the skin.
Cost and Value
Keeping in mind what you're receiving this coat is quite affordable, its long lasting and durable material make it a top contender when it comes to finding the right coat for your child's every need.

10

. Arctix Cyclops Insulated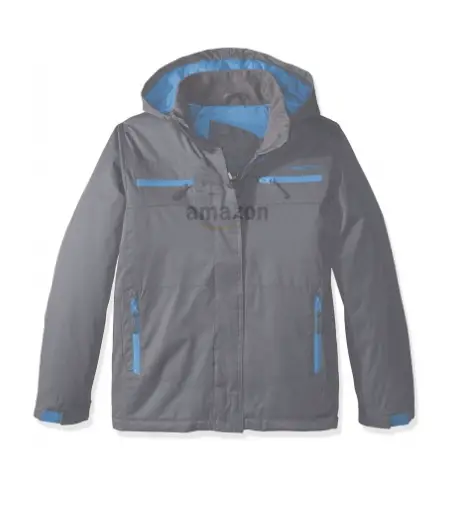 In our final entry, the #10 spot, we have the Arctix Cyclops Insulated jacket. It's a real shame that Arctix aren't as well known as Columbia or The North Face, because their products really can go toe to toe with the best of them. Exhibit A, the Cyclops Insulated jacket. So, what is it that this jacket brings to the table? Let's take a look and find out.
ThermaLock breathable coating
This jacket uses what Arctix loves to refer to as the ThermaLock breathable coating. It's a mixture of various different techniques that other entries on this list use insular, but when combined make this one of the most insulated yet breathable entries on this list.
Removable storm hood
This snow jacket can also be used to keep the rain off of you during the transitory months between winter and spring when the snow turns to slushy rain. And if it's still a bit nippy, but otherwise clear, the useful but, let's face it, bulky storm hood can be removed at your leisure.
Cost and Value
The best part about this jacket is the price range, which is one of the most reasonable on this list, by far. Not exactly a hard bar to clear, we're aware, but it's still nice to have at least two high-quality jackets on this list that won't cost you half your paycheck.

Subscribe to our Newsletter