Best Kayak Hoists Reviewed & Rated For Quality
In a Hurry? Editors choice: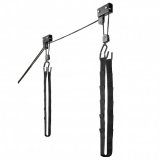 Test Winner: RAD Sportz

Kayaking is a sport enjoyed by many around the world. If you are one of the lucky ones who actually
own a kayak
or canoe boat, you might have come across the pain that is associated with storage. After all, a kayak is not a small item and is often hard to find the proper room, especially if it's stored in one's home. You may have
stored it in your backyard or shed
, or even moved your car outside so it can lay flat on the floor in your garage. These methods can damage the hull of your canoe and also take up a lot of space. There are better and more convenient space-saving ways to store your kayak, whether it is just for the night or for the entire season. Below we have researched the top kayak hoists on the market today.
Standout Picks
Criteria Used for Evaluation
10 Best Kayak Hoists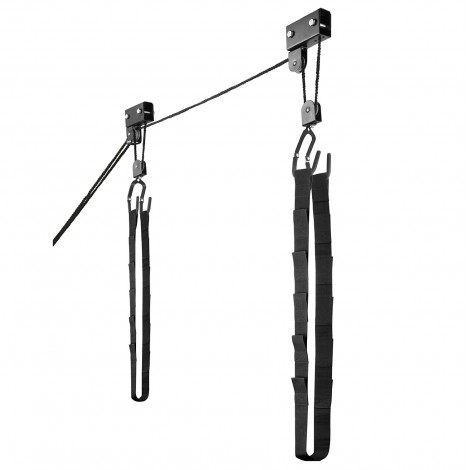 We chose this RAD Sportz Kayak Hoist for several different reasons. It's easy to use, boasts several great features, and comes at a high price point. If you want to save space in your garage or shed with the ease of a hoist, this is the product for you.
Rubber Coating Hooks and Straps
These have rubber coating straps and hooks to make sure that your boat is resistant from scratch, which can be caused by certain materials. The straps are also made to be highly durable to withstand up to 125 pounds and keep your boat fully secured.
Versatile Use
This hoist can be used on ceilings up to 12 feet, and have a safety lock mechanism feature that keeps your kayak fully secure from falling. You can also use this hoist on other heavy items in your garage that you would want to clear space for, like a bicycle or ladder.
Cost and Value
This product is a highly rated, popular kayak hoist that "others are trying to copy." It also comes at a great price point that is too good to pass up.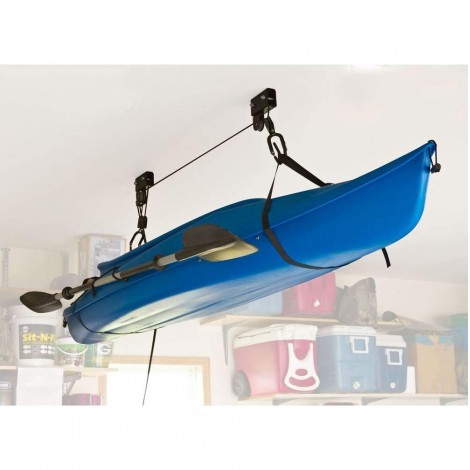 Next on our list the Rage Powersports Ceiling Mount hoist. It comes in at number two because of its durable, heavy-duty construction and high-quality mounting hardware. You won't have to go searching for other tools for installation because everything you need is included in this purchase.
Heavy Duty Steel Construction
This is made not from flimsy cheap material, but heavy-duty steel. Its double pulley system and heavy-duty construction ensure that your boat can hang safely and the hoist will last for many years.
Ceiling Mount Design
The ceiling-mounted design of this product ensures that there is plenty of room and space underneath for a car to park, without risk of scratch or damage to your vehicle or boat. All that is needed is a 36 " to 42" clearance underneath.
Cost and Value
This comes at a slightly higher price point than other items. The reason why it may be slightly higher is that all the mounting hardware is included, so you are saving time and money with this complete package.

3

. Suspenz Universal Flat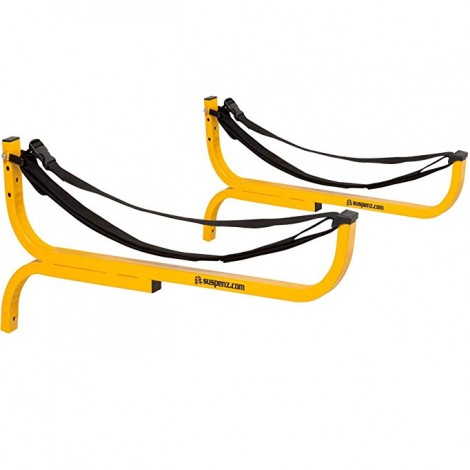 Considering that Suspenz is one of the leaders in the canoe/kayak industry, we had to put another rack of their on this list. This universal rack can fit all large kayaks, canoes, and paddles and its unique suspension strap ensure that your boat never gets in contact with any bars or metals that can damage it.
Cradling Strap System
This acts similarly to a ceiling rack in that it is suspended by suspension straps and not going to be in contact with any bars. The safety straps secure the boat tightly to the rack so that it won't fall off.
Versatile Use
You can attach this rack to a free-standing rack, or mount it to a mountable wall. This is also a huge safe saver if you have the space on the wall- you can even place it near the ceiling to save even more space.
Cost and Value
This comes at a higher price point but is made from high-quality material and a lifetime guarantee. It also comes fully assembled, so installation is easy as can be.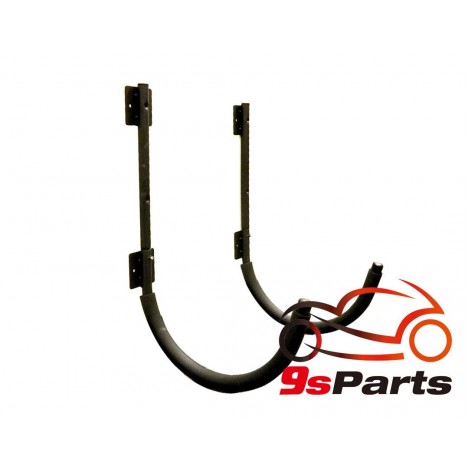 This rack may look small, but it sure is powerful. It is made from heavy-duty steel construction and durable wall mount and can hold up to a 200-pound kayak! The smooth design makes this versatile enough to use for several different sporting gears that take up a lot of space.
High Weight Capacity
You can hold up to 200 pounds with this thing, that should say enough! It is made from a 1.2 mm steel tubing with a foam padding to protect from scratches that not even the heaviest of kayaks could put a strain on.
Versatile Use
The easy hook design and wide frame make this a great product to store kayaks, canoes, wakeboards, snowboards, skis, and paddleboards! You may want to purchase multiples of these of you have multiple sporting gear.
Cost and Value
This comes at a very reasonable price point given that it can hold up to 200 pounds, and it also comes with a lifetime guarantee so you know that you're getting a quality product that will last you for years to come.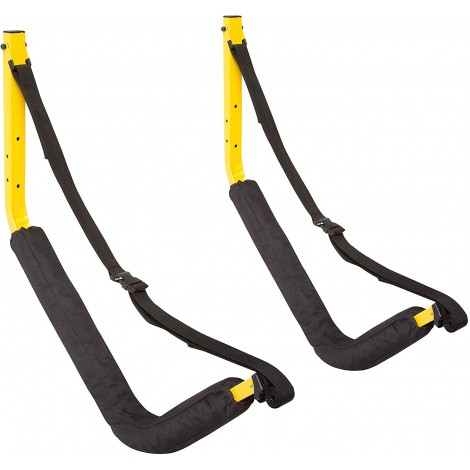 Suspenz is a company that is owned and run by avid paddlers and kayakers, so they have specially designed this rack to fit all types of kayaks, of all shapes and sizes. This rack is made from high-quality and durable material with an extra-large fitting. It is a go-to for your larger kayaks that take up too much room in your garage.
Fully Assembled
This is probably one of the easiest rack assemblies yet- it arrived fully assembled, so all you need to do is install it onto the wall you want to place it at. The racks are fully versatile so that they can also be attached to a free-standing rack.
Superior Padding and Safety
This rack is covered in nylon foam padding so that your boat or canoe is free from scratches and dents. The nylon is both fade and damage resistant, making it great to last indoors and outdoors. The Big EZ Kayak also has superior safety straps to make sure your boat is safe and secure.
Cost and Value
This rack comes at a higher price point. This is a highly rated product that is meant for heavier, larger kayaks and canoes, comes with UV protected straps, and saves space by storing boats on their side. This product is guaranteed to last for many years and might be worth the high price point.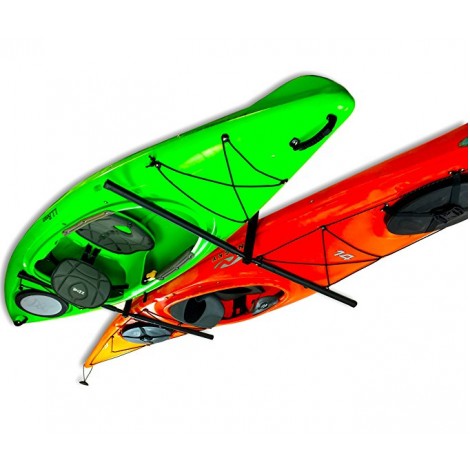 This is the hoist or ceiling rack you need if you have multiple members in your family that own a kayak and need a place to store them in your garage. Because this is double ceiling storage, it can give you two times the amount of storage and are offered in both large and extra-large sizes. This is also made of heavy-duty construction to withhold the weight of two kayaks, which can sometimes go up to 300 pounds!
Heavy Duty Steel
The thought of two heavy kayaks hanging above your car might seem unnerving, but you don't have to worry with the StoreYourBoard 2 Kayak Ceiling Rack. It is made from heavy-duty steel and will hold your kayaks with ease and safety.
Easy Installation
Save time and energy for going out on the shore with your kayak- this is a very easy to install ceiling rack as it comes with mounting hardware and easy to follow directions. You are ready in just a matter of minutes.
Cost and Value
Given that this ceiling rack is a double duty ceiling rack, it comes with a higher price point, but not necessarily at the double the price. If you have a couple of kayaks that need a place to go, this is the product for you.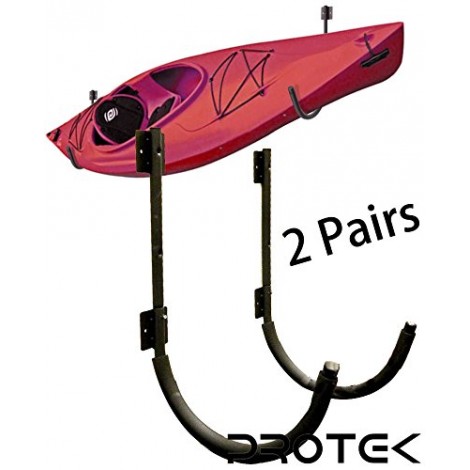 If you want to easily grab your kayak, paddle, or canoe quickly without the hassle of climbing a ladder or pulling a trolley to retrieve it, then this cradle bar can be placed anywhere for easy access so you can spend less time fumbling and more time out on the water.
Wide Rod Design
This has a wide rod design at 25 inches long, and 13 ½ inches wide can fit most large kayaks, boats, canoes, paddleboards, wakeboards, etc. This cradle bar is extremely versatile to use.
Easy Installation
All the mounting hardware is included in this package, so you need a clear space to mount the bars, and you're good to go. You can hang this on any walls, docks, or garage walls for easy storage and hanging.
Cost and Value
This cradle bar is made with 2 mm of thick steel, which gives this a highly durable quality that is meant to hold the heaviest of kayaks without wear and tear and also has a protective foam to keep scratches away from your kayak. It comes at a reasonable price point for something you can use for a lifetime.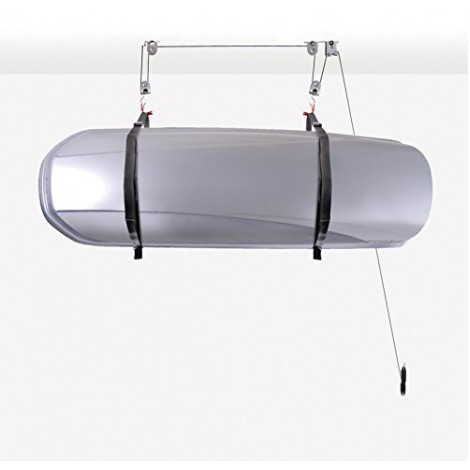 This is a versatile, easy to use, and robust kayak hoist that can be used for several different heavy items in your garage to save space. With an efficient pulley system, you can take the grunt work out of lifting and carrying a heavy item.
Auto Locking Mechanism
The safe auto-locking mechanism on this device makes sure that your kayak won't come toppling down from the ceiling.
Efficient Pulley System
You don't have to worry about stepping or climbing on a ladder to get your kayak down from the ceiling. The easy to use and easy to pull ropes can bring the kayak down safely.
Cost and Value
This comes at a very affordable price point, but to purchase the hoist with straps come at a slightly higher price point. It may be worth it to purchase that package because the straps will come at an extra expense anyways if you're looking to purchase it elsewhere.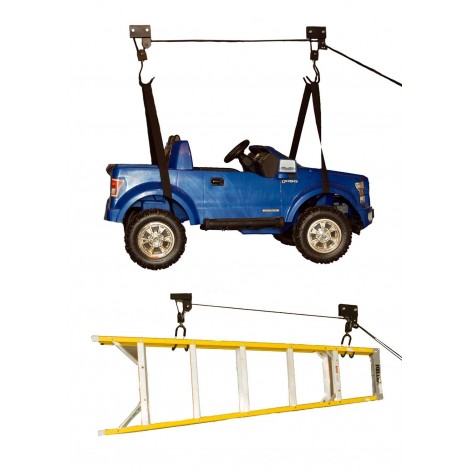 ABN or Auto Body Now is an auto parts manufacturer, so their products are guaranteed to be highly durable. Their product mimics the suspension system used in most car hoisting technologies and is guaranteed to keep your kayak safe and secure near the ceiling.
Secure Hooks
This comes with two secure hooks, ceiling mounts, two tie straps, two padded hooks and pulleys, and a rope- all the fixings you need to install the ceiling mount. What makes this different is that it also comes with two tow loops to make mounting especially convenient, and this is not offered in most elevators.
Easy Loading and Unloading
This can hold up to 100 pounds and is designed for easy unloading and loading with the pulley system. It also has an automatic lift brake, which makes it easy to stop pulling and keep your boat secure.
Cost and Value
This is a great value product with a very affordable price point, compared to a lot of other ceiling hoists. It is a great bargain because it also comes with safety padding to ensure your kayak is free from scratches or dents.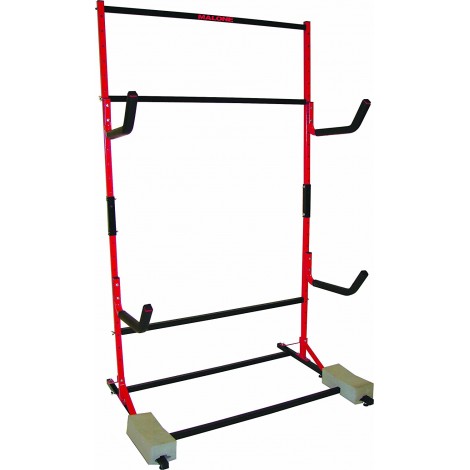 If you are a family of avid kayakers and have up to three boats, you may have been struggling in finding space in your garage to store them all. This three storage rack is the perfect solution that is guaranteed to keep your kayaks safe and stored while maximizing the space in your garage or shed.
Steel Padded
You don't have to worry about your kayaks falling or getting scratched. This is designed to hold up to 250 pounds and comes with 1 set of stacker blocks to protect your kayaks. The steel also makes this perfect for indoor or outdoor use because can withstand all climates.
Easy to Install
This comes with stainless steel hardware and a set of easy to follow instructions that will make installation a breeze! Customers claim they were able to install the whole thing in under 30 minutes, and placing their kayaks was easy.
Cost and Value
This comes at a high price point, considering that it can hold up to 3 kayaks. If you were to purchase each rack individually, you might find that the costs can run higher, so this rack may be worth it for households with multiple kayaks. It also comes with a lifetime guarantee, so you're sure to get a quality product!

Subscribe to our Newsletter