Best Electric Fireplaces Reviewed and Rated for Warmth
In a Hurry? Editors choice: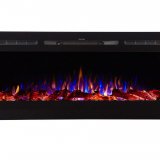 Test Winner: Touchstone 80004

For many of us,
summer
is just that damp humid time between months of great weather.
Winter
people live for the short days, the drop in the electric bill, cozy comfort food, and cuddling up in front of a fireplace in pajamas with a hot cup of tea. Of course, not everyone can have or even wants a fireplace in their home. Luckily in this day and age with all the emerging technologies, we can look for other options to replicate the cozy feeling of a fireplace without the mess. An electric fireplace is a great option. These days there are great modern hi-tech models and some that work to replicate a cozy wood burning fireplace. Here's our list.
Standout Picks
Criteria Used for Evaluation
Model
Electric mantels, or free-standing models, are available in a variety of different style, finishes, and purposes. Of these that we have seen in the list are dual media consoles, bookshelves, TV stands, and even the smaller compact standalone mantels that can fit in an apartment or smaller space. These can vary in price also, with the dual purpose home furnishings ranging on the higher side depending on the features, but also feature less expensive smaller models that are portable and powerful.
The way that these models operate is that there are basically two main components that house the mantel: a separate mantel that covers the fireplace box and a vent-free firebox that sports a realistic flame effect, either with LED lights or other. These mantels are popular because they are usually easy to install, depending on what type of mantel you purchase. You don't need to measure any dimensions or drill holes in your wall to insert the fireplace- you simply need to find a space to put this in and plug in the electrical outlet. Many people opt for the TV stand electric mantel, which is enjoyed for the warmth of the fireplace and the ambiance that these can provide while watching TV. These also save on storage because you can place your media accessories, home furnishings, and books in these stands.
Safety Hazards
There are some logistical questions regarding heat safety when looking to buy an electric fireplace. These are a lot safer than the standard charcoal gas fireplace, as they emit less smoke, gas, and are less exposed to potentially dangerous situations such as curious children or pets. Most models should state that they are safety certified. You should also look for ones that have an automatic safety shut-off feature, which most models do come with nowadays.
Versatility
A majority of these type of appliances are able to be shut off from their heat and able to be used year-round for their aesthetic purposes. You want to look for ones that have a heat shut-off feature if you're investing in one of these- you want to have the benefits of the relaxing fire ambiance even when the temperatures rise. If you're looking for simply a heating device for the winter months, you may want to consider a portable electric heater that can heat the room. One of the major reasons why people purchase an electric fireplace is for the comfort and atmosphere that the realistic flames can provide, and you want to look for models that have a heat shut-off feature, so you can benefit from this all year long.
Comfort
Usually, the comfort criteria apply to how comfortable something feels on your body. But in this case, comfort is a more esoteric criterion that we chose to express how these electric fireplaces provide warmth and comfort to you. Do they mimic the crackling warmth and coziness of a wood burning fireplace? Do they look nice in your house and fold right into the whole feel of your home.
Ease of Use
The one thing about electric and gas fireplaces is that they really do have to be idiot-proof. We don't mean that in a mean way, we mean it in a way that there really can't be any room to mess up the functionality of one of these devices because they're really hot and there's fire involved. So, while we've already talked about safety in regards to electric fireplaces we're also looking to make sure that these are going to easy to use, maintain and turn on and off.
10 Best Electric Fireplaces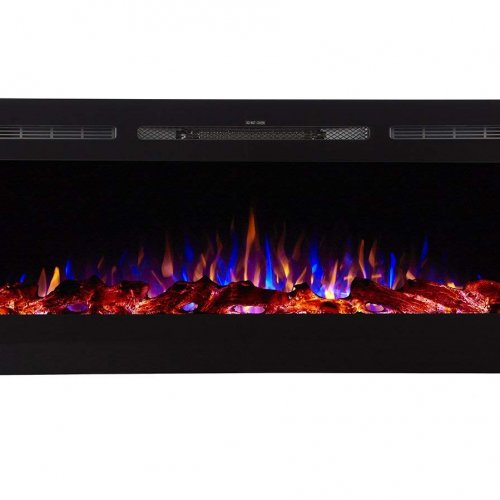 To start off our list is a thing of beauty. With a modern, sleek design and an elegant blame frame, this electric fireplace is meant for recessed walls with three realistic flame settings. This fireplace will add a touch of sophistication and class to any living room, bedroom or office. Not to mention, you can adjust the heat temperatures to your liking. If you're looking to purchase an electric fireplace for your home, this is definitely one you want to consider.
Amazing Look
This product will undoubtedly add an air of sophistication to your home. It offers an extremely authentic looking flame that is designed to move a real fire, and the five different settings can boast a soft, gentle flame or an intense, fiery blaze that will warm up the whole room.
Multiple Modes
Touchstone Sideline offers multiple modes that you can set to your preference. With a real fire, you would have to manually add more gas or logs, or wait until the fire dies down. You can set the atmosphere or even utilize one of the dual modes which turn off the heat but displays the fire, adding a touch of cozy ambiance to the room.
Cost and Value
Just to clear the air, most electric fireplaces are not going to be a cheap product. Think of these as an additional appliance to your home that can save on gas while emitting dangerous smoke and chemicals. The great thing about this model is that there are seven different models offered in varying sizes, so you can decide which one is right for your home.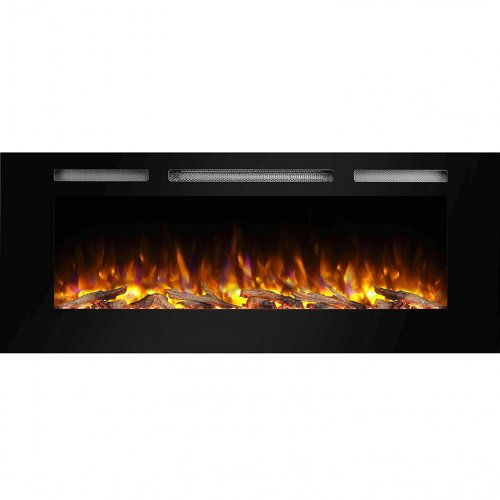 Similar to the Touchstone Sidelines, this PuraFlame Recessed Electric Fireplace provides a very modern, sophisticated feel that fits compactly within the recess in your home. With an extremely realistic flame effect that can change colors and quiet noise settings, this product is guaranteed to look amazing in your home while providing you with warmth and a relaxing atmosphere.
4 Color Settings
The PuraFlame offers a flame effect with Ultra High Intensity LED lights that provide a very vivid and realistic flame effect that you can change according to your desired ambiance. This product offers 4 different color settings: 1. Yellow with a little bit blue low brightness 2. All yellow brightness 3. Yellow with a little bit blue brightness 4. All blue brightness) You can definitely use this year round depending on the season and your mood.
Quiet Heater with 2 Settings
This has an upper front heater blower with two heat settings (high 1500W and low 750W) that can heat up to a 400 square foot room with ease. A thermostat is included which can control the temperature, and you can set a timer from 30 minutes to 9 hours.
Cost and Value
This product comes in four different sizes- 40 inches, 50 inches, 60 inches, and 68 inches, with prices varying according to size. Customers state that this model is a fraction of the cost of what you would pay at most hardware or home improvement stores, especially if you consider labor costs that come with the installation. You can pay an additional fee through the service provider for an installation fee that is a bargain compared to what you would pay a general contractor.

3

. Duraflame Electric Infrared Quartz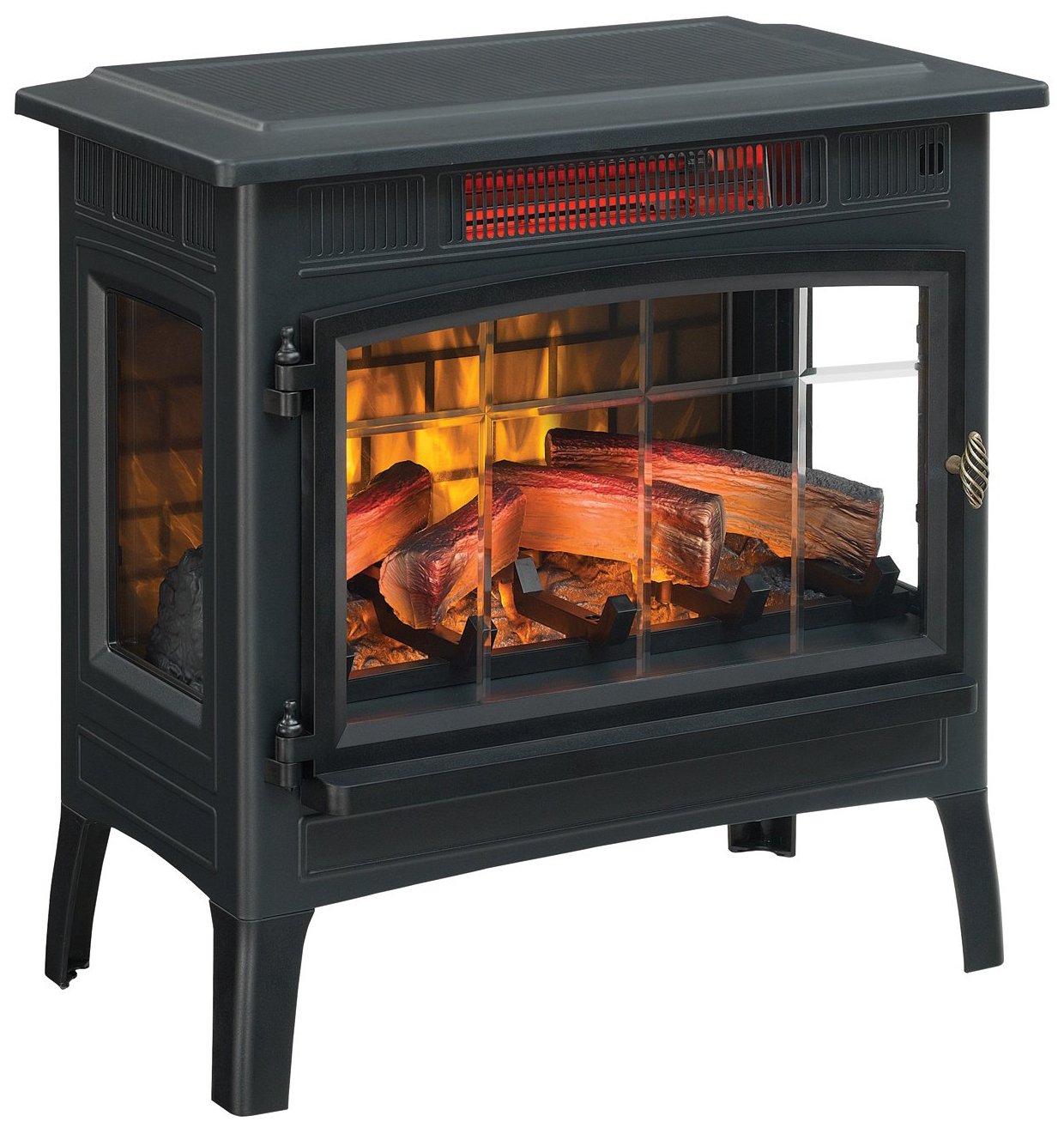 Even though this is a standalone fireplace we really like the way it looks and the way it works. It will heat up to 1-thousand square feet and has a really cool 3d flame effect that makes it look and feel like you're burning real wood. And there are plenty of nice safety features built in to keep everyone safe.
Infrared Quartz Heating
This is a big word way of saying that the heat that this fireplace puts out won't pull all the humidity out of the air. The result is a comfortable room, not one that feels like the Sahara desert.
Adjustable Thermostat
Sometimes these fireplaces are either hot or not, with very little in between that's why we like the fact that this one comes with an adjustable thermostat that lets you set your home's heat.
Cost And Value
A price that's really really nice is one more thing we like about this fireplace. It's really cheap and easy to install because it's a stand-alone that sits against or away from the wall, but if that doesn't bother you it's a great cheap way to keep a room warm.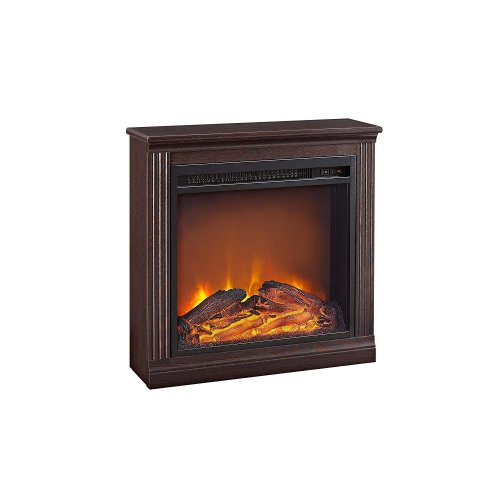 This electric fireplace offers an entirely different look and feel that is different than the ones listed above, that some traditionalists and old-fashioned customers may prefer. Sporting mahogany wood grain textures, this simple and compact model will look stunning in smaller spaces like apartments, or even be a nice addition to the bedroom.
Small but Powerful
The Bruxton has a very powerful heating capability and can heat up to a 400 square foot room in seconds with its 140 volts of power. This is great for folks who live in the urban city and face cold winters.
Already Assembled
Talk about easy! The Bruxton is already assembled and ships with all its product intact, so you are good to go and ready to use when you receive it. Simply place the fireplace where you want it to, plug it in, and enjoy yourself. You can also use this as a stand for your picture frames or other home decors.
Cost and Value
Because of the compact nature, the Bruxton fireplace comes at a lower cost than most of the more modern, larger electric fireplaces. It's offered in three different colors: cherry, medium brown, and mahogany, so it's sure to match any person's home decor. It also is made from particleboard, MDF, and a metal box insert so you get the most bang for your buck!

5

. TURBRO Reflektor 58 Inch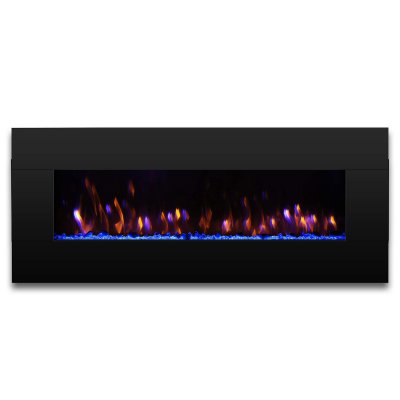 A really elegant full wall fireplace that will add warmth and touch of cool hipster chich to any room. Not only does it look great and come with an LED light system that will allow you to embed 7 different colors in the fireplace but will keep a room up to 1000 square feet toasty warm and comfortable on the coldest of nights.
A Huge Fireplace
58 inches is a lot of fireplace and that means a lot of warmth. And this is one beautiful piece of hardware. This will do a lot more than just warm your room, it will become the centerpiece of any room it's installed. So keep that in mind, this is more than a fireplace it's a conversation piece.
LED Lighting Panel
This is an incredibly cool feature. This fireplace has an LED flame system with 7 ember bed color settings that you can choose from. You can change the colors of the crystal glass and cobblestones that line the bottom of this beautiful fireplace.
Cost and Savings
For what you're getting this isn't an incredibly expensive fireplace. It's a big piece of equipment and you're going to need a lot of walls but if you really want something special to keep you and your family warm in the cold winter months then this is the fireplace for you.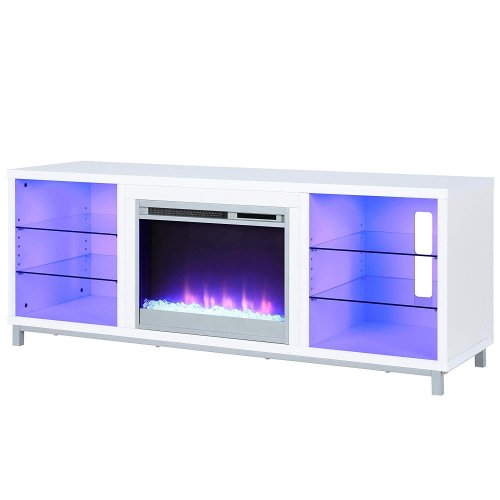 If you are big on setting up your entertainment center in your home to look stunning, this is the product for you. The Lumina, even at first glance through a picture, looks sleek, modern, and adds a great look to what would be a boring TV stand- all while adding warmth. This is perfect to cozy up with your family or partner and watch some movies during the colder weathers.
Dual Purpose
The Lumina is designed to serve as not just an electric fireplace but also a TV stand, with several different sizes according to your flat-screen TV, and made from sturdy material to withstand heat and weight. The light up shelves also adds another visually stunning element to your entertainment system, with 6 different compartments to store all your entertainment needs.
Easy Assembly
This comes with all the installation equipment and instruction manual. Customers state it is fairly easy for one person to install everything by themselves because all individual components were packaged nicely and easy for the customer to understand.
Cost and Value
With this product, technically you're getting a two for one deal- a TV stand and a heating device. TV stands alone can compare to the price point of this product, and Lumina definitely kept your wallet in mind when pricing this fireplace!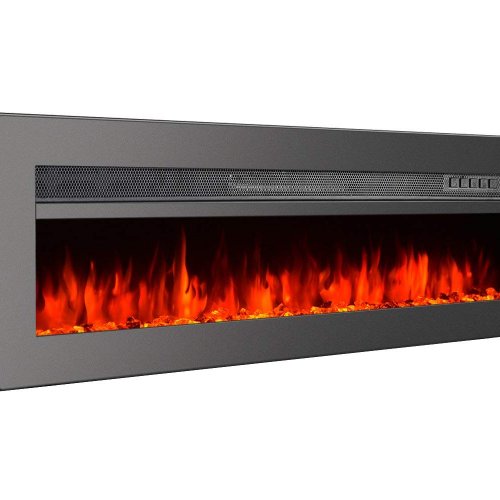 The GMHome, while also being a wall recessed electric fireplace, sports a slightly different look that people who like to switch things up often may enjoy. With three different installation methods, a variety of realistic flame colors, and a guaranteed easy installation, the GMHome can be designed to fit in any room in any home.
3 Installation Methods
For those who don't have the resources or have a home that already has a wall recess, fear not. The GMHome can also be used as a wall-mounted (similar to wall-mounted flat-screen TV's) fireplace or even free-standing. This makes it easy to move and take with you in case you move, or you simply want to switch it up and move it to the bedroom.
9 Color Settings
You can have a different ambiance for every day of the week, and then some! The realistic crystal stone flame effects offer 9 different color variations (red variations, silver variations, green variations, and blue variations) that evoke different vibes for your desired preference.
Cost and Value
The GMHome comes in three different sizes- 40 inches, 50 inches, and 70 inches- that vary in price according to the price. The lowest of the sizes are very reasonable compared to some that are on the market today. Also, this comes with a CETL certified safety certificate, guaranteeing the safety of your pets and children, and you can't put a price tag on safety!
PROS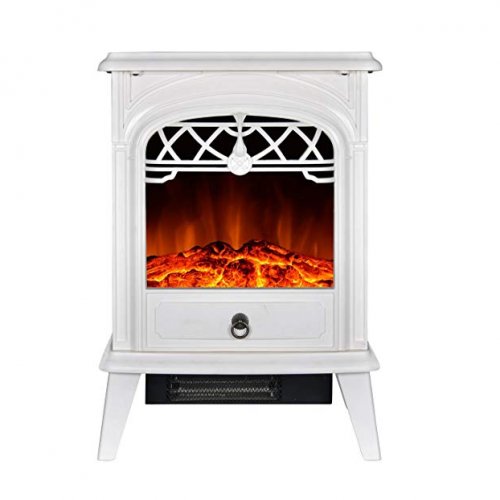 This freestanding model is not only elegant with its antique, innocent look, but it's also very cost-effective because of its powerful heat. It provides a very realistic feel with flame settings that can be adjusted to your temperature desire.
2 Heat Settings
This small but compact model offers two different heat settings at 750/1500W and can heat up to a 400 square foot room with ease. You can also use the no heat option so you can simply enjoy the ambiance that the fire provides.
Easy and Safe
This comes ready assembled and easy to install. This also comes with a CSA Safety Certificate, that makes it safe and easy for pets and kids to be around. There is also a safety cut-off feature to prevent overheating.
Cost and Value
This is also a smaller model that offers a lower price point compared to the in-wall or wall-mounted units. This model is designed to be energy efficient, saving on traditional gas or electric heating. Because it's easily portable, you may want to use this with you in the room you're occupying, further saving on energy costs.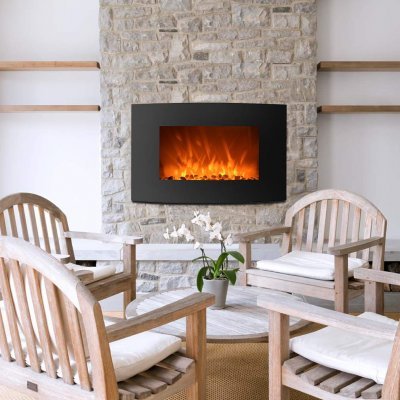 This wall mounted electric heater is a nice way to get some warmth in a room but without having to go to too much trouble and with a nice sense of style to make any room look nice.
Embedded Artificial Crystals
These crystals make this fireplace one very cool looking product. They glow with warmth just as powerful as you can get with a regular wood burning fireplace. Plus it glows with a really cool, warm light.
Energy Efficient
This is a nice little feature for the earth-conscious cold person. There are no emissions or pollution that come along with this little heater and it doesn't use all that much energy. So if you're looking for a way to stay warm be green and not pay too much green this fireplace is the way to go.
Cost and Value
Coming in at cheap for a wall mounted unit this unit is surprisingly affordable. We're not quite comfortable with how hot it gets when it's being used but if you can keep it on a stone or brick surface and high up away from grasping hands it'll work just fine.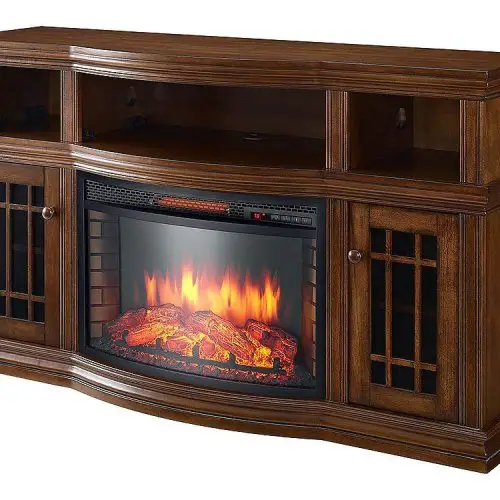 Our last item will be one of the most elegant and sophisticated TV media console and electric heater hybrids we have seen. Made from rich mahogany and finished in a smooth pecan finish, this luxurious item definitely adds a flair of a real-life fireplace experience that everyone can enjoy.
Panoramic View
This firebox has a unique curved design for the fireplace and it allows for a panoramic view of the realistic flame effects and embers so that people from every angle can enjoy the view.
Traditional Style Media Console
This is designed to be a TV stand so the shelves and cabinets are perfect to place all your media equipment with ease and free of distracting wires. The middle shelf is perfect to place your DVD player or console.
Cost and Value
This is made from high-quality wood with a luxurious finish, meant to be a standalone piece for the living room while providing 2 sets of heating and realistic flame imitations. This is one of the priciest electric heaters on this list, but it may be worth the price point considering its dual purpose.

Subscribe to our Newsletter