Best Ferret Cages Reviewed & Rated for Quality
In a Hurry? Editors choice: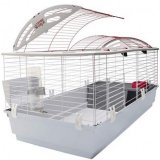 Test Winner: Living World Deluxe Habitat

Ferret veterinarians and other authorities in the field; recommend a safe habitat for your ferret. A safe home will ensure your pet's safety should you leave them home alone. Of all the companion-type pets, the ferret is most likely to injure itself if left unsupervised to wander around.

Ferrets are known for getting themselves into ventilation systems and tiny crevices between furniture. The ferret will also ingest hazardous materials if they are left alone.

The following buyer's guide will cover the top ten ferret habitats found online. This buyer's guide will go over the descriptions, pros, and cons of each option as well as some information about what criteria to look for. There is also some expert advice that gives the buyer some extra information about what a ferret needs.
Standout Picks
Criteria Used for Evaluation
Comfort
It is imperative that your ferret's home be as comfortable as possible; particularly because a ferret spends 16-20 hours sleeping. It is important that the ferrets habitat be a warm, cozy home that it can relax in. There should be some form of soft bedding in the habitat to ensure the ferret's comfort.
Another important aspect in regards to the comfort of your ferret's home is that it is cool enough. A recommended temperature range is between 50 – 80 degrees to allow the ultimate comfort for your ferret. Ferrets are prone to becoming overheated, and if the temperature goes above 80 degrees overheating can occur.
Durability
The durability of your ferret's home is very important. You want it to be sturdy enough that the ferret cannot escape. There should not be any loose wires that can injure the ferret should they come in contact with it.
The ferret's habitat should be durable enough to house one or two pets at a time. There needs to be room for a litter box, play toys, a tunnel, hammock, and sleep sacks. You will want the home to be made of a material that is strong enough to hang a hammock and sleep sacks from and handle the weight of the ferret inside.
Protection
It is very important that a ferret habitat offers a great deal of protection for your pet. Protection is important because ferrets are so small and known to get themselves into troublesome situations.
The home you provide for your ferret should have good aeration and has plenty of bedding to keep your pet safe and protected from anything that might harm or cause injury to them. The habitat should not be made out of any material (such as plastic or wood) that the ferret can chew on and create a way to escape.
Safety Hazards
When picking out a ferret habitat you need to ensure there are no safety hazards that can harm your pet. Since ferrets are known to be playful and can get into very small areas easily, you need to make sure the home you get does not have any areas that have the potential to trap the ferret should they get inside it.
Ensure that you do not place the home near any electrical outlets or power cords. Ferrets like to chew on things, and if they should get a hold of an electric cord and chew on it, it can result in electrocution and even the death of your lovable pet.
Portability
Portability is an important criterion to think about when looking to purchase a ferret habitat. The home you eventually buy should have the capability of being moved from one place to another with ease. To be able to move your ferret's habitat with ease will make cleaning it easier.
Try to find an option that is on wheels, this way you can easily wheel it from room to room, or if you want to let your ferret enjoy the sunlight you can move it in front of a window. You can also move home to a warmer location should it get cold.
10 Best Ferret Cages
1

. Living World Deluxe Habitat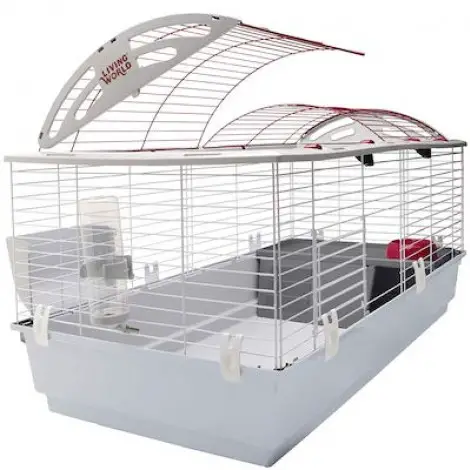 This is a quality made hybrid option that is perfect for small pets, such as rabbits, guinea pigs, ferrets, and chinchillas. Constructed of wire and a plastic bottom this supplies your pet with the perfect home that is well aerated and comfortable.
Safety
The Living World Deluxe Habitat provides a safe home for your ferret. The wire frame provides a safe environment with plenty of ventilation. This comes in extra large to provide your pet with utmost comfort. There is even a balcony and access ramp for your pet to enjoy.
Dimensions
The Living World Deluxe Habitat has dimensions that are 46-8/9 " in length x 22-⅘ inches wide x 24- inches high; this is plenty big for one ferret to live comfortably within these dimensions. Your ferret will live very happily within these dimensions. A hammock and tunnel can be placed inside for additional fun.
Cost and Value
The cost and value of the Living World Deluxe Habitat goes much farther than monetary. Your ferret will be cozy and comfortable for many years in their new home. If for any reason you are not 100% pleased you can call customer service and inquire about the manufacturer's warranty that is available.

2

. Midwest Deluxe Critter Nation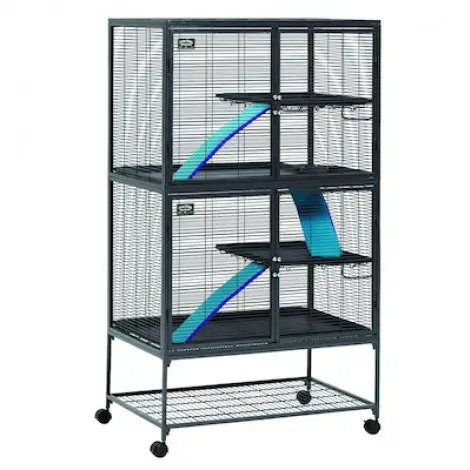 The Midwest Deluxe Critter Nation is a two-tier option that can house several ferrets comfortably. There are two pans, two shelves that are adjustable, and three covered ramps. There are four locking wheel casters that make this very maneuverable.
Comfort
This provides a wide shelf that expands along with a complete full-size plastic pan gives maximum safety and security for your ferret. There is plenty of play area, and the wide shelf prevents your critter from falling and injuring itself. To prevent your pet from escaping the doors have dual locking latches providing the utmost security.
The Midwest Deluxe Critter Nation is a double level with three ramps and ramp covers; two shelves for your pet to rest on, as well as base pans that can be easily removed for cleaning. The full-width and double-doors provides ease of access, cleaning, and feeding.
Full length Double Doors
The Midwest Deluxe Critter Nation has full-length double doors in which you can place your ferret inside safely and remove just as easily. This is 36"L x 24"W x 63"H, meaning there is plenty of play area for your furry pet in here.
Cost and Value
There is a manufacturer's warranty that can be inquired about by speaking to the customer service department. This will prove to have a lot of value because of the many years your pet can enjoy its new home.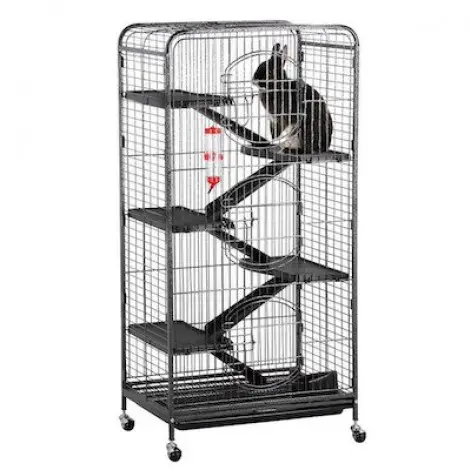 The Yaheetech has a .51" black iron frame for durability. It has 0.16" and 0.1" iron wire. This is completely painted with a special hammertone pattern surface. There is plenty of space for even the most active ferret to play in. This has five shelves, five ramps for your ferret to run up and down on, and a slide-out tray for ease in cleaning, as well as an 8.5 ounce water bottle and a plastic food container.
Safe Haven
There are three arched doors that each has locking latches to make this a safe haven for your pet. The spacing between the bars is a safe 0.9" to prevent your pet from being caught up between the bars and injuring themselves. This Yaheetech has a smooth and glossy surface, with round corners that have no sharp points. This is to ensure your pet's maximum comfort when resting on the shelves; pet owners do not have to worry about their pet getting poked by any sharp metal corners.
Super Large Play Area
This is designed with how ferrets are super playful in mind. There is plenty of room for playing with their toys and for running about. Whether its up and down the ramps or just sitting on a shelf to rest. There is room to hang a couple of hammocks in this if you have more than one ferret, and with all this space they both will not run out of things to do.
Cost and Value
The Yaheetech is priced affordably and you will discover that it has much value. This can be moved indoors or outdoors and can even be used at pet cafés or pet shops to house pets in.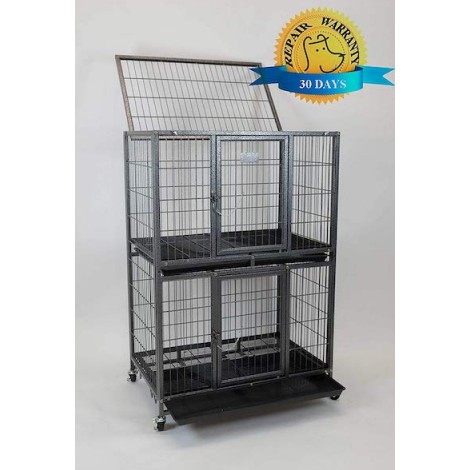 The Homey Pet is a two-tier wire habitat, each of the tiers are 19" high. Allowing plenty of room for your small pet to play and rest. This can comfortably house a pet up to 40 pounds. The top opens up to prevent your pet from escaping an open side door.
Security
This product has doors that are at the top, which makes it safer to get your pet in and out. There are safety door latches to lock the doors and keep your pet from escaping. The polished surface is non-toxic which also protects your pet's health. The floor grid has spaces that are 0.41" which offers small pets more comfort when walking on it. The bottom tray can be pulled out to easily clean your pet's waste materials; as well, the tray fits inside if you want to provide a more comfortable floor for your pet to walk on.
Indoor/Outdoor Use
The Homey Pet is very portable and can be wheeled from place to place as needed. This can also be used indoors or outdoors. With casters that are lockable, you can move this virtually anywhere you want.
Cost and Value
The Homey Pet will prove invaluable in providing your pet with a comfortable, roomy home. The cost is affordably low, for all you get; this will prove to be worth every penny you spend.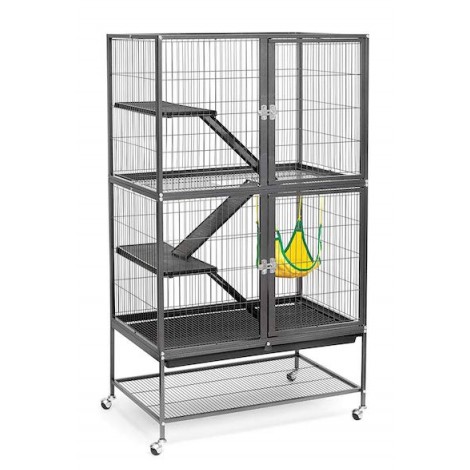 The Prevue Pet Products Hendryx Feisty is designed to be able to house a number of different small pets. This is constructed of a sturdy metal material. There are five metal shelves, three ramps and a hammock included for your pet to enjoy.
Breakout Proof
The Prevue Hendryx has large doors that have hinges and prevent your ferret from trying to break out. This ensures the safety of your little pet. It has lots of space for even the most energetic of ferrets. There is a hammock for your little pet to lounge in and relax during the many hours spent sleeping.
Spacious
This product has a lot of room inside with dimensions that are 31 inches in length x 20 inches wide and 54 inches in height. This item gives one to two ferrets lots of play and snoozing room. The doors are large for placing your ferret within the habitat and taking him or her out with ease.
Cost and Value
You will soon discover the value of this product goes way beyond the actual price. If for some reason you are not pleased with this Prevue product there is a manufacturer's warranty if there are any manufacturing defects for up to three months after the date of your initial purchase.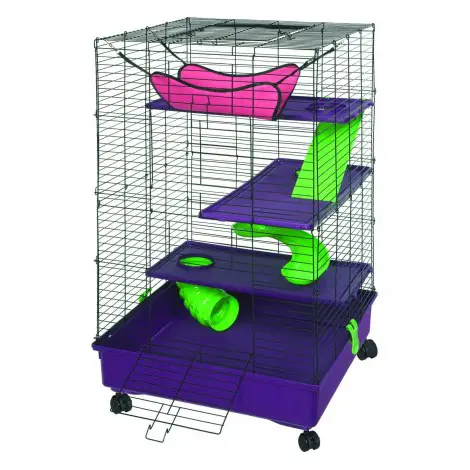 This large, multi-tier product is almost the perfect option for your small pet. With a hammock and other toys included, your precious ferret will find that there are plenty of shelves and areas for exploring.
Easy to Clean
One of the best things about this habitat is that it's incredibly easy to clean. It features a very deep base that you can take out and put back in at the drop of a hat.
Included Bonuses
As we mentioned in the introduction, this product includes a number of extra accessories for additional enjoyment for your ferret. Included are safety ramps, a spiral slide they're going to love, a hammock, a funnel, and three comfortable shelves.
,Cost and Value
This product is priced around the same as other similarly sized options you'll see in our buying guide. The real value comes in when you see how many fun toys and distractions are included to help provide your ferret with a fun habitat they'll love to spend time in.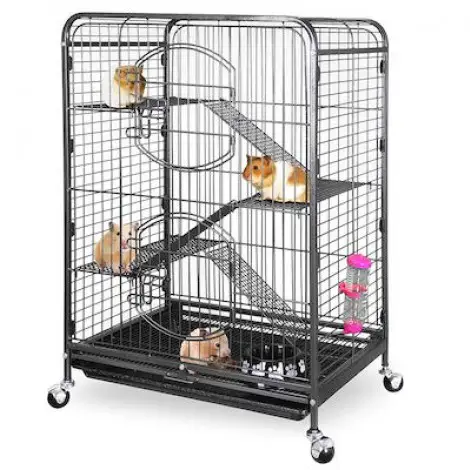 This product with 4 levels is an ideal home for your little critters. It is made of a strong material and has structure that is stable. There are four levels that are constructed of high premium steel, painted with an anti-rusting, powder coat. The rounded corners ensure the safety of both pets and owners.
Security
This item is constructed to give security to both your little pets as well as their owners. All corners have been rounded off so that no wires are sticking out to poke either the owner or the little critters, which could cause injury. There are four ramps and levels for your critters to play or rest on. There is also additional shelving available for storing their toys. This product has been designed to avoid your pets getting their tiny paws pinched, as well as no gaps for them to get their legs or feet caught in on the floor grid or the ramps.
Layout
The main layout is intended to house two or more ferrets or other small animals. There are plenty of ramps to play on and room to put a tunnel or two along with some hammocks for sleeping. The Zeny also has a removable bottom tray for ease in cleaning.
Cost and Value
The ZENY shows customers great value at a low cost. This is made of a high-quality materials. A manufacturer's warranty is available by contacting customer service for more information.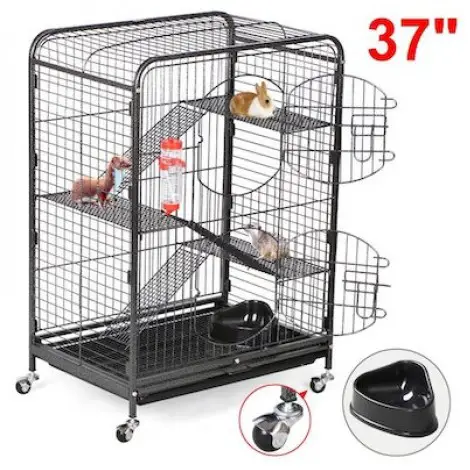 The go2buy is constructed with super strong powder coated wires and anti-rust materials. This four-tier option can house up to four small animals comfortably. It comes complete with two front doors, and a feeder. There are four wheels on it making it simple to move indoors or outdoors.
Made with Ferret's in mind
With four ramp levels, it allows space for them to play and sleep. With plenty of shelves, there are also trays that slide out and a 250 ml water bother along with plastic feed containers. The smart design of this product ensures that little paws are protected by the floor grid and ramps so their paws don't get pinched or legs get caught up in gaps to trap them.
Easy Storage
If you are not using the go2buy you can easily fold it up and store it away. You will discover that in the folded up position it does not take up very much space at all.
Cost and Value
The go2buy will prove its value the moment you place your pets inside it. You will also appreciate the fair price you will pay for it. There is also a warranty available upon further request through the customer service department.

9

. Exotic Nutrition Mansion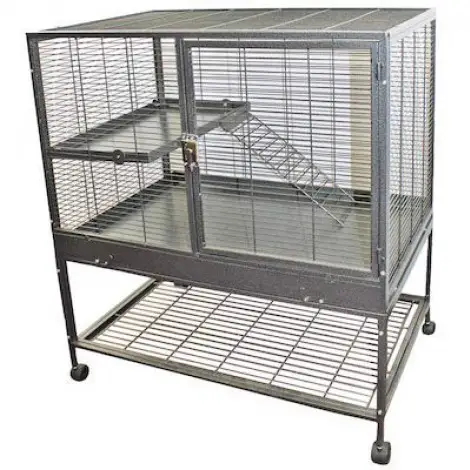 This Exotic Nutrition Mansion is an extra strong option made of a scratch-proof metal and a metal floor that is chew-proof. This product has a wide metal shelf that makes the perfect exploring environment for your little critter.
Materials
This has a proficiently surfaced, animal-safe powder coating that is meant to last for several years, due to its strength. The horizontal wires have a ½" space, and there are removable trays that slide out for ease of cleaning. The Exotic Mansion is constructed of a tube frame which makes for a lot of comfort for your pet. The bars are close enough together to prevent the escape of your pet, which could result in injury or even death.
Variable size
This "mansion" can be received in the one-layer, or multiple layers can be added. It is 36 inches tall (if off the stand it still stands a remarkable 22 inches tall) by 33 inches wide, and 22 inches deep. This is meant to last the life of your pet. There are other levels you can purchase to make it have more layers.
Cost and Value
This product can be purchased as the 2 level or 4 level version, or you can purchase the 2 level with plans to upgrade later with the 4-level expansion kit. Be careful when purchasing this, if you have plans to return it there are very strict guidelines for returns (for example, it must be returned in original containers).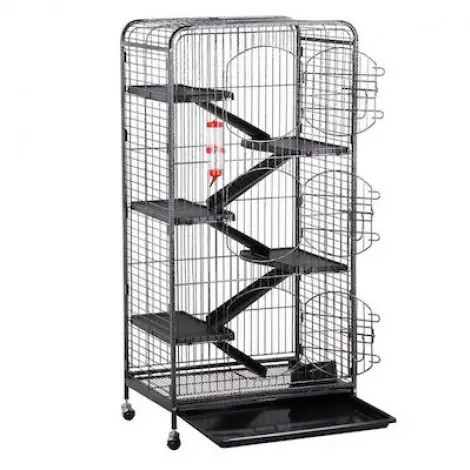 The Topeakmart 5-level is a super large option in which your pets can exercise and play. This is large enough for several pets to play in. With five tiers that are attached to ramps for your pets to climb upon and eventually rest.
Escape Proof
There are three doors secured by a latch that prevents your pet from escaping, ensuring their safety when you are away. This is designed in a way that increases the friction when they climb the ramps, this keeps them from slipping off the ramp which could result in an injury. The Topeakmart is designed for the comfort of your pet. There is plenty of room for several small animals to play and live comfortably.
Smooth moving
The four extra strong casters on this make it able to handle a large volume as well as move smoothly along the floor when transporting it from one area to another. This product is so strong that it can easily be moved from the inside to the outside if need be.
Cost and Value
The value is that it will provide your pet or a number of pets plenty of exercise and fun for their lifetime. The cost is minimal in comparison to what you are getting.

Subscribe to our Newsletter