Best Ear and Eye Protection for Shooting Reviewed for Protection
Did you know it takes just 85 decibels of sound to cause hearing damage? As a hunter, you need to protect yourself. After long exposure to 85 decibels of sound or higher, you will find yourself on the track to noise-induced hearing loss as the nerves in your ear that vibrate when exposed to sound waves become permanently damaged by the force.
And firearms generally go off at 150 decibels of sound. That means ear protection is a must-have whenever you're out shooting. It doesn't cost much to get a pair of muffs to protect your ears and wear them while you're out but it can cost years of hearing if you don't.
Featured Recommendations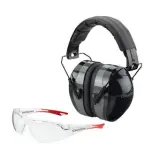 Champion Protection Gear

Our rating
Military Grade
Price:

See Here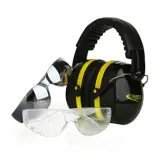 Tradesmart Protection Gear

Our rating
Safety Rated
Price:

See Here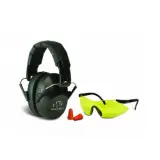 Walker's Protection Gear

Our rating
Soft
Price:

See Here

10 Best Ear and Eye Protection for Shooting
1. Champion 40-PE-COL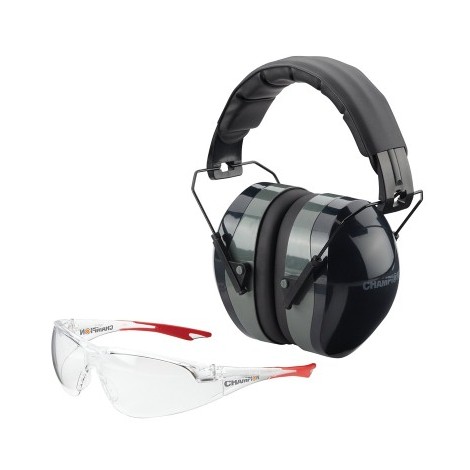 While a lot of this gear was also designed with other high noise activities in mind, such as power tools, this kit is 100% for
shooting
. It comes with some options of colors, a 26dB promise of protection, excellent glasses, but no extra kit items if that's something you're looking for.
Expand to see more
Good Fit
The fit on the muffs is a great plus on these. The cups are molded for the best fit and the temples are slip resistant so you don't have to worry about any
accidents while out shooting
.
Excellent Storage and Mobility
These are highly collapsable muffs for the amount of padding they have and are designed to be used wherever you need them and be transported. They're damage resistant to transportation as well.
Cost and Value
This is a pretty excellent price for the quality of the product. You get a military grade promise of protection for a fairly low price, even if it doesn't come with any extra kit amenities. The muffs are rated for 26dB protection. The ballistic glasses also included have an ANSI rating of Z87.1 that also meets military standards of MIL-PRF-3103, 3.5, 1.1 ballistic resistance for excellent shooting protection.
Military grade protection for eyewear
Passive decibel protection for earwear
Options of colors for customizability
No bag or extra ear plugs included
Can cause some discomfort
2. Tradesmart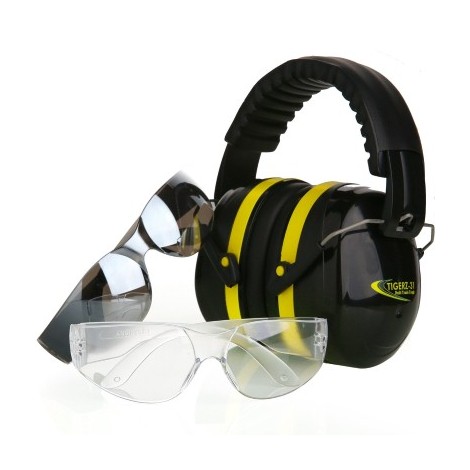 This is like one step up from the previous option on here. These are also going to be some heavy duty safety muffs and
eye protection
but luckily the price doesn't reflect that too much. You're still paying a good price but for something that's going to last you quite a long time.
Expand to see more
Hefty Protection

These are all about protection and that's reflected in the safety rating on every piece of gear in this kit. It comes with excellent muffs, excellent glasses, a promise of protection and a warranty to back that up.

Perfect for Everyone

These muffs and glasses are designed to be used by anyone or the whole family. They fit grown adults and children as well without sacrificing the noise reduction or ease of comfort.

Cost and Value

You get a lot for your low price here. You get two high-quality items of safety gear for ears and eyes and a 90-day warranty in case they don't meet your needs. Thanks to the adjustable fit, they also work for anyone and everyone in your family.
All the products in this kit are ANSI, CE, and AS/NZS compliant for maximum protection. A 90-day warranty protects your purchase in case anything doesn't live up to your standards and 20% of all proceeds on this kit goes to charities for underprivileged youth.
Usable by the entire family
Lots of bang for your buck
90-day warranty protects possible defects in purchase
Various safety ratings
Can't be worn with a hat underneath
Can run a bit small
3. Walker's Game GWP-FPM1GFP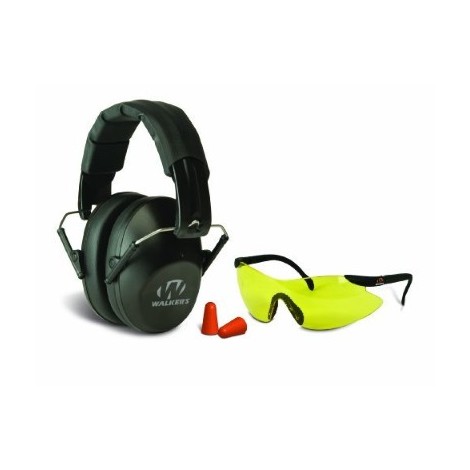 This is a kit that strives to be the best of the best when it comes to making sure the safety gear included is the best you could possibly get. If you're looking for something to be your hearing and ear protection gear for as long as you plan to go shooting, then this is the gear for you. The combo pack comes with just
safety gear
, but it's a great value, especially for the price.
Expand to see more
Great Muff Design

The earmuff is designed with some top of the line quality you'd want from a GSM product. It's a sound reducing earmuff that works well in noise reduction and combines well with the 31dB noise reduction on the shape-contouring earplugs. The entire design of the muffs is low profile, padded, and compact fit.

Sports Glasses

The glasses that come in this kit are high-grade poly-carbonate that exceed Z87.1 standards. They've got a freely adjustable nose pad and are highly customizable to fit your needs while wearing them.

Cost and Value

This is a great value for what you get, but beware, you need to be ordering correctly to make sure you get everything you need. If you just want the muffs, then go for it, but if you want the eyewear as well then you need to specify that when you order. The ear pads on these muffs are made of soft PVC material that's ultra lightweight and designed to be as compact and mobile as possible. The foam earplugs are also highly adjustable and work well in combination with the muffs. The glasses are the high standard and you get the protection of the GSM reputation for products.

Excellent padding and comfortable design on muffs
Highly mobile and ease of storage
Soft ear pads
Excellent rating on noise reduction for earplugs
The "kit" order must be done separately otherwise you'll only receive the muffs
4. Allen 2316-P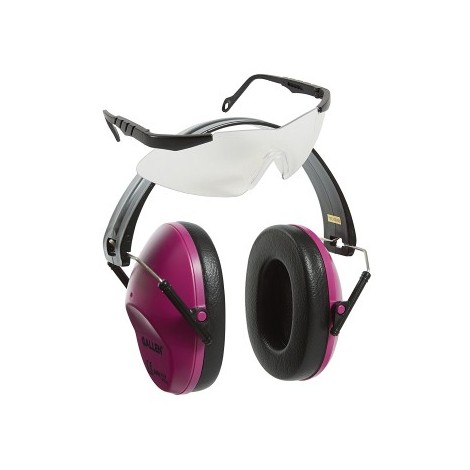 This has got some seriously impressive protection for the killer price. This kit is among the cheapest price on this list but has some of the best ratings for ear and
eye protection
that we've seen. It doesn't come with any extras like a bag or extra earplugs, but the quality of the product against the price really can't be beaten.
Expand to see more
High Protection

All the protection and padding of these went into the earcups to ensure as much protection as possible for the wearer. They meet or exceed ANSI S3.19 requirements and have some pretty impressive foam protection around the edge.

High Rated Glasses

The glasses that come with this kit are also pretty impressive with an ANSI rating of Z87+. The lenses are clear, impact resistant, scratch resistant, wrap-around lenses.

Cost and Value

You're paying for your barebones product here so the price is pretty good for that. These are pretty highly rated and highly tested products so for the price they're pretty good as well, but, again, you're getting only the muffs and glasses with no added amenities or protective gear. This is a safety-first product with excellent ANSI ratings mentioned above. Low profile cups are collapsible for storage and mobility and the adjustable yoke makes them pretty easy to wear.
Excellent safety compliances
Great vision on the glasses
5. Howard Leight R-01727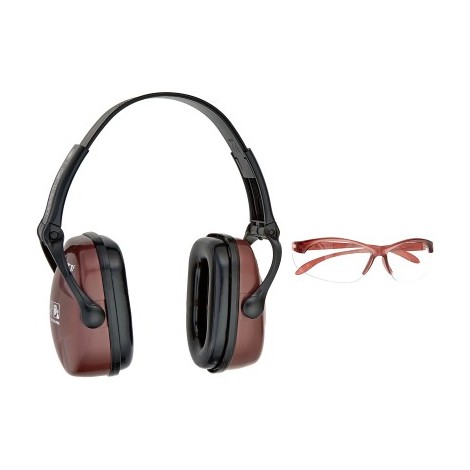 We're back to some products designed specifically for any women out there looking for a safety kit that's designed just for them. These are less aesthetically obvious as women-orientated protection gear but it's still a pretty stylish looking design and color. This is another barebones kit but it'll get the job done well.


Expand to see more
Excellent Design

This is another kit that is designed with adjustability and comfort in mind. Virtually everything on these muffs is highly adjustable, lightweight, and padded for comfort and ease of use. There's some nice padding on the ear cups themselves and the design is collapsible for easy mobility and storage.

Glasses

The design of the glasses is likewise meant to be as user-friendly as possible. They're also lightweight with poly-carbonate, fog-resistant lenses for both indoor and outdoor shooting options. They're highly rated for protection and sight capabilities and narrowed at the front for ease of wear and minimal distraction.

Cost and Value

This is another kit that comes with just the ear and eye protection but it's still not a bad price for both. It's excellent as a starter kit and stacks up pretty well against most of its advertised promises. The earmuffs are rated for 25dB noise reduction and the glasses are rated for Z87+. The entire design and use of the material were made with the typical shape of a woman's face in mind to make them as comfortable as possible. The polycarbonate on the glasses is highly effective and work well as protective measures and increased visibility helps.
Exceptional and customizable design
Stylish look
Highly rated components
Ear protection could have slightly better insulation
Color is slightly more brown in person
6. Browning 126368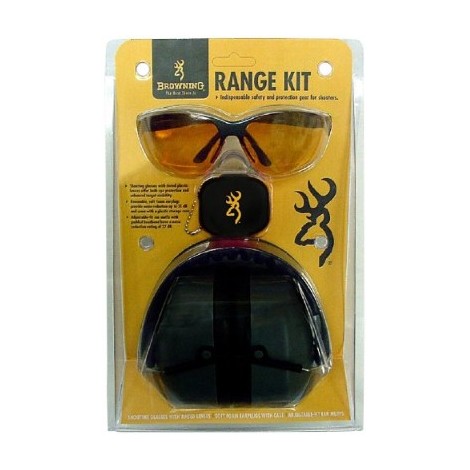 If you're looking for something with a brand name to back itself up, then Browning isn't a bad way to go. All the materials were made right in the USA and come in user-friendly packaging. You get everything you need in a basic shooting range kit for a pretty good price and a respectable value.


Expand to see more
Durability for All Climates

These products were designed with several climate options in mind, whether you're at a climate controlled indoor range or out in a field. The materials are the typical high-textile and high durability quality you expect from Browning. It's designed for the avid shooter out every weekend and the recreational shooter out every once in awhile.

Noise Protection and Comfort

This has got the best of both worlds. The earmuffs provide 27dB reduction while the earplugs provide 31dB reduction for 59dB total noise reduction. And on top of that, the muffs are highly padded and adjustable for comfort while the earplugs are made of a soft, pliable foam that allows for any and all forms of manipulation.

Cost and Value

You're getting a lot out of this kit and that includes a brand name of gear, all for a pretty good price. This gear is designed to last you a long time and work for virtually every place you could go out shooting. The gear is typical high tensile Browning for maximum durability. Glasses are made of an orange poly-carbonate material for maximum vision capabilities and maximum protection. The earmuffs are designed for maximum comfort with exceptional padding and the earplugs are made of a highly pliable foam to avoid soreness while in use.
All-in-one kit
Comfort-minded design
Excellent combination of decibel reduction with use of earmuffs and plugs
Muffs can run big for those with smaller dimensions
7. Smith & Wesson SW201C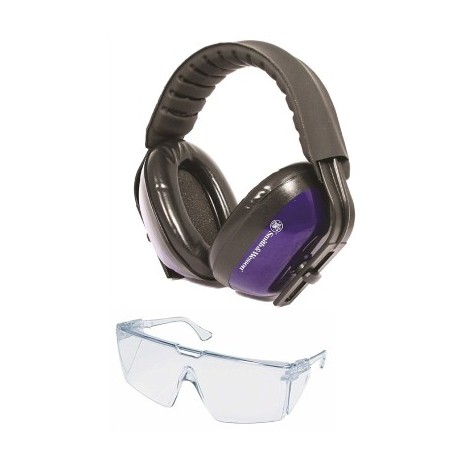 If you're looking for comfort when it comes to your hearing protection, then these are the earmuffs to spring for. They've got an adjustable, padded headband and cushioned, highly-adjustable ear cups as well as a whole lot more of customizable and comfortable features for you to enjoy while out in the field practicing your shots.


Expand to see more
Ultimate Comfort

These earmuffs are designed with the knowledge that sometimes earmuffs can be incredibly painful and uncomfortable to wear. And you shouldn't have to sacrifice comfort for protection or vice versa. They've got a lot of padding in all the usual problem areas to make sure you're as comfortable and happy as can be while protecting your hearing.

Two-For-One

Comfort is one thing and protection is another and this earmuff does both. On top of the adjustable padding, it also offers up to 20dB of noise reduction while in use to block out any possibly harmful and forceful sound waves from your firearm.

Cost and Value

The price is pretty good, moving back down from the two previous options but, you do get less. This kit comes only with the muffs and the glasses and no added on amenities like a bag or other storage options. Still for the price you get a pretty well working and all around the good ear and eye protection set. The padding on these earmuffs is pretty all-encompassing and doesn't make them too heavy. The eye protection glasses are impact resistant and work with virtually all prescription lenses. They also meet Z87.1 standards and come in a clear color to not distort vision. Virtually everything in this package is adjustable for maximum comfort and customizability.
Comfort is key in design
Impressive noise reduction limits
Highly adjustable for a perfect fit
Highly rated eyewear
Depending on the firearm, secondary earplugs may need to be used
8. Champion Electronic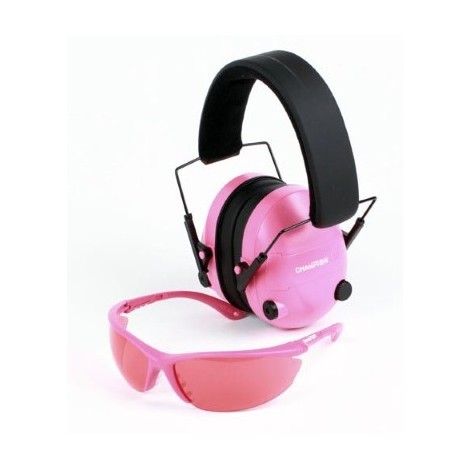 While there's nothing that says guys can't wear pink, if you're looking for some shooting girl for a lady in your life, these are a great purchase both for the aesthetic purposes and the function. And though the year 2009 is already well passed, it is nice to know that sales of these bad boys back then went straight to helping fight breast cancer.


Expand to see more
Incredible Engineering

These earmuffs are pretty unique as far as design and function go. They're 25dB NRR of hearing protection and are designed to amplify quiet sounds below a certain decibel point while repressing louder ones so you've got a solid communication use as well while out shooting.

Excellent Design

The physical design of these muffs is also impressive. They're designed for mobile use and storage with collapsible features and a nice fit. The entire kit also comes with shell pouches to help with storage of items while out in the field.

Cost and Value

These muffs are graded for up to 25dB of noise reduction while helping you to hear quieter sounds better. The glasses that come in the kit are also OSHA compliant and cause no distortion in vision while being used with the maximum of Z87.1. Safety rated, scratch resistant, and protection against 99.9% of UV rays while outside. The price on this is a little bit higher than the last and you do get a bit less but if electronic earmuffs are something you've wanted to try, this is a great price for them. The volume control options are very user-friendly and you get an entire kid for a reasonable price.
Very stylish look
Excellent functionality of classes
Impressive inclusion in entire kit for price
Two volume controls for total control of input
Color in person is a bit different than pictured
9. Glock OEM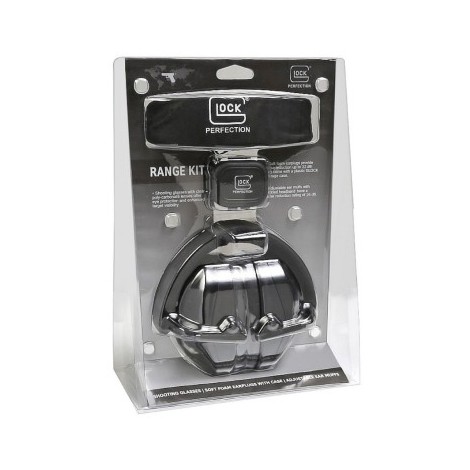 Now we're getting into some of the more specialized and nicer kits. Like the previous one, this one comes with an eye and ear protection combo but for a higher price, though not too much. That being said, the make of material here and the overall quality of the muffs makes them a pretty excellent buy for anyone wanting to go up a little in price.


Expand to see more
Materials
The materials used on these muffs and glasses is actually pretty impressive. They're designed to withstand outdoor use with 600d waterproof polyester and a carrying back to match. There's also a pretty impressive noise reduction measurement of at least 25 decibels.
Extras
This also comes with a ton of extra stuff that you'll need out in the field. The eye protection is made of a clear polycarbonate lens that actually helps to increase the visibility of the target while
keeping your eyes protected
from the elements or debris. The range bag that comes with this kit is also big enough to carry extra rounds as well as the protective gear and it's waterproof with a comfortable padded grip.
Cost and Value
The value for the price on this is still very good despite being more expensive than the previous muff kit but look at what you get all together for it. Ear and eye protection along with a kit to take out with you on the range isn't a bad buy for the price and the materials used in the creation of the kit are pretty impressive too. Assuming nothing goes wrong with shipping, this is a very good option for someone looking to get an all-in-one buy. So if you're looking for something a little more advanced, this is the buy for you.
Excellent make of the material
Waterproof
A lot comes in this kit
Grand total of 60d noise reduction
Some shipping issues have caused missing items in the kit
The earplugs have sometimes failed as fully protective options
10. Rifleman RFECK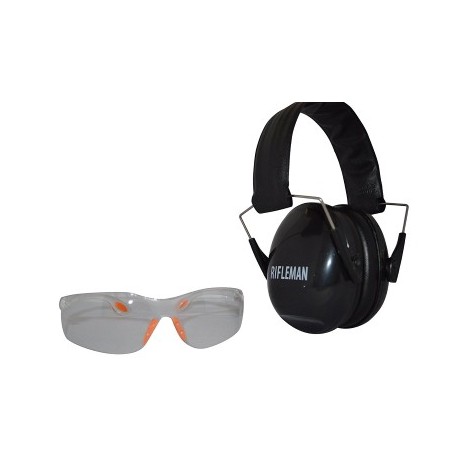 This lightweight combo is designed for indoor and outdoor use and is an incredibly good price for everything you get with them. Eye protection is always a bonus and a smart move when out in the field or shooting on a range. And on top of that, they've got a pretty stylish look to them.


Expand to see more
Lightweight

The 8.1 ounces on these earmuffs is important because it's very easy to cause pain and discomfort from muffs that are too heavy or press too tightly. So the light material and weight coupled with the durability for outdoor use make them a pretty smart buy.

Combo Pack

Though it's not essential, this combo pack is a nice buy for the price that it is. Eye protection is always smart when there's the danger of shrapnel, high winds, or any form of debris. And getting both for the price of one makes this an excellent choice for anyone just starting out in shooting and in need of a first-time protection kit.

Cost and Value

The muffs are NRR-22 and rated for all-around protection. They've got a low weight of just 8.1 ounces and they feature a compact and collapsible design for easy storage and mobility. As mentioned, the value on these is pretty incredible considering you get two items for a low price. They'll work as good starter items and they're priced accordingly. They'll, ultimately, get the job done, even if they don't do much else.
Extremely economical price
Lightweight material
Use for different climates of locations
Criteria Used in Choosing the Best Ear & Eye Protection For Shooting
We have gotten to the section that has become a fan-favorite for many of our readers and viewers. By sharing our criteria for picking out the best quality products, we allow users to enter the world of how we find the best products for you, so you don't have to. For individuals that are a fan of the shooting range and want to get the best quality gear, we have developed this list for you so you can better understand and get to know how we chose the top products that you see above.
With that said, let's begin with the criteria used to evaluate the best ear and eye protection shooting. It is important to keep in mind that our criteria were primarily created with the intention of safety in mind. We wanted to ensure that each product was properly designed for safety measures and made from the best quality materials, which we will talk about in a portion of this section later below.
Now, without further wait, let's begin by talking about the first criteria we had to keep in mind. Notice that each criterion is separated into two sections, eye protection, and ear protection because we had to take into deep consideration that each specific product had a different purpose, we wanted to talk about both. Let's begin with the quality!
Quality of The Eye Protection
To us, quality defines the product as a whole. Therefore, when talking about the quality of eye protection we had to keep in mind, that eye protection is crucial when out on the shooting range. Let's imagine for a second that an individual's grip is not strong enough to handle the recoil of a weapon. With that, eye protection becomes crucial.
Overall, as far as eye protection we wanted to cover the many different areas of eye protection glass wear that are designed for safety. To us, the quality of eye protection includes the design of the glasses, the shape of the nose piece, the comfort of the eye protection, the materials used and everything overall and how they correlate to each other. With that in mind, our primary intention was to discover the best quality products overall and share them with you. Now, onto ear protection!
Quality of The Ear Protection
Ear protection was as equally important to us to take into consideration, especially for individuals that are sensitive towards specific sounds. With the proper ear protection, individuals can rest assured that they will not feel any discomfort when out on the range. Therefore, the quality of the ear muffs was crucial. As far as the quality we looked at the same aspects of eye protection. However, we also looked as if they were noise-canceling, their design, the material of the muffs, and the collapsible design.
We had to ensure that no matter the situation, an individual can rest assured that they are wearing the most protective gear. With quality ear protection an individual can properly shoot and not worry about their surroundings or their ears hurting due to the loud noise of the weapon or the shooting range.
On top of this, we had to ensure that the ear protection was durable enough to handle years of wear and tear while not minimizing the safety concern of an individual. With that said, we calculate the quality of the ear protection, alongside the many criteria that add to the quality, the reviews of individuals and how they feel about the product.
Eye Protection Comfort
So, when it comes to comfort in eye protection? What are users and individuals particularly looking for? This was an important question that we had to ask ourselves. Now, what was important about comfort is that comfort had to not minimize the safety of the eye protection. They had to work in tangent with each other. Therefore, it was very important for us to take into consideration how the manufacturer built the glasses to ensure protection and comfort.
As far as eye protection comfort we found that almost all of the glasses are made from an anti-scratch resistant material that is extremely durable and strong. With that, we realized that as far as comfort, it was not so much about the material as it is the design and how it shapes to a person's face. The nose area had to be comfortable enough where it would not feel uncomfortable or odd for an individual to wear it.
Also, the handles of the glasses had to be comfortable enough to fit the sides of an individual's face without them being too tight. However, they had to not be so loose that they would fall off. With that, many brands developed glasses that would be included a rubber nose piece or side rubber piece for added comfort so individuals could wear them all day long if they needed to.
Ear Protection Comfort
As we take ear comfort into consideration, this was another extremely important area we knew we had to include in the criteria. Have you ever worn ear muffs or headphones all day long to the point where they just felt incredibly uncomfortable? We knew we had to ensure that the individuals that were purchasing these products were receiving the best ear comfort when it came to their ear muffs. This is what we found!
Many of the earmuffs included on this list offer a noise canceling system. Whether it is a six-piece filtration system or a noise canceling technology, the intention behind proper ear muffs is for the individual to not hear all of the noises that come with being at a shooting range. With that, most of all the ear muffs are properly designed so individuals with extremely sensitive hearing can wear them.
We did find out though that the padding on all of them is of the highest quality and although most of them are somewhat heavy due to the durable design, they are designed with premium comfort to be able to cup the whole ear.
Eye Protection Design
So, this may have become the basis for which we started to create our criteria. The reason being is that the overall design of the ear muffs has to be created with the greatest of care and protection to ensure maximum quality. We had to consider what individuals want in their design elements of proper eye protection. Not only did the eye protection had to protect against small particles, but also possible bigger items and durable enough to withstand a lot of tension,
With that, the eye protection design also had to include comfort and safety. As a major concern to our viewers, the design had to, overall, be created with maximum safety in mind. This is where durability comes to mind, an area we will cover shortly about the products we chose.
Ear Protection Design
Once again, the design was crucial for ear protection. No individual wants to suffer safety for comfort or vice versa. Therefore, we took many design elements into consideration such as the hinges of the ear protection, the ear protection padding, and other elements. This was very important to ensure that all of the products or items on the list had the proper ear protection qualities.
With that, we discovered that many of the designs have some universal design element that all brands use. For example, most brands on the list mention an acoustic like the sound barrier that allows for all sound to be minimized. Features like these were very important to us alongside the design of the arch that sits on the head. The arch had to be comfortable enough that an individual could wear it all day long but the design had to be durable enough for wear and tear purposes.
Eye Protection Durability and Materials
So, when it comes to quality, we knew it all started with the materials of the product. And the materials would then extend to the durability. Let's begin! As far as materials of eye protection for shooting we knew they had to be able to withstand any punch, tap, or hard pressure that was thrown at them. With that, many of the materials we discovered most products are made from are, polycarbonate, abs plastic, or other extremely durable materials.
On top of this, the durability of the glasses is enhanced when a brand adds a chemically treated seal to ensure anti-scratch and resistant towards small particles and such. This adds an element of durability to the material that is unprecedented and makes them of the best quality. What was important to us primarily when taking this part into consideration was neither the glasses or the ear protection were of low quality, they had to compliment each other.
Ear Protection Durability and Materials
As far as ear protection, we knew that durability and the materials were really important because, in reality, the way to design shooting ear muffs is completely different than noise canceling music ear muffs. Shooting ear muffs are designed primarily for maximum protection and quality. Therefore, we knew that we had to take the durability and materials into important consideration.
So what did we discover? Well, as far as ear muffs, much of the materials include a combination of noise canceling technology alongside comfort earmuff padding and durable high-density foam and hinges. This allows for individuals to practically wear them every day and the ear muffs show their durability and quality in that sense. Other than that, the ear materials had to also include a form of comfort so individuals could wear them all day long. What we noticed was many brands would use a high-density padding or foam so individuals would not feel or hear the shock of the weapon.
With all of these factors in mind, we have to move onto what is one of the most important aspects in all of our articles, the cost, and the value. So, let's talk about how much one of these bad boys cost and what the value is?
Cost And Value For Both
When we first began creating the criteria for finding the best eye protection and ear protection for shooting, we realized that cost and value was very important. With that, we were extremely surprised by the price of the earmuff and eye protection combo. We discovered that both together would run an individual relatively low, the same price as about a tank of gas. With that in mind, many of the products that we shared with our readers were around the same scale as far as price range and the value was about the same. To determine value, we included products that passed the test of durability, functionality, and comfort alongside what the price of each would be. With that in mind, we highly recommend every product on the list and believe that each one will offer the user some kind of benefit and value.
Specialty Features of Each
This was one of two extra criteria's that we decided to include when taking into consideration the many different ears muffs and eyewear that we covered. Specialty features were important because it shows how dedicated a brand is to sharing and bringing value and quality to an individual's shooting experience.
With that, a couple of examples of special features include that some brands have added foaming protection that protects against low-frequency vibrations. Other examples include that some brands included power screw hinge designs on their ear muffs as well as over the head padding to ensure an individual's maximum comfort.
With features such as this, we took the best of each brand and decided to highly it within the features of the article so individuals can get to know why they were chosen. With leaves us with one more of the two extra criteria we included Color Choices and More.
Color Choices and More
So this criteria may not matter to everyone, but we included it because to the everyday shooter, they may want a collectible ear muff and eye protection design that looks also aesthetically pleasing. Therefore, one factor that we took into consideration is the color and design elements of the ear muffs and glasses. For example, some glasses are designed with a yellow coating and some of the ear muffs have a black and yellow stripe. This is a simple criterion that we figured some individuals would take into consideration when picking out the best eye and ear wear for shooting. Which leads us to another extremely important aspect of all of our articles we like to include.
Up next is the Frequently Asked Questions!
FAQ
Frequently Asked Questions
Q: Do the glasses accommodate prescription glasses?
A: When taking the glasses into consideration, many individuals had this particular question. To better answer this question, it is best for an individual to reach out to the manufacturer or read the description of the product beforehand. The reason being is that many of the glasses on the list, due to the wrap around design do not accommodate prescription glasses. The ability to accommodate prescription glasses would have to include a design that is large enough to wrap around most of the top half of the face. With that said, individuals should always ask the manufacturer in particular.
Q: How do you clean the inside of the ear muffs?
A: This was one of the most simple questions that were asked of many of the users that were interested in some of the particular products on this list. What we discovered is that many of the answers would vary depending on the quality of the product. Primarily, many individuals mentioned that they would clean the inside of the ear muffs with an alcohol wipe or a damp rag. However, it is best to look at the cleaning instructions for each product before cleaning them to ensure no damage to the earmuff padding or leather material.
Q: Are the glasses anti-fog??
This was another one of the most frequently asked questions. Reason being is that being out on the shooting range and wearing glasses, the glasses could fog quickly due to humidity, a person's body heat, etc. Therefore, many brands would include an anti-fog coating over the glasses that would also act as anti-scratch and resistant towards many different conditions.
Q: Does the manufacturer include a carry box?
A: This is a question that even some of our team members asked when they buy a product. This is a common question when buying any product. However, for ear muffs and eye protection for shooting it is vital. Reason being is that an individual wants to safely be able to carry their eye protection and ear protection around without having to worry about getting it scratched or damaged. More so, we discovered that many brands would include a carry box that was incredibly durable and lightweight to carry.
Q: Are the ear muffs noise canceling?
A: This was one of the most vital questions that individuals asked about. The reason is that when at a shooting range, an individual needs to the proper earmuff protection. Therefore, noise canceling was a very important aspect of ear muffs. Too many individuals noise canceling was the key feature of their decision making. Some of the different noise canceling features that some brands would include is high-density foam or a noise canceling technology that would minimize high and low vibrations. Depending on the product, the noise canceling would either be greater or lower.
Q: Is there a warranty on these items?
A: This was the last question that many individuals were asked to ensure their money back in the case that the product did not work. Now, many manufacturers do have a money back guarantee for 30 days if an individual returns the item. However, it is best to always consult with the manufacturer before making any decision.
Sources
Wikipedia, Ear Protection
Field & Stream, Why You Should Always Wear Eye Protection