Best Drafting Tables Reviewed & Rated for Quality
In a Hurry? Editors choice: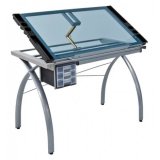 Test Winner: SD Studio Designs

A drafting table is a useful piece of furniture for creative specialists such as artists, architects, drafters and interior designers since it provides an ideal working space. If you fall into this category, then chances are you spend a great deal of time on your table working. Due to this, you want one that is comfortable, offers firm support and adjustable pitch to enable users to optimize their potential. To stand out from the ever completive space, you need one that is innovative, elegant and technologically advanced. For this guide, I have put together ten best drafting tables that will enable you to make an informed decision while shopping for one which will meet your specific needs.
Standout Picks
Criteria Used for Evaluation
Adjustability
The perfect drafting table should adjust to your sitting position. While searching for one, ensure it answer questions such as, how you sit and whether you would prefer it in a slanting position as you work. Pick an option that you can easily adjust the weight to suit your comfortable working position and will not affect the quality of your work leading to an improvement of your productivity extraordinarily. The height should correspond to the height of your chair, not too high such that you crane your neck to see the surface or not to low that you bend your back.
Effectiveness
A drafting table, just like any other product, should perform as expected. It is a flat surface used by professionals such as artists, architects, engineers or drafters for sketching, drawing, water coloring, amongst other uses. It is usually coated with materials that enhance smoothness for easy wiping of art materials such as color. It is more than a standard table since it allows for easy adjustability of height or panel angle to suit your needs. Therefore, you should be able to work in a comfortable position whether, on the floor, bed or outside and have the freedom to work anywhere while relieving of health problems associated with spending a lot of time at a desk such as muscle tensions of the legs and back.
Value
Drafting tables do not come across as cheap products, mainly because they are used by professionals for specific tasks and are made from premium materials. However, that is not to mean there are no budget-friendly options out there in the market. If your budget can allow, you can go for the best and most probably highly priced option. But if you are operating on a low budget, you can choose one that is not too expensive, but also made from premium materials. It should be useful, durable and give you value for money.
Durability
The durability of any product depends on the quality of the material used. Different types of drafting tables are made from different type of materials. Your choice will mainly depend on how you intend to use it since materials usually have their advantages and disadvantages. If you travel a lot, you can choose an option made from lightweight materials such as fiberboard or cardboard. However, this may be a little flimsy and may not last long. Products whose panel is made from tempered glass and legs made from heavy steel construction are a bit heavier. However, they are durable and will last longer. By picking a durable table; it means saving more on replacement cost and the cost of repairs.
Advanced Features
Drafting tables come in different designs. There are some that have only the panel or the drafting surface whereas some are built with lockable drawers for storing your stationery and documents. The more features the furnishing has, the better. For instance, a drafting table with a footrest will aid in giving your legs comfort especially where you will be engaged in a lot of drafting work or if your legs swell when you remain in sitting position for long hours. Your table can be designed with unique features to make it more elegant, and thus you may consider a glass-topped option. However, the glass should be tempered to make it stronger and durable. A table with wood grain finish is firm, strong and more durable. These products may also have an additional shelf or tray at the top for storage of stationery. Other special features may include a built-in ruler, a pencil ledge and split level surfaces. This type would be ideal for drawing purposes.
10 Best Drafting Tables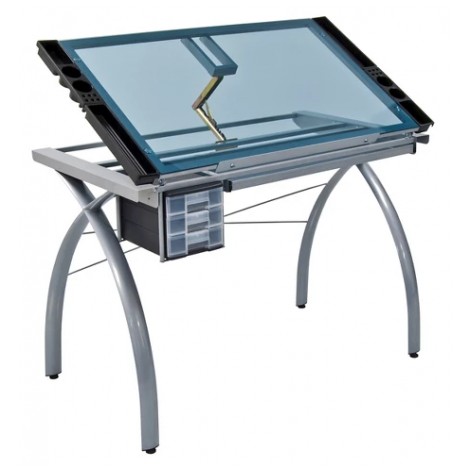 With the SD Studio, you do not need a separate light board or a tiny box for your accessories. It has everything in one package. Its main working surface measures 38x24 inches with a top angle adjustment of up to 35 degrees. The top surface is made of tempered glass for safety and you can also use it as a light table. It has three plastic molded slide out shelves or drawers where you can store your accessories. You can also mount them on the left or the right side of the table.
Ease of assembly
If you are a first time user, you will be impressed by how easy it is to assemble this table. All you need is to follow the instructions since the bolts holes are well lined up and are perfect sizes. The slide drawers and the drawer kit fit together pretty easy. All the accessories are well packed, and there is an assembly tool, saving you in terms of money and time. The robot stripes are high quality, and the glass is thick and tempered; therefore no risk of breakage.
Effectiveness
The SD Studio is a perfect addition in your home, you don't have to be an architect to buy this product, and yes, you can buy it for your kids if they show interest in drawing and sketching. They will find a perfect working space. It does the job so perfectly and is also a multipurpose table. You can use the lower shelves to keep plenty of working accessories such as pencils, markers, rulers and pens. It is a quite flexible table in that you can tilt it to an angle you are comfortable working.
Cost and value
For the price, you will fall in love with this table. It is an excellent product that comes in a nice package and easy to assemble. It is a better value for your money and worth every penny.

2

. Coaster Home Furnishings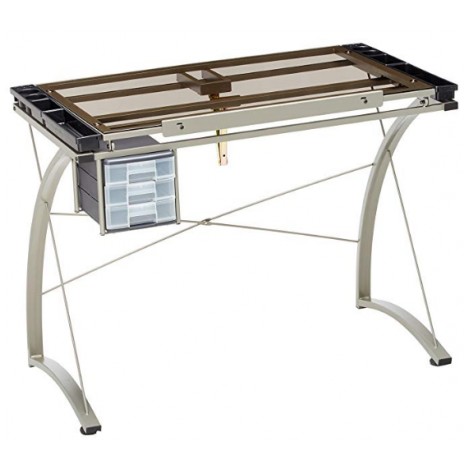 Built with perfection, the Coaster Home Furnishings is the perfect addition to your modern workspace. The package includes a hardened glass top which makes it durable and three suspended shelves made of sturdy plastic for keeping your items. The clearance measure 29.5 inches and the product dimensions are 41x24x44 inches, while its weight capacity limit is 110lbs. It adjusts to an angle of 75 degrees and the top flat measures 32 inches. The glass is tempered with an elegant brown tint and has a champagne and smoke finish color. It is made to last and boosts your productivity in an extraordinary way.
Ease of assembly
This comes in a cardboard box not bulky, and the interior is padded to protect the items inside. It is surprisingly a sturdy piece of equipment and rather easy to assemble. It takes you less than an hour to put everything together, thou there are no written instructions or labels, you can take the pieces and fix them together by just looking at the pictures.
Adjustability
Usually, a perfect drafting table is one with an adjustable angling surface, and this one does not disappoint. The tilt angles are good at 4" 11, neither too low nor high and will make you work at a comfortable level. The drawers are made of durable plastic materials, and the product is sturdy, you will be impressed by the quality.
Cost and value
We would endorse this without any hesitation since it is a good bargain and perfect for a small house or an apartment. Considering the price, it functions as supposed to and good for the price. The design is elegant and is comfortable. It will give you value for money.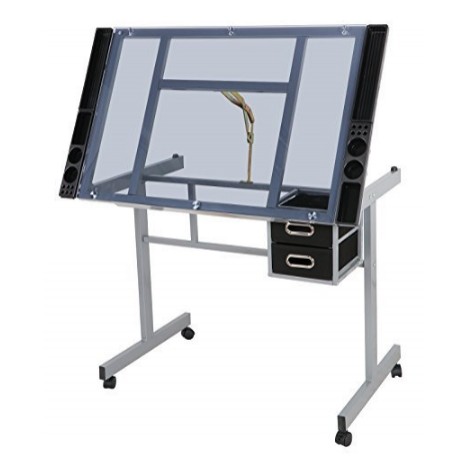 This product from Zeny provides a perfect and comfortable workspace that also make your supplies easily accessible. You can easily adjust the top surface to suit your needs and ensure your comfort. It has three convenient drawers for neatly storing your supplies and has a stylish dark shade that will blend well with your home or office decor. It is just what you need to give you a comfortable workspace and ensure your work is exemplary.
Adjustable features
The Zeny is quite different when you compare it to other options since you can easily adjust the height anywhere between 31.5 to 49.5 inches to your preferred level. You can also adjust the surface top up to a maximum of 60 degrees. It is also quite versatile you can use it for drawing, writing and a computer table amongst other uses. It is made with four rolling casters that give it a 360 degrees swivel for flexible movement, and two of the casters have brakes that lock the table into position, and thus you can move it quite easily.
Durable
The Zeny drafting table is made from durable materials; thus it is super sturdy with a tempered glass top to guarantee for your safety. It is made with a heavy duty steel construction. Therefore it will serve you for many years to come. It has a compact design thus saves space and the two side drawers are suitable for storing pens and other essentials.
Cost and value
There are some pricey tables out there in the market, but none can compare to Zeny. With this, you are assured of maximum comfort, and you will enjoy immensely working on it. It is reasonably priced and is 100% money back guarantee.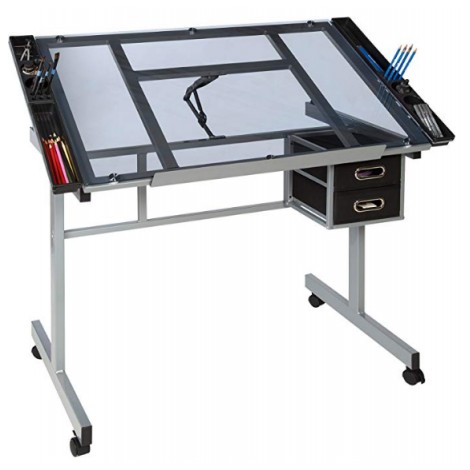 If you are looking for a table for your design work, the OneSpace is the best selection. It is a unique working space that prevents things from falling off. One thing you will appreciate about it, is the steel frame which elevates the table to 49.5 " high. It also has a gorgeous tempered glass for added safety and which can hold a maximum of 130 pounds. You can easily tilt the surface to an angle of 62.5 degrees so that you can work on your best comfortable position. The frame is made of sturdy steel construction and measures 41.25x24 inches with an adjustable height of 31.5 to 49.5 inches.
Convenience
It is ideal for small children for coloring and drawing and also for pro users such as artists and drafters. It has two sides' drawers that provide for convenient storage. On the sides are single and multi-slot trays that you may use to keep your supplies as you work. It is multifunctional, and you can also use it as a tracing table.
Easy to assemble
You will love the package once you receive your order of the OneSpace drafting table. The table is pretty easy to assemble, and a child can also do it. It is well built, and the instructions are quite clear, such that it will take you less time to put everything together.
Cost and value
For the price, you are guaranteed of quality that any designer or artist will ever want. It is the best investment and perfect option for your needs. It functions perfectly and will give you value for money.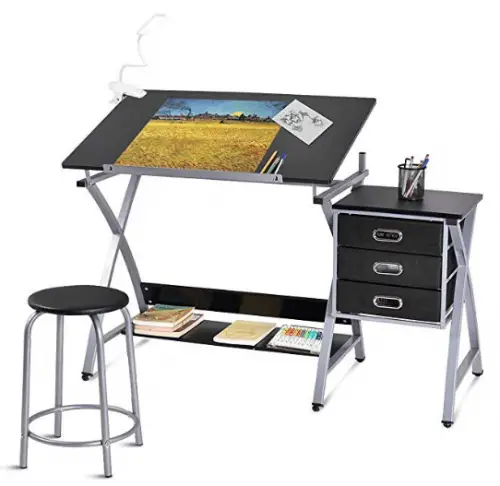 The Tangkula is our best bargain pick due to its elegance, adjustability, sturdiness, and comfort. It has an adjustable top that moves up and down depending on your preference. The height is also adjustable. The package comes with a gorgeous stool that offers you comfort as you work. Its construction is made of sturdy steel and wood making it popular amongst engineers, architects, and drafters. It has a sleek design yet with too much working space that makes it enjoyable to work on. It is quite easy to assemble and is very durable with an adjustable angle of up to 60 degrees.
Added Convenience
One thing I like about the Tangkula is the lower shelf and the three drawers you can use to store your essentials which definitely adds to your convenience. You can add a light source that helps improve your workspace. On the surface, there are trays where you can keep your pens, pencils, and others for quick accessibilities. It has a sleek design, and you can use it in your home or office. It has ABS padded feet that protect your floor from scratches and prevents slipping.
Multipurpose
It is a multipurpose table popularly used by engineers, architects, and artists. However, you can also use it around the home for other purposes such as a tracing table. Children can also use for painting, and you too can use it in the office for drafting.
Cost and value
The Tangkula is easy to assemble and will take you a short time to put everything together. However, that is not the only advantage; it is worth the bargain, you will not regret the purchase.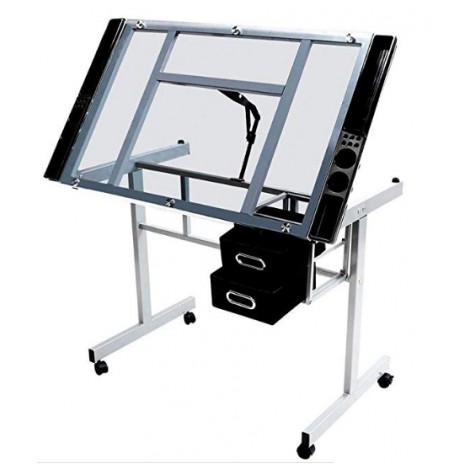 We highly recommend theYaheetech due to the adjustable workspace angle that allows you to attain the best angle ranging 0 to 60 degree for maximum comfort and to meet specific needs. On the bottom of the workspace top, there is a pencil ledge that supports your stationery when you tilt the top. It has a fabulous design has four embedded trays on both sides for stationery and other tools. It also has two drawers for easy storage of your working tools.
Versatility
This table is multifunctional, and you can use it as a computer table, drawing or working table. The table can also convert to a light table by connecting it to a light source. The glass brightens and thus becomes ideal for outlining and comic creation.
Durability
It has an elegant glass that is tempered it making it durable and sturdy. It also has filtered sides and rounded corners thus won't bruise or injure you as you work. It is made of high premium steel frame an is made to last, corrosion resistance and guarantees high load capacity.
Cost and value
The Yaheetech is convenient to use and multifunctional piece of equipment that will help you achieve your goals and improve your productivity. It is reasonably priced as compared to other brands in the market. It is a good purchase and is a 100% money back guarantee.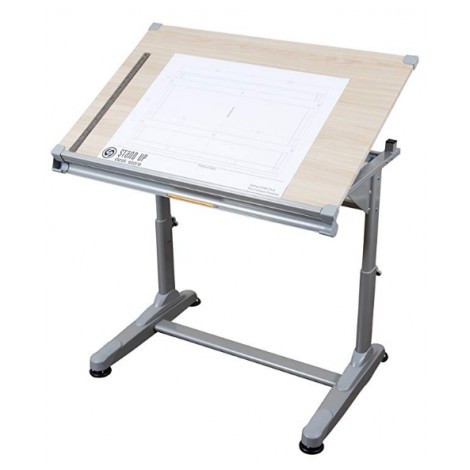 This option from Stand Up Desk Store is a high-quality piece of equipment that provides a workspace for a wide variety of activities such as the office, craft rooms, workshop or the studio. It has adjustable features of a 45-degree angle and twelve inches height to accommodate your specific need. The frame is made of heavy-duty construction, and the feet have rubber for stability. It is an elegant table with a silver powder finish that complements your home or office decor.
Versatility
This is unique in that you can adjust the angle and the height to suit your need. Therefore it is highly flexible and functional. It can be used both as an art or craft workstation, stand up desk, standard desk or creative table. It offers a wide range of flexibility including 90-degree adjustment angle and twelve inches adjustment height. Therefore you can angle it for drafting, drawing, computer or paperwork and you can work while sitting or standing.
Advanced features
The Stand-Up has several features that are user-friendly thus helping you customizing your workspace and consequently maximizing your productivity. It has some oversized thumb screws that allow you to easily adjust the angle and height, while the rubber feet ensure there is maximum stability.
Cost and Value
The Stand-Up may cost you more than a standard drafting desk. However, the benefits of using it are enormous. It allows you to be more focused thus boosting your body's calorie burning and promotes good health especially after a sitting all day working.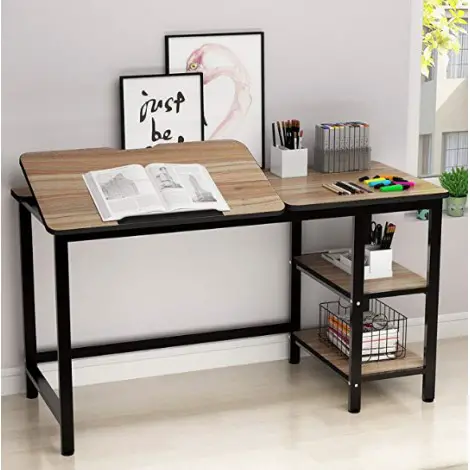 The Little Tree provides a large work area measuring 55x24 inches, sufficient to display two surfaces and other working tools without cluttering your workspace. It has two additional shelves to provide for extra storage space. It is easy to assemble, and the instructions are clear.
Multifunctional
The Little Tree gas a flexible workspace that allows you to tilt it in any position up to 80 degrees to achieve your desired angle. The multiple settings enable you to work on any posture for your comfort. It is more than a drafting table; you can use it as a laptop workspace, computer desk, and study workstation for your children amongst other activities that require a flat surface.
Sturdy and high quality
The Little Tree is made from solid powder coated construction to guarantee maximum support. The desktop is made of oak, and this boosts the table's bearing capacity. It can support a weight of up to 180lb.
Cost and value
It will cost you more to acquire this gorgeous drafting table. However, it is more than an elegant workspace for architects, engineers or drafters. It is a versatile piece of equipment that will give you value for your money.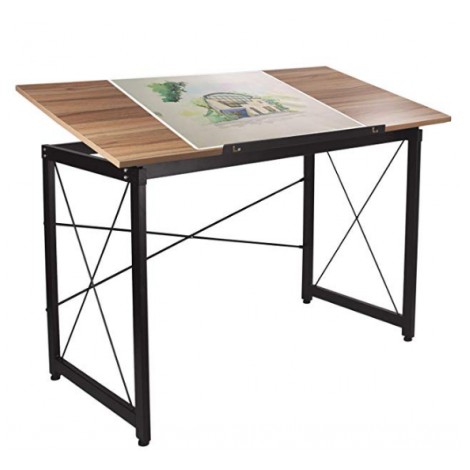 The H & A is the perfect selection measuring at 47x24 inches sufficient for daily use and ideal for both kids and adults. It is easy to assemble, and the package includes six socket cap screws. It will take you less than an hour to put everything together since the instructions are quite clear.
Durability
The H & Q is made of high-quality material, with the panel consisting of wood that has a smooth and glossy finish. It is safe, easy to use and the legs are made from solid steel construction that allows for maximum stability.
Adjustable
The H & Q has five adjustable height levels that make it perfect for your drawing needs. There is a pen slot where you can place your pen while working. The design is quite versatile, and you can use it for other purposes other than drawing. Your kids can use the table for painting, or you can also use it as a computer table amongst other uses.
Cost and value
You will love the H & Q. It looks great especially the top surface wood that has a perfect finish. Its price is incredibly low, yet it is high quality and versatile in its functions. It is a good buy; you will not regret the purchase.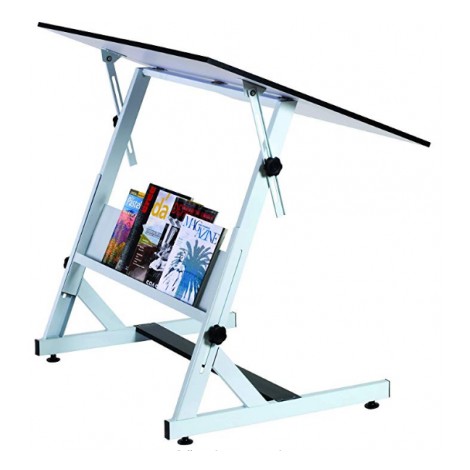 The Bieffe is unique in that it's sturdy and efficient; a must have for artists who are keen on impressively maximizing their productivity. It can adjust in height between 29-39.75 inches, and the panel tilts up to 90 degrees. The table weighs 56lbs, and the metal feet rest on rubber support for maximum stability.
Durability
The Bieffe has a frame made from a premium metal base that is enameled in white making it have a gorgeous appeal. The knobs for height adjustment are easy to turn, whereas the top is made of a wrap resistant wood. It has a black metal bar for supporting your feet while you work. In addition, there is a white enamel sheet that you can use to store your books and magazines.
Ease of assembly
When setting out to buy a drafting desk, you may be anxious about fixing it especially if you are a first time user. However, with this option, you don't have to worry since the Bieffe comes in an attractive package with clear instructions on how to assemble. It will take you less than one hour to fix everything together. The bolts and the bolt holes are well aligned, thus your desk will be sturdy with no weak parts.
Cost and value
This costs more than other drafting desks out there in the market because it is made from expensive material such as enamel and non-wrap resistant wood. However, it is a durable piece of equipment that will last you for many years to come. It is a good buy worth the price.

Subscribe to our Newsletter