Best Table Lamps Reviewed & Rated for Quality
In a Hurry? Editors choice: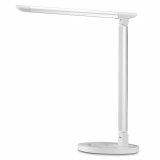 Test Winner: TaoTronics

It's awfully difficult to picture a table of any kind not having a light source on it. Sure, there are some extremely awesome floor lamps and ceiling lights that might fit your space a bit better, but as this list is titled "Best Table Lamps" those options don't exist here. Harsh prejudice will be put on floor or ceiling designs.
Standout Picks
Criteria Used for Evaluation
Materials
I don't think that anything could be more essential to the process of picking out a lamp for your table, for any table, for any room, for any reason, than the build. It's so important that your lamp is made well, or made in a unique way.
Most of the lamps we chose are considered modern lamps. Twenty-first-century lights, at their base, would include things like modern light bulb sockets, multiple options for both brightness and light flavor. We're also looking for things like the ability to charge mobile devices or any other device. Or the use of LEDs in the search for fewer appliances wasting a ton of power.
These things must be built with the ability to withstand a little bit of moving around, and the electrical guts of the matter makith the lamp. There's no point in buying a lamp that has shoddy electrical work, considering that is the one thing you've kind of picked one up for, the light, which is powered by that electricity.
Other build materials matter as well. What kind of metals the arms are made of, or what the base is made from. There isn't a for sure answer as to which of these materials is better than the other, but you'll want to ensure that whichever product you're buying, that the designer and manufacturer took care into choosing their materials. This is a good sign that the quality of those materials will be better than budget.
Advanced Features
One of the more fun buying guides to put together, the table lamp (or any sort of light) marketplace is ripe with an insane amount of variety. It's dizzying. Even narrowing things down to just tabletop lamps didn't minimize the pool of varied types of light sources.
You might notice that our list gets a little bit crazy. There are some items on our list that are just completely odd. Some that aren't even very good lights, to be completely honest. Others are just the simplified perfection of electrical light sources. And a bunch of options in between.
Like the builds of the lamps, we were focused on ensuring that the variety was also coupled with well thought out and well-manufactured products. The variety should be a large portion of your shopping choice, but should never supersede the quality and use of the lamp.
From lamps that have touch controls, RGB color, built-in speakers, charging ports, or a complete replica of an era or style, it's extremely easy to put together a list of products that don't resemble one another. The sheer mountain of variety in this marketplace can ensure that there's a lamp out there for your needs and space.
Value
Everything we chose to add to out list skirts the expectations of the luxurious electrical additions. Nothing even reaches three digits, in the price tag department. This doesn't mean that there aren't any good options in the north of a hundred bucks vast ocean of products, but we've managed to scrounge up some of the best lamps on the market in an affordable range.
It may seem like simple math, but often it's not. In order to get the best of both of the criteria we spoke of above (Variety, and Build Quality) you've got to stay away from the basement of a market. The rest of the balancing act is up to you and your budget. There are some great medians. But there is also room to wiggle, both on our list, and in your search for a great lamp.
There are plenty of lamps out there that are extremely unique, but might not be the best lamps, because the designers and manufacturers are focused on getting the appeal benefits from their time and efforts. Others might be stellar lamps, light fixtures that you'll never have to replace or complain about, but they might not be the most pretty, or eye-catching. These are the sliders you must move in order to figure things out price wise. Get just enough of both and you'll land somewhere in the middle. Too little, and you'll be skirting towards the budget end.
As with any sort of product shopping, it's essential to understand two things when it comes to price. Firstly, your budget. If your funds are fixed, stay within that. If money is not an option, set an arbitrary price budget just to ease the narrowing of a dense market. Second, you need to focus hard on grasping your real needs in the situation. Knowing what kind of lamp you need or want will immediately eliminate more than half of the options out there.
10 Best Table Lamps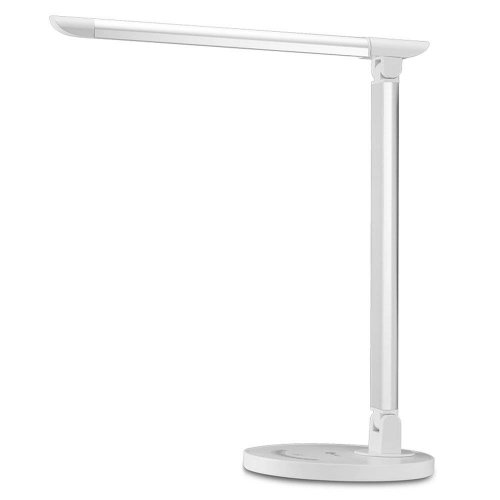 The most modern and chic light on our list nabs the top spot because of how easily, and beautifully it embodies the twenty-first century with its design, utility, and use. TaoTronics comes to the party with its extensive history of well-made electronics, continuing to uphold its illustrious experience with every product. The LED Desk Lamp on offer here is no exception to their rules of being as useful as it is illuminating.
LEDing For The Future
It's no secret that LED lights, and LED bulbs are the way of the future. They are cleaner and clearer forms of light, and they use a heck of a lot less power to keep them on. The LED Lamp from TaoTronics of course, uses that technology to its fullest potential. Best of those offerings comes in the form of multiple color temperatures. Five to be exact. Add to that the seven brightness levels, and this one lamp can have thirty-five different combinations of light, making it the perfect lamp for any space, for any purpose.
AA Battery powered
Batteries are a pain in the butt-pocket, where you, no doubt, keep your mobile phone. So while some companies and manufacturers offer wireless charging via the base of their lamps, but the acceptance of that power is extremely dependent on your device. Only a small portion of mobile phones these days have the proper batteries equipped to accept wireless charging. In addition to that, you can only use those bases to charge mobile devices. So instead of playing that inevitably losing game, the TaoTronics LED Lamp has a USB port where you can charge any device you want. Fill that e-reader up, or your mobile phone, overnight with ease thanks to the USB port.
Cost and Value
You wouldn't believe the price of the TaoTronics LED Lamp even if we told you what it was, so all we will say is that it's the best value out there right now -- at least in our efforts of scouring the marketplace -- and it gives you far more than the price-tag suggests it might. You've got clean light, with multiple different temperatures, and a charging station, all for a ridiculously great price.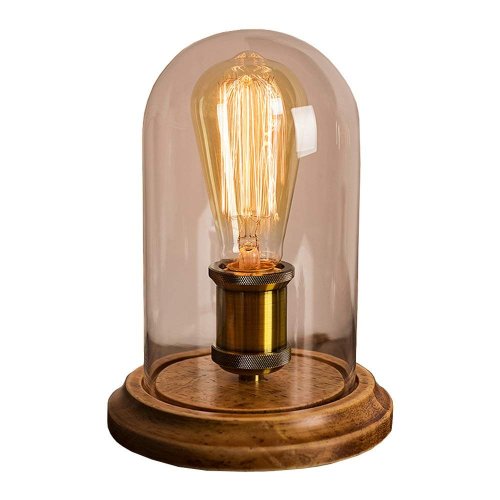 Get ready to impress the pleated pants off your penny-farthing riding friends, because we've got the least useful light here, in the Surpars House Vintage Desk Lamp. These classic throwbacks to an age where electricity was still mostly a hearty promise of a brighter future, but are now trapped in the nostalgia hype of not-super-bright electronic devices.
Get ready to impress the pleated pants off your penny-farthing riding friends, because we've got the least useful light here, in the Surpars House Vintage Desk Lamp. These classic throwbacks to an age where electricity was still mostly a hearty promise of a brighter future, but are now trapped in the nostalgia hype of not-super-bright electronic devices.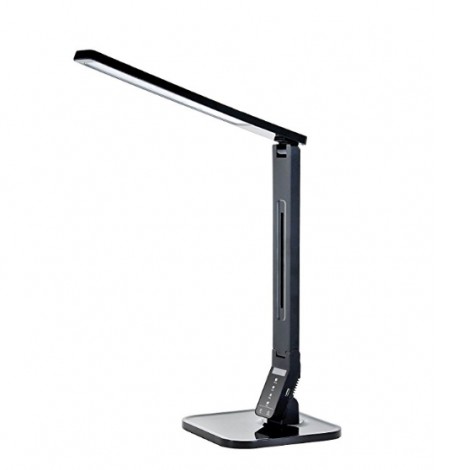 The Tenergy LED desk lamp in coming in at number 3. This adjustable tilting rotating lamp is a power light in a small package. The 530 Lumens of light controlled by a 5 level switch that is preset with 4 light color temperatures that is sure to match up to whatever your mood requirements are. The easy to use USB port is ready to charge your device within easy hands reach.
Light Quality
The Tenergy boast a 11W dimmable light that can be adjusted from full brightness to soft with 5 settings and a built in USB charging port. The light is smooth non-flickering to eliminate added eye strain and create a stress-free environment.
Adjustable-Adjustable-Adjustable
The polished high gloss black finished lamp features an adjustable base that swivels 180 degrees. The arm tilts an amazing 140 degrees which coupled with the rotating base will assure you can adjust the light to illuminate the area as you see fit. The light comes equipped with a 60 minute timer for those late night bed readers. The 4 preset light colors include cool, natural, mild, and warm white lights.
Cost and Value
This lamp screams modern design with it's easy to use touch panel control and sleek design lines. The USB charger is nice added bones to a lamp that has a 5 level color brightness. The price is something everyone can live with for this amazing light. This lamp is a great value.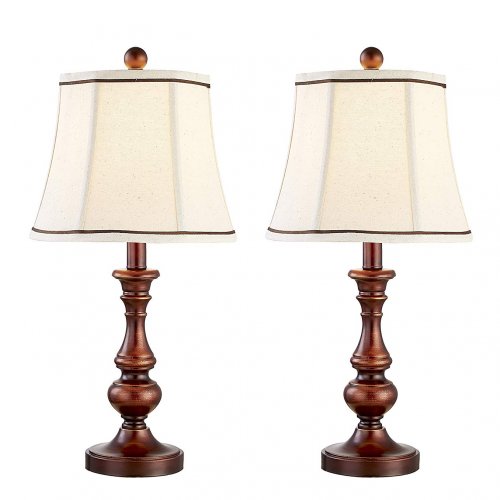 Speaking of fantastically wonderful aesthetics, the DILI HOME table lamp is straight out of the great outdoors, or maybe even your folks old family home near the brush. It's so classically designed that the untrained eye might mistake it for an antique. The best part about the lamp is that well, you'll need to check for double vision.
Paired
Yes, the DILI HOME is a magnificent and well-designed lamp, especially in the aesthetically pleasing in a cabin sort of way. However, one of the best things about the lamp is that you two for the price that only one of these bad boys would normally cost you. It's not funny, how expensive nice table lamps can get, but here, we're looking at double the bang (or light) for your buck.
Sturdy and New
Often when it comes to products that seek to mimic a time of yesteryear, there is a strict lack of modern technology and advantages. The double pack of DILI HOME table lamps -- with their exquisite old-school antique feel, and linen shades -- come struck with the most modern of electrical stability, including adapting to LED bulbs for extreme energy saving possibilities.
Cost and Value
Do we have to mention again that this is practically a two-for-one deal? The DILI HOME "vintage style" table laps are incredible lamps on their own. With their classic cabin vibes, and well built bodies, we'd put this product on our list if there was only a single one in this package. But there's two. Two amazing lamps that will fit into any office, bedroom, or living room vibe with class.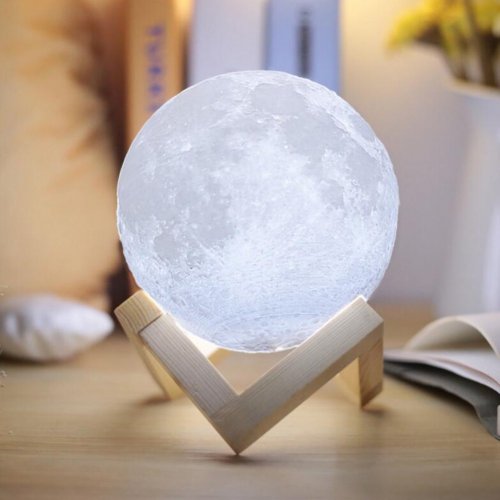 probably the least likely product to ever wind up on a lamps list, it's not really anywhere near a lamp, rather, a general source of light. Sure, that's technically what lamps are, but generally, they are designed to put light into specific places, like from under a hood, in a cone shape. Usually, they're made to shed light downwards. The Moon Light from Desparian is the most particularly beautiful -- almost art -- light you can buy for any space.
Mini Moon
The Moon Light is an actual image of the real moon! Yes! The one above you, in the night's sky. That one. The manufacturers use NASA's satellite images to make an exact replication of all the divots, and blemishes on the moon's actual surface. It's beautifully rendered on a smooth surface of the tiny globe you see on the product page. You can hold the actual moon in your hands!
Colors & Charges
The beautiful moon replica from Desparian is not only one of the prettiest lamps you will ever come across, and lucky for those with an affection for the moon, the Moon Light wireless lamp has the ability to change colors between two different shades of yellow, and a more white tint. All three are stunning. There are even multiple brightness levels that will fit your mood and your room.
Cost and Value
At pennies on the pound for the amount of lovely light this moon lamp will bring into your life, there's an insane amount of value here. It's an absolute delight to have around in your home, or -- as a professional photographer myself, I have one to -- take out on photo shoots with me. It's very much on the cheaper end of the market spectrum, and will bring you hours of joy.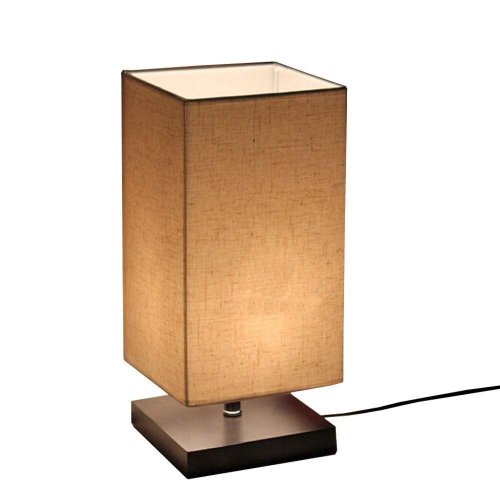 One of the first lamps on our list to feature a look and aesthetic that is completely out of the norm. Other than a miniature moon, obviously, which isn't "normal". The Minimalist Solid Wood Table Lamp from Surpars House is a delightfully rectangular lamp that will add all sorts of beautiful vibes to your space with its unique shape and design.
The Classics
The hard-edges on this differently shaped lamp might stand out as a different kind of look, but the lamp itself uses all of the classical tunes to sing the light show. You've got a wonderfully crafted wooden base, with clean edges, and a nice finish on the grain, and there's a beautifully retro linen lampshade wrapped around the whole thing in a domino kind of shape.
Simple Elegance
While we tend to look at normal-ish products that have a lot of flash, the Minimalist Solid Wood Table Lamp from Surpars House is a simple product that does an amazing job at being the one thing it was meant to be. There's nothing flashy about this lamp, and it specifies this right there in the title. It's the first word. It's beautiful. It's clean. It's a light.
Cost and Value
There's no cutting corners here, the Minimalist Wood Lamp is a great addition to any space, and will add a touch of uniqueness to the shapes and light of said space. It's not at the bottom of the price range, but it's nowhere near the top, so you're getting a whole lot of value out of one of these cool but classic lamp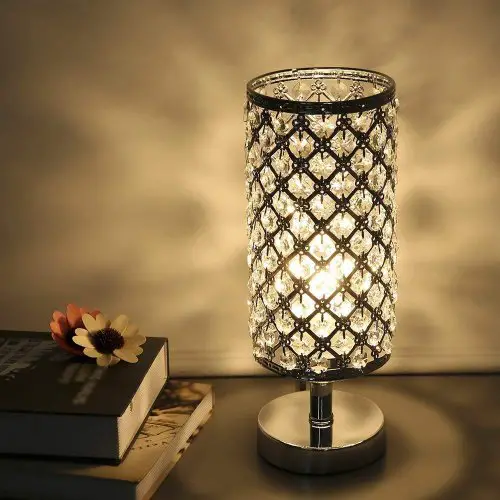 Another fantastic table lamp that is looking to change the way you bring light into a room, the Tomshine Crystal Bedside Lamp is exactly what it sounds like, it's a lamp, inside of a crystal. There's a million really good reasons why one would look to get a cool and unique lamp for their space, and a few really great reasons why this lamp is a great choice.
Crystal Palace
The Tomshine Crystal Silver Bedside Lamp boasts over one hundred translucent, and extremely reflective octagonal crystals that spread light, and beautiful patterns all over the space. It's kind of like the mix between an old chandelier, and a cylinder-shaped ikea lamp. It's stunning, and looks almost as good off as it does on. How many lamps can you truly say that about?
The Best Everywhere
Given that there isn't much of a light diffuse with the crystal type of shade, and the standard E27 bulb base, the Crystal Silver Lamp from Tomshine is a fantastic light feature in absolutely any space. There's enough light for it to be a great addition to living room situations, as well as a small enough amount of light for the bedside tables in your home. It would be good of you to be sure that the aesthetic of the lamp is something you're keen on, otherwise, there's nothing stopping you from putting this light producer anywhere in your space that you can find a flat surface and an outlet.
Cost and Value
You'd think that a lamp covered in dangling crystals would be extremely expensive. Somewhere in the upper echelon of the budget range. But the truth is that modern manufacturing has simplified the prism creation business, and simple crystals are no longer that difficult to turn out. So while the Tomshine Crystal Lamp might look extremely luxurious, it's delightfully on the opposite end of the price scale.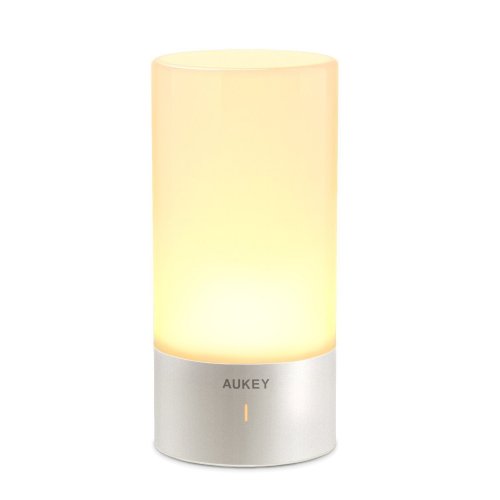 Now here's something with a solid touch of modern flair, and a keen ability to up the table lamp game for the foreseeable future, forever. It's part of the biggest change in lighting we've probably ever seen. At the very least, the biggest change since electricity. The RGB era is well upon us, and if you're in the computer games community, you've already seen everything change to RGB.
The Power of RGB
The Red, Green and Blue lighting system (otherwise known as RGB lights) is the most common system of lighting used when producing color. The three primary colors, the red, the green, and the blue, can be used in different mixtures to create nearly every color on the standard wheel. By implementing the three colors in the lighting system, and giving the on-board electronics the power to put forth each one in controls amounts, it can make brilliant purples, vivid pinks, the sunniest yellows, and plenty in between.
The 21st Century Package
In the same way that artificial intelligence is attempting to ease the use of many electronic devices, this AUKEY light is the perfect combination of all the wondrous things that the twenty-first century has provided us. There is a touch control on the base of the lamp, full color display, and multiple different kinds of light modes.
Cost and Value
The RGB Table Lamp from AUKEY is a really amazing light that has a little bit of technology lending a hand. It's around the midpoint of our list as far as price goes, it's not the cheapest, but you're not breaking the bank for this magnificent and potentially colorful light source.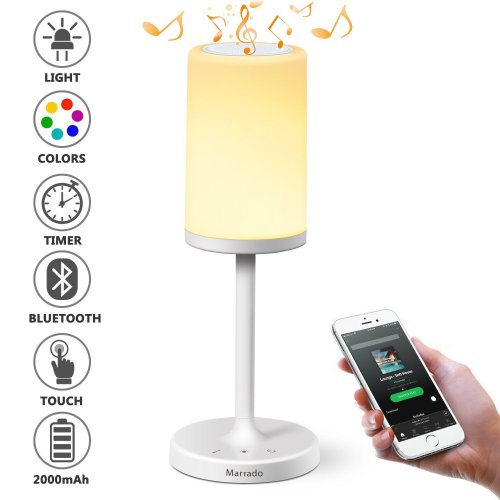 Sometimes products like this one -- the types of lamps that are cornered into a budget legend, but with unique twists -- are hard to narrow down. Consider the size of the lamp. In the product description, there is not a single mention of the size of the lamp. And thanks to the poorly photoshopped product photos (a usual casualty in the budget product market), the Marrado Bluetooth Speaker Bedside Lamp looks to be about four different sizes. Some photos make it look only a few inches tall, others make it look like a regular sized lamp. Regardless or the odd sizes, the Marrado Bluetooth Lamp is one you should look at.
That Noise Trick
When it comes to budget lamps, there is -- like we mentioned earlier -- usually a trick up its sleeve that will catch your attention. It's sometimes a ploy to get people to spend a little bit more money on a product that isn't worth the price-tag, but in the case of the Marrado Lamp, it's an actual trick. The biggest selling feature of the Marrado Bluetooth Bedside Lamp is that in the center of the lamp is, you guessed it, a bluetooth speaker!
Touch and Go
Plenty of modern lamps boast a controllable amount of light. That's the beauty of twenty-first century wiring and usually the result of LED bulbs. The Marrado Bluetooth Lamp is not only able to change color brightness, with touch controls, but it can also change colors, thanks to the versatile LED bulb within it.
Cost and Value
On top of the varied scale of the lamp, the bluetooth speaker for music or audio pleasure, a controllable strength and color of the light, you've also got a lamp that doesn't need to be plugged in. It's mobile, and charges from the wall and will last a few hours before it needs more charge. It's a budget lamp with some amazingly above average features.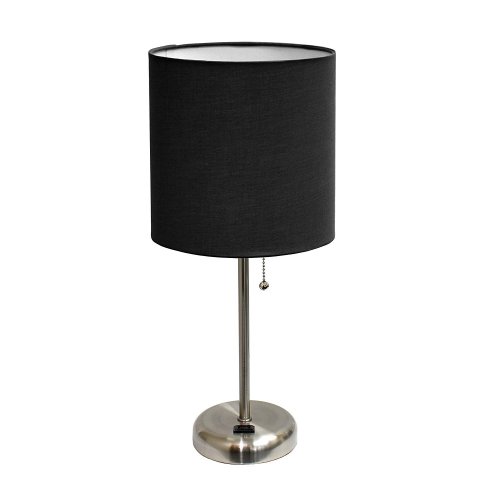 Coming screaming off the ramps from the interstate highway to bring you awesome motel or hotel vibes from all across America, the Limelights Stick Lamp has the aesthetic that you might be looking for. It's simple, and elegant, and has a few bells and whistles that you might not find on your average lighting product.
Every Hotel
It doesn't matter which kind of room you're trying to fit this beauty of a lamp in, it'll blend right in, and supply you with the lighting needs you seek. The ten different color-ways are all beautiful and classy. They've all got that fantastic mid-nineties feeling. A real retro glory. Especially the gray and teals. No matter what you might be trying to accomplish with one of these lamps, you'll be sure to find an amazing color option available.
Power Outlet
Like any decent hotel would offer, the Limelight Stick Lamp includes a power outlet in the base of the lamp, it truly is a replica of the stay-on-the-road type of feel. The beautiful part about using a power outlet over any other form of plug is that it's universal, and causes nearly zero headaches when it comes to your need to charge things. Unless of course, you have European plugs on all of your devices. There's a tiny headache there.
Cost and Value
There's a whole lot of value with the Limelights offering. Especially if you're someone trying to replicate an era or an aesthetic that one might only find in a room that you pull your station-wagon up to the front of. The classic vibe to the Stick Lamp from Limelight is an essential addition.

Subscribe to our Newsletter