Best Dog Proof Traps Reviewed & Rated for Quality
last updated:
Oct 21, 2019
As we push our communities further and further out into rural areas, we inevitably encroach on the habitats of animals that were there before us. Though, in fact, many of these animals have adapted to living in cities right among humans.
So what can you do about that wild family of raccoons that throws parties in your trashcans every evening or the sweet momma possum who decided to give birth in your garage? The most humane thing you can do is catch these animals in live cages and release them back into the wild.
And while catching these animals is important, as they can often carry diseases like rabies which can be fatal, you want to ensure that you don't end up catching a neighbor's dog instead.
So we've rounded up the best dog proof traps on the market so you can get your catch and release game on.
In a Hurry? The test winner after 12 hrs of research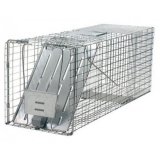 Havahart
Why is it better?
Can be used for array of animals
Made from galvanized steel
Durable against the elements
Sensitive spring-loaded door for secure catches
Tight metal mesh
In a
Hurry? Editors choice: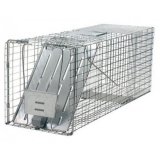 Test Winner: Havahart

14
Researched Sources
17k
Reviews Considered
12
Hours Researching
10
Products Evaluated
Effectiveness
Ease of Use
Materials
Versatility
Value
By Default
10 Best Dog Proof Traps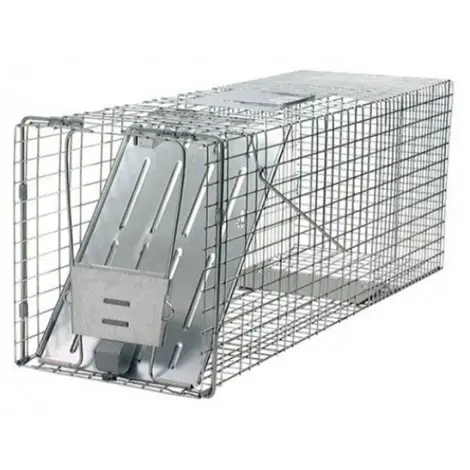 Can be used for array of animals
Made from galvanized steel
Durable against the elements
Sensitive spring-loaded door for secure catches
Tight metal mesh
Issues opening door for release
We jumpstart our list with the Havahart. This is a perfect catch and release companion, and works wonders in catching all sorts of animals from trapping skunks and armadillos, to the usual suspects like raccoons and possums. Made in the USA and trusted by professionals, this is a must-have for dealing with unwanted wildlife around your home.
Made with Galvanized Steel
The Havahart is made from a tight metal mesh that is made out of galvanized steel with several features that put it a cut above the rest. The tight metal mesh construction works to prevent sneaky critters from reaching through and stealing bait from the outside of the cage and it also works to keep the animal safely contained once they are trapped.
Cages with more space between the wiring are less effective at actual trapping and can be dangerous as they may allow a trapped animal to reach through and bite or scratch you during transport.
This product also features a large solid guard around the handle area and the door to ensure that the animal cannot reach through to your hand as you are carrying the trap to relocate it.
Because this product addresses and solves these problems, we score it incredibly well in the Effectiveness and Ease of Use categories.
We love the galvanized steel for its strength in containing the animal and because it actively guards against corrosion and rust so that you can continue to use this trap for years to come if necessary.
The wiring on this cage has also been smoothed around the edges to ensure that neither the animal nor you get scratched up on sharp wiring during the transportation process. So that's top marks in the Materials category as well.
And to add even more to this product's Effectiveness score, it features a sensitive door that is spring-loaded so as to achieve quick and accurate captures that are safe for the animal and for you.
Works on Array of Animals
This racks up major points in the Versatility category as this large-sized animal trap can be used as one of the best dog proof coon traps, as well as an amazing option for catching opossums, armadillos, groundhogs, stray cats, muskrats, and skunks.
We love that it is a one-stop-shop for catching critters and taking them to more suitable environments.
Cost and Value
The Havahart rings up on the lower end of our price range and we love its value because it is insanely durable and effective on a wide range of animals at a literal fraction of the cost of more premium traps.
Plus, real trappers rely on these for catch and release so you know you'll be able to get the job done right.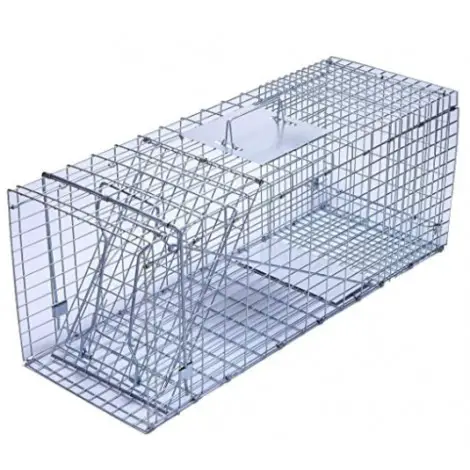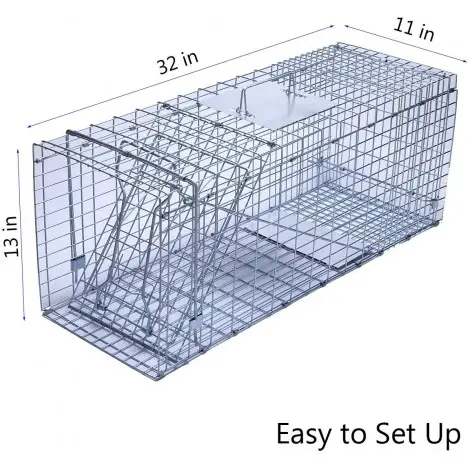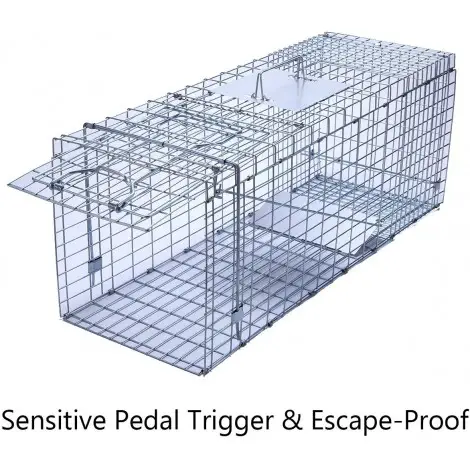 Easy collapsible storage
Trap closes in micro-seconds
Extra large handle guard
Galvanized smoothed steel
2 different size options
The Trapro is another affordable and humane option for catching the hungry animals that may be terrorizing your garden. With galvanized steel construction, you can count on this product to last. And we love that it collapses easily for taking up minimal storage space.
Micro-Second Closure
The Trapro is another that is made from galvanized steel which resists corrosion so you can count on it for years to come. The steel is woven semi-tightly to ensure animals can't squeeze through and is smoothed over to ensure that sharp edges don't cut the caged animal and harm it.
For these reasons, we give this product a great score in the Materials department.
We also give points for Ease of Use as this product has an extra-large handle guard for even more protection during transport.
The spring-loaded door on this product literally closes within micro-seconds. This prevents accidental escapes and partial escapes (which can be dangerous to the animal). We give Effectiveness points here for that feature.
We like that this product comes in two different sizes, making it more versatile for the exact job at hand.
Space Saving Storage
This option assembles and pops down in a breeze. Simply pull up on the handle and watch the trap form before your eyes. We love that it folds down almost as easily (though not when an animal is inside) so you can really save on the storage space required when this product is not in use. More Ease of Use points here.
Cost and Value
The Trapro rings up on the lower end of our price range and we like its value because it is made from durable galvanized steel which is triggered in micro-seconds for major efficacy.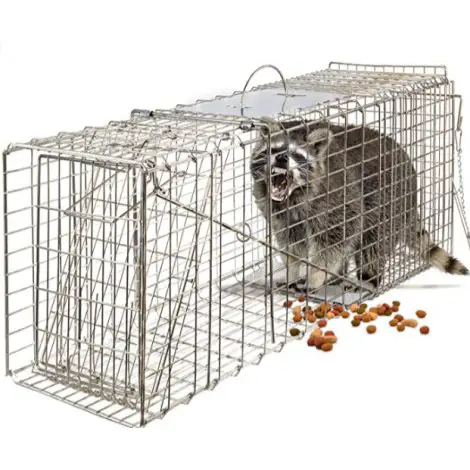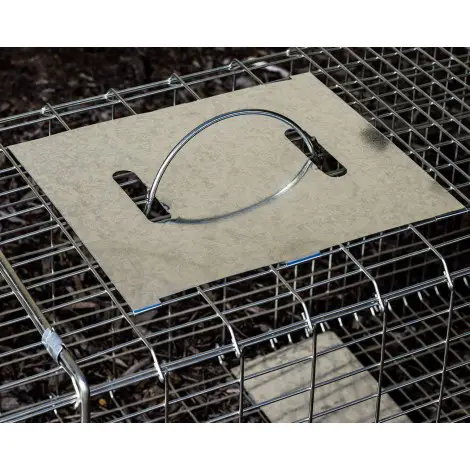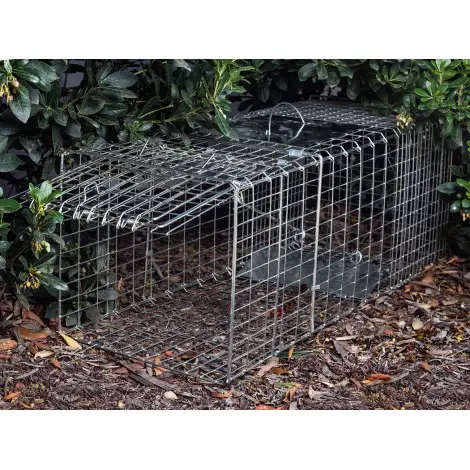 Catch a range of animals
No assembly required
Made from durable steel
Great budget-friendly option
Door and handle guards
Super small animals can wriggle out
The OxGord is one of the easiest methods for trapping coons with dog proof traps out there. But it does so much more than just that. You can humanely catch rabbits, moles, squirrels, and even chickens with this bad boy so it gets tons of Versatility points, and what's even better is that it comes fully assembled.
Comes Fully Assembled
This is an amazing option that won't require a Ph.D. to assemble. That's right. This product comes fully assembled, but how exactly does that work?
It comes delivered to you in a flat box. Simply slide the trap out and pull the handle up while holding the base of the cage. It will pull up and snap into place without you having to put any pieces together. It's practically magic and takes just seconds to get up and working.
Because of this, we rank this product high in the Ease of Use category.
Smooth Wire Mesh
The OxGord is made from sturdy steel that will resist weathering and hold up for a long period of time. The mesh is not as tightly woven as the previous item on our list, but there are still ample door guards and handle guards to protect you from rogue scratches and bites.
For this, we give a generous score in the Materials category.
We also love that the wire mesh is smoothed on the inside and out to help keep the animal from being injured and to ensure you don't et knicked on sharp metal as well.
With a light, spring-loaded door with tons of sensitivity, this product is super effective. In fact, reviewers found that they were successful in catching a range of animals in these traps, so we add to its Effectiveness and Versatility score here.
Cost and Value
The OxGord rings up on the low end of our price range and we like its value because it can catch a range of animals with no assembly required.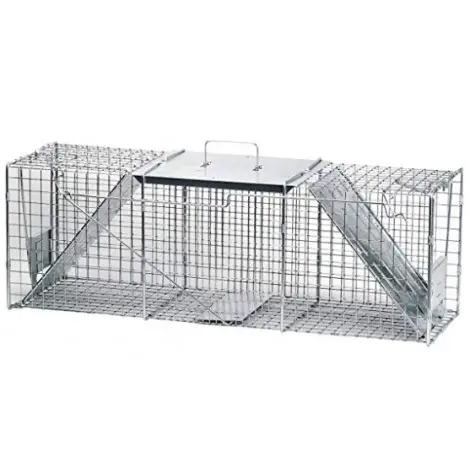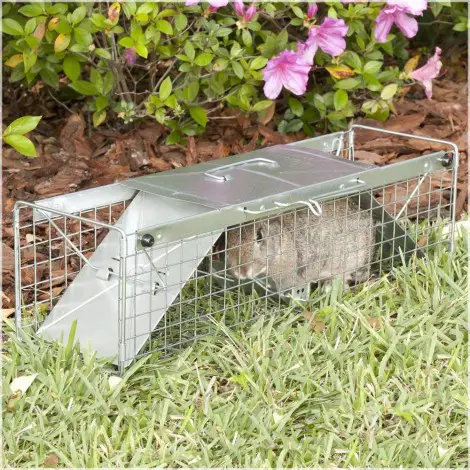 Doors on each end
Specialized trigger
Galvanized steel
Rust resistant
Made in the USA
The Havahart Two-Door is very similar to the similar Havahart option above, except that this choice has, of course, two-doors. The benefits of having a two-door trap include allowing the animal to enter from either side while still relying on one trigger for capture. This increases the likelihood of a catch.
Two Doors
This doubles the chance of you catching those pesky animals and relocating them so they no longer eat all of your fresh growing veggies.
With doors on either side of the cage that are spring-loaded with one sensitive trap trigger, the animal will be able to enter the cage on either side, upping the chance of a safe catch. Because of this, we score this product high in the Effectiveness category and Versatility.
12 Gauge Wire
It is made from durable 12 gauge galvanized steel wire mesh that actively fights against rust so that you can use it for years to come. We score it highly in the Materials category for this.
The trigger is designed specifically for animals that weigh roughly the same as your average raccoon so as not to be triggered by smaller critters like squirrels that you are not intending to catch. For this reason, we give it a good Ease of Use score.
Cost and Value
The Havahart Two-Door rings up towards the bottom of our price range and we love its value because it doubles the chances of you catching the desired animal without doubling the price.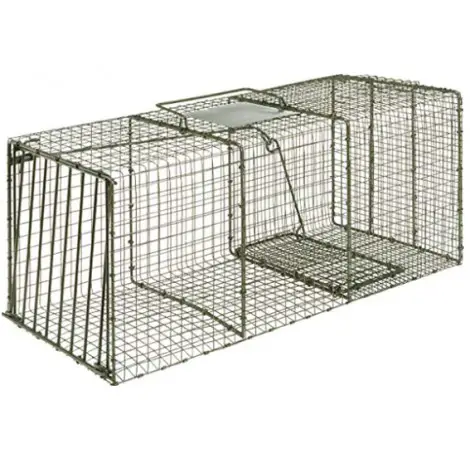 Super durable
Easy to release
Heavy materials
Nice large size
Good for an array of animals
Issues with trip sensitivity
The Duke Traps Heavy Duty Cage is, in fact, that--heavy-duty. This is one of the more durable choices on our list, and reviewers rave about the pure volume of animals they are able to catch with this bad boy. It can catch a large range of animals and is super simple to release the animals once they are caught.
Insanely Durable
This is one of the more durable cages on our list. Some folks have caught upwards for 100 animals with this cage without seeing an ounce of wear or tear. In fact, there are reports of people catching small pigs in these, so you know they're super sturdy. We give tons of points for Materials and Versatility here, as well as Effectiveness.
Some comment on issues with trip sensitivity here, so that's worth mentioning.
Flip to Release
This choice solves the problem of tricky (and sometimes dangerous) releases. While you will have to push down the door on some traps in order to release the animal, with this cage you simple must roll the cage over.
When the cage is rolled over, the door releases and opens. This allows you to put more space between you and the released animal.
Though in some cases the animals themselves can flip the cage when trying to escape and release themselves.
Cost and Value
The Duke Traps rings up in the low middle of our price range and we love its value because it is easier to use and can hold up to tons and tons of uses with even heavier animals.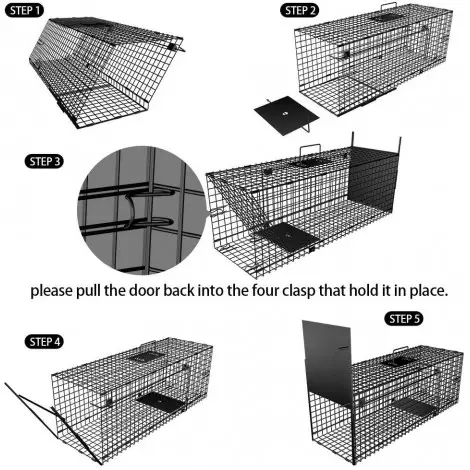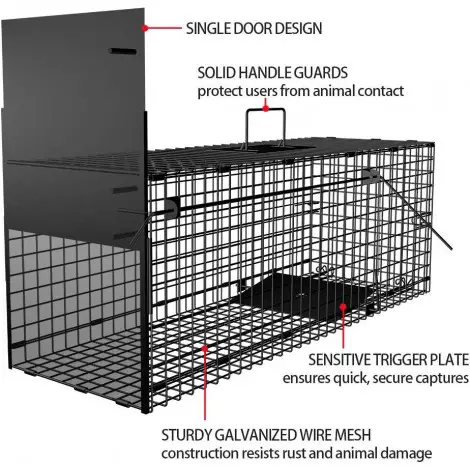 Made from galvanized steel
1-year warranty
Budget friendly option
Trigger rod outside
The AMAGABELI is a good option for an array of different animals from squirrels to giant and very well fed raccoons. It has a single door with a sensitive trigger that is easy to set, and the trigger rod is safely positioned outside of the cage so that the caught anima cannot damage it as they try to escape.
Trigger Rod Outside
The AMAGABELI is made from durable galvanized steel that fights against wear and tear from the elements. We give points for Materials here, and also for the large protective hand plates to keep you safe during transport.
However, we take some points away as the wires are spaced a little far apart so raccoons can easily slip their hands inside and grab the bait without being caught.
Hook Set
This is set by hooking bait onto a hook, which, when pulled, releases the trigger and closes the cage. Some users found this to be troublesome when trying to catch smaller animals like rabbits as the mechanism, when pushed away from the opening of the cage, actually locks the door open. We take points away for Effectiveness and Ease of Use here, as well as Versatility.
Cost and Value
The AMAGABELI rings up on the low end of our price range and we like its value because it's a great budget-friendly option that is still made out of quality galvanized steel to resist wear and tear. Plus, it comes with a 1-year warranty.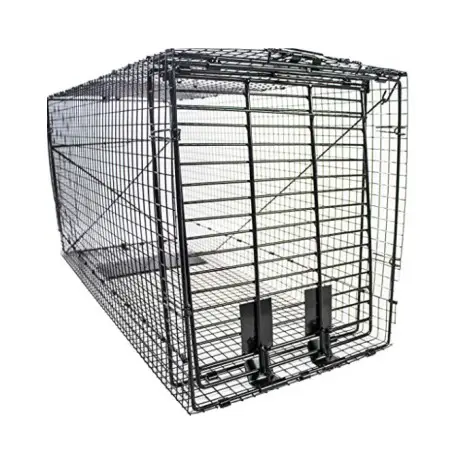 Adjust for different sized animals
Treated steel to resist rusting
Easy to assemble
Some found animals could escape
The HumaneWay Humane Trap is a specialized option that allows you to set it for specific weights of the animals that you are trying to catch. You can adjust the tension weight to do this which makes this a super versatile option for catching a wide array of different animals.
Adjust Tension
The HumaneWay is one of the only on our list that actually allows you to successfully adjust the tension so that you don't end up catching an animal you weren't intending to catch.
By adjusting the tension--essentially adjusting the height of the tripping mechanism--you can control how much weight is needed to successfully set it off. This will allow you to catch squirrels as well as foxes with the same cage. We give points for Ease of Use and Effectiveness here, as well as Versatility.
Assemble On Site
This is super easy to assemble and goes together in a matter of minutes. This makes transporting it wherever you plan on trapping is much easier as you don't have to carry it with you fully assembled. Just assemble on site.
This product is made from treated steel that resists rusting so that you can use this product year after year. We give points for Materials here.
Cost and Value
The HumaneWay rings up at the very top of our price range and we like its value because it can be adjusted to catch the widest array of animals on our list, and because it is super durable for an extended lifetime.
8

. Redneck Convent Duke DP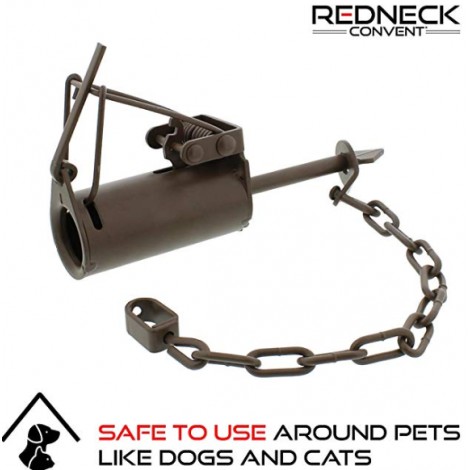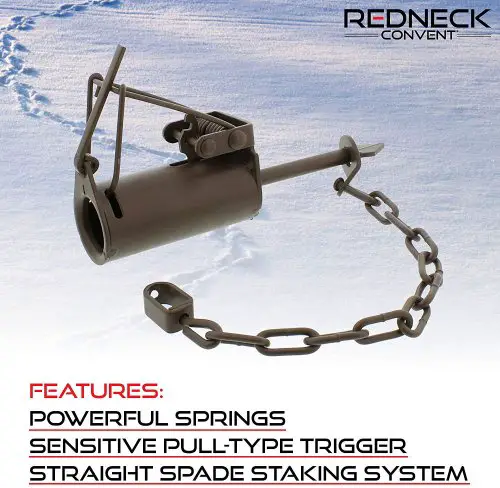 Durably made
Can catch a variety of animals
Safe to use around cats and dogs
Very hard to set
Need to purchase setting tool
Inhumane
The Redneck Convent Duke DP is another that is not a live animal choice. This is designed for hunting and trapping to kill the animal, as it will be nearly impossible to release any animal that is caught. It is similar to the next product on our list but can catch a wider variety of animals. It is safe to use around animals like cats and dogs.
Catch Array of Animals
The Redneck Convent Duke DP can catch an array of animals from raccoons to foxes. You should be sure to check your state's laws on trapping animals as this is illegal in many states.
This is not a catch and release option, and you will have to kill the animal when it is caught. We give points for versatility but take away points for Ease of Use.
Tool for Setting
This choice is hard to set without an additional tool. You will be able to purchase this tool from Redneck Convent for a small fee. Even with the tool, setting it can be a challenge so we take points away for Ease of Use here.
The is made from all steel parts so we give points for Materials.
Cost and Value
The Redneck Convent Duke DP rings up at the bottom of our price range and we like its value because it is durably made and is versatile.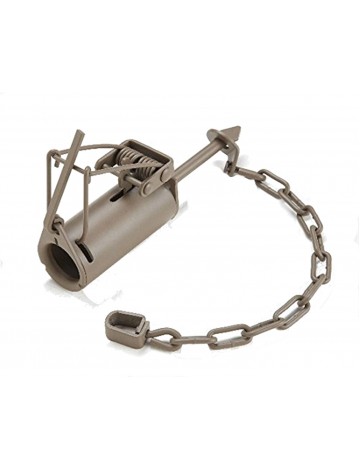 Very affordable
Sturdy build
Specialized for raccoons
Dogs can't fit paws inside
The Duke DP Coon is not a live animal trap like the others on our list. It is designed to snare the raccoon's arm so it cannot escape. You will have to kill the animal after it is caught if the animal hasn't already killed itself trying to break free. We dock effectiveness points for this.
Set with Marshmallow
The Duke DP Coon is designed specifically for raccoons so we dock points for Versatility. Your dogs will not be able to get into it, though cats may be able to. To prevent this from happening, bait with marshmallows instead of cat food as cats will not go after that bait.
It is challenging to set this without a specialized tool. We take points away for Ease of Use here.
It is durable so it gets points in the Materials category.
Secure to Sturdy Spot
This needs to be secured to a sturdy spot, whether it be a tree or staking it into the ground. Failure to properly secure the trap will result in the animal escaping with the trap. This is inhumane and will also result in you losing it.
Cost and Value
The Duke DP Coon rings up at the very bottom of our price range and we like its value because it is affordable and long-lasting.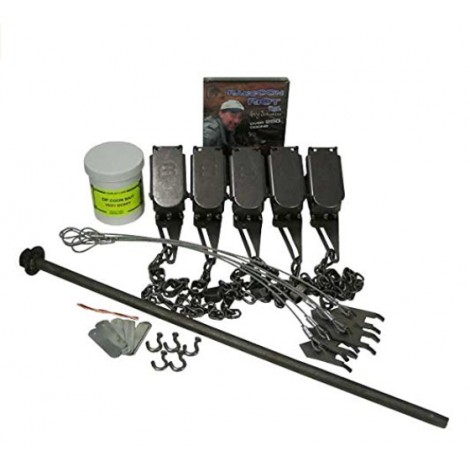 Comes with all you need
Comes with 5 traps
Specialized for raccoons
If you have a curious dog, you may find you need dog proof mouse traps all the way up to dog-proof raccoon traps. The F&T helps you to ensure that you are only catching raccoons and not your beloved pet. It comes with everything you'll need to set it up. This is not a live animal trap.
All Inclusive Kit
The F&T comes with everything you'll need to trap a raccoon. You will get 5 leg traps, 5 hooks, 5 stakes with a cable, 1 stake for the ground and bait. You will also get an instruction DVD to tell you how best to install them. We give points for Effectiveness and Ease of Use points here, as well as Materials.
Specifically for Raccoons
This kit is specifically made for raccoons so we take points away for Versatility here. That being said, these do prove to be pretty effective, if your intent is to not release the animal.
Cost and Value
The F&T Kit rings up in the middle of our price range and we like its value because it comes with all you need.
Criteria Used for Evaluation

Effectiveness
When we rate a product on its effectiveness, we see the percentage of the time that it works and whether or not the animal is harmed with the process. We value products that capture animals humanely so that they can be relocated.


Ease of Use
When considering ease of use, we look at how easy it is to set it up, how easy it is to bait it, and how easy it is to transport with the animal inside.
We liked choices that are mostly assembled and that don't require extra tools for setting. We also like ones with large handle and door guards to protect your hands when transporting the animal.


Materials
We like products that are made from sturdy steel that is galvanized to protect it from wear and tear from the elements. This construction helps to remain sturdy and resist rust.


Versatility
We value products that can catch an array of animals for relocation, rather than specific animals. We especially like products that can be set for the desired weight of the animal you want to catch.


Value
We value products that are made from quality steel while still being inexpensive. The true factor that separates the more affordable options from the more expensive ones is the ability to adjust the tension for weight. If you don't need this feature, go with a more affordable option.
Expert Interviews & Opinions
Most Important Criteria
(According to our experts opinion)
Experts Opinion
Editors Opinion
Users Opinion
By Default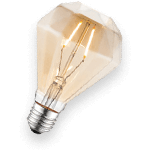 How To Set Dog Proof Traps
Here we will tackle how to set dog proof coon traps, as well as ones for other animals too. With the right information, you'll find that it's not that hard at all and works most of the time. Of course, if this seems like too much for you, you can always just call a professional.
1. Get your bait ready. And remember, one size bait does not fit all.
-If you are looking to catch a raccoon, bait with marshmallows or fish. We thought trash would work, but the experts assure us those work better.
-For a possum, go with ripe apples or fresh veggies. They're healthy guys.
-For armadillos, try sardines. Out of a can works just fine.
-For groundhogs, go with lettuce or sweet melons.
-And if you're looking to catch a cat that needs fixing, tuna or sardines will definitely do the trick.
2. Set it where you most frequently see the animal. Many of these animals follow routine routes and traverse the same area repeatedly so this will give you a good shot of catching one.
3. Camouflage it with some brush if you feel you're dealing with a particularly clever critter.
4. Set the bait. Each trap is slightly different so ensure that you read all the directions that come with it. If you are still unsure, pull up some videos as exemplars.
5. Check it as frequently as possible. We recommend in the morning and in the evening every single day. Leaving an animal trapped for long periods can cause immense distress and is horribly inhumane, especially in harsh weather conditions like extreme heat and cold.
How To Deter Raccoons from Visiting
Okay. All this trapping stuff is a pain. Aren't there just raccoon deterrents? Yes and no. For the good news, there are a few things you can do around your home to deter raccoons and other pests from visiting.
For one, you can ensure that your garbage is tightly sealed. But because of a raccoon's dexterous hands, they are able to get into some of the most secure cans, so even this won't always work.
As another way to deter these critters, you can make a pepper spray as this strong taste will send the masked bandits flying. To do this, mix a bottle of cayenne pepper powder as well as a bottle of hot sauce into around a gallon of water.
Pour a part of the mixture into a spray bottle and spray down all of the areas that you know the raccoons to hit up. Remember to spray frequently and especially after prolonged heavy rains as this solution can wash away.
Finally, you can invest in a motion-activated sprinkler system that goes off when it detects movement. Raccoons do not like water and this will scare them away while also not demanding that you keep your water on all night long.
Other Factors to Consider


Size
We liked choices that are large enough for a wide array of animals and that can safely transport the animal to a less populated territory.


Durability
When considering durability, we look at the materials the product is made out of and how well it holds up, especially to heavy animal catches.
Frequently Asked Questions
q:

Why do I need dog proof traps specifically?

a:

Well, if you've ever owned a dog or observed their behavior, you'll notice that they are quite as curious as their fabled foes--the cat. In fact, dogs are so curious that many owners find that they need dog proof litter boxes to keep Fido from munching on kitty debris.

And you know what's better than cat poop? Whatever yummy and enticing bait you're leaving out to attract possums or raccoons.

Even the smartest and most adept of the neighborhood dogs will find it hard to resist a treat like this and may find themselves in a dangerous situation if a dog-proof trap is not used.

So we say absolutely yes, these products are necessary--especially when there are dogs likely to be in the area in which you are trapping. But because you can never be 100% sure that an area will be dog-free (it's not raccoon free, after all), then you should always rely on these products just to be safe.
q:

Where should I release the animal once I have caught it?

a:

There are rules and regulations in each state that determine how and even if citizens are allowed to handle trapping and relocations on their own. Be clear on what these laws are before doing any animal catching yourself.

If you are able to release the animal on your own, you want to ensure that you move it far enough away from its current environment that it won't instinctively return, however, you don't want to move it so far away that the new environment doesn't mostly resemble its old.

To do this, choose a wooded location that is between 10 and 20 miles away from your home. This will ensure some continuity between environments which will increase the likelihood of the animal's survival.

Make sure there is a freshwater source nearby, and make sure there is plenty of cover for the animal to shelter in (an open field is not ideal).

Carrying out these steps should ensure the animal's safety and prosperity, as well as your freedom from future bothersome behavior.
q:

What if I get bitten by the animal in the process?

a:

First of all, you should always wear thick gloves when handling a caged animal. While many of these cages are designed to keep animals neatly inside, they may still be able to wedge their claws or mouths through--depending on their state of desperation (they are in a cage, after all).

Many of these animals are known to carry rabies, a fatal disease that's fatal if left untreated. So if the worst does occur, you should go to a vaccine clinic or hospital immediately. While you are on your way, you should clean out the wound with soap and water if possible.

There is no official test to see if rabies is present and it can take anywhere from 2 weeks to a year for you to display symptoms. So if you get a bite, it is best to play it safe and get a rabies shot immediately.
q:

Will these catch cats?

a:

They might. The key to avoiding catching a cat instead of the possum or raccoon you're aiming for is the bait. As we mentioned already, try choosing baits that are unappealing to cats. Raccoons are notorious for their sweet tooth, so using sweet bait like marshmallows won't be appealing to the neighborhood felines.
Subscribe to our Newsletter