Best Diaper Pails Reviewed & Rated for Quality
In a Hurry? Editors choice: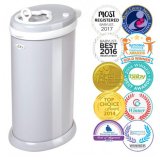 Test Winner: Ubbi

Babies are adorable and bringing a baby home is a
treasured moment for any mother
. However, there are some things we can't do without and one of them is a diaper pail since every often a baby will need a diaper change. Any mommy will agree that having a fresh smelling nursery is a crucial consideration when picking this essential device which works by trapping odor inside. When buying one, there are some factors to consider such as whether it can trap odor inside and the need for scenting or deodorizing. When searching for one, you might not be able to tell which one will function as expected. It's for this reason we have compiled a list of the ten best diaper pails to help you in picking one that will suit your needs.
Standout Picks
Criteria Used for Evaluation
Durability
These products offer a hygienic way of storing soiled diapers as they await disposal. Every time we purchase a product, we want to be sure we have picked the best that will last for long. Your pail selection is thus no different since you need one you will use up to the time your child starts using a Potty. There are different types available on the market. However the most common are steel, aluminium, and plastic. Whereas plastic might be cheaper, the best in terms of performance is steel and aluminium. They may be expensive; however they are sturdy and are useful in locking in bad air since they are non-porous. They are also easy to clean and maintain. Plastic on the hand is prone to staining and may leak bad air through pores and can crack easily. They are also easily convertible such that you can turn them into trash cans once your baby outlives them.
Effectiveness
Why do you need a diaper bin or pail? If the answer is odor prevention, then you need a product that will do precisely that. The best pail is one with an effective odor locking mechanism that ensures lousy air does not escape through its frame or every time you throw in a dirty diaper into the bin. It should have an airtight lid and correctly sealed to ensure bad air is locked in entirely. Most often, baking soda keeps away the bad smell and a pail fitted with carbon filters or with an in-built baking soda dispense will eliminate bad odor. At times, it may not be possible to completely keep the foul smell away, therefore ensure you keep it in the bathroom or away from the living room or kitchen. Also, a pail with scented liners helps to contain odor inside.
Value
When shopping for a diaper bin, quality and durability should be your top consideration. If you are a new mommy, you may not have the time to shop around, and thus you can pick a modest pocket-friendly bin which will get the job done. A bin that comes with customizable bags is more costly. Therefore you may consider one compatible with regular trash bags. However, bins with scented refill bags may cost you more but are efficient in trapping odor. The main reason for buying a pail is to keep away unpleasant smell, and it's advisable to choose one that is best suited in terms of efficiency, convenience, and budget. I would highly recommend a more advanced bin that will lock the odor, hygienic and eco-friendly.
Features
Pails come in various designs and features, and with the advancement in technology, developers are continually improving their products to make your customer experience better. The idea of one hand use sounds good since you can open the lid with one hand while holding the baby with one hand. Bins with foot pedals are increasingly becoming popular since they allow you to open and toss in the diaper without touching the lid. A flip-flop lid is ideal and should close with ease and silently to prevent screeching and irritating sound to you and baby's ears. The bins may either come with disposal bags (scented or unscented) which are specifically designed for them or without any bags and which you can use with ordinary disposal bags. To keep away curious toddlers from tampering with the bins, chose one with a child lock to ensure it is tightly locked at all times.
Ease of Use
Bringing a baby home is an exciting moment for the mother; however it can also be overwhelming especially for a first-time mommy. Changing diapers and disposing of them is one activity that we must learn to live with and buying a diaper bin is a good idea. The bin should not be a complicated device that will overwhelm you. It should be easy to use and its operation straightforward. A bin with a push button is ideal and when selecting one, look for convenience. For instant; do you want to open the lid with your hands or by stepping on the foot pedal? The latter is easier and convenient as you can toss the dirty diaper while holding your baby. There is no danger of leaving your baby unattended since he can crawl out of bed and accidentally fall on the floor. The risk of infecting your baby is minimized as your hands are free and not in contact with the pail.
10 Best Diaper Pails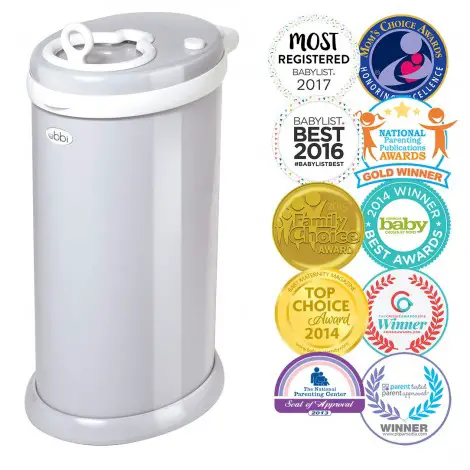 A good pail is essential in disposing of diapers and controlling awful smell from being released. The best device should have odor locking features, and Ubbi has many of those that ensure your room smells fresh. It is an award dinning diaper disposal bin that is made from high-quality material, saves on space and absolutely easy to use. There several colors to choose and you can pick one depending on your preference.
Keeps odor locked inside
It's evident that when you open the door any bin to dispose of a diaper, some lousy smell is released. Ubbi is unique since it has a sliding door that minimizes the release of bad smell from the pail. You can dispose of up to 55 small sized diapers and 20 maxi sized ones, While emptying the contents, this bin is quite easy to clean. Since it is made of steel, it is not prone to rust and you only need some gentle detergent to clean. An extra feature is the rubber seal on the rim and around the lid which makes it airtight and thus locks the odor inside.
Sturdy frame
Unlike plastic buckets that allow the bad smell to escape through tiny openings, this pail from Ubbi is made from solid steel construction. It has a child lock feature that keeps away curious kids from opening and releasing stench into the room. It makes it harder for accidental opening, and thus you only need to turn the knob on to open the lid. It's a cheaper alternative that will get the job done.
Cost and value
There are many bins out there, and for them to function as expected you will need to spend extra bucks on buying refill bags. However, with the Ubbi bin, you do not need these products since it has a unique system that allows for hermetically dense closure. It is thus a money saving product that allows you to use ordinary waste disposal bags.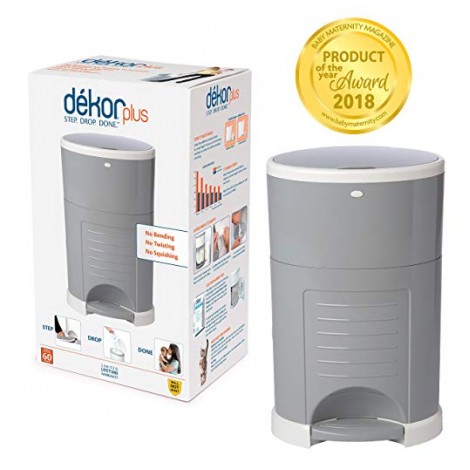 If you have had some nasty experience with pails that waft odors, you will appreciate the convenience that comes with the Dekor diaper bin. One unique thing about this sleek pail is the hands-free design and the trap door which allows for you to dispose of the diaper without bending, twisting or squishing. It is made of scratch-resistant ABS plastic material that does not absorb stink or turn yellow.
Features
This product has some really great features that function exceptionally. The pedal foot works perfectly and lifts the lid for you to dispose of the diaper easily. Underneath the lid is a trap door that flips for the diaper to slip in well and immediately closes after that. An added feature is the child-proof features that include a trap door look and a button to ensure the top lid remains closed all the time to block access by a curious child.
Hygienic product
This diaper bin uses a reliable odor defense mechanism that includes the trap door, scented bags and sealing lid. The scented refill bags are easy to change and keeps the air around smelling fresh. It is easy to clean and does not leave any stains. They are made from recycled materials which are also a way of saving money. The hand free system ensures you can quickly dispose of the diaper without touching the bin.
Cost and value
Dekor bins are cost effective and will give you value for money. Refill bags can be recycled and hold lots of diapers. They are quite cheaper as compared to the Ubbi bins; however, they have won the hearts of many parents. It is a great purchase that is a 100% money back guarantee.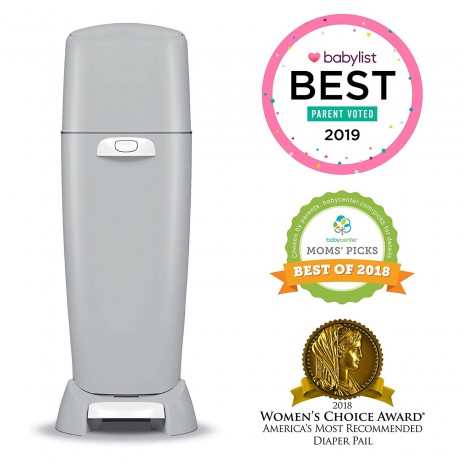 If you are looking for a luxury diaper bin and one that locks away odor, look no further, since the Playtex Genie is a complete set that is ideal for disposing of soiled diapers. It is a necessity for your nursery and is fully customizable since you can find it in various color which gives you the freedom to choose your preferred choice.
Hygienic way of disposing diapers
The Playtex bin presents a hygienic way of disposing of diaper since it has a foot pedal that allows for easy and hands-free opening. All you need is step on the foot pedal with one hand and toss the diaper inside. It is also a convenient method since there is no bending and makes the process of changing diapers easy. It has built-in antimicrobial that prevents a built up of bacteria on the bin.
Holds lots of diapers
Unlike other smaller bins, the Playtex has a sleek design, tall and has plenty of much room inside to hold up to lots of diapers. The design is innovative and makes it easy to dispose of dirty diapers while locking inside odor.
Cost and value
The Playtex bin is cheaper than Ubbi and Dekor pails, however, they perform exceptionally by locking in bad odor and providing a hygienic way of disposing of dirty diapers. It has a carbon filter and airtight seal that ensures the bad smell does not escape into the air. It is reasonably priced and is an excellent value for money.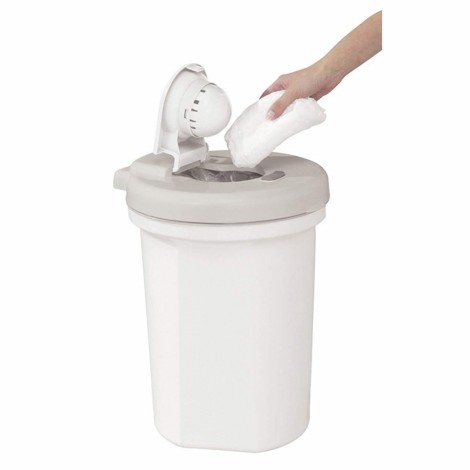 For a new parent, you will soon realize that a dirty diaper is no ordinary trash and there's the need for a safe and hygienic way to dispose of. The Safety 1st Easy Saver bin offers an odor control system that ensures you don't have to worry about frequent disposal of trash. What I like about this pail is that it has a small design and the lever works flawlessly.
Adjustability
The Safety 1st offers an incredible diaper disposal process with its one hand use feature that enables you to open with one hand and toss in the diaper. It has a push button that offers more in terms of functionality as compared to normal trash. You can also use regular waste disposal bags, therefore, you don't have to spend money on pricey plastic bags.
Hygienic diaper disposal
The Safety 1st is a compact bin with a lightweight design, therefore, it is easy to carry and takes less floor space. Therefore if you have a small bathroom, you don't have to worry about it cluttering since it can fit in tiny spaces. It is also safe to use even around kids and features a deodorizer disc that minimizes odors.
Cost and value
Safety 1st has been around for many years and have won the hearts of many parents due to the provision of quality products. Their diaper bins are a perfect example of their continuous effort in meeting consumer needs. The pails are high quality and offer a hygienic way to dispose of dirty diapers while locking in bad smell. The price is unbelievably low and is a perfect choice especially for new moms who are overwhelmed by the arrival of a new family member.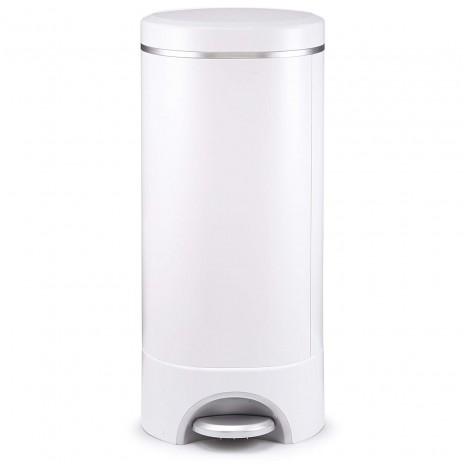 The Munchkin comes in a sleek design that blends stylish modern appearance with a sophisticated odor control mechanism. It is the perfect solution to a fresh smelling nursery. It comes with an incredible offer which enables the Munchkin Company to plant a tree for every purchase. Therefore, by picking this pail, you get a diaper bin and also contribute directly to environmental conservation.
Traps odor inside
This great product from Munchkin has a self-sealing system that tightly seals the disposal bag when the lid closes thus ensuring bad smell stays inside. It also features a unique dual refill system that works with rings and soap and also with seal and toss bag. It also has scented baking soda for maximum odor control.
Safe to use
This pail from Munchkin won the Bump award in 2017 and comes with an easy to use foot pedal that allows you to just step and toss in the dirty diaper. Therefore you don't have to leave the baby unattended, you can hold the baby with one hand and diaper on the other. It also child-proof locking mechanism that ensures curious kids do not open the bin.
Cost and value
The Munchkin will cost you more that than the Safety 1st pails, however, they come with sophistication and are excellent value for money. It is high quality, durable and has an elegant design that accentuates your bathroom or the nursery room. It is a good buy worth every penny.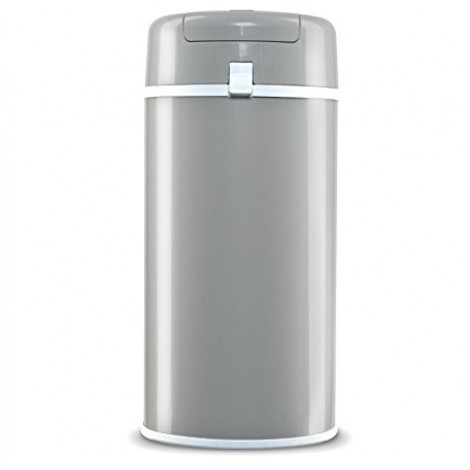 A diaper bin is an indispensable essential designed to control odor so that you need not worry about throwing out diapers several times a day. It is particularly useful if you live in an urban setting where there is no option of taking out the trash frequently. The Bubula comes across as sleek tall bin that you can use for keeping dirty diapers. It has a tall bottom with an ergonomic lid design and much room inside to fit lots of diapers. It has a safety lock system; thus it stays locked from curious kids and spills.
Locks odor inside
If you are looking for sturdiness, look no further, the Bubula is made from solid steel and aluminum metal which does not absorb odors since it has no pores. It is also easy to clean and has an airtight lid that prevents odor from escaping to the surrounding air. It also has rubber seals that ensure there are no leaks thus locking odor inside.
Flexibility of use
The advantage of this bin is that you can use standard size liners. Therefore there are no custom bags, and this gives you the freedom of pop in into stores around and buy refill bags. It also has a unique design that can easily be converted to a regular trash bin that can be used in any room.
Cost and value
Unlike plastic pails, the Bubula is made from solid steel and aluminum thus made to last. It is highly priced as compared to other bins, however, it will give you value for money since it is flexible and works with any waste bag.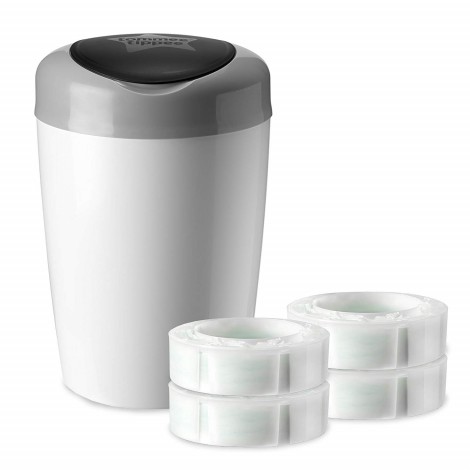 Tommee Tippee is a UK based brand that is number one in the provision of baby products worldwide. It had previously won the consumer super brand award in 2013. It is a master of innovations, and their diaper bins are some of the most hygienic diaper disposal systems. The pails are simple, elegant and stylish. They are a perfect solution to keeping the nursery smelling fresh and will stay awful smells locked inside.
Offers a hygienic way of diaper disposal
The Tommie Tippee pail a multi-layer filmed for holding dirty diapers. The film is specially treated with an anti-bacterial substance that kills up to 99% of all germs. It has a smart seal lid that blocks all the bad smell and comes with four refill cartilages than can dispose of 180 standard diapers.
Large bin
If you are tired of multiple trips to the outside trash bin to dispose of dirty diapers, then, this pail is the best solution. The Tommee Tippee has a compact design that can fit in small spaces without cluttering. However, there is ample room inside to hold up to eighteen diapers.
Cost and value
The Tommee Tippee is a versatile product that you can use to dispose of diapers, wipes, cotton wool and other trash. It is cheaper as compared to other pails in the market. It is a good purchase that will give you value for money.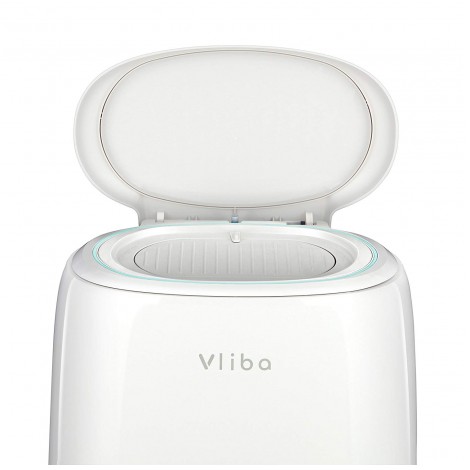 Babies are adorable but diaper duty isn't always the most pleasant, is it? It is possible to live without the dirty diapers stinking up your home. But, what should you do with them? Throwing into the normal trash bin is definitely out of the question and the stink unimaginable. Vliba has come up with pails that you can use to dispose of dirty diapers hygienically by locking in odor. This pail has a stylish and innovative design and is available in six colors thus giving you a wide variety to choose. It is modern with a large door that can accommodate any diaper size. The pack comes with forty-five diapers for newborns, twenty sizes 5 diapers and six XL adult diapers.
Easy to use
Vliba has a foot pedal that makes it easy to operate when opening and closing. Therefore you can hold the baby with one hand and toss in the diaper with the other hand. The disposal bags can be replaced pretty easy through the large access door.
Six month's refill supply
Your trips to the store to replenish your refill bags will be less once you pick this adorable pail. The package comes with a six month supply of scented refill bags. It also comes with a pack of disposal sacks that are ideal for cleaning after changing and also helps with odor control.
Cost and value
It is a good value for money since the refills will last for six months. Once you have exhausted your supply, you can use ordinary refills. It is quite versatile and can be used for disposing of adult diapers. It is reasonably priced, and 100% money back guarantee.

9

. Baby Trend Diaper Champ Deluxe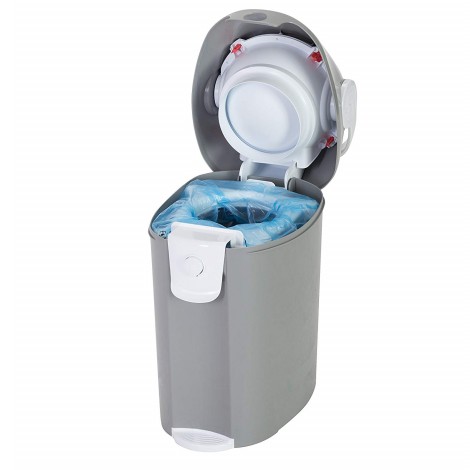 Baby Trend specializes in the production of many products and among them is the diaper disposal pails. They have been consistent in the provision of safe and quality bins for many years. This bin is popular among trendy mommies looking for a convenient way to dispose of dirty diapers without frequent trips outside to the trash can. It is a large capacity bin with a sleek and elegant design that occupies less floor space. It has ample space inside that can hold up to 30 diapers.
Convenience
For a fresh smelling nursery conscious mom, this pick is the best in meeting your expectations. The big draw is the one hand use and the flip-top lid that allows for easy refill removal. Changing the refill bags is pretty easy since there is a push button that releases the lid effortlessly and consequently ties off the bag. Afterward, it flips open the internal system thus removing the refill bag.
Odor control
If you are looking for a diaper disposal bin that will come in handy when disposing of a soiled diaper, this pail offers an effective odor control system that ensures terrible smell does not escape every time you want to throw in a dirty diaper.
Cost and value
Baby Trend pail is reasonably priced and offers a perfect solution in disposing of soiled diapers while locking in lousy smell inside. It is ideal if you are seeking for a relatively cheap product that will do the job effectively. You can also use any refill bag, thus saving you the cost of buying expensive customized bags. Overall, I would rate it as five stars and would highly recommend it especially for first-time mommies. It is a good buy worth the price.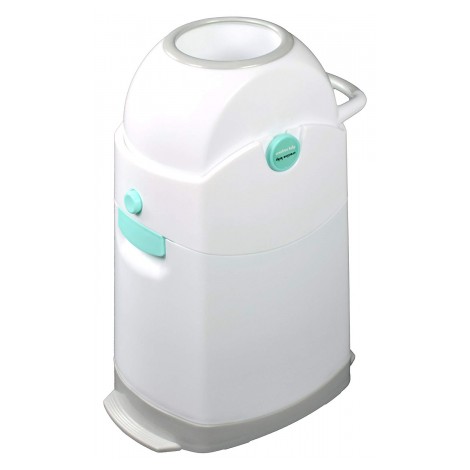 Babies go through up to ten diapers per day which really necessitates the need for an effective odor control system. Creative Baby Tidy Pail is an iconic pail that locks in odor ensuring the nursery room is smelling fresh. It is stylish and the right choice for the contemporary family. It is compatible with any trash bag and has the one hand operation design. The lid has a rotating design that makes it easy to use.
Compact design
You don't have to worry about space when you pick the creative Baby Tidy bin since it has a sleek, compact design that can fit in small spaces. Therefore, if your bathroom is small, it fits well without cluttering the floor space.
Hygienic
This bin has an odor locking mechanism that ensures terrible air does not escape when throwing in an extra dirty diaper. The frame is sturdy, non-porous and does not absorb smells or stains. It is airtight and locks in bad air. One unique feature about the Creative Trend Tidy pail is that it is also dishwasher safe making it easy to clean.
Cost and value
Creative Baby Tidy pail is what you need to keep your baby's room smelling fresh. You will be amazed at how effective it is yet it is unbelievably cheap. If you are operating on a tight budget, this is the best pick for you. You will not regret the purchase since it is worth every penny.

Subscribe to our Newsletter