Best Clay Pigeon Throwers Reviewed
In a Hurry? Editors choice: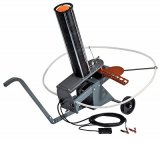 Test Winner: Champion 40909

Practice makes perfect. That's how the saying goes, but sometimes practice just doesn't have the same element of fun that playing the big game does. It's true in most things, practice is drudgery, it means long hours working on the intricacies of whatever it is you're trying to get great at. Whether it's golf, baseball, football fact is that practice sometimes feels like homework, something you have to do in order to excel. But then you
start shooting pigeons
and you realize that it is so much fun that it isn't just practice it's an entire sport. So not only is pigeon shooting fun, it's so much fun you can compete while you practice. Now that's fun. But pigeon ranges can be expensive. So why not get your own clay pigeon thrower, all you need is some pigeons and some space and you're in business.
Standout Picks
Criteria Used for Evaluation
Effectiveness
The most important thing that you want from your clay pigeon thrower is the ability to shoot out the pigeons in the direction and distance you want them to. This may be easier to achieve with automatic throwers, and most of them got extra points for their accuracy.
However, someone that is skilled and experienced at using a manual thrower can also do a terrific job at a much lower cost. We rated base on how well the model performed and for how long. An automatic thrower will only be as accurate as it's power source allows, while a manual model depends on the person using it.
Ease of Use
When you go out clay shooting, you want to spend some time relaxing and having fun. The last thing you want to do is get frustrated over a clay thrower that is stuck or not working like it is supposed to. When it comes to ease of use between the automatic models and the manual models, they both have pros and cons.
Many automatic throwers come with timers or some sort of pedal that releases the clay pigeon when you are ready. This is great because you don't have to depend on anyone. However, these types of machines are also the ones that have issues that can ruin your day. You don't have to worry about that with a manual thrower, you just need to depend on the other person.
Portability
Not many of us can afford to live on an expansive property where we can go clay shooting whenever we want. Most of us will most likely have to travel to our shooting destination, which means we'll need to bring our clay thrower along for the ride. This is where manual throwers have an edge over automatic ones. They are small, light, and easy to bring even if you have to do some hiking. Although there are some automatic models that are compact and lightweight, you still have durability issues.
Also worth reading winchester sx4 reviews
Value
Are you getting your money's worth? This is the main question we look at when rating the value of each item. The manual items are less expensive, but you still want them to work right and last. Look for products that are made with high-quality materials and from good brands that have a reputation for produced good products. Automatic throwers are more expensive, but if you are serious about this sport, then you'll want something that is accurate and consistent. It's also a good idea to read reviews on trusted sites so you can see what other customers have said about the product.
Durability
You will be using your clay pigeon thrower outdoors, and you never know what the weather is going to be like. What could start off as a sunny, warm day, can quickly change to a wet, cool afternoon. If you get caught out there and decide that you're going to rough it out and keep going, you'll want to make sure that you're thrower can also keep going. You won't have much of a problem with that with manual throwers, but you'll still want to make sure that it is made of good quality material. Also keep in mind that if you have to travel a little with your item, it might get bumped along the way.
10 BEST CLAY PIGEON THROWERS REVIEWED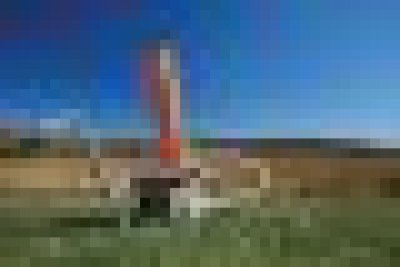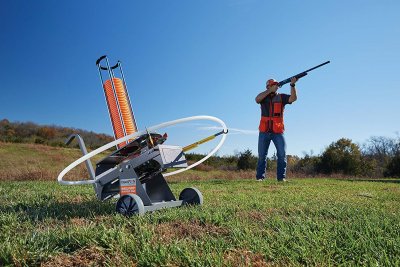 And of course, the top spot on the list goes to Champion and their world-famous WheelyBird model. Nothing automates throwing functions better than this machine, and it continues to reign supreme in the industry.
The Finest Of The Champion Throwers
The WheelyBird takes all of the positive features of other models and combines all into one machine. Without making things too complicated, users get all of the updated important features they need for great clay pigeon throwing.
Features and Specifications
Up to 30 degrees of elevation
A capacity of 50 targets
Cost and Value
High priced but worth every penny, customers won't blink twice when buying this. The features provided are more than enough to put this in the high-end category.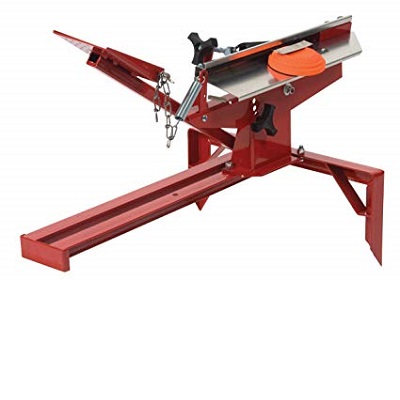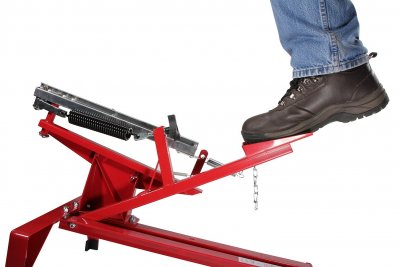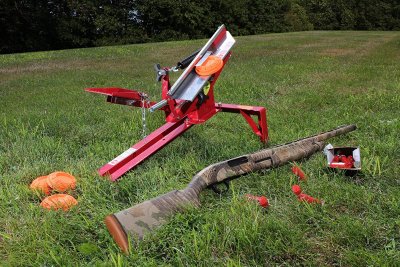 As the list gets closer to the top choices, another industry giant in Trius comes strong with their One Step Trap. The name pretty much says it all, and that is exactly why this model is so popular.
Effortless Release
A step is all it takes to put the unit in motion, giving you a chance to focus on the target without even looking down. The fluidity of the motion is what most people like and it keeps them in prime position to make an accurate shot.
Features and Specifications
Oil impregnated bushings with aluminum arm
Weighs 20 pounds
Cost and Value
The One Step idles around the average price but is far from being even considered one of the highest prices on the list. It's just right for what is offered, and the value is tremendous because of the ease of use.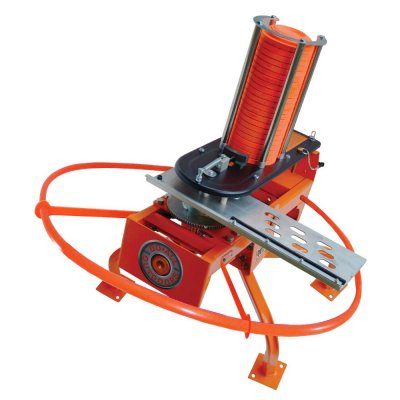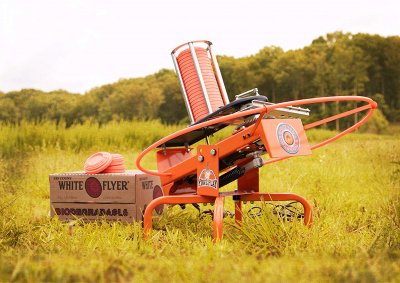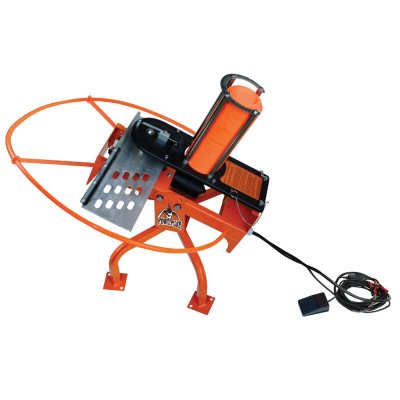 This nifty little pigeon thrower is as about as close to set it and forget it as you're gonna get. It holds 50 clay targets and can recycle in just about two seconds time. The thrower comes with a great foot pedal that controls the pigeons, and it also comes with the ability to add more extension cords to alter the angles of the pigeons.
Safe Operation
A safety guard helps keep wandering fingers away from the mechanics of the pigeon thrower and a long extension cord and a 25-foot pedal cord makes sure you can get some distance between you and your pigeons. You can also add more extension cords to give you an even farther reach. It also comes with a number of ground spikes that make sure that the thrower stays where you want it.
Runs off Batteries
If the only practice field you have doesn't happen to be near an outlet than this baby runs forever on a 12v marine battery that should keep you shooting for hours. Simple keep your battery handy and you can plug in this thrower anywhere you happen to be and be hitting the pigeons in no time.
Cost and Value
Not too pricey, but keep in mind that this pigeon thrower does not come with either a battery or any pigeons, that part is all up to you. But we've gotta say that the way this thrower works and the way it can toss up to 50 pigeons at a time making it a great value from where we sit.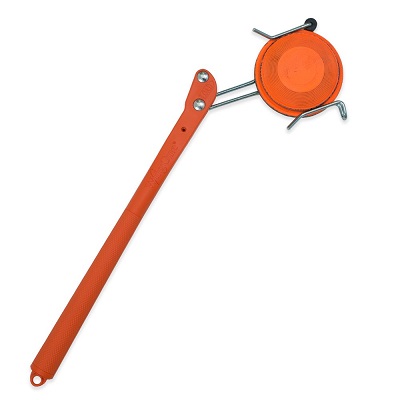 Looking more like a Morningstar than an actual handheld thrower, the W1-R comes pretty high on the list for a reason. WingOne spared no expense in one-upping MTM and their Power Pivot Arm model.
Easy To Use
The fun thing about the design of the W1-R is that it has a killer feature that doesn't take a lot of practice. Even the loading is simple, with clear and easy to read instructions.
Features and Specifications
Weighs 4.8 ounces
Auto-Cocking design
Cost and Value
Sticking with the theme of hand throwers, this product is also low priced. It's a competitive field, so the value of the W1-R is still impacted by price.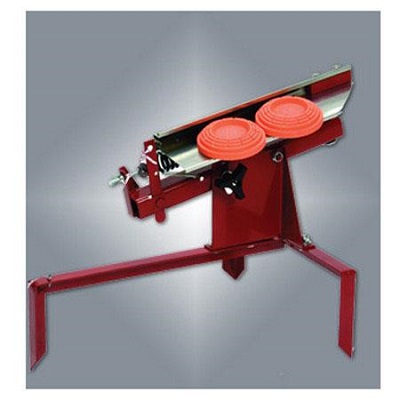 Using a more traditional approach, the Trius 2 Birdshooter Trap gets everything right with function and design. It has that classic look that anyone familiar with the sport will love, with a few surprises thrown in.
Lightweight
At just under 13 pounds, moving the unit around isn't that much of a hassle. The only way to get a lighter setup would be with the purchase of a hand thrower.
Features and Specifications
Tool-less adjustments
Preassembled
Cost and Value
Trius put a low price on this model, which falls right in line with the original Trius. This updated version is a wonderful value for buyers that want some new features.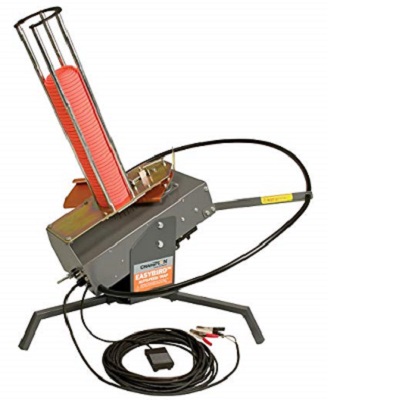 As the first fully automated model on the list, Champion's EasyBird is a great choice for serious shooters. You'll spend more time aiming and shooting and less time worrying about setting up.
Thoughtful Protection
The EasyBird has a built-in 30 amp circuit breaker that protects the outlet and unit. This small inclusion is a big deal when you factor in the price of the unit.
Features and Specifications
On/off safe release switch
Weighs 45 pounds
Cost and Value
The EasyBird retails for one of the highest prices on the list but is well worth it. And if you have other compatible Champion products to add to it, then the value increases.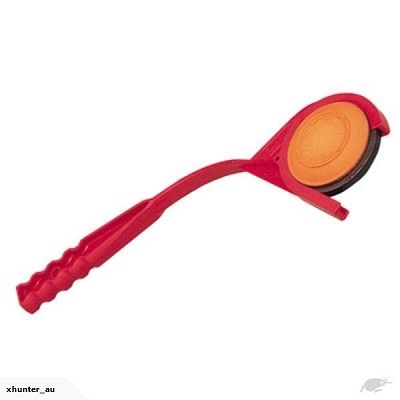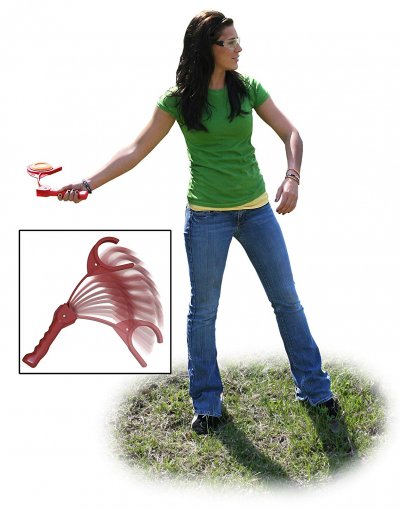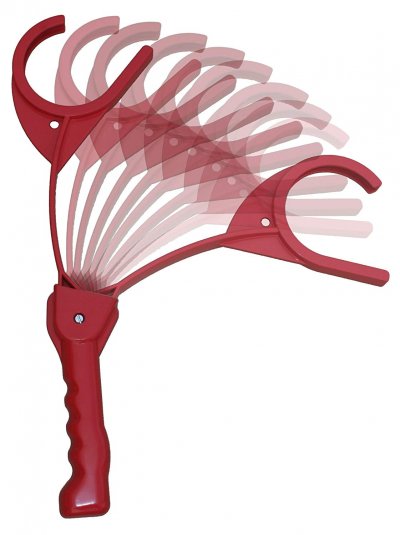 Don't count the manual pigeon throwers out, since this one from MTM made it further down the list than expected. They added a unique twist to the original formula and came away with a really unique product.
The Power Pivot Arm
MTM put a lot of research into the feature, and it shows with how great it works. What results is a natural whipping motion that takes out the mechanical nature of the other hand used clay pigeon throwers.
Features and Specifications
20 inches in length
Handles 4.5 clay targets
Cost and Value
The price is low and no more different than that of a regular clay pigeon thrower. That price range may separate it from the pack as customers look for fresh new ideas in the industry.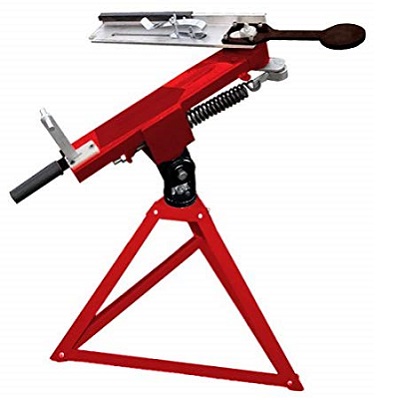 This automated clay pigeon thrower on the list is also one of the best you can purchase. With quick setup options, shooters won't need to spend the bulk of their time getting the target ready.
Accurate And Powerful
Using an improved sprocket mechanism, targets travel accurately and faster through the air. Angle and plane adjustments are seamless with great universal settings for multiple types of clay targets.
Features and Specifications
Shoots target up to 100 yards
Built from steel and aluminum
Cost and Value
The price is high but expected because of the professional construction of the unit. Users with enough patience to put it together for the first time will find just how great of a value this is.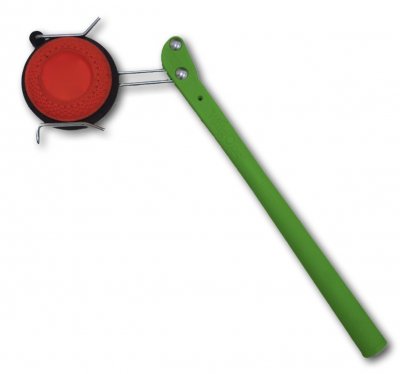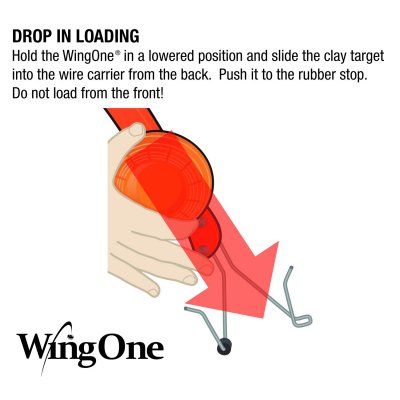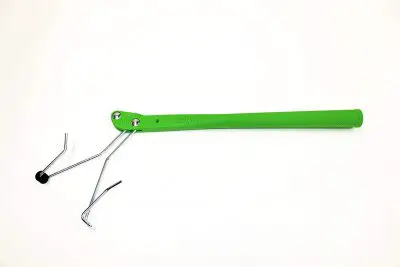 This handheld pigeon thrower is just what you need if you just want to get out there and get out there quick and start shooting some pigeons. This innovatively designed thrower is easy to load, easy to use and will ensure you get the practice you need when hunting season ends. Plus you don't have to worry about it not working, all you need is a friend who knows how to throw a pigeon.
Easy to Load
This is the best part of the wing one. Each pigeon slides easily onto the Wing one and the handheld cocks itself on your backswing so you don't really have to do anything but load the pigeon and then throw it. It's also as easy to throw as it is to cast a fishing line just cock your arm back and let it go and let the machine do all the work.
Maintenance Free
Not much more to say here, but you don't have to have a power source, you don't have to have any cords, you just need some pigeons and an arm and you're good to go. It'll last forever as long as you have someone to throw for you.
Cost and Value
This thrower is cheap and easy to use, it's one of our favorites, and if you want to be able to throw your own pigeons there isn't an easier to use thrower on the market.

10

. Allen Company-Clay Master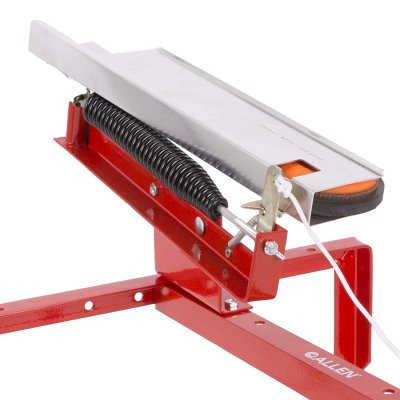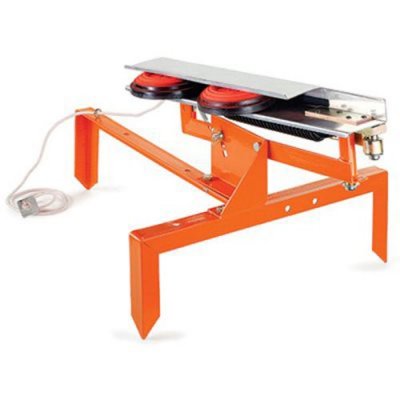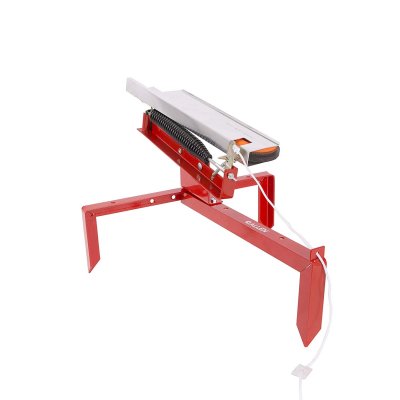 Another nice motorized pigeon thrower that's not going to hold a whole lot of pigeons but is easily movable, safe to use and gives a powerful throw.
Throws Singles or Doubles
You won't get 50 shots with this thrower but you won't get that many more shots out of a shotgun either so one or two is enough to get some good practice in.
Adjustable Tension Arm
This allows you to change the speed and the angle at which your pigeon is going to jump off the thrower. So if you want to practice close or long shots you can set it however you want it.
Cost and Value
This is an incredibly cheap thrower. But it does require some manual use so you need someone with you to make it work. Still, for the money it's a great way to get in some practice.

Subscribe to our Newsletter