Best Camp Socks Reviewed for Warmth & Protection
In a Hurry? Editors choice: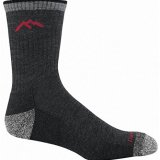 Test Winner: Darn Tough Hiker Micro

Having cold feet can be pretty miserable, and we're not talking about the kind of cold feet you get before you walk down the aisle. We're talking about actual chilly feet that make you shake and send a shiver up your spine. Whether you are camping, hiking, shoveling snow, or just warming up your tootsies on a cold night, wearing the right kind of socks can make a world of a difference. You'll need apparel that will make you feel snuggly and warm without being scratchy or turning your feet into little sweat factories.

We know how important it is to take care of each part of your body, from head to toes. Your soles are extremely sensitive and keeping them protected can help ensure good mobility, which is especially important in dire situations.
Standout Picks
Criteria Used for Evaluation
Insulation
Usually, one of the first things people associate with camping is "chilly". Even if you are hanging out in a warmer climate, when the sun goes down, so does the temperature. Many times, after waking up in a tent or even in a camper, you feel that morning chill and dampness in the air. Our extremities are the first part of our bodies to react to the cold and toes can get pretty cold, even in a sleeping bag. That's why it's important to consider how warm your camp socks will keep you, so you can enjoy that morning sunrise with toasty toes. Some of the socks on our list are manufactured to focus primarily on keeping the feet warm, while others focus more on support or durability. With that being said, there are several camp socks listed that offer all of these features!
Even if you aren't planning on picking up your car with camping equipment, camp socks can be used to keep your feet warm through other activities as well. Depending on the socks you choose and the climate you'll be in, you can use camp socks for hiking, walking, gardening, or to just keep your feet warm while lounging around the house. Many camp socks are made of Merino wool, which is naturally soft and thermal while others are made of a blend of materials. All in all, socks, in general, are made to keep feet soft and warm, and the level of warmth you need will depend on where you will be wearing them and what activities you'll be participating in.
Comfort
Moisture Wicking
Warmth and moisture sort of go together naturally. Our feet have a staggering 250,000 sweat glands in them and when we are active, those sweat glands do their job to cool off our bodies. Combined with the fact that feet are natural sweat-producers, wearing camp socks inside hiking boots or sneakers, and their thermal qualities, it is very important your camp socks are moisture-wicking. Without moisture-wicking capabilities, feet can become damp and cold which isn't something you want when you are camping, hiking, or even watching television. Damp feet can also lead to friction inside of your shoes which, in turn, could lead to blisters.
Merino wool is naturally moisture-wicking so having camp socks made up primarily of this material is a great idea. However, you don't necessarily need Merino to keep your feet dry. Several of the socks on our list are made of other fabric combinations that are designed to pull sweat away from the skin. Merino wool is a natural antimicrobial to keep your moisture-wicked feet free from stinky bacterial grown, while other non-Merino socks are treated with antimicrobial technology to do the same thing.
Cushion
Of course, we all want our socks to be soft; stiff and scratchy socks are uncomfortable and unsupportive. Camp socks do not only need to be soft for comfort, but they need to offer to cushion to protect against blisters and help with shock absorption. Some of the socks on our list offer precision-placed cushioning in the heel and the ball of the foot, while others offer to cushion throughout. Precision-placed cushioning provides shock absorption to the areas of the foot that take the brunt of the action when you walk or hike. This is good for hikes in a warmer climate because the cushioning is only in the areas where you need it most while the rest of the sock is a little more breathable. All over cushioning provides softness and protection all over the foot and lower leg. This is a nice feature for when you are wearing hiking boots that come up over the ankles because the cushioning will keep your feet and lower legs comfortable and protect them from friction.
Durability
Hiking, camping, and other activities can be brutal on socks. Between mud, sticks, rocks, and friction within your shoes, camp socks can take a beating. When choosing which sock is right for you, think about how often you'll be wearing and washing them. Many backpackers wear their camp socks more than once before washing them since they often go days out in the wilderness yet don't want to weigh down their packs with dozens of pairs of socks. Some people trek through dirty paths that result in muddy socks, so they have to wash them more often. Or, maybe you just like to wash your socks after each wear. No matter which of these you associate with more, you want to make sure your camp socks will be up to the challenge.
Due to the fact that many camp socks are cushioned on the footbed, most are fairly durable in terms of ripping. However, some are made of certain materials that don't allow for machine washing and drying. Be sure to pay attention to washing instructions when choosing and washing your camp socks. Because some are made with non-pre-shrunk wool, washing them in warm water and throwing them in the dryer could have dire consequences. Wool also has a tendency to pill up after multiple wears and washes. This is pretty normal, but if you care for your socks as instructed, you will be able to cut down on the amount of pilling.
10 Best Camp Socks
1

. Darn Tough Hiker Micro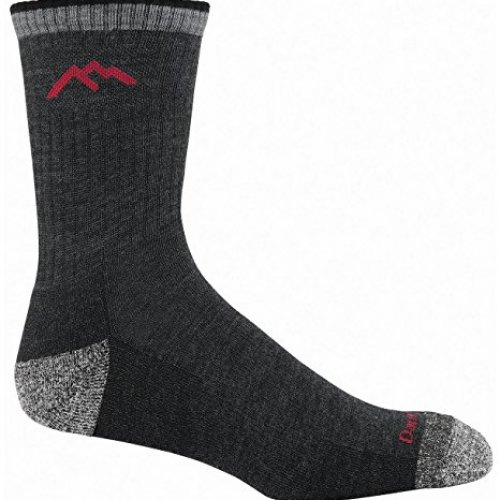 These socks are a lot like #1 on our list. However, these camp socks offer mid-level cushioning in a different style. The micro crew is designed to peek out just above the top of a standard hiking boot. Darn Tough's fine-gauge knitting makes them soft and resistant to bunching and slipping. They are made of Merino wool so are temperature controlling and antimicrobial. Like #1, they offer the "True Seamless" construction so you won't feel any annoying seams on your toes.
Shorter Height
Sometimes you don't need a sock that comes up almost mid-calf. Perhaps you just need a good camp sock that won't bunch or turn your feet into sweat factories. These come right above your standard hiking boot, so they are an excellent option for a day hike in decently warm weather.
Mid-Level Cushioning
Like the height, sometimes you don't need a tremendous amount of cushion, but with hiking, you want some. With mid-level cushioning, these socks offer the support and softness you need to keep your feet comfy and protected on a nice hike.
Cost and Value
Again, camp socks tend to be a little more expensive than traditional socks. These are a little less than our #1, but still up there in cost. However, these are an excellent choice for comfort and durability.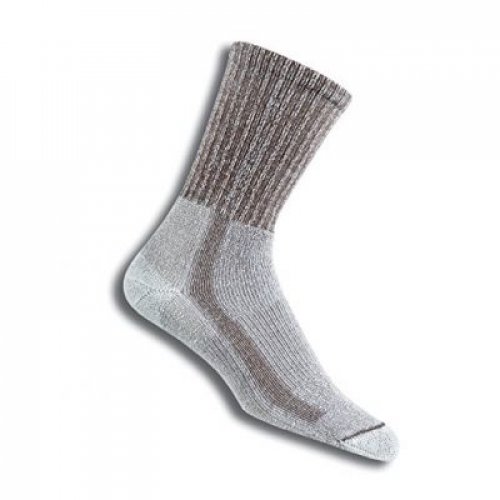 Thorlo prides themselves on being "the original" activity specific sock company, meaning they manufacture a number of socks specific to many different activities. Their light hiking socks are manufactured with clinically tested padding under the heel and ball of the foot. This reduces friction and prevents blistering and helps absorb impact. They offer a ventilation panel and "Thor-Wick Cool" technology to keep feet drier.
Precision Padding
This model of Thorlo hiking socks delivers padding that has been clinically tested to help reduce blistering and keeps your foot cushioned. The padding is placed on the ball of the foot and the heel: two places blisters and sore feet can happen if not protected correctly.
Breathability
These socks are comprised mainly of a "Thorlon" blend of fabrics boasting "Thor-Wick Cool" wicking fibers to make them soft, durable, and moisture-wicking. To add to that, they also have an extra ventilation panel for even more moisture control and breathability.
Cost and Value
These socks aren't as expensive as some others but are still up there for a single pair of socks. However, you get a great supportive pair of hiking socks for a decent price with these.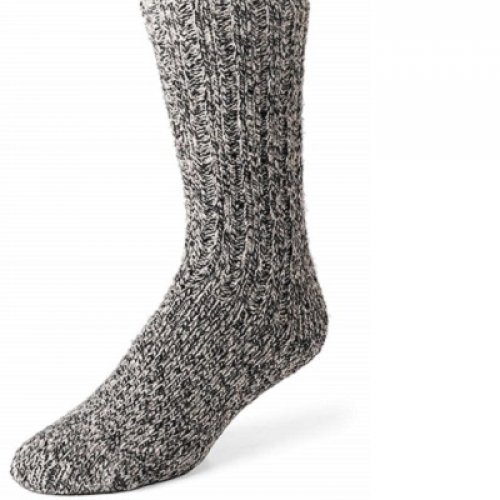 Whether you're an adventurer who enjoys the outdoors or just want to keep your feet warm during the cold winter months, these socks will take care of your needs. Made of 76% Wool, 22% Stretch Nylon and 2% Spandex, they're comfortable, resistant, and form-fitting. The fortified heel and toe also ensure a longer lifespan and durability. Therefore, you won't have to buy new socks every time you go on a cold adventure. You can wash Wigwam El Pine over and over again without wearing out!
Reinforced Heel and Toe
These camp socks are best known for their durability due to the heel and toe fortified knit with synthetic fibers. So, unlike other socks, these ones won't tear up and let you down while enjoying your favorite activity.
Classic Knit
Their design is based on the classic leg fit. This means that the socks adjust perfectly according to the shape of your leg, without squeezing too tight. This cool design will also prevent you from having to keep stopping to readjust your socks.
Cost and Value
These socks are extremely useful during the cold seasons. They come in a large variety of colors and sizes. You are unlikely to order the wrong size because there's a detailed table that helps you to make the ideal choice. They also come together with a lifetime guarantee.

4

. People Socks Premium Wool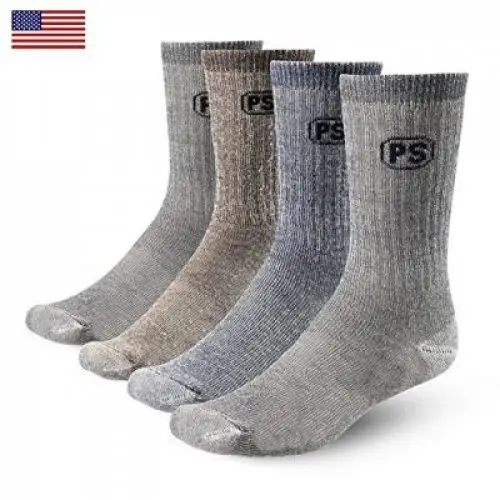 People Socks are made for the people. The company cuts out the middleman and passes the savings on to you. These are typical camp socks. They don't offer a lot of bells and whistles, but they are made from soft Merino wool so are antimicrobial and temperature regulating. Although they are cushioned throughout, they offer shaped cushioning in the footbed for comfort.
By The People, For The People
The manufacturer of these socks prides itself on saving its customers money. Their business is structured so that they cut out the middleman and then they can charge less. You get 4 pairs of these socks for a fraction of the price per pair. As stated above, they are pretty standard when it comes to camp socks, but are still a great product.
Reinforced Toe and Heel
The cushioning on the toe and heel of these socks is reinforced, making them long-wearing. When hiking, these are the parts of the feet that take the brunt of the action, so this is a very useful feature.
Cost and Value
Considering you get 4 pairs of socks when you buy these, they are the most economical choice per pair on our list. If you are looking to get multiple pairs of socks at a good price, you might consider these.

5

. Smartwool Mountaineering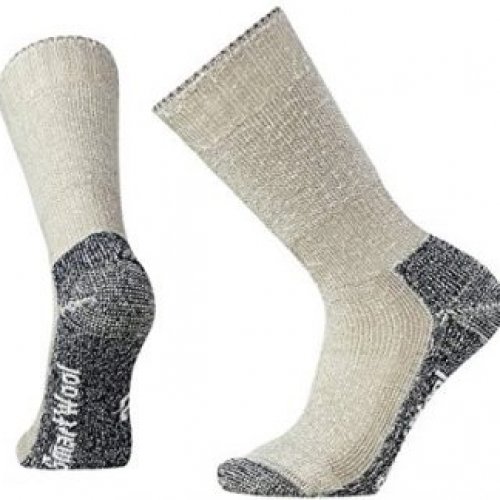 These socks are made to keep your feet warm and dry. They are constructed primarily of Merino wool, which makes them super soft and antimicrobial. Smartwool's socks are made using the "Smartwool Fit System" to support ankles and feet, giving you a secure fit. This sock model has extra heavy cushioning so they are an excellent choice for very cold climates and to aid in impact absorption.
Supportive Fit
The "Smartwool Fit System" in these socks ensures a supportive fit. They offer ankle and arch support to make sure you get a secure fit. They won't slide around inside your shoes and you won't have to keep pulling them up.
Lots of Cushioning
Extra heavy cushioning makes for a soft, comfortable fit and gives you the protection you need against blisters. With a large amount of cushioning, you will also be gaining a great amount of shock absorption which is something that can come in handy on more difficult terrains.
Cost and Value
Smartwool is a well-known name brand among camp socks so you will be paying for a reliable product when you purchase these. They are some of the most expensive socks on our list, but not so much.

6

. Darn Tough Merino Wool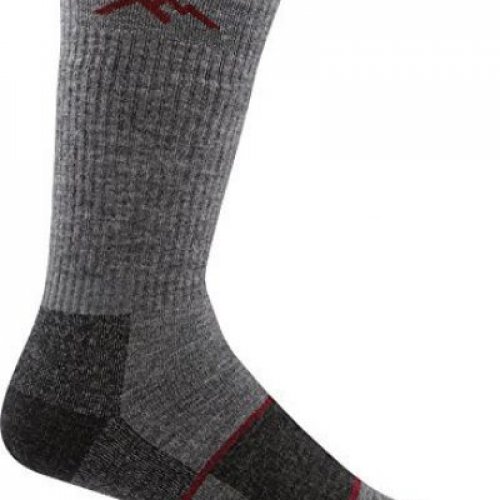 When it comes to comfort, Merino wool is the way to go. One might think wool = itchy, but merino wool is actually quite soft. Merino wool is also naturally antimicrobial and antibacterial. These socks offer ultimate comfort with their "True Seamless" design and fine gauge knitting. They offer fast-acting wicking and are quick drying. They are amazingly cool in the summer yet warm in the winter.
True Seamless Construction
These super comfy socks are made using undetectable seam fusion that delivers soft, moisture-wicking comfort without seam interruption. Darn Tough socks are made to feel like an invisible cloud on your feet without bunching or slipping.
Guaranteed For Life
One of the biggest praises these socks get is that they are ultra-durable and last a long time. They are composed mainly of shrink-treated Merino wool. Darn Tough guarantees these for life.
Cost and Value
For a pair of socks, they are a little pricey. In fact, they are the most expensive on our list, but only by a tad. However, many agree that the price is definitely worth it. These are amazingly comfortable camp socks despite the price per pair.

7

. CloudLine Merino Wool Crew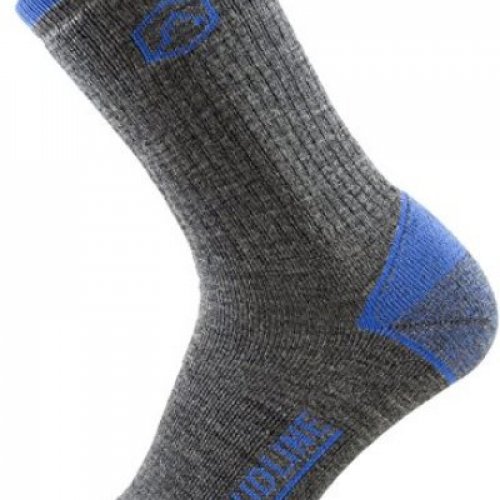 CloudLine hiking socks come in a few different cushioning options: Ultra-Light, Light, and Medium. For our purposes, we are talking about the medium cushion socks. The cushioning in these is all over the sock, not in specific places. These hiking socks are made of naturally antimicrobial Merino wool, so your feet won't wind up stinky despite soft cushioning throughout. They are moisture wicking and designed for cool to moderate temperature hiking.
Super Cushy
The CloudLine Medium cushion hiking socks are manufactured with all-over cushioning making them super squishy and majorly comfortable. This might deter someone thinking your feet will become soggy messes, but because they are made of moisture-wicking soft Merino wool, that won't happen.
Color Choices
Let's face it: camp socks are NOT exciting to look at. They're socks usually bland in color - it's the effectiveness of them that matters most. However, these socks are different. Unlike most others, there are lots of different color trims to choose from so you can have comfy feet AND look good! And you thought it couldn't be done.
Cost and Value
These are the most expensive socks on our list by just a tad. They are the prize possession of many-a-hiker though, so they are worth the cost.

8

. SeoulStory7 Mid Cushion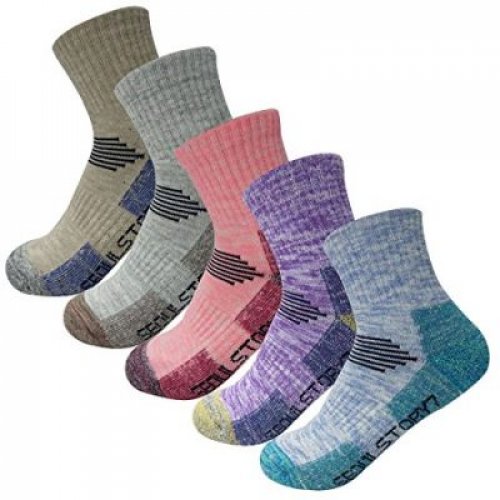 These socks are marketed as multi-functional technical socks and can be used for more than hiking and camping. They are a lower cut than many camp socks and can be used for many different purposes. The cushioning is precisely placed in the heel and the ball of the foot so you can feel comfortable no matter what you are using them for. The SeoulStory7 Mid Cushion Low socks are also antibacterial and moisture wicking.
Compressed Top
These socks offer a compressed top, which means they will stay in place inside your sneaker or hiking boot. Let's face it: it's really annoying to have to pull your socks up every thirty seconds. With these socks' compressed top you won't have to worry about that, they are designed to stay in place.
Elastic Arch Support
The unique arch support elasticity in these socks offers support where many people need it most. Wearing these socks reduces friction thus minimizing the chance of blisters.
Cost and Value
These socks come in packs of 5, so for the cost of one pair of some of the socks on our list, you get 5 pairs. Of course, this is economical, but some may consider the quality versus the quantity. In any event, if you are looking to get more pairs for your money, you may consider these.

9

. Heat Holders Winter Thermal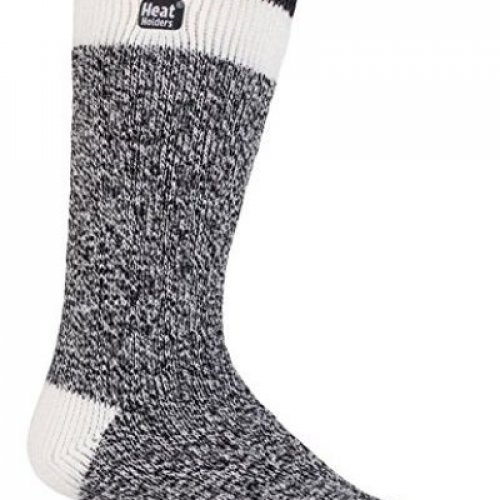 Just as its name suggests, these are socks designed to keep your feet warm, even in the chilliest of conditions. Unlike most other camp socks on our list, these are not made of wool. Rather, they are made of specially developed heavy bulk yarn with extreme thermal qualities. The insides are intensively brushed to feel amazingly soft and keep the warm air in close to the skin to keep your feet warmer longer. They have a high TOG rating and are rated to be super warm.
2.34 TOG rating
These socks have been given a TOG rating of 2.34. TOG stands for Thermal Overall Grade and it measures how well socks retain heat. This makes them way warmer than most socks that you will find on the market today!
Heat Holding Loops
Not only are the insides of these socks brushed to be super soft, but they are also constructed differently than many other socks. Heat Holders' interior is made up of little loops that produce a unique pile of cushioning and that makes them hold in even more heat, keeping your feet nice and toasty.
Cost and Value
These are a little less expensive than other socks on our list. They are made for a specific purpose: to keep feet warm. So if that's what you're looking for, these socks are a great value.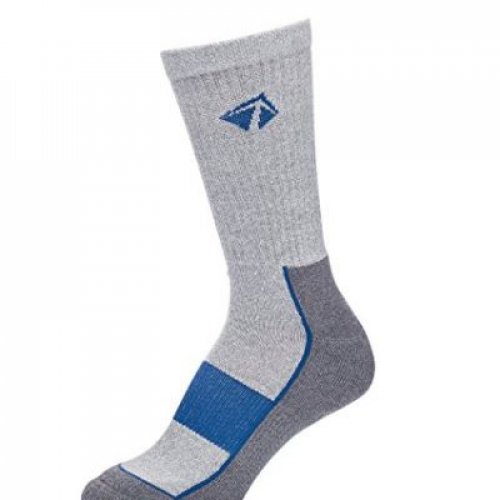 These calf high-performance socks can be used for more than just camping or hiking. They offer tactical compression to keep them from slipping so you can be sure they'll stay put. Another feature is their advanced thermal capillary moisture management system. This, combined with the antimicrobial FreshGuard Dri-Release feature means that your feet will stay dry throughout the day. They also offer shock absorption in the footbed.
Multipurpose
The Atacama moisture-wicking performance socks aren't made of wool but they are made to keep your feet comfortable and warm for a multitude of activities. They are designed to be worn doing anything from hiking to golf because they are not too bulky, yet they are supportive.
Moisture Wicking
Like many of the socks on our list, these are moisture wicking and are designed to keep your feet dry. These socks, in particular, are specifically engineered using the company's thermal capillary moisture management system and FreshGuard Dri-Release to pull moisture away from the body and keep feet dry and odor free.
Cost and Value
These are pricey in terms of a single pair of socks, but they are performance socks, designed for more than just cushioning your feet. They are an excellent choice for anyone looking for a multipurpose performance sock.

Subscribe to our Newsletter