Best Biometric Gun Safes Reviewed & Rated for Quality
As the spotlight on gun safety and education increases, it is important to ensure that your guns are well taken care of and stored properly. However, being a law-abiding citizen is not the only reason why you should be storing your guns in a safe while not in use. One of the most common gun-related home accidents involves children of varying ages getting a hold of their parents' guns. Your home isn't the only place that is subject to prying eyes and unwanted visitors. While traveling, your vehicle and hotel/RV/trailer also pose a threat to break-ins.
A biometric gun safe utilizes fingerprint identification technology, offering a modern-day solution to the long-time problem of having too many keys in your pocket and too many passwords and codes to remember. Codes can be overheard or hard to remember in a high-stress situation, and keys can be lost and misplaced. However, you can rest assured knowing that a quick scan of your fingers or hands will get the security box open.
Featured Recommendations
Sentry Safe

Our rating
Quiet Entry
12-Gauge Steel Construction
Price:

See Here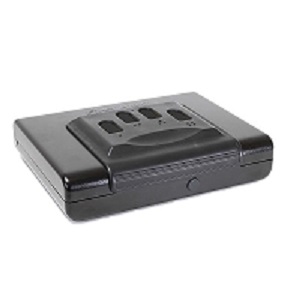 First Alert 5200DF

Our rating
FBI Certified Fingerprint Sensor
Program up to 40 fingerprints
Price:

See Here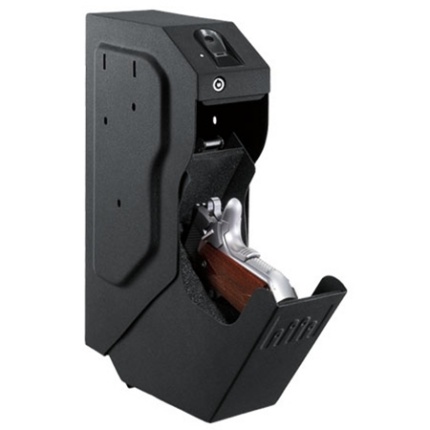 GunVault Speedvault

Our rating
18-Gauge steel
Fingerprint Scanner
Price:

See Here

Many biometric safes are small enough to put almost anywhere that is convenient and easily accessible to you. They also open quietly to allow stealthy access in case of emergency. Most safes also offer the option of programming many different sets of prints, so you can choose as many people as you want to have access. In this article we will outline the top 10 biometric gun safes, along with key features each offers, to help you make an informed decision on which one may be right for you.
10 Best Biometric Gun Safes
1. Sentry Safe Pistol Safe QAP1BE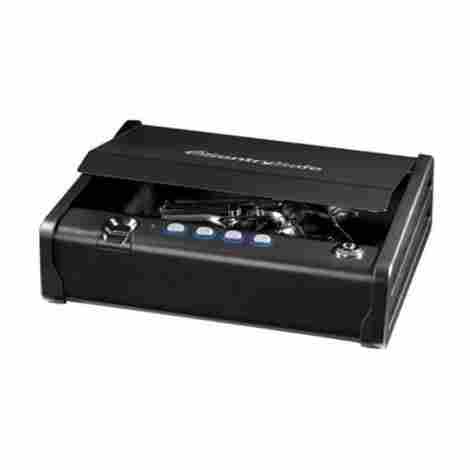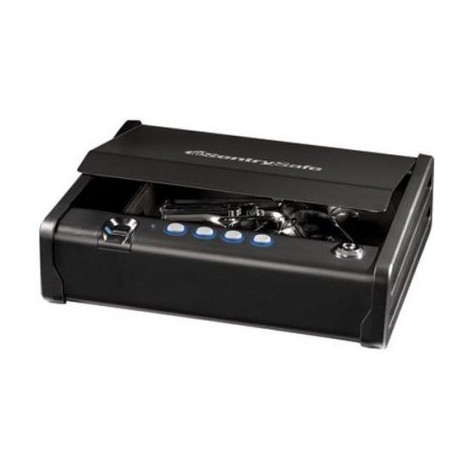 This single-gun capacity safe, weighing in at just 11.9 pounds, is great for both in the home or on the road. For long-term storage, it is equipped with bolt down hardware so it cannot easily be removed from its place. Boasting a soft interior lining to
protect your valuables
and a solid steel build, it is also approved by the California Department of Justice for
firearm storage and protection
.It offers the ability to program up to two different fingerprints, and an optional override keypad and key lock.
Expand to see more
Single-Handed Access
The biometric technology in conjunction with a compression gas strut means that this safe automatically opens when unlocked, making it a one-handed operation in a time of need. The silent operation of the safe allows you to do this all while staying under the radar.

Pry Resistant Door
Tough, 12 gauge steel construction and seamless design of the door make this safe very tough for intruders to pry open. The slim design makes it easy to store in tight spaces.

Cost and Value
While this product holds the title of Editor's Choice, it also holds the title of one of the more cost-friendly safes outlined in this article. The Sentry Safe offers a strong, lightweight design while keeping the costs low and the quality high.
Equipped with bolt hardware to secure in place
Fast response time to open
Self-opening compression strut opens quietly
Slim profile makes it easy to hide
California Department of Justice certified
Battery life inconsistent
Comes in heavy packaging
2. First Alert 5200DF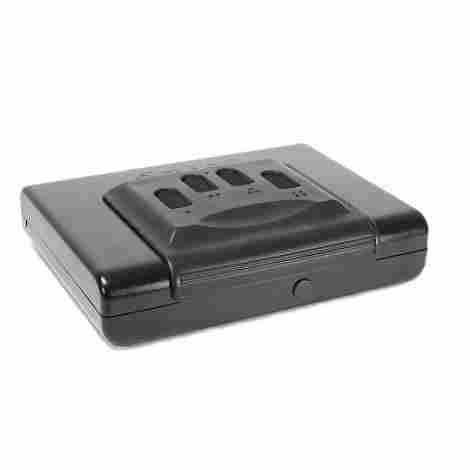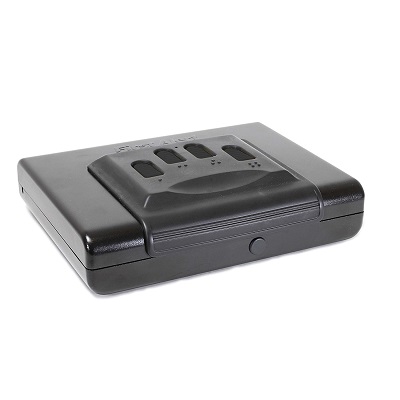 This biometric gun safe is an ideal solution for protecting your weapon wherever you may go. Constructed with durable 18-gauge powder-coated steel and has a foam-lined interior which protects contents kept within. It also features an electronic keypad that you can use to program a three to eight-number "no-see" passcode. You can secure it with the included steel cable or mounted to a floor or shelf. This product is approved by the California Justice Department.
Expand to see more
Interior Foam Lining

One great feature that really stands out about the First Alert 5200DF is the interior foam lining. This special design is perfect for keeping your gun and other valuables safe from scratches and nicks.

Spring-Loaded Locking Door

This gun safe has a spring-loaded locking door which allows for quick access in case of an emergency. For instance, you can take advantage of this mechanism if you hear a strange noise that might come from a potential assailant.

Cost and Value

This product is available in 2 styles and 2 sizes. The price depends on your selection: if you feel more comfortable with key locks, you'll pay less. First Alert has almost 60-years of experience backing this product.

Has a spring loaded door
Choose your own code
Foam lining in the interior
Compact and easily mountable
Drains battery
Does not alert when battery is low
3. GunVault SVB 500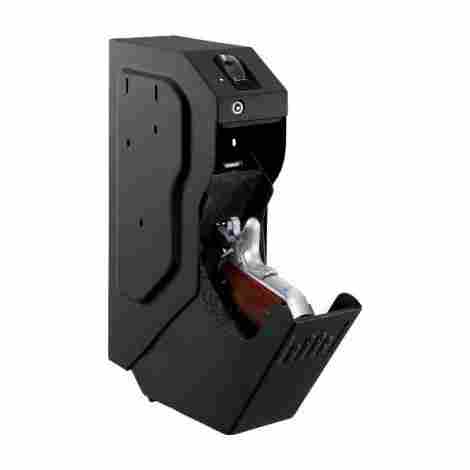 The sleek design of the Gunvault SVB 500 makes it ideal for someone who wants their handgun secure next to their bed. It was created with ease in mind, holding your gun in the "ready" position so with one swipe of your finger you're ready to go. Using 18-gauge steel, the sturdy construction means you can rest assured that your gun will remain safe. There are two override keys included for access even if you forget to replace the batteries.
Expand to see more
Program up to 20 Fingerprints
It is recommended that you program your fingerprint from multiple directions to account for a variety of situations you may be in when needing to open it. With the ability to program up to 20 fingerprints, you can not only program your own but any other friends or family members you wish to grant access to it.

Multiple Mounting Options
With the provided mounting bracket, this safe can be mounted on the top, back, left or right sides to accommodate almost any location you wish to keep your safe. Due to the design, it is better when mounted vertically, which offers many more mounting opportunities than traditional horizontally-designed cases.

Cost and Value
The GunVault holds an average price in comparison with other biometric safes, making it a great option for those who want a high-quality safe without spending the big bucks. With the ability to input many different fingerprints, a sleek, at-the-ready design, and secure construction, the price is well worth it for the features offered.
Unique, easily accessible design
Holds up to 20 fingerprints
Only 7 pounds
Can be installed on most surfaces
California DOJ approved
Mounting plate screws provided are low quality
Doesn't open silently
4. Barska Top-Opening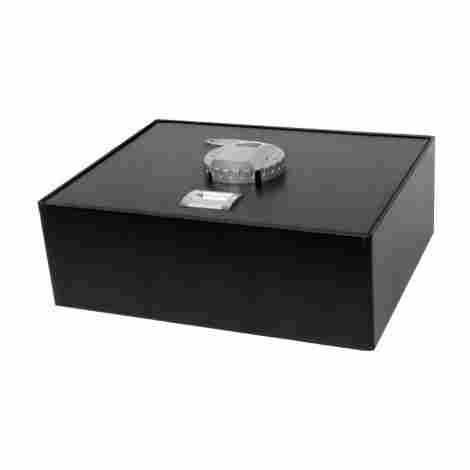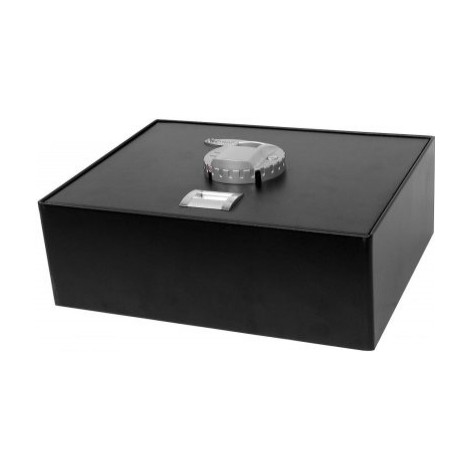 The simple, yet sturdy design of the BARSKA top-opening safe makes it a great, low-cost solution to gun safety without compromising design. Coming with mounting equipment to be secured on any flat surface of your choosing, two steel motorized locking bolts and the ability to store up to 30 fingerprints, a low price point definitely doesn't mean low quality for this safe.
Expand to see more
Hydraulic Assisted Door
The hydraulic-assisted door makes this safe easy to access with a single hand if necessary. It also comes with the ability to turn on "silent mode" so you can remain in stealth mode without your safe giving you away.

Open Interior Construction
The inside of the safe comes without any extra frills on the inside, meaning more space to store your valuables in whatever way you choose. Equipped with a protective floor may for added protection from scratches.

Cost and Value
Boasting the lowest price on the top ten list, this safe offers the best value for your money. However, security is not compromised due to this low price, offering heavy steel, great battery life, and a portable design.
Can hold multiple handguns/other valuables
Hydraulic door
Can hold up to 30 fingerprints
Easy to follow setup instructions
Good battery life
Fingerprint reliability not 100%
Powder coating chips easily
5. Stealth Handgun Hanger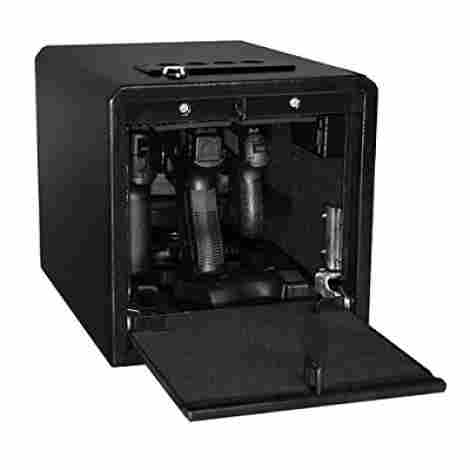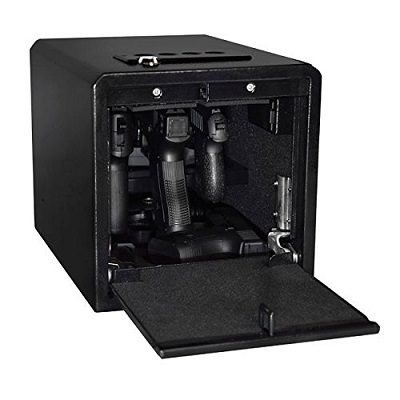 When looking for a biometric gun safe that can store multiple weapons, the Stealth Handgun Hanger is a great option. It has a spring loaded drop down door which offers quick and silent access to your weapons. What's more, it is made of solid steel and has a pick proof lock, providing the security you need for your guns. The foam lined interior protects them from getting scratched.
Expand to see more
Pick Proof

This security box has a specially designed lock housing that is made from welded steel. This locking system makes it pick and straw proof, decreasing the chances of someone to opening it.

5 Gun Capacity

Unlike other gun security safes, this one has a much bigger capacity. You can store up to 5 guns in it with no problem. Each one of your handguns has its own place in this safe. Moreover, the foam lined interior prevents them from getting scratches.

Cost and Value

Even though this product is a bit pricey, it is a quality buy. Not only is it very secure, but its capacity load means you only need one safe for multiple guns!

Holds up to five handguns
Features a welded steel lock house
Includes scratch resistant rods
Comes with an extra-strength security cable
Makes a load beep when opened
Inside light points straight down
6. Verifi Smart Safe S5000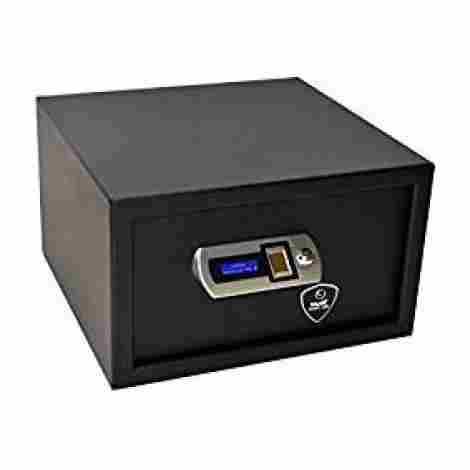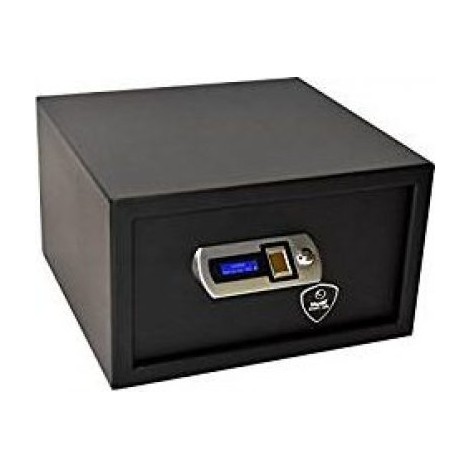 Weighing in at 23.4 pounds, this heavy-duty biometric safe gives you peace of mind that your unit will not easily be broken into with its 14-gauge walls and 8-gauge door. With the ability to program up to 40 fingerprints, an LCD screen for easy user management, and enough space to store both guns and
other valuables
, the Verisafe Smart Safe makes a great multipurpose option.
Expand to see more
Extended Battery Life
Boasting "pico" and "boost" technologies, this ensures that it works at peak performance while using low power and ensures the LCD screen and motor speed can remain constant even near the end of battery life. Batteries should be able to last for years without replacement.
Access and Event Logs
The administrator of the safe can easily access information which is timestamped and saved into the system such as who accessed the safe, alerts, diagnostic results and when users were added/deleted. This gives you a secondary source of this information if ever needed.
Cost and Value
While this product is the most expensive safe outlined in this review, it boasts some of the most consistent fingerprint technology on the market. This price is also reflected by its multi-use purpose, being large enough to house more than just your
firearm
.
FBI certified fingerprint technology
Long battery life
Add up to 40 fingerprints
Large enough to hold other valuable items
California DOJ approved
Heavier than other safes
Can only program backlight for up to 5 seconds
7. Viking Security VS-25BL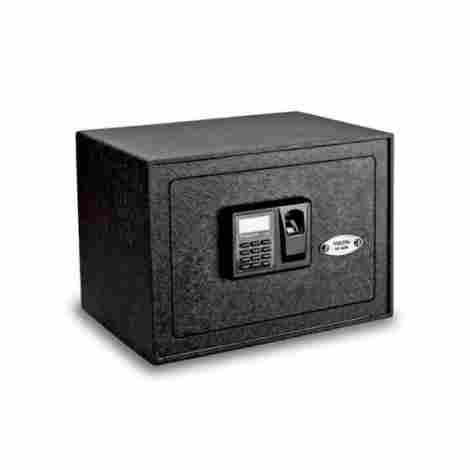 Viking Security has a wide range of biometric safe sizes available, however the VS-25BL offers the best diversity of storage capabilities while staying within a reasonable budget. With an adjustable shelf, capability of holding up to 32 fingerprints in addition to a backup keypad and keylock, and a fully carpeted interior, you'll sleep soundly at night knowing your valuables and guns are safe and sound.
Expand to see more
Seamless Welding
The VS-25BL a sleek design, offering a pry-resistant door, two solid steel locking bars and smooth edges for easy installation in tight spaces. Comes with four pre-drilled holes and anchor bolts.

Adjustable Shelving
With a fully carpeted inside, one fully adjustable shelf, and a built-in LED light, you have the freedom to store a wide range of items without the confinement of a predetermined internal layout.

Cost and Value
As one of the least expensive safes outlined here, the VS-25BL offers a good solution for anyone who wants a safe location to store valuables without any of the frills of more expensive models on the market.
Optional expert installation
Saves up to 32 fingerprints
Two solid steel locking bars on door
Built in LED light
Adjustable shelf
Irregular open response times
Keypad not backlit
8. Vaultek VT10i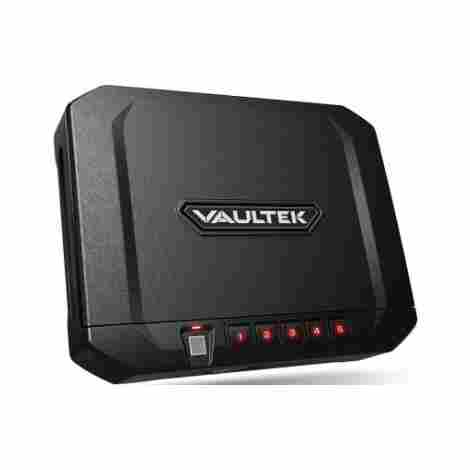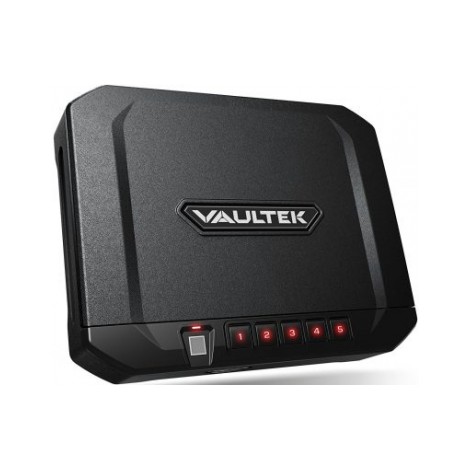 The Vaultek VT10i is a lightweight option to secure your gun or other valuables, perfect for obscure hiding places in the home or while travelling. Offering the ability to store up to 20 fingerprints, and a mobile app allowing remote access to information such as power level, access history, and tamper detection, you can keep an eye on your safe at all times. Lightweight 18- gauge steel, a backlit interior, and pry-resistant design make this ideal for a frequent traveler.
Expand to see more
Rechargeable Battery
Personally, I'm a huge fan of anything rechargeable. One of the worst feelings is throwing away dead batteries. The Vaultek will make you feel better about your environmental impact with rechargeable batteries, including the USB charger needed for them.

Meets TSA Airline Firearm Requirements
This makes it a great travel companion in your vehicle or while flying. Weighing in at just 5.2 pounds, it is easy to carry in your backpack or underneath your seats. Or, use the included mounting hardware to secure it in your home.

Cost and Value
The Vaultek combines a lightweight design without compromising security, ranking it average in price compared to other safes listed here. As the only TSA -approved biometric gun safe outlined here, the price is well worth the quality.
Quick response time
Hidden key hole
Easy to program
Rechargeable battery
Meets TSA guidelines
Door opens very forcefully
Fingers must be clean and dry to scan
9. Viking Security VS-50BLX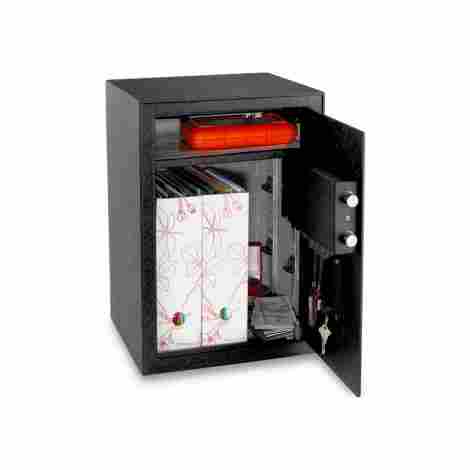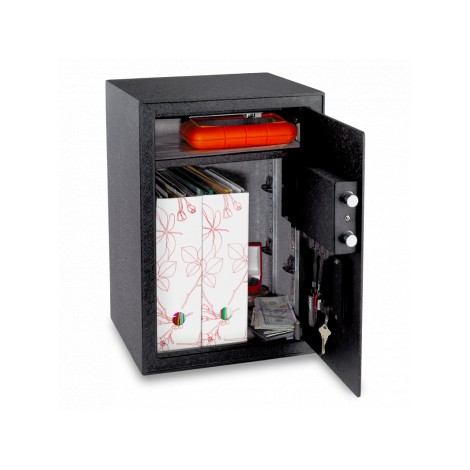 The VS-50BLX has many of the same features as the other Viking safe outlined above but is double the size, double the weight and twice the price. Weighing in at 43 pounds, this safe is perfect for those who want the security of a biometric safe, but with more room than most other safes outlined in this review.
Expand to see more
Large Storage Capacity
Large enough to hold multiple guns and other valuables to serve as a multipurpose at-home safe. With three fully adjustable shelves included, you can customize to your individual needs.

Solid Steel Construction
Seamless welding, pry-resistant, and a military-grade scratch resistant exterior makes this an attractive, heavyweight safe. Equipped with 4 anchor bolts as added security to ensure no one is walking away with your safe.

Cost and Value
As mentioned above, this safe is twice as expensive as its smaller version, due to its larger size and weight. This increased cost is well worth it for those who are looking for one safe to house all valuables.


Internal LED light
Stores up to 32 fingerprints
Fits multiple handguns and other valuables
Simple, fast setup
Consistent fast-response biometrics
Low quality battery cover
Provided anchors don't work for all setup situations
10. Liberty HDX 150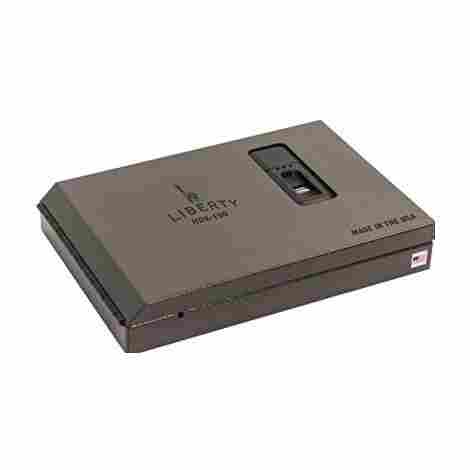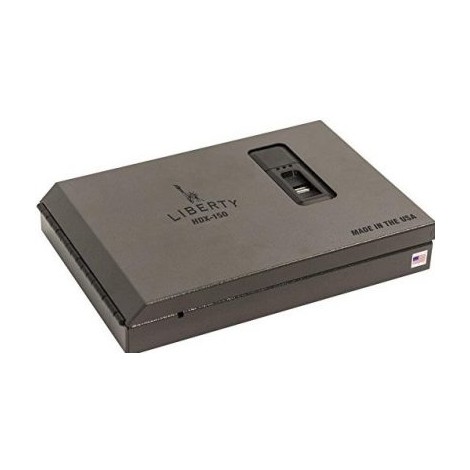 Offering the ability to program up to 15 fingerprints, this safe is another great option for those who are looking for a portable safe while traveling or small enough to fit in a drawer. Heavy- duty 14- gauge steel, a tamper-resistant design, and large enough to fit most handguns, this is a great simple option for those who don't want to break the bank.
Expand to see more
Lightweight
Much like the Vaultek listed above, the Liberty HDX 150's lightweight build makes it ideal to fit under the bed, hidden in your vehicle, or in your
backpack
for safe transport. At a total weight of 9.5 pounds, it is easy to keep hidden but comes with an optional security cable if you wish to keep it stationary.
14- Gauge Steel
Heavier than the similarly-designed Vaultek, this is great for those who want something that feels a bit sturdier. The reinforced latch system offers a pry-resistant opening to deter intruders.
Cost and Value
Slightly less expensive than its competitor Vaultek, this safe is best for those who aren't too worried about break-ins or those who merely want to keep children away from their gun.
Reliable fingerprint reader
Optional AC adapter
Programs up to 15 fingerprints
Easy to hide in obscure locations
Sturdy build
Short battery life
Exposed bolt can scratch gun
Biometric technology is a growing field of study and is likely to continue improving. The safes outlined above are the current biometric all-stars in the market, offering an array of qualities fulfilling most everyone's desires in a safe. It is important to note that all safes outlined above are NOT rated as fire- safe, so if this is a key feature you are looking for, it may be worth looking into other options. With all eyes on gun safety these days, it is important to practice proper gun etiquette, both at home and out in the woods. In years to come, if we continue to teach our children how to respect firearms, and hold ourselves accountable to take proper steps towards a safe home, we can make an impact on the overall view on owning guns. Biometric technology is an affordable and arguably safer alternative to classic gun safes with all of the same classic accommodations that we love.
Criteria Used in Choosing the Best Biometric Gun Safes
Biometric Lock
By definition, a biometric gun safe will use some sort of biometrics as a means to open safe. All biometric gun safes are different and you will need to think about a few different considerations when you are purchasing a biometric gun safe. One consideration is the number of fingers you will need to supply in order to open the gun safe. You may also want to think about how many different fingerprints the gun safe is able to store in its memory. All biometric gun safes need to be programmed as well so this will be another point that you will have to think about as you shop for a biometric gun safe. Finally, you will need to think about the source of power the gun safe is using the power the biometric lock.
Some biometric gun safes can be opened with only one finger while other gun safes require all five of your fingers in order to open the lock. Both styles of biometric locks use a fingerprint scanner as a way to determine if your fingerprints match the fingerprint images that are stored in the lock's memory. However, these fingerprint scanners are still in development and even though there will is a continuous improvement to the fingerprint scanners, they are still capable of producing a false match. That means that there is a chance that somebody could open the safe if they have a fingerprint that is similar to your own fingerprint. For this reason, there are biometric gun safes that use four or five fingerprint scanners because having more than one fingerprint scanner will reduce the chances of a false positive opening the safe. You will need to decide between convenience and security when you are picking out a biometric gun safe because it is easier to only have to use one finger rather than five to open the save, but it also means that somebody could gain unauthorized access to your guns. If you are absolutely concerned about this, then you should look for a biometric lock that uses more than one finger to open the safe.
Sometimes you want to grant more than one person access to your gun safe or you may even want to be able to open it with more than one finger. Many gun safes have the ability to store multiple fingerprints in their memory as a way to allow a variety of fingers to open the gun safe. There may be a few different reasons why you might want to grant access to different fingerprints. The most obvious reason is that this allows different people to open the gun safe. For example, you may want to open the safe yourself as well as provide access to your spouse or other responsible family members. Another reason that you may want to have different fingerprints programmed into your safe is that it lets you use different fingers to open your safe. For example, you may program your safe to work with your index finger on either one of your hands. Of course, having the ability to use multiple fingers to open your safe doesn't mean that you should overdo it either. The more people you give access to the safe, the more chances there are that someone could take something from the safe without you knowing who did it. You should only provide access to the people that you absolutely trust.
Since biometric gun safes have to be programmed, you will need to look at how difficult it is to program the safe. All biometric gun safes are programmed differently so you will need to look at the programming instructions when you're picking out a biometric gun safe. The gun safe should not be overly difficult to program, but it should not be too simple to program it either due to security concerns. Once again, you will need to go for the balance between convenience and security when you are picking out a biometric gun safe. Finally, you will want to think about the power source used by the gun safe. Almost all biometric gun safes are battery operated so that you can open the safe when the power goes out, but you may want to consider if the gun safe has rechargeable batteries or uses disposable batteries. It also matters if you need to reprogram the safe after you have changed the batteries as well.
The biometric lock is one of the most important components of a biometric gun safe so you will need to think about what you are looking for in the lock. Some of the things that you will want to consider are how the gun safe is opened and how many fingerprints are stored in its memory bank. You will also need to think about how the safe is programmed and what kind of power source it uses. All of these are important concerns because they directly affect how you will use the safe.
Backup Access
Biometric gun safes are convenient but like all electronic devices, they are subject to failure which is why you need to think about backup access to the safe. A way to protect yourself from electrical failure is to purchase a biometric gun safe that has a backup system that will provide you entry into the safe in the event that the biometric component fails. This will prevent you from having to call a locksmith to break into the safe should you no longer be able to enter the safe. The backup system can be just about any kind of traditional safe mechanism that does not require electricity to open the safe. The most popular kinds are combination locks or backup keys.
Combination locks come in a variety of different types and are used differently. The most common kinds of combination locks are single dial locks, multi-dial locks, and keypads. All of these locks are set to open with a secret combination that cannot be easily guessed. When you enter the proper access code, the lock will open and you will be able to access the safe as if the biometric component was working properly. A single dial lock is a lock that you turn backward and forward to enter the combination. This kind of lock is one of the most common types of locks that are used on gun safes. Multi-dial locks have a wheel for each letter or digit that is found on the lock. These locks usually have at least three wheels but may have more wheels for extra security. Then there is the keypad style lock where you have to press buttons in a particular order that corresponds to the combination.
Most people find the keypad and the multi-dial locks to be easier to use than the single dial lock. One of the main drawbacks of a single dial lock is it can be too easy to accidentally scroll past a number in the combination which requires you to start over. For this reason, a single dial lock will make it harder for you to get access to the safe quickly in an emergency. Multi-dial locks will need at least three numbers to be effective, but the more numbers you need to enter, the more secure the lock will be since it gets harder to guess the combination. Keypad locks are also a great alternative to a single dial lock since it is easier to press buttons then it is to spin a dial.
When you are looking at any of the three locks, you will want to think about what it takes to set the combination. You will also want to store the combination in a safe place that is not inside of the safe so that you can open the safe if you forget the combination. All three kinds of locks are commonly found on gun safes so you should be familiar with how they work. Combination locks do require you to set an effective combination that is difficult to guess in order for them to be effective. For example, you should avoid combination codes such as 1-2-3 and go for something that is hard for people to think of such as 3-8-4. It is also important for you to either commit the combination completely to memory or store it in a safe place that only you will know where to look for the safe combination. You should not store the combination inside of the safe since you will not be able to get into the safe if the biometric lock breaks and you forget the combination.
Keys are an alternative to using a combination lock and are sometimes preferable. In this case, you will use a backup key that is fitted to the lock so that you can access the safe if the biometric lock fails. Of course, this requires you to keep the key in a safe and secure place that is not inside of the safe. The drawback of using a key is that you can lose the key and anyone who finds the key will be able to gain access to the safe. However, the advantage of the key is that there is no combination for you to remember and you can open the safe quickly in an emergency situation.
You will always want to look for a biometric safe that has a backup means of entry. This is because biometric locks can fail in the event that they lose power or their programming fails. Having a combination lock or a key entry is a smart choice because this allows you to open the safe in the event that it fails. It is much easier to repair the biometric component when you can open the safe normally than it is when you need to break into the safe first. For this reason, you should always consider a backup access system for your gun safe.
Theft Protection
One of the main reasons to use a biometric gun safe is to protect your guns from theft or other kinds of unauthorized access. Though there is an endless number of reasons for people to steal guns, they tend to boil down to either money or getting access to weapons. Guns are valuable for a number of reasons either because they are well made and higher powered weapons or they are collector's items that have acquired value. Many people steal guns for the purpose of selling them illegally to make money illicitly. Of course, the other reason why people steal guns is to gain access to a weapon that they can't acquire legally as well. Many tragic shooting deaths are done by a person who stole a gun. Finally, children who do not know any better may think the gun is a toy and harm themselves or other people.
It is always common sense for you to protect your valuables in order to minimize financial loss. As a gun owner, you have an extra responsibility towards safety which means that you have to protect your firearms from people who intend to misuse them. You may not be held legally responsible for the misuse of your stolen guns, but the fact that someone could lose their lives in a shooting with your gun should be enough of a reason to keep your guns secured. For these reasons, you should look at how well your biometric gun safe will protect your guns from theft and unauthorized access.
Although many commercial safes are independently tested and rated against theft protection, this sadly is not the case for many sales that are owned by consumers. This means that it is up to you to use your best judgment and common sense in order to make sure that your gun safe will protect your guns from thieves. One of the most important things to keep in mind is that someone who breaks into a building usually wants to get into the building and get out as quickly as possible before anyone notices the intrusion and calls the police. This gives you an advantage when picking out a gun safe because most thieves will not put a lot of effort into breaking into any safe.
One of the first things that you will want to look at is the weight of your gun safe. You are most protected when you have a heavy gun safe rather than a light one. The reason is that someone could pick up a light gun safe and run away with it with the intention of breaking into it later on. A heavy gun safe that requires two or more people to carry or heavy equipment is less likely to get stolen for the simple fact that it can't be removed from the property quickly or without attracting attention. Therefore, you should try and look for a large and heavy gun safe.
Another reason to look for a heavy gun safe is that it has thicker doors and walls which makes it harder to break into later on. If your safe have thick sheets of steel and even concrete in between the layers of steel, it is much harder for someone to open the safe with a blow torch or a drill. While it does take some degree of effort to break into a safe that is made from thinner materials, the fact of the matter is that the harder somebody has to work to get into your safe, the less likely they will bother with it in the first place.
In addition to your safe being heavy, you should try and see if you can bolt it to the floor or the walls of your building. This adds an additional layer of protection because now a burglar has to cut or otherwise remove the bolts from your gun safe in order to remove it from the property or they will have to try and break into the safe while they are at the property. Either task takes a considerable amount of effort and time which again is the last thing a burglar wants.
If your safe has keys or a combination lock, then you should make sure that the key is hidden or you set the combination to something other than the factory setting. It may seem like common sense but not everyone who breaks into a gun safe is a criminal. Sometimes children play with a safe to see if they can get into it and you do not want to make it easy for a child to have access to your guns. By changing the combination or storing the key in a secret place, any family members will not be able to break into the safe either which will keep everyone safe.
Protection against theft and unauthorized access is one of the most important reasons for you to own a gun safe. It is always your job to make sure that everyone in your home is safe which is why you need to start by controlling access to your guns. The best way to protect your guns is to make it difficult to steal them which is why you should own a heavy duty gun safe that is difficult to remove from the property or break into it. The better job you do of this, the safe everyone will be in your home.
Capacity
The size and capacity of a gun safe will also determine how many guns or other items you are able to place inside of the safe at a single time. There are reasons to own large biometric gun safes, but there are also reasons to own smaller ones. Gun safes come in all different sizes from small and compact to large and in charge. You will need to think about the proper kind of gun safe that fits your needs best and the purchase a gun safe that works with your requirements. This will allow you to have the best safest possible storage for your guns.
One of the things that will determine the size of your gun safe will be the size and the number of guns you plan on storing in the gun safe. For example, many people own a single handgun for self-protection purposes. They may wish to keep the handgun near their bed so that the gun is accessible if someone breaks into their home at night. Other people may wish to keep a handgun under the seat of their car in case there is an emergency. These are situations that call for a smaller gun safe because the safe needs to be small and compact so that you can hide the safe.
A small handgun safe is only intended to store a single small firearm. Since the safe is small, it can be picked up and stolen by someone who can work on breaking into the safe later on. For this reason, you will want to make sure that the safe is large enough for your handgun but small enough to make sure that you can hide it in a place that is out of sight. This will help keep your handgun from getting stolen. Whenever possible, you should look for small safes that are still heavy for their size as this will help keep them safe from getting stolen.
Of course, you may want to store lots of guns in a single gun safe which means that you will need a larger safe. Rifles and shotguns require a gun safe where you can either stack the guns vertically so that you can store guns that have different barrel lengths. Many of the larger gun safes will also provide you with a safe place for storing ammunition or additional gun magazines as well. Sometimes you can store other items in your gun safe that is not related to the guns themselves which could include identifying documents such as a social security card or a birth certificate.
While the overall size of the gun safe will determine its capacity, you will also want to take a look at how the space inside of the safe is used as well. Some gun safes are simply an empty box that provides you with a place to store your guns. Other gun safes have shelves and drawers that will help you organize your belongings inside of the safe so that you can use the space inside of the safe more efficiently. If you are planning on storing more than one gun inside of the gun safe at a time, then you will want to look for some form of organization inside of the safe.
For example, if you own both rifles and handguns, then you may want to have a safe that has space that is specifically designed for full-length guns as well as handguns. A common example of this would be an upper shelf that makes an ideal spot for keeping your handguns in the safe and using the lower part of the safe for regularly sized guns. Sometimes you will want to store items such as magazines or boxes of ammunition in the gun safe as well. This could mean that you will want a shelf for these items or even a locking drawer inside of the safe. Having shelves is a great way to organize your gun safe and gives you a great way to maximize the capacity of the safe. The more room you have inside of the gun safe, the more items you will be able to lock securely inside of the safe.
The size and capacity of your gun safe will depend on what you need to store inside of the safe. Gun safes come in all shapes and sizes which gives you more than enough choices when it comes to finding a gun safe that is best matched to your needs as a gun owner. Some people only need small gun safes so that they can secure a single handgun for protection. Other people own a wide variety of guns and will require a large gun safe that they can organize so that they can find things quickly. You should take some time to think about your required capacity in a gun safe and pick on that best fits your needs.
Fire Protection
It is important that you keep in mind that not all gun safes protect your guns against fire. However, there are plenty of reasons why you would want to consider owning a gun safe that protects your guns and ammunition from a fire. Household and office fires are more common than what you may think and your guns are valuable. If you have gone through the work of protecting your guns from theft, children, or other people who might steal or misuse your gun, then it is only one extra step to check and see if the safe will protect your guns from a fire.
Your guns are valuable but what you store inside of your gun safe may be just as valuable as well. Many people store items such as identifying documents or other important items in their guns safe because gun safes tend to be extremely secure. If you store boxes of ammunition in your gun safe, which is a common practice for many gun owners, then you will want a safe that protects your valuables from a fire as well because of what can happen if the ammunition is exposed to open flames or too much heat. The metal parts of your guns may not be affected by a fire but if you happen to have guns that have beautiful wood stocks or antique guns, they might get ruined in the event of a fire as well.
You should keep in mind when you are looking for fire protection that no gun safe is completely fireproof. Gun safes are fire resistant under tested circumstances and you will need to consider the rating of the safe to see what level of protection is offered in the event of a fire. In order to get a fire resistant safe that is suitable for your needs, you will need to understand how fire resistance is tested to understand the ratings. This will keep you from misunderstanding what you are buying and thinking that you have a proper level of fire protection when you really do not.
Fireproof safes are meant to stay under a certain temperature when exposed to fire over a certain amount of time. For example, when you are picking out a fire resistant gun safe, it may say that it is rated for 350F over 30 minutes. This means that the internal temperature of the gun safe will not exceed 350F when exposed to a fire for 30 minutes of time. There are also fire resistant safes that do not exceed 125F over 60 minutes which is the maximum amount of protection that you will likely find in a fire resistant safe.
It is important that you keep in mind that 350F is the temperature that we usually cook our food using the oven. This means that if you think that something will melt or get ruined in the oven, then you should not expect it to last in a 350F fire resistant gun safe. Some examples of items that will not hold up in such a safe would include items such as shotgun shells, computer CDs, USB flash drives, pictures, or any item that is made primarily out of plastic. On the other hand, a 350F gun safe should offer enough fire protection to protect your wood stock guns or anything that is made from paper.
If you are planning on putting more fragile items in your gun safe such as shotgun shells, then you will need a safe with additional fire resistance. Most ammunition will start to break down once it reaches an internal temperature of 150F so that means you will need a gun safe that is highly resistant to fire in order to properly protect your ammunition in the event of a fire. The good news is that if you plan on investing in the level of fire protection that is needed to protect gun ammunition, then just about anything else that you store in the safe will also be protected in a fire as well.
However, due to the expense, you may choose not to purchase a gun safe that is fire resistant as well. Making a safe resistant to fire requires the manufacturer to use additional materials such as concrete or gypsum inside of the safe in order to protect the contents of the safe from a fire. In addition to the extra materials, a certified fire resistant safe requires independent testing as well which adds to the cost. However, on the whole, it is a good idea to purchase a biometric gun safe that is resistant to fire. Your guns are valuable and exposing them to a fire can ruin them and other belongings that are stored inside of the safe. Adding fire protection is a good idea whenever you are storing valuables inside of your gun safe because the house and office fires are more common than what people think.
FAQs
Frequently Asked Questions
Q: What is a biometric gun safe?
A: A biometric gun safe is a gun safe that can be opened by using unique parts of your body. Fingerprints are the most common biometric used because two people can't have the same fingerprints which means that only people with authorized fingerprints are able to open the safe. Biometric gun safes are popular because they are easy to use and can be opened quickly in the event of an emergency. They do not require keys or combinations which can be lost or forgotten.
Q: How many fingerprints should I program into my safe?
A: The fewer fingerprints you program into the biometric safe, the more secure the safe will be due to the less likelihood of false positive matches. On the other hand, it also means that it will be harder to open the safe because you will need to place your fingerprint in the exact same way each time to open the safe. Some people recommend programming the safe to open with a lot of fingerprints to make it easier to open the safe.
Q: What are some advantages of using a biometric lock over a traditional lock?
A: Biometric locks have a number of advantages over a traditional lock. One of the main advantages is that there is no possibility of losing a key or forgetting a combination when using biometrics. You will also never need to change the key or the combination over time since your fingerprint is unique to you and you alone. There is never a need to worry about having someone duplicate your key and a biometric safe cannot be lock picked.
Q: Are there drawbacks to using a biometric gun safe?
A: Nothing is perfect in this world so biometric gun safes do have drawbacks also. One of the main drawbacks is that a biometric scanner can produce false readings, which is more likely to happen if you do not keep the fingerprint scanner clean. Biometric gun safes cost more than traditional safes as well. Finally, some biometric gun safes use voice or eye recognition technology but your eyes and voice change as you age which means the programming needs to be updated as you age.
Q: Are there legal concerns regarding gun safes?
A: There are states that can make you liable for a stolen gun depending on what measures you were using to keep the gun safe. For example, some states can hold you accountable for not storing your guns in a safe and children end up using the gun. Accidental gun death is common for children so many states expect you to keep your guns in a safe to keep children safe. Other states require you to always store your guns in a safe when you are not using them. You will need to look up the local regulations for your area.
Sources