Best Art Sets For Kids Reviewed & Rated for Quality
In a Hurry? Editors choice: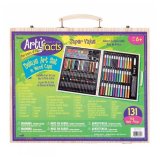 Test Winner: Darice

Little kids love drawing, sketching, painting, stick figures or even coloring. However, as they grow old, their interest reduces and start trying more complicated things. Arts and crafts activities are
beneficial to a child's development
, and it's essential to encourage them as they explore their ideas and imagination. Experimenting with crayons, paintbrush, and other art tools is a way of expressing what is in their minds, and this boosts their creativity and coordination between the brain and body. It also improves their sensory skills and reasoning ability. Every time your child competes with different skills it helps boost their self-esteem levels promotes their self-expression and communication with others. Due to this, we have compiled a list of art sets for kids to get them started and lead them to a world of unlimited opportunities.
Standout Picks
Criteria Used for Evaluation
Durability
An art studio kit provides creative activities for kids in helping them explore their interest in arts while ensuring they are productively occupied. It is also a perfect pastime, and your kid will spend hours of endless fun trying out new and different things. By engaging in art, kids engage their brains in reasoning and problem solving; this improves their communication and how they express themselves. Parents have a duty in encouraging their children by buying for them a quality and durable art supplies kit. When searching for one, you need to be sure that the set is made from high-quality material and the art supplies are high quality and durable. A wooden package is much better as compare to plastic since wood lasts longer if properly handled. Crayons and pencils should be sturdy to prevent possible breakages.
Versatility
Arts sets encourage kids by allowing them to put their creative ideas on paper. When we talk about versatility, it is all about the assortment of pencils, crayons, paints and other art pieces that enables your child try out different activities, and this is essential in improving their reasoning, problem-solving and motor skills. It also helps them in their communication, self-expression and boosts their self-esteem.
Value
It is worth noting that when buying an art studio for your child, age is an important consideration given the fact that kids grow very fast and do not remain kids forever. Also, kids naturally play with toys and breakages are a common occurrence and exercise of care is not guaranteed. Whereas quality is a critical factor, refrain from pricey bearing in mind that this is a continuous exercise in a child's life. For older kids, you may consider buying more expensive ones as the users are in a position to take care of their equipment. In the end, your purchase will entirely depend on your budget and how much you are willing to spend. A high-quality product will give you value for money regardless of the price.
Size
It is an essential factor and should correspond will the ability of the kid to take it along to school, around the house or outdoors during travel. Select one that is portable with a sleek design and comfortable handle for ease of transport. For small kids, it is advisable to buy a pack that is as light as a toy since kids own their stuff and can be fussy especially if mommy wants to lend a helping hand.
A kid who is above eight years can comfortably engage in an outdoor art activity. In this situation, an easel will allow him to enjoy painting, drawing or sketching while outside since he can even invite his friends over for the competition and fun. It will help prevent the mess that comes with painting and will enable the kid to have a free space. The height of the child also determines the height of the easel.
Most kids prefer artwork while standing. Where you have a permanent room for kids activities, a wall mount easel is essential. However, this will limit the children to indoor art. An easel can be mounted on the wall, or you can opt for a traditional one which can stand on the floor and is a form of art too due to its features. A piece of cardboard, square or rectangular board may be used where your kid can place on top of the table and proceed with his creative activities.
Accessories
An art studio should have a wide range of accessories for your kid as they try out different activities and explore their creativity. These include pencils, crayons, paints, paintbrush, stencils, drawing papers, instruction books and any other instrument that is necessary for drawing and art. If your kid uses an easel for art activities, consider buying a kit that comprises; liquid paint, bristle paint brushes, paper roll, dry erase markers, board eraser and chalk. These accessories are for use by older kids who are more experienced in the art and is developed to cater for their creativity and desire to discover new things. By allowing a small child to toy with a brush and paint, they can mess their clothes and the working space.
A child's age will determine the type of art equipment to buy and the accessories therein. A simple packet of crayon and drawing pencils is suitable for small kids between the ages of three and eight. For kids above eight years, sequin art is the right choice since they can create sparkling pictures using polystyrene base. They can also pin the sequins and produce pictures of favorite animals. The kit may consist of polystyrene base, packets of colored sequins, pins designs and a full-colour instruction book of animals like elephants, rhinos, horse, butterflies, puppies and much more. Your kid can choose and produce a birthday gift for a friend or sibling.
10 Best Art Sets for Kids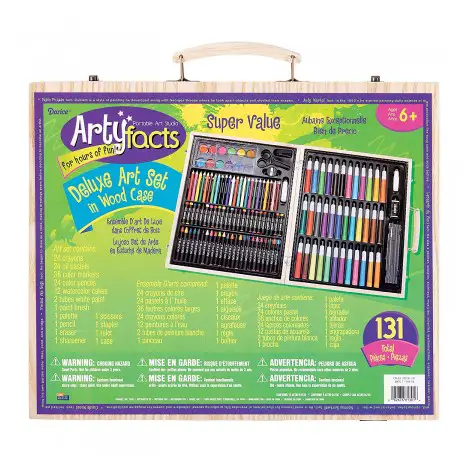 The Darice is a great beginner set for kids above three years and adults as well and promises unlimited artistic fun. It is a 131 piece exceptional set and includes a wide variety of excellent art pieces for drawing, painting and much more. It allows for flexibility and a perfect choice for children to experiment with an array of artistic things. Darice Company is known for the provision of high-quality art products, and this set is no exception and all pieces in the collection are made from high-quality material.
A complete set
Whether you are a professional artist or you are buying it for your kid, there is no doubt that Darice collection is the best product and takes the trophy as a versatile and all-inclusive set. In there you will find, 36 markers, 24 color pencils. Twenty-four crayons, 24 oil pastels, and 12 watercolor cakes. Other items include; a palette, pencil, stapler, paintbrush, sharpener, ruler, scissors, glue, and eraser.
Portability
The Darice is a portable wooden case that has a wooden handle and metallic hinges. If you travel a lot, the handle allows for a comfortable grip and has a small compact and sleek design that fits in small spaces. This box holds everything your child needs and keeps all pieces neat, orderly and organized. It is lightweight, and your child can take it along around the house, school or outdoors where they get their inspirations. The set has partitions that allow you to easily access your art tools and help you achieve your objectives.
Cost and value
If you are searching for high quality and affordable kit, we recommend the Darice kit. There are all types of tools that will help you express your ideas and imagination into fine art. It is a perfect gift for your child, grandchild or student who has an interest in art. The price is fair and will give you value for money.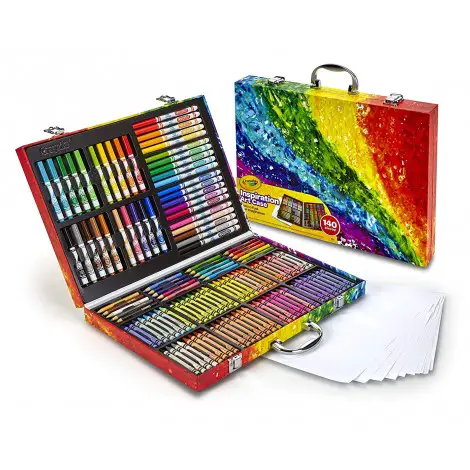 Gift your child with the Crayola set and watch him as he captures his memory on paper. This set is a great starter's kit with dozen of art pieces and a wide range of colors for your ambitious little artist. It is a perfect gift idea for kids and will inspire their creativity and boost their self-expression. It is absolutely safe with no traces of toxins and easy to use suitable for kids above four years.
All-in-one set
Whether you want a colored pencil for creating different shades or a thin marker for sketching, this set has everything your child needs to get started. It comes with over 100 art pieces for crafting, sketching, drawing, and coloring. Inside the set are 64 crayons, 40 markers, 20 colored pencils, and fifteen large sheet papers. The colors, pencils, markers provide the stunning colors of the rainbow, and this gives you the flexibility of choosing the pieces that work best for you.
Easy to carry
The Crayola is a portable art studio you can take anywhere. It encourages kids to arrange their art supplies and keep them protected inside the high-quality casing. It has partitions for organizing the pieces in a neat and orderly manner. Whether your child is traveling to school or for outdoor activity, you can easily pack for them to carry the supplies in this rainbow case. It has some beautiful graphics and a sturdy handle that makes it ideal for traveling.
Cost and value
The Crayola is a great set that allows your child to practice and explore their creativity. It is our top pick since the package comes with large sheets of paper where your child can make drawings and practice on their own. The colored pencils and crayons are suitable for shading while the makers are ideal for creating solid blocks of color and they are washable from the skin and fabric. It is made from high-quality material and is cheaper than the Darice set.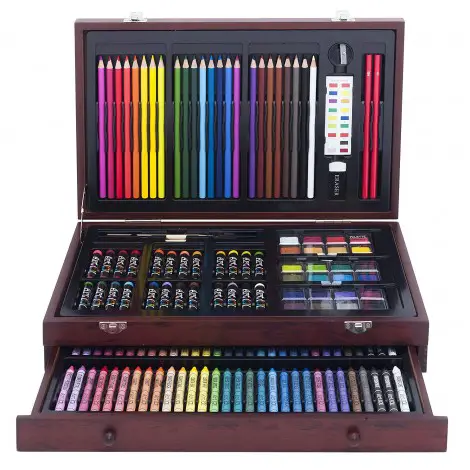 Encourage your child to communicate through art by buying them this kit from Art 101. It comes with different kinds of art supplies that ensure maximum artistic freedom. It is made for use for kid and adults alike and has a wide variety of tools to get you started in all your art and DIY craft tasks. It has a sturdy and protective case that keeps your supplies organized to help you unlock the creative person inside of you.
Convenient
It is a classic deluxe wooden case with a detachable drawer that allows you to store your art supplies conveniently. This kit has three types of storage spaces where you can easily access your pencils, pastels, watercolor painting and crayons.
Enough supply of art pieces
Inside the set, there is a wide range of art pieces for everyone. There are crayons, premium core colored pencils, oil pastels, watercolor cakes, and three mixing palettes. Other pieces include a sharpener, sketch pencils, two paint brushes, one sharpener and one color chart all inside an elegant wooden case with a removable drawer.
Cost and Value
This set gives you the flexibility of trying out different tasks, for instance, pencils for sketching, coloring with your preferred medium and if you want to paint, there is a wide variety of watercolor cakes and paint brushes. It is a perfect gift idea, and an excellent starter kit for your child and they are going to enjoy trying out new skills and will surely inspire their artistic prowess. It costs more than the Darice and Crayola sets; however, it is a good buy worth every penny.

4

. Worldwide Specials LLC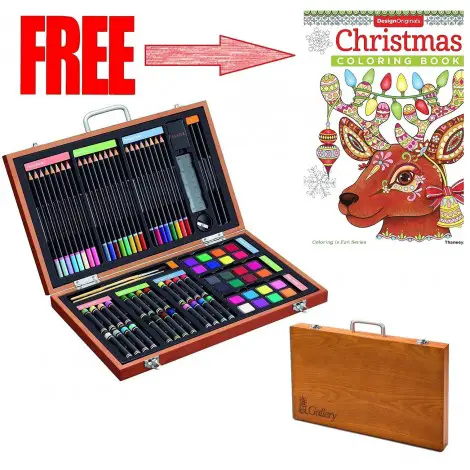 If your child is a budding artist or you are a beginner starting the journey as an artist, this art studio is what you need. It comes with a free Christmas coloring book that allows your kid to enter into a world of creativity and self-expression. Inside the book, you will find a set of fun activities that will take your child through the journey of coloring, sketching, and shading. It is a guide to basic art techniques and has a beautifully finished example. It is made of high-quality paper and perforated pages that you can easily detach.
A complete set
In this wooden case kit, you will find all your favorite art supplies necessary to capture your imagination and ideas. The kit is made from high-quality material and is fully stocked. There is a wide variety of colors and other mediums that include; colored pencils, oil pastels, and watercolor paints. The paints and the colors have vibrant and warm colors, and the set has a compact design that is light and portable.
High-quality product
The makers of this set are renowned for the provision of high-quality art products for beginner artists and kids. This set comes in a stunning well organized wooden case with a comfortable handle that makes it easy for carrying. All the art tools are of high quality and durable. Kids can express themselves by drawing, sketching and painting and this kit encourage them to be creative.
Cost and value
This kit is a perfect gift idea for your kid to have fun and showcase their talent in the form of artistry. It has the potential of laying bare your potential as a beginner artist, and you will be impressed with the wide range of tools and pieces that come with the set. The price is reasonably affordable and is a 100% money back guarantee.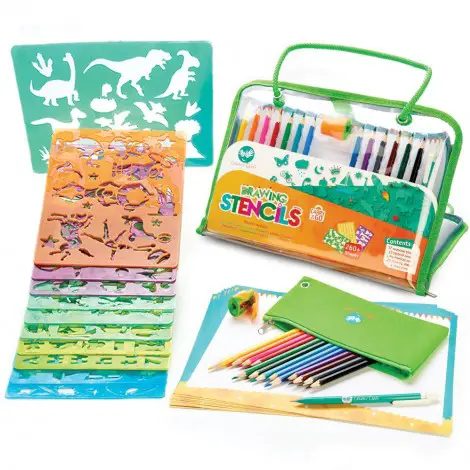 A child should be let free to try new things and as a parent, you can nurture their art talent by buying the Creabow Crafts set. It is a useful way of building their confidence and boosting their cognitive ability. The list of art pieces is endless and opens a whole world of limitless opportunities for your child. Inside you will find, stencil boards, colored pencils, mechanical pen, sketchpad, and a pencil. All this in a beautiful storage bag which is clear and has a zip. It is non-toxic, and the plastic material is BPA free.
Endless creativity
The Creabow is ideal for children above four years and comes with tens of shapes like; letters, numbers, animals, princess, and flowers and geometric. It is perfect and vital for your child as they learn new things and discover drawing skills. They will enjoy and have endless fun as they get introduced to the world of art. Your child will also learn new skills which are a boost to his motor skills due to different difficulty levels which also boosts his reasoning ability.
Easy to carry
This set from creabow craft is lightweight and thus ideal for travel. If you are visiting friends or relatives or on the plane, car or restaurant. It's a perfect way to keep the little ones busy while having fun drawing, sketching or painting. Everything is packed in a compact bag with a zipper and a handle. It is not bulky and can fit perfectly in small places.
Cost and value
The Creabow is a reasonably priced set, because other than the paints, brushes, colors, and crayons. It has shapes that will enhance your child's reasoning and thinking ability. Gift your child this set and let them discover, learn and have endless fun. It is a great purchase, excellent value worth every penny.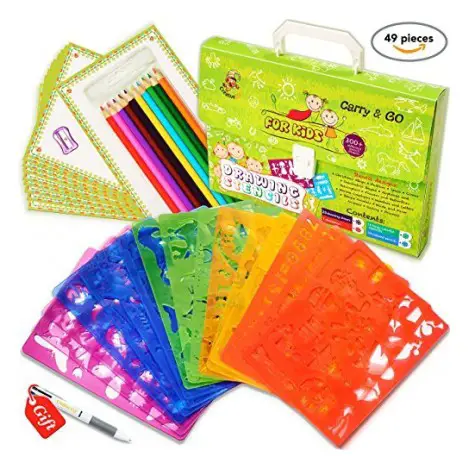 This kit is ideal for both boys and girls who have an interest in drawing, sketching, painting and coloring. It is a complete set made from high quality and non-toxic material. The plastic is BPA free, and the toy has met safety standards for small children. The set contains sixteen washable stencils, ten colored pencils, twenty-five sheets of paper, one sharpener and three color pen. There are dozens of plastic templates designed with boy and girls themes such as flowers, animals, Jungle, numbers, letters and much more.
Boosts a child's certainty
Gift your child this kit from Creative ELF and promote their imagination and creativity. They will have tons of fun with art and crafts while trying out a new way. It will be an opportunity to learn and will also promote their self-esteem. Small kids can exercise with basic shapes while older kids can try geometry while unleashing all their ideas by the use of stencils, paint, markers, pens or crayon. Some of the tools such as stencils are easy to clean since you only need a soft brush and water.
Portability
This set comes in a beautiful case with a handle that makes it easy for kids to carry to school or outdoors. It has a sleek design that makes it easy to travel with and kids can occupy their time drawing, painting or sketching during travel.
Cost and value
This adorable set from Creative ELF allows kids to learn about shapes and expand their creativity which boosts their motor skills. They learn how to draw, learn alphabets and write imaginatively. They also learn about cars, airplanes, animals and much more. It is an excellent gift pack for your child, especially during their birthday or Christmas. Its price is a little bit higher than other sets on the market; however, it is high quality and 100% money back guarantee.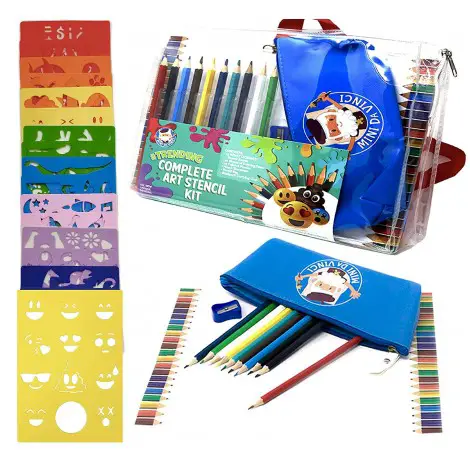 Undoubtedly this set from MD gives kid countless creative ideas. By the same token there are dozens of pieces for your child and unlike other sets, in here you will find unique stencils in the form of Emoji and Unicorn. Others are; letters, dinosaurs, fantasy, animals and much more. The stencils have wide lines that allows the pencils to fit perfectly and it is a pure breeze for kids while making art activities.
High-quality materials
Everything in the kit is made from high-quality material and is made to last. The stencils are sturdy and will not bend and break. The art pieces are perfectly arranged and well organized.
A learning process
This Set from MD encourages kids to think out of the box while they explore in their fantasy world. As they discover new ideas, it builds their motor skills and is a perfect pastime activity for your child as they become engaged in unlimited fun.
Cost and value
This MD set is a perfect tool for kids to learn and have fun. It is an ideal gift idea, and your child will fall in love with every art piece. It is reasonably priced and a great value for money.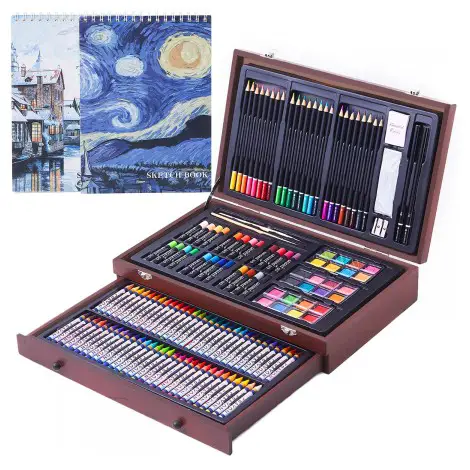 The Cool Bank set is a dazzling neatly arranged mahogany wood case with dozens of magnificent art pieces. It is ideal for beginners, kids and professionals and is non-toxic, made from chemical-free materials making it absolutely safe for kids above three years. Everything in the set has is certified as safe and has complied with ASTM D4236 standards.
A Complete set
This set contains everything you need. It has 145 pieces of art tools and great beginners set for a beginner aspiring to be an artist or kids showing some interest in art and craft. There are crayons, oil pastels, color pencils, watercolor cakes, brushes, palettes, drawing pencils, sharpener, and sandpaper block, art eraser, drawing pad and wooden case.
Versatility
This adorable set from Cool Bank offers a lot in terms of versatility and functionality. It is ideal for kids, students and individuals who love drawing, sketching, painting and much more. It has extensive usage and is favorite amongst drawers and professionals working on various crafting and sketching works. It has all the tools needed to showcase the artistic talent and will encourage your child in displaying their creative ideas on paper.
Cost and Value
The Cool Bank kit represents premium quality products for your artistry needs. The set contains superior and durable supplies and is a perfect startup kit for beginners and kids too. It is a highly priced art supplies kit but worth the money.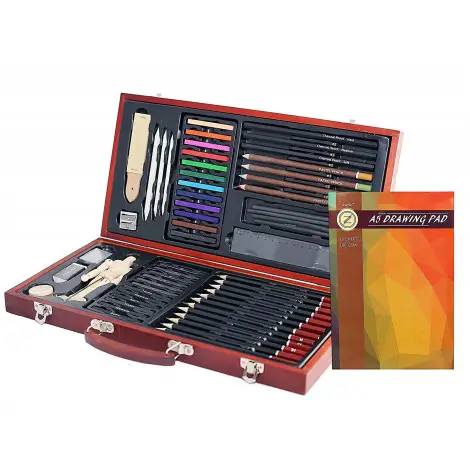 This set is fully equipped for nurturing a child's talent as they try their artistic skills. It is also an excellent starter for adults who are interested in becoming artists and is useful in unlocking the artist in them. It is safe for kids above three years and is free of chemical materials. Every art piece in the set conforms to ASTM D4236 standards; therefore you rest assured your child is safe from exposure to toxin materials.
Everything you need
This set contains 58 art pieces to get you started. Inside you will find; compressed color lead stick, charcoal sticks, lead sticks, graphite pencils, sketching pad, blending stumps, sandpaper block, ruler, eraser, sharpener, mannequin, pastel pencils, vine charcoals, kneaded eraser and charcoal pencils.
Sleek design
This adorable set from ZagGit comes in a sleek design with all the supplies neatly arranged and well organized. It is made from a mahogany wood case with a comfortable handle that provides a perfect grip to your child. It is lightweight and thus you can take it with you anywhere, and your child can also take it to school or outdoors.
Cost and value
The ZagGit set is ideal in encouraging your child as they explore their creativity and express themselves in the way of drawings or sketching. It improves their communication, motor skills and cognitive abilities. It is reasonably priced, and the benefits are enormous. If you are a budding artist, this kit is a great starter kit.



The ETI Toys set consists of twenty-six pieces of paints for kids that will nurture a kids interest in the fun-filled world of art. Your child will spend endless hours painting and having fun and is also perfect for bonding at home and school. It is also an awesome gift idea for your child which they will treasure for long. It is safe to use and has met all safety standards set by ASTM D4236.
Unlimited fun
Watch as your child gets submerged in endless fun by painting. The ETI Toys set has vibrant and stunning paint colors that are non-toxic and keeps your child safe at all times. There is an additional mixing tray that ensures there is no mess on the working space. The set includes six canvas that has car and trucks themes that makes your child's painting activity easy. There is a variety of paint brushes that are smooth to make sure everyone has fun with each stroke.
Portable
This set comes with a portable wooden easel made from high-quality pinewood and rubber bottoms that can be placed on tabletops or school tables. Your child can take it to the garden and have fun there and also to school since it is lightweight. It also has a portable case for non-messy storage.
Cost and value
ETI Toys art supplies enhance your child ability to solve problems by mixing colors and painting. It is useful in a child's development as it boosts their motor skills and problem-solving skills. It is a bit pricey; however, it is a 100% money back guarantee and the best gift any parent can give to their child.

Subscribe to our Newsletter