Best Sony Lenses Reviewed & Rated for Quality
In a Hurry? Editors choice: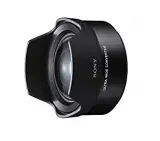 Test Winner: VCLECU2 12-16 MM,f/2.8

The purchase of Konica Minolta wasn't a surprise to anyone, but it gave the world queasy doubts about the future for these historied brands. Luckily, though it took a few years, Sony has built one of the most formidable camera companies over the entire globe and is often considered one of the top three in DSLR or Mirrorless design and manufacturing. With their wide range of camera bodies, comes an insanely beautiful range of
camera lenses
. Each one with a trick up its sleeve, and a duty to perform. Buying glass — as we've gone over before — can be difficult, and often an extensively expensive endeavor, which is why we're here. Today, we will narrow down the ten best Sony lenses available on the market today.
Standout Picks
Criteria Used for Evaluation
Accuracy
Criteria Used in Choosing the Best Sony Lenses
Use Cases
As you may have noticed, there are not many lenses on our list that you can just pick up and use for everything. And that's because you get a whole lot more out of your photographs if you use specific lenses for the task.
Most of the items on this list have a more narrow, designed, and fruitful specific use case that it was made for. Photographers all over the world, from professional to hobbyists keep a large selection of lenses in their kits because you might find yourself needing the best tool for a specific job.
It's this focus on specificity that makes most of these lenses pop out of the wild ocean of lenses available to the public today. Knowing that the manufacturers had a particular focus on their product while crafting it should do the most to dissolve any speculation that this piece of glass isn't the perfect tool for the job it was made for.
Through our process of elimination, we avoided all camera lenses that might not have a normal use case, and that the specific use case didn't have a better lens to do said job. What you need to accomplish is usually the biggest factor in your choice of which lens to grab from your bag.
You should apply the same line of thinking when beginning your search as well. Is there a specific job you're looking for your lens to do? Then avoid variable lenses, that can handle a wider array of tasks because they won't be as good at the one thing you need them for.
Additional Technological Perks
Plenty of people could, have, and will continue to argue that digital tools are the worst thing to happen to photography, and there are some pretty great arguments to be had on both sides of that conversation. We continue to pursue both analog, and digital greatness ourselves, as every photographer should.
But with the advancement of digital photography and the technology it uses to create beautiful still photos, comes an evolution in the art form, and a new breed of photographers. It's never the camera body, or the lens alone that make the photo, which is why there must be just as much thought (if not more, because you'll have multiple) thought put into the lenses you choose.
Camera lens technology can easily get pretty overwhelming, but there are too many positives in this equation that deserve your time, research, and basic understanding.
The history of Pentax and Konica, mixed with the cutting-edge technology wizards at Sony have produced some of the best glass the world has ever seen.
In order to be considered for our list, the technology included in the lens had to be uniquely useful for photographers of the twenty-first century. As we avoided all analog camera lenses and stuck with digital photography, this is extremely important. Plenty of times, this doesn't have to include anything crazy fancy, but all of these little additions can make the difference between a great photo and a rubbish one.
The technology you won't notice until it's not there is some of the best advances in digital imaging since the dissolve of analog-first approaches by manufacturers. Even those who exclusively live in an analog photo world benefit from advancements in the quality of life technology.
Price Range
Being that the glass you carry is going to be the most impactful on your budget, and the biggest (or widest) part of your everyday kit, it's essential to consider the price of each piece as a major factor in its worth.
A camera body isn't cheap, but you should only have to buy the one. Some professional photographers (myself included) carry around more than one camera body, but that's because of use cases needed, in most scenarios.
Everyone has more than one piece of glass (if you take pictures for a living), and almost everyone takes the boxed lens off the camera when they purchase it and leaves it on their shelf to rot. The idea that a camera kit will come standard with an "all-purpose" lens means that the lens you get when you buy your kit isn't going to be great at anything. Hence, the need for more glass.
Things can range from a few hundred to a few thousand, and if you're not getting a good return from the art it produces, you're going to have a hard time justifying that price tag. Which is why the use case portion of this criteria section is so important. If you can narrow down your needs, you can narrow your search, meaning you've got more time and space to find a range of prices.
But remember, as we try when it comes to manufactured technology, you get what you pay for. And there's nothing better available than a matching brand-name and a price tag that suggests care and time were put into the product.
Our Top Picks of Sony Lenses
1

. VCLECU2 12-16 MM,f/2.8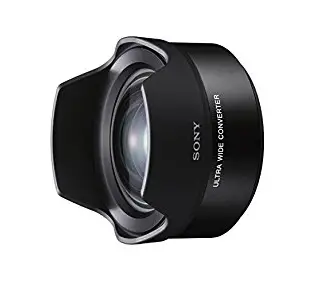 It took us right to number one on our list to introduce to you our first "not an actual lens" lens. Now that must be a new record. The Sony VCLECU2 isn't in itself, a lens. Rather it's a lens adapter, and something like this can be a crucial part of your kit if you're not willing to put an actual ultra wide angle lens in your shopping cart.
Same Effect
Now, of course, this isn't considering the price you've paid for your original lens, but the wide-angle adapter from Sony produces nearly the same results as their wide-angle line-up of lenses, at a fraction of the price. For less than some fancy hipster camera straps, you can convert your standard lens into a wide-angle lens with this attachment on the front.
Mount Multiple
Being that this is a mountable converter, and not an actual lens, it is designed to fit specific lenses. But that range of lenses is huge, which means that you can have a whole kit of SEP (e-mounted) lenses, and now have the ability to convert any single one of them to an ultra-wide with this single piece of kit.
Cost and Value
It's no secret -- especially considering we've already mentioned it once in this particular item review -- that the Sony ultra-wide angle converter mount is essential, but an extremely cheap option for getting to that wide-angle shot you so desperately need. Just look at the reviews, and customer images (but note that the majority of these "photographers" are horrible image editors, so focus more on the angle of view.)

2

. SELP18105G E PZ 18-105mm F4 G OSS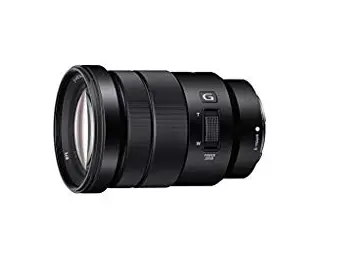 The second of Sony's two mount types, this "E" mounted zoom lens could be, in tandem with a prime portrait lens, the only other lens you could ever need for general shooting. The zoom tops out under the telephoto zone, so it may not suit your needs for something like long-distance subject targeting at sporting events, but it's an essential piece of glass that can do a heck of a lot in comparison to some other "normal" zoom ranges.
Bottom End
Often, you don't see general-purpose zoom lenses bottoming out this low on the focal length. It's most common that things stop around the 35mm or even 60mm range. This zoom lens from Sony has an amazing range going from 18mm (macro) to 105mm. Sure the f/4 aperture isn't the greatest, but as we mentioned before, you can't offer a large aperture on lenses with a variable focal length. Getting into the macro end of the spectrum is superbly useful, and you'll be finding yourself reaching for this magnificent 18-105 almost every time you shoot.
Circular Aperture Blades
This one is for all of your Bokeh Bros out there. The idea of bokeh -- the blurred backgrounds and foregrounds of your photo -- is essential to capturing focus on your subject and has exponentially grown in popularity amongst photographers. It used to be an accidental outcome of severe focus. With the rounded aperture blades of the Sony SELP18105G lens, those blurred background accents won't have the normal hard edges or polygonal look. Rather, they will be rounded, thanks to a circular aperture hole.
Cost and Value
Coming in below the median price for a high-quality lens, the 18-105 zoom from Sony is as delightful in the price department as it is in the range department. There's not a whole lot a lens like this can't do, and for this price, it can easily become your go-to lens for your Sony E-mount camera. It's nearly essential.



Now, if you've never read one of my few camera guides or lens buying guides, then you might not know that myself, and a majority portion of the professional photography world, prefer prime lenses. These are pieces of glass ("glass" is a common term used in place of "lens") that have no zoom functionality and have a fixed focal length. They do the one job, far better than any zoom lens would ever perform at that length.
f/1.8
One of the keys in purchasing a prime lens (zoomless / fixed-zoom) is that you've got more room for other mechanical practices. In most cases, this takes the form of the aperture ring. The prime lenses of the world are often far better in the aperture game. Like this 50mm lens that has a maximum aperture of 1.8 which will give your shots a sharp and distinct focus with tons of bokeh ("Bokeh" is a Japanese term for beautiful blurry backgrounds or foregrounds separating your subject from their surroundings) for the eye-catching portraits.
50mm Lens
The biggest reason why nearly every professional portrait or street photographer (as well as myself) suggest the 50mm lens, is because that's the one we use the most. My 50mm rarely even comes off of my camera. The easiest way to break down why is because, if you are using a full-frame camera (a sensor without cropping), then the 50mm lens is the closest thing to what your natural eye sees in the real world. Making for beautiful street photography, and portraits. Nothing skewed by the lens, it's natural.
Cost and Value
The final point of a prime lens is that things like this wonderful 50mm f/1.8 are that they're generally fair-priced. There's no flashy additions, or crazy things going on with this lens, leaving it to live its simplest and most effective life. The 50mm prime from Sony is a beautiful lens, and it won't break the bank. It's simply a must when looking to add glass to your collection.

4

. SEL85F18 85mm F/1.8-22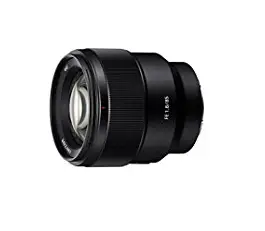 Yay! More prime lenses. Finally. Here we've got a stunning 85mm prime lens from Sony (with the E-mount type) for a beautiful prime lens experience, without having to get all that close to your subject. Often the thing that turns people off of street photography, or portrait shooting is the sincerity one must have in order to get right up in your subjects space.
Quiet Strength
The SEL85F18 is an astounding lens for its maximum aperture of 1.8 (and using the Sony-made round aperture opening) you get beautifully smooth bokeh at max. But you pair that with their Double Linear motoring system that provides a quick and fairly quiet performance, and you've got a stunning tool for things like street photography.
Focus Hold
As with many of the lenses in Sony's line-up, the SEL85F18 comes with the standard focus hold button that will override the auto-focus, and keep the current focus while you re-adjust or move around. Better yet, is that this focus hold button is customizable and can be reprogrammed to do up to a handful of other things. This is especially useful for those photographers that never use a focus hold option.
Cost and Value
There's a lot of fancy glass technology thrown into this wonderful little package. It's a slayer on the streets, and in portrait sessions, making it an extremely valuable piece of glass and addition to your kit. Surprisingly, it's below the median price in our range of lenses here, though it's not quite budget-priced.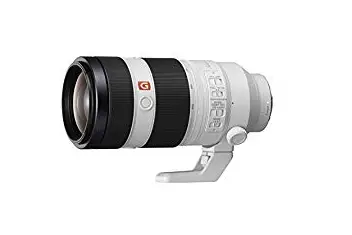 Coming in at number five is the heavy-weight. The granddaddy of the show. While the Sony FE 100-400mm lens isn't the largest telephoto lens you can buy, it certainly is the standard. There are a few tricks to picking out a long zoom like this one. Firstly, you've got to understand that if you don't need an insane range (they invented telephoto converters for a reason, but we'll get into that a bit later in this list.) Secondly, if it doesn't have steady-shot technology, or anti-vibration (whatever the manufacturer chooses to call it) then it's not worth its weight in saltines.
Top End Game
There's nothing to a premium telephoto lens if it doesn't have the desirable top-end focal length that you're looking for. We'll get into the particulars of use case narrowing in the criteria section later, but it's important to understand what it is you're using the said lens for. At 400mm maximum, this Sony lens is a beast, especially given its relatively small size.
Stable and Able
If your telephoto lens doesn't have a decent stabilization setting, then everything you shoot at a far zoom is going to look like trash. Which is why this amazing piece of Sony glass comes with their built-in high-performance SteadyShot technology for smooth focus and imaging even at its maximum focal length.
Cost and Value
The biggest obvious drawback to beastly lenses like this Sony 100-400mm lens is the price tag. If you're shopping for premium glass that can reach the moon, you're going to pay a premium price for it. There's not a whole lot of room in the imaging industry for markup, and this extensive kind of technology manufacturing isn't cheap to put together. Lots of glass, and mirrors, and motors, all packed into a tiny pringles can.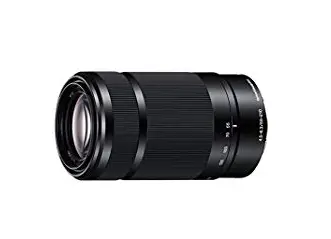 For number six on our list, we decided to go with something a little less common, and maybe a little bit less sensible. But that won't stop us, because this Sony E-mounted 55-210mm lens is a killer lens for all of those in-between sections of your shooting ways. And it's not at the fanciest end of the lens department, so you won't pay an arm and a leg for it.
Unconventional Zoom
If you took ten of your closest camera-toting friends, put them all in a room together with their gear, and asked all of them if they had a zoom lens anywhere near 55-210, chances are you'd hear nothing back from that room. Maybe, one out of every ten photographers has a 55-210 in their kit. The closest thing you might get is some kit lenses that range from 18 or 35 up to 100 or 150-ish at most.
The Perfect Place
It might seem odd, but if you think about it, your kit should have one of these lenses. If you've got a portrait lens (a prime lens around the 35mm or 50mm area), and a super-telephoto for sports, then this single lens can do magic for every need in between those two. This is the perfect lens for nature shooting or closer sports photography, even street photography could be upgraded with the lack of need to be up close to your subject.
Cost and Value
Given the nature of the lens, and it's an oddly unique focal range, you'd be surprised at how cheap these lenses are. Some are within the budget for simple prime lenses. This is because they've avoided trying to cram the best and biggest aperture possibilities inside this bad boy. With a maximum aperture (smallest number … it's confusing, we know) of f/4.5, but a wide zoom range of 55-210, this is versatile, but not isolating lens.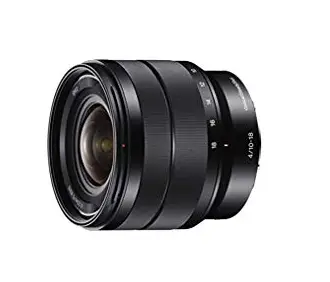 Calling this lens a "zoom lens" is kind of like calling a McDonald's drive-thru a delivery service. There's not much truth to it, but technically, they've delivered your meal to you and you didn't have to go inside. The zooming focal length is a drastic 10mm to 18mm! Whoa! But that's not why this lens is one of the best lenses on the market for any camera.
Super Duper Wide
There are a lot of wide-angle lenses out there, but not a whole lot of options for a super wide-angle. Sony comes to bat with their extremely wonderful, and super wide lens for some amazing results. Using a wide-angle lens, or a super version, in this case, is best when looking to take stunning images of beautiful landscapes or wide views. There's not a whole lot this lens will miss.
Optics Schmoptics
For some reason, Google's spell checking system wants to consider the word "Schmoptics" as a real thing. But back to the lens, shall we? With the SEL1018, you get the standard array of brilliant Sony-developed optics, like the image stabilization motor, and rounded aperture blades, and a wonderful constant f/4 aperture density. This, in combination, produces amazing results.
Cost and Value
Normally, wide-angle lenses can cost you a fair bit, but the SEL1018 from Sony lands near the middle of the common price range, meaning that you won't have to give up your dreams of that fancy coat, in order to pick yourself an ideal piece of kit.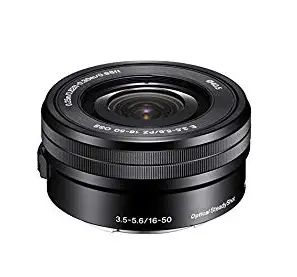 Not the only lens on our list that is tagged with the "Amazon's Choice" tag, and it's for great reason. This pancake lens -- a term used by photographers around the world to describe lenses that are not intrusive, or long -- is a wonderfully ranged lens at an amazing price point and a nice set of internal technologies.
The Pancake
There's a lot of butter in the world of camera lenses, and you truly should consider a pancake to put it on. Pancake lenses are typically fixed primes but can have some small-ranged zooms, like this 16-50mm. The term pancake simply remarks on the lens' insanely low-profile build. There's not a whole lot of protrusion from the camera body. This helps eliminate the need to carry around body and lens separated in your camera bag because a body with a lens on it is a horribly hard shape to store in a bag.
Power Zoom!
It sounds far more complicated and technologically advanced than it actually is. The power zoom of the Sony OSS 16-50mm Retractable Zoom Lens is simply assistance motors designed to smooth the zoom process and output minimal noise. The quieter all of your camera's processes are, the better your shooting experience will be in the real world.
Cost and Value
Because of the restricted capabilities of most pancake lenses, they are generally on the budget end of the price range. This Sony 16-50mm is no different. You get a fairly decent maximum aperture at f/3.5 (not stunning, but better than kit lenses), and you get a low-profile, easy to use, and fairly quiet experience to boot. It's a great value for a budget lens.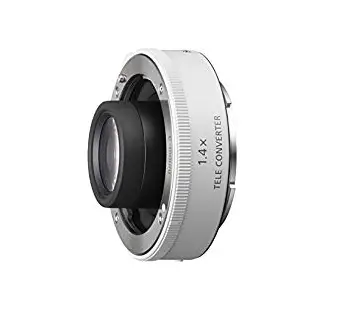 Another nearly-essential piece of kit that isn't actually a lens on its own, the Sony FE Teleconverter is a wonderful addition to anyone's arsenal and helps get those super-telephoto ranges without having to carry around a small compact car-sized lens with you.
Teleconverter Tales
For those that have never heard of one, a teleconverter is a basic little addition to the front of your camera that acts like a magnifying glass. Attach any lens to the front of a teleconverter, and you've instantly got nearly an addition fifty percent zoom capability. This, the 1.4x teleconverter would make a 100mm lense act like a 140mm lens, and so forth. This is exponentially useful if you have a large zoom lens, but don't want to upgrade to a ridiculous super-tele lens. Get a converter, and add that extra zoom in just a little bit of hardware.
Lightweight, No Headaches
The biggest reason why many photographers hesitate to get the insanely large super-telephoto lenses is the weight. Some of these ridiculous lenses can weight upwards of ten pounds. Which is why most of them have a mounting bracket on them, so you can mount the lens to the tripod rather than the camera (which would imbalance the set-up). With a telephoto converter like this one, you add nearly no extra weight to your set-up and get 1.4 times the distance with the full image performance.
Cost and Value
Something this powerful, potential, and essential to your work is going to cost you more than you'd like to think it would for something this small. Camera hardware can often be considered on a size to cost ratio, but not in the case of teleconverters. There's a ton of precisely designed technology here. At less than the median price of our list.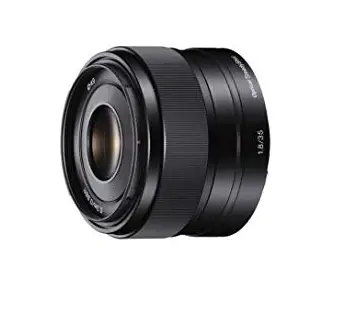 Normally I'd recommend something like this beautiful Sony SEL35F18 35mm f/1.8 Prime Fixed Lens a lot higher on this kind of list, but not with Sony. And that's because Sony has a wide range of full-frame cameras, and I tend to suggest 35mm primes to those with crop-sensor cameras because a 35mm on a crop-sensor gets close to the 50mm prime that is the king of the prime world.
f/1.8 Aperture
Again, with Sony's insanely specific design background, they've made round-edged aperture blades, giving the bokeh of your short focal prime lens a smoother finish, and avoids those hard-edged bokeh effects that other glass manufacturers would get with their sharp aperture blades. The 1.8 max aperture isn't scary good, but it's one of the best and brightest for a "normal" consumer or high-end use level.
A Quiet Place
If you've seen this year's hottest horror monster movie, then you'll appreciate how absolutely quiet the Sony SEL35F18 Prime Lens is. In most cases, if you're out and about, it's near silent. Only in a very quiet room will you be able to hear the focus, or closure of its snap. This is a magical piece of kit.
Cost and Value
Because of the prime nature, mixed with the amazing max aperture, you've got an understandable price tag on the 35mm f/1.8 from Sony. It's outside of the budget window, but it's nowhere near the middle of this list. It's a game-changer. It's a must if you have a crop-sensor camera.

Subscribe to our Newsletter