Best Cycling Shorts Reviewed & Rated for Quality
In a Hurry? Editors choice: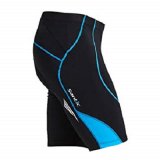 Test Winner: SANTIC

You have an idea that you will be better equipped and more comfortable riding if you buy some new gear. Great in principle and there are thousands of different items of
cycling gear
readily available. A new pair of cycling shorts is an obvious place to start thinking practical comfort for the many hours you intend to be in the saddle, the last thing you want to be concerned about is an uncomfortable rear when you have many miles ahead of you to eat. This review will peek at ten of the best pairs of cycling shorts, to give you a bit of a head start on your way. And the basic guide will direct you through a few considerations you may want to think about taking into account before you buy.
Standout Picks
Criteria Used for Evaluation
Materials
Modern technology is always finding new ways to provide ultimate comfort for cycling, and the fabric used to produce cycling shorts is high up on that list. Although a much-loved pair of cotton shorts may serve you well for the occasional ride, a more grueling or challenging ride requires something a little more substantial. Many types of shorts are made with either nylon or lycra, or a blend of both; this offers you greater flexibility, comfort and protection from moisture build-up with the associated chaffing and soreness.
The inner short chamois is made with softer, tougher material that provides padding where you need it most, these come in a range of designs using panels that offer to cushion on specific areas. The panel numbers will generally alter the overall feel, and range in number from four, six and eight, each panel sits in the most functional area where you get the best benefit from it.
Silicone strips around the bottom of the legs are an ingenious way to stop your shorts from riding up your leg or twisting around which again, reduces the risk of chafing, bunching and rubbing. And make sure you look for flat seams – the last thing you want is rigid stitching pressing against your skin.
Fit
How tight you want your cycling shorts to be is obviously a matter of personal choice, but sometimes what ride you are undertaking can be a pivotal area in your choice of fit. For the hardy, experienced or professional rider; the snug next to the skin shorts are highly favored because they offer less drag, have better comfort levels, and are made to reduce and/or deflect moisture so damp doesn't become a problem.
If you prefer not to have obvious bulging or curves being pronounced with the tighter fit, then maybe the looser more casual style of shorts is more practical, these are made with fabrics that too; are moisture retardant but are more airy and comfortable. The looser fit shorts are probably not the ideal purchase if you are looking at breaking speed records – but will offer more freedom of movement.
Style
You could be forgiven for thinking that shorts are shorts, but if you already cycle on a regular basis you may be a bit more aware of the different types of shorts that are available. Simple shorts that are loose-fitting have a tighter liner inside them and usually offer no cushioning, they are produced using lightweight materials and are often more comfortable than regular everyday wear. Full bib and short sets are generally more comfortable to wear because they do not have restricting and possibly uncomfortable waistbands; and will come with suitable padding for your nether regions to improve comfort, reduce friction and chaffing.
Cycling shorts as a standard come to fit in a variety of lengths from short shorts, to above the knee and down to below the knee for either extra warmth or sun protection. These are designed to sit true on your body with little movement or uncomfortable bunching; they also have the benefit of being offered with different levels of cushioning. Contemporarily; the recognition that gender differences require different areas of padding, you can buy unisex shorts but if you plan on cycling for longer periods; or even in races then a specific gendered pair will provide the best comfort for you.
Use
Before you decide to buy your new cycling shorts; it may be beneficial to have a good idea of when you will need them and for what sort of riding you plan to undertake. For shorter leisurely rides it may be an option to wear your everyday gear, but you should consider your comfort levels. If you are a more dedicated rider then your options are vast, but you need to ensure you are padded to the right level to get the best out of your riding.
For the more serious or professional ride; you would be better getting a higher spec set of cycling shorts that can offer multiple benefits that will reduce discomfort over different terrains, in different temperatures and for the longevity of comfort they provide. So; if you're thinking why to bother with specific clothing; take a little time to consider how long you will be cycling and just how comfortable you want to be.
Value
This basic guide will hopefully give you a little insight into some simple practicalities to consider when you are thinking about buying your next pair of cycling shorts. And whether you are just starting out, are experienced or intermediate – the most important thing for you to get from this is that there is no specific no's; as long as you are prepared for the sort of riding you want to do, and are most comfortable you shouldn't go far wrong. If you are going to be cycling all year round, then there are some other things you may want to think about; length is one thing, material thickness, and thermal properties. Your cycling shorts do not necessarily have to be thermal because there is a good range of under-gear you can buy that will be thermal in their own right. That way, all you really need to be sure of is the correct type of over cycling shorts you buy. And if you opt for a specific pair of underwear cycling shorts – there is a top thermal layer that is just as suitable for riding in colder years.
Top Ten Best Cycling Shorts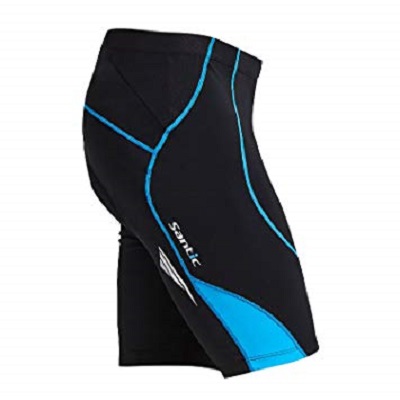 These cycling shorts are offered in a good variety of colors and sizes and are produced using eighty-two percent nylon with eighteen percent spandex and lycra. The inseam is a comfortable UPF fifty plus point nine inch for reduced rubbing and chaffing; this boasts being able to reduce bacteria build up by lowering sweat produced whilst riding. The shorts benefit from two reflective logos to help improve visibility and rider safety.
Comfortable Design
The shorts have a twelve panel chamois for superior comfort, it is designed ergonomically for a dryer fit. It offers thirty-eight vents for better airflow and has Terminator 4D Coolmax cushioning to provide a better level of both padding and dryness.
Practical Features
The shorts have practical features that include silicone strips on the leg cuffs to prevent riding up and twisting; and also have an effective mesh on both sides of the waistband to improve breathability and air cooling for reducing heat build up.
Cost and Value
The effective features that are provided in these cycling shorts combined with the ultra-padded chamois and technologically manufactured materials, ensure these shorts are well balanced on both cost and value and are worth the money paid.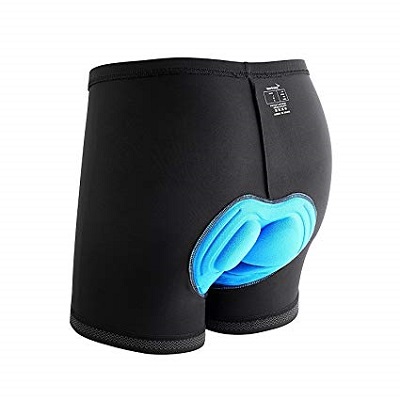 The Sportneer cycling shorts are designed as a second skin fit and are produced in a sculptured fashion that acts as an aerodynamic friendly fit and provides maximum comfort. The eighty-two percent nylon and eighteen percent spandex mix offers a breathable moisture transfer that reduces the risk of excess moisture build-up and related chaffing, sores, and dampness. The incorporated stretch on seams reduces pulling and help the shorts to stay put when on any ride.
Saddle Comfort
The seat padding benefits from triple layering that consists of an antibacterial layer next to the skin, a high-density permeable foam layer for an improved structure and a foam layer that not only offers comfort but is breathable too.
Safety Features
The Sportneer shorts have a useful cat eye reflector for improved visibility, and for safe comfort, the legs cuffs have silicone grippers on to reduce the risk of twisting and riding up, the snug secure fit reduces distraction on the road.
Cost and Value
The practical features with the shorts including the three-layered padding, and breathable design make these not only functional but also offer a great balance between both cost and overall value, the extra safety aspect improves this further.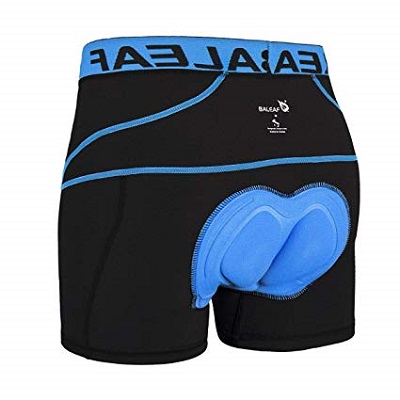 These Baleaf 3D are designed as cycling underwear shorts and are produced using ninety percent polyester and ten percent spandex for a lightweight finish that doesn't chafe or rub. They boast being moisture wicking and improve dryness when it's needed the most. The cushioning is provided in the areas where it's required the most and is ample in size to maintain comfort levels whatever distance is traveled.
Practically Functional
The underwear cycling shorts have a practical use as they are easy to fit underneath any outerwear for any discerning rider who prefers a 'discreet' look whilst getting the same functionality that is offered by other cycling shorts.
Sweat Reducing
The waistband of the shorts is fully elasticized and wide to keep them in place and reduce sweat build-up, and the 3D cushioning provides much-needed protection and is ventilated to improve airflow at the same time.
Cost and Value
The balance between both cost and value is well reflected when considering the versatility offered and the features including the lightness and moisture-wicking properties they have, money spent on these cycling shorts are money well spent.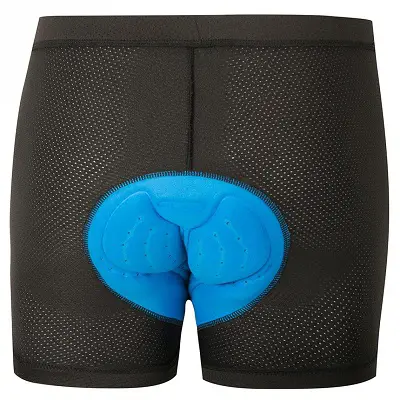 This pair of Ohuhu underwear cycling shorts are manufactured with a mix of polyester and spandex for a close, comfortable fit. They boast being fully breathable and improve airflow when out cycling. They benefit from a good range of sizes; medium, large, extra large, extra extra large and extra extra extra large and are designed to fit closely from hem to waistband for improved comfort. The light fabric allows complete versatility under most active or normal day wear.
Silicone Gel
The 3D padding includes a silica gel pad that is perforated for a cooler seat, the overall length of the pad is fourteen inches long and at its widest measures, a tidy seven point eight inches; the padding itself boasts being over an inch thick.
Cooler Design
The Ohuhu cycling shorts use mesh in the manufacture which increases flexibility, comfort and helps to reduce the build-up of moisture through natural heat dissipation that helps quicker drying and cooling when on the move.
Cost and Value
When considering the value and cost of these underwear cycling shorts, taking into consideration the gel padding, and the mesh construction that aid cooling and comfort – both are reflected well and overall, these are a good value for money.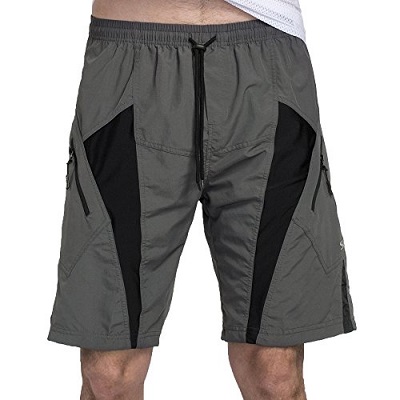 These comfortable loose-fitting cycling shorts are produced using both polyester and lycra, this helps breathability and also benefits from being quick drying to reduce discomfort. The combination of a cycling shorts liner and baggy exterior helps to maintain discretion and do not hug curves and bulges. The legs offer more comfort due to the lack of restricting silicone banding and overall this can help to keep the legs cooler with increased ventilation and airflow. They are available in three color combinations; gray, black and gray-black and have a specific sizing chart to enable correct ordering.
Practical Features
The SANTIC loose cycling shorts have numerous handy zippers for secure, non-intrusive storage of smaller personal items such as cell phone and keys. The waist is a conveniently adjustable drawstring for a comfortable fit that doesn't bunch.
Comfortable Padding
These shorts also offer a comfortable cycling padded insert that is 4D in design and creates a smooth break between rider and seat for reducing rubbing and chaffing even on the longer rides, the padding is tucked away and doesn't show through the exterior.
Cost and Value
The comfort fit and loose design of these SANTIC cycling shorts, combined with the discreet comfort 4D padding; the safe zippered pockets and comfortable drawstring waist ensure an even balance with both cost and value.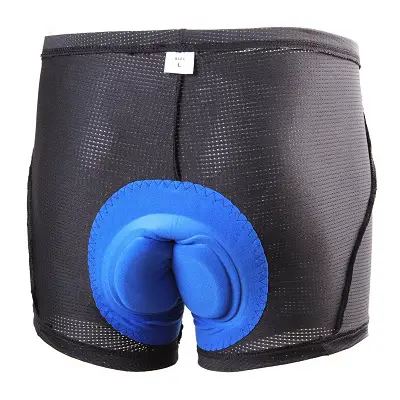 These functional underwear shorts are an ideal addition to any cyclists wardrobe for a more versatile set of gear. The discreet design allows them to be worn underneath looser fitting shorts or trousers; this makes them useful for when traditional cycling shorts are not appropriate for wearing. The lightweight and breathable material ensure maximum comfort and better air flow for the longer rides; they also boast being a practical form of wind resistance.
Comfortable Padding
The shorts have a comfortable padded insert that is designed to provide a break between user and saddle for less risk of sores and rubbing. The material offers a no sweat feature that helps to reduce and dissipate moisture for a dryer ride.
Practical Design
The discreet cycling underwear shorts are specifically aimed at being worn underneath everyday clothes, which improves practicality and overall versatility and enable a comfortable commute to work or a leisurely ride off at the weekend.
Cost and Value
These low-cost 4ucycling shorts are functional and comfortable with the mesh light fabric used in the production; the discreet padding offers maximum comfort without the visibility of traditional cycling shorts, overall these are a good value for money.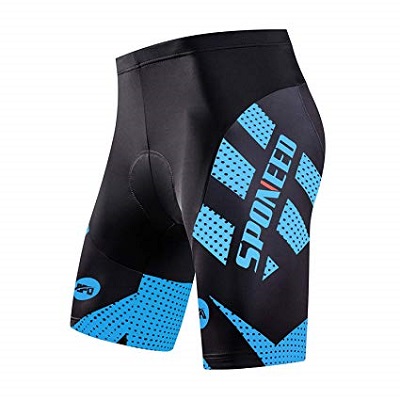 These sponeed cycling shorts are available in five striking color combinations; white, gray, red, green and blue. They are manufactured with eighty percent polyester and twenty percent spandex lycra for a lighter and more comfortable feel. In addition; they offer moisture-wicking to ensure a reduced build-up that can cause discomfort and chaffing. The cycling shorts boast being easy care at home either in a cool machine or a hand wash.
3D Padding
The 3D padding is combined with a gel pad that is perforated for better ventilation and offers moisture-wicking, anatomical design for high comfort levels and additional antimicrobial properties that reduce bacteria build-up.
Cost and Value
The sponeed cycling shorts are equally balanced when considering both cost and value; the comfortable and functional 3D padding, the silicone leg grips and the easy-care features ensure money spent on these shorts is money well spent.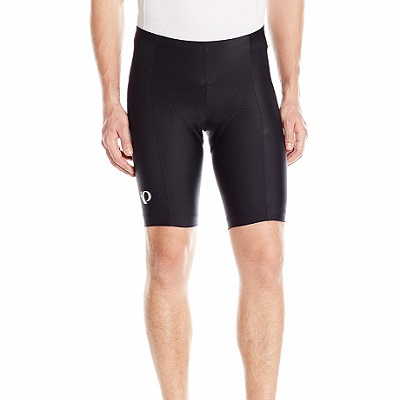 These cycling shorts are produced with eighty-six percent nylon, fourteen percent spandex and have a nine-inch inseam. They are designed with a liner and an anatomical spec pad that has a 3D chamois that comprises six comfortable panels. In addition; they have a practical UPF fifty plus gauge of sun protection for more peace of mind when the weather warms up en route. The comfortable design offers a dryer and more practical wear and will reduce the risks of chaffing and rubbing.
Functional Features
The Pearl iZUMi Quest cycling shorts have functional silicone leg grippers that reduce the risk of riding hems and twisting that can not only be distracting but can cause soreness and unnecessary chaffing when riding for longer periods.
Practical Fabric
The fabric production gives added moisture wicking plus antimicrobial properties which gives greater confidence in respect of personal hygiene when riding for any period of time. The fabric also benefits from a comfortable and practical four-way performance stretch.
Cost and Value
This quality brand offers a good reflection when considering both cost and value, the non-chaffing padding and performance fabric, coupled with the moisture-wicking properties – ensure that these are excellent value for money.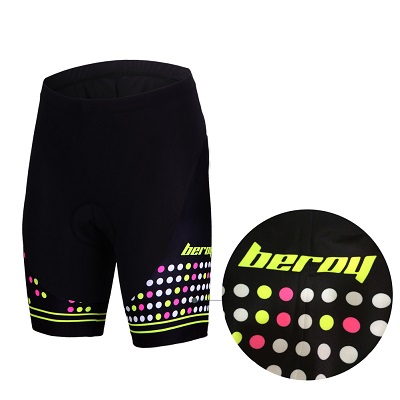 These beroy cycling shorts are manufactured with an eighty percent polyester and twenty percent spandex mix that provides the quality fabric with functional elasticity for improved comfort. They are available in a good range of bright and contrasting color combinations and may reduce moisture build-up for better wear even during longer rides. They fit like a snug second skin and this boasts a healthier reduction in the build-up of lactic acid.
Practical Features
The beroy cycling shorts benefit from a silicone leg hem to reduce the risk of uncomfortable riding and twisting that can cause rubbing and chaffing as well as being an unwelcome distraction. They are also boosted with the quick-drying features offered with the fabric mix.
3D Foam Padding
The shorts boast an inserted 3D gel pad inside and is combined with three different foam densities for a superior cushion that is more comfortable for longer, the six-panel padding sits tight where it is needed most.
Cost and Value
Overall, these beroy cycling shorts are great value for money when considering the balance between that and cost. The fabric construction and second skin design help to retain comfort whilst reducing moisture build-up.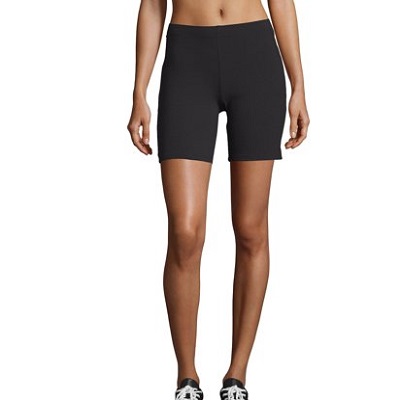 These ninety percent cotton and ten percent spandex cycling shorts are basic but functional for riding. They are easy to care for and offer a nontransparent look with a heavier than average gauge material. The shorts are offered in two colors; black and gray and are available in a good range of sizes. They have added versatility because they can be worn for a multitude of activities; having no bulky padding they are comfortable enough to wear all day.
Comfortable Fit
The Hanes Stretch cycling shorts are produced as soft jersey style material that hugs the skin in a nonrestrictive way and are less likely to bunch, ride around or twist so reduces the risks of sores and chaffing in any situation.
Practical Design
The shorts have a practical elastic waistband that allows quick and easy access and removal and reduces discomfort around the middle when riding for longer periods. They have; in addition a comfortable seven-inch inseam for no rubbing.
Cost and Value
The overall balance of both coat and value is very well reflected in the basic; usable features that these shorts offer. The versatility and comfortable functionality they offer ensures these are excellent value for the money paid.

Subscribe to our Newsletter