Best Trolling Motors Reviewed & Rated for Quality
In a
Hurry? Editors choice: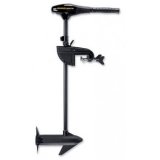 Test Winner: Minn Kota Endura C2 30

There are many factors to consider when buying a trolling motor. How big is your boat? What distance to you plan on traveling? How fast do you want to go? Are you going to be freshwater or saltwater fishing? Are you interested in gadgets and high-tech gear, or do you prefer something more basic? What is your budget? This article breaks down 10 of the best trolling motors available on the market to help you make your decision before you cast off.
Standout Picks
Criteria Used for Evaluation
Advanced Features
While the advanced features of a trolling motor do not determine the quality of the motor itself, extra features are nonetheless important for serious fishermen. From GPS technology to thermal detection that helps to spot fish, for tech enthusiasts, the more advanced the gadgets, the better. With many motors now featuring Bluetooth capability, ergonomic design and even foot pedals that can be used for steering, advanced features can take a trolling motor to the next level.
Ease of Use
The overall purpose of a trolling motor is to make fishing easier and more enjoyable. If a trolling motor is difficult to install, deploy or manage, it defeats the entire purpose. Rather, a trolling motor that comes with easy to follow instructions, is easily maneuvered and controlled, and runs reliably is what you are looking for.
Effectiveness
The effectiveness of a trolling motor is paramount. Trolling motors are intended to make the overall experience of fishing more enjoyable. They are meant to power your boat or kayak safely and reliably. They are meant to run efficiently and not drain the battery power. Additionally, a trolling motor is meant to make it easier for you to catch fish. If this basic purpose is not served, the trolling motor is pretty much rendered useless.
Brand
Before purchasing a trolling motor, do your due diligence on both the manufacturer and the seller. Manufacturers are responsible for the goods that are sold, the quality of the materials used, design and engineering that result in a trolling motor that should meet a consumer's expectations, if not exceed them. The majority of reputable sellers offer 2-year warranties at a minimum. Since the cost of a trolling motor is considerable in many cases, read all the fine print. Check out the customer reviews, both positive and negative. Sometimes the critical reviews provide the most useful information.
Durability
The materials used to manufacture a trolling motor are of the utmost importance. Proper motors are made with stainless steel and heavy metals to resist corrosion. Trolling motors need to be strong enough to withstand the occasional dent and ding, or run-in with a rock. The propellers need to be durable enough to withstand being entangled with weeds. The shaft, perhaps one of the most important elements of the motor, must be virtually indestructible. A motor is made to withstand heavy abuse and harsh weather conditions, not to be treated delicately.
10 Best Trolling Motors
1

. Minn Kota Endura C2 30
The Endura C2 30 with 30" shaft by Minn Kota is a basic, reliable, well-received, inexpensive trolling motor that gets the job done. Sure, this particular motor lacks the bells and whistles that accompany some of the other models reviewed here, but for someone who enjoys fishing as a hobby, is not overly concerned with cutting edge technology and simply wants a reliable motor at a fair price, look no further than Minn Kota's tried and true, most popular motor.
Ergonomic Control of Speed
The motor features a telescoping handle measuring 6" along with a tilt twist tiller for extra comfort. This allows for ergonomic steering and control. It also features a solid mount, offering superb steadiness. The telescoping handle makes it easy to control and will not strain your hands or wrists, even when used for extended periods of time.
Quiet and Efficient
The motor runs cooly and quietly, maximizing battery life and power. Better yet, the motor runs quietly. This is an added bonus because a loud battery is likely to scare fish away. The virtually silent motor you to move quietly through the water, enjoying the ride, solitude and scenery as much as the fishing itself.
Cost and Value
In terms of price, this motor is the least expensive model reviewed in this article. Extremely affordable, yet made of the highest-quality and with a superb reputation, the Endura is a rare find. With high marks in every category from safety to battery life, do not let the price tag fool you. Minn Kota has manufactured an excellent motor that will serve you well.

2

. Minn Kota Riptide 55 SP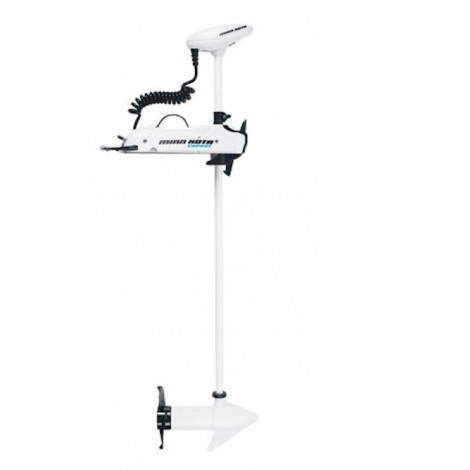 The Riptide could not be more different than the Minn Kota motor previously reviewed, the Endura. Unlike the previously mentioned basic, stripped down motor that essentially gets the job done, this motor is fully loaded with cutting-edge technology, advanced features and superior performance. It is also the most expensive model reviewed here; another reason why it is the polar opposite of the Minn Kota's earlier, less sophisticated models. Overall, to say that this motor is impressive is a gross understatement. According to serious fishermen and experts who have reviewed this particular motor, it is an absolute sensation in a league of its own.
Co-Pilot
The motor comes with either the Co-Pilot or i-Pilot options, depending on the specific model you purchase. This allows the motor to virtually control the boat by itself. It is a wireless system that can be turned off and on using a waterproof, mountable and wearable remote. Co-Pilot and i-Pilot both operate using the most advanced GPS satellite technology. The remote also turns the motor on and off, increases or decreases the speed, controls the propellers and even the steering, all at the push of a button.
Push to Test Battery Meter
The motor features a push to test battery meter, instantly alerting you to the battery power level. It also alerts you to the amount of time you have left on the water. The battery meter is an advanced safety feature, keeping you from getting stranded on the water with a powerless motor. Paired with the motor's Digital Maximizer, your battery will stay charged for an extended period of time due to the efficiency of the Riptide thanks to its team of brilliant engineers.
Cost and Value
The motor may command a high cost, but it is an incredible piece of machinery. It features state-of-the-art technology, superior performance, excellent safety and virtually revolutionizes the experience of fishing. This motor is a serious investment that certainly pays off. If properly maintained, it will last for years, withstanding serious use. It is designed to be enjoyed. It is even reinforced to avoid saltwater corrosion, standing up to some of the most daunting challenges presented at sea. Ultimately, whether it's worth it is a determination you have to make. According to critics, the answer is a resounding yes.
3

. Minn Kota Endura C2 55
The Endura C2 55 is a durable, tough, reliable workhorse made by Minn Kota. Like the Endura C2 30, the Endura C2 55 is free of frills and does not have a lot of extra features. That said, it is affordable, reputable, and gets the job done. It might not pack as much power as some of the other motors reviewed here, but it is not a motor that is made for showboating (pardon the pun). It is a motor intended to offer an enjoyable, safe, reliable ride, leisurely casting off into the water.
Telescoping Handle
The motor features a telescopic, ergonomic handle. This makes it easy to control and steer the boat, while doing so comfortably. You will not put any unnecessary strain on your hands. The handle is easily adjusted so you can find your optimal comfort level.
Indestructible Composite Shaft
The shaft of the motor is virtually indestructible. It is built to take a beating and withstand heavy abuse. As a result, the shaft comes with a lifetime warranty. The shaft will not break, crack or corrode. Minn Kota stands by this remarkable warranty with confidence, based on years of solid performance.
Cost and Value
This motor falls right in the middle of the price spectrum. It is an excellent value; the motor is guaranteed for two years and the shaft for life. The handle is ergonomic and comfortable, making your boat a pleasure to steer and control. The motor head is designed to avoid corrosion and other pitfalls, offering sturdiness that is hard to find among trolling motors.

4

. Newport Vessels Kayak Series 55lb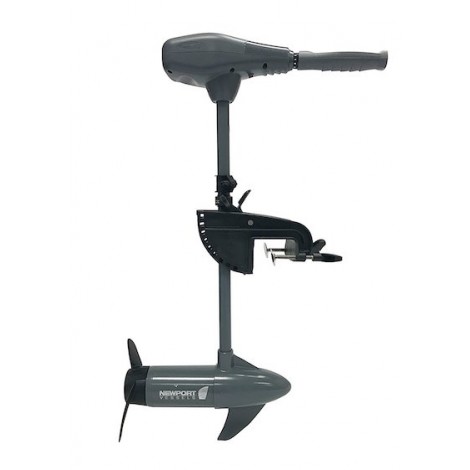 The Kayak Series 55 lb.Thrust Saltwater Motor by Newport Vessels is a moderately-priced, well-received motor that performs well and does have some advanced features which make it an all-around cool gadget. Perfect for fishermen who like to get a lot of use out of their motors, this particular model does not disappoint. Newport Vessels has proven once again that it is one of the best manufacturers of trolling motors out there; and this model is a perfect example of why.
Kayak Shaft
The motor's fiberglass shaft allows for placement at variable depths. Newport Vessels is so confident in the fiberglass shaft that it offers a lifetime warranty. In the event there are any issues with the shaft, Newport Vessels is known for responding to issues reported by customers promptly.
Saltwater Rated
The motor head is made of aluminum with zinc, magnesium and stainless-steel hardware, all of which are corrosion resistant. Even when exposed to saltwater for extended periods of time on a regular basis, the motor will not corrode, decay or rust.
Cost and Value
This model is an excellent motor offered at a fair price. Most notably, the motor comes with a vast array of warranties from the manufacturer that guarantee the motor will perform well for years, if not for life. The cost falls in the mid-range, making it competitively priced and an overall great value.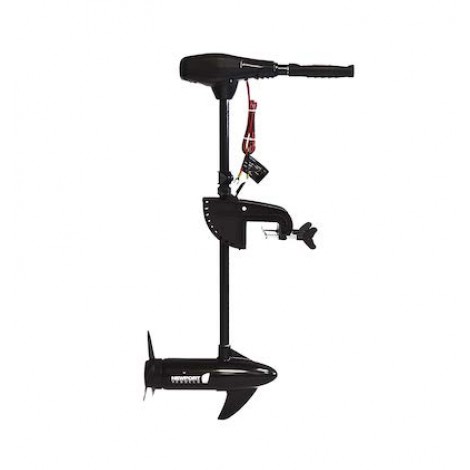 This motor is a moderately priced, reliable workhorse that performs well in fresh or saltwater, making it one of the more versatile motors reviewed here. It is a lightweight, extremely portable motor that is easy to transport. It also comes with an LED battery meter, which is quite useful in terms of monitoring the amount of time you have left on the water.
Lightweight
The motor weighs a mere 22 lbs., making it easy to transport as it is extremely lightweight. However, the motor delivers an impressive 55 lbs. of thrust. Small but mighty, the motor is deceptive in its design. The small size of the motor also allows it to fit in most kayaks and small boats.
2-Year Warranty
Newport Vessels sells this motor with a full two-year warranty. That means if any parts need repairing or replacing, the manufacturer will take care of it promptly, no questions asked. Newport Vessels, based in California, is known for its attentive customer service. If there is a problem with one of its motors, Newport Vessels will fix it.
Cost and Value
In terms of cost, this motor is priced right in the middle of the spectrum. Considering the stellar customer reviews, the 2-year warranty, the excellent reputation of the seller, the high-quality materials, portability and versatility, this motor is a fantastic value and a smart buy.

The Terrova 55 Bow-Mount Motor by Minn Kota is the ideal motor for the serious fisherman who loves gadgets and has a flexible budget. This particular motor is the second most expensive model reviewed here. However, it more than makes up for its considerable pricetag. The motor is easy to use, highly advanced, features the newest high-tech gadgets and does not just meet, but exceeds, even the highest critical standards. Simply put, the motor is a mind-blowing machine.
Universal Sonar 2 Transducer
The US2 Transducer detects water temperatures and makes it much easier to find and detect fish. The US2 is built into the motor and all of the wiring is internal, located within the motor's powerful shaft. The US2 takes away the frustration of fishing, and makes it much easier to find the right areas of the water to cast your reel.
i-Pilot
i-Pilot is a GPS trolling system. It offers steering, speed, anchoring, and can even retrace and record your path on the water. i-Pilot is viewed on a large, clear, LCD screen with many options and is easy to control. Minn Kota has truly outdone itself with its i-Pilot technology, making fishing virtually effortless and yet still challenging and enjoyable. i-Pilot is Bluetooth compatible and can be synced with your smartphone via a simple app.
Cost and Value
Yes, this particular motor will cost you a pretty penny. However, it has been described in multiple reviews as "incredible" and "outstanding." With its considerable cost, this particular motor would not be recommended for the casual fisherman who occasionally ventures out to sea. It simply is not practical to spend so much money on a motor that is not going to be used. That said, for hardcore fishermen who love being on the water on a regular basis and cannot resist the latest technology, the motor is absolutely worth it. Frankly, it will change the way you fish.
7

. SEAMAX 65 Pound Thrust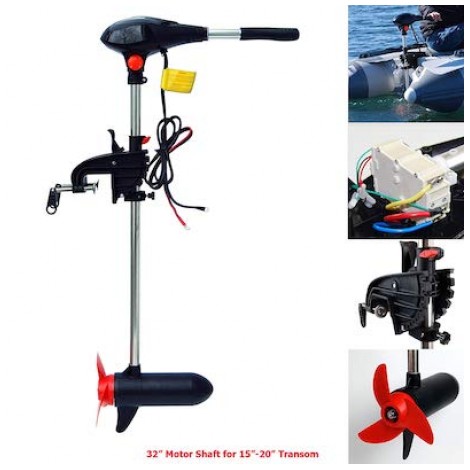 The SEAMAX 12V Electric Trolling Motor, Salt Water Version is a competitively priced motor that works well, is quiet, efficient and ergonomic. It offers an extremely smooth, comfortable ride. It includes a battery voltage meter to monitor the time you have left on the water in real time. SEAMAX consistently earns high praise from customers, with an average of five out of five stars. Even the critics with the highest standards agree that this is one fantastic motor.
Stealthy
The motor operates quietly and smoothly. This allows you to get close to the fish without scaring them away. The quiet operation of the motor also adds to the overall relaxation and enjoyment of the fishing experience, allowing you to fully immerse yourself in the solitude and tranquility of nature, without the vibrating or clunking sounds of a heavy motor.
65 lb. Thrust
The motor offers an impressive 65 lbs. of thrust. The motor is deceptively powerful, and features a unique bright orange propeller. It has some serious pep to it. And yet, it remains silent and smooth, an indication of careful engineering and design. It is designed to operate like a marine animal; quietly, powerfully and smoothly.
Cost and Value
The motor is mid-ranged in price. Considering how well it performs, how great it looks (especially with the unique orange propeller), how durable it is and how efficiently it runs, it is an excellent investment available at a fair price. This motor will exceed your expectations without breaking the bank.

8

. Minn Kota Endura C2 40
The Endura C2 40 Freshwater Motor by Minn Kota is affordable, reliable, and a well-made motor. It is one of the least expensive motors reviewed here, yet it has some of the best reviews. Sure, it does not come with some of the advanced features that other Minn Kota motors do, such as i-Pilot and the Universal 2 Transducer, but that does not make it a lesser motor. Rather, it is the perfect motor for the casual fisherman who doesn't need all the bells and whistles that other models offer. What this motor does offer is dependability, performance and comfort, all at an affordable price.
Adjustable Handle
The motor features an adjustable, 6" telescoping handle, ergonomically designed for optimal comfort and ease of use. This makes steering, guiding, maneuvering your boat a pleasure, without causing you to experience any stiffness or discomfort.
40 lb. Thrust
The motor achieves an impressive 40 lbs. of thrust. The motor is small but strong, quiet yet powerful. It is efficient and impressive, fitting perfectly into your small boat or kayak. It is also important to note that since it operates so efficiently, the motor offers superior battery performance, allowing you to stay on the water for longer periods of time.
Cost and Value
Compared to similar models, this motor is relatively inexpensive. Affordable, impressive, reliable, well-built and manufactured by one of the most reputable brands in the world, the motor is a great value that will offer a lot of stress-free enjoyment on the water. .

9

. Newport Vessels NV-Series 46 lb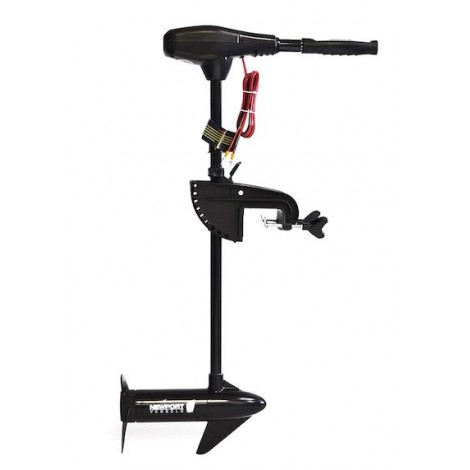 The Newport Vessels NV-Series 46 lb. Thrust Saltwater Transom Motor with 30" Shaft is one of the least expensive motors reviewed here. Despite its low pricetag, it has an overall high rating, with rave customer reviews and great scores from safety to longevity. The motor is well-made, carefully designed, and highly enjoyable. Best of all, it is so efficient that you can plan on spending an entire day on the water without the battery running out.
Composite Fiberglass Shaft
The motor's composite fiberglass shaft allows for placement at variable depths. Additionally, the shaft performs well regardless of weather conditions. Don't be fooled by its lightweight fiberglass construction. This is one tough motor that takes a beating and has been carefully engineered to do so using high-quality materials. Newport Vessels is not a company that cuts corners.
Saltwater or Freshwater Use
The motor head is made of aluminum with zinc, magnesium and stainless-steel hardware, all of which are corrosion resistant. The motor is therefore suitable for saltwater or freshwater use, making it impressively versatile. Even when exposed to saltwater for extended periods of time on a regular basis, the motor will not corrode, decay or rust.
Cost and Value
The motor is very affordable; priced on the lower end of the spectrum. The reviews are fantastic, the seller is reputable, the manufacturer is highly rated and the price is right. It's a versatile motor that can be safely used in either salt or freshwater. It is therefore well worth the cost, and will undoubtedly delight the fisherman who uses it.

10

. Minn Kota Powerdrive 45 V2
The Minn Kota Powerdrive 45 V2 Trolling Motor is a loaded, comfortable, ergonomic motor that makes fishing an exciting experience. Yes, this is an expensive motor, but for fishing and boating enthusiasts, the motor's advanced features and exceptional performance make it well worth the cost.
PowerDrive V2
The PowerDrive V2 is an advanced, ergonomic foot pedal that allows you to control the motor. It allows you to control the speed and side-to-side steering, all with a tap of your foot. The PowerDrive function is easy to turn off and on, allowing you to have constant control of the motor.
Digital Maximizer
The motor's Digital Maximizer precisely measures the exact amount of power needed to be exerted by the motor at any given moment. As such, no power is wasted, and the motor operates at optimal efficiency. By detecting the correct amount of energy needed, the motor's battery life is not wasted; it is extended.
Cost and Value
The motor will certainly set you back a few dollars. That said, it has received almost exclusively five star reviews from serious fishermen. If fishing is an integral part of your life and you are interested in making a serious investment in upping your fishing game, Minn Kota's Powerdrive is a great choice that will not let you down.

Subscribe to our Newsletter