Best Survival Knives Reviewed & Rated for Quality
In a
Hurry? Editors choice: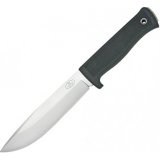 Test Winner: Fallkniven A1 Survival

If ever you
find yourself lost in the woods
, or adrift at sea, or in any other kind of survival scenario, what
kind of knife
would you have to help you to get out of the situation safely? Many people wouldn't know what to do. In those kinds of scenarios, there likely isn't a real wrong answer here, but let's say you want to be the kind of person who plans ahead and wants a knife's knife to help them, rather than some old pocket switchblade that may as well be a butter knife in your pocket. This is where survival knives come into play. These are the Bowie knives, the big dogs, the knives that you feel scared to touch even if just the handle.
Standout Picks
Criteria Used for Evaluation
Style
While blade design isn't the most all-important aspect of a normal knife, it's absolutely the most important factor when choosing a survival knife. Survival knives need a certain number of important factors to be in play in order to qualify for use in survival situations.
Firstly, the full length of the blade's cutting edge has to be sharp enough to be usable. The tip is especially important since half the battle when hunting game with a knife is stabbing the game in a vital point. Therefore, the designs you should be looking for are drop points, clip points, and spear points. There are other blade designs that work just fine, but those three are the ones specially designed for survival scenarios.
Durability
When it comes to survival knives, there is no question: fixed blades are superior to folding ones. Even the almighty Swiss Army Knife cannot hold a candle to a survival knife, and there is one simple reason for that. In a survival situation, like say, you're attacked by a large animal, you want to have that knife out as fast as possible, every second and half second counts.
So, you can't afford the little pause period between pulling out a swiss army knife and then unfolding it and then being ready to use it. And if it's a swiss army knife, the heat of the moment may cause you to forget which of the many, many tools in that multi-tool is actually the knife. By the time you find it, you'll have looked down to find that the bear you were about to fight off has already made off with your legs.
Protection
Of course, no blade is anything without its sheath. The sheath is where you keep your blade and what protects it from outside forces when you're not using it. So what goes into the sheath is just as important as what goes into your blade. The sheath needs to be, above all else, waterproof. Water rusts metal, no matter how tough it is, so when in the sheath, you need to make sure that the blade is safe from water when not in use. The best sheaths are on the knives that are near the top of the list, you'll notice.
Effectiveness
While the tip of the blade is the most important factor, the cutting edge is also vital. After all, the tip will help you kill the game, but the cutting edge will help you cut rope, carve out notches for traps, so on and so forth. There are three different types of rake angles which are preferred for this task: those are the positive, neutral, and negative rake angles.
Neutral rake angle is the most common. It's defined as being an angle that extends from the bolster at a right angle.
Then there's the negative rake angle. This angle extends upwards from the bolster and is designed to lessen any pressure put on the cutting edge during the process of cutting and slicing.
Finally, there's a positive rake angle. This angle extends from the bolster downward. This increases the angle of attack when you're slicing or cutting, which makes it ideal for self-defense.
Features
Finally, you need to consider the materials that your handle is made out of. The reason for this should be obvious: this is the part of the knife that you're going to actively be holding while you're using it. You need to make sure that it fits comfortably in your hand, that it fills the hand well, is generally ergonomic, etc.
However, there are other things, besides the obvious, that should cause a knife handle to climb further than the others in your mind. When it comes to the materials that make up these handles, you have a few options: you can go for the more popular options such as canvas/linen Micarta, a resin impregnated fabric, heated in order to liquefy said resin and then pressed beneath extreme pressure. This causes it to form in a solid material.
Then there are plastics such as G-10 and Zytel which are reinforced with fibers. These are also very popular and work just as well as the Zytel.
However, there is one that actually addresses the main issue that comes with these knives and the materials used for the handles: they don't do much to cushion the blows. By which this means that the shockwave felt in your hand when you bring a knife down on something can really kill your endurance. So thankfully there exist materials like the Krayton and Hypalon, textured rubber handles that are the ideal choice for more heavy duty chopping knives. They take most of the shockwave without your hand having to feel it.
10 Best Survival Knives
1

. Fallkniven A1 Survival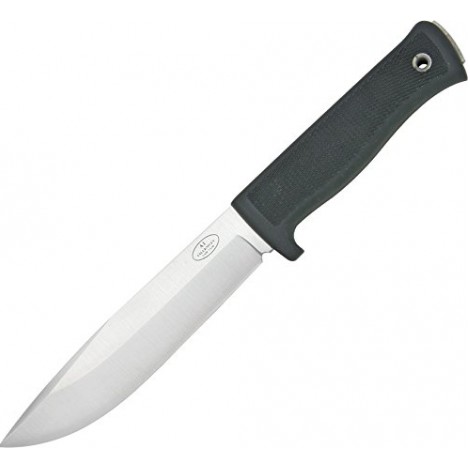 Here we have Fallkniven's A1 Survival Knife. This drop point knife is considered one of the leading players in the survival knife community, and it's not hard to see why. It does a lot right, not the least of which being tip strength. Speaking of which.
Excellent tip strength
When you're penetrating game, you need your knife to have good tip strength, for obvious reasons of course. And tip strength is about more than just having a blade that's sharp. For example, the A1 uses its drop point design, combined with a sweeping swedge and belly, means that the tip of the blade is where the majority of the blade's strength is focused. Giving it increased tip strength.
Strong blade core
Where there's a strong blade, there's the core it was forged from, and this one has a mighty core indeed. Known as the VG-10 core, this core is hardened to upwards of 59 HRC. Combined with the knife's geometry, and you get what was once a brittle piece of metal turned into one of this list's most durable entries
Cost and value
The biggest flaw with this knife is its cost. Considering that other blades have done more for less, that costs this knife what would otherwise have been a surefire spot near the top.

2

. Tops Knives Tom Brown Tracker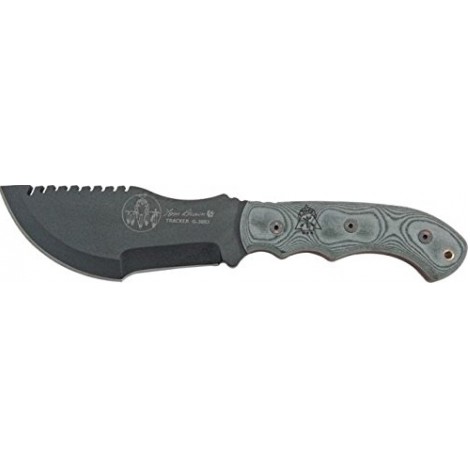 Next, we have the very scary looking Tops Knives Tom Brown Tracker. Look at any picture of this knife, and you will get a chill in your spine. There's something about its curvature, the serrated back edge, the upwards curve of the blade, that when all put together, make this one of this list's most intimidating knives. But that's not all it has going for it.
Unique steel
The steel that makes up this knife is known as ATS-34 stainless steel. This steel is an imported Hibachi chrome - molybdenum alloy, sporting a small grain count and excellent edge retention. Or, in layman's terms, this is the Japanese equivalent to 154CM steel.
Superior corrosion resistance
Another unique trait about ATS-34 stainless steel? It's far more corrosion resistant than even other versions of stainless steel. Meaning that this knife will last you years before showing even the slightest sign of rust.
Cost and value
Again, the big downside to this knife is its cost. This makes it the most expensive knife on this list.

3

. Ka-Bar BK22 Becker Companion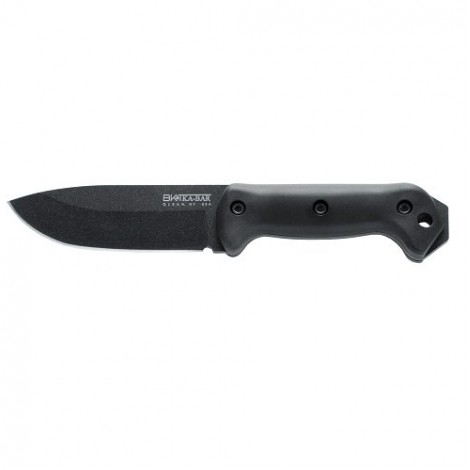 Staying on Ka-Bar for another entry, we're brought to our #8 spot, the BK22 Becker Companion. Considered a hallmark of classic survivalist knives, the Becker Companion is an above average survival knife from Ka-Bar, and more than worthy of the label on the side of its blade.
Enhanced blade
Like a lot of blades out there, you'd expect this one to be made from 1095 steel, but this blade puts a very interesting twist on that old idea. Instead, this blade is made of 1095 Cro-Van Steel, which is basically 1095 steel but with an extra dash of chromium and vanadium which gives it even more resistance to wear and corrosion. Which is especially important considering that 1095 is not stainless steel, so it needs all the protection from corrosion that it can get.
Balance when held
Or at least when held correctly. If you hold this knife how you're supposed to hold a knife like this, then one of the first things you'll notice is how balanced it feels along your index finger. This actually makes the blade feel lighter in your hand because there's less resistance against you holding it.
Cost and value
The price range for this knife is reasonable, but bordering on expensive, so your mileage may vary on this.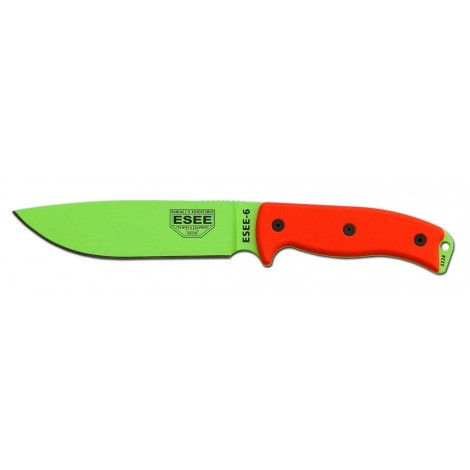 Randall Adventure and Training Company entered the knife business in 1997 with their own brand of knives known as ESSE and quickly jumped into the spotlight of many knife collectors with their high-quality content. And the 6P fixed blade is no different in that regard. Though this should come as no surprise, seeing as how the ESSE line is designed by trained wilderness survival experts.
Expert construction
The high caliber blade of the 6P is a 6.5" drop point blade constructed from 1095 high carbon steel. It has a flat grind, a coat that makes it nigh impervious to corrosion, and a Rockwell hardness of 55-57 HRC. All of this adds up to make this knife on par with even the oldest and best knife brands out there, including heavy hitters like KA-BAR.
Drop Point Blade
The ESSE 6P is a drop point knife, which means that there's a slope in the spine and that the tip is positioned closer to the center line than other knives. This makes it an ideal knife for hunting and should be in any hunter's toolkit.
Cost and value
The biggest drawback to this knife is its cost. Understandable, given its quality and make, but there are still equally powerful knives for more reasonable prices out there.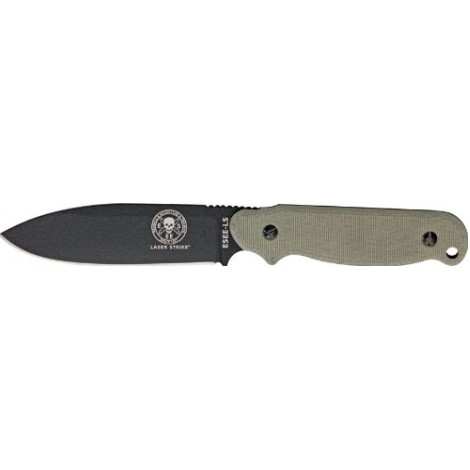 Next, on the list, we have the ESSE Laser Strike. This blase may look similar to its cousin up at #2, but rest assured that these two have very little in common with each other. For one, while the 6P may be considered great hunting and bushmaster knife, the Laser Strike is considered one of the absolute greats.
Spear Point Blade
What's so special about this type of blade? Simple, being made to resemble a spear in shape and sharpness makes it the ideal piercing tool for when you're out hunting. Like the 6P, it features a Rockwell hardness of 55-57 and a corrosion resistant coat. While its hardness could be higher, maintaining the mid-range RH makes it easy to sharpen while still being a tough knife.
Waterproof sheath
You'd be surprised how handy it is to have a waterproof sheath for your knife. Knife sheaths are usually made from leather, which does not go well with water if not treated correctly. Meanwhile, the Laser Strike has a Kydex sheath which is not only waterproof but extremely durable on top of that.
Cost and value
This isn't as cheap as the Buck 119, but not as expensive as the 6P. Meaning that this is a high-quality blade for a much more reasonable price.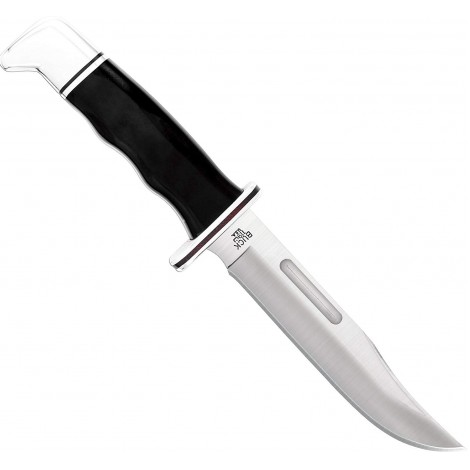 This here is the quintessential camping knife, having been a part of the buck lineup consistently since its debut in 1945, making this one of Buck Knives' oldest still manufactured models. There are products under this name out there that are still being used, that were manufactured by the company's founders, Hoyt, and Al Buck, in their original knife shop.
Versatile design
What does this mean? Simple, that the design of this knife lends itself to many different tasks. The knife features a 6" Clip point blade coupled with a hollow grind constructed from 420HC steel. This steel measures in at a Rockwell hardness of 58 HRC. Meaning that you can use this knife for just about anything while camping, including carving traps, trimming branches, and a lot more.
Ergonomic handle design
The handle of the Buck 119 is a 4 ½ "black phenolic plastic handle that thoroughly fills the entire hand when held. On top of that, the top of the handle features a two-finger guard and an aluminum butt cap. Making these knives not only easy to pick out from a crowd, but also very practical to use.
Cost and value
This knife is a very good deal considering what the asking price is of other knives of its quality on the retail market.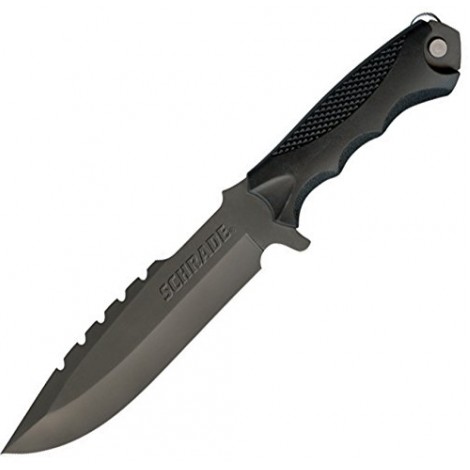 This knife is an ideal choice for those who prefer a non-stainless-steel knife blade for its strength and how easy they are to sharpen. But even among that line, the Extreme Survival Knife stands out as a cut above the rest because of the many features it offers in its specs. Speaking of which.
Heavy duty use
Being made from 1095 carbon tool steel, it's easy to see that this is not a knife that you want to mess with. This is a heavy-duty knife that can not only cut through multiple types of objects with ease but can also withstand intense physical stress without budging.
Ease of access
The sheath of this blade is a convenient ballistic belt sheath that's not only durable but also very convenient to get to and unsheath the blade from.
Cost and value
Bar none, the best thing about this knife is the cost, being one of the cheapest knives on this list. Standing at a very nice range of $37-40 depending on the retailer, this knife isn't just high quality; it's low cost.



A knife so good that the military just had to have it, the Gerber LMF II Survival Knife is so tough, that the U.S.Military considers it standard issue. While you can't use it for any kind of chopping (it's way too small for that) and it isn't exactly a camp knife either (not that you can't, the design just isn't very well suited for it) this is still an excellent knife and a welcome addition to any collector's, well, collection.
Excellent specs
Taking a break from the previous entries in terms of specs, this knife instead has a 4.84" Drop Point blade, constructed from 420HC stainless steel. The blade is equipped with a deep saber grind and a serrated effect on the edge. That serrated blade is part of the reason that the military uses this blade so often, as it's perfect for cutting yourself free from a seatbelt that won't open.
Handle that wicks
This may seem weird to think about: a handle that's waterproof. But there's a difference between being waterproof and being wick. Wick means that water from the outside is moved away by the surface of the knife's handle, like for instance, sweat. A knife handle covered in sweat is one that's hard to hold onto, but the Gerber's 5.75" handle crafted from nylon filled with glass substance and a textured rubber coating means that moisture is easily removed from the surface. Making for a firmer grip.
Cost and Value
Depending on the retailer, you'll end up paying, for a high-quality knife like this, a rather fair deal.

9

. Ka-Bar BKR7 Combat/Utility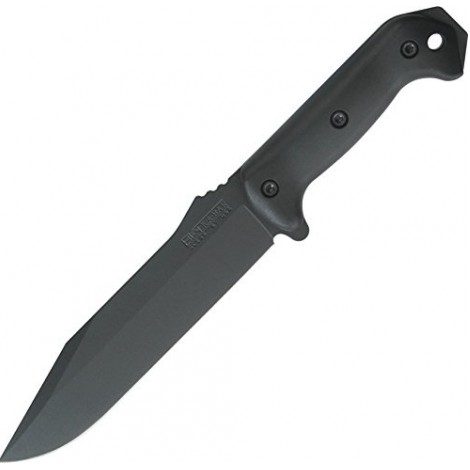 Ka-Bar has been doing this for a long time and they've gotten very good at it. And nowhere is that more evident than with their Becker BK7 Combat/Utility Knife. This knife and the brand on the side of its blade is renown by survivalists and military the world over, and the reasons are as follows.
Long, steady blade
After two rounds of short blades, it's nice to be back to good old fashioned long knives. And with a 7" clip point blade with a deep saber grind, this is about as long as a knife can get without becoming a full dagger. But despite the length, it's expert design makes it very easy to control.
Handle design and construction
Like with the others on this list, the handle is ergonomic and fills up the hand nicely, but the most interesting part is the handle slabs. The handle slabs are made from a unique material known as Ultamid, otherwise known as Zytel. Ultamid is an incredibly strong custom-made polyamide that is both powerful and waterproof.
Cost and value
This knife is rather reasonably priced for one of such a high quality, and the quality of the blade more than matches the cost.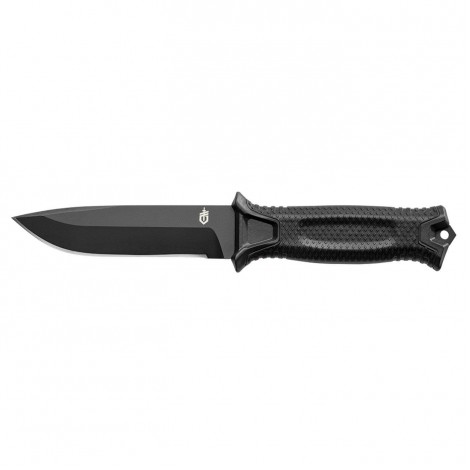 Keeping on Gerber for our #6 spot, we have the StrongArm. While not as widely accepted by the military as its more popular sibling, it's still a very powerful and versatile little blade. While it and the LMF infantry both boast a nearly identical drop point blade, the StrongArm has quite a few things that set it apart.
Excellent control
Like its sibling, this knife is too small to be either a camp knife or a chopping tool, but its size does lend itself well to another purpose: bushcraft. And when you partake in bushcraft, you need a good, reliable, small knife that you have complete control over. And when it comes to controlling a knife, the smaller, the better.
Versatile sheath
The sheath for this knife is one of the best sheaths on the list. The main reason for that is because it can be mounted on almost anything. Whether it's vertically on a MOLLE vest, vertically on a drop leg belt, or horizontally on a belt, there's almost nowhere this belt can't be mounted on. Add to that the belt's heavy-duty nylon construction, and you have one of the best sheaths on the market right now.
Cost and value
At a tight price range, this knife, while not the cheapest on the market, is certainly up there. While its cousin sits at about $20-30 more, this one sits at a much more reasonable price.

Subscribe to our Newsletter