Best Spiralizers Reviewed and Rated for Quality
In a Hurry? Editors choice: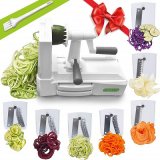 Test Winner: Spirilizer Ultimate

A spiralizer is the newest and most fun way to get both and more out of your fruits and vegetables without having to tediously, and dangerously, cut it out with a normal kitchen knife or peeler. These handy kitchen tools make it a simple process to have zucchini spaghetti, cored apple coils, and curly fries in just a few minutes. Rather than having to spend hours sifting through the choices only to have to guess what the best one is for you, we have made it simple and at your fingertips to choose the best product to meet your healthy eating needs.
Standout Picks
Criteria Used for Evaluation
Durability
No matter what you are spending your hard-earned cash on, you want to know you aren't going to end up with a broken piece of equipment nearly as soon as you get it. So, we here at TheGearHunt do our best to make sure what we offer on our lists don't fall short on expectations. Durability is taken from several factors, but the one that must be taken into account first and foremost is that we are not looking to prove the item can do something it was not intended for. What this means is when we see that someone else was dissatisfied we want to know why and how it happened. Was it the fault of the equipment, or did the broken item come as a result of not following instructions?
While it may not always be an obvious misuse, such as taking a hammer to it, the machines all come with instructions and things it was made to handle. We take all of it in and decide if what we are seeing is truly a lack of durability, or if there is some other explanation. Once we are satisfied that the equipment can and does do what it is made to do and doesn't break without some major abuse done to it, we place it in our top ten. Some may make their way onto our lists despite minor defects because we also take the whole picture in and this is just a big part- not the whole. Always check our cons when looking over a product to see what, if anything, seemed like it might not have measured up.
Value
When considering how much an item is, and whether or not you want to purchase it, keep in mind that the dollar cost may not always align with the value of the product. Some items truly are overpriced, while other more cheaply priced items could end up costing you three to five times what they are worth. The value of any product we look at is considered through durability, quality of the parts, how long it can last, and how often you may need to replace some if not all parts. We also consider what exactly it is you get with the product, such as if it is easy to use, has good instructions, and/or comes with extra's that other products of the same line don't offer.
If the pros outweigh the cons in the purchase and you are getting more than what most offer, we put it in our checklist for the top ten and then carefully weed through to see which of the best deserve an actual spot. So, you can feel happy with your choice and know what you are looking to buy quickly and easily- and know you likely won't have to replace it (spending even more money) on another soon after.
Versatility
This particular kitchen utensil uses several different types of blades for different types of cuts. Some are as simple as cutting half rings, others full spirals and even the thickness of the slices can change from one blade to the next. You will want a variety with these types of gadgets because what makes good spaghetti zucchini doesn't make good curly fries. With that said, we wanted to make sure that each one we picked out offered their take on the different types of cuts as well as a variety of what it can cut.
Some of the machines are built for harder fruits and vegetables, while others are better suited to softer foods. There are a few which are good at both as well but always check what it is meant to cut and how much. Some are upset by the fact that there are cores left over by the spiralizing machine, or how big those cores are, so if you are looking to use large fruit and/or vegetables and want to know you will be using most if not all of the food, check to see if the machine you have chosen leaves a core, and how big that core typically is.
Ease of Use
How easy any of our chosen products are to use can usually be told by the type. Smaller hand-held versions are likely to require more strength than either the countertop or electric versions, but in the end how to use them is pretty self-explanatory. So, when we chose them for our list it was likely that the way to use the machine would not take much in the way of figuring out. Most of them come with easy to understand instructions as well to help you learn how and what your machine is capable of doing. As mentioned before, whether self-explanatory or not, you may want to go over the manual to find out what the intended uses were when the machine was designed so you can stay within your warranty if your machine offers it.
Any time you use a machine like this there are usually stipulations of what you can do with it and still have the manufacturer replace or repair the objects. In this case, many of these items have limited warranties and actually state within the manual that if used improperly you have chosen to void the policy and they will not help you. The upside is that if you choose to stick to the guidelines those same warranties are usually lifetime and so you know you will have the ability to repair or replace anything you need to in order to keep enjoying those healthy snacks.
BEST SPIRALIZERS REVIEWED AND RATED FOR QUALITY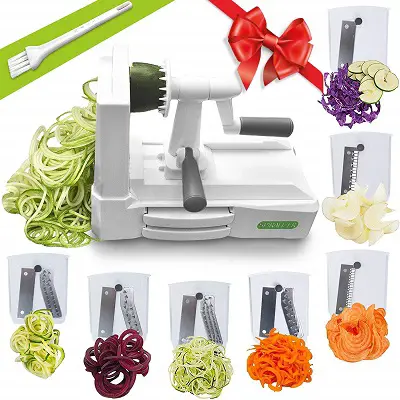 This spiralizer has a lot of nifty accessories. We liked a lot of things about it and were impressed once we figured out how to use it. We think you will enjoy the options.
Seven Blades
We were impressed with the options that came with this machine. Having the various blades to help, depending on the vegetable you're using really helps. After all, veggies have various textures and are not all soft or easy to deal with. We found having this selection of blades made dealing with our various tastes easier.
Lifetime Replacement
A lot of time when getting a new kitchen gadget we are faced with a limited amount of time to use it without fear of something breaking. We all know the sounds we make when that wonderful new gadget suddenly decides to snap two days after the warranty expires. This little gem comes with a lifetime replacement warranty, so as long as you aren't using it to hold up the car to change that tire you will be covered.
Cost and Value
This 5-Bladed Vegetable Slicer seems like a really good purchase. It comes with loads of blades, understandable instructions and even the option to get ideas and recipes online. it is made of sturdy plastic and easy to clean you get a nice product for a reasonable cost, which makes it more valuable in the overall, especially with a warranty which means you won't lose money if anything needs repairing.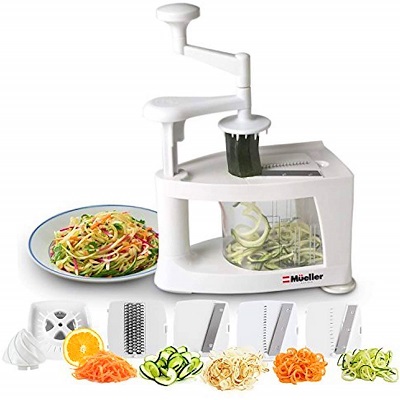 We really had fun with this one. We enjoy being able to take out our frustrations on things we are doing and this little gizmo allowed us to do just that. We don't care what anyone says, turning cranks are cool.
Has its own catch
Unlike some of the other appliances, we looked at this one which has a nice design, as far as catching all your hard work. You won't have to worry about you freshly cut veggie noodles sliding away and hitting the floor. Plus, it was nice that as soon as we were done we could turn and add our work into the wok and not have to worry about it slipping somewhere else.
Blades store inside
We were pleasantly surprised to find we could store the various blades and pieces from this kit in the kit itself. Once we found out that it was nothing to wash and store all the bits and bobs into the machine and store it with no fear of losing said items, we were sold. That is certainly a nice addition to this contraption.
Cost and Value
Overall Mueller has done a great job with their spiralizer. It may not be able to take on the big oversized vegetable we usually get when chopping, but we didn't find that as a major issue. The mechanism is easy to use and works quickly if needed. We found it a joy to use and had no major issues in any way. Add to that the ability to store everything together without filling up your drawers with pieces from it and we think this could be a great addition to your appliances.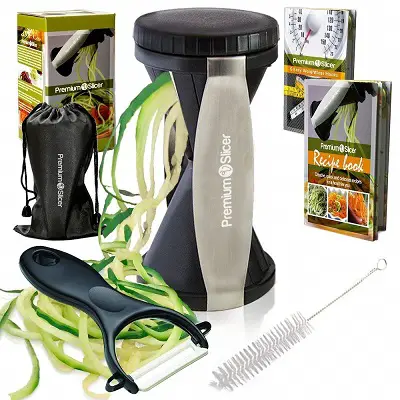 This appliance is for the person who doesn't like machines. We found a lot of our first-time buyers seemed happy to try a version that didn't require plugging in and watching. They wanted to have more control over their food. If you are someone who wants a more hands-on approach this may be just what you're looking for.
Comes with a Recipe Book
We found that while we were never lacking in ideas on ways to make our veggie noodles we often ran short on what to put them in once they were made. The joy is that with this implement comes with its own recipe book. Now you don't have to worry about what to do with those carrots or even beets, the ideas in the book are fresh. No pun intended.
Dishwasher Safe
While this apparatus is hand cranked so to speak it is still dishwasher safe. We know this may not be a concern for everyone, but we found it a lovely feature and it made cleanup that much quicker for us when we could just throw it in with the dishes at the end of dinner and head to bed.
Cost and Value
The cost of this tool is definitely a plus. A lot of the time the person on the go or college student doesn't have room or extra cash flow to get the more pricey option in this category. This appliance is affordable on top of taking up no space and being easy to clean. If your someone who enjoys coming up with your own creations feel free to tuck the recipe book into a drawer and ignore it.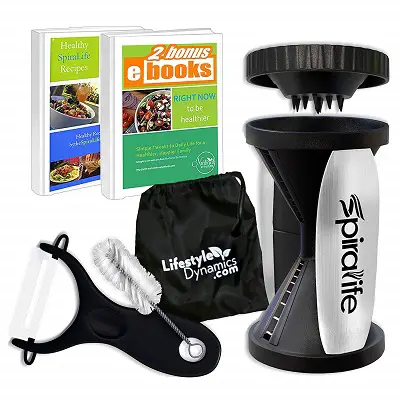 Another hand-held option comes on at number four on our list. We liked this style for the less mechanically-inclined in our group. After all, it is never fun to buy a new toy just to have someone break it right away. We think one is a nice pick for those of us who do not do well when it comes to electric machines.
Easy Cleanup
While we found the majority of these types of gizmos easy enough to clean this one seems especially without issue. A touch of soap and a quick rinse were all it took, and we didn't even nick a finger. Handy when you don't want to waste band-aids.
Great customer service
We found it a nice bonus that this company had a great attitude when it came to customer service. Readily available to answer questions and quick to respond it was a lovely change of pace from a lot of items we purchase in today's society. Knowing that made us much more willing to take the time to learn about this item.
Cost and Value
One of the least expensive options on our list we couldn't help loving how easy this one was to use. We enjoyed the fact that just adding on the cap towards the end of the vegetable allowed us to use more of it without having to cut up a large portion. The ribbon blade was another nice option if you prefer a different texture to your veggies, and it was fun to use it on soup vegetables as well. Overall this is a nice tool, easy to use and well worth the money.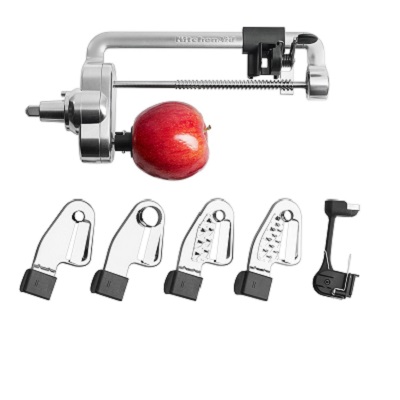 For the chef or baker in making the appliances can make all the difference. KitchenAid had come up with something we found extremely useful and you can attach it to something you may already have at home.
Easy to attach
We found this add-on a treat to use. It attaches easily to your KitchenAid stand mixer and is ready for use. This also means you don't have to worry about hogging up counter space, and just tossing a bowl underneath to catch the veggies is a simple feat.
Easy to store
This attachment comes with its own storage case. We thought this was awesome since we couldn't fit anything else into the kitchen drawers. It's also dishwasher safe so once clean just put it back into the case and tuck it into a cabinet of your choice. Handy huh?
Cost and Value
This is one of the best products on our list, quality-wise. KitchenAid is a well-known brand around the world around and there is nothing more comforting than buying into a brand you are familiar with. Along with that, they have awesome customer service and the fact that it just attaches to your mixer means you don't have to worry about where to put it on your counter. All around this is a great investment and we feel worth every cent.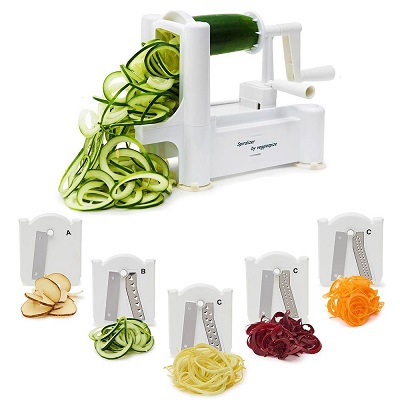 At number six on our list is the 5-Blade Spiralizer by Veggiespize. This particular unit is easy to use and simple to maintain. If you want to way to impress the in-laws or make some angel hair zucchini to throw into the pasta for the kids this is one way to make it happen.
Lifetime Replacement Guarantee
As many manufacturers grant some kind of warranty we were pleased to find this one went above and beyond. If anything happens to your little bundle simply contact them and you can get it replaced. It is always nice to know that a company believes in their product to this degree. Comforting isn't it.
Makes Angel Hair
Most spiralizers seem to still be in the phase of making a specific size "noodle" which is fine. Veggiespize managed to come up with a slightly different blade system which allows you to make angel hair sizes noodles with your vegetables. It was a lovely option and worked much better for us when adding the spiraled veggies to soups.
Cost and Value
This gadget certainly met all our requirements with ease. We loved the angel hair option and were impressed with the blade's abilities overall. This machine was also able to handle some harder options like potatoes without a fuss which was nice. The fact that it has a lifetime guarantee just added another layer of "Wow" to this product. At its current price is it one of the least expensive options out there and we feel a groovy addition.



We really wanted to make a joke about curly fries but as it turns out you actually can make them with this product so…. ahem. The options on this little beauty are a nice addition. We were pleasantly surprised overall, and we think you will be too.
Comes fully assembled
This product manages to come fully assembled which is great for those people who can't manage to put a lid on our milk without it being crooked. It also means all you will need to do to use it is adjust the blade, or rather pick a blade to use. Nice when you want to switch between different styles.
Strong suction cup
Most appliances of this type require suction cups on the bottom to prevent it from moving while in use. This one also has them but they seemed to be a bit more sturdy than some of the other models we came across.
Cost and Value
The lifetime replacement guarantee, stronger suction cups, and a safety mechanism for the blades make this one of the sturdier options on our list. At the current price, it seems like a good value especially once you add in the videos available on the website to give you a hand. A nice tool for anyone to add to their kitchen.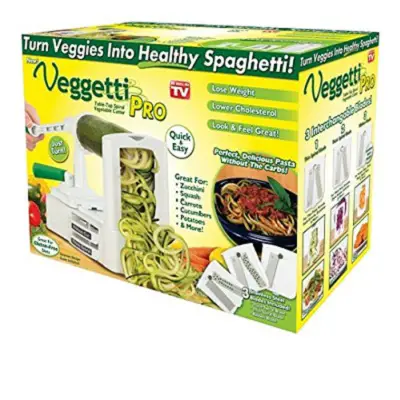 Yes…that is correct we managed to find a product that came up with a new name for vegetable noodles. The Veggetti Pro Table-Top Spiralizer is just what you're looking for the make those fancy dishes you have seen on your television. We checked it out and think you should see what we had to say below.
Lightweight
This gadget is nice and lightweight while still maintaining a sturdy frame. Some of the full-sized units like this one end up being pretty hefty. We felt like the Veggetti Pro was right up our alley with its lightweight feel and liked that it was easy to move around and put away.
Easy to Assemble
There is not a lot to putting this together. Pick the blade slip on the vegetable to the gripper and push while you crank. We had no problem getting the parts on and off which also made cleaning easy. It comes with a manual if you find yourself struggling but we don't think you should have an issue.
Cost and Value
Standing at the lower end of the cost scale is the Veggetti Pro. We just love that word it's just fun to say, Veggetti. Ahem, although the majority of this machine is made of plastic it does not detract from its abilities. Capable of making your spiral veggie noodles with ease and a bit of elbow grease. We like this gadget and find it to be a nice product.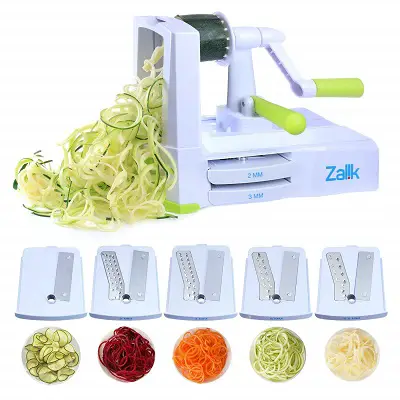 Coming in at number nine on our list we found this little gem. The Zalik 5-Blade Spiralizer seems to do it all. We were very pleased with its performance. In fact, our enjoyment almost spun out of control.
Works on harder vegetables
While we found a lot of the products on our list to "suggest" certain vegetables to use this one did not. It seems it will work on pretty much any veggie you choose and it does not have to be perfectly ripe. A few of us preferred a slightly less ripe zucchini for example which can be rather firm for most blades. This one cut right through with no problem so we gave it the A for effort.
Lifetime Replacement Warranty
We've said it before and we will say it again, nothing beats a lifetime warranty. Zalik states that if for any reason you are unhappy with their product they offer a full money back refund. So that means even if nothing is wrong with it, even if it does everything it should and your still not happy it is no problem. Contact the company via e-mail and they will take care of it.
Cost and Value
Once again the turn crank is your friend. Yes, you get an upper body workout while making your veggie noodles but no more than you would get trying to make them with a regular knife. Plus, you are far less likely to take off part of a finger. Add to that fact the warranty and the low cost and we think you will find this one heck of a deal. You will not only enjoy the fruits of your labor but the labor itself is pretty darn fun as well.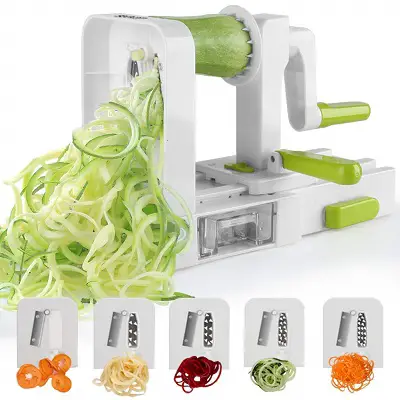 Last but not least we come to number ten on our countdown. Sedhoom has come up with its own version of the spiralizer to spice up your food options. We found this to be a nice tool with some great abilities, and we don't just mean how it makes veggie noodles.
Easy Storage
This particular implement had a small slide out drawer underneath that keeps all your blades tucked up so you don't have to worry about losing them. Another nice feature is that the entire unit folds up so it can easily be stored without taking up too much space. Considering how much space all our other kitchen gadgets require we were happy to find that out.
Good Customer Support
We can't tell you how much we appreciate good customer support. It seems to be a much rarer attribute in today's companies and it was lovely how easy reaching Sedhoom was. They are quick to respond, pleasant, and ready to do what they can to assist. Even if something brakes they have a nice little two-year warranty that is sure to keep you wanting more.
Cost and Value
We think Sedhoom has come up with a great product. At a nice reasonable price, this unit did a great job. The blades were sharp, the handles were easy to turn, and the unit maintained its place without sliding. While any of these style machines may take some trial and error we would have no issue suggesting this one for a turn around your kitchen.

Subscribe to our Newsletter