Best Gifts For Golfers Reviewed & Rated for Quality
In a Hurry? Editors choice: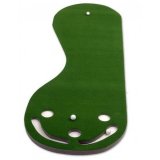 Test Winner: Putt-A-Bout Par Three Putting Green

Are you looking for the perfect gift for your golf-loving peer? We've compiled a great collection of gifts that any golf lover would love receiving.
Did you know that an average golfer
can burn around 431 calories per hour
while they play golf? So, it's no surprise that so many people choose to indulge in this sport. It can be as relaxing or as challenging as you make it. It's a game of learning and patience, with many choosing to practice the sport for hours a day.
It can be hard to think of a present for someone. But if you know that the individual likes to golf, then we've got a great list of products that will help you narrow down your choices considerably.
Keep on reading for our ten best gifts for golfers along with a buying guide to help you on your purchasing journey.
Standout Picks
Criteria Used for Evaluation
Accessories
Many products come either come as a whole or feature a fair number of accessories with it. Most of the products that we've mentioned have accessories, including the putting greens, smartphone holders, chipping net, and cup holders. These simply allow you to either make the product more secure or enhance the overall look of the product.
But, the product also should not have too many pieces involved because it can make it harder for users to figure it out. Some of the products are accessories themselves, such as the cup holder and smartphone holder as they're going to be attached to your pushcart or golf cart.
Durability
The durability of a product is one of the most important factors of any product. So, when it comes to picking the top ten from the countless available on the market, durability plays a big part in the selection process. The primary reason that these products were chosen is because of their durability factor.
Part of the process includes reading previous reviews from users to confirm the quality and durability of that item. With the broad range of product types that our list has, it can be hard to explain how to determine the durability of each type of product we've listed. But, a good rule of thumb is to check the materials used and read through reviews on various sites - Amazon is a good starting point with honest reviews from people who have actually used the product.
Materials
The next, but equally as important are the materials used to construct the product. The quality of material used for construction is crucial to the product making the top ten list. The reason for that is because the material can tell whether a product will be able to withstand the test of time and whether or not it'll be a durable choice.
For putting greens, you want a material that has a sticky backing to ensure that it doesn't slip around while you play. For golf balls, you want it to be the actual material and construction as normal golf balls are made to make it useful for the game. For smartphone holder, you want a material that won't harm the screen of your phone.
Style
Another part of the crucial criteria involves the style or design of the product. In fact, style can be the purchasing decider of whether an individual wants to get the product. For gifts, it becomes even more important as the design of the product will be one of the first things that they will notice.
For example, putting green should have a started section for the ball to end up at. Some even have interchangeable pieces to make a custom experience for the user. The golf balls we've added to our list make for a funny gift with their printed designs. A club brush needs to be hard enough to get into the grooves, but also not be too hard to cause scratches.
Value
The value that a product has comes from various factors, including the cost and the overall usability of the product. The material of the product alone with the cost affects the value of the product. The value will be subjective in terms of the person that the gift is for. Their personality and their needs are what makes the product more valuable for that individual.
Our list includes different products that offer different purposes to people. Our list includes a putting green, organizer, chipping net, golf balls, cup holder, smartphone holder, and club brush.
Top 10 Gifts For Golfers
1

. Putt-A-Bout Par Three Putting Green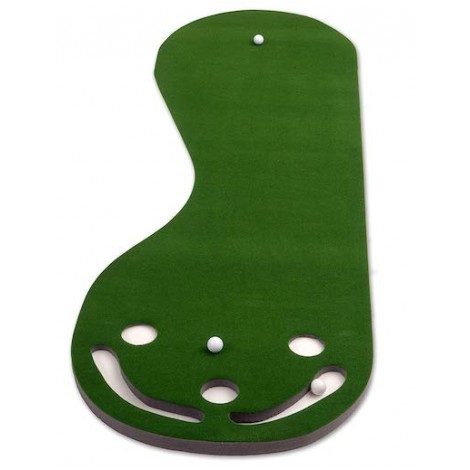 There's not many that can compare to the Putt-A-Bout Par Three Putting Green when it comes to indoor putting greens. Thousands of users have rated this as the best indoor putting greens product on the market. The high quality of materials ensures that it makes it great for practice. The well-known brand name helps to ensure that you'll be getting a great quality item.
High-Quality Build
The way that the manufacturer has constructed this makes it stand out from among the crowd. It's made using high-quality surface materials to ensure that the putting remains as organic and natural as possible. The design helps to provide a little challenge for beginners and experts alike.
Practice Hole Cut Outs
Unlike other putting greens, this comes with three practicing opportunities. These three holes create a range of difficulty for golfers to make it so that it can suit a variety of experience levels.
Cost and Value
The Putt-A-Bout Par Three Putting Green is a fairly cost-friendly product. In comparison to the other items on our list, this is technically our second most expensive product. But, it's still decently priced in comparison to other products on the market. It can a non-skid material underneath that helps to keep it stuck to the ground while you practice.

2

. Samsonite Expanding Golf Organizer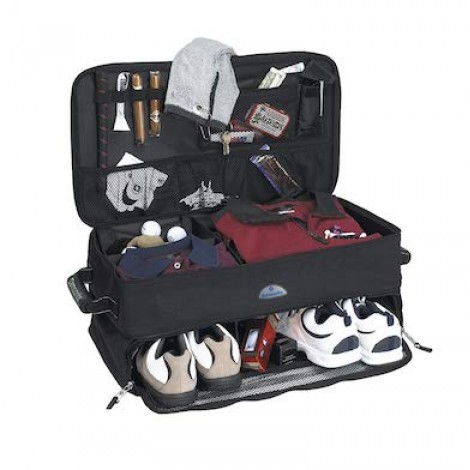 The Samsonite Expanding Golf Trunk Locker Organizer is different from all other counterparts. It features self-healing oversized nylon zippers, that make it easy to open and close the trunk. Originally manufactured in Australia by Samsonite, this is designed with flexibility and convenience in mind to ensure that you can remain mobile at all times. It's a great choice for those who regularly partake in a few rounds.
Shoe Storage
Though this won't hold your clubs, it can hold almost everything else. It has space for up to three pairs of shoes with the material being incredibly durable and tough. The mesh front door helps to keep your gloves, socks, and shoes aerated while they're damp after a game.
Adjustable Organizer
This Samsonite is highly adjustable, allowing you to fit all the equipment you'll need in there. The small compartments are great for holding smaller items, such as sunscreen, pencils, scorecards, and tees.
Cost and Value
The Samsonite Expanding Golf Trunk Locker Organizer provides golfers with a place to neatly carry your things without having them move around when traveling. In terms of the products on our list, this product is the most expensive one. But, with the usefulness that it gives along with the durability, this is sure to be worth every penny spent.

3

. Rukket Sports Pop Up Chipping Net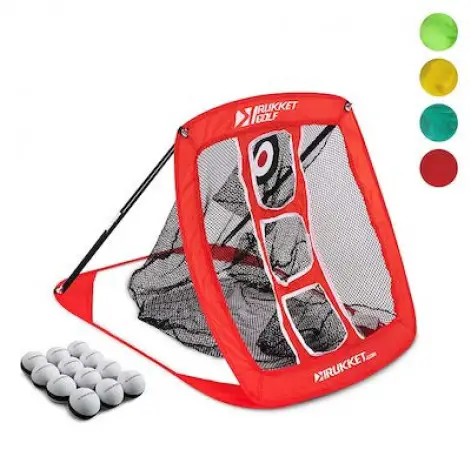 The Rukket Sports Pop Up Golf Chipping Net is a great wait to aid in your golfing game. It's a great way to improve your skill level while practicing your accuracy and honing your skills. The product is designed to be portable to allow it to be used anywhere. Regardless of whether you're at your office or at home, this can be set up easily.
Versatility
The Rukket Chipping Net can be used almost anywhere with a flat surface. It's great for use indoors, but can also be great for use outdoors. The three targets allow you to fine tune your accuracy.
Portable Design
This net is relatively small, measuring 20 inches x 25 inches x 20 inches, making it a nice triangular shaped net. As it weighs just over one pound, you'll have no problem moving this around.
Cost and Value
The Rukket Sports Pop Up Golf Chipping Net Is a well built, sturdy product that is sure to last you many years. Several users have stated how it's helped them lower their golf scores.
In comparison to the other items on our list, this one ranks at seventh place in terms of its price. Though it's on the higher end of the price scale [compared to the products on our list], it's well worth it.

4

. Clicgear XL Cup Holder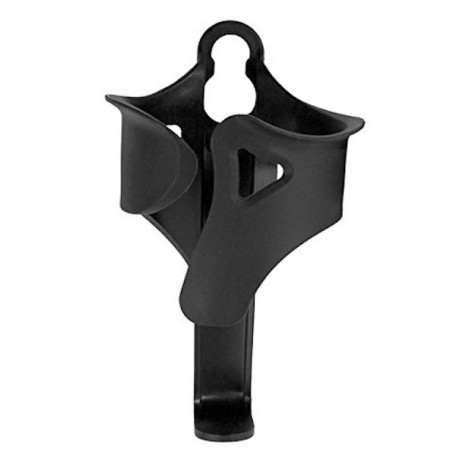 The Clicgear XL Cup Holder adds more convenience to your push cart. So, while you play your eighteen hole game, you can continue to enjoy your favorite beverage. It easily attaches onto your pushcarts and is specially designed for large bottles and cups. Whether you're using Clicgear models or other brands of pushcarts, this will work for all.
Weight Capacity
This can easily hold a 30oz. Yeti as well as any other bottle or drink without an issue. It comes with two mounting brackets to make it sturdy and able to handle the weight.
Versatility
Though this is great for use on a pushcart, it can also be used in your everyday life. So, even when you're not playing golf, this holder can help to keep your drink close.
Cost and Value
The Clicgear XL Cup Holder is great for those that like to carry larger sized bottles with them while playing. In comparison to the other items on our list, this product is the cheapest gift that you can get. It's a great gift that will get used on and off the green.

5

. Oji-Emoji Premium Balls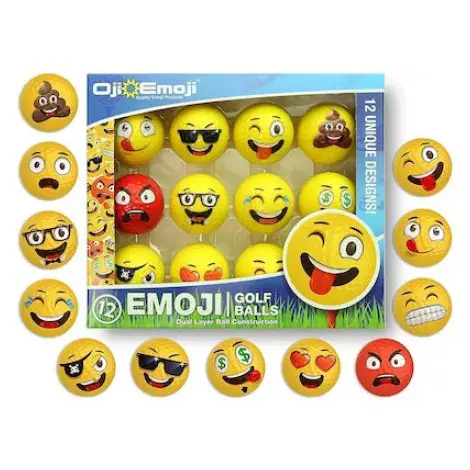 The Oji-Emoji Premium Dual Layer Practice Emoji Golf Balls are the perfect gift for playful golf lovers. They are great for all golfers, including children, occasional golfers, men, and women of all ages. The set comes with 12 golf balls printed with emoji on them. For those looking for a humorous golf game, these golf balls will be a great accompaniment.
Detailed Print Quality
In the pack, you'll find eleven yellow and one red emoji balls. They're coating in a high-quality glossy coating to ensure that you'll get the best quality possible. The coating is designed to not harm your golf clubs.
Unique Faces
Each of the twelve emoji faces will be unique in your box with no duplicates. You'll receive a poop, clenching teeth, angry, crazy, deer in headlights, pirate, nerdy guy, cool sunglasses, money eyes, tongue, heart eyes, and laughing face emojis.
Cost and Value
The Oji-Emoji Premium Dual Layer Practice Emoji Golf Balls are developed by a company based in Illinois, United States. They focus on developing high-quality products, so you're sure to have a great time using these. In comparison to the other items on our list, this product is ranked sixth in terms of its price.

6

. Ranger Gripper Inc. Rangefinder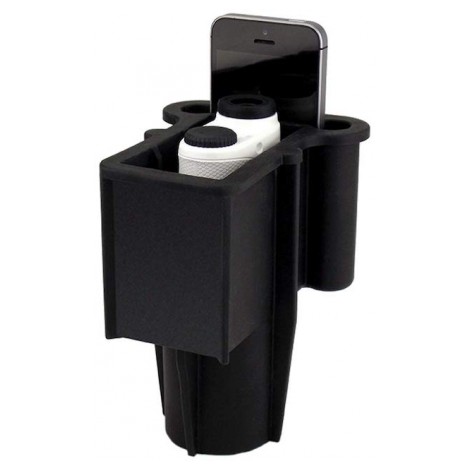 The Ranger Gripper Inc. Golf Cart Rangefinder and Smartphone Holder offers a product that safely holds your rangefinder and smartphone. So, when you're in between shots, your rangefinder and smartphone can sit securely in the cupholder of your golf cart. If you're constantly losing or misplacing your smartphone and/or rangefinder, you won't anymore with this.
Lightweight Material
The holder is made with a durable, flexible, and lightweight polymer material that molds to most golf cart cup holders. It also molds itself to fit the standard sized smartphones and rangefinders alike.
Discreet Size
When this Ranger Gripper holder isn't in use, it isn't bulky and obvious. So it can discreetly fit inside your golf bag when it's not being used. This can be great for other items as well, which helps to make it worth the money.
Cost and Value
The Ranger Gripper Inc. Golf Cart Rangefinder and Smartphone Holder was voted in the top ten PGA Product by the Great American Golf Media. In comparison to the other items on our list, this is ranked eighth in terms of its price. However, the value that it offers the user really makes it a great gift for any golf enthusiast.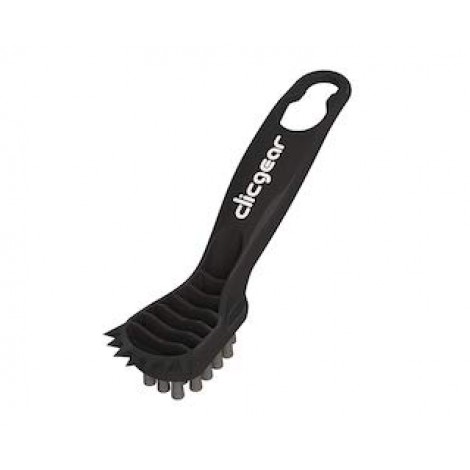 The Clicgear Club Brush is designed to make it easier for you to clean your club's face. It's designed to easily fit on Clicgear's accessory tab and all Rovic and Clicgear cart models. It provides users with multiple functions and uses. The strong bristles make it easier for you to clean grooves and your shoes.
Versatility
This club brush is designed to be stored on all carts that have a one-inch tubing. If you have a Rovic or a Clicgear cart model, then this will work perfectly. The accessory tab that is included allows for easy installation.
Convenience
In terms of convenience, this product is great as it hangs off one of your accessory knobs and is there whenever you need to clean your clubs face. The plastic material ensures that it won't be easily damaged.
Cost and Value
The Clicgear Club Brush allows you to have an easy and convenient way to clean your clubs during a round. In comparison to the other products on our list, this one is ranked as the second cheapest one. It's a great gift to get a golf lover that seems to have everything else.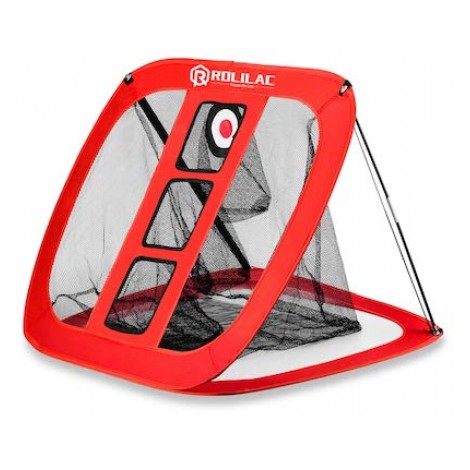 The Rolilac Pop Up Indoor and Outdoor Golf Chipping Net provides you a convenient way for you to practice anywhere you want. You won't have to drive to your golf range to practice, instead, you can just you this net wherever and whenever you want to. This versatile and compact training aid can help to improve your game.
Improving Your Game
This Chipping Net features multiple targets and pockets to improve your short distance pitch accuracy. It's also great to challenge yourself to further improve your capabilities. The popup design ensures a no-tool setup.
Portability
The net can be packed into a 1.2 ft. handbag to allow you to carry it to the place of your choosing. It also only weighs one pound so you won't have any difficulty carrying it around.
Cost and Value
The Rolilac Pop Up Indoor and Outdoor Golf Chipping Net is easy to use and install. So, you can play a friendly match with your colleagues, friends, or family. In comparison to the other products on our list, this one is ranked right in the middle at fifth place in terms of its price. With its lifetime warranty, you can try this out worry-free.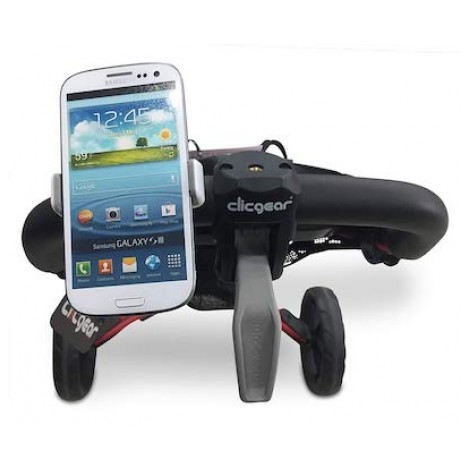 The Fairway Holders Compact Golf Cart Phone Holder is a compact phone holder for your golf pushcart. It's adaptable to most golf cart brands as well as with all brands and models of smartphones that are up to 3.3 inches wide (85 mm). So, regardless of whether you have an iPhone or a Samsung plus models, this holder will fit them.
Spring Loaded Mechanism
The holder features a spring-loaded mechanism that easily grips your phone securely. The silicon clip mount provides a firm attachment to handlebars of golf carts. You won't have to waste time trying to find your phone as it'll be in your vision at all times.
Vibration and Resistance
The Fairway Holder's phone holder is immune to vibration and resistance making it a great addition to your game. You can easily access and use golf phone apps to go over the course maps or input scorecards quickly.
Cost and Value
Though the Fairway Holders Compact Golf Cart Phone Holder is quite compact in design and size, it provides a strong attachment to keep your phone secure and safe. In comparison to the other items on our list, this one is ranked fourth in terms of its price. Thus, making this a great gift for all golf lovers.

10

. Golf Gadgets Swing Recording System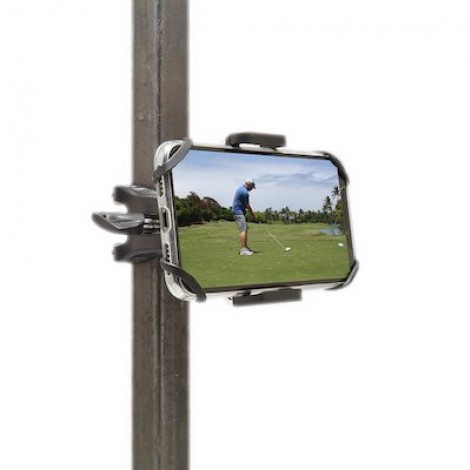 The Golf Gadgets Swing Recording System is a great way to record your swings. The included spring-loaded clamp works with all smartphones that are up to four inches wide. The easy to use product works with most devices, even that have cases and waterproof cases on. With this product, you'll get the phone holder clamp along with some silicone security bands.
Avoids Risk
If you're one to record your swings or general game, then you'll know how hard it can be to balance your phone on something. This allows you to safely and securely record yourself without any risk of dropping your phone while recording. You can use second POV by recording from a railing, attached to a pole, golf club, pushcart, or golf cart.
Rubber Bands
In addition to the clamp, you'll also get rubber bands. These rubber bands add additional security for you to use while walking and.or driving. The spring mount holds your phone great without these, but these just add a little extra support.
Cost and Value
The Golf Gadgets Swing Recording System is a great way to record your golf swings. Simply attach it to the desired location and hit record. In comparison to the other items on our list, this is ranked third in terms of its price. The value and cost of this product make it a great gift.

Subscribe to our Newsletter