Best Golf Balls Reviewed & Rated for Quality
In a Hurry? Editors choice: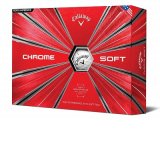 Test Winner: Callaway Chrome Soft

When it comes to golf many
golfers
pay close attention to the clubs they will use and how to make them work to their specific advantage. However, when it comes to golf balls and their designs, not much is said. In fact, many beginners are unaware that there are multiple different kinds of golf balls on the market. Keep in mind, the more you know about the golf balls and
the clubs
that you're playing with the easier it will be for you to become the very best. In this guide, we are not only going to list the top ten best golf balls, but we give you the criteria that got them there!
Standout Picks
Criteria Used for Evaluation
Materials
Golf balls can be segmented into two different categories depending on your needs. One category of the balls intended to be used for playing on the course while the other kind is meant for practice. The differences between the two different kinds of balls are substantial and you are going to want to own some of each if you plan on becoming a great golfer.
The balls that are intended for play are normal golf balls. They have a core with different degrees of compression and a hard exterior shell that has dimples so that they are aerodynamic. These balls will fly high and far which is why they are used for regular play. You are certainly welcome to practice with game balls, but you will most likely want to do so at the driving range or have a net to catch them.
Practice balls are made of hollow plastic, foam, or they are whiffle balls. They are designed so that you get feedback that is similar to a game ball but they won't fly far and are less likely to break things or cause an injury if they hit something. As such, you can safely use these balls when you are practicing inside or they are ideal for practicing in your yard.
They won't go very far and are usually easy to see so that you can pick them up when you have finished with them. Many people use these balls to practice skills such as putting, chipping, or learning to hit a new club. Like any skill, golf is a game that will improve with plenty of practice which is why it's also important to own practice balls.
Motion Control
Game balls are normally specialized for distance or they are geared towards controlling the spin on the ball. There are certain use cases for both kinds of balls so you are going to want to know how to tell the difference between the two different kinds of golf balls. Picking out the right ball for your game will make a significant difference in your final score and you are more likely to play better if your ball is matched for the course.
Balls that are intended to give you more distance are the simplest balls to make. They consist of a core that is protected by a cover and tend to have a low cost associated with them. Such balls are also highly durable and more likely to last longer. They don't spin much at all which is why you get long distance with them but this also makes them harder to control when you are approaching the green. This kind of ball is best suited to longer holes.
A 3, 4, or 5 piece ball is meant to help you control the spin on the ball. These balls have additional layers which make it more responsive to the club. There is a cover that is made of urethane or similar material that will help the ball grip the club so that you get the right amount of spin. These balls are great to use when you are getting close to the green because you will be able to put more backspin on the ball when it counts. This will result in a higher loft and the ball is more likely to sit on the green rather than role off.
Advanced Features
Compression refers to how much the ball deflects when it is struck by the club. A hard ball will barely compress while a softball will compress more and it will feel softer. You will want to consider the compression on the ball when you are picking out the proper ball for your game because the compression is going to affect how the ball feels and flies.
The ball's compression is measured on a scale from 0 to 200 with the normal range being between 50 – 100. Once again, the higher the number, the harder the ball will be. Many people will refer to a low compression ball as a "soft" ball while ones that have a higher compression will be called a "hard" ball. Most players prefer to hit softballs rather than hard ones for a few different reasons.
One reason is that a softball will normally get more distance than a hard one. This is because they will compress more upon impact which will create more distance even with lower swing speed. Since the ball compresses more, you will also feel less vibration in your hands-on impact as well.
Some players do prefer to use a higher compression ball. A higher compressed ball will offer you more control over the spin which can help with your approach and short game. If you are someone who has a fast swing speed, then you may want to consider getting a ball that has higher compression. You will need to keep in mind that higher compression means the club will vibrate more when you strike the ball so you will need a firm grip on the club.
Features
You may have noticed that golf balls have dimples on them. The purpose of the dimples is to help the ball fly further by creating a thin layer of air around the ball while it's in flight. This will help to increase the amount of lift that you get when you hit the ball and reduces the amount of drag that the ball gets from the air. The patterns, shapes, and the sizes of the dimples will affect how the ball spins. They also change how far the ball will go and how stable it will fly.
There isn't a magic number of dimples but it's normal to see balls that have between 250-400 dimples. There are differently shaped dimples that will affect how the ball flies as well. The key thing to understand when it comes to dimples is symmetry. If you plan on using your ball in a tournament, it has to have the dimples laid out in a symmetrical pattern or it may not be allowed.
Some golf balls have a "correcting technology" that has different shaped dimples in different areas of the ball. This asymmetric design will correct the spin on the ball while it's in flight which may help to improve your aim. These balls are not allowed in USGA tournaments but you can purchase them if you are a casual player who isn't planning on playing in a tournament. However, you should use caution when using such balls because you may become used to them and struggle to play in a tournament down the road where such balls are not allowed. Most of the balls that are sold are the normal symmetrical ones.
Style
Anyone who plays golf on a regular basis knows how easy it can be to lose a golf ball. This is why some people prefer balls that are some color other than white or have patterns on them. Not only can this make it easier for you to see your ball, but you are also less likely to accidentally confuse your ball with another player's ball in the event that you land in the same area as somebody else.
White is the color that is normally used for golf balls. The color is popular because you can pick it out distinctly from green grass, leaves, and sand. Most people can also see white as the ball is moving through the air which can help you track where the ball may have landed after a long hit. However, there are other colors that are popular to use besides white.
The non-white colors that are normally used include red, blue, and yellow. These balls are typically in neon color and have a bright finish to help you see them. You may want to use these balls if you are having trouble finding a white ball or if all of the other players in your group are using white. Sometimes the balls have patterns on them also. For example, it's not that unusual to see golf balls that look like soccer balls or have a company logo painted on them. You should keep in mind that the color of the ball isn't going to affect your game much. It's only real benefit is that it can help you track your ball easier which can reduce stroke penalties from lost balls.
BEST GOLF BALLS REVIEWED & RATED FOR QUALITY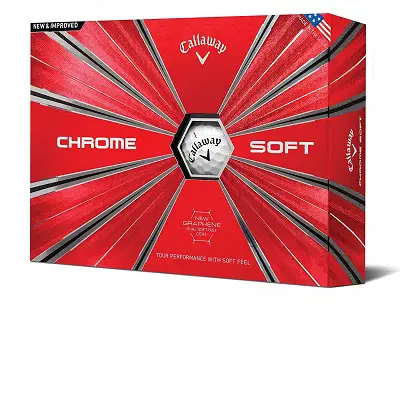 The Chrome Soft is a ball that will help you get the best control and the maximum amount of distance out of every stroke. Made by Callaway, this is a ball that features designs that reduce spin and offers a nice and soft feel so that it's easy on your hands. You will love how smoothly you can hit this ball.
Low Spin
It features an aerodynamic design that will help to reduce the amount of spin on the ball so that you can get better distance with each and every stroke.
Low Compression
Golf balls that have a low amount of compression feel softer than one with tight compression. These balls only have 65 compression layers to make them feel soft and make them great for the green.
Cost and Value
You can purchase a box of Chrome Softballs at an average price. The normal price makes them of great value since you don't have to spend a premium on them.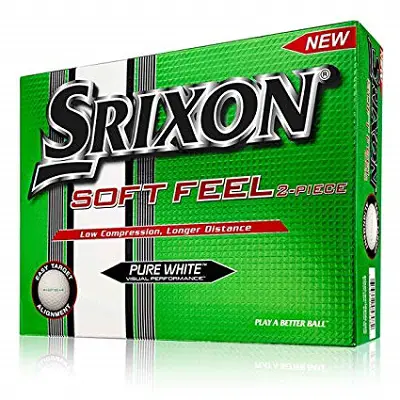 One of the things that people love about this ball is that it has an exceptional feel. You will love the feedback that you get on the club whenever you take a swing at the Srixon Soft Feel. They are engineered to give you the maximum amount of distance and control while still delivering a soft feel that is easy on your hands.
Soft Cover
The cover is soft which will make it easy for you to control the ball during the short game. Control is critical in the short game so that you can lower your score.
Gradient Growth Core
The ball's core is designed in a way that will offer you the highest launch and the lowest amount of spin. This will help you to get nice long drives on every hole.
Cost and Value
You will be able to purchase a box of the Srixon Soft Feel at a price that is average. The normal price allows you to get a great set without paying a premium.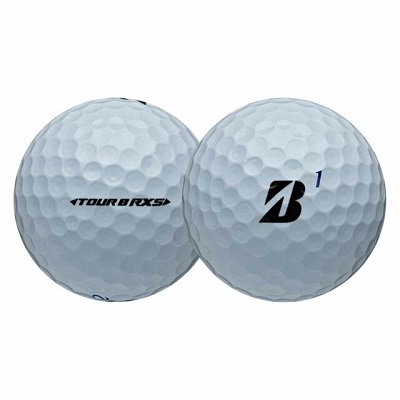 Whenever you are looking for long consistent shots, then you should count on the B330-RX to deliver. They have a thin cover that will help you get better control when you are near the green. The core has been designed to give you long drives that have reduced spin and maximize your distance. You will love how much better you can play with a set of B330-RX.
Hyrdro Core
These balls have a nice and softcore that will make them feel like you aren't hitting anything at all. It also helps to reduce the ball spin and help increase control.
Dual Mantle
The outside of the balls has a dual mantle design. The design helps to reduce the spin on the ball which will improve the distance of your shots and lower your score.
Cost and Value
You can purchase a box of these balls at a price that is lower than the average price. The lower price turns them into a great value since you get high-quality balls at a lower price.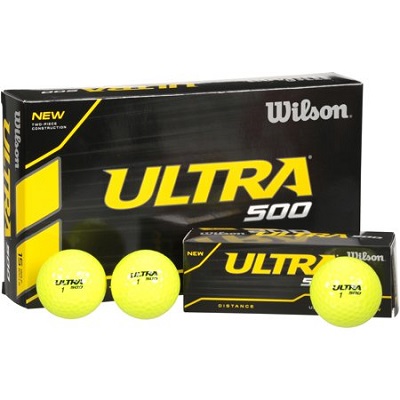 You can begin playing like a pro immediately when you are playing with the Wilson Ultra 500. The brand is known for creating "smart" golf balls that will make playing a whole lot more enjoyable while giving you a well-known edge. These balls feature all of the interior technology you would want from a golf ball that was designed to help you be better every step of the way.
Advanced 2-piece construction
Designed with an advanced 2-piece construction that features a durable cover that protects the ball's high energy core. What this innovative construction does is it helps produce longer initial launch distance, while still providing efficient ball roll in all conditions. This makes this ball convenient for all areas on the golf course.
Durable
Due to having a tough outer shell, this ball is quite durable. So much so that it's perfect for hard grounds and/or for beginners that haven't learned how to swing without having the ball bounce on the ground at the beginning or the end.
Cost and Value
You will be able to purchase a pack of these balls for an extremely low price. In fact, the price is so great you will want to purchase more than one pack at a time.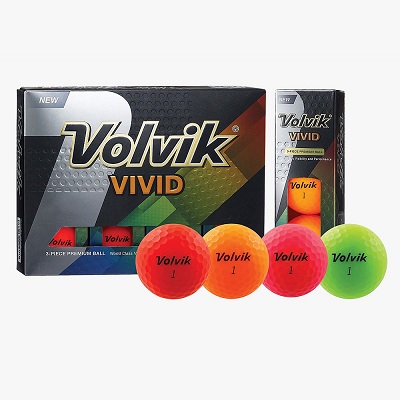 Any golfer can tell you how easy it can be to lose a ball. That's why these balls are bright colors so that you can spot them easily. You will also love how easy it will be to hit these balls in a consistent fashion thanks to the core and the cover on them. It's a great set for casual and avid players.
Bright Colors
These balls feature bright colors. The colors will make it easy to see the ball while it's in flight and also helps find it when it's on the ground which reduces the chance of a lost ball.
Slower Swing Speeds
It's been designed to help people who have medium or slow swing speeds get a longer amount of distance. You will love how the ball feels and how far it travels.
Cost and Value
This is a premium brand of balls so you are going to need to plan on paying an above-average price for them. The extra price is worth it because it will help lower your score.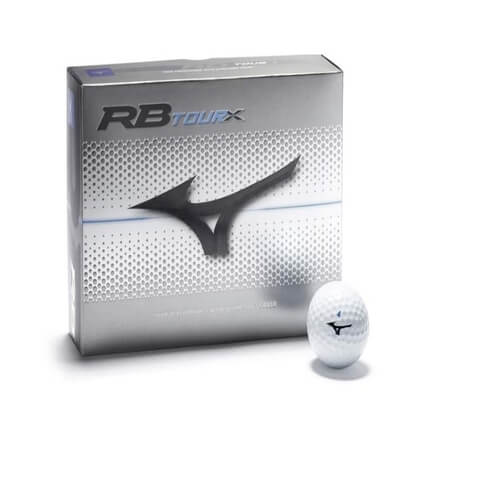 With over 12 years of experience and multiple testing throughout those years, Mizuno has officially perfected their golf balls. Designed to be one of the best balls any experienced and active golfer will enjoy, this one comes prepared to help give you higher performance while still being sleek and innovative. This ball comes with the idea of making your golfing career one of the very best. Furthermore, they are sturdy and durable so you can count on them for all of your needs.
Unique Shape
Though most would assume all golf balls are the same, that is not true. Any golfer who truly knows the game and the tools that come with it will tell you every golf ball is different. Featuring a C-dimple design, this ball comes with more surface points than most. Having this feature allows the ball to have a grander airflow, which in return will provide a better swing when you are golfing from a distance or towards a specific distance. Furthermore, the ball has a Urethane cover. This specific cover allows the ball to be ultra-responsive, particularly around greenery.
Fast Swing
What might seem like a simple golf ball, is anything but, offering a fast swing feature, this ball helps you make your target every time. Whether that is due to the rugged, smooth exterior or the Urethane cover. This one helps you make the most out of golf when you want and need a fast swinging ball. Furthermore, the simple use of angling golf club will give you the upper advantage at any game.
Cost and Value
As previously stated, this golf ball comes with undeniable advantages, you are getting a quality product with 12 years of back up testing behind it, so it makes sense that it is on the pricier side. Additionally, the ball can help you perfect your swing with simply having to angle your golf club. While the price is a bit higher you have to remember you are getting one of the very best on the market.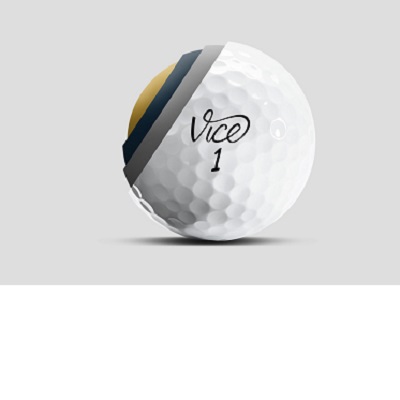 Once you have become a pro at golfing it's time to purchase pro golf balls. Unlike popular belief having professional balls does make a big difference in the way you play once you know exactly how to play and get the most out of your balls. These Vice Pro Plus balls are the perfect addition to any golfing kit. Not only do they look superior to most, but they act superior as well.
Created for Distance
This ball was created to give you the most distance possible while allowing you to remain in control every step of the way. It's cast urethane cover offers a durable ball without the thick exterior most durable balls have. Instead, you are left with a lightweight ball that goes the extra mile to ensure you win the game.
Dead Stop
Any lightweight balls have the issue of not being able to stop dead in its tracks, this is mainly due to the weather conditions slightly pushing the ball. When you have a ball like this one that has a dead stop feature; you will notice the ball will completely stop once it has landed in your desired lane.
Cost and Value
These balls are on the pricier side, however; when you take into consideration that they are pro balls, you will realize you are getting a bang for your buck all along.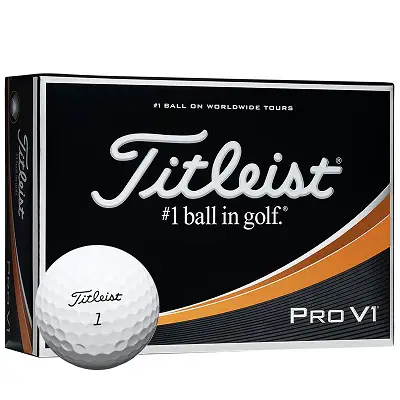 The Pro V1 is made by Titleist and is one of the best-made balls in the industry. This ball flies in a consistent fashion and will drop dead when it lands on the green. You will love how easy it will be for you to control the ball and manage the fairway so that you can play your best game.
Dimple Design
It has 328 dimples that are tetrahedral shaped. This will help the ball soar through the air without you having to worry about wind drag affecting the distance of the ball.
Urethane Elastomer Cover
These balls feature a cover that is made of Urethane Elastomer. The cover makes the ball highly responsive so that you can control it when you need to make the critical shots.
Cost and Value
You will need to plan on spending a price that is significantly higher than the average price. This is a premium brand of golf balls and features high-end technology which causes the higher price.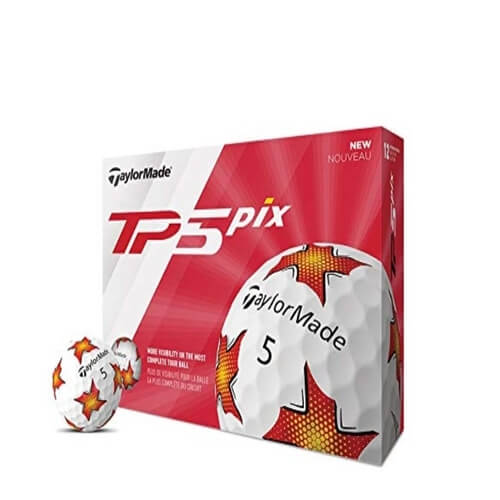 Intended to make a statement and be more visible, the TaylorMade TP5 golf ball makes a statement anywhere it is played. Showcasing a multicolor graphics exterior this golf ball can be visible during high and low light scenarios. Having this ability allows you to use your golf ball as often as you would like. Furthermore, the large contrasting graphics helps provide spin feedback when it lands in the greenery.
5-Layers
Unlike traditional golf balls, this one has been constructed out of 5-layers. Having a 5-layer design featuring a softer style urethane which helps increase groove interaction and appeal for added spin and control when playing in deep greenery areas. Additionally, to this layer, there are four more layers with HFM- a material that helps improve the energy that is transferred from the ball. Having these layers helps make your ball as potent as possible against your opponent.
Durability
One feature that you want to have when purchasing a set of golf balls, is durability. Having a durable item makes you more confident when playing. It ensures you get the most out of every game, while further enhancing your swing and distance. The lightweight feature makes playing a whole lot easier and effective.
Cost and Value
When it comes to the cost and value of this product you are getting quality above all at a decent price. The price point is a bit higher due to all that you are getting but it is well worth every penny. Furthermore, you are getting a dozen balls for the price, so if you think about it you truly aren't wasting that much money.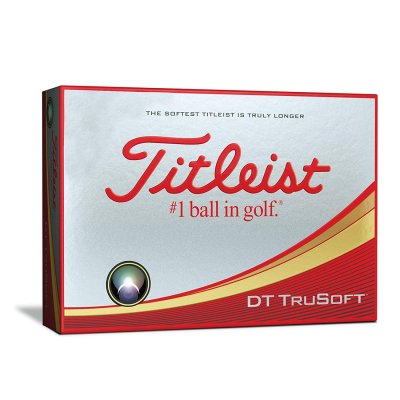 Titleist DT's are a staple of the game and we're big fans of the brand. And the Titleist DT is one of our go-to balls when we can get them. And the TruSoft balls sell themselves as having the softest compression of any Titleist. The more compression the more distance and the more zing off the tee so we're big fans of these golf balls.
Low Spin-Off The Tee
the thing that we love about Titleist is that they tend to fly straight and true and the DT TruSoft is designed to do just that while the compression is going to guarantee you the distance you need off the tee.
Short Game Performance
The DT is going to give you maximum spin and accuracy on your short game thanks to its soft core technology.
Cost and Value
These balls aren't cheap and that's one of the reasons they don't take a higher place on our list but that doesn't mean they aren't worth the price. These are great golf balls and Titleist is one of the best brands in the market.

Subscribe to our Newsletter