Best Dove Decoys Reviewed and Rated for Quality
In a
Hurry? Editors choice: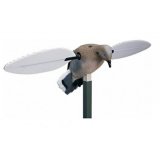 Test Winner: Mojo Outdoors Voodoo

Let's face it--you're always hearing about the
best hunting gear
that you can't live without. And, keeping up with this technological age, hunting gear and accessories have gotten increasingly more high tech, more sophisticated, and more effective.
Take decoys, for example. The live-action, spinning decoys movement took off with duck hunting decoys and has now spread (thankfully) to dove hunting decoys.
But here's the important question: Do dove decoys work?
Well, we've rounded up all of the best dove decoys on the market that are proven to increase the haul on your next hunt.
So whether you're looking for tips on hunting with decoys, on how to set up dove decoys, or just on the best dove decoys for sale out there, this Ten Best List has got you covered.
Standout Picks
Criteria Used for Evaluation
Features
When selecting the products that would make this Ten Best List, we looked at the features that set each product apart. Some of the features we love most are the following:
We greatly enjoy products that have alternating or random movements. This makes the product appear more natural and makes it blend in more easily.
We like products that can be mounted in multiple ways. Some of the products on this can be clipped on. Some have poles that hold them erect. Some have eyelets that can be strung to suspend them. Some have a combination of both of these.
We also like products that are easy to transport and lightweight as you will often be taking these guys with you when you hit the field. Having a product that will collapse or not be damaged during transport makes this task easier.
Color
The coloring of each product was especially important for us to consider when making this Ten Best List in particular. Obviously, the more realistic the painting, the more lifelike the product will appear. We really love products that combine their painting artistry with realistic etchings as this brings an even more lifelike quality to the decoy.
Overall, we like attention to color detail at the neck, as well as the differentiation of color from the front to the back. We also appreciate when the clips at the base are colored in the same way as the bird, and when other electronic equipment is concealed on the belly for a more lifelike feel.
We also pay attention to how a product stands up to fading. As you are likely to use these in areas where they will be getting a decent amount of sun exposure, we want to ensure that the coloring on the products on this list won't fade over time and leave you with a dull-looking product.
The products on this list resist fading, but should not be left out for extended periods in the sun to ensure their long-lasting color.
Materials
Materials were another important consideration of ours. While it is not likely that you will leave these out exposed to the elements all year round, it is likely that you will encounter some unpleasant weather on occasion while out hunting. Thus, we wanted to ensure that we feature products that can stand up to the weather.
First, let us say that electronic devices are not designed to get wet. You should avoid having them come into contact with rain. The non-electronic products on our list are able to be exposed to rain without event. However, they should not be left out in the rain for months on end.
Products on this list are made out of a variety of different materials. We feature some products made from hard plastic (that is typically hollow) and some products that are made from EVA foam or XPE foam. While plastic products are more durable overall, the foam products are lighter and easier to transport as a general rule.
Durability
Of course, we want to ensure that our featured products are durable. As we mentioned above, the plastic products on this list are more durable over time while the foam products and a bit less durable. And bringing them inside when they're not in use is a good way to extend their lifetime.
We also look at how well a product can take a shot. Because you will be placing this decoys to attract doves, it is possible that when doves fly close to them, you may end up accidentally shooting one. The plastic products hold up far better to being shot than do the foam products.
Finally, we consider the mounting gear. Some clips to not stay fastened as well to the decoy as others and some are simply painted clothespins. These are not as high in quality as heavy-duty alligator clips that you will find on our more premium and highly rated products.
Value
And as always, we want to ensure you are choosing between products that have a lot to offer in the value arena. We draw your attention to how many units you'll be receiving with your purchase. Unit numbers range from 1 all the way to 12. Most of the electronic products come in singular units (with the exception of the Dove A Flickers that come in a set of 4).
We also work to bring you products that balance productivity and effectiveness with the cost.
10 Best Dove Decoys
We kick off our list with the Mojo Outdoors Voodoo. Not only is this the number one name in spinning and in-motion decoys on the planet (including duck decoys), but they are also one of the most innovative and work to produce some of the most authentic-looking decoys on the market--and this motorized decoy doesn't disappoint.
Easy to See
This is a motorized product that is hyper-realistic. It features a larger body which makes the product easier to see, and it also configures the shape of the body in the correct landing position of a natural dove. These are reported to function more successfully than mimic calls.
Runs for 16 Hours
The Mojo Outdoors Voodoo is ready for hunting right out of the box (with the exception for the 4 AA batteries that you will need to purchase in addition to the product). This product comes with a check mount, as well as the steel pole that you will use to erect the product.
The Voodoo is built to last. With wings that are connected magnetically and a durable body, you will be able to enjoy this product season after season. And to top it off, you will get a whopping 16 hours of run time from each set of AA batteries, which is power you can count on all day long. This product is operated by an on and off switch which is concealed on the underbelly.
Cost and Value
This product rings up in the middle of our price range and we love its value because it is super realistic and long-lasting on a single battery set, and because it comes will all you will need to set up the decoy and start using right away (excluding batteries). Plus, it's more effective than products that are twice as expensive on the market.

2

. Avery Hunting Gear Mourning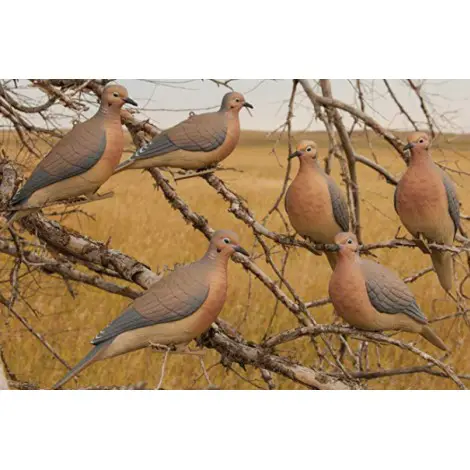 The Avery Hunting Gear Mourning is another full set that will allow you to realistically group your birds. Plus, you will get even more units--a total of 6--with this purchase, and you will enjoy camouflaging of the attachment pieces as well incredibly accurate paint that will blow your mind.
6 Units Per Order
This decoy comes with 6 total units with your purchase. This way, you will be able to realistically group your birds on a fence post, a dove stand, or in a tree.
The units are made from super durable, hard plastic so you will be able to enjoy them for years to come. And the alligator clips on the bottom of the birds are also colored to blend in with the bird and give an incredible grip so they won't budge once you've set them.
Insanely Realistic Painting
This decoy has some of the most realistic paint on the market. The shading and attention to detail are next level, and there is even metallic purple paint at the neck that changes shades as the product moves--just as you would find on the real life deal. Plus, the hyper-realistic etchings will leave you in awe, especially at this price point.
Cost and Value
This product rings up in the middle of our price range and we love its value because it is one of the most realistically painted products on our list (and on the market) and because you will get 6 super durable units to group and use as best suits your hunting needs.

The Lucky Duck Clip Ons are a more traditional style decoy, but don't let that fool you. These guys are still plenty effective and you'll also enjoy getting a total of 4 with your order. While these aren't motorized, they can be clipped or hung around feeding trees to increase the success of your next hunt.
Can Be Clipped or Hung
The Lucky Duck Clip Ons are just that--clip ons. Each dove comes with a heavy-duty alligator clip that is made out of steel. These will hold up to weathering and will clamp down tightly so you won't have to worry about them slipping off the branches that you have clipped them too.
We love that you can also hang these doves too. While their wings do not open as though they are flying, there is an eyelet on the back of each dove that will allow you to thread a string through to hang or suspend the doves in the air.
Made from Hard Plastic
These decoys do not move like real doves but they are painted to look super realistic. The scheme is totally in line with natural doves and at a distance, it is hard to tell the difference between true and false doves. Plus, you can group these 4 units together to look even more realistic and to attract more doves.
And while some decoys are made from foam which can easily be damaged by the elements, these are made from hard plastic, so they can stand up to the test of time. Hunters claim they can even stand up to getting shot (by mistake, of course!).
Cost and Value
These decoys ring up on the lower end of our price range and we love their value because they are no-frills and don't require batteries, but because you can group them together in realistic configurations, they work.
4

. Mojo Decoys A Flickers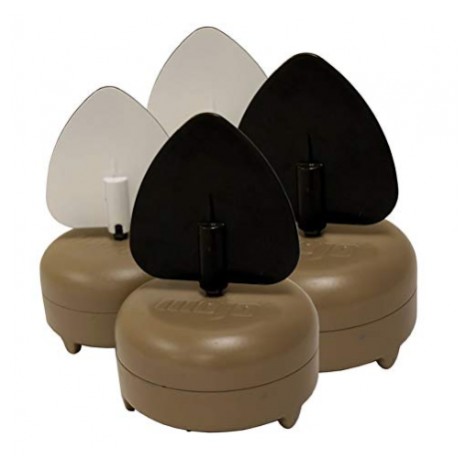 The Mojo Decoys Dove A Flickers function differently than the other products that we have featured on our list so far. They are meant to actually mimic the flash that real doves give off when they are in a flock, and you will receive 4 units with each purchase.
Mimics the Flash of a Flock
These decoys are designed specially to mimic the flash that genuine doves give off when they are grouped together in a flock. Two of the spinning units are colored off white and two of the spinning units are colored brown for a more realistic look.
What's really interesting about these spinners is that they are programmed to spin and turn on and off at different random timer intervals to mimic the way that a real flock would behave.
Each unit takes 3 AA batteries (which are not included and must be purchased separately). That's 12 batteries in total. Each battery set will provide you with about 20 hours of action out in the field.
Meant for Dry Fields
These products are designed to work best in dry fields. You will be placing these on the ground, so you will need to be able to see them. In high grassy fields, these won't do you any good.
For the best results, place these at random in the front of the dove stand and watch as the birds come right your way.
Cost and Value
The Mojos ring up towards the top of our price range and we love their value because you will get 4 units that are specially programmed to attract more game and because the battery life on each battery set is extended.

The Hunter's Edge Wing-it set is another that comes with 4 to purchase. And while these aren't automated either, you will be able to mount them in a few different ways and group them to make them seem more realistic and to attract more game.
Mount with Clip or Pole
This product comes with two available options for mounting. Each unit comes with a sturdy alligator clip for attaching to branches and the like. There is also a chest mount on each unit so that you can mount each on a pole.
The poles for mounting are not included and will need to be purchased separately, though you can purchase a pack with the pole mounts for a little bit more in cost.
In-Flight Look
This item comes in a pack of 4. Each unit is painted realistically and is in the proper landing position with wings spread. You will be able to group these together in order to make them more appealing to live doves, or you can spread them out based on your needs.
Cost and Value
These decoys ring up in the middle of our price range and we love its value because it comes with 4 units that can be mounted in 2 different ways to satisfy your needs.
6

. MOJO Outdoors Elite Series Motion
The MOJO Outdoors Elite Series Motion is the most premium product on our list by far. For this premium price tag, you will get just one bird with your purchase, but this product is more advanced than any others on our list by far as well.
New Innovative Design
This decoy is reimagined and functions more realistically than ever before. While other motorized products can shake and rattle causing startling noises (and actually driving away doves), not to mention them having noisy motors, to begin with, the Elite Series has been fine-tuned to operate in virtual silence.
With a new support frame that attaches to and houses all of the motorized and power gear, your decoy will function smoothly without having the opposite effect intended.
You will also notice how realistic the product looks, all the way down to the intricate feather detailing.
Easy Maintenance
This product comes in a few separate pieces to make maintenance easier. The motorized and power components are stored inside of the decoy skin which fits snugly over it. You can remove this skin to keep your product clean and to maintain parts as necessary.
This product comes with the steel support pole that you will need to erect it. This unit is battery powered by 4 AA batteries (which you will have to purchase separately). It comes with an on and off switch.
Cost and Value
This item rings up at the top of our price range and we love its value because it is the most advanced motorized product on the market and will truly last a long time. Plus, its hyper-realism and quiet motor draw in doves like no other.

7

. Lucky Duck Rapid Flyer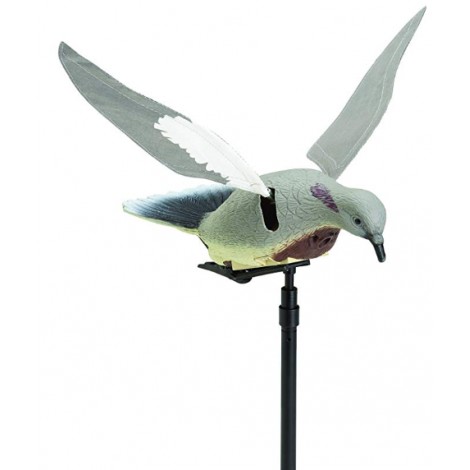 The Lucky Duck Rapid Flyer is another motorized option that will help you to pull in the birds. With a randomized flapping motion to mimic real life doves, as well as an adjustable stake to fit your hunting area's needs, you'll be heading home with a full bounty.
Randomized Flapping
This decoy is one of the few products on the market that comes with a randomized flapping motion. This is designed to mimic the habits of live doves, and works to be more natural. Plus, it also helps to preserve battery power.
Speaking of which, this product requires 3 AA batteries to operate which are not included with your purchase and must be bought separately.
Adjustable Stake
This product is also one of the only on the market that comes with its own adjustable stake. Others that come with stakes typically are fixed, but with this product, you will be able to adjust the stake height from 7 inches to 12 inches, depending on the area that you are hunting in.
We like that this product is super portable. It comes with its own convenient travel bag and the two wings also easily disconnect so that they won't be damaged during transport.
This product is made from sturdy plastic, but the wings are made from fabric which does not hold up as well. More care needs to be taken with them.
Cost and Value
This item rings up in the high middle of our price range and we like its value because it comes with more accessories that are useful and because it offers realistic flapping patterns.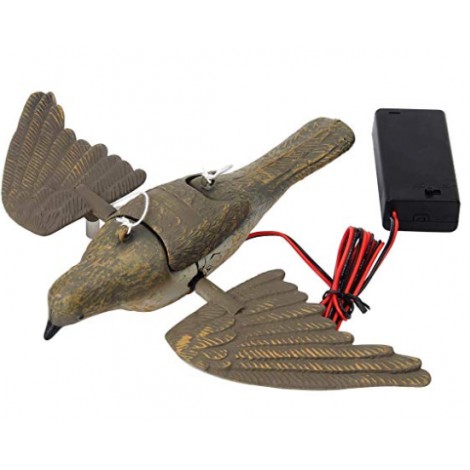 The Cyberone Electric is not only one of the most inexpensive products on our list, but it is also motorized, making it the most affordable motorized option yet. It's made from durable plastic and can be suspended to bring more doves to the area.
Meant to be Suspended
This product is an electronic decoy that is designed to be suspended from a tree or from any horizontal post. There are two eyelets on the back of the product--one on the neck and one right before the tail. Simply string wire or string through each eyelet and suspend the product at your desired height.
Made from Durable Polyurethane
This decoy is made from super durable polyurethane. This product is not easily broken and can sustain some impacts. It is also resistant to fading.
The battery pack is connected to the body through a length of wire. This product requires 2 AA batteries to operate, which you must purchase separately.
Cost and Value
This item rings up at the bottom of our price range and we like its value because it is by far the most inexpensive motorized decoy and because the polyurethane body is durable.

9

. GUGULUZA Dozen Realistic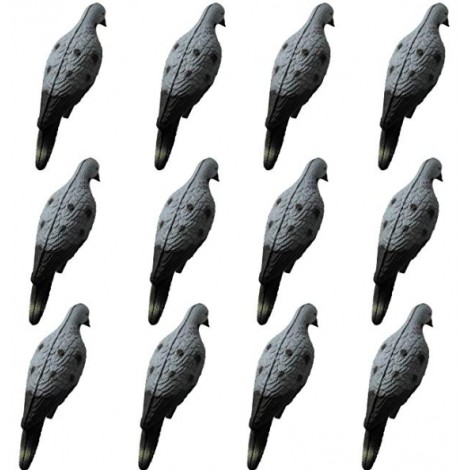 The GUGULUZA Dozen Realistic literally delivers to your door one dozen realistically painted foam doves. These are straightforward with clips on the bottom and can be successfully grouped to attract your prey.
Made from XPE Foam
These decoys are made from sturdy XPE Foam. This foam has some advantages in that it is light and it is flexible.
While the head and tails are made from solid foam, the inside of the body is hollow. This serves a few purposes. For one, it ensures that the heads and tails will remain securely attached to the body. It also means that the body can be collapsed when you are transporting them making it a space saving feature and making it easier to organize your hunting gear.
You can simply collapse the bodies during transport, and a few minutes exposed to the sun will plump them back to their original form.
Simple Clip On
These products have nice realistic paintings and etchings which differ from the front to the back as you would see on a real live dove. These come with clothespins attached to the bottom so you can clip them on posts, fences, or branches to attract doves in.
Cost and Value
These items ring up in the high middle of our price range and we like its value because you get more doves at this price than any other purchase and because they are easy to transport.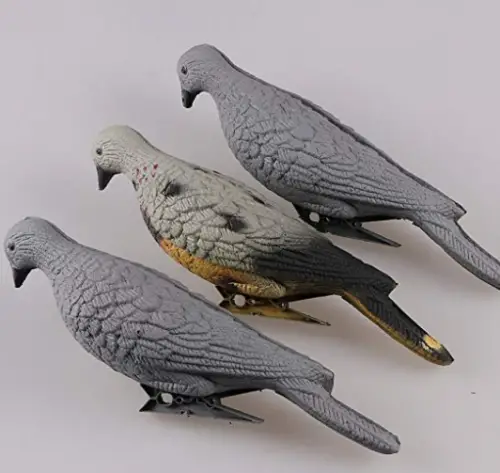 The IRQ Baits are part decoy, part decoration. Folks have hunted successfully with these (and have decorated their homes!), and they can fit the bill if you're looking for something super inexpensive in a pinch that you aren't counting on lasting for a long time.
Different Colorations
This product comes with 3 units to purchase. You will get at least 2 different color styles with your purchase, though which style you get two of is selected at random. One color style is all gray, while the other color style is light gray with a yellow breast and red and black markings for detail. These do have realistic etchings in them.
These measure about 28 centimeters by 8 centimeters.
Made from EVA Foam
This decoy is made from EVA Foam. This foam is decently durable, though the birds are hollow. The clips on the bottom are simply plastic clothespins so they are not as strong, nor as durable as the alligator clips seen above on other products.
Cost and Value
This item rings up at the bottom of our price range and we like its value because it is a great budget option that can be used to fulfill a variety of needs.

Subscribe to our Newsletter