Best Cultivators Reviewed & Rated for Quality
last updated:
Mar 05, 2019
If you take gardening seriously and plant more than the casual backyard flowers, you need a tiller. Part of having a great garden is tilling and cultivating the soil. It sounds like a lot of work, but really all you have to do is choose the right tool and you should be on your way to getting the perfect garden and healthy vegetation without an aching back at the end of the day. There are thousands of options available in the market, though, all of them with different features and capabilities. Whether it is your first time considering a tool or you are looking to make an upgrade, you are in the right place. We will help you narrow down the options, understand the different features and how they can make garden easier and more productive for you.
In a Hurry? The test winner after 4 hrs of research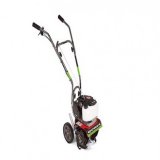 Earthquake 12802 MC440
Why is it better?
5-year warranty
Superb and powerful engine
Superior air filtration system
Reversible tines
In a
Hurry? Editors choice: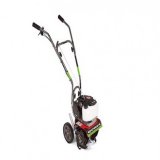 Test Winner: Earthquake 12802 MC440

5
Researched Sources
9214
Total Readers
9k
Reviews Considered
4
Hours Researching
10
Products Evaluated
Capacity
Ease of Use
Durability
Materials
Advanced Features
By Default
10 Best Cultivators
1

. Earthquake 12802 MC440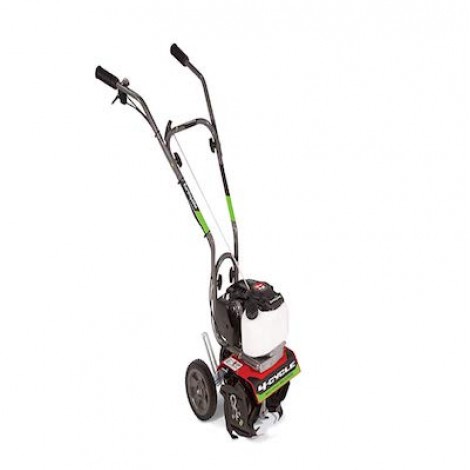 5-year warranty
Superb and powerful engine
Superior air filtration system
Reversible tines
Not easy to start
Difficult to check oil level
Despite its small stature, the Earthquake 12802 is armed with an incredibly powerful engine for aggressive tilling and cultivating. The tiller is fitted with unique air-filtering technology and better maneuverability for better experience and results. It is a great tool for the modern farmer that wants to spend less time working on their garden without compromising the results. The strong engine ensures that tines don't tangle easily when weeding and you can till deeper with ease. This mini-tiller is the perfect addition for gardeners with a small to medium size garden.
Superior Air Filter System
The MC440 has a 40cc engine and a superior air filter system that keeps the dirt out of the engine while supplying clean air for optimum performance. The engine has variable speeds for different applications.
Reversible Tines
The tines of the MC440 can be reversed to the alternate rotation from cultivating to aggressive digging. It allows the MC440 to handle both duties equally well.
Cost and Value
The cost of the Earthquake MC440 is reasonable in comparison to other gas-powered tillers. It has substantial power output and the quality is excellent. It is worth every penny you pay.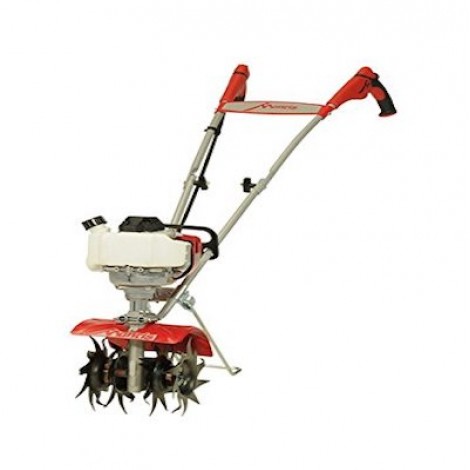 Perfect for all sizes of gardens
Incredible, reliable, and powerful industrial-sized engine
Quiet performance
Easy to assemble
The width of the tines is not adjustable
Might need a couple of pulls to start
The Mantis 4-Cycle is a handy, powerful, and highly adjustable option. It's built for deep and shallow tilling, and its curvy tines, which turn at speeds of up to 240 rpm, make easy and quick work of tilling. Armed with a variety of features, this little but reliable tiller offers everything you need to take your gardening to the next level and make it easier. For gardeners that are looking for more of a tiller than a tiller, this is a great choice. Even though it has tiller features, it is strong enough to till through loose soil with its powerful engine and incredibly fast turning tines. Having a 4-cycle engine means you don't have to worry about mixing the fuel because it uses gas.
Honda Engine
The Mantis Cultivator is fitted with a durable, Honda 25CC engine capable of spinning the tines twice as fast. It has a finger controlled throttle to give you total control of power and speed while making operation a breeze.
Innovative Tines
The tines are perhaps the most innovative feature this tiller has to offer. Even though the width of the tines is not adjustable, the depth is. They can till as far as 10" deep and they can also shallow cultivate up to 2 to 3 inches deep depending on your preference.
Cost and Value
The Mantis 4-Cycle does not come cheap. That is because of the heavy-duty industrial Honda engine that keeps running tirelessly and the unique and innovative tines. Even though the price is somewhat steep, you get value for your money because the tiller is reliable and powerful and the engine does not stop easily. You could also make even more out of it by buying the optional attachments.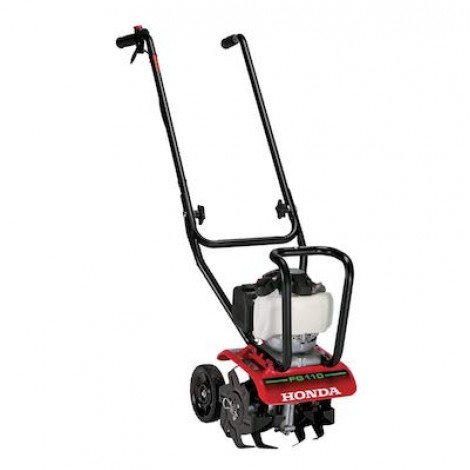 Powerful 25cc engine
Quality all-round metallic build
Uniquely designed tines for better and more efficient tilling
Front engine guard for protection
The price is a little steep
The tines are not adjustable
If durability and power are your main concerns when looking for a tiller, gas-powered options are usually the best. The Honda FG110 fits the bill for durability and power perfectly. It is gas-powered with a powerful 25cc 4-stroke engine to maximize power output. The tiller is well built with high-quality components and tines for an overall impressive experience. For gardeners in areas where the soil is a little compacted, this is a formidable tool to bring to the fold. It is powerful, durable and capable of handling tilling and cultivating duties equally well. The features and materials used in the making of the tiller are high quality and you should expect nothing less from this one of a kind machine.
Power
When it comes to tilling, you need brute power and the Honda FG110 offers that through its powerful 25cc, 4-stroke engine. It is the epitome of brute force and the perfect tool to have, especially when dealing with hard crusts or tilling your garden for the first time.
Hybrid Design
The forward rotating tines have a hybrid design to improve on the soil turning effect and improved tilling and cultivating action. The tines are metallic and incredibly strong. The design and strength will easily work through crusts and improve the condition of your garden.
Cost and Value
Because of the power and diversity, gas-powered tillers and tillers usually have a higher price tag. The Honda FG110 is no different. Even with the price tag, you get value in quality, durability, and efficiency of the tiller.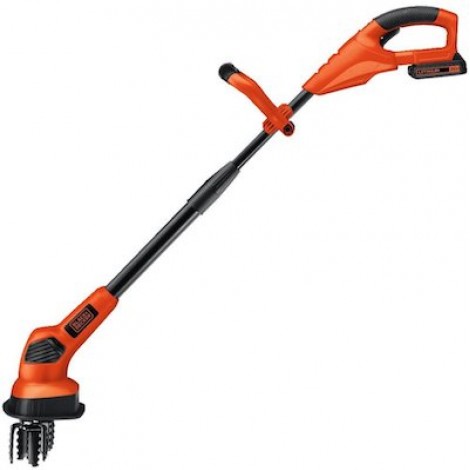 Strong 20V lithium-ion battery
Small and lightweight, perfect for elderly gardeners
Maintenance-free motor
Easy to use and store
The depth of the tines is only 4"
Ideal for small scale use, weeding, and scratching loose ground
The greatest challenge with operating electric-powered tillers is the limitation of the length of the cord. The LGC120 by BLACK+DECKER solves this with their cordless option, which is powered by a 20V lithium-ion battery. Theis one is able to handle up to 325 sq. ft. of ground on a single charge which is quite impressive.
Powerful Battery
Electric options come with two challenges. If it has a cord, the length of the cord limits the reach of the tool. If is battery powered, then the longevity of the battery can be a limiting factor. The BLACK+DECKER LGC120 solves this by having an incredibly powerful battery that will easily go over most backyard garden with ease and plenty of power to spare. This makes the battery the most commendable feature on the LGC120. In most cases, having a battery-powered one could have limitation. But the lithium-ion battery fitted on this particular one makes easy work of large chunks of land without breaking a sweat, which is very convenient.
Horizontal Tines
Unlike the different options we have already looked at, the tines on the BLACK+DECKER LGC120 function differently. They are horizontally placed with a counter-oscillation motion. It reduces the chances of missing spots on your garden while keeping the machine small, lightweight, and functional.
Cost and Value
This one offers a lot of convenience for its price. Even though replacing the battery is somewhat costly, it takes time before you need to replace it, and it is more affordable compared to buying gas. You also don't have to deal with the annoying cords that come with other electric-powered options.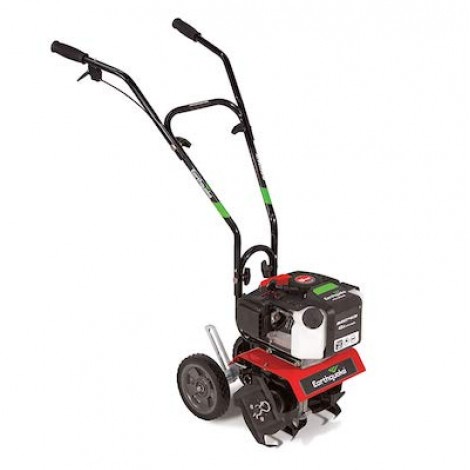 It is extremely easy to assemble
Powerful 1.7HP gasoline engine
Versatile for various applications
Reversing the tiller is simple and it remains aggressive
It packs quite a rattle
The handlebars could be sturdier and a little longer than they are
This is a handy and versatile tiller that will not only till, but, is also handy in weeding and mixing the soil. It is fitted with an extremely powerful engine and even comes with a five-year warranty to put any worries you might have to rest. With an impressive collection of features like the overhand controls, it provides better and more accurate performance while tilling and also weeding.
Multi-Use
Its range features which include the engine make this the perfect tool to have for all-round use in the garden. The buttons and controls are conveniently placed to guarantee easy reach and use of the tiller. It is ideal for gardeners that want more than just a tiller and require a tiller with a little more kick to it and can do some tilling.
Powerful Engine & Tilling Depth
The MC43 is fitted with a 43CC Viper engine, which is the most powerful in its class with a 1.7HP rating. With the additional power, tilling and mixing the soil is a breeze, and you don't have to worry about spending too much time going over the same patches again. Like most cultivators, this particular one has an 8-inch tilling depth. The tilling width is variable from a minimum of 6" to a maximum of 10". This is essential depending on the size of your garden and also on the distance between your plants. It makes weeding much easier.
Cost and Value
You might have to dig a little deep into your pockets to land this beauty, but it's definitely worth it. It comes with plenty of power, features, and unlimited range. It will not only till but also mix and weed, which means you get to use it quite frequently, giving you value for your money.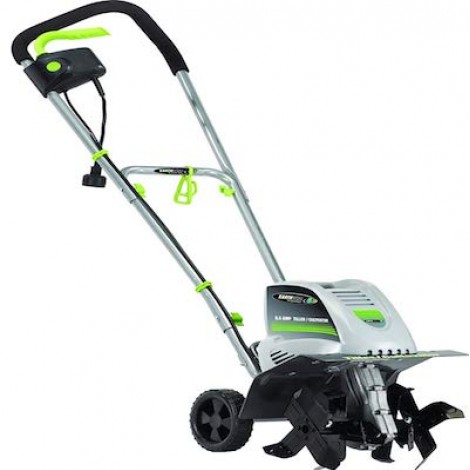 Lightweight and easy to maneuver
Ergonomic grip
Portable with flip down transport wheels
Easy to assemble
The reach is limited by the length of the cable
Difficult to deal with the cable
Earthwise is a company that has built a reputation over the years by designing and building products that are environmentally friendly without sacrificing performance. If you prefer not to use gas on your tiller and would rather use the cleaner electric-powered but equally capable options, this is the perfect fit for you. The TC70001 might be small, but it packs quite the punch and easily handles a substantial amount of soil.
8.5 Amp Motor
The four mean-looking steel blades are powered by an 8.5 amp motor and can easily go through the most compact soil. The electric-powered motor allows for precise tilling and a constant supply of power to the blades.
Adjustability
Whether you have a small garden or a larger one that you would like to quickly get tilled, the adjustable steel tines have your back. You can easily extend them from seven to eleven inches and they have an 8" cutting depth allowing you to reach farther and deeper for better soil turning.
Cost and Value
Compared to other options in its class, the Earthwise TC70001 is quite affordable. It is economical to run since you don't have to worry about gas, and with its neat and effective features, it is a must have for you and your garden.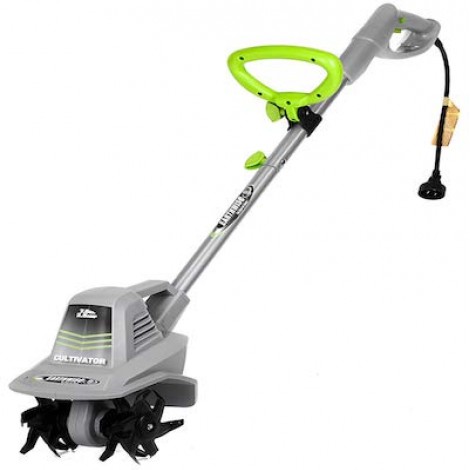 Affordable and functional
Electric-powered, easy to maintain motor
Comfortable trigger handle
Easy to store
It is difficult to operate the tiller while keeping the cord away from the tines
It is only ideal for small gardens
The TC70025 is a great fit for buyers with a small garden who are looking for a ferocious but budget-friendly tiller that will tend to all their gardening needs. This small but very capable tiller has a 2.5 amp electric powered motor, it is superbly easy to operate and because of its petite size and it is easy to store. Electric cultivators are always a great benefit to any gardener. They are kind to the environment and the motor is easier to maintain. Additionally, you don't have to worry about the cost of gas. The Earthwise TC70025 is fitted with a 2.5 amp motor. It might be small, but for its application, it is more than capable.
Compact Size
Do not be fooled by the petite size and the 2.5 amp motor on it. This tiller is strong enough to cater to all your gardening needs. what's more, you don't have to worry about the regular maintenance that comes with gas engines or pollution.
Comfortable
Even when gardening, comfort is paramount. That makes the handle of this tiller one of the stand out features. It is both functional and comfortable. It's fitted with a trigger at the side that allows you to fire up the tiller and shut it down with ease and convenience.
Cost and Value
Earthwise has built a reputation by building electric options that are budget-friendly. The TC70025 is quite affordable and is armed with plenty of features for its use. It offers a great balance between price and functionality.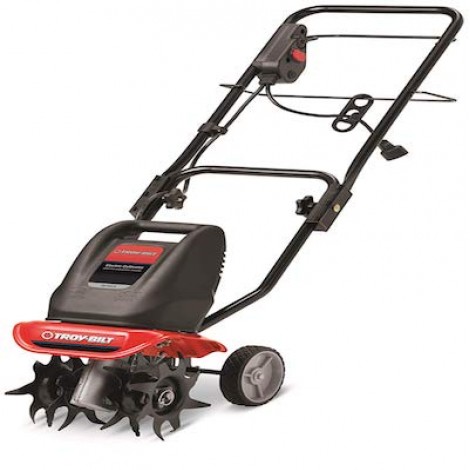 Electric powered
Ergonomic design that is easy to use and maneuver
Low maintenance motor
Advanced 3-way tines
The tiller is corded which means its reach is limited
The angle of transporting is a little odd
Troy-Bilt has a variety of gas-powered tillers in their lineup. However, in a market that is so competitive, going for a greener option with less maintenance seems like a great move. This 6-amp electric-powered motor has four 3-way tines and can go up to 5" deep. It is light with an ergonomic design that is easy to use. Electric tillers are favored because of how environmentally friendly they are. This particular one also scores some points for being very user friendly especially because of its ergonomic design and lightweight frame. It's highly recommended first users because of it's easier to maintain and for elderly users because of its light frame.
Four Rotating Tines
The tiller has four advanced 3-way forward-rotating tines designed to dig, tear, and turn the soil. With the innovative design, tilling and cultivating is much easier.
Powerful Electric Motor
The 6.5 amp electric motor provides enough power to cut through weeds and turn the soil. The tiller is corded so you always have power at all times.
Cost and Value
The Troy-Bilt is more costly compared to other electric-powered options that we have reviewed. However, with its design, ease of use, and motor, you get value for your money and a reliable and aggressive tiller.
9

. Greenworks 10-Inch 40V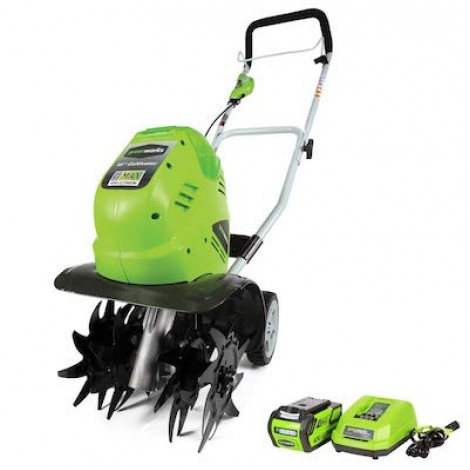 Power 40V battery
Foldable handles for easier storage
Up to 120 minutes of running time
Reasonably priced
Ideal for small and medium gardens only
The tines are not the toughest quality in the market
Even though for its size the Greenworks tiller is shorthanded in terms of the tilling area, it is still a decent addition to your garden. It gets the area easily tilled so you don't need to worry about going over it multiple times. It is a great option to consider, especially if you love the convenience of electric-powered tillers without the downside of having to deal with the cord.
Well-Performing Battery
The high-performance battery offers consistent performance without the power fading or losing memory after charging. It's a great plus since you don't have to worry about poorly tilled areas as the battery is dying out.
Adjustable Tines
The tiller has adjustable tines. Even though they are not very flexible (with a minimum of 8.25" and a maximum of 10"), they are perfect when working with small and medium gardens.
Cost and Value
This Greenworks tiller does not have the kick and power that gas models have. But for the benefits and features you get, the price is reasonable. It has some plastic parts, but in general, you get a great product able to take a decent amount of abuse at a good price.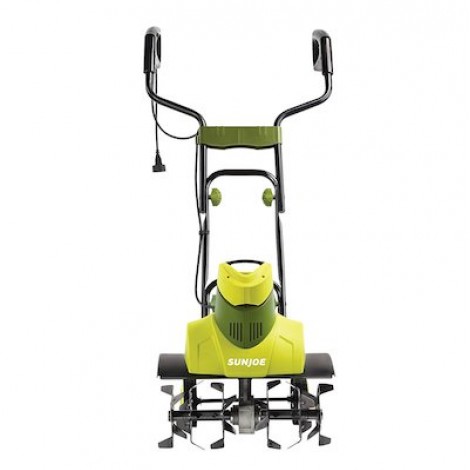 Full 2-year warranty
ETL approved
Maintenance free electric-powered motor
Broad cultivating width of 18"
Working around the cable is a nuisance
The reach of the tiller is limited by the length of the cable
For proud owners of small to medium gardens, this is the best tool to add to your arsenal. It is powered by a 9-amp motor and capable of cultivating up to 18" wide. It is fitted with six tilling blades and it is electric powered. You don't have to worry about gas or maintenance, and it comes with a 2-year warranty. It is a neat, easy to maintain tiller ideal for both first-time and experienced users, the six tines allow you to cover a wider area more comprehensively with a cheaper running cost compared to gas tillers.
9-Amp Motor
The most interesting part about the Sun Joe Tiller is the 9-amp motor. It is not only sufficiently powerful, but it is also maintenance free. You don't have to worry about the cost of maintenance or time. Just smooth, reliable performance all the time.
Numerous Tilling Blades
The cultivator is fitted with 6 tilling blades. It's a unique feature that minimizes on the distance between the blades and maximizes on tilling. This way, you don't have to keep going over the same patches again for thorough tilling.
Cost and Value
Compared to other electric-powered tillers on this review, the Sun Joe tiller is on the higher end. However, the extra bucks can mean quite the savings, in the long run, considering that you don't have to worry about maintenance or the costs that come with tuning. It might have a higher price tag initially, but in the long run, it could save you a fortune.
Criteria Used for Evaluation

Capacity
The capacity is a crucial factor to consider when choosing a good tiller. It dictates the power rating of the engine or the motor, hence its ability to till or cultivate. If the power is too low, the tiller is severely limited, and the tines will easily stop when tangled with the weeds.
In our reviews, the first factor we considered was how strong or powerful the engine or motor of the tiller is. We understand that different people have different needs, but we also understand that there should be a minimum capacity, and that is what we considered.

Ease of Use
Using your new tiller should not be a pain. We took into consideration a few aspects with regard to ease of use. These included how easy it was to get the tiller assembled and set up, the ease of moving it around, comfort, and location of the different controls.
By considering these aspects, we were able to choose products that were relatively easy to use. Even though the degree of use varies from product to product, most of them are relatively easy to use and highly effective in both tilling and cultivating.

Advanced Features
We looked at the different features that each product had to offer. These ranged from essential features like the rating of the engine to convenience features like the positioning of the control button and even the design of the handles.
By considering these features, we were able to identify the tillers and tillers that were best tailored for comfortable and effective use.

Durability
A good tiller is built from quality materials and should be durable with minimal maintenance. Some tillers and tillers have parts made out of plastic, but the most important parts, like the tines, the engine, and its components, should be made from high quality and safe materials.
A durable tiller is not only easier to maintain, but it will also offer you service for a longer time giving you value for your money.

Materials
It is important to consider the materials used to make the tiller of your choice. Ideally, the materials used form the basis of quality. If possible, you should avoid tillers that have plastic parts since they break easily.
Instead, focus on high quality materials like steel, quality air filters, and high grade rubber tires. However, you should know that having only premium materials on the tiller increases the weight of the tiller and demands a higher price tag.
Expert Interviews & Opinions
Most Important Criteria
(According to our experts opinion)
Experts Opinion
Editors Opinion
Users Opinion
By Default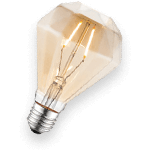 Take It Easy
While a cultivator isn't an absolutely necessary addition to your garden tool repertoire, it is going to make your life a lot easier, especially if you have a large garden. They require a lot less physical effort to use and will save you a lot of time in the long run as well. Gardening isn't an easy task and it can be hard on the body, especially as we age. Investing in a cultivator will make your life so much easier and make gardening something you can do (and enjoy) for longer!
Horsepower
It's important to pay attention to the horsepower that is attached to the cultivator you are looking at purchasing. The higher the horsepower, the more powerful the tool will be. A good rule of thumb is that the higher the horsepower your cultivator has, the faster and easier it will be to get the job done. This doesn't necessarily mean you need to purchase the cultivator with the most horsepower, however, as you should always take into account the size of your garden. Be realistic when you are shopping, though. Just because you can buy a cultivator with a ridiculously high horsepower doens't mean your garden requires one that powerful.
Other Factors to Consider

Use
Different cultivators are built for different purposes. There are types that are built to break in a new garden while others are built for lighter tasks like weeding. Before making the purchase, consider what you would like to use the cultivator for and pick a formidable option.
By considering the use, it is easier to choose the right tiller that will meet your needs and those of your garden. If you're not sure, you can always go for a more powerful option since it is easier to upscale.

Portability
Even though you might not always have to transport the tiller, being able to easily move it around when in use is critical. This is particularly important if you're not heavily built or for elderly users.
The tiller should be light and easy to use and you can easily move it from storage to the garden and back. Even for larger tillers, additions like wheels can help to make it more portable and improve the general user experience.

Size
Going for a large rear-tine tiller for your small backyard garden would be overkill. You would also be shorthanded going for a small tiller for a large garden. That is why you have to consider the size of your garden before you buy the tiller. For a large garden, go for a large tiller and for a small garden, a small option is better.
When considering size, think along the lines of the capacity of the engine or the motor. It is also essential to consider the nature of the soil. If it is compact and rocky, you might want to get a stronger tool that will be more effective and make work easier.

Versatility
By choosing a versatile one, you can save money on other tools. If the machine can weed, till, and turn the soil equally well, you don't need to invest in additional tools to weed or turn the soil. It also makes it easy for you to complete the three tasks at the same time.
If the tiller can complete all three tasks at the same time, you will be saving time, effort, and money while improving the productivity of your garden. By going for a choice that only does one task, you will need to buy another separate machine to weed or turn the soil.

Adjustability
This is with reference to the tines. Some tillers have adjustable tines and others don't. It might not look like a significant feature, but it is. Adjustable tines can help you maximize on the area covered by the tiller and reduce the time taken to cultivate and till.
Adjustable tines also give you flexibility based on how you would like to subdivide the garden. It makes it easier for you to observe the distance and space requirements. By adjusting the tines, you can also reduce the chances of missing spots or having to go over the same area repeatedly.
Frequently Asked Questions
q:

Is there a difference between a cultivator and a tiller?

a:

Yes there is. A cultivator is perfect when loosening the soil especially in areas that have been planted before. A cultivator can also be used for other applications like weeding. A tiller has more power and is usually bigger than a cultivator. It is best for harder and more compact areas. Also, tillers are gasoline-powered.
q:

Which is the best tiller for my garden?

a:

The best tool for you depends on a variety of factors like the size of your garden, your budget, the type of soil, and intended use. In this guide, we have covered the different factors you can consider to help you pick the best one for you.
q:

Can I use my tiller for weeding?

a:

A tiller is not ideal for weeding. However, you can use one to weed. To keep the tines from getting tangled up by the weeds, go for an option with more power that can easily break through the weeds.
q:

How do I maintain the tool?

a:

The maintenance process and time differs from each option and from manufacturer to manufacturer. You should find the recommended maintenance times and processes in the user manual.
q:

Should I buy a gas or electric one?

a:

The decision on whether to buy an electric or gas tool depends on a few factors. First, determine the size of your garden and whether you're tilling or re-tilling. When making the choice, remember that gas powered options are more powerful than electric options, but electric options are more reliable and quiet.
q:

Why won't my tiller start?

a:

There are a couple or reasons why your tool might not start, such as the tool has been sitting idle for some time or the fuel has been sitting around for months. Sometimes, it only needs a few cranks. If the machine is new, check the manual to make sure you have the assembly right. If you can't find the reason, you should contact the manufacturer.
q:

Should the fuel filter be replaced?

a:

Yes. The standard period differs based on the manufacturer. The instructions should be on the user manual. On average the filter should be replaced every three months or after every 100 hours of service.
Subscribe to our Newsletter