Best Cargo Vests Reviewed & Rated for Quality
In a Hurry? Editors choice: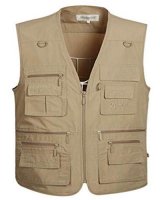 Test Winner: Gihuo

Do you work in an environment where you might need a lot of pockets? Like in the construction or manufacturing industry? Or maybe you just like the look of a good cargo vest. Whatever your reason, we have you covered. We have put together a comprehensive list of our favorite pocket filled vests just for you! There are many different types of cargo vests on the market today and that can make it overwhelming when trying to purchase the right one. So we have done the research rated each cargo vest by quality while highlighting their features, plus their pros and cons so you can quickly and easily make a cargo vest purchase that you are comfortable with.
Standout Picks
Criteria Used for Evaluation
Materials
When you're talking about any kind of vest, one of the things that you must get right is the material used for the outside of the vest. This is what's going to be used to support the pockets, keep you safe from the elements, and prevent it from tearing when it comes into contact with something sharp. Typically speaking, the most commonly used material for the exterior of a cargo vest is polyester. It's cheap to produce/procure, it's sturdy but also comfortable to wear, and it's breathable as long as it remains relatively thin. Like with a lot of clothes, sometimes you'll find a cargo vest that constructs its exterior from a mix of polyester and spandex, to add that extra bit of stretch. But most of the time, it's just polyester solo.
Comfort
It wouldn't be much of a vest in general if it wasn't at least somewhat comfortable to wear. After all, if you're going to be wearing this vest while working, then it better be comfortable to actually wear. It may seem counterintuitive to give someone working a manufacturing job a comfortable vest to wear while doing it, but remember, hospital scrubs are comfortable enough to sleep in, precisely because the people wearing them are going to be expected to do so for long periods of time. Making sure that the clothes the worker is wearing don't wear them down will ensure a better performance. Besides, when you're hiking or fishing, do you really want the clothes you're wearing to rival the conditions you're traveling through in terms of annoying you? Personally, we would rather be wearing something to help us relax on a soothing nature hike or fishing trip.
Features
What's a cargo vest without pockets? Well, a normal vest, but that's beside the point. The sole purpose of a cargo vest is to provide you with a convenient means of storing multiple items at once on your immediate person, at no inconvenience to you, others, or the work you're performing. Thus, having multiple pockets on you at all times is a great way to go about doing that, giving you more than one place, big or small, to store tools for your work. Now what's important to consider is the number of pockets you need your cargo vest to have. The most common number of pockets is about 14-16, though there are some with more and some with less. On top of that, you also have to consider how spacious you need those pockets to be. For this list, we judged how varied the space inside each pocket was, and how many variations on that there were.
Durability
This criterion should speak for itself. The last thing you want after spending close to $30 on average for a cargo vest, is for that vest to rip on the first thing it touches. Durability is something that everyone looks for in their clothing, especially as the price of said clothing only continues to climb as the years press on. This is doubly true for cargo vests, since they advertise themselves as being the vests for the worker, the traveler, and the athlete, so they'd better be tough. This is why durable fabrics are such a big deal when making a cargo vest because polyester is a lot stronger and resistant to abrasions than, say, cotton, and a lot better in the sun, at that
Value
And finally, of course, price. The price of these cargo vests was always going to be one of the biggest sticking points. Clothes can be expensive, so we at least made sure to choose clothes that wouldn't break customer's wallets over their proverbial knees and make them humble. The important thing is to both evaluate the price as well as the value of the product you're buying. Stores charge different prices for the same product, so there's a very good chance you'll get a better deal on one item in one store than you would a different store. So, you should always take your time with the items you buy, always making sure that what you buy is actually worth the price you're paying.
Advanced Features
Of course, to inspect one side of the coin, you must inspect the other as well. With that said, the internal materials used to make a cargo vest are just as important as those used to make the outside. After all, it won't do a lot of good to make a cargo vest sturdy, functional, and convenient if it's a pain to wear across the day. The internal material is the stuff that's going to be constantly rubbing up against your body, so unless the materials within are fine-tuned to be as comfortable as possible, then you're going to get sick of wearing that vest very quickly. The interior of a cargo vest is where you'll likely find such materials as cotton or spandex mixed in with the polyester to make it more comfortable to wear for long periods of time.
Responsiveness
It's one thing to be some arbitrary measurement of durable. It's another thing entirely to be able to perform well under the pressure of a job. You never know what curveballs your job is going to throw you, so you need to make sure that your cargo vest can measure up. To judge this, we scoured the user reviews left behind about each and every single cargo vest that eventually appeared on this list. We made sure that, taking into consideration everything each vest claimed to be able to do, that it actually held up to scrutiny with customers more often than not. Make no mistake; this was the criteria that ended up sinking the chances of would-be entries.
10 Best Cargo Vests


Kicking off our list, we have the Rothco Uncle Milty Travel Vest. bearing a different name, but a cargo vest all the same, the Uncle Milty is one of the finest vests in general that you can find on the market, not just cargo vests. So, what is it that makes it so great? Let's have a look.
Incredibly durable

Because of the many work environments that these vests often find themselves in, cargo vests have a reputation for being rather sturdy pieces of clothing. But even by that metric, this vest is incredibly durable, made from full polyester, which itself is then reinforced to make it even stronger. Meaning that this vest is almost impossible to tear and can survive even the toughest work conditions.
Top-notch performance
But durability is only one side of the coin when it comes to what people are looking for with a cargo vest. The other half is performance and usability, which this vest also excels at with flying colours. Everything from the pocket quantity, to the internal space, all the way down to the base design of the vest is designed to be as superior in performance as possible.
Cost and Value
It makes sense that these vests would be rather pricey, given how high-quality everything about it is. But thankfully the price isn't too high, and certainly not the highest that we'll see on this list. For what it's offering you, the price it generally stands at is a very good deal.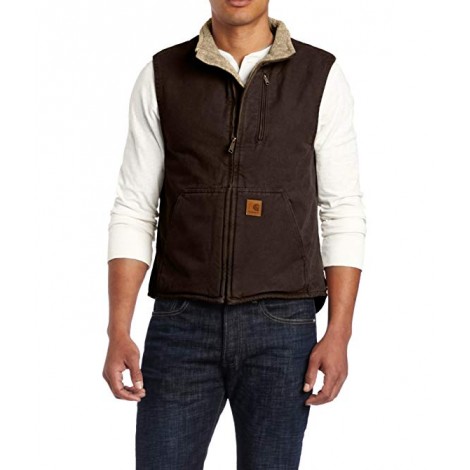 Switching gears, a bit, we come upon a very different kind of vest. The Carhartt Sandstone is a utility vest that can be considered a subversion of the utility vest as a concept, while at the same time exemplifying the very qualities that make cargo vests so sought after. How can this be possible? Let's find out.
Faux shearling interior
Seeing as how this vest is meant more for designer clothing than a work environment, the interior of this vest is meant more with that in mind. The interior of this vest is made from faux shearling, an incredibly soft, comfortable material that keeps you warm and snug when you wear it.
Complete cotton construction

With other vests, the material used to make them is usually polyester or some other kind of fabric that's durable and good for a work environment. However, this vest is made 100% out of cotton, which as you can imagine, is not the best material to wear while working in physically strenuous environments under a hot sun. However, it is incredibly comfortable, and this vest never claimed to be a work vest, to begin with, so it balances out.
Cost and Value
Like most lines of clothing, this one comes in multiple sizes, with the price climbing as you go up in size. The price range on this jacket is, thankfully, very reasonable, likely due to the fact that it doesn't use as many high-quality materials as your average cargo vest.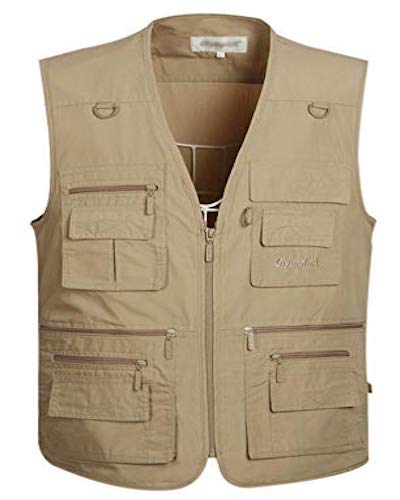 Finishing up our top three segments, we have the Gihuo Summer Safari Vest. This is the kind of vest that you wear when you're out on a safari or nature hike. The kind of places and activities that demand the kind of service a cargo vest can provide, while still being thin and breathable enough that you're kept nice and cool while wearing it.
Plenty of pockets
The one thing that every cargo vest needs to get right is the number of pockets. That is, after all, the main reason people tend to buy these vests. And these vests have pockets to spare, with a minimum of eight both on the inside and out.
Waterproof
When you walk through a dense forest, one of the things you will have to deal with is the water from the rain that's caught on the branches, leaves, and grass. So, you should be sure to bring clothing that's at least somewhat water resistant. While you shouldn't leave this vest out in the rain, of course, it will be able to take the occasional shower here and there.
Cost and Value
The best part about this vest is its price range, which is very tight and very fair, especially for a vest with the number of sizes that this vest has.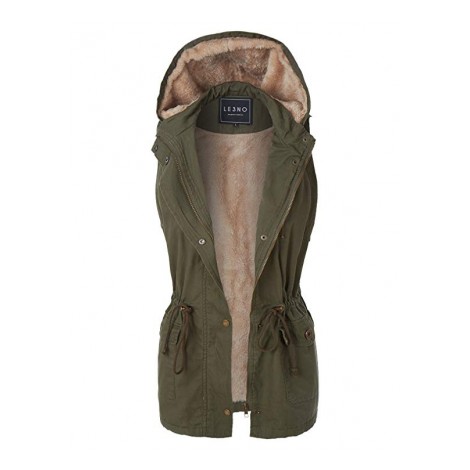 Coming in at #4, we have the LE3NO Military Anorak Vest. Much like the #2 pick, except a bit more rugged and suitable for more physically demanding conditions, the Military Anorak Vest is one that you can either take for a night on the town, or for an afternoon of work. Quite the precarious balance, so let's see how they manage.
Suitable for most occasions
When you wear this vest, you can wear it knowing that it will adapt regardless of the conditions it finds itself in. Whether it's on the job or out in the rain, this vest is designed to work as well in one as the other. So, you never need to worry about whether or not the conditions are suitable for your vest.
Military style
If you love showing off the guns while looking amazing everywhere else, then this vest is the one for you. It's military style, which basically means that it's sleeveless, along with a few other design flourishes such as multiple pockets.
Cost and Value
Once again, the price range for this vest is very reasonable and tight, given how many sizes it actually comes in. Which is very good for a designer vest.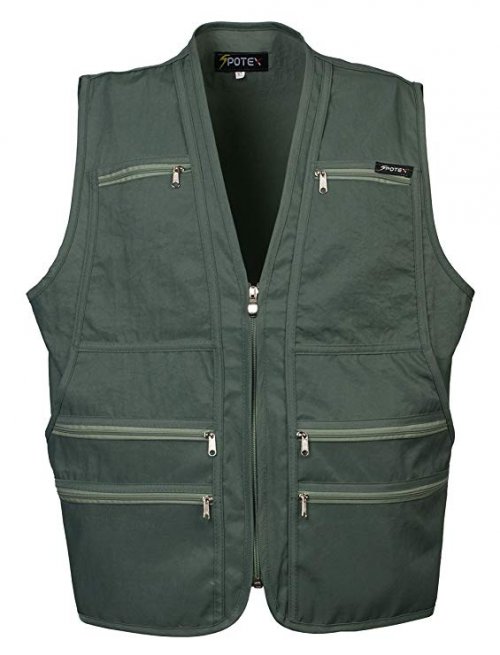 Coming in at #5, we return to the tough, sturdy cargo vest with the Beat the World 9 Pocket Cargo Vest. This vest is the kind you wear during fall or winter, and you're working construction or trucking. The kinds of jobs where you really do benefit from the extra pocket space. What else does it have to its name? Let's take a look and find out.
Durable but lightweight
This cargo vest is made from a blend of 90% polyester and 10% cotton. It's a very strong, sturdy vest, that still retains a very lightweight feel when you wear it. And while it runs a bit large, it still won't give you a bit of trouble when you wear it, providing durable performance, but with a lightweight touch.
Breathable
We've gone on, and one about these vests and their ability to be worn during activities of high physical stress, but the problem with that is the matter of sweat and how breathable the fabric is. Thankfully, the thin nature of this vest's fabric means that it is very breathable, even when under intense stress.
Cost and Value
We just keep going cheaper on this list, as this is the most affordable price range we've seen yet so far. And considering that this vest does not step back on the quality of the vest to suit the price, this vest becomes a much better deal as a result.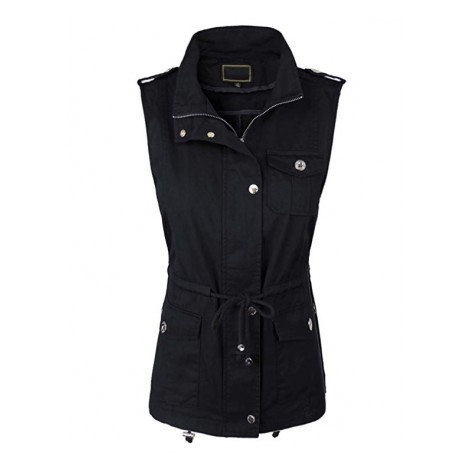 Coming in at #6, we have the MakeitMint Anorak Military Vest. Once again, we have a cargo vest meant more for general style and fabulous design rather than sturdiness. But no matter what road it takes, a cargo vest is a cargo vest all the same.
Wonderful feeling
This jacket may not be made of anything special compared to other jackets like it, but the way it's designed lends itself to feeling more comfortable when you wear it. Which is good when you're walking down the street wearing it, you want to feel as good as you look.
Sealed up nicely
Sometimes you need more than just a zipper to keep those stiff breezes out. Which is why this vest not only has a tough zipper that stays nice and tight, but it also comes with a set of buttons to hide the zipper for that more continuous look, as well as a rope tie to help keep the waist nice and sealed.
Cost and Value
The price range of this vest is a bit wider than the previous entries, but it's nothing you shouldn't be able to afford. Although the prices may seem a bit too wide in the gap considering that there are only three sizes.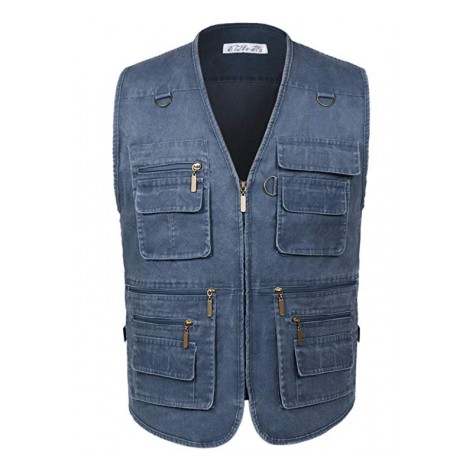 In the #7 spot, we have the Eidlvais Multi-Pocket Vest. Flipping back to the usual business of work and travel cargo vests, the Eidlvais is more or less the best version of that idea next to our #1 pick. So, what is it that makes it so excellent? A few things actually, so let's go over them.
Pockets to spare
You need plenty of pockets when you put on a cargo vest, and thankfully, this vest has you covered. This vest sports a whopping 12 outer pockets and an admirable 4 inner pockets, making for a total of 16 pockets overall. Definitely a great choice for the worker who often has their hands full.
Unisex
You'll often see different clothes specifically targeted toward different genders. And it isn't hard to guess why, men and women have very different body types from each other, so it only makes sense to specify certain clothes to those body types. However, the manufacturer of this vest claims that this vest can be worn by either gender.
Cost and Value
The main problem with this vest is the price range. Not to say that the price range itself goes up really far, but that either side, while a very tight range, is also expensive no matter which side you need.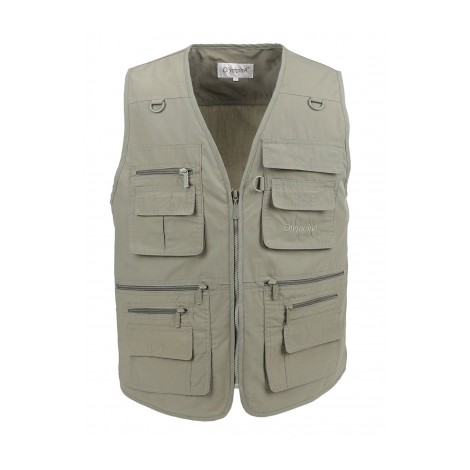 Kicking off our final 3 entries, we have our #8 pick, the Lusi Madam Poplin Outdoor Travel Vest. As the name suggests, this vest is meant specifically to be worn while on long hikes or car rides, really any kind of travel, this vest is perfect for. And why is that? Let's see and find out.
Perfect fit

This vest is an almost perfect fit on your body, giving you plenty of room to move your arms and neck around. Not to say the previous entries were restrictive, but they simply do not compare to the comfort and mobility offered by this excellent vest. This makes this vest perfect for any long trip or sport, including fishing, hunting, and much more.
Comfortable materials
Most cargo vests go for a balance of 90% polyester and 10% cotton, preferring strength over comfort. However, this vest has a more even balance of 35% cotton and 65% polyester, meaning that while it is still strong, it's also much more comfortable to wear.
Cost and Value
The price range of this vest is not as unforgiving as the previous entry, which is definitely a good thing when you consider the fact that there are a lot more sizes that this vest is working with.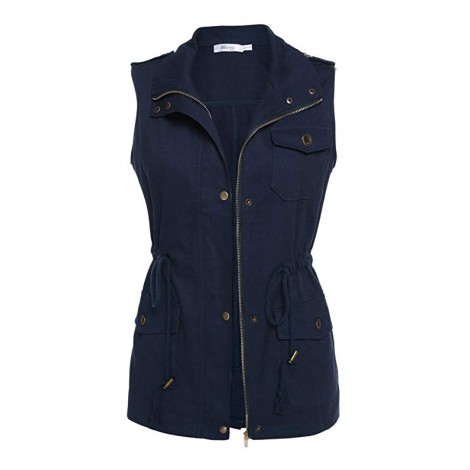 In our second to final entry, we have the Meaneor Sleeveless Anorak Vest. Once again, we come to our old friend, the military style anorak vest. However, there are a few things that set this vest apart from the other anorak vests on this list. What are those things? Let's take a look and find out.
Toughest materials
This is one of the toughest vests on this list, with an almost complete polyester make, and only around 5% dedicated to the more comfortable, but still durable spandex. This makes the vest incredibly durable, while still retaining the comfort that a vest like this needs to have in order to be worn for long periods of time.
Waist drawstring
We all feel like our vests could be tighter around the waist. Whether it's because of self-image problems, not wanting to make people think that our waist is bigger than it is, or if it's because we want the warm air inside during cold days to stay warm. Which is why it's such a good thing that this and other vests like it come with waist drawstrings.
Cost and Value
Unlike the entries up until now, this one only has a single set price regardless of size. And in Term of that one size, it's actually rather reasonable, if just a tad bit pricey.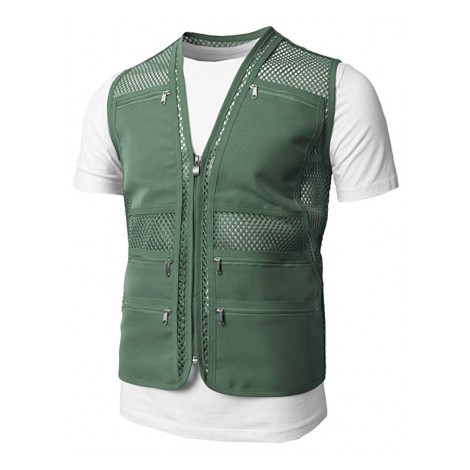 Finishing up our list, we have the H2H Casual Utility Vest. Though just because it's at the bottom of the list, considering the number of competitors it had to beat out, don't take that to mean it isn't worth your time, because as we will see, it very much is.
V neck design
When you first see the images of this vest, it may actually seem a bit too wide, especially with how wide the vest opens when you unzip. But you'll find that the V neck design is actually one of the better designs on this list, granting you breathability while still zipping up nice and neatly.
Waterproof
There's a certain quality that you may notice has been missing from this list, and that's waterproofing. Generally speaking, these vests aren't as waterproofed as other types of vests, but this option stands out in that regard as being incredibly waterproofed.
Cost and Value
The price range on this vest is incredibly fair, with the lower end of it being one of the lowest prices we've had on this list. So, if you need a good, sturdy jacket for those rainy days, and on a tight budget, then this is the one for you.

Subscribe to our Newsletter