Best Car Bras Reviewed & Rated for Quality
In a Hurry? Editors choice: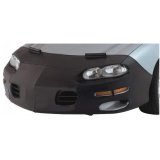 Test Winner: Lebra 2 Piece

We have all been there. You are driving down the road, new car, new
paint
job, you are feeling terrific about life right about now. Everything is going your way, but at some point, in your trip, you came upon a swarm of
insects
, a puddle of mud, or whatever else caused your car's entire front end to become disgustingly dirty. So, you naturally get it cleaned, but what do you do to avoid this happening again? For this purpose, we have Car Bras. A car bra's purpose is to act as support and protection for your car's front end. This could be protected from damage or just from getting too dirty. Plus, with its solid black appearance, pair it up with the right color, and it just makes your
car
look classy. If this sounds like a product you would want for your car, here are the top 10 best car bras on the market right now.
Standout Picks
Criteria Used for Evaluation
UV Protection
Car paint is built with the heat and UV rays of the sun in mind. So you will not have to worry about your paint fading for quite some time. However, if you feel like it is coming up, but you cannot afford a repaint job, buying a car bra is an excellent way to pad out the time until you get more money in your pocket. The majority of car bras nowadays are built to handle the rays of the sun without drying or cracking. And those that do not carefully tell you such in the instructions (do not want to leave it out where it will be damaged on your first day with it, after all).
Ease of Use
Putting on/taking off a car bra shouldn't be difficult in this day and age, so you should always look for the car bras that don't take that much effort to put on or take off. Some are easier than others, but in general, a car bra made today should not be difficult to remove or put on. So ease of application and removal are factors for even getting on this list, and how easy it became a factor for how high on the list they were placed.
Durability
This refers to two things: one is the material that makes up the car bra itself. It is usually made of a type of modified vinyl, which is unlikely to tear or break. However, in lesser brands or even in certain circumstances with more trusted brands, the bra can tear. This usually happens when the car bra comes into contact with something sharp while driving, or collides with a wall during a sharp turn. At this point, there is no use wondering if your car is damaged, because if the tear is all the way through (and especially if you hear the sound of metal colliding with something), then it is a safe bet that you have a repair job on your hands.
The 2nd thing is the durability of the hooks and grommets. These are the things that hold your car bra to your car, without which the whole thing would fly off mid-drive. Now, the default for car bra hooks and grommets is a thick, sturdy plastic, but the higher grade materials are made of solid steel. Those hooks are not going anywhere, does not matter what you throw at them. The plastic ones work just fine as well, but there is a noticeable difference between them. Look for hooks and grommets and make sure you know what they are made of before you buy them.
Style
One of the biggest reasons, bar none, that people buy car bras is that the best ones add to the style of their car. This is the main drive behind the design of sports car bras. Their purpose is not just to protect your car's hood, but to look good while doing it. But even with the more traditional models of car bras, style is still important. This is going to be covering up the front of your car, so naturally, you want it to look presentable.
Value
On average, and by average this refers to how much it costs at your average retailer or online shops like Amazon. And the average price there is around $60-80 dollars. The highest you will likely see a car bra go is around $130. Too low and that is how you know you are looking at a subpar product. Too high, however, and that is how you know you are being scammed. These are not complicated pieces of hardware, they do not take very much money to make, and as such should not cost more than what you typically see in an auto shop when you find one there. However, that can be retracted in the event of the bra in question having some kind of special feature that allows for that price to be higher.
10 Best Car Bras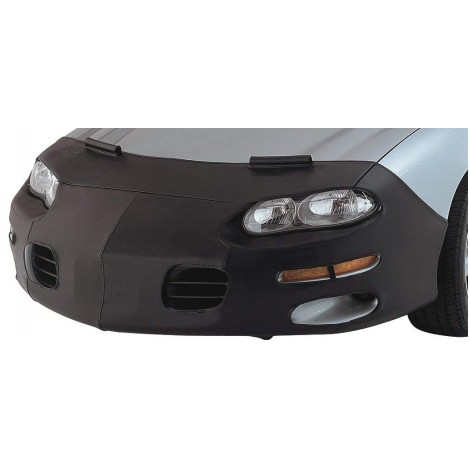 While Lebra was not the first company to make car bras, they are one of the best. Moreover, the Lebra 2 Piece Front End Car Bra is one of the best models in their entire lineup. Durable and stylish all at the same time, the Lebra 2 Piece is sure to give exactly what you are looking for and then some.
One justifiable concern of owning one of these is wondering what kind of weather conditions are okay and which ones are not. This is not a concern, however, with the Lebra, as its car bra can handle any climate and any weather. All while keeping your car's front end nice and clean.
Not only will this car bra take off any water or dirt that it encounters, but because you are driving and thus facing winds at dozens of miles per hour, the naturally breathing material that comprises this car bra will dry itself off. Meaning you do not have to keep removing it after a storm.
The main drawback to this car bra is the price. Not to say it is incredibly pricey, in fact, compared to others on this list it is downright reasonable. However, it is also not cheap, and that can be a turnoff for some people.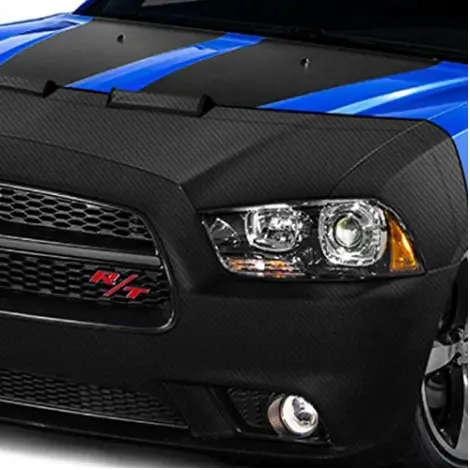 Colgan's method for creating their car bra involves heavy duty UV-treating vinyl, ensuring that said vinyl will not warp, crack or fade in any way against anything. Sound like overkill? It may be, but only because Colgan cares that much about their products being the best they can be.
The problem many people face with these vinyl and plastic car bras is that the sun is murder on them for long periods of time causing them to crack and fade as the sun continues to beat down on them. However, because of the heavy duty UV treating these car bras receive, the Colgan Original can take even the most intense sunlight and not get a scratch.
One of the most significant advantages that this car bra has is the ability to match with almost any kind of car. While some customization may be required to make it completely match, it does not take nearly as much as the other entries on this list, and it does not cost nearly as much either.
The Colgan is still pretty pricey, but not nearly as much as other brands. And the quality is such a high grade, which it does not affect the fact all that much that this is still worth your time.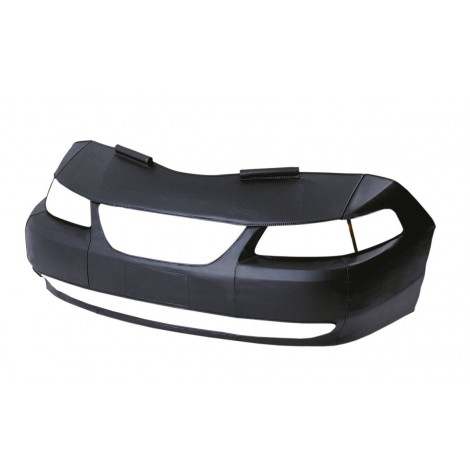 Covercraft has been one of the leading expert brands on car bras since the products first came onto the scene. Covercraft's spin on the model of the car bra is the full car mask, a full cover for the entire front face of the vehicle. Tough on the outside and soft on the inside, to not scratch the interior, this car bra is the face of luxury and comfort.
The inner layer of this car bra is made with a soft downy fleece that ensures that the paint job is left completely unaffected by wearing the car bra for long periods of time. At the same time, however, the outside of the car bra is durable, resistant to damage, and easy to clean for when you get bugs all over it.
While some car bras will adjust themselves when weather changes cause expansions/contractions, this bra does need to be manually. However, this does not make it an instant negative. In fact, this type of car bra is incredibly easy to adjust manually.
The main issue with this car bra is that even by car bra standards, it is incredibly pricey. Luckily the features of this type of car bra more than make up the difference, but it is still a very high price to ask for when there are other, cheaper options on the market.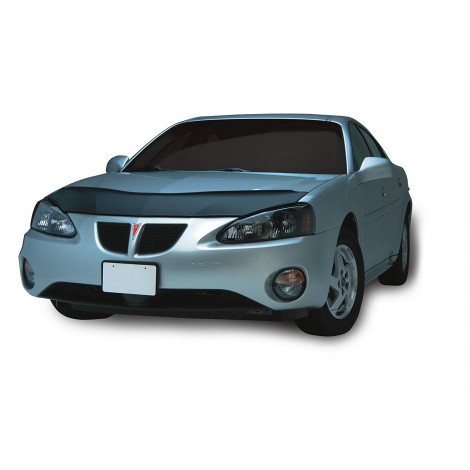 Sometimes you do not want to protect your entire front end, but instead just need some protection for your hood. Whether it's because of the brand new paint job that you want to keep looking as fresh as possible for as long as possible, or because you just hate cleaning bugs off of your hood, there's the Lebra custom hood protector.
Got a date and you want to impress them without your dirty, rusted, and dented up car hood getting in the way? Thankfully, car bras, in general, do not show any damage that may be underneath, so a hood protector that covers everything up will help to make your car appear more respectable.
While some may see this as a problem, and indeed this model has its downsides, there is something so satisfying about getting a hood protector that is entirely made for your hood in particular and no one else's.
Unlike other car bras, these being smaller allows them to be much cheaper purchases. At just a little under $40 in retail price, the Lebra custom car bra will more than suit your needs at a fair price.

5

. Coverking Velocitex Plus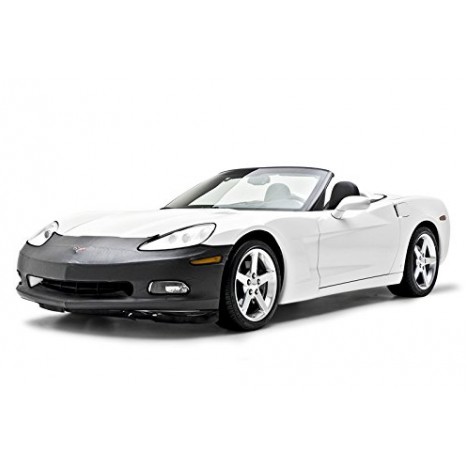 Now, Coverking is no strangers to this sort of thing, despite entering the business fairly recently compared to the others. Coverking is mostly known for making high-quality seat covers, so when they announced that they would be making car bras, ears perked up. And the Coverking Velocitex Plus more than meets expectations.
One of the biggest annoyances with car bras is that you have to remove it to pop open the hood. Not with the Velocitex, however, which lets you pop open the hood without having to touch the car bra. This is because, quite simply, the car bra is in two different pieces.
In most car bras, the hooks are plastic, which works fine enough, but it makes them unreliable under specific amounts of pressure. But with the Velocitex, the hooks and grommets are made of metal, making them more durable under stress.
The Velocitex is a excellent car bra, one of the best, but what puts it at $5 is the sheer cost of the thing. Most retailers have it at $130 or more, which can be too much for a lot of people, especially when much cheaper options of the same relative quality are on the market.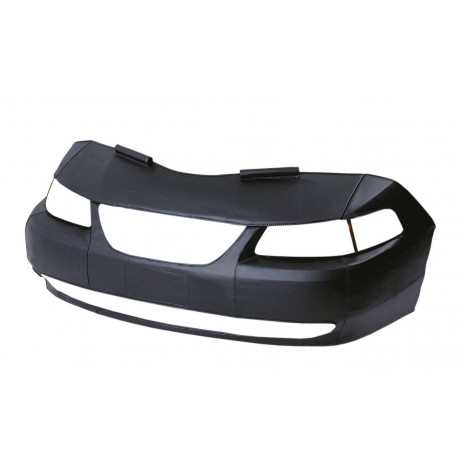 From covercraft AND Lebra, this time around comes this custom made the type of front end cover. Both of these companies are some of the best at what they do, so it should not be a surprise that them working together results in a high-quality car bra, and this model more than delivers.
Although this does hurt its chances of outlasting the vehicle it is sized for, this car bra is still specifically outfitted for your vehicle and no one else's, and that has to be admired.
Since it covers the entirety of the front of your car, you are guaranteed protection from dirt, rocks, heavy wind and rain, and any other assorted elements that may otherwise endanger your car. And because of the special blend of fabrics that make up this car bra, it is unlikely to tear even under heavy pressure from outside forces.
The best thing about this car bra is its relatively low retail price. It rarely goes for more than $100 or even $80 in retail, though smaller businesses may charge more to account for customization costs.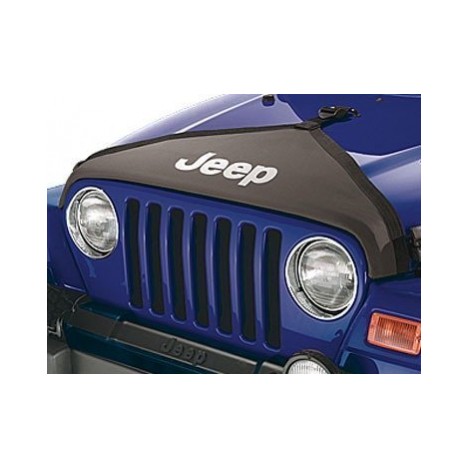 And now for a very popular variant on the car bra idea: the T-style. The T-style is stylish; it is cool, it does its job while giving your car an instantly noticeable, striking strip down the middle that spreads out near the end. And the MOPAR OEM model is by far one of the most popular.
It is always a hassle to deal with car bras that feel too big or too small. In most cases when that happens, you have to return the car bra to have a better one shipped to you. However, the MOPAR OEM fits snugly right onto your Jeep's hood, it may feel tight, but it can be fitted on.
Like any good hood cover, the MOPAR OEM is excellent at keeping scratches and dings off your Jeep's hood. With the MOPAR OEM, you will not have to worry about things like tree branches or airborne debris scratching the hood of your car. But at the same time, you will not have to worry about your hood's paint being scratched off by the OEM being on it.
The price range for the MOPAR OEM is in the ball field of $65-70, depending on the retailer you consult. Either way, this makes the MOPAR OEM one of the cheapest models of car bra on this list.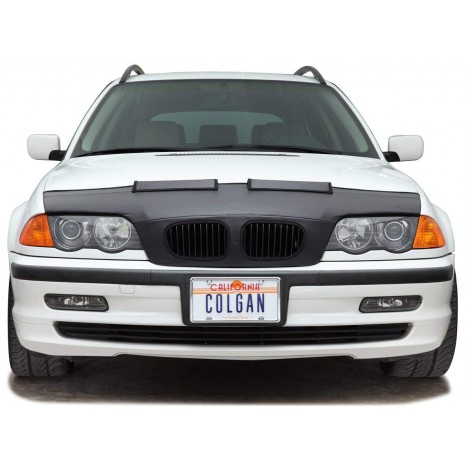 Is a stylish, sporty look of the highest priority to you? Do you dream of turning your decent-ish car into the envy of the entire neighborhood? Then a great first step is the Colgan Custom Sports Bra. This minimalistic, striking strip attachment the front of your car gives it that edge you need to gain the social upper hand with your friends.
If there is one annoyance many folks have with car bras, it is the fact that a lot of them are not easy to put on or take off. The Colgan sports bra, on the other hand, is a breeze to put on or take off. It is so easy; you will often wonder how it manages to stay on so well the rest of the time.
There are some areas of the car bra that overlap with more essential parts of the car than others. As such, those parts of the car have extra padding in place to make sure that, in the event of a collision, the car bra will be able to take some of the damage. After all, if it is going to be there, it may as well make itself useful.
The Colgan sports bra can be a bit on the expensive side, but not nearly as much as other entries on this list, so if it doesn't seem like a lot to you, then you'll get more than your money's worth.

9

. Covercraft Front End Cover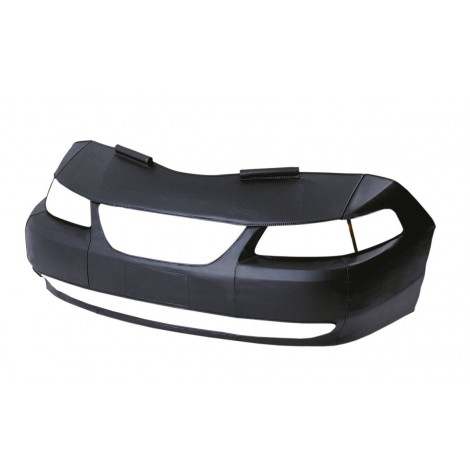 Here is a classic from those engineers at Covercraft. This is one of their earlier models, without much of the experimentation of their later builds. However, stick one of these on your car, and you will find it works just as much now as it did back then.
You will find that this car bra, unlike the previous two or three entries, covers the entirety of the front of the car. This means that, with the added protection, your car can potentially take far more damage with this on than without.
There are few things more effective at leaving bad first impressions than a front hood and fender covered in paint chips, dents, and dings. This car bra, however, will cover up everything in the direct front of the vehicle. As such, any damage you have yet to pay to have repaired will be wholly covered, keeping your first impressions on other people up to you.
The Covercraft is a rather average price, totaling in at around the mid-70s in most retailers. However, in some retailers, returning it means you have to pay extra, so watch out for that.

10

. Covercraft LeBra Impala Cover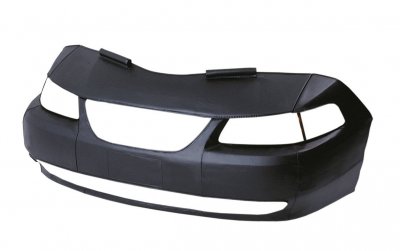 Well, if it looks like a car bra and protects like a car bra then well chances are it's a car bra. This leather gran vinyl comes with easy to read and follow instructions, but with all of our products like this, keep in mind this is for a specific car, a Chevy Impala so don't buy it unless you're a Chevy person. But we do love the Covercraft products across the board and the price is right so even if this isn't the exact cover for your car, did through Amazon's selection of Covercraft products and we bet you're going to find what you need to protect your particular ride.
Okay so it's not fine Corinthian leather but it could be if you could put leather on the front of your car. Still, we're of the general impression that car bras make your car look cooler, even if the name is decidedly uncool, so having one that takes into account the aesthetics as well as the protection factor makes us happy.
While some of the softer models are designed to fit a few different makes and models we actually like that Covercraft makes a harder shell designed for a specific vehicle. The hard plastic will not only keep your car clean but protect your front end from tiny pebbles, road tar even ice and snow that could scratch or mildly damage the front end of your car.
This comes in at just about the midpoint of pricing. You're paying for the hardcover and you do have to put it on yourself but this is a nice product for anyone looking to keep their four-wheel baby safe and out of the small troubles the bedevil a car owner.

Subscribe to our Newsletter