Best Calming Essential Oils Reviewed & Rated for Quality
In a Hurry? Editors choice: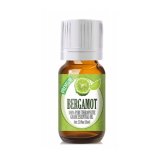 Test Winner: Healing Solutions Bergamot

Has a sudden smell ever catapulted you back in time to a specific place or a certain person? If so, you know how powerful your sense of smell can be at triggering memories. But that's not all smell can do.
Aromatherapy is the ancient art of using different aromas in essential oils to target parts of the brain and treat certain conditions. Essential oils are called such because they are the extracted essence of the given plant they are derived from. Some are safe to use directly on the skin while others will need to be diffused into the air.
The calming essential oils here are highlighted because they reduce stress and anxiety and even help to induce sleep. So if you're looking for
a natural way to soothe your mind
and smooth out a hectic day, these are the thing for you.
Standout Picks
Criteria Used for Evaluation
Use
When making this Ten Best List, we considered the uses of each product. Products that treat stress and anxiety, as well as those that have sedative effects, score highly on our list as this was the focus for this group. But many of the products we feature do far more than that.
We love products that can be used to ease muscle tension and help with minor skin conditions. Products that work on headaches and digestive discomfort score bonus points as well. And products that can even be used around the home also rank highly for us.
Effectiveness
Obviously, the effectiveness of each product was a major consideration of ours going in. We read thousands upon thousands of customer reviews before making this list to ensure that the products we present work as they say they should.
We are thrilled to provide product suggestions based on real reviews from people just like you who have experienced life-altering results by using these products. Not only did we read testimonials from folks with mild, occasional anxiety, but we also read reviews from people who have serious, chronic, clinical anxiety and depression disorders.
While these products aren't approved by the FDA to treat these disorders, thousands of people have found relief by using them. Of course, you should never discontinue the use of your prescribed medications without talking to your doctor.
Application
When we talk application, we mean how is it applied. Products that can be used in multiple different ways score highly on our list. By this, we mean products that are able to be administered in other ways besides through a diffuser.
Products on our list can be applied to the skin, to pillows, in baths, during massages, and more. We give specific suggestions for how to administer each item on our list and where for best results.
Product Purity
The purer a product, the better it works and the longer it lasts. We feature products that are pure (most 100% therapy grade pure). Many of our featured products are tested by third party sources and are guaranteed to have no fillers. This means that your little bottle lasts longer and that you can personally dilute solutions to fit your needs.
Value
Essential oils aren't cheap, but there are companies on the market who are working to bring you quality products that are tested and that work. We feature these companies and worked to bring you products in the mid-range that still work extremely well.
10 Best Calming Essential Oils
1

. Healing Solutions Bergamot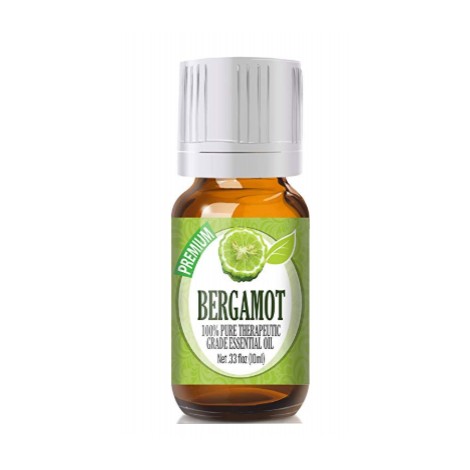 To kickstart our list we feature Healing Solutions Bergamot. After extensive research, this product boasts--literally--tens of thousands of positive reviews. All of Healing Solution's products are produced in a facility that is GMP and ISO 9001 guaranteed by the FDA. They are also all Kosher.
And the best part of all? They produce some of the most affordable and inexpensive therapeutic oils on the market so you can access high-quality products for less which is a mission that we can really get behind.
Loaded with Benefits
Bergamot is derived from a citrus fruit in the orange family. It has been used for hundreds of years in ancient Chinese medicine to treat a number of ailments and to enact a variety of positive effects in the body.
Bergamot is frequently used to increase the flow of energy in the body. This makes it a great tool to treat depression because more energy flow results in an elevated mood and lowered sense of stress and anxiety. Using bergamot is likely to result in feelings of joy and vitality.
Bergamot can also be used to fight certain infections in the body and to help to regulate the digestive system. Plus, it will stimulate the body's blood flow as well as it's natural hormone secretion. And it has been noted to do this in both humans and animals alike.
Basically, if you're feeling a bit off kilter and you need to restore balance to your day, you should be using bergamot as part of your daily routine.
Take a Dab with You
Bergamot is one of the best calming essential oils to diffuse. Exposure to this scent throughout the day will keep your mood and energy levels elevated and will help to block out feelings of stress and depression.
But you can also apply a dab of bergamot to a cloth bandana or handkerchief and inhale the scent throughout the day as well.
Cost and Value
The Healing Solutions Bergamot rings up at the very bottom of our price range and we love its value because it has tons of positive effects, it is 100% pure and is FDA registered, and because the bottle will last for a good length of time even with daily use.

2

. doTERRA Lavender Essential Oil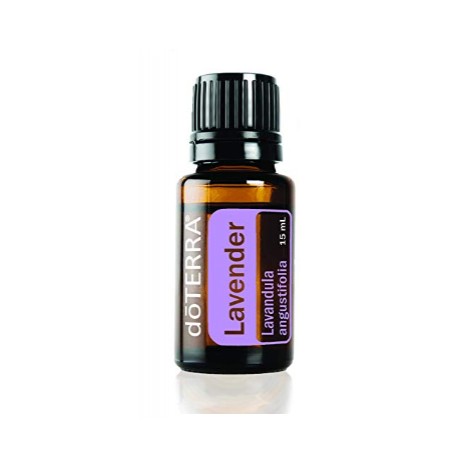 Following in a close second, we give you the doTERRA Lavender. doTERRA is an amazing company that is serious about bringing you the highest quality products possible. All of their products are put through a rigorous 3-test process that ensures no contaminants or irritants find their way into your essentials so you can feel confident you're treating yourself with a product that's pure.
Calms the Nervous and Limbic Systems
Almost every single resource that we consulted during our research features lavender in their top 3 essential oils--and for good reason. Lavender works on a few different systems in the body that help to produce a calming effect in the user.
Lavender works on the nervous system by bringing one's blood pressure down and lowering one's heart rate. It is also noted to work on the limbic system which is the system in the brain that controls emotions.
These effects on the nervous system and limbic system result in a sense of calm, lessened stress and anxiety, and a reduction in restlessness. Plus, lavender is also widely used to treat sleeplessness and can help you drift smoothly off to sleep. As a side note, lavender can also be used to treat slight skin irritations as well.
Can Be Administered in a Variety of Ways
We love lavender because it can be used in just about any way that essential oils can be used. If you want, you can drop a bit into your evening bath to help you unwind. Or, if you're on the go, you can apply drops to your wrists or rub on your temples, making sure to inhale the aroma frequently.
Of course, you can always use your diffuser, but you may also enjoy adding a few drops to your evening tea. Any way you administer this, you will enjoy its almost immediate soothing effects.
Cost and Value
The doTERRA Lavender rings up towards the top of our price range but we love its value because it is rigorously tested and is a pure product. It is safe to be used on the skin (barring any allergies) and it is also safe to be ingested.

3

. Plant Therapy Ylang Ylang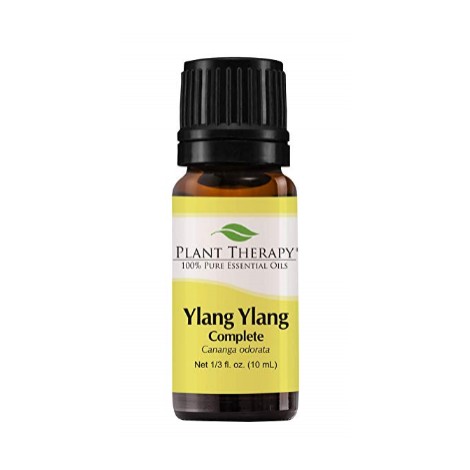 Plant Therapy is another company on our list that is dedicated to giving you, the consumer, the highest quality product. In fact, all of their batches have had spectronomys done on them so you can see exactly how much active ingredient is in each bottle and they are tested to be pure by more than one third-party.
The Ylang Ylang Complete is one of their most popular and the calming, tropical fragrance will blow you away and transport you to a hammock.
Lowers Cortisol Production
In a study done with nurses in 2006, inhaling ylang ylang had some incredible effects. Doing so slowed one's heart rate, it brought down one's blood pressure, and it reduces the production of serum cortisol which is the chemical in the brain that is released when humans experience stress and trauma.
While these physiological data points were achieved, nurses also reported feeling lower levels of anxiety and stress. As you may be aware, nurses occupy one of the most stressful and trying jobs out there so if it works for them, we feel fairly confident it will work for you as well.
Mix In Lotion
You can use ylang ylang in a variety of ways. While some products can have an overpowering smell, the smell of ylang-ylang is topical, warm, and pleasant. This makes it one of the best calming essential oils for children who can be picky and finicky about smells.
Because of its pleasantness, you can add a few drops to any of your favorite lotions and apply directly to the skin. Remember, there are no additives or fillers so it's 100% safe for your skin so long as you don't have an allergy. You can also diffuse ylang-ylang or inhale directly, so the choice is really yours.
Cost and Value
The Plant Therapy Ylang Ylang Complete rings up towards the bottom of our price range and we love its value because it has a delightful smell that can be administered in a variety of ways and it has been observed to work even on those with the most stressful of jobs.

4

. Plant Therapy Jasmine Absolute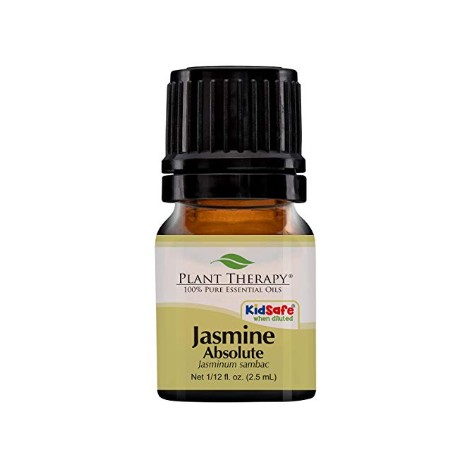 Here we're featuring another one of Plant Therapy's products. Again, their rigorous third-party testing and batch analysis allow you to rest assured that you're only getting the best product. And without any fillers or additives, you can feel confident about using this product in your home. This is a highly concentrated product and is approved for use with kids as long as it is diluted.
Has an Uplifting Effect on the User
Jasmine is another of those keynote essentials that is recommended by practically every source we studied. It has been used for hundreds of years in China to treat depression and anxiety and it continues to show remarkable effects today.
Jasmine is reported to have a calming effect on the nervous system which results in a reduction of stress and anxiety. What's cool about this product is that it can do this without producing a drowsy effect on the user.
Perhaps our favorite thing about using jasmine is that it not only subdues feelings of anxiety and stress, but it actively encourages feelings of well being. It has been reported to improve one's mood and to up energy levels as well.
And if that wasn't enough, this can also be used to clear out the respiratory system to encourage better breathing (which in turn results in more oxygen getting to the brain).
Kid-Friendly Option
Jasmine is another option that works well for kids. It is important to note that this is a highly concentrated product and should be diluted first before using with kids as it will likely be too powerful for them.
You can use jasmine in a few different ways. If you're on the go, simply inhale from the bottle or rub a little on your neck and/or wrists. Again, if you have sensitive skin, you might want to dilute it first.
If you're at home, you can throw some jasmine into your diffuser or even a few drops into a hot bath with your bath pillow for some majorly soothing effects.
Cost and Value
The Plant Therapy Jasmine Absolute rings up towards the top of our price range but we love its value because it is 100% pure with no fillers and because it is highly concentrated. This bottle will go a long way and will soothe you as it goes.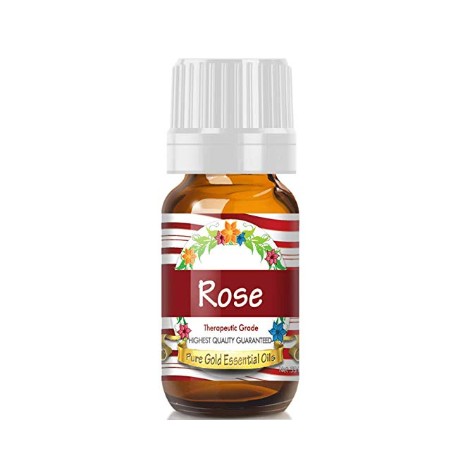 Pure Gold Rose Essential Oil is a therapeutic grade oil that is an absolute dream come true for women who are pregnant (or anyone living with one!). With tons of soothing effects on the mind as well as bolstering effects on the body, rose oil is an essential product for home remedies.
Ideal for Pregnant Women
While the sweeping benefits of rose oil can be enjoyed by all, they are especially wonderful for women who are pregnant. Because it is best to avoid most pharmaceuticals while pregnant, rose oil is an amazing alternative that treats all sorts of ailments.
Rose can be used to alleviate headaches instead of taking potentially harmful over the counter painkillers. It has also been noted to bolster the heart during trying times of grief, depression, and stress.
But the kicker is that rose has been used to balance hormones and level out mood swings. Pregnancy alone can often be a stressful experience but add on top of that killer mood swings due to hormonal imbalance and you've got yourself a recipe for unpleasantness. Using rose on a daily basis can help to alleviate some of this unpleasantness and encourage a more regulated hormone balance and stable mood.
Great for Foot Baths
You can use rose in your diffuser or you can add a few drops into your moisturizer and give yourself a full body aroma massage. You can also throw some drops in a warm bath or fix yourself up a nice hot foot bath with a few droplets of rose. Breathe in deep and be amazed at how steady your mind begins to feel.
Cost and Value
Pure Gold Rose Essential Oil rings up at the bottom of our price range and we love its value because it is a wonderful alternative medicine option for women who are pregnant, and because it can stabilize one's mood. Plus, this product is therapy grade and will last for a good while.

6

. Edens Garden Good Night


Up until this point, we have featured individual oils on our list. The Edens Garden Good Night is an essential oil blend.
Edens Garden is a premium quality company that has all of its oils tested by a third party--more than once. These therapy grade oils are preserved in temperature and light controlled rooms and sent directly to you so you know they're fresh. And there are no fillers, bases, or additives to contend with either.
Blended Oils for Sleepy Time
The Edens Garden Good Night is a special blend of calming essential oils that are combined together to help you get to sleep quickly and stay asleep throughout the night. Each of the components has their own soothing properties that mix nicely together to deliver ultimate results.
In this blend, you will detect notes of bergamot, lavender, and ylang-ylang--all oils that we have already featured on our list--as well as chamomile, sweet marjoram, sandalwood, vanilla, and key lime.
These elements were specifically selected to soothe the mind and body and prepare it for sleep. Entering sleep in a relaxed state helps to ensure that you remain asleep and that you aren't disturbed by unpleasant dreams.
Drop It On Your Pillow
You may choose to plop a few drops of this into your diffuser, but it is advised that you add some drops directly onto your favorite pillow.
Because these oils (and most 100% pure oils on the market) evaporate totally, they won't leave behind stains on your expensive memory foam pillow. And if you're gearing up for a long day or night of travel, dropping some of this blend on your travel pillow is a great way to catch some Zs while you're on the road.
Cost and Value
Edens Garden Good Night rings up towards the middle of our price range but we love its value because it is independently tested to be high-grade, it is hand poured, and it is a woman-owned business. Plus, this stuff works--quite literally--like a dream.



Hana Clary Sage Essential Oil has a wonderful floral and earthy aroma that will sooth stressed nerves and can work to balance hormones. It is a 100% therapy grade product that is approved to be used on the skin as well as in a diffuser.
Great for PMS
Clary sage has a unique scent that is at the same time floral and woody. If other floral scents seem like they may be too powerful, this is a great option to go with instead.
Clary sage has been noted to work especially well on women. It can be used to regulate hormones and to reduce the amount of cortisol (stress hormone) in the brain. Because of these properties, clary sage is a wonderful companion for a woman's menstrual cycle.
Using during the menstrual cycle can help treat PMS symptoms by imparting feelings of wellbeing and by diminishing stressful and anxious thoughts in the brain.
Apply to Pulse Zones
In order to get the best hormone regulating effects of clary sage, apply a diluted solution of clary sage with water to the places on your body where you can feel your pulse. A few of these zones include your temples, your neck, and the insides of your wrists.
You may also choose to throw a few drops in your diffuser or into your warm bath, but you can also inhale the aroma directly any time you are feeling overwhelmed or anxious.
Cost and Value
Hana Clary Sage Essential Oil rings up at the bottom of our price range and we love its value because it's a great alternative to other heavily floral scents, because it is 100% therapy grade, and because it is a great treatment for many common symptoms of PMS.

8

. Edens Garden Anxiety Ease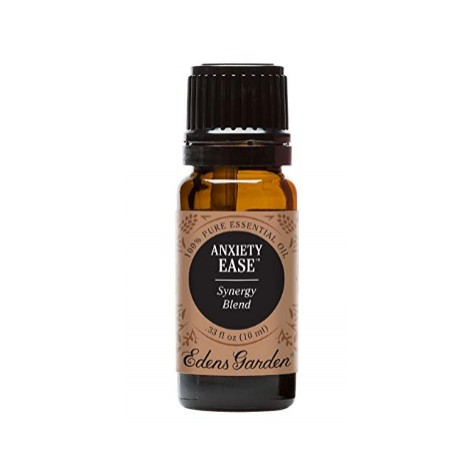 Another essential oil blend from Edens Garden, Anxiety Ease is also a hand-poured blend that goes through rigorous testing by a third-party source to ensure that the oils you receive are 100% pure and therapeutic grade. While the last blend targets restful sleep, this blend is designed specifically to alleviate the symptoms of anxiety in the user.
Ylang Ylang, Sweet Orange, and Lemongrass Blend
Edens Garden Anxiety Ease is a blend comprised of ylang-ylang, sweet orange, and lemongrass. We've already enumerated the incredible effects of using ylang-ylang, and sweet orange and lemongrass play vital calming roles as well.
Sweet orange has incredible anti-inflammatory properties that make it ideal in the treatment of anxiety. Reducing inflammation in the body causes depression and anxious feelings to diminish. It restores order to the body's natural systems and helps you to feel at ease. It's a mood lifter and has even been shown to relieve symptoms of PTSD in mice.
Lemongrass is another that works to reduce inflammation and lower blood pressure so the body can feel a sense of relaxation.
Combined together, this blend has some powerful effects over the body and mind which result in almost instantaneous feelings of relief and well-being.
Inhale and Relax
Edens Garden Anxiety Ease is a must-have whenever you're on the go. If you are prone to anxiety attacks or have a stressful job, take this little miracle bottle with you at all times. Simply pull it out whenever you feel the stress coming on and inhale deeply several times.
If your anxiety is chronic, use this as a sort of perfume or add some to your favorite lotion. This way you can have a more prolonged exposure that gives you relief throughout the day.
Cost and Value
Edens Garden Anxiety Ease rings up in the middle of our price range and we love its value because it expertly delivers a precise blend that can instantaneously treat the symptoms of anxiety and bring you back to a calm and even state. Plus, their products are of the highest quality and are 100% vegan.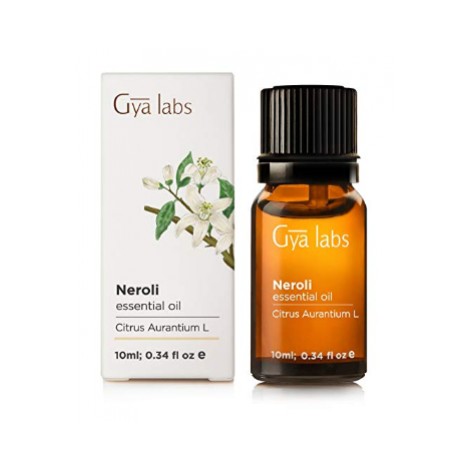 Gya Labs Neroli Essential Oil is an amazing product that does tons--all over your body and all over the house! The oil is distilled with steam and the result is a 100% natural product that is great for lifting your mood, treating your skin, and freshening your home.
Tons of Uses
Neroli is distilled from the flowers of the neroli bitter orange tree. This tree is from Egypt, and ancient Egyptians used neroli to heal and revitalize their minds, bodies, and souls. In fact, people today are still using it to do just that.
Neroli can be used for its sedative properties. Yes, it will help bring on sleep, but it will do more than just that. With its antispasmodic properties, your body will relax totally and resume normal functions. Plus, it will deliver a sense of calm to your nerves so that your body isn't in a reactionary mode.
You can also use neroli to treat common skin issues. It is great for the face and scalp and can help to encourage new skin growth. And it can even be used to work on minor headaches.
Neroli will also freshen up your home if it is stale smelling and features some antibacterial properties as well.
Use it in Anyway
To use on the mind and body, rub a solution into the affected area (Gya Labs provides suggest dilutions according to age and area). You can place drops into a diffuser, inhale directly, or get a massage with this oil. You can also spritz your bed linens with neroli to enjoy the sedative effects all night long.
Cost and Value
The Gya Labs Neroli Essential Oil rings up in the middle of our price range and we like its value because it has a wide variety of uses that will have you feeling happier and healthier in your body and in your home.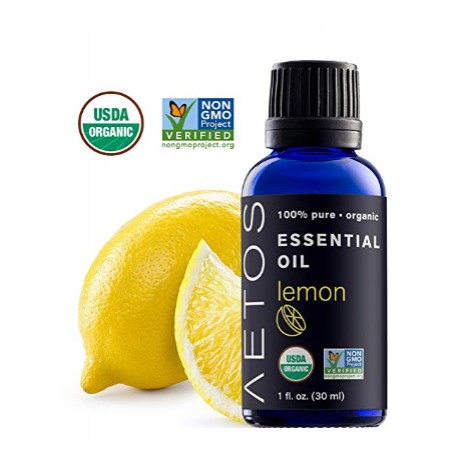 To round out our list, we bring you Aetos Organic Lemon Oil. This product is 100% organic and has no GMOs in it. It's another one on the list with tons of uses for the mind, body, and home. This little bottle can really do some heavy lifting as it lightens up and elevates your home environment.
Use for the Mind and the Home
Lemon oil has a seemingly endless list of uses. Our main concern for this list is that it helps to alleviate feelings of stress and anxiety. It also helps the body and the muscles relax which sends a signal to your nervous system that your body is at rest.
But that's just the tip of lemon oil's iceberg. It can be used to treat stomach aches and nausea, as well as a breath freshener. And you can also use it to wipe your face clean of bacteria and makeup. Plus, give yourself a spritz of this in the face in the morning and it has livening properties that will make you feel positive and alert.
Around the house, it's great for cleaning glass and counters, as well as for freshening the air.
Apply to Skin
Make sure you test out a small area of skin before going crazy and applying this oil everywhere. An allergic reaction is unlikely, but if you have sensitive skin, you'll want to dilute the solution more than someone who isn't sensitive. As always, you'll have to fiddle around with the correct dilutions for your needs and preferences.
Cost and Value
Aetos Organic Lemon Oil rings up in the middle of our price range and we like its value because it can be used practically anywhere for anything! It's all organic and free of GMOs and is a product you can feel safe about using on your body and in your home.

Subscribe to our Newsletter