Patagonia Houdini Air Jacket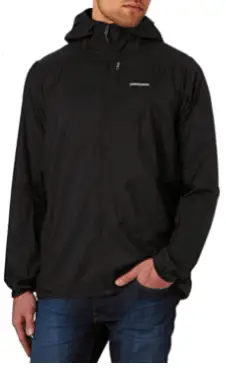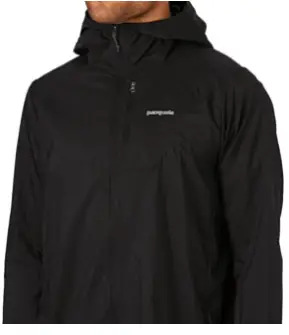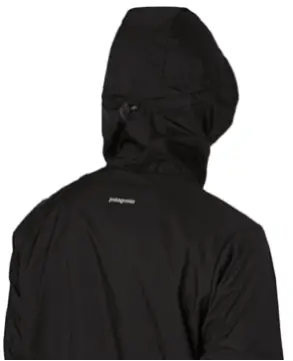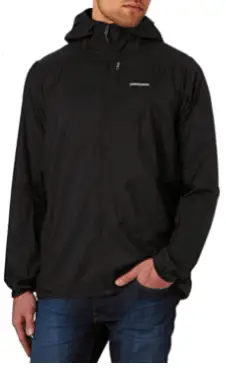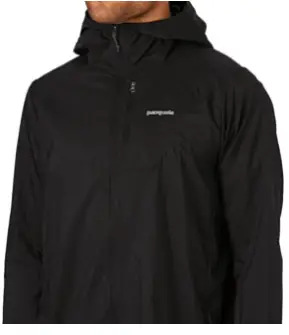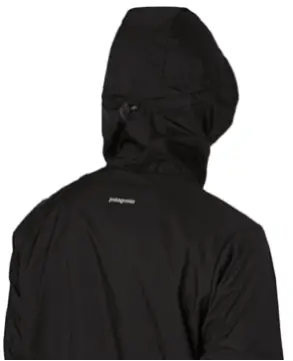 Our Conclusion
The Patagonia Houdini Air Jacket is firstly an ultra light hiking jacket for  protection in windy weather.

For hiking or trail running this jacket is a good option to carry for back-up, it is light and packs down to a small size. This jackets differs a lot from similar options with regards to good breathability. As a middle layer of clothing it is comfortable and continues breathability.

This jacket is also a nice option for casual wear in windy weather.
Pros & Cons
Good protection in the wind
Easy to pack down for carrying
Zip pocket also used for packing down the jacket
Not for very strong icy winds
For some, the price tag feels high
Key Features
Key Features
Snap Shot

100% Nylon

Reflective Logos front and back

Half-elastic cuffs

Hood Cinch

Water repellent finish

Good For:
Trekking
Hiking
Skiing
All outdoor activities in windy weather
Casual wear

Water Resistance

The water beads and rolls off the fabric in light rain, but if the rain is persistent, it will soak through. The design purpose is focused on protection from wind.

Built with a thin nylon weave to be light and cut-out wind, the fabric has a DWR finishing. There are limitations where wet weather is concerned. If you're looking for a dual-purpose jacket for use in the rain and wind, the Patagonia R2 Techface is an interesting comparable option.

FIT & Function

This wind jacket has an athletic cut, and the textured recycled nylon feels comfortable and allows airflow. The design is very close to being slim-fit and has no issues with billowing material.

Movement such as twisting etc. is easy and not restrictive. As an outside layer, it is stylish and functional with the designer's intentions. This jacket is light and slim enough also to be a protective middle layer of clothing.

Weight & Portability

This jacket weighs in at only a quarter of a pound while being light and durable due to a recycled lightweight nylon weave. The jacket will fold down small and can be stowed within its zippered pocket. This makes it easy to carry as a backup if needed. When being used, the zipper pocket is large enough to carry a smartphone.

Breathability & Ventilation

The recycled nylon is texturized, and the inner base layer is designed to be soft, airy, and wick away sweat. The majority of wind jackets cannot be used for layering; the heat build-up is too much. This is impressive and works as breathable even as a middle layer of clothing.

Without mesh panels or vents, you won't get much heat build-up while hiking, running, or occasionally sprinting. The best feature this has is the impressive level of breathability.

Wind Protection

There are trade-offs. When a jacket has a weave that allows for excellent versatile breathability, it loses a bit of protection from the wind. This remains a perfect wind jacket. In the chilly wind, you will start to notice the chill. In such weather, this jacket serves as a middle layer.

Value

Performance in the wind is excellent, and breathability is impressive. Very portable and built with durable materials. This does mean that the price tag is higher; you tend to pay more for this level of quality, performance, and design.
Verdict
For some, the price might seem high. This is a lightweight, versatile piece of clothing; for Skiers, it is excellent for layering. For hikers, trail runners, this is versatile as outer or as layered clothing.

The cut of the jacket is typical for the Patagonia brand, and FIT is good. The use of nylon lends a little more to durability, and this jacket will serve well for many future seasons. Certainly one of the better for performance in windy weather along with exceptional breathability.

It's worth the investment.
Comparison to Previous Models
The attraction of this jacket is that it has impressive breathability and good wind protection. Though the protection from rain is not beyond a light shower, this jacket has not been designed for dual-purpose protection in both wind and rain.
There are good comparative options; the Patagonia R2 Techface will give good wind protection and offer a higher level of waterproofing. It is a dual-purpose designed jacket. The price tag is above moderate and factors in the features, quality, and performance.
Comparative Snap Shot
Two zippered hand warming pockets
One zippered chest pocket
97% polyester
3% spandex
Polartec Power-Grid-Fleece
Weight 14.3 ounces
Color Options: Peppergrass Green, French Red, Black, Forge Grey, Navy Blue

Good For:
Light powder snow conditions
Light rain conditions
Cold wind conditions
Trails - hiking - trekking
Most outdoor activities
Cloth Layering
Subscribe to our Newsletter