Best Tasco Binoculars Reviewed & Rated for Quality
In a Hurry? Editors choice: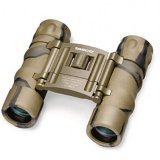 Test Winner: Essentials 10x 25mm Compact

Are you looking for an excellent way to spot game in the woods or view nature through a quality lens? The Tasco binoculars offer
stunning optics
and a durable design that is built to last for plenty of treks into the woods. Offering a bright, clear view of your surroundings, these binoculars are a useful tool for any nature hike you embark on.
These impressively designed binoculars offer an impressive view of your surroundings that you cannot easily obtain from another pair. When it comes to
binoculars for birding
or hunting game, you deserve only the best quality.
We have compiled a list of the top ten best Tasco Binoculars for you to review. We have also included relevant information pertaining to each product. Keep reading to see which ones are the best of the best.
Standout Picks
Criteria Used for Evaluation
Adjustability
It is always best when shopping for a product for you to purchase one that grants you a degree of adjustability in order to ensure the best possible experience with it. More than just a convenient way to enhance your view of birds and any other surrounding wildlife, you want the Tasco Binoculars you buy to fit your prescribed eye type and allow you to focus on your surroundings. Your need to adjust the view changes depending on your environment, and you will be needing a pair that is adaptable to your needs.
If you know you plan to spend quite a few hours in the woods or if you're in need of an enhanced view during a sporting event, then you'll be needing a product with a focus that can easily be adjusted. Depending on where you are and what sort of object you are hoping to view, the lens of your binoculars should be easy to change in order to enhance your vision. It is also possible that the kind of eyesight you have may make it difficult to see through a certain setting, so be sure to look for a pair that can accommodate your preferred field of vision by allowing you to adjust it to just the right setting.
Durability
If you are an avid hiker or a frequent attendee at sporting events, then it is likely you will be looking to garner more than just one use from your purchase. You will be needing a pair that offers you a fun way to view objects in the distance you otherwise may have missed, but you will also be needing something that can last you a long time. Whether you're going on a trek into the woods or doing something as simple as birdwatching in your own backyard, you will be needing a reliable pair that can be depended upon to not fall apart after one use.
Many of the items we chose to feature on our list are protected by a unique rubber armor that will guard your selected purchase from bruising or rough handling. It keeps things looking sleek and maintains the quality of the product by guarding it against becoming easily damaged. For an added perk, the rubber armor is often resistant to foul weather conditions. This means you have no reason to fear your binoculars will be ruined during bouts of foul weather. This makes your purchase waterproof and fog proof, preventing horrid weather from obstructing your otherwise clear view.
Effectiveness
How well your pair of binoculars can perform their job will play heavily into how effective they will be for you. You will want to be absolutely certain that you have found a pair that will best suit your needs and be able to serve as a useful tool or any outdoor adventures you opt to embark on. To ensure this, you will want to make sure what you have chosen to purchase promises an effective view and is comfortable to carry and hold near your eyes. Since you will be using your chosen pair quite often when outside, you will want to make things easy on yourself by making sure they offer just the right view that you need.
High magnification levels can be reached with most of what we have chosen to feature on our list, with some items ranging from 8 to 24 in terms of their magnification levels. The vision can even reach 12x50mm in levels, granting you an extended viewing range and quality levels of brightness. Be sure to take some time to research in order to assess what you believe you will need and which of the items we have listed will best be able to meet those needs. Just as important as its ability to grant you a clear view of what you are hoping to locate is how effective its vision settings are, and you will want to buy something that can offer you both.
Portability
Each of the items we have chosen for our list is lightweight and easy to carry alongside any other items you may have in your pack. You want the pair you select to be simple to transport from place to place and also be able to fit comfortably in your hand. There's no need to worry about how you will carry any of the listed products, as each of them has been designed with your convenience in mind to make transporting them a simple task.
Most of the featured items will include a pack and a strap that fits easily around your neck to help with transport. None of them are incredibly heavy, so wearing a pair around your neck will not cause it any unnecessary strain. We have also included products that can be folded up to fit snugly into your pack, further adding to its convenient portability.
For something that will be used often on your hikes or for any other situation where you anticipate that you will need an enhanced view, it is crucial that you ensure the one you buy is easy to carry around.
Style
While aspects such as adjustability and effectiveness are crucial to ensuring you will receive the best possible outcome from your purchase, you may also want to consider buying something with an element of style to it. The protective rubber armor and the compactness of the models you have to choose from should be able to reflect your sense of style, and no one ever said you can't look fashionable while out in the woods. You will be wanting something that is not too flashy but has a simple coloring that can blend easily with your surroundings, especially if you plan to use your model for birdwatching.
As seen above, you have a variety of different models to choose from. Each of them offers their own unique style and designs, so be sure to choose which one you think will suit you best. While there is no shortage of styles for you to choose from, always remember to go with something simple, as you do not want something too flashy that will frighten all of the wildlife away.
10 Best Tasco Binoculars
1

. Essentials 10x 25mm Compact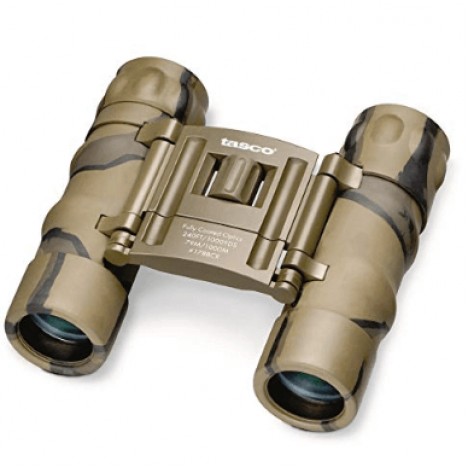 The Tasco Essentials Compact Binoculars offer you quality optics and a view that is entirely HD. All of the chosen materials are 100% fine and have been tested thoroughly in order to ensure the best possible outcome for the consumer.
Durable Design
Protected by rugged rubber armor, this product's compact size and excellent durability make it an ideal tool for hunting game.
Ideal Magnification
Not only is it useful for obtaining a stunning view of nature, but the powerful 10x magnification and fully coated optics offer an incredibly clear view of your surrounding environment.
Cost and Value
Despite all it has to offer, this product is still available for a fair price. You don't want to miss out on something that provides you with a lovely view.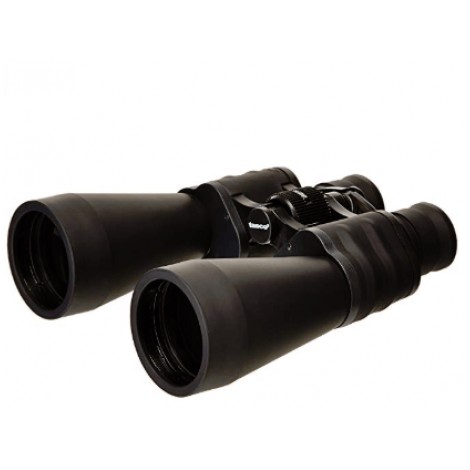 This beautifully designed and durable product offers an impressive view to anyone who looks through the lens. When walking through the woods, you will be needing a tool that provides the ideal amount of visibility when your surroundings are unfamiliar.
Versatile Design
These specially made all-purpose Tasco Zip Binoculars boast an incredible 500 ft. field-of-view. The convenient zip focus system lets you move through the focus range in less than a half-turn.
Damage Resistant
Possessing a durable design, you have no reason to worry about them breaking when taking them out. The rubber-armored housing feature absorbs shock and offers protection against bumps and bruises.
Cost and Value
For all this product has to offer you, it is still affordable and ready for use. Styled for your convenience, the objective lens is 35mm and the magnification is 7x.



Boasting a magnification rate of 10x25, the Tasco Essentials Roof Prism Binoculars can be used not just for treks in the woods, but they are also an ideal tool to utilize at sporting events as well for a better view.
Convenient Adjustment
Included are a central focus and a right eye adjustment for different eye types. It's simple to cover one lens and focus with one eye to offer the best vision.
Solid Build
This was styled with nothing but the consumer's needs in mind, this product has been solidly built and is so compact that is folds in on itself. The optics are also undistorted.
Cost and Value
Valuing the needs of the consumer above all else, this bit of merchandise is has been fairly priced. It is also lightweight and easy to wear on your neck daily.

4

. TAS100736-BRK Focus Free 7x35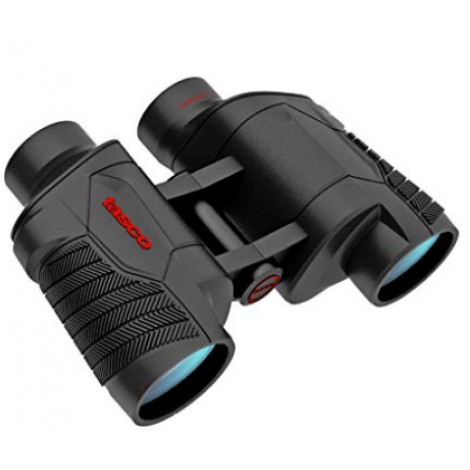 Designed with your comfort in mind, the compact Tasco TAS100736-BRK Focus Free Binoculars offers you the chance to see clear and bright images through a high-quality lens. The focus-free feature means there's no need to struggle with adjusting them.
Ideal Focus
There is no need to worry about missing anything because your binoculars are out of focus, as the focus-free feature renders this fear unnecessary. Case and strap are included.
Protected Materials
The black rubber armor protects them from harm or bruising, providing ideal protection from any damage. The included fold-down eyecups provide you with added comfort when these are in use.
Cost and Value
This product has been put on the market for a very fair price despite all it has to offer you. The fully-coated optics will provide you with an undistorted image.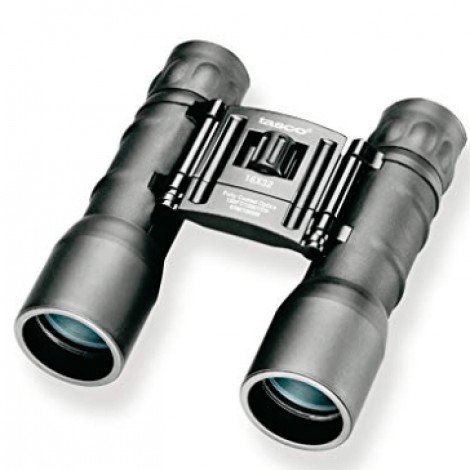 These top of the line binoculars can easily serve as a useful tool to provide you with hunting optics or an excellent way to birdwatch. These powerful mid-size binoculars are lightweight and are strong enough to be used at twilight.
Well-Crafted Design
The center focus and fully coated lens make this a product that you will want to own for your viewing pleasure. The fold-down eyecups offer comfort when using them.
Lightweight
Easy to carry on foot and their size makes it simple to place them in your pack with other items without adding too much of a burden to your bag.
Cost and Value
Since they're not too expensive and are currently on the market for a fair price, you'll want to buy this product for its expansive field of view and compact nature.

6

. S16X32 Essentials Roof Prism 16 x 32mm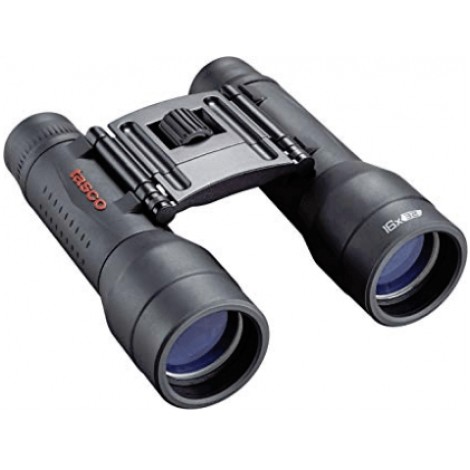 Weighing in at 0.22 ounces, this product features a roof prism design that only serves to increase the quality of a multi-coated lens item. The field of view offered is 185' and there is also 9mm eye relief included.
Clear View
The multi-coated lenses included with this product offers clarity when looking through the lens, and the 185' field of view is ideal for identifying birds and other forms of wildlife.
Smart Design
Built with a conveniently rugged, weather-resistant housing that is coated with armor, this product is not easily broken. It also includes a 16x32mm configuration in a mid-size roof prism design.
Cost and Value
This was placed on the market for an affordable price, so don't pass this product up. The included neck chord even makes it easy to wear on your little adventures.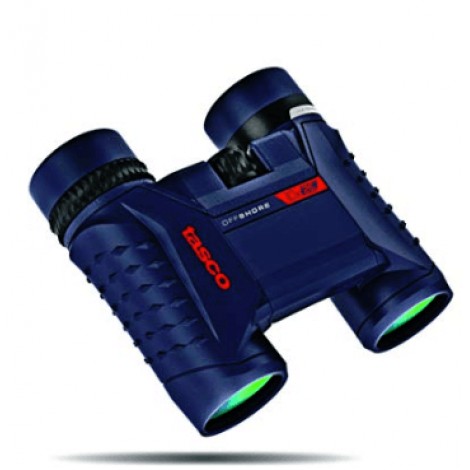 You do not want to turn away from the Tasco Offshore Blue Binoculars, as its rugged 100% waterproof construction and Marine Blue rubber housing means it is a thoroughly protected product. It provides clear images and is comfortable to hold.
Weather-Proof Design
The rubber O-rings and nitrogen-purged tubes have been included to ensure water and fog stays on the outside and does not disrupt your view. Marine Blue Rubber offers protection.
Convenient Dimensions
When folded up inside of your pouch, the dimensions measure to a convenient 12.5 x 5 x 8cm. The included nylon strap for your neck is ½ inch wide
Cost and Value
It offers a lot in terms of quality, but it is still available for an incredibly fair price. Their practical use and portability make them an ideal product to own.

8

. ES82425Z Essentials Porro Prism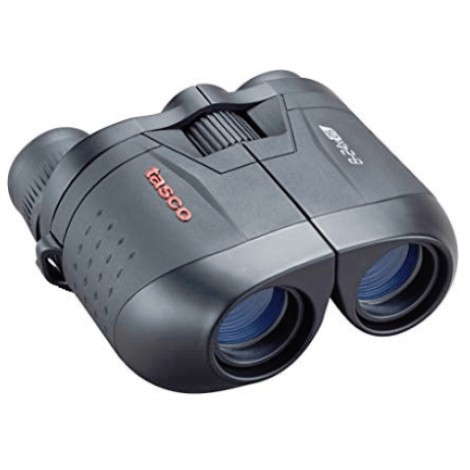 It is absolutely necessary that you own a high-quality pair of binoculars, and this product is prepared to offer you nothing less than that. The convenient 8-24x zoom and the 25mm objective lens are housed in the featured porro prism.
Ideal Magnification
This product offers an excellent view, as its 8 to 24 times magnification and 25mm objective lens helps to provide you with a 190' field of view at 10x magnification.
Convenient Design
The weather-resistant housing coated with rubber armor grants it quality protection against damage. Its small and lightweight design also makes carrying it around with you on adventures an easy task.
Cost and Value
This is an incredibly affordable selection to choose from our list, and it has a lot to offer you. Their compact nature and clear view make them great to have.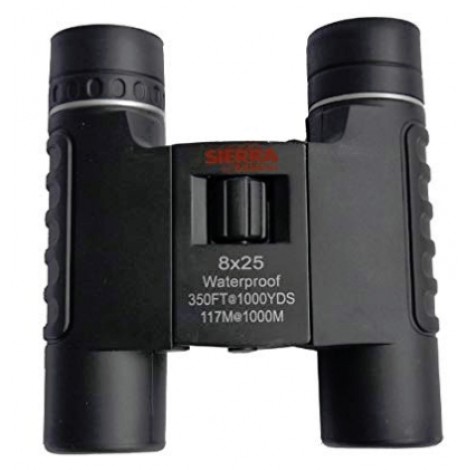 This is perfect for heading outside during days of unpredictable weather, and this useful item on our list has been designed to keep the bad weather out and maintain a clear and bright view that is 100% waterproof and fog proof.
Protected Design
The rugged rubber armor provides this seemingly fragile piece of merchandise with solid protection from any rough handling. The convenient waterproof and fog proof design allows for use in bad weather.
Selection of Models
Enthusiasts will have more than one model to choose from with this product. There are two compact models and two full-sized ones offering 12x50mm vision for extended range and brightness.
Cost and Value
Its affordable price and convenient features make this an ideal tool you do not want to pass up. The premium multi-coated optics and durable construction make for the perfect buy.

10

. Essentials 10x42 Full Size Roof Prism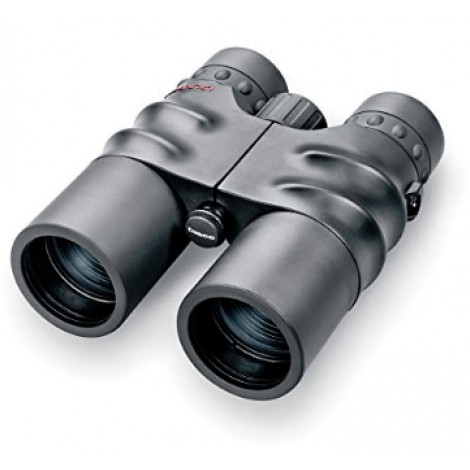 These full-size binoculars have plenty to recommend them to any nature enthusiast or anyone who simply enjoys leisurely looking at sights through an enhanced lens. Its roof prism design and fully-coated lens help to enhance your viewing experience with them.
Weather Resistant
It's tough and guarded weather-resistant rubber armor included on its exterior guards against foul weather and other environmental factors that may harm its body. Also, the lenses are not bulky.
High-Performance Optics
This full-sized product promises high-performance optics, as well as a fully coated lens that makes for a perfect view. The twist eyecups offer extra comfort when you're using them.
Cost and Value
With all its unique features, this affordable item on our list is one you cannot easily pass up. Its roof prism design helps to enhance the view of your surroundings.

Subscribe to our Newsletter