Best Ping Pong Tables Reviewed & Rated for Quality
Ping pong is a sport that has been enjoyed for well over 100 years. There are very few people who don't get excited or jump at the chance to pick up a ball and racquet and at least take a couple hits. It appeals to both old and young and all skill levels, though it can be incredibly competitive. It originated sometime in the mid to late 1800s in England with books and golf balls. It is greatly evolved today and is played with lightweight, seamless balls, racquets, a net, and a specific size of the table. All of the aspects are important and you don't want to skimp out on any of them. You want to get a good ball, racquet, and a table that meets your specific needs.
Featured Recommendations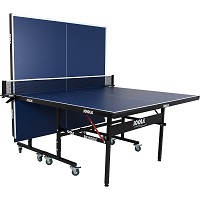 JOOLA Inside

Our rating
Solo Play
Price:

See Here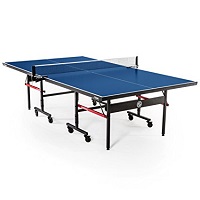 STIGA Advantage Competition

Our rating
Table Top
Price:

See Here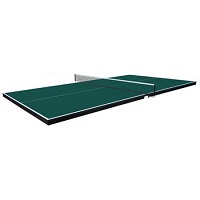 Martin Kilpatrick Conversion

Our rating
Easy Set-Up
Price:

See Here

Ping Pong is often confused with Table Tennis and though the two used to fall under the same head, they officially parted ways in 2011. The biggest difference between the two are the rules, though the racquets are also made in different manners. The tables, however; are the same. So on your search for a good ping pong table, don't be confused if it is advertised as a Table Tennis Table. Both fulfill the same needs. You can get ones for inside or outside – and the distinction there is very important as you don't want to take an indoor table outside and have it be very quickly ruined. They also come in regulation size or smaller so that they better fit into small spaces.
Whatever your needs, there is a ping pong table that will fulfill them. Let's go over some of the best available options.
10 Best Ping Pong Tables
1. JOOLA Inside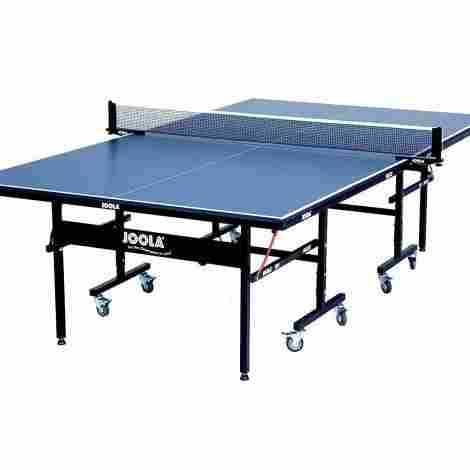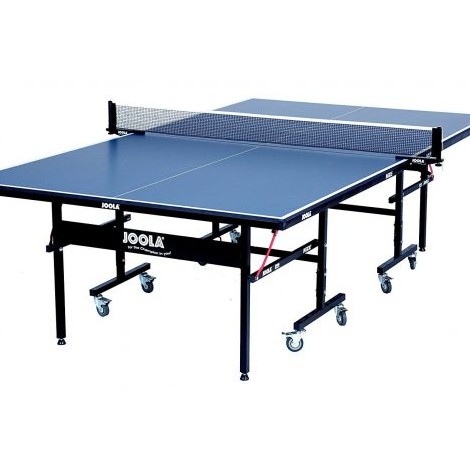 This is an indoor ping pong table that is quick and easy to set up and will provide hours of entertainment. It is made of ⅝ of an inch thick medium density fiberboard for consistent and reliable bounces. The legs are thick, strong steel and it is easy to fold up and store when not in use. The tabletop is dark blue with screen printed white lines.

Expand to see more
Solo Play

A neat feature of this unit is that it has the ability for you to play solo on it. As the table is made of two halves you can leave one half folded while unfolding the other half and serves very well for solo practice. Of note, the separate table halves can both function as fully functional tables if you so desire.

Net and Post Set

The included net comes with a clamp that is easily adjustable. The clamp style tension adjustments are easy enough to use that it can be attached or adjusted in mere seconds.

Cost and Value

This table allows for tournament quality play at home. It is a sturdy, level, and provides consistent bounces. You will get a lot of value out of this purchase. That being said, ping pong tables are just that - tables. They aren't cheap nor should they be. You'll spend a decent amount here, but you will be happy that you did so.
Very quick and easy, no hassle set up
4 wheel trolley system allows for safe and easy mobility
Ability for solo play
Sturdy undercarriage on both halves of the table
Screws on the table may need to be tightened
Included hardware is not great quality
2. STIGA Advantage Competition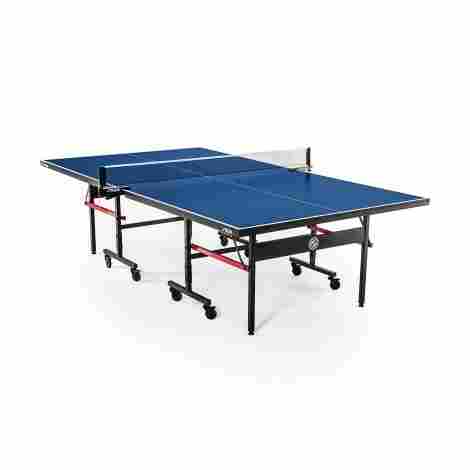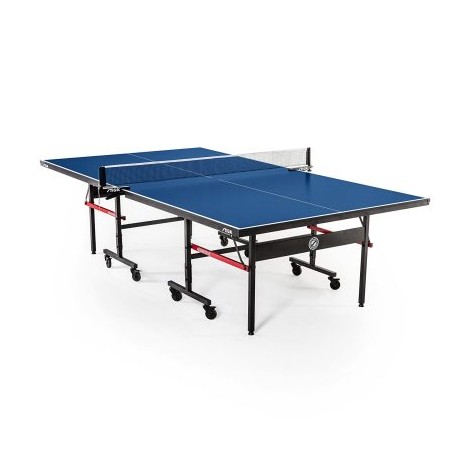 Stiga makes a competition ready indoor table tennis table that is easy to set up and put away. It comes with attached wheels that make it very easy to move around and each half can function as its own separate table.
Expand to see more
Tabletop

The top of the table is ⅝ of an inch thick and is painted in with an automatic repeat roller which makes for a very smooth finished. It is also UV cured for an extra durable and consistent surface. The white lines are screen printed directly on the tabletop and is smooth to the touch.

Safety Features

This unit is equipped with a safety latch system on both the table and the wheels. On the bottom of the table, it is spring loaded and will hold the table into place so that it doesn't open unexpectedly. The 3-inch caster wheels lock into place as to not roll at inconvenient times. There are 1.5-inch steel welded tube aprons to support the top and provide an even table top.

Cost and Value

This is a little bit more expensive than the first one on this list, but not by much. It is a quality table with a lot of nice features that you will appreciate for many years. It is easy to assemble and looks very good. Overall, you will appreciate this purchase and feel that your money was well spent.
Has 3 positions - play position, playback position, and storage position
Smooth, even tabletop
95% pre assembled for easy 10 minute assembly out of the box
72" clamp style net is easily attached and removed
Not a very consistent QA process during manufacturing
Better suited for light use, not consistent recreational use
3. JOOLA Midsize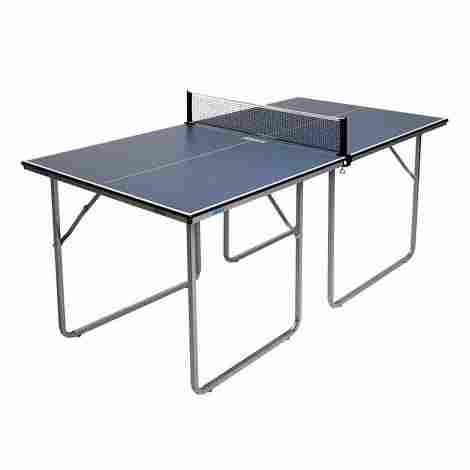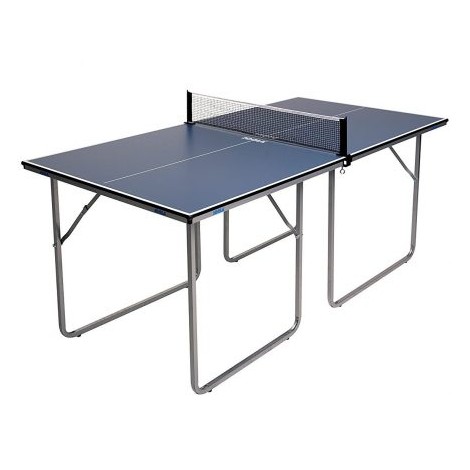 If you live in a small space but are still dying to have a ping pong table, then this is the table you need. It is designed to fit into small spaces. When fully up, the table is 2/3rds the size of a normal one. It is very easy to store and comes completely pre-assembled. It also comes with a post and net set to get you up and going as soon as you want.

Expand to see more
Made For Small Spaces
Everything in the design of this table is made for small spaces. It is compact and lightweight and can be stored in many different small spaces - including under the bed. The two halves each function as free-standing tables so can be used for games or whatever else you want them to be. The
folding
legs fold completely in there are no wheels or attachments either.
Multi-Use
Each half of the table is perfectly square and just the right size to be used as any number of things. It is perfect to set up as a game table or for when you have company over. Or, as mentioned above, you can just fold up the legs and hide it under the bed.
Cost and Value
This table is significantly cheaper than the others we have discussed so far. It is smaller and has less moving parts, which makes the lower price make sense. It is designed as a compact table for small spaces and the price exactly matches that.
100% pre assembled
Comes with a custom net set that clamps on
Legs come attached, easily fold down, and lock into place so there is no movement while you are playing
Regulation height
Lightweight
Net posts tend to break easily
Company customer service is pretty poor
4. JOOLA Rally TL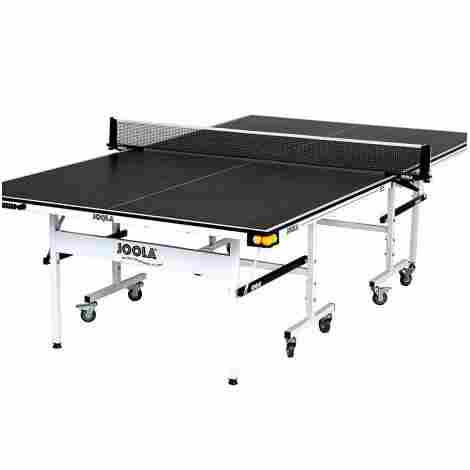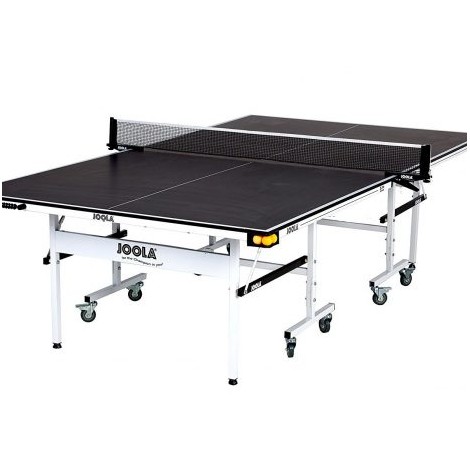 This ping pong table comes mostly assembled and only requires you to put in a total of eight screws. It is competition quality, has a medium density fiberboard top, and steel legs. It also comes with separate halves so that you can play solo if needed and allows for quick and easy storage.

Expand to see more
Corner Ball Holders and Scorer

It's all in the details and this JOOLA table certainly has some neat details. One of those is ball holders on each corner. At each corner, you will find a ball holder that is big enough to hold 3 40 mm balls. That makes for a total storage of 12 balls right on the table. It also includes a scorer on each end of the table for easy tracking.

Table Top

The top of this table is a medium density fiberboard that is painted a beautiful charcoal color. The white stripes are silk screened directly onto the top of the table which makes the playing surface smooth and consistent. You will get a great bounce for a long time coming.

Cost and Value

This is one of the more expensive tables on our list. However; it is a competition grade and has features that others don't. It is a quality table that will last a long time and ultimately if you're looking to bring your game to a higher level, you need a nice table in order to do so. This one provides you with that.
Corner ball holders on each corner
Can be used in playback mode
Competition grade
Only 10 minutes from out of the box to assembled and ready to play
Issues with the included screws
Company customer service is terrible
5. JOOLA NOVA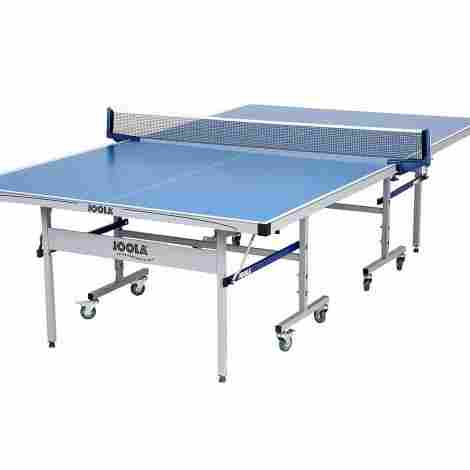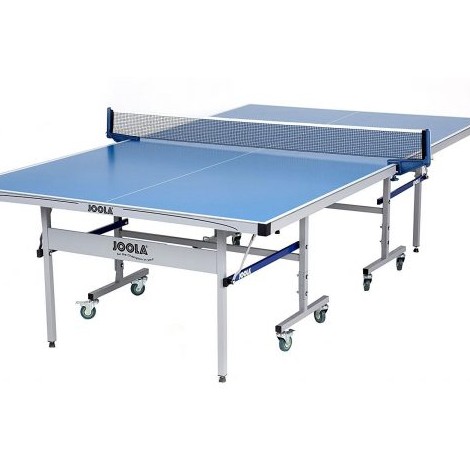 This is an outdoor ping pong table and every part included is meant to be weatherproof. It is competition grade and is, in fact, made by the same company that makes tables for the US National Championships and US Open. It comes mostly pre-assembled and is easy to put together and store.
Expand to see more
All-Weather Table
Every piece is one of this table is meant to withstand the elements. The top is made of a 6 mm thick aluminum plastic composite. It sits on top of a
powder coat
ed rust resistant undercarriage. All of this makes it resistant to warping and chipping. The net set is also weather resistant and has all of the same quality than any other JOOLA net does.
Compact and Mobile
This table is made of two separate halves. It will come together with only 8 bolts and in about 15 minutes from the time you get it out of the box. It is easily folded in half and is on wheels so it easy to move and store wherever you need it to be. The other perk about the wheels is that they bear the burden of the weight, not you.
Cost and Value
This is an expensive ping pong table. However; it is meant to be outdoors, stay outdoors, and not lose any of it's quality. That takes some fancy, expensive design in order to live up to that claim. This table does just that and you will be very pleased you spend the extra money to get a table you can safely leave out in the elements.
Adjustable height levels to compensate for playing on unlevel surfaces
Heavy duty wheels are good for any surface
Fairly easy to assemble
Bounce is comparable to standard indoor tables
Table is easily scratched
Can be difficult to get completely level on an unlevel surface
6. STIGA XTR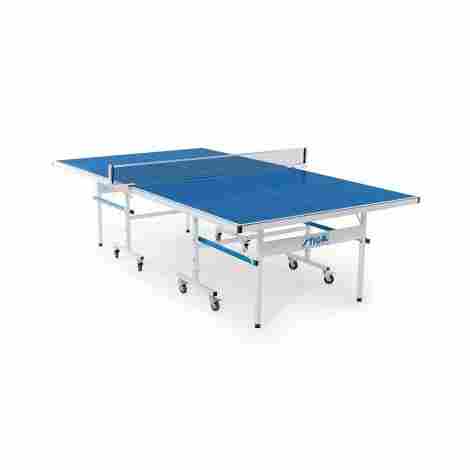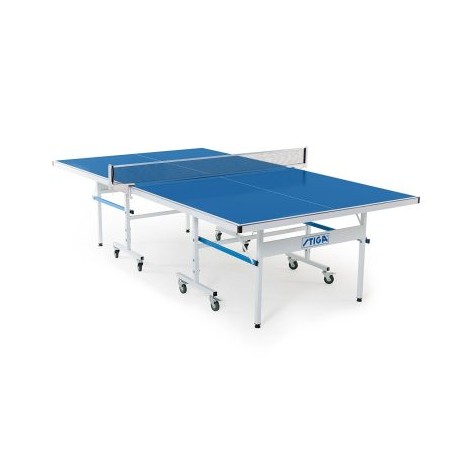 One of the other main designers of Ping Pong Tables is STIGA. They make a quality, durable table and tend to have a little bit better customer service the other highest competitor. This specific table is meant to go outdoors. Everything is weather-proof and will last
rain
or shine. It is easy to store and move.
Expand to see more
Independent Halves

Each half of this unit is completely separate and freestanding. This makes the table multifunctional as each can be used as it's own table if needed, but also allows it to store very easily. They nest into each other to become ultracompact. It also makes it a little easier to move them, and half of a table is lighter than a whole.

72-Inch Net

This table comes with a 72-inch weather resistant net. It features string tension adjustment so you can get your net exactly as tight or not tight as you like. It is attached with a threaded clamp attachment which makes it very easy to put on and take off. You will easily be able to play rain or shine and don't need to worry about your net getting wet.

Cost and Value

As discussed in the last featured review, outdoor tables don't come cheap. This one is right about the same price as the last one and a good amount more than tables designed to be kept indoors. If you plan on playing outside at all though, it is well worth your extra money initially as this table will last much longer and withstand the elements much better than one not designed to do so.
Comes 95% preassembled
Designed for all weather performance
Can be used in playback mode
Separate halves function as individual tables
Edges and corners are somewhat sharp
Can be damaged in shipping
7. Martin Kilpatrick Conversion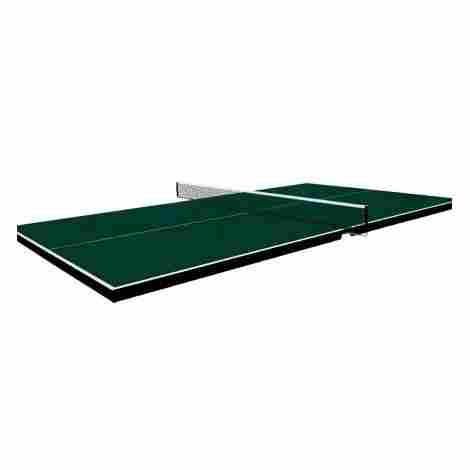 Do you already have a pool table but would really like to get a ping-pong table too? Maybe you don't have the space for both and would still love for there to be a way for you to have both? Here is your answer. The Martin Kilpatrick Conversion kit will convert your pool table into a ping-pong table. No need to have two tables, simply cover one up to make the other.

Expand to see more
Easy Set Up

Like most ping pong tables, this one comes in two halves. Both halves will easily slip onto your pool table and have a connector in the middle to prevent them from separating while you are playing. It also comes with padding underneath as to not ruin your pool table while you are playing ping pong. This will fit onto 8-foot tables and can even fit most 9 foot tables if the railing is removed.

Quality Top and Rails

The quality top provides for good bounce that is even suitable for competitive play. It is ¾ of an inch thick and comes in a variety of colors. It comes with rails attached to provide further stability and protection, though they are easily removed if you don't want them on.

Cost and Value

This ping pong table allows you to have the best of both worlds. It is a quality table top that easily fits onto your pool table and comes at a much cheaper price than the other full tables listed. In fact, it is almost half the price and will take up much less space as it isn't an entire table, just a top.
Allows you to have both a ping pong table and a pool table without actually having to have a separate table for both
Comes with a 3 year warranty
Very simple to set up
Comes with a net set
Protective pad is underwhelming
Screws are commonly over tightened during manufacture, resulting in the wood being stripped
8. JOOLA Tour Professional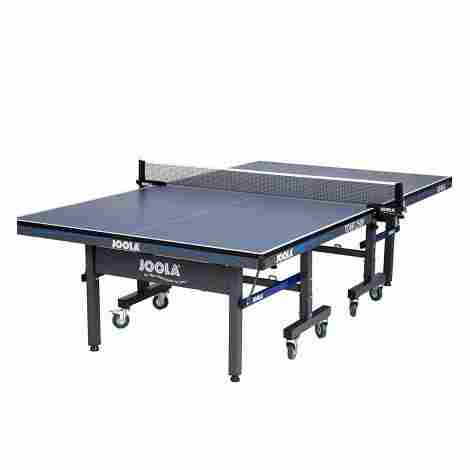 This is the Mercedes of ping pong tables. It is professional grade which means you only get the highest quality out of this unit. The top is the same pros play on, the legs are very secure and safe, and you have the option to play by yourself in playback mode if there isn't anyone to play with.
Expand to see more
Professional Thickness

Unlike any other table found on this list, this JOOLA Tour Professional is a full inch thick - which is the thickness that professionals play on. This is the brand that supplies the US Open and US National Championships with tables, so you should expect nothing less than quality. The thick MDF board is painted with multiple layers and provides for an even bounce.

Safe and Mobile Storage

Each half sits on a 4 wheel trolley system so that it is easily moved. Each half has 4 castor locking wheels and come equipped with an anti-tilting locking device. They move great alone or nested together.

Cost and Value

The Mercedes of ping pong tables also bears the price of luxury. You will definitely be paying to upgrade your ping pong table by purchasing this one, but if you are very serious about your game and want the best table you can get regardless of the price, then this one should absolutely be on your radar.
Legs are individually adjustable to accommodate uneven surfaces
Ability to play solo in playback mode
Stores very compactly
Provides consistent ball bounce
Expensive
Often missing hardware to assemble with
9. STIGA Space Saver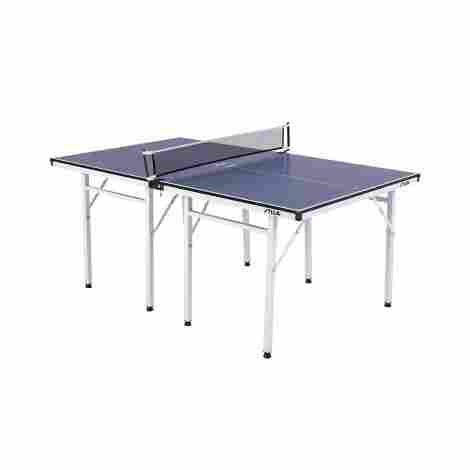 If you live in a small space owning a full-size ping pong table just isn't a reality for you. They are big and bulky and can get in the way. However; STIGA has come up with a solution to this problem. This unit is compact and small, yet scaled to regulation. It is completely pre-assembled and is very easy to store.

Expand to see more
Steel Legs with Leg Levelers

This table comes with leg levelers. What that means for you is that you can adjust the legs to whatever height you need them for the surface you are on. If you are on plush carpet, you may need one leg to be just a little bit longer than the other. That is a reality here. The leg levelers also help to protect your hard floors from getting scratched.

Space Saver Design

Everything about the design here is about saving space. The legs fold in completely so the two halves are easily stackable and stored in thin places or under a bed. They are each functional, stand-alone tables should you need one when you aren't playing ping pong.

Cost and Value

Overall, this is a great quality table at a very small price. You are sacrificing the full-size ping pong table in order to get this one, but as it is scaled to regulation it will feel like less of a hit than other mid size boards. The tables themselves are good and sturdy and will last a long time. This unit is much cheaper than full-size tables - nearly half as much or even less.
Very inexpensive
Scaled to regulation instead of simply made smaller
No assembly required
Easy to store
Corners may chip in shipping
Screws may come out
10. STIGA InstaPlay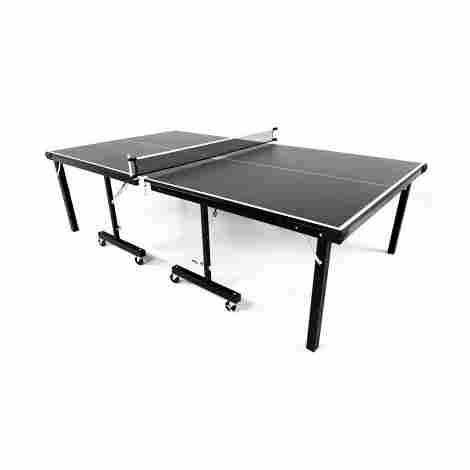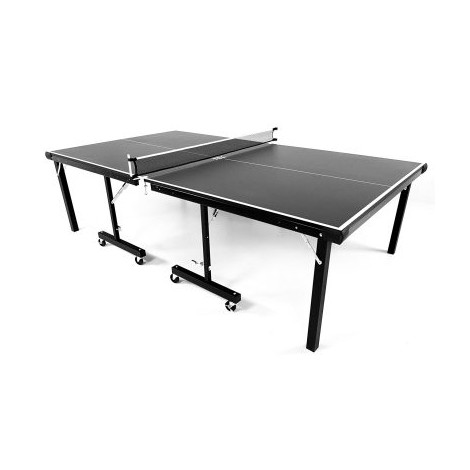 This STIGA ping pong table is just about as good as it gets. It has all the standard features - 2-inch steel
aprons
, 3-inch mag tires, and the ability to function in playback position. However; it has included other features that you are sure to love as well like a ¾ of an inch thick black MDF surface, white silk screened stripes and patented InstaPlay technology. This is what top of the line looks like.
Expand to see more
InstaPlay Technology
Some of the best words you can hear when it comes to tables, furniture, and the like are "no assembly required". With their patented InstaPlay technology, STIGA brings you the quality and feel of a full-size heavy-duty ping pong table with truly no assembly required. Simply pull it out of the box, open up your tables, and you are good to go!
Corner Protectors
Often times it is the little details that bring the quality of something to a higher standard. That is the case here. This table has corner protectors on each corner. This protects you from inevitably
running
into them and hurting yourself, but it also protects the table. There are also plastic leg caps on the steel that touches the floor to protect it as well.
Cost and Value
This is another top of the line, luxury ping pong table. It has a cutting edge, patented, technology in addition to all the standard bells and whistles you expect from a ping pong table. You do pay for those luxuries and conveniences though. If you are looking for one of the best to play on and easiest to set up ping pong tables available, then this is one of your best bets.
100% pre assembled
¾ of an inch thick top which makes for excellent ball bounce
66 inch net and post set included
Easy to set up and take down
One of the most expensive on this list
Not as solid as other STIGA tables
Criteria Used in Choosing the Best Ping Pong Table
The very first thing that needs to be clarified before you can purchase a ping pong table is what is the difference between table tennis and ping pong? The term is often used interchangeably and if you're looking for a ping pong table but all you can find are tennis tables (or vice versa!) it can get confusing. They are different sports that have different rules and different paddles. However; they do use the same size table. So, when you're looking to purchase one, you don't need to stress about whether it is called a table tennis table or a ping pong table. They are, in fact, one in the same. The difference between the two will be found in the paddles and the rules, which largely does make for a different game.
Now that we've cleared that up, what are some things that you need to consider before making your purchase? Afterall, it is a fairly large purchase and you don't want to be left with a table you don't like or that you regret buying.
Indoor Use vs. Outdoor Use
One of the first decisions that need to be made is if you intend on playing outside or inside. This single factor will influence your decision more than any other. The table tops are very different for each use as is the price.
Tables used inside are typically made of fiberboard. It gives a good, level playing field and can be any varying thickness and still give good bounce. Obviously the higher quality a table is, the thicker the board will be. The legs are typically made of steel and good for indoors but would rust and be ruined very quickly outdoors.
Outdoor tables have some sort of aluminum plastic hybrid top. This allows it to take the rain and the weather much better than a fiberboard which would simply swell and be ruined the first time it got wet. Depending on the quality, the aluminum will also give a good consistent bounce and still makes a very good board. The legs are typically powder coated, similar to that you would find on a metal swing set, and made to withstand the elements. They also tend to have levelers on the bottom so that they can be adjusted for uneven grass or playing surfaces; though this is not mutually exclusive to outdoor tables. Even the net is different and meant to be weather resistant.
In summary, both tables are going to give similar play and bounce. An outdoor table can be used inside or outside and largely withstand what Mother Nature can throw at it, but DO NOT take an indoor table outside as it will be quickly ruined.
Available Space
A table is a big purchase that can take up a lot of space. For a lot of people, this isn't an issue as the whole purpose of purchasing a ping pong table is to put in the game room or outside on the patio and fill the empty space that is available. The sky is basically the limit if you fall into this category. There are several different size tables and if you don't have to store it, you don't have to worry about how easy or complicated it is to put up or take down. You simply set it up once and it's good to go.
However; there are some who really want a ping pong table, but struggle with where they are going to put it. This doesn't actually have to be a struggle as many are designed specifically to take up minimal space. You can get very high-quality mid-sized tables, that while they aren't regulation size, are to scale and will fit in your small spaces much better. They also fold down very easily and quickly and can be stored in a closet or under the bed where they won't even be noticed.
Multipurpose
There is also the option of a pool table conversion. Sometimes you just need to have both a ping pong table and a pool table but don't have the room for both – actually, odds are good that you don't have the need for both. To accommodate this set of needs, you can get a ping pong table that is set up right on top of the pool table. The one on this list is padded and takes precautions to protect your pool table while still offering a great surface to play ping pong on that provides great bounce and a good game.
It is important to note that almost every single table on this list or that you can find in general will also function very well as a multipurpose table. Most come in two halves that are capable of functioning as completely separate, freestanding tables. This gives you a lot of functionality as far as gaming tables or even storage or dining tables goes. This one set of tables can do all of those things and best of all, you can play ping pong on it when you're done.
Color
Does color matter? For some it does and for others, it might not. Your options as far as the color of your ping pong table is pretty limited, however. A standard issue table is a dark color with white striping and you will only find some variation of that. Most tables are a blue color and that is true for this list with the exception of one charcoal colored one. According to official rules, a ping-pong table must be uniformly dark and matte – which means nothing too shiny. You want to easily see where your ball is going with minimal glare or question about where it hit on the table; thus the pretty stringent rules.
FAQ
Frequently Asked Questions
Q: What are the table dimensions?
A: Most tables come at the regulation size (see next question). However; some are made to be smaller to fit into smaller spaces and those dimensions vary by brand.
Q: What are the dimensions of a regulation size ping pong table?
A: A regulation size Table Tennis Table is 9 feet by 5 feet and 2.5 feet tall.
Q: What are the table dimensions when folded up for storage?
A: Almost universally, ping pong tables are made of two equal parts. So, when folded up, it would be exactly half the width and length. For a regulation table that would make it 4.5 feet by 2.5 feet and only a couple inches deep, as most are built to stand on their side.
Q: Is this an indoor or outdoor ping pong table?
A: If the table top is made of MDF, then it is absolutely an indoor table. Outdoor tables are typically made of an aluminum-plastic hybrid.
Q: Does this ping pong table have adjustable legs to accommodate my uneven floor?
A: Most outdoor tables do. Some indoor tables do as well, but not all.
Q: How are the halves held together while in use?
A: Some tables have a clamp or clasp. Other have an attachment mechanism in the net.
Sources