Best Ping Pong Tables Reviewed & Rated for Quality
In a Hurry? Editors choice: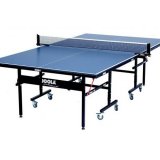 Test Winner: JOOLA Inside

Summer is coming and it's time for picnics, family outings, and just generally being outside. What are some of the simple summer fun games that you think of? Well, we're big fans of ping pong at the family picnic, or at the lawn party, or even at the beach if you can find some level ground. Why do we love it so much? First of all, nearly everyone in the world can play ping pong, it's a cheap sport, and these days with lightweight composites you can bring a portable ping pong table almost anywhere and set it up and be playing in no time. And second, we're big fans of adding the competitiveness of cups and beverages of your choice to turn it into a competition that should make the cover of Sports Illustrated.
Standout Picks
Criteria Used for Evaluation
Versatility
One of the first decisions that need to be made is if you intend on playing outside or inside. This single factor will influence your decision more than any other. The tabletops are very different for each use as is the price.
Tables used inside are typically made of fiberboard. It gives a good, level playing field and can be any varying thickness and still give a good bounce. Obviously the higher quality a table is, the thicker the board will be. The legs are typically made of steel and good for indoors but would rust and be ruined very quickly outdoors.
Outdoor tables have some sort of aluminum-plastic hybrid top. This allows it to take the rain and the weather much better than a fiberboard which would simply swell and be ruined the first time it got wet. Depending on the quality, the aluminum will also give a good consistent bounce and still makes a very good board. The legs are typically powder coated, similar to that you would find on a metal swing set, and made to withstand the elements. They also tend to have levelers on the bottom so that they can be adjusted for uneven grass or playing surfaces; though this is not mutually exclusive to outdoor tables. Even the net is different and meant to be weather resistant.
In summary, both tables are going to give similar play and bounce. An outdoor table can be used inside or outside and largely withstand what Mother Nature can throw at it, but DO NOT take an indoor table outside as it will be quickly ruined.
Size
A table is a big purchase that can take up a lot of space. For a lot of people, this isn't an issue as the whole purpose of purchasing a ping pong table is to put in the game room or outside on the patio and fill the empty space that is available. The sky is basically the limit if you fall into this category. There are several different size tables and if you don't have to store it, you don't have to worry about how easy or complicated it is to put up or take down. You simply set it up once and it's good to go.
However; there are some who really want a ping pong table, but struggle with where they are going to put it. This doesn't actually have to be a struggle as many are designed specifically to take up minimal space. You can get very high-quality mid-sized tables, that while they aren't regulation size, are to scale and will fit in your small spaces much better. They also fold down very easily and quickly and can be stored in a closet or under the bed where they won't even be noticed.
Features
There is also the option of a pool table conversion. Sometimes you just need to have both a ping pong table and a pool table but don't have the room for both - actually, odds are good that you don't have the need for both. To accommodate this set of needs, you can get a ping pong table that is set up right on top of the pool table. The one on this list is padded and takes precautions to protect your pool table while still offering a great surface to play ping pong on that provides great bounce and a good game.
It is important to note that almost every single table on this list or that you can find in general will also function very well as a multipurpose table. Most come in two halves that are capable of functioning as completely separate, freestanding tables. This gives you a lot of functionality as far as gaming tables or even storage or dining tables go. This one set of tables can do all of those things and best of all, you can play ping pong on it when you're done.
Style
Does color matter? For some it does and for others, it might not. Your options as far as the color of your ping pong table is pretty limited, however. A standard-issue table is a dark color with white striping and you will only find some variation of that. Most tables are a blue color and that is true for this list with the exception of one charcoal colored one. According to official rules, a ping-pong table must be uniformly dark and matte - which means nothing too shiny. You want to easily see where your ball is going with minimal glare or question about where it hit on the table; thus the pretty stringent rules.
Value
Ping Pong tables run the gamut from little more than a particleboard painted green and a nylon net to some top-line really well-made tables and movable setups that guarantee a level playing field and high-quality netting material, and all the extras. It's up to you which way you choose to go but as with all things the better you get at the game the more you're going to want from your table. Naturally, the value is going to rise as you get into the high-end tables, but we've tried to suggest tables that cover the spectrum from simple easy to use and easily movable tables to some really top of the line setups.
10 Best Ping Pong Tables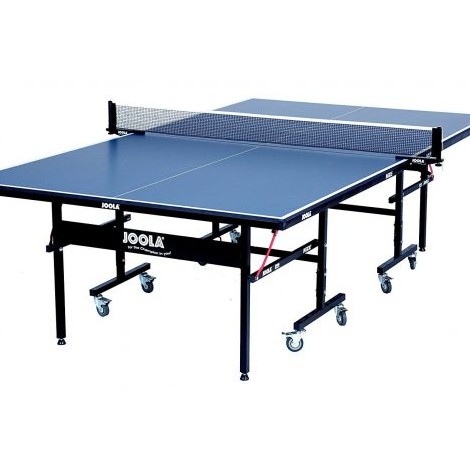 This is an indoor ping pong table that is quick and easy to set up and will provide hours of entertainment. It is made of ⅝ of an inch thick medium density fiberboard for consistent and reliable bounces. The legs are thick, strong steel and it is easy to fold up and store when not in use. The tabletop is dark blue with screen printed white lines.

Solo Play
A neat feature of this unit is that it has the ability for you to play solo on it. As the table is made of two halves you can leave one half folded while unfolding the other half and serves very well for solo practice. Of note, the separate table halves can both function as fully functional tables if you so desire.
Net and Post Set
The included net comes with a clamp that is easily adjustable. The clamp style tension adjustments are easy enough to use that it can be attached or adjusted in mere seconds.
Cost and Value
This table allows for tournament quality play at home. It is a sturdy, level, and provides consistent bounces. You will get a lot of value out of this purchase. That being said, ping pong tables are just that - tables. They aren't cheap nor should they be. You'll spend a decent amount here, but you will be happy that you did so.

2

. STIGA Advantage Competition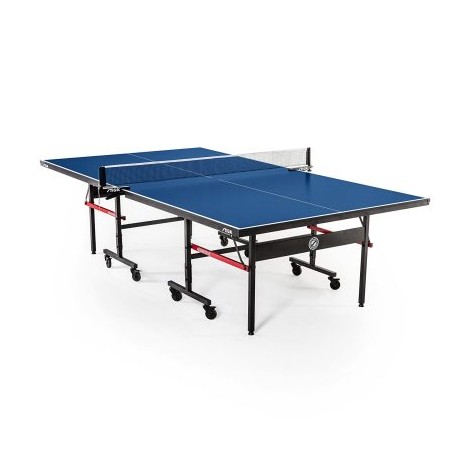 Stiga makes a competition ready indoor table tennis table that is easy to set up and put away. It comes with attached wheels that make it very easy to move around and each half can function as its own separate table.
Tabletop
The top of the table is ⅝ of an inch thick and is painted in with an automatic repeat roller which makes for a very smooth finished. It is also UV cured for an extra durable and consistent surface. The white lines are screen printed directly on the tabletop and is smooth to the touch.
Safety Features
This unit is equipped with a safety latch system on both the table and the wheels. On the bottom of the table, it is spring loaded and will hold the table into place so that it doesn't open unexpectedly. The 3-inch caster wheels lock into place as to not roll at inconvenient times. There are 1.5-inch steel welded tube aprons to support the top and provide an even table top.
Cost and Value
This is a little bit more expensive than the first one on this list, but not by much. It is a quality table with a lot of nice features that you will appreciate for many years. It is easy to assemble and looks very good. Overall, you will appreciate this purchase and feel that your money was well spent.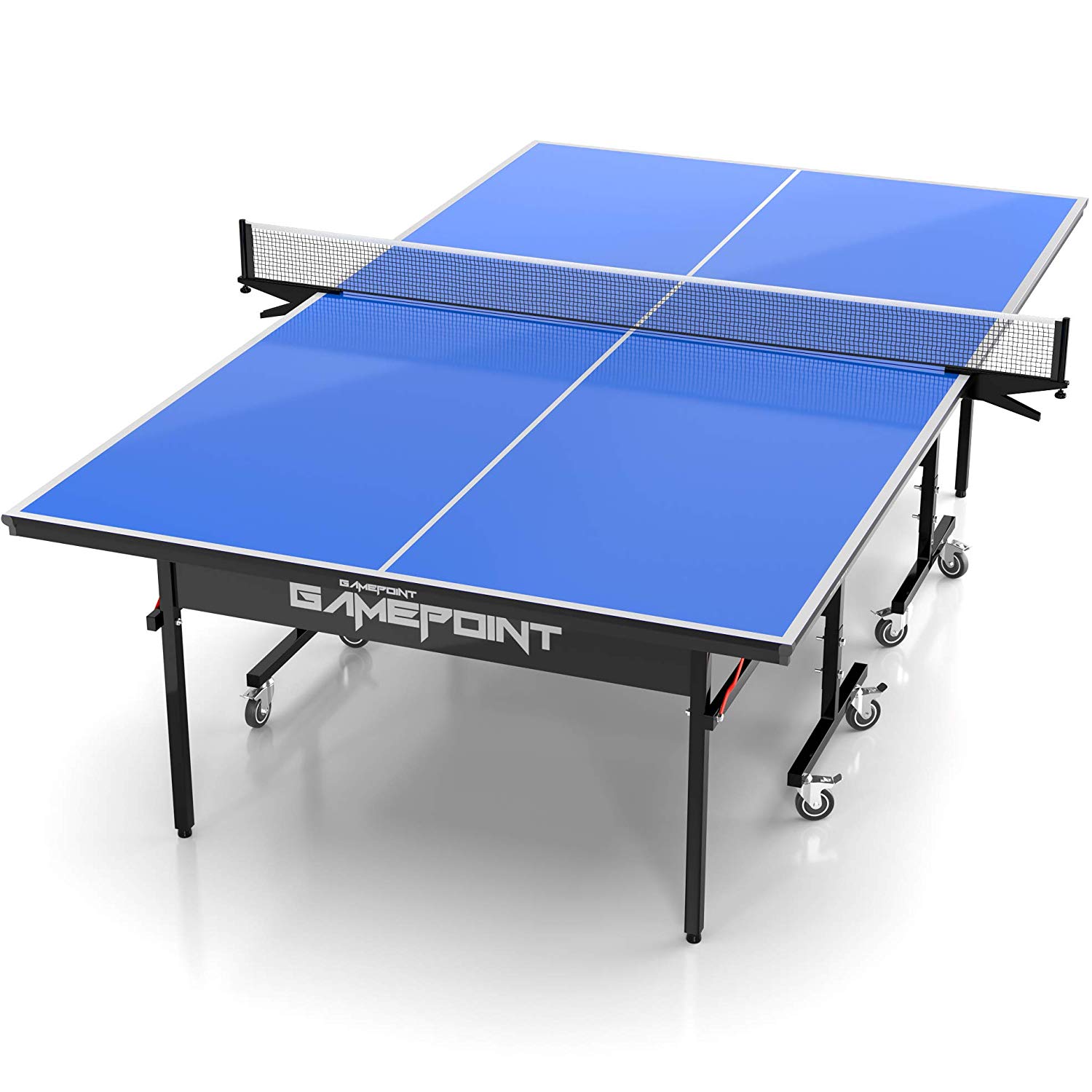 This is a really nice looking Ping Pong Table, and it has everything you need to raise your game to the next level: A tension adjuster on the net, a set of wheels for easy movement and it folds up for easy storage. This is just a top-level ping pong table.
Quick and Easy Set Up
The table comes pre-assembled and is easy to set up. All in all, it takes about ten minutes from opening the box to playing the game, which is surprising considering how top level this table is.
Reinforced Legs
This may not have many bells and whistles but it's built to be sturdy with reinforced legs that won't wobble or collapse and with rubber grips on the bottom that ensure that your floor won't get scratched or marked by the metal legs. This also folds up for easy storage.
Cost and Value
This is not going to be one of our cheaper models but if you've got the scratch this is one impressive table. It looks cool, it's sturdy, but despite the looks, it's easy to set up, easy to fold up and easy to move.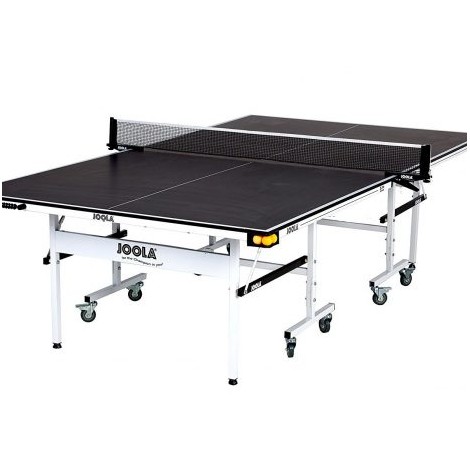 This ping pong table comes mostly assembled and only requires you to put in a total of eight screws. It is competition quality, has a medium density fiberboard top, and steel legs. It also comes with separate halves so that you can play solo if needed and allows for quick and easy storage.
Corner Ball Holders and Scorer
It's all in the details and this JOOLA table certainly has some neat details. One of those is ball holders on each corner. At each corner, you will find a ball holder that is big enough to hold 3 40 mm balls. That makes for a total storage of 12 balls right on the table. It also includes a scorer on each end of the table for easy tracking.
Table Top
The top of this table is a medium density fiberboard that is painted a beautiful charcoal color. The white stripes are silk screened directly onto the top of the table which makes the playing surface smooth and consistent. You will get a great bounce for a long time coming.
Cost and Value
This is one of the more expensive tables on our list. However; it is a competition grade and has features that others don't. It is a quality table that will last a long time and ultimately if you're looking to bring your game to a higher level, you need a nice table in order to do so. This one provides you with that.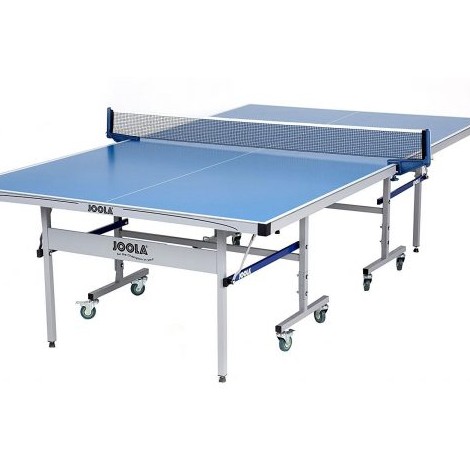 This is an outdoor ping pong table and every part included is meant to be weatherproof. It is competition grade and is, in fact, made by the same company that makes tables for the US National Championships and US Open. It comes mostly pre-assembled and is easy to put together and store.
All-Weather Table
Every piece is one of this table is meant to withstand the elements. The top is made of a 6 mm thick aluminum plastic composite. It sits on top of a powder coated rust resistant undercarriage. All of this makes it resistant to warping and chipping. The net set is also weather resistant and has all of the same quality than any other JOOLA net does.
Compact and Mobile
This table is made of two separate halves. It will come together with only 8 bolts and in about 15 minutes from the time you get it out of the box. It is easily folded in half and is on wheels so it easy to move and store wherever you need it to be. The other perk about the wheels is that they bear the burden of the weight, not you.
Cost and Value
This is an expensive ping pong table. However; it is meant to be outdoors, stay outdoors, and not lose any of its quality. That takes some fancy, expensive design in order to live up to that claim. This table does just that and you will be very pleased you spend the extra money to get a table you can safely leave out in the elements.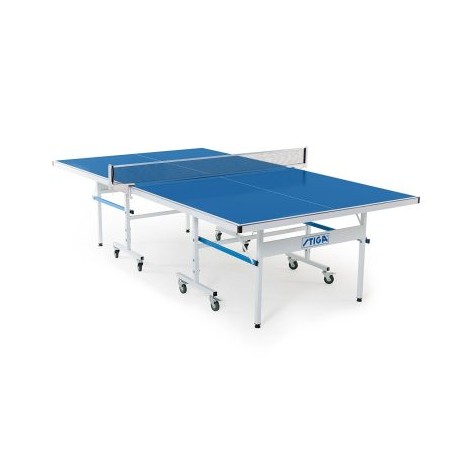 One of the other main designers of Ping Pong Tables is STIGA. They make a quality, durable table and tend to have a little bit better customer service the other highest competitor. This specific table is meant to go outdoors. Everything is weather-proof and will last rain or shine. It is easy to store and move.
Independent Halves
Each half of this unit is completely separate and freestanding. This makes the table multifunctional as each can be used as it's own table if needed, but also allows it to store very easily. They nest into each other to become ultracompact. It also makes it a little easier to move them, and half of a table is lighter than a whole.
72-Inch Net
This table comes with a 72-inch weather resistant net. It features string tension adjustment so you can get your net exactly as tight or not tight as you like. It is attached with a threaded clamp attachment which makes it very easy to put on and take off. You will easily be able to play rain or shine and don't need to worry about your net getting wet.
Cost and Value
As discussed in the last featured review, outdoor tables don't come cheap. This one is right about the same price as the last one and a good amount more than tables designed to be kept indoors. If you plan on playing outside at all though, it is well worth your extra money initially as this table will last much longer and withstand the elements much better than one not designed to do so.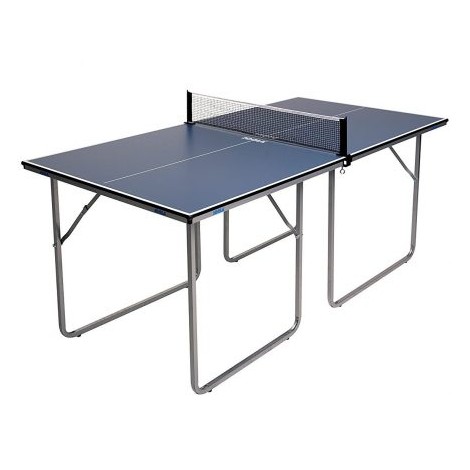 If you live in a small space but are still dying to have a ping pong table, then this is the table you need. It is designed to fit into small spaces. When fully up, the table is 2/3rds the size of a normal one. It is very easy to store and comes completely pre-assembled. It also comes with a post and net set to get you up and going as soon as you want.
Made For Small Spaces
Everything in the design of this table is made for small spaces. It is compact and lightweight and can be stored in many different small spaces - including under the bed. The two halves each function as free-standing tables so can be used for games or whatever else you want them to be. The folding legs fold completely in there are no wheels or attachments either.
Multi-Use
Each half of the table is perfectly square and just the right size to be used as any number of things. It is perfect to set up as a game table or for when you have company over. Or, as mentioned above, you can just fold up the legs and hide it under the bed.
Cost and Value
This table is significantly cheaper than the others we have discussed so far. It is smaller and has less moving parts, which makes the lower price make sense. It is designed as a compact table for small spaces and the price exactly matches that.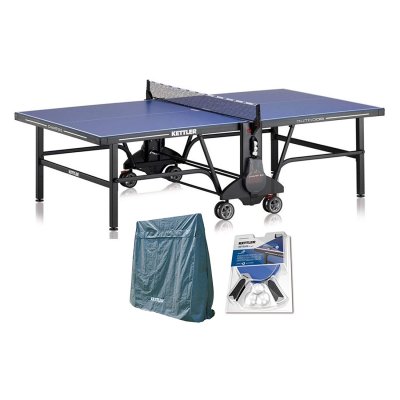 This is a high-end table but it also happens to be portable and really well constructed. It has wheels that will let you move it where you need it to be. It has a thick table board that will resist sun and water damage, even though this is an indoor table. It has a lot going on but it comes pre-assembled so it can get up and running really quickly. The table also meets tournament quality standards so this is the real deal.
Playback Mode
This is an interesting little extra that we thought we should comment on. If you want to practice this table will fold up and allow you to use the table on the other side of the net as a practice wall. It's not a huge deal but it's a nice little extra if you find yourself jonesing for a game but without an opponent.
Easy Set up
This is something we count on when it comes to most of our other tables, it's easy to set up and once it arrives you can get to playing in just a few minutes. The table itself is 90 percent pre-assembled and only takes about 10 minutes to set up. And once you get it set up it takes less time to fold up and put somewhere out of the way.
Cost and Value
Okay, this is a professional quality table and you're paying for the professional elements. Locking wheels for instance that can be adjusted to professional height, and locked. A composite solid table that resists sun and water, a playback mode and easy setup and storage. All said and done you're going to pay top dollar for this table but it's really, really nice.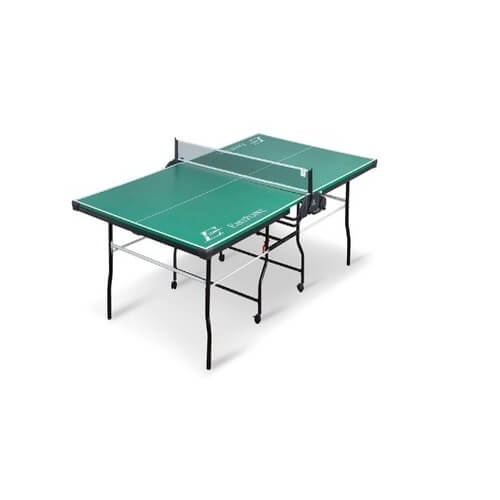 The brand EastPoint Sports takes entertainment to the next level, by bringing its customers a ping pong table that is versatile yet fun and transportable. Measuring at 9 feet in length, 5 feet in width, and 30 inches in height, this table comes fully assembled and ready to play on. While it is 9 feet tall this table is suitable for all heights, sizes and age groups. Making it the perfect addition to any playroom, basement or garage.
Multifunctional
Being able to have a multifunctional ping pong table works to your advantage due to allowing you to use your table for more than one purpose. This table can be used to play solo as well. Not only can you play with an opponent or two, but you can spend time practicing by your self as much as you can. This is all due to its foldability and locking system that works exceptionally well when you want to change modes. Furthermore, it can be used inside and out.
Aesthetically Pleasing
While not every brand is focused on the exterior of their product this one is. Featuring a fully laminated play surface that helps prevent warping, whereas serving as a yield for a constant bounce. Additionally, the frame is coated with anti-rust to ensure your table is durable and stable for many more years to come.
Cost and Value
When it comes to getting a bargain for your money, this is an excellent option. Not only is the price great but when you're getting a quality product like this one the price seems even lower. Furthermore, its aesthetically pleasing display is one of a kind.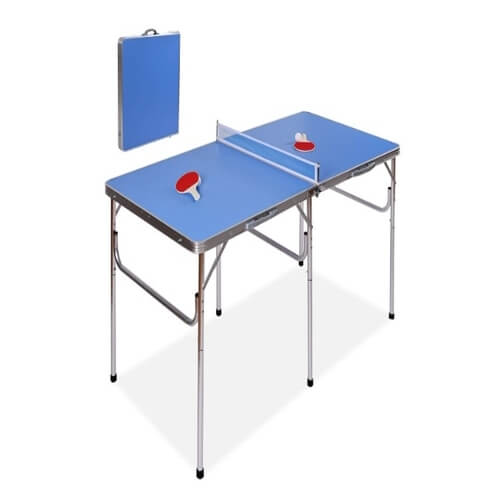 If you're looking for a smaller, get high-quality option to choose from, look no further. This Goplus 60-inch portable table is the way to go! Featuring a more compact and lightweight from this ping pong table is ideal for those that have a smaller space designed for some fun with friends. Furthermore, you can table your table outdoors and have fun in the sun as well.
For all Ages
Some games and tables aren't designed for all ages but this one is! This table was intended to be used by anyone and everyone who wants to have a little friendly competition. Additionally, it works great for those that want to get a little fitness in without all the added body stress. It's a win-win for those that want to stay fit yet, need something more lowkey
Versatile
Do it its dainty size, this table can be used for a multitude of things. From playing ping pong to using it in your bedroom as an additional table, or even working on it when in dire need of a table. Having this feature allows you to get the most out of what you paid for.
Cost and Value
The value of this ping pong table comes at an affordable price tag. Not only is it compact and versatile but its priced exceptionally well. So much so that you can almost call this table a bang for your buck. Do not be fooled by the size this table gets it done every single time.

Subscribe to our Newsletter