Best Fishing Shirts Reviewed & Rated for Comfort
In a Hurry? Editors choice: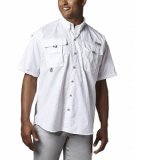 Test Winner: Columbia Bonehead

There are a multitude of factors that affect bodies. Exposing yourself endless rays of the sun for extended periods can be harsh. Well as it turns out, we need special clothes to fish, but there are clothes that make it a lot easier and more comfortable. When the sun is glaring down on your and you start to sweat, you'll want to be wearing the right fishing shirt. Both sweat and heat can become an obstacle if you're not adequately prepared for them. A fishing shirt alone won't make you a pro fisher, but it will certainly help you get there in a safe and comfortable to you can focus on becoming a pro.

We've researched and ranked our top 10 favorite fishing shirts. We have compared the good, the bad and the ugly so you don't have to. We hope this guide helps you find your perfect fishing shirt to keep you catching 'em all day long.
Standout Picks
Criteria Used for Evaluation
Comfort
If you like to fish you know that comfort helps your performance. So it is important that you invest in gear that keeps you comfortable If you'll be sitting for a couple of hours, then comfort is something you should give priority to.
The thing about this criterion is that it's not given by a particular element of the shirt. In order to be comfortable. So find the perfect short that fits all your needs so you don't have to worry about it and can focus on catching your biggest fish yet.
The best fishing shirts don't need to sacrifice any features to be comfortable or vice-versa. A good fishing will functional, durable, and comfortable.
Fit
Since fishing is a relaxed sport, you will want clothing that is also relaxed. The more lose and breathable, the better. Fishing shirts are designed to hang a bit lower than regular shirts and then to be a little baggier. With such a wide variety of different body types in the world, some times it may be difficult finding a size that fits you right. Considering that fishing involves a lot of waiting around, comfort has never been so important. If possible, always try out the clothing or at least read reviews and see how other who bought the product feel about it's sizing and comfort.
Protection
Make sure you are protecting yourself from the elements when you're fishing. A great fishing short will have UV protection is normally built into the fabric, preventing not only damage to the skin, but to the shirt itself from UV degrading. This will ensure you have the best time and perform your best. Fishing shirts are great at shielding you from the sun, but you also need to make sure to invest in some sunblock, glasses, and a hat are part of every fishing trip under the sun.
Breathability
Good fishing shirts are normally made from fabric like polyester. Although some versions may use a polyester blend. A shirt could be ideally made from 100% polyester, like a couple of the products in this guide.
It doesn't necessarily have to be polyester, but you want to make sure that it will hold up in heat or water. You also want to make sure the materials are not damaged by salt water if you will be fishing in the ocean.
Most of the selected products count with this feature; some also count with anti-microbial approaches and an anti-insects coating. Without a proper lining, your body will sweat directly into the materials of the shirt rather than the lining. Long hours of sweating your back and shirt will almost guarantee the development of odors if not washed after every use.
10 Best Fishing Shirts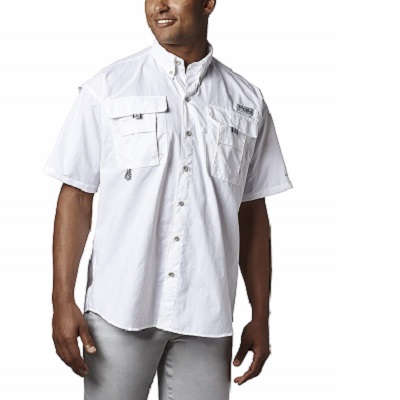 Columbia makes its way to the first spot of our ranking for the best fishing shirts. The Bonehead short-sleeve shirt has not only proven to be an efficient shirt, but also an audience favorite. Stay cool and stay protected, now counting with fly box pockets and a rod-holder loop.
Fishing Tools
Fish might be smart, but the Bonehead fishing shirt by Columbia is smarter. This shirt delivers features that simplify fishing and even enhance your performance at it. Hook-and-loop fly box pockets and a rod holder at the chest, a tool holder and utility loop give you the space you need on your hands while fishing.
Mesh-lined Cape Vents
Because fishing can bet a hot activity, this shirt counts with mesh-lined cape vents behind the shoulder to guarantee a fresh and comfort performance. The highly breathable design includes a hook-and-loop collar that can be used to protect your neck from the sun.
Cost
Columbia shirts normally go for more than the actual prices on Amazon, which makes this a great purchase. You'll get to access the features of one of the best manufacturers on the topic for a cost below the average value of the list.

2

. Vapor Apparel Long-Sleeve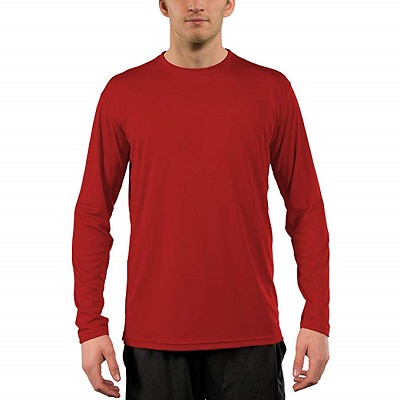 Second, on our list comes Vapor Apparel's long-sleeve fishing shirt design. If you're looking for UPF/UV protection, then Vapor Apparel is an efficient solution. Ideal for any activity where you may need protection against the sun, both in wet and dry conditions.
UPF 50+ Protection
The Solar Performance UPF 50+ long sleeve shirt is suitable for any outdoor activity. Its superior protection from sun remains active even if the shirt is wet. The UPF 5-+ UV protection is built directly into the fibers of the material. Even after 25 washes, it offers a UVB% Block of 99.92. It also provides UV protection.
Fishing Fabric
The materials of this shirt and its design make it ideal for fishing. The 4.1-ounce microfiber fabric has highly breathable and lightweight properties. After being enhanced by an innovative mechanical stretch system, the material decreases dry time and feels like skin.
Cost
Vapor Apparel features a cost that matches that of the Columbia Bonehead. Considering that's a fairly low price for what this product offers, it's safe to say that it's a solid purchase.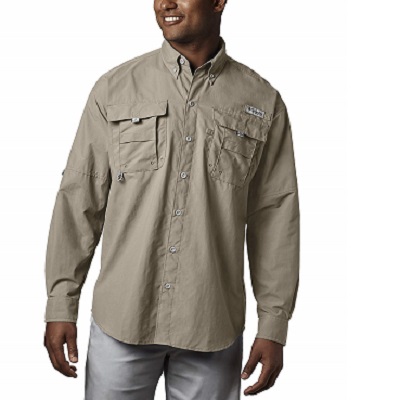 The second entry of Columbia is no less than the number 3 spot, the Bahama II long sleeve shirt. For those who need to stay comfortable after you've brought in your limit, this shirt dries quickly. Made from nearly weightless, yet durable nylon fabric, the Bahama II guarantees a breathable experience.
Omni-Shade UV Protection
The Bahama II counts with a built-in UV protection system that keeps the sun off your back. The material of which it's made from is specifically made to protect your skin during long hours of sun exposure.
Breathable Build
In hot environments, heat can easily become an obstacle. The Columbia Bahama II is made from a breathable nylon with strategically-located cape vents at the back shoulder. This approach helps air to flow freely through the shirt.
Cost And Value
Yet another accessible Columbia product. The Bahama II is the third best shirt on our list, and it currently has a price that beats the guide's average value. It can't get much better than that.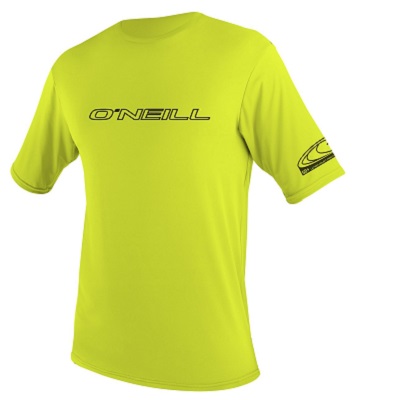 O'Neill makes it fourth with their Basic Skins shirt. The short-sleeve design feels almost like a second skin, protecting you while keeping you in comfort. Sweat-friendly and fresh, the O'Neill Basic Skins is ideal for long exposures under the sun.
UPF 50+ UV Protection
This shirt meets the Skin Cancer Foundation recommendations, delivering UPF 50+ protection. It's the highest level of protection you can get on the material, blocking 98% of the ultra-violet radiation.
Water-Friendly And Aerobic
The Basic Skins allows for natural mobility, making it ideal for a variety of water sports. Its white color prevents the shirt from absorbing heat, and minimal seam placement diminishes chances of rashes. Fits close to the body but it's not a compression shirt.
Cost
Launching for a price below the average value of this list, the O'Neill Basic Skins becomes an accessible shirt. It keeps you fresh and protected without breaking your wallet.

5

. Hook & Tackle Gulfstream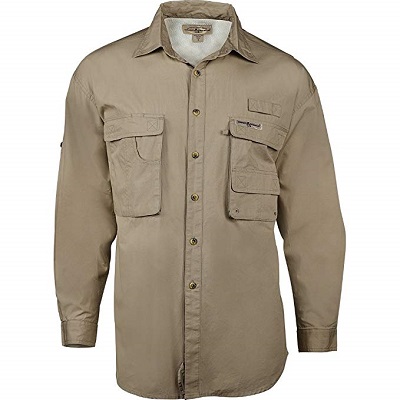 Hook & Tackle inspired their product on the East Coast Gulf Stream originally mapped by Benjamin Franklin. This shirt resembles the warm water current that flows there, made from soft cotton-rich poplin and moisture-wicking properties. Fresh and comfortable, the Gulfstream is guaranteed to be an efficient fishing shirt.
Moisture-Wicking Mesh Lining
The internal mesh lining is made with moisture-wicking fabric to create a dry and cool environment for the body. This material is highly comfortable while fighting sweat and the development of odors.
Frontal Utilities
The Hook & Tackle Gulfstream counts with multiple cargo pockets on the front of the shirt. It also includes hook and loop closures, flies rod utility loop, a hidden button-down collar and a special pocket designed specifically for glasses.
Cost
Hook & Tackle's Gulfstream shirt may be expensive for some users. It exceeds the average value of the list, but Hook & Tackle also tend to exceed the clients' expectations.

6

. Columbia Plus Tamiami II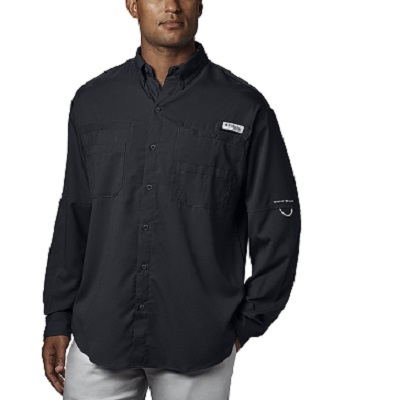 For the third time on this list, Columbia makes a decent entry. The Plus Tamiami II long sleeve shirt offers a 100% polyester construction with their signature protection technology. Allowing for the free flow of air and easily roll-able, the shirt is ideal for long fishing trips.
Omni-Wick Lining
A breathable and moisture-wicking lining counts with built-in components to prevent humidity. Heated days may cause excessive sweating and transpiration, in which case this lining becomes ideal.
Antimicrobial Treatment
Sweat and other factors constantly contribute to the development of bacteria that remains on the clothes. These microbes generate odors and other undesired effects both on the clothes and the body.
Cost
Columbia isn't normally a particularly accessible brand, which is in part why the Tamiami II had a lower ranking. Nevertheless, this shirt counts with some of the best technology you can get for fishing performance.

7

. Denali Long Sleeve T-Shirt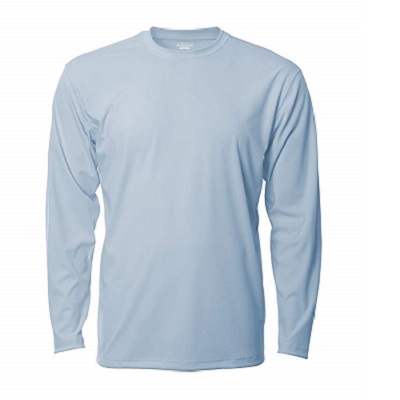 Denali's long sleeve release is perfect for sunny days. Made with their proprietary ProtectUV fabric, this shirt delivers both comfort and protection for fishing. This product has been bestowed the Melanoma International Foundation Seal of Approval.
Protect UV Mega Solar Fabric
The fabric of the Denali Long Sleeve T-Shirt counts with built-in properties to resist UPF 50+ exposure. The Mega Solar fabric technology protects both your skin and the material of the shirt from sun exposure. Its UV qualities are built into the fabric.
Mechanical Stretch
By stretching the fabric mechanically, The ProtectUV fabric helps water and moisture evaporate in no time. If used with the Denali Teaser base layer, you'll achieve maximum comfort during fishing.
Cost
This shirt is not expensive if you think of what it offers. Being below the average value is enough reason, but the mechanically-stretched material offers great qualities for the fishing environment as well.

8

. Baleaf Performance T-Shirt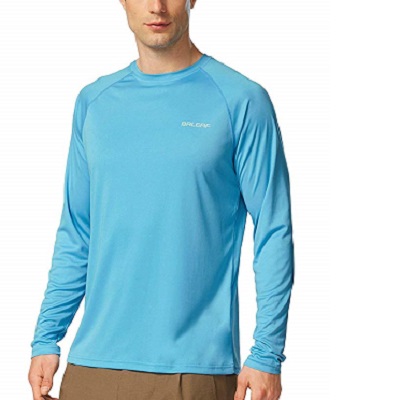 Created to deliver comfort wherever you are, the Baleaf Performance T-Shirt keeps moisture away with its quick-drying and moisture-wicking properties. The fabric is ideal for traveling; it's soft, nearly weightless, and highly breathable.
UPF 50+ Protection
The Baleaf Performance T-Shirt offers the highest degree of UV protection. Meeting the UPF 50+ standard, this shirt is guaranteed to keep ultra-violet radiation off the protected skin.
Quick-Drying
A water-friendly fabric counts with quick-drying and moisture-wicking qualities that help you stay dry. It's highly breathable and also dries much quicker after washing.
Cost
Baleaf comes as the best value of the list. Featuring UPF 50+ protection at a very low cost, this shirt is a favorite to most beginner fishers. Quick-drying, comfortable, and lightweight. Not much more to say.

9

. Guy Harvey Redfish Pro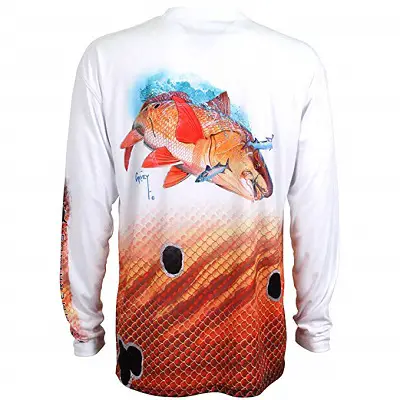 Guy Harvey takes the 9th place of our list with their long-sleeve performance fishing shirt, the Redfish Pro. Managing moisture and protecting your skin from the sun rays, this shirt is reliable on sunny days were exposure may pose a threat. Being made 100% from soft polyester, it guarantees comfort.
Moisture Management
The moisture-wicking technology system included in the Redfish Pro takes care of both moisture and odors. Its breathable approach helps move perspiration from the skin to the outside of the fabric for faster evaporation.
UV Protection
The Guy Harvey Redfish Pro counts with UVX protection. UPF Sun Protection Rating is 30+, meaning it deflects 96% of the harmful UV rays. This technology is built into the fabric.
Cost
The Redfish Pro isn't a particularly cheap shirt; its price is similar to that of the Columbia Tamiami II. Though, its 96% protection rate and moisture management system make sure you don't regret your purchase.

10

. Trailside Long-Sleeve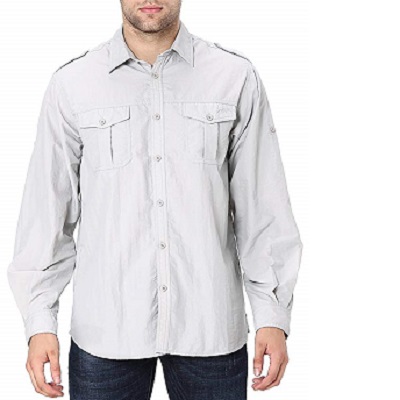 Last but not least, Trailside makes it for the 10th entry. Their long-sleeve fishing shirt is created for lovers of the outdoor environment. It features breathability, easy washing, and windbreaking to withstand time and seasons.
Utility Pockets
Frontal pockets with a hook-and-loop closure assure your items stay in the pocket. The spacious bags include a tool holder, a utility loop, and a rod-holder loop.
Functional Fabric
The fabric of this shirt is built to wick moisture and provide shade when worn. It includes ventilation panels on the back, repels water, is breathable, and counts with anti-insects technology.
Cost
Trailside's entry matches the average, making it neither cheap nor expensive. It's a shirt that stays with you for a fair while and that can get to help you a lot when fishing. Don't let its positioning fool you – it's good.

Subscribe to our Newsletter