Best Goose Decoys Reviewed & Rated for Quality
Whether you are a
bird hunting
professional or novice, for the best results you will need to use decoys. Geese by nature don't like to land in open fields or areas where they feel exposed to predators. You won't have much luck getting a prize bird if you attempt to
hunt in a bare field
. A decoy is a lifesize replica that will fool real-life birds into thinking an area is safe for landing - the presence of other birds symbolizes to incoming foul that the area is free from natural predators and threats. Honkers are especially great for enhancing your spread for any type of game bird hunting. Since geese are especially nervous creatures, the make great confidence decoys to enhance spreads for other species such as crows, herons, coots or gulls. We rounded up the best products and compiled this list of our top ten picks.
Standout Picks
Criteria Used for Evaluation
Style
Dekes come in a wide range of styles and we wanted to include an assortment of all the best on our list. There are various body positions, such as walkers, active, feeders, and sentries. Then there are the dekes that are made for use in water, these are called floaters. There are also half-shells, which mimic honkers lying down. These are stackable and great for saving space and transporting. Fully flocked dekes will be covered in realistic feather-like fibers all over while some dekes only have flocking on the heads. The style of deke you select will be based on what you already have in your set and your budget, so we have included something to meet all needs.
Durability
Lets face it, hunting is not a cheap hobby! Gear is expensive and it can all add up fast. Durability was a huge consideration for us while we compiled this list. Dekes that are made from long-lasting plastic will stand up to the elements and look great for years to come. One piece designs have no seams, which are prone to cracking after repeated exposure to cold. Long-lasting and non-chip paint will keep the appearance of your birds prisitine even when they face abuse in the feild.
Portability
This is another huge consideration when selecting the right dekes to add to your set. Most prime hunting spots aren't fully accesible by road, which means you have to hike a portion of the way in. While you may not be concerned with the weight of the dekes initially, you will be after you spend 45 minutes lugging them through the brush. Shells are hollow as well as stackable, so they are a great option to look at if you are trying to make the foot commute a little lighter.
Ease of Use
Alright, so you hiked all the way into your spot. Now its time to set-up your spread. The less time you spend setting up dekes, the more time you have to spend trying to bag the best bird. One piece designs come with attached heads that will never need to be put on before use. Collapsible bases make assembly a breeze and save you time at the end of the day as well. Floaters with a weighted keel will stay upright, even in times of rough or choppy surf, so you will never need to interrupt your concentration and wade into the water to re-adjust anything.
Effectiveness
You need your spread to attract the real thing! After all, you can't have a successful day waterfowl hunting without any birds around. We scoured reviews from real hunters to pick the most effect dekes on the market, guaranteed to fool birds and help you bag a top prize.
10 Best Goose Decoys
The Big Foot B2 Goose Decoy pack came in number one on our list for a ton of reasons. The price is super reasonable, the durable and rugged construction will last for many seasons, and the appearance of these decoys is some of the most realistic you will find. Whether you are an experienced hunter who is looking to enhance his existing spread or a game hunting noob who is trying to build up a spread of his own, this decoy pack from Big Foot will surely please you.
Durable Polyethylene
Big Foot makes their decoys out of polyethylene plastic. This type of plastic is the most common in the world and is produced in quantities of over ten tonnes yearly. There are many advantages to using this type of plastic in decoy construction. First of all, it is lightweight. For hunters who have road access all the way to their hunting spot, this may not be a top concern. However, many hunters have to hike sometimes long distances to their secret spots, and lugging heavy equipment and gear is less than ideal. Another reason we love polyethylene construction is for durability. These decoys will last you for many seasons, saving you money on buying replacements.
Realistic Appearance
A realistic appearance is key when it comes to decoys and the Big Foot B2 packs do not disappoint in this department. First of all, the feather details are molded into the body of the decoy. With a hand-finished paint job and true to life colors, the Big Foot decoys look about as close to a real goose as possible. We also love the patented 'leg foot assembly' of this product. Each decoy is perched on top of two life-like wide feet bases. The plus to this configuration is that the decoys can be used in a variety of weather and ground conditions, as you will not need stakes or tie downs to secure them.
Cost and Value
The cost of this value pack is extremely reasonable and one of the main criteria we used to assign the Big Foot decoys the top spot on our list. Each pack comes with six decoys and there is the option for feeders or active stance birds. Reviewers love the extreme durability of this product, one commented that these decoys are 'quite literally bulletproof' while another stated that the paint on the Big Foot decoys 'won't even come off if you scratch it with a screwdriver'. This is a perfect pick for people looking to supplement their existing spread, or for the new hunter who is just beginning to assemble one. The decoys can be used on frozen and thawed ground, thanks to the wide bases that do not need to be staked or tied down. Adding even more value to the Big Foot Decoys is the hand finished paint job and moulded feather details, which give this product an extremely life-like appearance.
2

. Avian-X Painted Honker
Claiming the number two spot on the top ten list is this 6 pack of honker walkers that is made by Avian-X. This brand specializes in premium decoys and is a top pick for many professional hunters. They strive to create cutting edge products that are at the top of their game for appearance, quality and innovation. This 6-pack of honkers has many features that catapulted it to the number two spot, and we give a ton of bonus points for Avian-X's commitment to sustainable wildlife conservation as well.
Oversized Bases
This 6-pack of honkers feature 4 different true to life walking poses. Having a realistic and lifelike spread will increase your likelihood of bagging the prize bird. Having a wide variety of decoys in different stances is key, since naturally a flock of birds wouldn't be in one fixed position. This product comes on oversized wire motion bases which allow them to be used even in high winds. The motion bases add even more to the lifelike appearance of these honkers, as they mimic real-life movements that a goose would make. The base also collapses into the body, saving you time and energy in your set up and take down.
Designed by World Champion Carver
Avian-X takes pride in designing and manufacturing premium products. They work in conjunction with top carvers and professional game hunters to offer cutting edge innovation and technology. The Avian-X Honker Pack was designed by Rick Johannsen, who is a world champion decoy carver. The heads of this product is fully-flocked to give a realistic appearance and the bodies use a premium no-flake paint for an ulta-long lasting finish.
Cost and Value
The Avian-X Walker pack is very reasonably priced considering all the value-adding factors there are. First, this pack is perfect for supplementing your existing spread. Next, the bases of these decoys are collapsible for easy set-up and tear down. Another factor we like is that the motion bases allow these honkers to mimic the movements of real like geese. With no-chip paint and fully flocked heads, these will maintain their realistic appearance for many hunting seasons to come, so you can use your money to add to your spread, not replace inferior products that wore out too quickly.
Rounding out the top three picks on our list, we have the Dakota Decoy X-treme Canada Goose Floater pack. Having a realistic spread will include birds in water as well as grazing on land, and the Dakota Decoy Floater pack is perfect for adding diversity to your existing arsenal. These high quality products are built to last, easy to use and are an excellent pick for the hunter who is looking to add some floaters to his spread.
Airbrushed Paint Job
Realistic, lifelike design and paint job are key when it comes to decoys, after all birds may not be as smart as humans but they aren't stupid either. Dakota Decoy uses a number of methods to provide the most authentic decoys on the market. The bodys of the floaters are molded from mixed density plastic. This gives the best of both worlds in terms of portability and lightweight as well as long lasting durability. The feather details on these honkers are carved in, giving them a realistic, 3D appearance. Dakota Decoy also uses an airbrush paint finish and fully flocked heads to further enhance the authentic look of this product.
Floater Design
Unlike our first two picks, which were decoys to be used on land, this pack of honkers is a floater design. Adding floating decoys can help improve your hunting game for a number of reasons. For one, it makes your spread more believable. Think about when you see a flock of geese in the wild - they aren't all standing in the same position or in the same area. Two, floaters in water will cause ripples when they move, which further adds to the authenticity of your set-up. Birds flying overhead will see the ripples caused by the decoys bobbing in the water and be fooled into thinking these are real birds who are moving their wings or feet.
Cost and Value
This pack of floater decoys from Dakota Decoys in an excellent option to check-out in the mid-price range. The high-low mixed density polyethylene plastic design of the bodies is lightweight and easy to transport, but still long lasting and durable so your investment will last many hunting seasons. One feature we particularly love is that this item comes with a weighted keel. This will keep your foul sitting upright in the water, even in rough or choppy waters and also causes the decoy to right itself when thrown in, simplifying your set-up process. There are 6 decoys in this pack, and 4 different head positions, to add even more authenticity. We give bonus points for the airbrushed paint job and carved feather details, which further to true to life appearance.
Next on our list, we have a half shell decoy that is made by Higdon Outdoors. This company makes a wide range of entry level to premium decoys and also supports wildlife conservation efforts. Shells are another great option to check out if you already have a basic spread established, and are looking to enhance it. These decoys are on the lower end of the price spectrum, which makes them an optimal choice for people not looking to break the bank.
Half Shell Design
We love these half-shell decoys made by Higdon Outdoors for a ton of reasons. One, the shell design is stackable. This is great for transportation reasons as the decoys will take up less space and are also lower in weight. For those who have to hike into their hunting spot, lightweight and portability will be top factors to consider. This pack comes with six birds and there are 4 different head positions all of which are fully flocked, further adding to the authentic look.
Aids Wildlife Conservation
We love the Higdon Outdoor Company not just for their high quality decoy products, but also for their philanthropic endeavours as well. A portion of the proceeds of your purchase goes towards conservation efforts, which we can all feel good about supporting. Higdon Outdoors is an official Ducks Unlimited corporate partner. Ducks Unlimited works to conserve valuable wetland and grassland habitat areas that are crucial to the survival of North American Waterfowl. Not only will you be purchasing a quality product, you will also be supporting a worthwhile cause at the same time.
Cost and Value
One of the best points of this six pack is the price. This is one of the most affordable options on our list and reviewers raved about the high-quality that you would expect from pricier options. One reviewer noted that other hunters asked him to send the link for Higdon Outdoors Half Shell decoy pack, they were so well liked by his buddies in the field. The decoys themselves have many features that make them a great pick including non-glare, realistic paint job and fully-flocked heads. We give a ton of bonus points for the half-shell design, which is stackable and lightweight making these perfect for transporting by foot.
Up next we have a fusion pack that is made by the Avian-X company. We saw this company previously on our list, with their pack of walker honkers. This option is a fusion pack, which offers a variety of the most popular lifelike body poses. The Avian-X company is known for manufacturing cutting, edge premium decoys of the serious hunter so you can't go wrong with adding the fusion pack to your spread.
Collapsible Bases
These come with collapsible, oversize motion bases. These will keep your decoys secure in the field, even during times of high winds or inclement weather. We like that the bases collapse for a number of reasons. One, it will make transporting your product to your hunting spot easily as the decoys will take up less room. Two, you can use the honkers without the base to mimic geese laying down, which is perfect for hunting in colder temperatures.
Variety of Popular Body Positions
This fusion pack features three of the most popular body styles, making it an excellent pick for hunters who are just beginning to build up a spread. There are 3 feeders, which are positioned with their heads down in a position that mimics a real bird grazing. Two walkers and one sentry round out this variety pack. A sentry decoy is designed to look like a bird on high alert for predators and threats. This will signal to birds flying overhead that an area is safe to land, helping your hunting score improve.
Cost and Value
Avian-X is a maker of premium products. While you may pay a slightly higher price purchasing from them, this will be reflected in the quality and durability of your product. These decoys are easy to transport and set up, thanks to their collapsible bases. The bases are also oversized, giving your decoys stability you can depend on, even in high winds. We give a ton of bonus points to Avian-X for contributing to wildlife preservation efforts as well, so you can feel good about your purchase.
6

. Big Foot B2 Variety Pack
Our next selection to make the list is a variety pack of shells made by Big Foot B2. Shells are a great option to check out if you already have a semi-decent spread established that you want to enhance. While this pack wouldn't be the top pick for someone looking to start building a spread from the ground up, it is a great affordable option for those who already own some and waznt to add to their collection.
Lightweight
The advantage of shell decoys is that they are lightweight and stackable, perfect for transporting by foot. The con of a shell decoy is that it doesn't come with a base and won't mimic and real life movements that a live goose would make. Any game hunter who has to abandon the car and hike into his prime hunting spot will attest that having lightweight decoys is something you will thank yourself for later. Goose hunting is an all day activity that takes extreme concentration and you don't want to tire yourself out before you even reach your hunting blind from lugging around unnecessarily heavy equipment.
Add Realism to Spread
Half shell decoys are perfect for enhancing your existing spread that should include honkers in a standing and walking position. Just like a room full of people wouldn't all be standing in the same position, natural geese in the wild will be in a variety of positions and doing a variety of different activities at any given time. Another reason this shell pack from Big Foot B2 is a great purchase is that the laying down position of these honkers make them ideal for cold weather hunting, when many birds will be bunkered down to keep warm and out of the wind.
Cost and Value
This shell pack is reasonably priced in the middle of the spectrum. The rugged construction of all Avian-X decoys mean you can throw them around the field and they will maintain their authentic good looks. These decoys are great for enhancing the authenticity of an existing spread, as well as being lightweight and easy to transport. We give bonus points for Avian-X contributions to wildlife conservation, so you can feel good about your purchase. One reviewer said he purchased this set only a month ago and had already bagged an impressive 14 birds!
No list of top ten products would be complete with a luxury, splurge item on the list. This pack made by Greenhead Gear certainly lives up to the term 'Elite' in its name. While this set is an investment that will set you back quite a few dollars, these decoys are so lifelike and anatomically correct that even up close live geese cannot tell the difference. If you're a serious hunter looking to invest in some professional grade equipment, or simply want to spoil yourself a little bit, it is worth checking out this Elite Full Body Honker set from Greenhead Gear.
Fully-Flocked Design
While the previous products to make our list feature fully-flocked heads, Greenhead Gear took things up a notch and made their birds fully-flocked all over. This creates the most lifelike appearance of any decoy on the market. There are three different sets of honker positions to select from in the Greenhead Gear Elite range - active, feeder or harvester. Depending on what decoys you already own, this allows you to fully customize your spread for extreme authenticity.
Comes with 6-Slot Carrying Bag
One thing we love about this set from Greenhead Gear is that it includes a 6-slot carrying bag. Your decoys aren't going to transport themselves to your hunting spot and having the proper gear to transport your product will make your life much easier. This set would make an excellent gift for the waterfowl hunters on your list, since the addition of the carrying ba means the recipient wouldn't need to make an additional purchases before they could put their gift to use.
Cost and Value
We will admit, this Greenhead Gear Elite Honker set also comes with an elite price tag. For the casual hunter or someone just starting out, this may be an unnecessary investment at the beginning stages of your hunting journey. We have all heard the old saying, you get what you pay for, and this certainly applies in this scenario. These honkers are the only set on our list which feature a fully-flocked design, creating the most lifelike decoys on the market! We give bonus points for the motion stakes, which are designed to mimic real life movements in even the slightest breeze. For professional hunters or someone who appreciates the finer things in life, you cannot go wrong with investing in this set.
8

. Cabela's Northern Flight
Our next product in the buying guide is Cabela's Northern Flight RealImage Floaters. Cabela's has been around since 1961 and grown to become the largest retail, internet and mail order outdoor outfitters in the world! As we already touched on, you want to aim for the most realistic spread to encourage the most birds to land in your prime target zone. Floaters are designed to used in water, and are a great way to add diversity to your existing arsenal of shell and full-bodies.
Budget-Friendly
This four pack of floaters is on the lower end of the price spectrum, so it is an affordable way to bring some new gear on your next hunting expedition. These decoys are made from polyethylene plastic, which is perfect for withstanding exposure to the brutal cold and blaring heat which often comes with long periods spent trying to nab to prize bird. You won't need to worry about your purchase wearing out since the special blend of polyethylene is rugged and durable as well.
Swivel Heads
We love that these honkers are super realistic as well. First, the highly-detailed and realistic non glare paint job looks very authentic. There are 4 different swivel heads, which you can configure in different positions, further adding to the lifelike look of these decoys. The floaters have a weighted keel, to keep them steady in the water even in rough or choppy surf, so they mimic real life movement in the water.
Cost and Value
If you already own a decent spread of walkers, sentries and feeders, as well a variety of shells, you will probably want to consider adding some floaters to your battery. These RealImage Floaters made my America's favorite outdoor outfitter Cabela's are the perfect purchase to get the job done. The strong plastic will resist the elements and the realistic, non-glare paint job will fool real life birds easily. Adding even more value to this product is the weighted keel and double tie offs at front and back, for ease of use and to mimic real-life movements of honkers in water.
9

. Dakota Decoy Signature Series
Dakota Decoy is one of the leading companies in the business, and for a good reason. We already spoke about their X-treme Floater decoys, and here is another pick to make our list. The Signature Series is all about high definition at its best! These decoys have an all-new design that can take a beating and still look great!
Fully Flocked
The Signature Series decoys come fully flocked, for a true to life look even from up close. Each pack comes with six decoys, and there are three positions to choose from active, sentry or feeders. This allows you to pick the body position that will best diversify your existing collection. These birds also come on Dakota Decoy's patented Wind Walker motion bases, which mimic real-life movement and also eliminate the need for stakes, so you can hunt even when the ground is frozen! These bases have been tested in winds up to 35/km and are nearly impossible to blow over.
EVA Plastic
The one piece bodies of these Signature Series decoys are made from EVA plastic. This plastic is known for its resistance to stress-cracks and extreme temperatures, which make it perfect for manufacturing hunting gear. The bodies are one piece, so you will never need to fiddle with attaching heads again. This will save you time and irritation, so you can spend more time enjoying hunting.
Cost and Value
The Signature Series Flocked Honkers are on the pricier side of the market. Dakota Decoy offers a fantastic warranty on all of its products, and the rugged one piece EVA plastic design will really stand up to abuse in the field. There are three different body positions to choose from, and these decoys come fully flocked, not just on the head like some of the other products we have seen. Bonus points for the patented Wind Walker motion bases which require no stakes and resist even high winds! If you are looking for a splurge item or to make a great investment to your hunting gear this season, you can't go wrong with the ultra realistic Signature Series Honkers from Dakota Decoy.

10

. Greenhead Gear Harvester Pack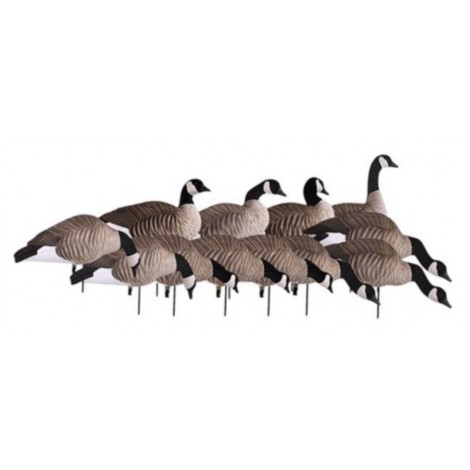 The last product to finish out our list is the Harvester Pack from Greenhead Gear. This is another premium pack that isn't for hunters on a budget. However, if you are looking to make an investment into your spread, this is another fantastic option to look at it. This pack has 'lesser decoys' which are smaller than traditional for easier transport, but still realistic enough to fool birds into a landing.
Twelve in a Pack
Since this is a 'lesser' pack it comes with an impressive 12 dekes! Lesser's can be used to enhance your spread of existing feeders, sentries and actives. They can create depth, making your spread more realistic to birds flying high overhead. In the Greenhead Gear Lesser Harvester pack, you get eight feeders, three active and one sentry. T
Comes with 12-Slot Bag
Greenhead Gear knows their products are an investment, and they include a helpful 12-slot carrying bag along with this lesser pack. The bag will keep your dekes in pristine condition, free from chips or dents that could result from traveling. It's always nice to have a bag included, it is one less item you have to worry about purchasing, and it will fit your item perfectly.
Cost and Value
here is all the quality you expect from Greenhead Gear products. The stakes feature Real Motion technology, which will mimic real-life movements in the wind. They are fully flocked for an ultra-realistic look and the body is a one-piece design, so you won't need to worry about cracks. The price tag is a little high, however, you do get 12 lesser dekes, instead of 4-6 like most of the other packs available. For the price, Greenhead Gear offers superior quality and craftsmanship.

Subscribe to our Newsletter