Best Camping Books Reviewed & Rated for Quality
In a
Hurry? Editors choice: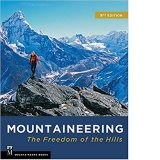 Test Winner: Mountaineering

The fact that camping and outdoor survival is such a popular topic that has to lead many authors to write books about the subject. You can find these books written on just about any topic that you can imagine including topics such as outdoor survival guides, books on campgrounds, or even stories that you can read to children while you are camping.

These books come in both fiction and non-fiction variation and can be read as pieces of instructional material, or you can read them for fun. Thanks to advances in technology, much of this content is now available in traditional print as well as electronic versions.
Standout Picks
Criteria Used for Evaluation
Use
When you are reading a book about camping, you will want to make sure that the information that is presented in the text is accurate and credible. Accuracy and credibility are crucial if you plan on trusting your survival to what you read. It isn't going to do you a lot of good to learn about foraging for wild food if the text presents you with species of plants that turn out to be unsafe to eat.
Likewise, you may struggle for hours to attempt to light a fire only to find out that you have been doing it the wrong way. These are but a few reasons why you will want to make sure that the information in the book is accurate and credible.
One way to find out about a book's credibility is to learn about the author. You will generally be able to find some biography on the author that will tell you about his or her background. For example, if you are reading a book on surviving in the wilderness, then it is good to know that the author has taught survival classes because it means that the author knows about the subject material.
On the other hand, the author may be a well-known researcher who is highly rated and is known to do proper research before writing. The more you know about the author's background, the more likely you will be able to tell if the material is credible.
The accuracy of the text is a little harder to determine before purchasing a book, but you can always turn to professional reviewers to see what they have had to say which can help you decide if the book is accurate.
Size
As you may imagine, many works will cover a wide variety of topics and subject materials which means that you will need to think about what kind of subject material you are looking for when you decide to purchase a book.
It will also matter if you are looking for content that covers a wide range of topics in a shallow fashion or something that includes a specific topic in depth. Each kind will have its pros and its cons that you will want to consider before purchasing a book.
Many outdoor survival manuals cover a wide variety of topics that would include subjects such as purifying water, foraging for food, or starting a fire. While all of these topics would no doubt be useful to help you survive while you are spending time outside, there is no way any of them could be covered in anything except for broad detail or the book would be massive.
The content may be exactly, what you are looking for and can be useful in situations where you are just looking for some basic working knowledge so that you can survive. On the other hand, you may want to have in-depth knowledge about a specific topic. Foraging for wild food is one such topic that makes for an excellent example since there are lots of plants and you will need something that tells you specifically about plants that grow in the wild.
Such information may include how to identify the plants or how to cook and prepare them. It may even contain pictures of the plants so that you can identify them as well. The subject material will matter, so it's a good idea to figure out what you are looking for when you are making a purchase.
Value
When it comes to books about camping, you will want to make sure that they are well written and are well done. A low-quality book will become a source of frustrations that you may decide isn't worth reading while a high-quality book will be something that you will want to use.
It is always a good idea to consider quality so that you get a product that you are happy with and will enjoy for years to come. When you are looking for a book, you should try and look for signs of poor quality such as poor grammar and spelling, inaccurate material, as well as page layout errors.
Sometimes books are translated from one language to another, and you end up with something that isn't using proper spelling and grammar. Improper grammar and spelling are telltale signs of low quality since it means that the publisher didn't take the time to make sure the work was done correctly.
Even if the book isn't translated, you may end up with grammar and spelling errors that are indicative of something not being right. The material is another sign of quality that you will want to check as well.
If the book is saying something that isn't factually true, then you will have to ask yourself who looked it over and what else could be wrong. Information that isn't factually correct is a sign of low quality in a camping book.
Finally, there may be publishing errors that will impact the quality of the work. You may see text that is too large or illustrations that are black and white when they need to be colored. Low-quality books are hard to read so you should do your best to look for something that is well done.
BEST CAMPING BOOKS REVIEWED & RATED FOR QUALITY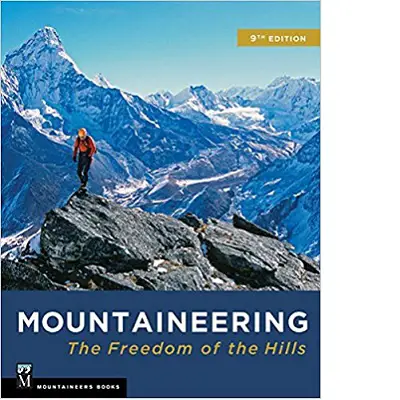 Here is the best selling book that offers plenty of survival knowledge. While the book is specifically geared towards mountaineering, much of it can be applied to camping, hiking, and backpacking since there are plenty of topics that discuss outdoor safety and survival. You will learn how to travel in difficult terrain, search and rescue, and other essential outdoor survival topics.
Expert Research
The content has been researched by outdoor experts who offer the reader the best advice for surviving outdoors. You can trust that you are learning some of the best practices for surviving outside.
Moutain Climbing Skills
If you are going to climb a mountain, then you will want to learn about the different skills that are taught in this book so that you can complete your climb safely.
Cost and Value
You will see this item sold at a price that is higher than the average price when compared to similar items. The higher price is due to the well-researched content and excellent advice.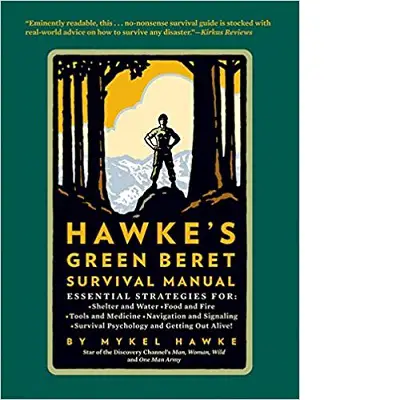 This is a great reference manual to have for learning basic survival strategies. It is a good read for anyone who plans on doing minimalist backpacking or camping since it will give you ideas on how to survive using only what nature has to offer. The author keeps the reader engaged and uses a simple to understand way of explaining the concepts in the book.
Writen by Former Green Beret
The author, Mykel Hawke, served in the U.S. Army and is a former Green Beret. He brings his knowledge of outdoor survival to you so that you can learn how to make it on your own.
Wide Audience
The book has been written for a wide audience. Plenty of the material will be useful for people who are just starting to spend time outside as well as people who are experienced.
Cost and Value
You will find this item sold at a price that is higher than the average price. It is well worth the premium since it covers everything that you may need to live outside.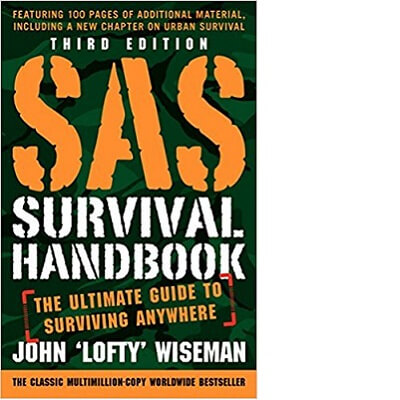 When disaster strikes, you will wish that you had a copy of this book on your shelf so that you are fully prepared. This book will walk you through topics such as setting up a camp and administering first aid. You will also learn how to defend yourself from wild animals as well as other people which makes this into the ultimate survival guide.
Comprehensive
The book has chapters on important topics such as self-defense, food, and understanding the weather. This will help you survive when you have to live outdoors and is useful for camping.
Step By Step
The book has been laid out in a step by step guide so that you understand what needs to be done first followed by what you need to do next in order to survive.
Cost and Value
You will find this item sold at a price that is around the average price. The price makes into an excellent value since you get premium advice without spending a lot.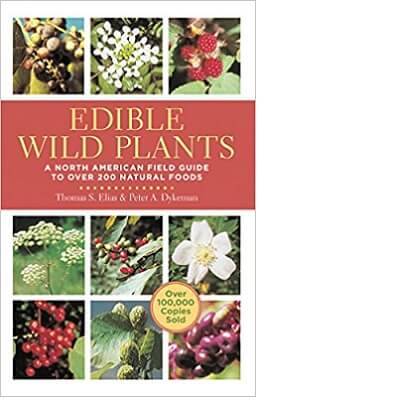 There are times where you are going to need to forage for your food. For example, you may get lost and run out of food that you have packed which can mean that you will need to find food. Also, a knowledge of foraging can help you reduce how much you need to carry. This is a book that will help you pick out editable plants.
Organized by Season
All of the plants are organized by the season in which they are edible. This will help you when you are in the field because you just go to the part that you need to see.
Color Photos
The plants are identified by colored photos. Having color allows you to make sure that you have found the right plant which will improve safety and increase your success with foraging.
Cost and Value
You will find this item sold at a price that is slightly higher than the average price. The higher price is due to the full-color pictures that cost more to print.

5

. Ultralight Backpackin' Tips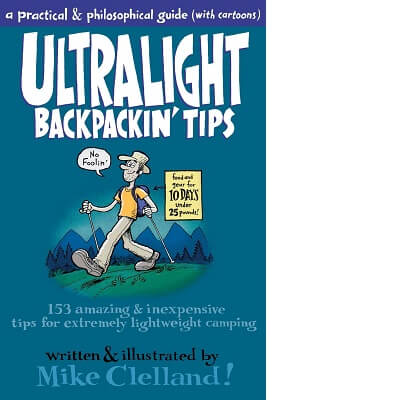 The full title of this book is Ultralight Backpackin' Tips: 153 Amazing and Inexpensive Tips for Extremely Lightweight Camping. Walking in the wilderness is an empowering experience. If the backpack does not weigh you down, the walk is more enjoyable. This book is meant to be helpful.
What the Book Contains
Celebrated illustrator and outdoors expert, Mike Clelland, offers techniques about packing light without sacrificing safety or the essentials, and still be comfortable and well-fed. 153 trail-tested tips render solid advice along with over a hundred helpful and humorous illustrations.
Some advice includes using a digital scale, the importance of comfort and safety, making things on your own out of trash, trying something new each time you backpack, and knowing the difference between needs and wants.
Author's Philosophy
Clelland says it's ok to be nerdy. He suggests a shift in mindset to b successful in the ultralight concept. His approach to ultralight is from a perspective of systems rather than gear. Scientific guidance on reducing the weight of gear piece-by-piece is provided.
Some tips seem a bit odd such as using snow to wipe your bottom. Backpackers sometimes snicker at recommendations found in the book but become converts when giving them a try. Carrying a backpack that weighs about 20 pounds is much easier than one that weighs 45.
Cost and Value
Going lighter is a quest for many long-distance trekkers. Your mind and body must be conditioned to handle the extra weight. The book is available in Kindle or paperback at very reasonable prices. It is the ultimate backpacker's guide for those serious about traveling light. The book tells how to keep clothing, a stove, water purification, cooking pot, sleeping pad, sleeping bag, and backpack to about 12 or 13 pounds. Fuel and food suggestions weigh about eight pounds.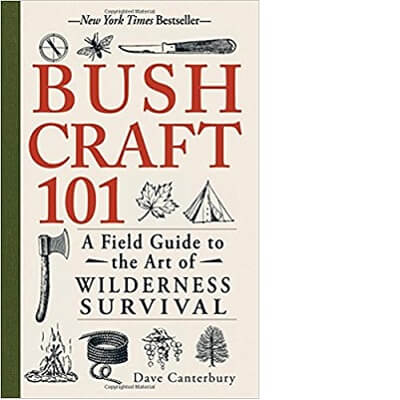 Bushcraft 101 is the best selling book that is written by the survivalist instructor Dave Canterbury. It is a New York Times bestseller and a must-read for anyone who wants to spend time outside in the wilderness. You will learn how to effectively use your survival gear and prepare you for just about any kind of situation that you can imagine.
Live Comfortably
While you won't live like you are at your home, this book will tell you how to live and feel comfortable while you are surviving in a completely natural environment prior to technology.
Vareity of Topics
You will learn a variety of different topics that will include how to look for food and cook outside. It will also teach you how to set up shelter and make sure you are safe.
Cost and Value
You will find this product to be sold at a price that is around the average price. The price turns it into an excellent value thanks to the premium content found in the text.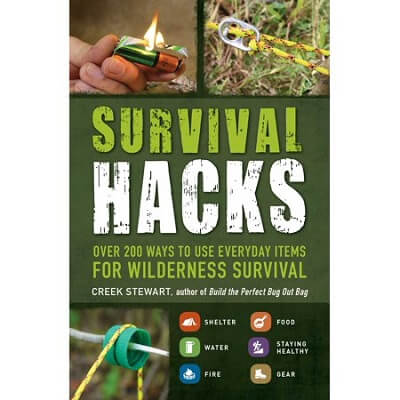 Have you ever wondered how to make a shelter from a trash bag or purify water with a bottle? Some of these techniques can be really useful and help you to survive in the wilderness. This book will teach you things that you never even thought about doing in the first place with everyday items making it an important part of your collection.
Creek Stewart
You may have heard of Creek Stewart from the Weather Channel. He is a survival expert that also hosts the show "Fat Guys in the Woods" and is the author of this guide.
Survival Hacks
The book will teach you plenty of different ways to repurpose popular and well-known items into survival tools. This will help improve your survival skills and can be great material to learn.
Cost and Value
You will see this item sold at a price that is around the average price. The average price turns it into an excellent value due to the premium knowledge it contains.

8

. U.S. Army Survival Manual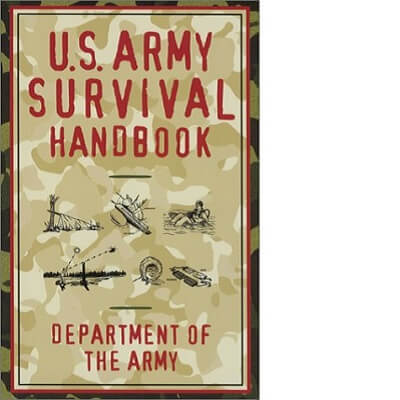 This is the official field manual that is produced by the United States Army. It has plenty of excellent information because the Army requires soldiers to know how to survive should they get stranded and need to wait for extraction. Many of the topics covered in the manual can be used by civilians as well and will improve your outdoor survival skills when camping.
Official Use
The manual is used by the United States Army for training so you can count on its credibility and its content for when you need to survive outdoors on your own.
Step by Step
The instructions in the manual are presented in an easy to understand step by step instruction guide so that you can follow the directions and directly apply the information that is provided.
Cost and Value
You will find this to be a low-cost item because it is produced by the US government and is considered to be public domain. There is a nominal fee for printing.

9

. Camping With the Corps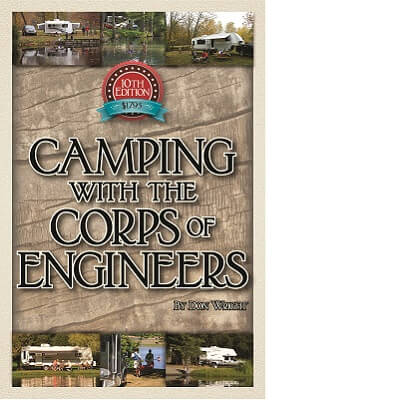 You may be surprised to learn that the Army Corp of Engineers has built campgrounds that are available to be used by the public. This is a guidebook that tours you around all of the different campgrounds that the army has made around the United States. It is a great thing to have if you are planning on touring the country.
Detailed Information
You will see more than enough detailed information about each campground. It will include things such as facilities, activities, and even directions to all of the U.S. Army operated campgrounds.
Great for Fishing
All of the campgrounds that are operated by the Corp of Engineers are located near bodies of water. This makes it great for people who love to fish while they are camping.
Cost and Value
You will find this item sold at a price that is higher than the average price. The higher price is due to the color print but you can also get a less expensive e-book if you want to save.

10

. Camping America's Guide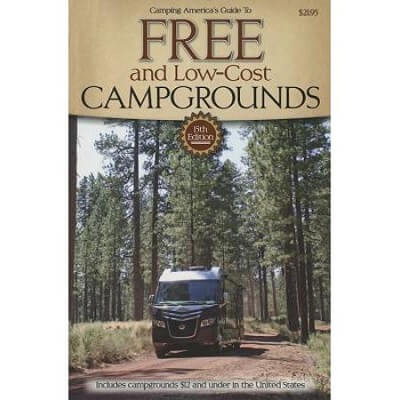 If you are having trouble thinking of a place to stay, then you may want to take a look at this guidebook. It has listings of nearly 12,000 different campgrounds that are located around the United States that are either low cost or completely free. This is a great item to have if you are planning on traveling across the country.
Low Cost
All of the listed campgrounds cost less than $12 a night at the time of the guidebooks publication which helps you go on vacation without having to spend a lot of money on your stays.
Lots of Choice
You will see campgrounds that are owned by federal, state, and local governments as well as privately owned campgrounds. There is information on each campground so that you can get an idea about them.
Cost and Value
You will find this item sold at a price that is slightly higher than the average price. It is a great value for the little extra money since you get a comprehensive list of campgrounds.

Subscribe to our Newsletter