Best Cake Decorating Kits Reviewed & Rated for Quality
In a Hurry? Editors choice: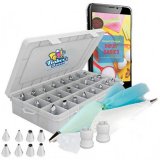 Test Winner: Baker's Dozen 50-pcs

Decorating a cake is an art and can be frustrating if you don't have the right tools. As a cake decorator, it never stops with removing the cake from the oven, allowing it cool and having a piece. You want to get the most out of your creative ideas, and most likely, you already know your way around decorating cakes. It is now time to gather the right tools and learn how to use them to achieve the best result. While shopping for a kit, it is important to get a complete package with an instructional manual for several recipes. In here, we have everything straightforward with our review of picking the best cake decorating kit that every bake should have.
Standout Picks
Criteria Used for Evaluation
Durability
The quality of any product is what determines its durability and whether it will last longer. Once you have identified the tools you need for your cake decoration, it is essential to know more about the composition of the materials used for each item. A cake leveler and slice are made of metal and plastic. Metal is preferred since it is durable and long lasting and thus you can save on replacement costs. Stainless steel specially coated is easy to clean and does not rust. Something else to note is that the rubber material used should be of superior quality and durable. Pick a good quality cake slicer that is adjustable to allow you to cut the cake slices to your desired sizes. Check the size markings on the rings, and the cake leveler material should be of quality material preferably stainless steel. If you need quality piping bags, chose the silicone made bags which are reusable, flexible, lightweight, portable and durable. They come in a wide range of awesome colors which allow you room to choose your favorite shade.
Accessories
Cake decoration is art, and you want your cake to have drawings, names or flowers of different shapes on top. You need a coating on which the flowers will be drawn, names written and so forth. All this is possible if you have the essential accessories and tools to do the job. Before starting, you need a checklist of items you require to accomplish this critical task. You will need some basic tools which will enable you to decorate your cake and give it a fascinating appearance and shape. Examples of these tools are the leveler for removing humped crowns from a freshly baked cake. The cake slicer helps you cut even slices of cakes, and the cake board is essential for supporting the cake while you decorate. The turntable is one of the essential tools and makes decorating much easier since you can torte, fill and crumb coat. The ideal type is one made from heavy-duty aluminum that is nonstick and rust free. Other tools are the spatula and scrapper, fondant rollers, smoothers, piping bags, piping tips and couplers, powdered sugar among other essentials.
Value
While setting out to buy your favourite cake decorating set, its price will certainly be on your mind. There are various sets in the market with price variations. While price is dependent on quality, you may find premium sets costing an arm and a leg. But that is not to mean you should pick cheap kits that do not guarantee quality. The best package is one that will fit into your budget, have all the accessories needed and durable. Plastic sets are usually cheap. However, they do not last long. Similarly, they are a safety hazard as compared to stainless steel products.
Effectiveness
Effectiveness
Almost all the kits used for cake decoration usually are made and designed for that particular task and should perform effectively without disappointing. The type of kit will also affect performance. You may find that kits with reusable tools perform better as opposed to disposable ones, for example, the silicone pastry bags. Plastic decorating bags are made of print cloth lined with polyethylene plastic. These bags are reusable and easier to clean with hands. They are designed with eyelets that make them easier to dry by hanging on hooks. Piping bags made of silicone are reusable, flexible, lightweight, portable and durable. They come in awesome colors; they are hand washable with mild detergent and water. They are looped for more natural drying and the material used is thicker than plastic which makes them durable. However, they require squeezing hard to release the icing material. All other kits that made of stainless steel, for example, the cake levelers, cake knives and spatula are easier to clean and maintain as they are not prone to rust.
Size
While shopping for a decorating set, it is important to consider the size. The organizer set should be large enough for the tools to fit in well thereby saving you time when selecting what tool to use. If you are a professional baker, you may require large tools for your cake decoration. When working on some patterns, to make sure a cake is of a suitable size, you may need a ribbon to measure the size and thus know the size of tools you need.
Top 10 Picks
1

. K&S Artisan Russian Tips 66-pcs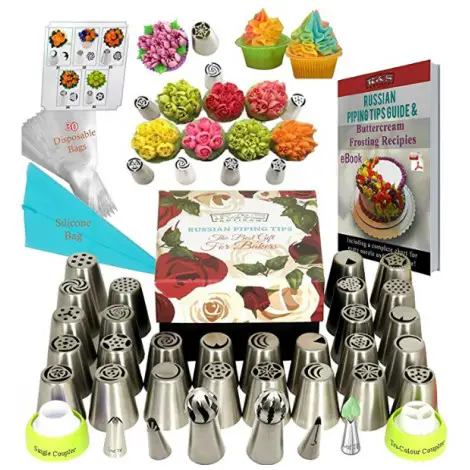 Have you ever done any impressive cake decorating and struggled with a chaotic pastry? This Russian kit is one of its kind and will do the job professionally without leaving a mess. It is a unique kit and has everything you need for decorating your cakes, cookies, muffins, pastry, cupcakes or pastry. The package includes twenty-seven different design patterns and Russian piping tips, tri-color coupler, single coupler, two leaf tips, two sphere ball tips, two ruffle tips, 30 disposable icing bags, reusable silicone bag, and a printed chart.
Quality
This Russian kit is 100% certified by the FDA as safe and is BPA free. Thus you don't have to worry about chemicals or toxins getting to your cake or your cake changing the taste. The silicone bag is nonstick and does not leave a metallic taste on your cake. You, therefore, have confidence that your family is safe. The stainless steel is made using modern technology and will not rust. It is also dishwasher safe and made to last with no seams.
Ease of use
The kit comes with a step by step instruction manual available as a pdf e-Book. Also in the package is several recipes on frosting icing decorating that helps in making buttercream recipes this you can make flowers with just one squeeze. There are also instructional videos for your guidance. Its easy use, and since your mixture stays in the container of the decorator, it does not leave any mess thus guaranteeing quality. There are some sturdy tips to get you started for instance, suitable for decorating dolls dresses and skirts thus ensures you save on time and do not waste the cakes. However, you can add more tips for other projects in the future such as weddings and birthdays, and you can also gift a cake baker.
Cost and value
This Russian kit promises more in terms of quality and versatility. However, it comes across as a pricey product. However, this is not the case since it is reasonably priced. It has so much to offer and will give value for money. It is a fabulous kit that fits the quality and the price.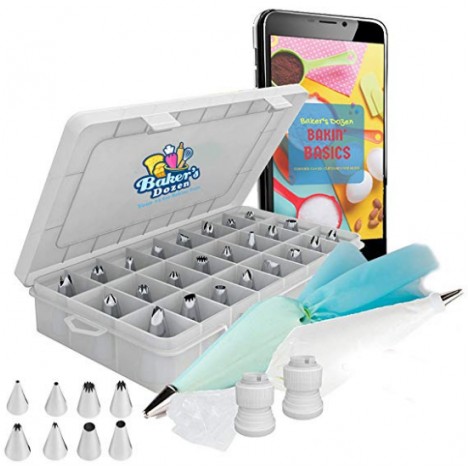 If you are a fan of decorating cakes for family and friends, this kit from Baker's Dozen will do the job perfectly. It is everything you want, and you will be thrilled by what it has to offer. It is versatile with 36 icing tips, two icing couplers, silicone bags, and ten icing bags and storage kit.
High-quality
If you are looking for quality, this kit from Baker's Dozen is made to last. The icing bags sturdy and stretchable and can withstand pressure and will not burst. They have a rough texture that makes it comfortable for you to grip, and the inside is soft for easy cleaning.
Maximum performance
This decorative kit form Baker's Dozen is ideal for various recipes such as cookies, cakes, donuts, pastries, and cupcakes. There is an e-book that comes with the package that has multiple instructional materials and recipes. It is quite versatile when it comes to icing due to the nozzle tips that have an array of patterns such as a closed star, French, leaf, open star, round, petal, plain and leaf.
Cost and value
This kit from Baker's Dozen is of great value and perfect for beginners and professional bakers. They make perfect gifts for your loved ones and are excellent in quality. Other than that, they are an excellent product for a bargain price with plenty of tips. The casing is strong, sturdy and does not take much of your space. Right off the bat, this excellent kit will serve all your baking needs yet come around as affordable cake essentials.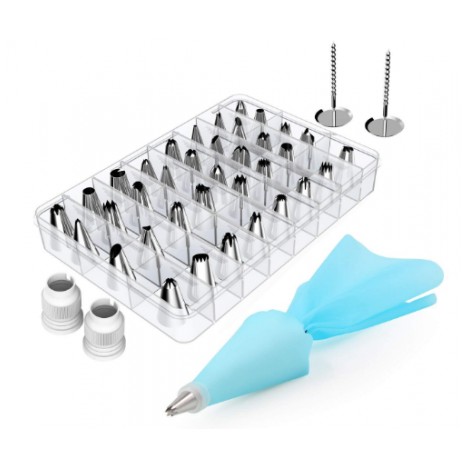 The Kootek Kit is every buyer's dream and has a wide variety of accessories. These are 36 nipping tips, two silicone pastry bags, two flower nails, and two reusable couplers. We choose it because it gives you various patterns on your cakes, cupcakes, pastries and other treats. They are versatile, and thus you are at liberty to choose from a variety of decorating patterns such as; open star, closed star, French, round, plain, and leaf, special and rose petal, special. The silicone bags are efficient and can handle various color icing options when you are decorating cakes and cupcakes.
Ease of use
The reason why we choose this product is that it is a high-quality baking essential with accessories that are not present in other kits. Its frosting tool is made of sturdy and durable stainless steel that is rust resistant, easy to use and clean and also dishwasher safe. The couplers are flexible to handle and allow easy switching while in use. You can use the flower nails to decorate the icing flower. The tips are durable and easy to clean and ensures there is no mess. It is an ideal gift for bakers both novices and experts.
Ideal for beginners and professionals
I would highly recommend this kit for beginners and professionals. For professional bakers, you may be looking for a kit to replace your old one. This kit from Kootek will be your perfect choice since it is a full set with all the accessories needed. If you are not an expert in cake decoration this kit is user-friendly since it has several tips that you can use to decorate a cake for any occasion such as birthday without putting much effort.
Cost and value
You will fall in love with this set from Kootek since it is high quality and available at a reasonable price. It has various tips of different patterns that give you a variety of decorative ideas. You will get value for your money by adding this kit to your baking supplies.

4

. Aleeza Cake Wonders 100-pcs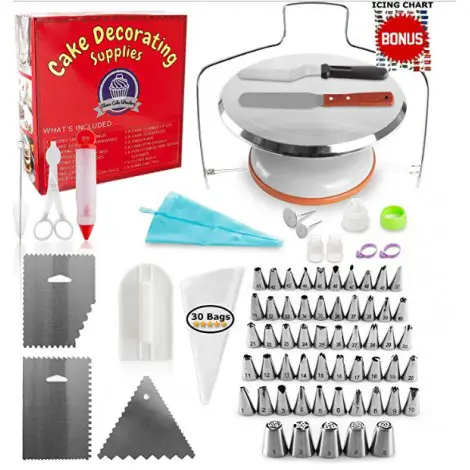 Decorating a cake is much fun once you incorporate this set from Aleeza Cake Wonders into your baking supplies. It is ideal for both beginners and professionals as well with an array of tips to choose from. It is safe to use, BPA free and has been certified by the FDA as safe. Cleaning is easy, and you can use a dishwasher.
Quality
One thing to note about this kit is the wide variety of accessories that allow you to choose from dozens of patterns. At first glance, it is incredibly clear that it is for decorating the cake and its quality is superb. In simpler words, this kit will last a lifetime. The tips, coupler, the silicone bag, and other essentials are high quality, durable and compact made to last a lifetime. One thing is clear, with Aleeza Cake Wonders, you can never go wrong when it comes to quality.
Everything in one package
It has everything you need to decorate your cake and other treats. It has stainless steel turntable, fifty tips, five large tips, smoother, cleaning brush and cake cutter, bag ties, piping bag tip coupler, flower lifter,tri-color coupler, two flower nails, two spatula, two metal cake scrapers, thirty pastry bags, and one tip design chart. It also includes a nonstick silicone bag.
Cost and value
It would be quite expensive if you were to purchase all these accessories separately, however with this kit; you have everything under one roof. I would highly recommend this kit if you have an interest in cake decoration and the price is a good bargain. You will spend less, yet you will have a whole variety of items for your cake decoration. That is a good buy, and you get value for your money.

5

. RFAQK 73-pcs for Beginners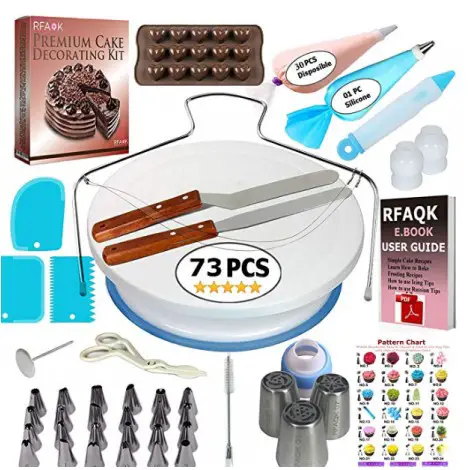 With the RFAQK kit, the possibilities of patterns on your delicious cake are endless. Your work will be smooth with a variety of high-quality items to make your cake decorating experience tremendous and confectionary art. From the tips, coupler, scrapers and other tools, you will be inspired by this kit. The items and accessories are made from stainless steel which is rust free, sturdy and durable. They are coated with silicon which is BPA free and certified as safe by BPA. The silicone bag is also stretchable and can be cleaned easily and stored for the next use.
Unique features
The reason why we choose this product is the uniquely designed turntable which is not present in other sets. It is round and revolves in a curricular motion due to the ball bearings; thus you can thus decorate your cakes with ease. You can also turn it right or left depending on your preference.
Ease of use
If you are a beginner, this is the perfect set for you since it has an instructional e-book to get you started. It has different cake recipes, cake ideas, icing tips among others. The tips have numbers that are designed in chart pattern; thus no need to worry about the pattern. The tins are available in different patterns, thus giving you a wide range of decorative ideas.
Cost and value
This kit has everything you need yet fairly priced. The list of items and accessories may be overwhelming. However, it is worth every penny you spend. You will not regret it since it is a perfect buy.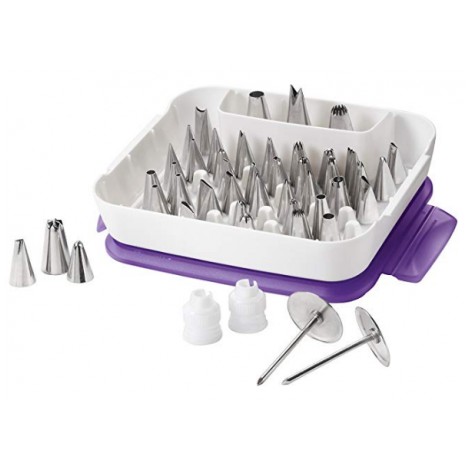 Wilton is a trusted name when it comes to the provision of cake decorating tools and other baking essentials. It has put together this set that offers you 55 pieces to work with. It includes nipping tips, silicone bags, flower nails, coupler and all other items you need to decorate stunning cakes for all occasions. Included too is an instructional guide with a set of tips and secrets on how to come up with beautiful designs that will leave a lasting impression. The package also comes with a tip organizer thus making your work easy. In a nutshell, this kit is everything you need. It is a perfect gift idea for a beginner who is set to start a career in cake decoration.
Durable
Every tool in this set is made to last. The silicone bag will last long with no signs of tear. It has not to stick properties, and your batter will come out smooth. It is stretchable, easy to clean with a dishwasher and store for next use. The stainless tool is made using state of the art technology and is rust resistant and sturdy to last a lifetime.
Ease of use
You will love this set; the tip is large and high quality with a wide variety of patterns for cake decoration such as stars, leaves, French, waves, and roses. The organizer case for the tips is pretty amazing and gives you an easy time when picking the tips.
Cost and value
This set is what you have been looking for to kick start your cake decorating journey. Everything in there is correctly done, high quality and durable. You can achieve everything you ever desired at a reasonable, great price. Everything there is branded Wilton, a market of quality and efficiency.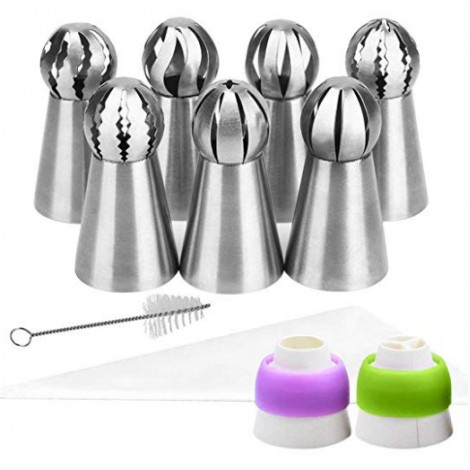 If you are looking for a high-quality set that will make incredible patterns, then you just found what you need. The Yihong gives you a wide range of tools and precisely what you need. You can use the tools to create edible and non-edible patterns for cakes for all occasions whether you are a professional or a home baker doing it for fun. In the set, you will find pipping tips, pastry bags, reusable coupler, cleaning brush and everything you need for frosting.
Durability
It is made from premium stainless steel, and the FDA has approved the tips as safe, they are rust free and can withstand high temperature. The icing has a seamless integration that ensures durability and is dishwasher safe and easy to clean.
Ease of use
This kit from Yihong comes with online links to instructions guides on piping, icing recipes and YouTube videos on how to decorate a cake. It is a good gift idea for baking fans, and there are unlimited options for decorating cakes for birthdays, mother's day, valentine's cake and any other occasion.
Cost and value
This set for Yihong is reasonably priced yet allows you to expand on your creativeness with a wide range of floral designs and patterns to choose. It is a good buy worth every penny.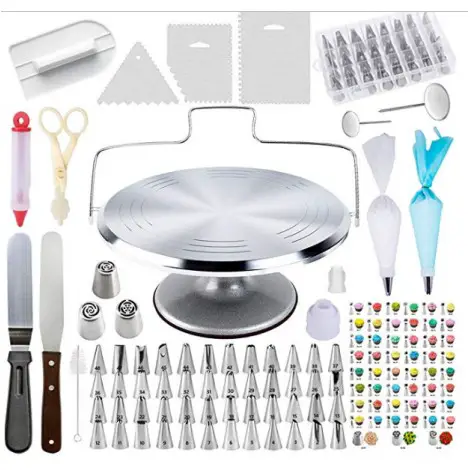 Whether you are a novice or a professional baker this professional kit from AJ Gear will help you get there. It has all the tools you need to decorate your cakes or dessert. It has tons of decorating tools and no reason to purchase extra supplies. The package includes a turntable made from heavy duty durable aluminum alloy that allows for stability on top of your working space.
Everything in one set
This set has everything you need for your cake decorating needs such as; floral motifs, Syringe infusions, swirling patterns, and tantalizing textures. It allows you to get creative as you decorate your cakes, donuts, cookies, muffins and all deserts since it has an assortment of tools. In this set, you will find, couplers, nipping tips, pastry bags, the turntable, flower nails, scrapper, cutter and many more to do all the work you need.
High-quality
This professional set is a mark of quality and durability. It consists of stainless steel tools that are specially coated to prevent rust and corrosion and can withstand heat. The turntable is made of heavy-duty aluminum that is coated and does not rust and rests well on the counter table and ensures a smooth turning.
Cost and value
Everything in this perfect kit and there is an assortment of tools for a great price and worth every penny you spend. I would highly recommend this kit mainly for beginners, and with creativity, you are indeed set for tons of fun.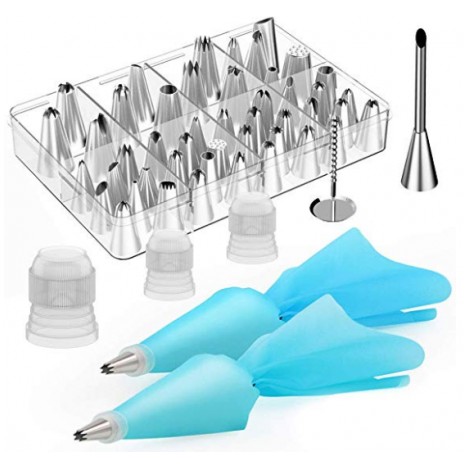 If you are a beginner, you will find this kit from Kootek outstanding, and you will be amazed by the quality of the tools. Most of the items are stainless steel which does not rust and is resistant to corrosion. It is all you need for your cake decoration needs.
A wide range of tools
In this set, you will find all you need for your cake decoration. There are tips icing sets, pastry bags, couplers, flower nails among others. The pastry bags are made of silicone which is nonstick. The tools are BPA free and certified as safe by the FDA.
Versatility
You will also find the set quite versatile since there are several tips of various patterns designs such as the open star, French, round, closed star among others that are equally large and make piping quite easy. You can use the tips on large cakes, frosting cupcakes, turfs, and puff. It is the perfect set if you are a home decorator or a professional.
Cost and value
Cheap tools do not last for long due to replacement costs. Likewise, when you buy an incomplete set, you will most likely visit your baking stores for more supplies. With this set from Kootek, you have everything you need at an affordable price. It is a purchase and will give you value for money.

10

. Happy Hour Bake 42-pcs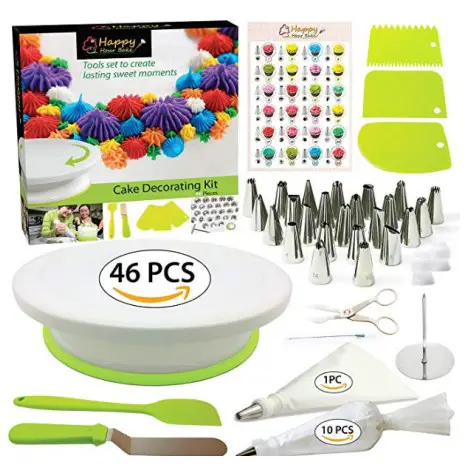 Happy Hour Bake presents to you a complete set of decorating tools you need for your work. It promises to take your baking skills to the next level. It has everything you need under one roof such as a coupler, pastry bags, nipping tips, turntable, spatula and many more. The tools are made from highly durable material that will last long.
Amazing accessories
The reason why we choose this set is the outstanding cake spinner that has an anti-slip bottom to allow you to work smoothly. The nail is huge and will create beautiful floral designs that will leave everyone awed. The spatula is long enough to spread the cream frost quickly thus saving you time evenly.
Easy to use
This amazing set is ideal for a beginner with no cake decorating experience whatsoever. The tip chart makes it easier for you to understand the functions of each nozzle tip. You have a wide range of styles to play around with such as; star, leaf, floral, basket weave and many more.
Cost and value
The tools are quite adaptable made from high-grade steel and plastic. The kit is reasonably priced and all you need for decorating cakes for all occasions such as Valentine, holiday gifts, New Year and many more.

Subscribe to our Newsletter