The 10 Best Boning Knives
last updated:
Apr 08, 2020
When working in the kitchen, you will need to think of your knives as your tools. There are so many different types of knives on the market and it can be somewhat confusing at times. Just imagine the results if you attempted to use a bread knife to remove a piece of meat from the bone. This type of knife can sometimes be mistaken for a filet knife.
A boning knife will help you to remove meat from the bone, much like you see them doing at the butcher shop. Please keep in mind, however, that a butcher has many years of practice performing this task, so your results may not look as pretty. Take the time to look over the list we have created for you to find all of in the information you need to buy the best boning knife
In a Hurry? The test winner after 35 hrs of research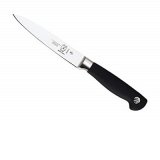 Mercer Culinary Genesis
Why is it better?
Durable and strong
Rust-free
Slip-resistant
Super stable
In a
Hurry? Editors choice: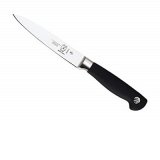 Test Winner: Mercer Culinary Genesis

4
Interviewed Experts
15
Researched Sources
10250
Total Readers
12500
Reviews Considered
35
Hours Researching
15
Products Evaluated
Effectiveness
Durability
Materials
Comfort
Size
By Default
BEST BONING KNIVES REVIEWED & RATED FOR QUALITY
1

. Mercer Culinary Genesis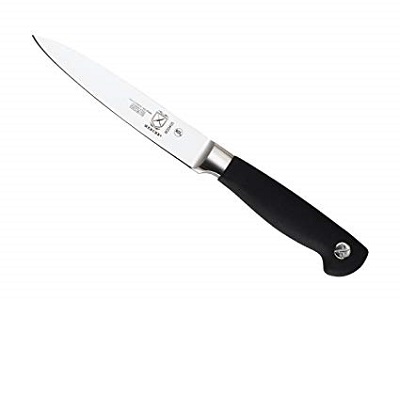 Durable and strong
Rust-free
Slip-resistant
Super stable
Visible grind lines on the blade
The Genesis six-inch forged knife is among the most well-engineered and durable knives available for boning. Designed for the home chef the knife is ideal for restaurant chef. It is NSF-certified.
Construction
NSF International focuses on the environment, health, and public safety. The knife boasts German steel construction. The stable knife allows removing meat from fat and bones very quickly.
The ergonomic Santoprene handle is slip-resistant. Santoprene is a high-performance material that is comfortable to hold. It has a soft feel. Even when exposed to kitchen oils, cold and heat, the handle is hard to break.
Components
A fixed bolster keeps the knife durable and strong. The thick bolster is specifically designed to resist discoloration, corroding, and rusting. It is well-proportioned, making gripping the knife properly easy.
It also ensures optimal balance for a grip that is sturdy, adds durability, and provides strength. The blade is slender. It is sharp and turns trimming and slicing meat into a quick job. The flexible blade is ideal for removing bones and membranes from poultry, beef, and fish.
The steel blade has hand-polished edges. It is taper ground for long-lasting sharpness, easy-honing, and superior stability. Using warm soapy water and washing by hand the only simple maintenance required. Dishwasher detergent and heat can damage the construction material.
Cost and Value
The knife has a limited lifetime warranty. The German technology and steel knife is a must-have. Adding it to your kitchen ensures having the proper tool for effective and efficient food preparation.
Customers who purchased the knife say it is more maneuverable than a chef's knife. It is an exceptional knife for the price. The Genesis six-inch boning knife is among the best items made by the popular Mercer Cutlery brand.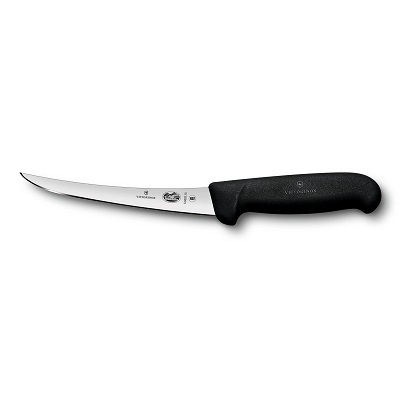 Blade is high carbon steel
Many blade types to choose from
Good handle grip
Blade length is 6 inches
Blade seems to lose the edge rather quickly
This knife can be purchased to suit all your boning needs. You can use it for fish, or for cutting those thick chops off the bone. The design of the handle will have you cutting without thinking about it.
Different Blades
One of the few knife options on our list that has you covered no matter what you are cutting. You can remove the bones from a fish easily when the correct blade is selected. With this knife, you can have a curved or straight blade, which can flex. Don't want the blade to flex, that's fine too, they also have stiff blades as well.
Gripping the Handle
When you grab a hold of this boning knife, you won't even know it is in your hand. The design of the handle has your comfort in mind, designed to give you the perfect grip each time you use the knife.
Cost and Value
Since this knife has such a great price point, you can order one of each blade type without even batting an eye at the cost. The comfort grip design will prevent your hand from cramping, due to improper grip. This boning knife has a maximum amount of potential to become your favorite.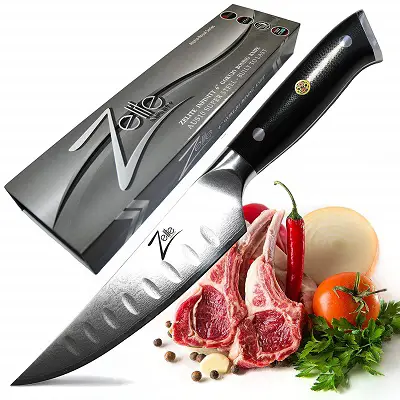 Non-stick blade
Rust resistant
Durable
Holds edge for longer
Edge seemed dull right off the bat
Next is a boning knife is known for its durability and special features. You can believe that you will be completely satisfied with this knife with each use.
Durability
The type of materials used for this knife is of the highest quality, which aides in giving this knife the durability it needs. Add to that the full tang, this knife can be used for even the thickest meat cuts.
Non-Stick Blade
The materials and pattern used for creating this blade, give the blade its non-stick properties. Making it seem like a breeze during clean up. You no longer have to worry if the meat you are working with dries to the blade. Often times this meat is hard to get off the blade, but not with this knife.
Cost and Value
The more value a product has, the higher you will see the price set. This knife is said to be of restaurant quality, so you know if the professionals use it, you must be getting a good product.
4

. Mercer Culinary Millennia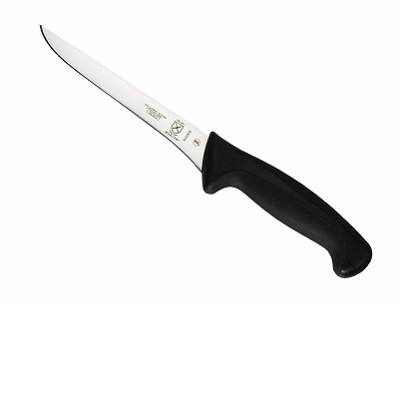 Stainless steel blade
Textured grip
Resists staining and corrosion
Has protective finger guard
A boning knife like this one can be of benefit to the person who uses it. The blade material and style can have you slicing through meat just like it is hot butter.
Blade
Made from quality stainless steel, this blade will hold its edge, while defending against corrosion. When the blade begins to dull, sharpening the blade is a breeze.
Handle Design
This handle was designed with the proper grip in mind. The materials used in making the handle offer you comfort while using the knife. With texture added to the handle to combat the age-old issue of slippage.
Cost and Value
This knife has the potential to become your next favorite piece of cutlery in your kitchen drawer. For the price you pay, you're getting a knife that holds the standard high for the quality.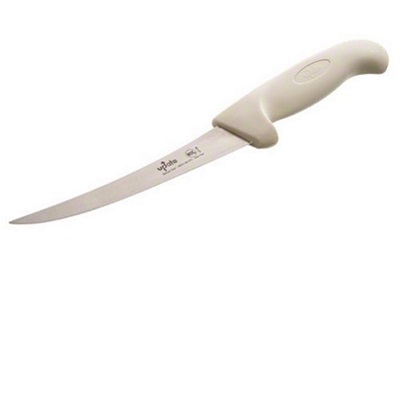 Hand-honed
Blade length 5 1/2 inches
High carbon steel
Curved blade
Not resistant to corrosion
Edge doesn't seem to hold
Next on the list comes a boning knife that brings a new meaning to the word sharp. The length of the blade is perfect, for all your boning needs.
Blade Length
Part of having control over your boning knife is the length of the blade. A blade that is too long will not allow you to cut with the precision needed. Good thing for this knife, the blade is just the right length for making all types of cuts.
Sharpening
To bring you the sharpest blade possible, this company hand-hones each and every blade edge. This ensures that the edge of the blade will last for longer periods of time.
Cost and Value
This knife a ton of potential to be your next go to when you have to remove the bone from a piece of meat. You won't have to worry about dull knives, as this one has been done by hand.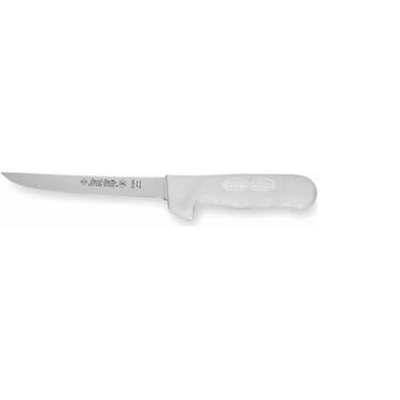 This product comes with a flexible style blade.
The handle was designed with a seal to prevent food from slipping or getting stuck.
Very easy to use.
Will dull quicker than other knives.
This boning knife will have you slicing through your next fish quickly. Cleaning this knife will seem like a breeze when you are finished for the day. A boning knife such as this one will have you smiling while you work.
Flexible Blade
A flexible style blade allows you to work with finesse you never even knew you had. Which can make boning a fish seem like a simple task when really it is not.
Sealed Handle
There is nothing worse than a knife that just won't come clean. There is typically an area between the blade and handle that will act as a trap. Locking food inside of it, not with this knife, that area of the handle has been sealed off.
Cost and Value
A boning knife should make your job easier, that is what this one tend to do. As a bonus, they have come up with a way to eliminate the area that tends to be a catch-all for dirt and grime.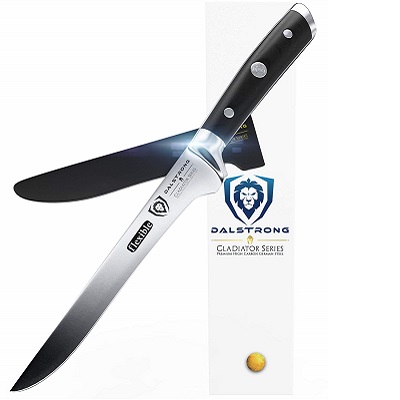 German high carbon steel blade
Flexible blade
Weight sits in the handle
Works well for all boning needs
Handle length seems too long
This boning knife will have you removing bones and filleting fish in no time flat. Made from top quality materials, this knife is most definitely top of its class in beauty and functionality.
The Weight
In order to give you the control you need over this knife, the weight has been set back in the handle. On contrary to popular belief, you need the weight to be in the handle for better control over a boning knife.
The Blade
Made from top quality high carbon steel, allows the blade to resist corrosion while retaining its razor-like edge. It is flexible enough to allow for quick and easy work with fish.
Cost and Value
Top of the class materials will add to both the cost and value of this boning knife. Resistant to corrosion, keeping its razor-like edge, this knife will handle your workload for years to come.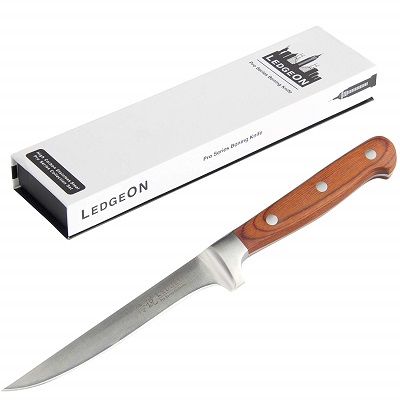 Hand tested fro quality
Full tang knife
Resistant to corrosion
Narrow blade design
This knife has been put through the ringer for testing before it even hits the market for you to purchase. The overall design of the knife has your safety in mind.
Testing
This knife is put through a multitude of hand testing before you even get to purchase it. Not only that, each knife is hand checked visually, to ensure there are no defects to the knife.
Durability
This is a full tang knife, which means the tang, or piece that connects the handle to the blade, runs all the way through the handle. This gives the boning knife the durability it needs to last for years to come.
Cost and Value
A good quality knife will stand out from the rest, that certainly is the case here. Although with that quality will come to a higher price tag, but the knife will last for years to come.
9

. Shun DM0743 Classic Gokujo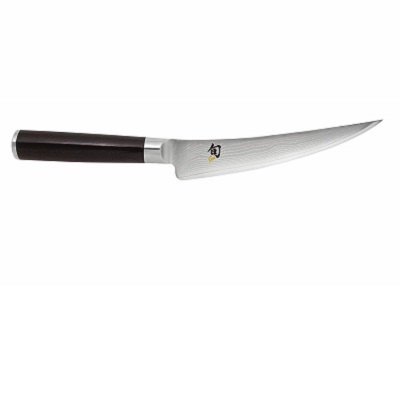 Comfortable handling
Made of high-quality steel
Outstanding sharpness
Superb slicing action
Boning small pieces and filleting delicate fish is challenging
Curved design and thin point of the Shun DM0743 enable cleaning separating meat from the bone. It is an excellent choice for cubing and butterflying meat as well. The sharp cutting edge and arched shape of the rigid blade are perfect for getting in close to separate meat from joints, tendons, and bone.
Uses
The has a narrow profile that quickly slices through large fish as well. The cladding aids in preventing food from sticking. The knife excels at the tasks of trimming away silver skin and fat. Drag is reduced by a hand-sharpened edge that makes for fatigue-free use.
Construction
Shun proprietary VG MAX steel was used to craft the forged blade. The long-lasting edge retention and incredibly sharp cutting edge are due to an HRC of 61. The clad core has 34 Damascus stainless steel layers on each side.
It is bead blasted and ground to reveal a flowing layered steel pattern. A double bevel is sharpened to 16 degrees. A pakkawood, D-shaped handle is finished with an end cap made of stainless steel. The handle provides a secure grip. It was created for right-handed users, but many left-handed people find the shape of the handle to be equally comfortable to control with confidence.
Cost and Value
The knife has a limited lifetime warranty against factory defects and material. Customers say the amazing knife is worth the money. The sharp blade has an excellent slicing motion for removing skin and trimming meat. Its shape allows it to glide through fibrous tissue and fat.
The knife is corrosion resistant and beautiful to behold. The tang of the knife is 11 inches. It has a six-inch blade and weighs 7.2 ounces. Hand wash and promptly dry with a soft cloth are the cleaning recommendations.
10

. Chicago Cutlery Walnut Tradition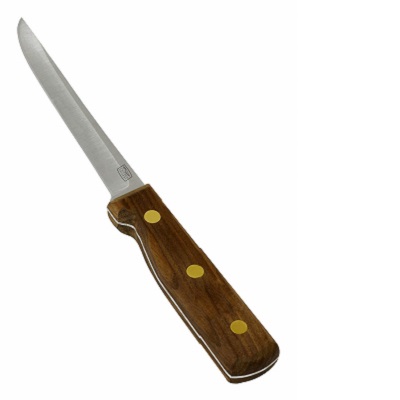 Durable
Lifetime Warranty
Quality hand construction
Easy to sharpen
May arrive less sharpened than expected, but sharpens nicely
This is the knife to try if you dread deboning meat. Chicago Cutlery Walnut Tradition Boning Knife is among the best for meat from bone separation. The five-inch blade features classic, beautiful wood handle styling.
Construction
A taper grind edge ensures a reduction in re-sharpening. Exclusive 25° Taper Grind edge technology keeps the knife sharper longer, and it makes resharpening easy. The stainless high-carbon stainless steel blade resists rusting, staining, and pitting. A full metal tang provides additional control, balance, and strength.
The real walnut handle is smooth and contoured. Triple compression brass rivets offer extra stability and safety. Brass rivets secure it for an aesthetically pleasing and sleek design that provides a comfortable grip. The blade allows access to the smallest places.
Usefulness
Beside boning, the knife is excellent for other daily kitchen needs. The knife is big enough for the task while allowing excellent blade control. It is also ideal for small chops, prepping apples, and peeling potatoes.
The shorter curved blade makes peeling easy. The edge is scalloped with teeth that are spaced well for cutting the hardest crust without destroying the interior or a loaf of bread. It retains a razor sharp edge when sharpened.
Cost and Value
High-carbon stainless steel makes the knife stronger and harder than other blades. A Taper Grind edge provides maximum sharpness. Classically designed handles made of walnut provide safety and comfort.
Hand washing is recommended. Some customers occasionally oil the handle to prevent the wood from drying out. The knife falls in the low price range. The knife has a full lifetime warranty.
Criteria Used for Evaluation

Flexibility
The blade of a boning knife can either be flexible or stiff, which one you need, will depend on what type of meat with which you will be working. The flexible style blade works better for a more delicate approach to things, so pair this type of blade with fish or poultry. If you try to use a flexible blade on thicker meat, you run the risk of damaging the blade and the meat.
A stiff blade is what you will need for those thicker cuts of meat. They give you the opportunity to make clean cuts with little meat left for waste. Stiffer blades are not recommended for use with fish. You will have a much more difficult time effectively removing the bone.

Materials
Now, this can be a highly debatable topic for many. Some will argue that ceramic is better than steel. Others will favor blades made from steel over the ceramic type. All we can do is offer you what we have found on the topic. Ceramic seems to be a headache for boning knife users.
A blade made from ceramic doesn't hold the durability that a steel blade will. So should you choose ceramic as your blade of choice, be sure you are using extreme care with the blade. It has been noted that ceramic blades often crack or chip when coming in contact with thicker bones.
Your only other choice will be steel, now you will notice that there are many forms of steel used by manufacturers. All of these types of steel will be stainless, which provides a line of defense against corrosion and the damage it causes. Some forms of steel will be lighter than others, while additional choices will promote flexibility. The options you have for steel blades will all have durability and the capability to hold a sharp edge.

Safety Hazards
There is a piece that can be added between the handle of the knife and the blade. This piece is called a bolster. The bolster of a knife can serve several functions. One is it will add weight to the knife handle. A bolster can also serve two other purposes for a knife safety and control.
Working with meat can cause both your hands and knife to become slippery. Different handle types can combat issues with slipping. Finding a knife with a protective bolster can add a second form of protection for your hands.
It can stop your hands from sliding up the handle to the blade of the knife. To be considered a protective bolster, look for one that sticks out and down from the handle. One accidental slip can cause you an unnecessary trip to the hospital.
Next, we will look at the control aspect. It rings true that the closer you can get to the blade, the more control you will have for making those skilled cuts. A pinched bolster provides you a place to rest for those experienced cuts that need a close, but safe grip.
Expert Interviews & Opinions
Most Important Criteria
(According to our experts opinion)
Experts Opinion
Editors Opinion
Users Opinion
By Default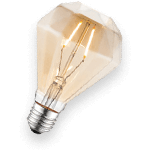 What To Look For In A Handle
Along with the handle, comes the topic of the tang, that is where we will start in this section. You can get a knife where the tang extends partially into the handle or the full length of the handle. When choosing to go with a knife that has a full tang, you get a more stable knife.
Since the tang extends all the way down the handle, you can be sure that the knife won't break when pressure is applied. That brings us to the partial tang option, although they work quite well, in some cases, they have been known to break at the handle.
As for handle materials, many choices on the market will make a knife functional and attractive. Handle materials are more of an opinion, but some offer more value than others. Take wood; for example, a wooden handle can be fully functional. But when not properly care for, they can become brittle and rot. All in all the handle of the knife rests in your comfort zone.
To touch quickly on another handle option, we would like to take a look at the non-slip grip that is offered with some handles. Safety should be an essential element for selecting your knife, a non-slip grip on a knife handle fits into the safety aspect as well.
Your hands can become slick when working with meat. A slip-resistant handle can reduce the risk of accidents. Many different handles offer this quality, some will be in the form of a coating, while others will incorporate a specialized grip into the handle design. Normally found in the form of texturing or contouring.
Why Use A Boning Knife?
The best way to decide which boning knife will work for you is to be sure that you know exactly, what a boning knife truly is. A boning knife is used for removing a piece of meat from the bone structure of the animal. Many people make the mistake of believing that it was intended to use for cutting through the bone of an animal.
That assumption is most definitely wrong. A butcher would be using a clever or bone saw for that type of work. You will find that the boning knife allows you to remove the meat from the bone, leaving little to no meat for waste. Boning can be done on pieces of meat with larger bones or a more delicate piece of meat such as fish.
Other Factors to Consider

Style
The blade of a boning knife can either be flexible or stiff, which one you need, will depend on what type of meat with which you will be working. The flexible style blade works better for a more delicate approach to things, so pair this type of blade with fish or poultry. If you try to use a flexible blade on thicker meat, you run the risk of damaging the blade and the meat.
A stiff blade is what you will need for those thicker cuts of meat. They give you the opportunity to make clean cuts with little meat left for waste. Stiffer blades are not recommended for use with fish. You will have a much more difficult time effectively removing the bone.

Size
You will find that most of the boning knives available to you will have an average blade length of five to six inches. A blade of this length can assure that you can successfully cut through your meat without any difficulties. A few boning knives are floating around on the market that have a blade that is seven to nine inches long.
These are more for extra large cuts of meat that you might see in a butcher shop. You would have less control over the blade of your knife when the blade is longer, so sticking with a shorter blade would be best.

Weight
I am sure you have read or even know enough about knives to understand that the weight of the knife should be balanced. What this means is that the weight of the handle and blade should be as close to even as possible. The balance of handle and blade makes for better control over your knife.
That is a general rule of thumb for knives, but it doesn't apply to boning knives. A good boning knife will have a more substantial handle than a blade. A heavy handle creates a better sense of control over the blade of the knife. Control comes in handy for the type of work performed with a boning knife.
Frequently Asked Questions
q:

What is a boning knife?

a:

A boning knife is typically 5-6 inches in length, it can have a blade that is either curved or straight. Some blade varieties will be stiff, while others will provide flexibility. You will find that the handle of the knife comes in many different material types. As for the use of a boning knife, it is simple. A boning knife is used to remove a cut of meat from the bone. The meat can be thick or sometimes as delicate as a piece of fish.
q:

What type of material makes the best handle?

a:

Handle material is a diversified subject, everyone will have their own opinion as to which type of handle material they prefer. We can give you some pointers about several of the options available to you, from there it indeed is up to you to decide which material would better suit your needs.

Wood handles can look sharp, but when not regularly cared for they can rot or begin to crack. Handles made from plastic have better durability but are known for becoming slippery when they are wet. The rubber holds the highest amount of durability and can be found to be either slip resistant or non-slip.
q:

Is a curved blade better than a straight blade?

a:

Each blade will serve its purpose, a curved blade will aide in boning more delicate meat such as fish. Where a straight blade is better for use with thicker meat, where you won't need to be so precise. Some people will keep one of each of these blade types in their cutlery drawer, as to be better prepared for any situation.
q:

What blade material works the best?

a:

This topic is a hot button topic for some, but again this is entirely up to you. Stainless steel, no matter what type it is, offers durability and defense against corrosion. Stainless steel blades are also known for retaining their sharp edge longer than that of the ceramic blade. Ceramic blades are said not to fare so well regarding boning knives. It has been said that they are too fragile, and have known to crack or chip when coming into contact with thicker bones.
q:

My boning knife tends to be slippery, is there one that has hand protection?

a:

Since you are working with meat, which tends to make things slippery, you will need to be in good control of your knife. You do have a couple of options, aside from repeated hand washing, to defend yourself against hand slippage. First, you can choose a handle that has been designed to be either slip resistant or non-slip.

Look for a handle that has a texture for your grip or a specialized contour for better gripping. Another thing you can watch for when searching for a boning knife, look for a handle that has a protective bolster added to the design. Bolsters are found where the blade and handle meet. It is a piece of metal that will extend past the handle and curve down. The bolster will stop your hand from sliding down the blade, preventing any accidents.
q:

Which is better full or half tang?

a:

The tang is the portion of the knife that connects the handle to the knife. A half tang means that the tang goes into the handle half of the way. A full tang is when the tang will run the full length of the handle. Given the amount of pressure that can be put on a boning knife handle, a full tang will give you more durability. The half tang would work for cuts of meat that are thinner, such as fish.
Subscribe to our Newsletter