Best Wrangler Cargo Pants Reviewed & Rated for Comfort
In a Hurry? Editors choice: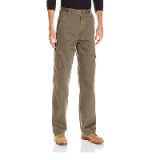 Test Winner: Wrangler Classic Twill

Wrangler pants have always been made with the worker in mind. And one of the most popular styles is Wrangler's cargo pants. They offer bountiful storage and are made to last. The other thing about cargo pants is that they tend to offer a looser fit, so you aren't constrained and can move freely throughout your job. So, if you're looking for a new pair of comfortable, well-built Wrangler cargo pants, look no further.
Standout Picks
Criteria Used for Evaluation
Weather Resistance
One factor to consider when you are buying pants is what type of weather do you plan on wearing them in. This will heavily influence whether you choose long pants or short pants and even what type of weave, material, or line you choose. The base of most Wrangler Cargo Pants is 100% cotton so it really depends on how the pant is constructed whether it'll lend significant warmth or work well when it is very warm outside.
Wrangler cargo pants come in all varieties so it's important to nail this down before perusing your options. If you plan on wearing your Wrangler cargo pants in the cold, snow, or similar conditions there are a couple of different options. The warmest being their fleece-lined option. Once you try a pair of fleece-lined pants you'll wonder why you didn't try them sooner. They are warm, cozy, and really worth trying at least once if you live in a climate that cools off significantly during the year. For a pair of pants that go a little more middle ground, you might want to try the ripstop fabric as it is a little bit of a thicker weave and tends to offer just a little bit more warmth than others.
For those who are looking to wear your cargo pants in warmer weather, you also have good options. In fact, most Wrangler cargo pants tend to run a little thinner than jean material so you can really get away with wearing them when it heats up outside. Twill weave, in particular, tends to lend to warm weather very well, feels light, and is buttery soft to boot. If it's really warm, hot, or humid another option is cargo shorts. They obviously allow a lot more breathability and will keep you much cooler than pants ever will. Shorts are not always an option, though, as some working conditions are simply not safe or conducive to wearing shorts.
Ultimately, judge your individual circumstances and make an educated decision based on that. Who knows, maybe you'll want a pair in each different style for all of the seasons!
Application
What are you looking to do while wearing your Wrangler cargo pants?
The beauty of Wrangler as a brand is that they span the entire spectrum. They have pants that can be worn for bull riding, or for an interview to secure your next desk job, and everything in between. Here we've focused solely on Cargo pants and even in that realm, there is a lot of variabilities as far as what you want to wear them for.
Wrangler makes a wonderful work pant. Their cargo pants feature a hammer loop in almost every style and come equipped with plenty of pockets to carry a good variety of tools, tape measures, and even have a pocket specifically for your cell phone in some styles. They offer a ripstop style which will help your pants to last longer even in the roughest environments where getting a hole or holes is inevitable. When you do get a hole in your ripstop pants, the weave is such that they'll not fray nearly as much as other styles and effectively "stop the rip".
But what if your work is a little less hard on pants and you need something that'll pass in the office as well? Fear not, there are Wrangler Cargo Pants that also fit that bill. A twill weave offers a cleaner, nearly dressy look, that'll allow you to wear them when the occasion calls for something a little more dressy. You can even get away with Wrangler Cargo Pants when you are looking for a tactical type pant. They offer enough pockets and are durable enough to hold up to the job.
Do you just want pants to lounge around in or work around the yard? The good news here is that Wrangler cargo pants or shorts will also fit the bill here. Because they are 100% cotton they offer a soft comfortable material and you will not hesitate to wear them when you're lounging around. Perhaps they'll even be the pants you change into after work when you need to ditch your stiffer, less comfortable, dressy clothes. They style you'll want in the instance will change depending on your specific need, but you are guaranteed to find something that fits the bill.
Materials
We've established that Wranglers are largely 100% cotton. So how do they go about having so many different styles? It's all in the weave of the fabric. Two of their most popular and functional weaves are the Ripstop style and Twill. But, which one is best for you? Since there is no need to get confused over terms that aren't immediately understandable, let's dissect each one a little bit more.
What is ripstop? It is a fabric weave that helps to reinforce the fabric all while making it resistant to tearing. In a ripstop weave pattern, threads are interwoven at regular intervals using a crosshatch pattern. Depending on the fabric and brand, these cross hatches may be prominent or not. In Wrangler pants, on close inspection, you can tell they are there but it's not something you can see across the room. The fabric ends up being a little stiffer and tends to last a little longer due to its ability to stop rips.
What is twill? It is another type of weave. Twill looks like diagonal parallel ribs. It typically drapes very well and is very comfortable to wear. It's a bit complicated to explain, but it deals with passing the thread over two or more threads and then under two or more threads. It lends itself very well to something that needs to be worn at the office all day or for lounging around, as well as things like drapes or curtains.
Now that we know a little more about each style, what style is best for your needs? Typically you want a ripstop if you're doing something in which your pants may get ripped. Construction, steelwork, mechanic work, etc. All of those are circumstances in which you would be much better served with a ripstop weave. On the flip side, if you are looking more for comfort and the ability to wear all day and don't face things that can rip your pants on a regular basis, twill may be a better choice.
10 Best Wrangler Cargo Pants
1

. Wrangler Classic Twill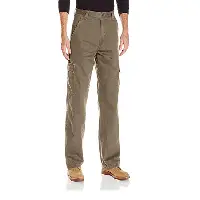 There are not a lot of things better or more comfortable than a classic cargo pant and Wrangler really delivers here. These pants are 100% cotton, offer a button that is more typically seen with jeans rather than a plastic one, and have pockets with room to spare. You will be able to carry anything you need and more all while looking good while wearing these Wrangler Cargo Pants.
Stealthy Cell Phone Pocket
Not only do you get nice, big pockets on each leg, but there is a hidden pocket behind the one with a flap. It is large and capable of holding some of the bigger smartphones without taking up any of your actual pocket space.
Perfect Casual Wear
These Wrangler Cargo pants are perfect casual wear. They are comfortable, offer the space you need to carry anything you may want to with you and can be worn all day long without irritation. The pocket placement allows nice variation of where to put bulkier things if putting them in your back pocket bothers you.
Cost and Value
These are very inexpensive pants and will have you wanting to buy several pairs. They wear out a little more quickly than a more expensive pant, but that's not a bad thing here. You'll get decent use out of them and be able to replace them with a different color right about the time you're feeling the need for new pants. Perfect situation. The quality is excellent for the price you pay.

2

. Wrangler Workwear Ranger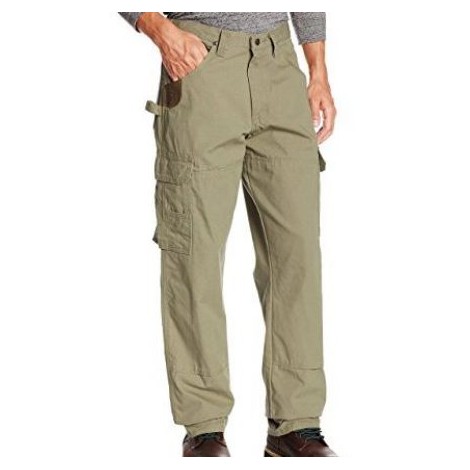 These are one of Wrangler's most popular cargo pants. They have a good, comfortable fit, lots of pockets - including ones big enough to hold an iPhone Plus and come with a hammer loop to boot. If you are a busy working man and need pants to fit your lifestyle look no further than right here.
Hammer Loop
Does your everyday job require that you have a hammer handy? These Wrangler Cargo Pants have you covered! They have a hammer loop on the right-hand side which makes it carrying one with you a breeze.
Excellent Fit
These pants fit like a dream. They are true to size and will fit you comfortably whether you are big and tall or on the smaller and shorter side of things. They are, for the most part, comfortable right out of the box and give plenty of room for kneeling, squatting, walking, etc. The material does become a little more workable after a few washes, which you will appreciate.
Cost and Value
Wrangler really hits a home run with these Riggs Workwear Ranger Pants. They are very reasonably priced and will hold up to a lot of abuse. They are easily comparable to a much more expensive brand and offer longevity. If you are looking for a solid, long-lasting work pant for not a lot of money these are the pair for you.

3

. Wrangler Premium Twill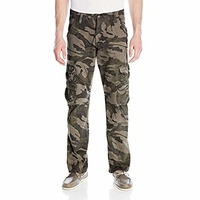 These Wrangler Cargo Pants are soft and comfortable. They can be worn comfortably around the house, in the yard, or even double as tactical pants if you wish. They have lots of pockets, though they do lack the cell phone pocket others on this list have. The fit is true to size and at the price, you'll be coming back for more.
Floating Watch Pocket
If you are buying a pair of pants for its pockets, one thing you may be interested in is a floating watch pocket. While not many pants have one, these specifically have a pocket for your fancy watch. It's definitely something you'll appreciate if you own a floating watch.
Butter-Soft Cotton
A big benefit to the 100% cotton almost all Wrangler Cargo pants are made with is that they are buttery soft. If you have delicate skin that is bothered by many types of fabric, it can usually tolerate 100% cotton. Throw in the twill weave of these pants and your skin will be very happy you got them.
Cost and Value
These Wrangler Cargo Pants are very fairly priced. They are inexpensive and give you a lot of bang for your buck. Considering all the different circumstances these pants can be worn in, you and your wallet will be happy with this purchase.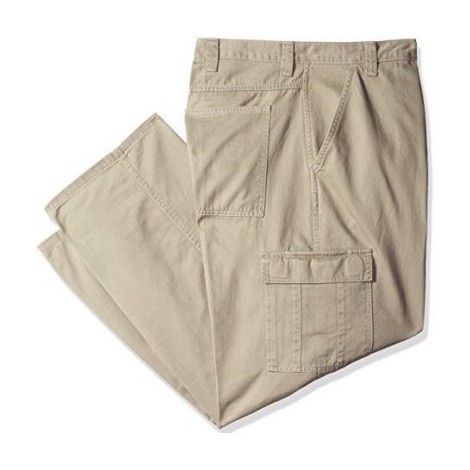 If you are looking for a comfortable pair of Wrangler Cargo Pants that you can wear around casually and even potentially get away with in a little dressier settings and are among the big and tall variety, these are your pants. Don't shy away from the Wrangler brand because you might be bigger or taller than average, these pants are designed just for you and fit like a dream. They are less of a work pant than others on this list, but a little variety is a good thing! They'll satisfy all your casual, everyday needs and have you feeling like you are walking around in your favorite lounge pants and looking anything but.
Twill Cargo Pant
These Cargo Pants are made with a twill weave, which is a nice contrast to a lot of other options out there. It allows them to be a little dressier and used in office work if you so choose. It is also an incredibly comfortable fabric that will allow you to wear around all day without itching or scratching.
Quality Construction
True to Wrangler form, these pants are of quality construction. They are built to fit just like they say they will (in this case, big and tall) and are long-lasting. Odds are very good you'll get several years of good use out of these pants. The pockets hold up and hold everything you need.
Cost and Value
Compared to other pants of this style, these Wranglers are an excellent buy. They cost considerably less than other brands and hold up just as well. Your wallet in your pocket, or pockets since you'll have quite a few in your new pants, will thank you for this purchase.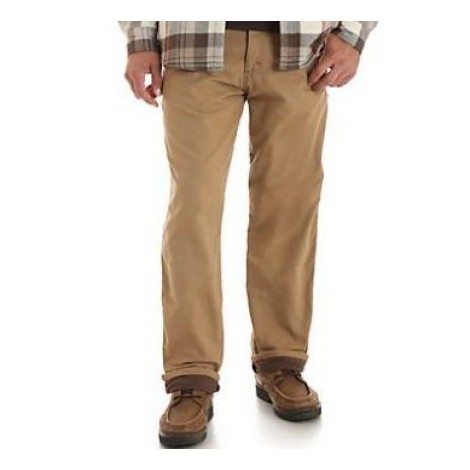 Do you want cargo pants but also want to be able to wear them in cold weather? That isn't really possible if you get the standard issue twill pants. They just won't keep you warm like you want them to. Wrangler answered that by making Fleece-Lined Cargo Pants. They have everything you want pocket and space wise but also include a warm and cozy lining.
Fleece Lined
These Wrangler Cargo Pants are fleece lined and will keep you warm in decently cold weather. They aren't water or windproof, so they are limited a little bit, but will absolutely keep you warmer than any other standard issue pants you own. The fleece lining is also comfortable and will have you snug and happy all day.
Relaxed Fit
As any good pair of Cargo pant should, these offer a relaxed fit. You'll have the room to move and not have to worry about them being tighter than they should be or rubbing uncomfortably.
Cost and Value
For pants that offer the benefits of Cargo Pants as well as a fleece lining, these are very reasonably priced. They have Wrangler quality and a very inexpensive Wrangler price that will have you buying several pairs because you love the feel and price of the first pair so much.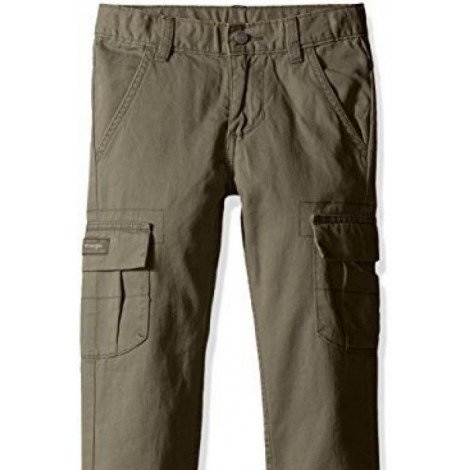 Do you know a younger boy who wants awesome pants like dad or grandpa? Good news - Wrangler makes Cargo Pants in all sizes, all the way from infant to big and tall. These Boy's size cargo pants are great quality. They are machine washable, fit as expected and are 100% cotton.
Adjust to Fit Hidden Within Waist
A critical part of a good pair of pants for a child is an adjust to fit band hidden within the waist. It is the only way to ensure you get as much wear as possible from a pair of pants on your growing boy. These Wrangler Boys' Cargo Pants come with it so that you can rest easy knowing that you'll get the most wear possible out of your purchase.
Pre-Shrunk Fabric
Wrangler makes these cargo pants out of pre-shrunk fabric so that you can ensure the fit you buy is the fit you'll stick with. There will be minimal to no shrinkage on washing because of that.
Cost and Value
Anyone who has kids or knows someone who has kids knows that they burn through clothes and sizes quickly because of how fast they grow. You don't want to spend a ton of money on clothing that will only fit for a few months. These Wranglers are inexpensive enough to splurge and they are built in a way that you know they'll last as long as possible. This is a good purchase for an inexpensive, but a quality pair of pants.

7

. Wrangler Riggs Ripstop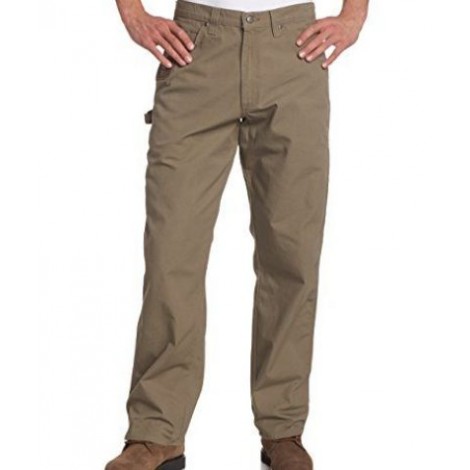 This pair of Wranglers offers extreme comfort and function. They feel good while wearing them and are made of a Ripstop fabric which helps prevent ripping. They come with a variety of pockets, including a hammer loop, and Wrangler's patented leather tape measure reinforcement on the front right pocket.
Ripstop Fabric
These pants are meant to last. While it is impossible to prevent all holes and these may still get them in extreme circumstances, the pattern of the fabric prevents them from fraying and the holes from growing. This means they last longer and you get the most out of them.
Room to Move Fit
You'll have plenty of room to move in these pants, but they won't feel baggy or like there is too much room. They've found the sweet spot in the seat, thigh, knee and the bottom opening to ensure you the ultimate comfort.
Cost and Value
Like all the other pants on the list, this is a good buy for the cost you pay. This is an inexpensive pair of pants that will last you a long time and live up to your expectations and needs.

8

. Wrangler Classic Short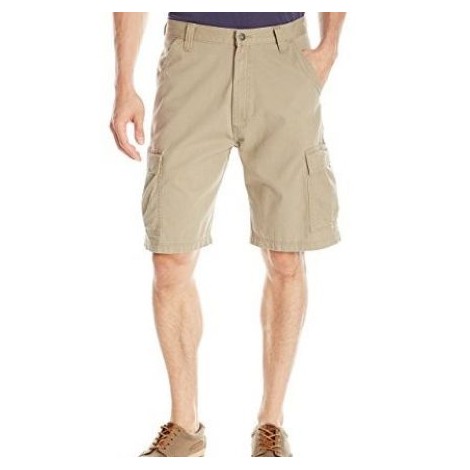 But what if you live somewhere that is hot rather than cold? What if you just really don't like pants but love the functionality of having a bunch of pockets with a great, relaxed fit. Is there a solution here? Of course there is! Wrangler also makes cargo shorts. They come with all the features of the Cargo pants that you love - great quality, 100% cotton, lots of pockets - but don't have all the cumbersome fabric, heat, and length that comes with wearing pants.
Tech Pocket
One of our favorite features of any Cargo Pant is the Tech Pocket. Not all pants include them and you may think that Cargo Shorts would drop that feature, however; that is not the case here. The tech pocket is still present here, just like these shorts longer version, and will allow you to carry your phone around with you - even if it is as big as an iPhone or Samsung plus.
Velcro Pocket Closures
These Wrangler Cargo Shorts come with Velcro on the pockets! This is a feature that is hit or miss on different styles but overall seems to be loved by the masses. It is much more convenient to be able to get into your pocket quickly and not have to fumble around with a button before being able to access. On the same token, you want to be able to seal your pocket shut with something - enter Velcro. It serves both needs and will save you a lot of time and effort when securing your belongings.
Cost and Value
This pair of shorts is one of the least expensive items on this list. Logically, there is less fabric so it makes sense that the price would reflect that. You still get a lot of quality but can buy yourself several pairs to make it through the summer without really making a dent in your wallet.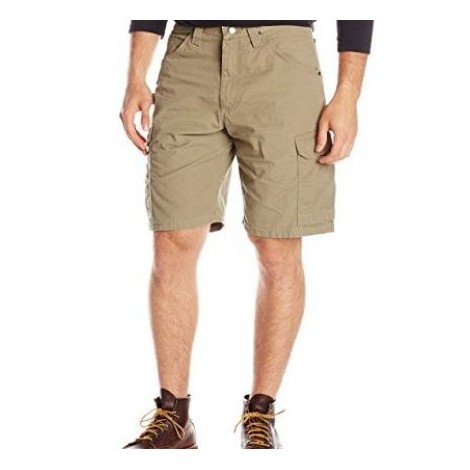 Perhaps you love the idea of cargo shorts but absolutely need something that is ready to go to work with you? Do you need a more durable material that can handle tougher situations than standard cargo shorts could? Look no further than these Riggs Workwear Ranger Cargo Shorts. They are rugged and long-lasting and will serve you well for whatever warm weather work or tough play needs you may have.
Reinforced Back Pocket
Wrangler knows you mean business when you wear these shorts. As such, they designed them with 1000 denier DuPont Cordura-lined back pockets. Whatever you put in there will be secure, and stay that way, for however long you need it to. It won't fall out, as they are buttoned, and it won't fall through any holes that develop inside your pockets because that simply won't happen here. They are built to be durable and long lasting, and that quality is obvious.
Well-Constructed Pockets
Not only are the back pockets amazing, but you'll also be pleased with what you find on all the pockets in these cargo shorts. The side pockets are well constructed with a heavier cotton than is typically standard, which will help them to last longer, are deep, and sewn in a traditional pocket cut. They don't drop straight down, which in turn drops everything in them as soon as you sit down so you can rest easy knowing that what you put in your pockets will stay there.
Cost and Value
In true Ripstop fashion, these shorts are more expensive than the last pair. When Cargo Pants or Shorts are sewn in the ripstop style, it does end up costing more. The good news here is they also end up lasting longer so the steeper initial price will balance itself out over time. All that being said, these are still very reasonably priced and won't have you shocked at the price tag.

10

. Wrangler Infant and Toddler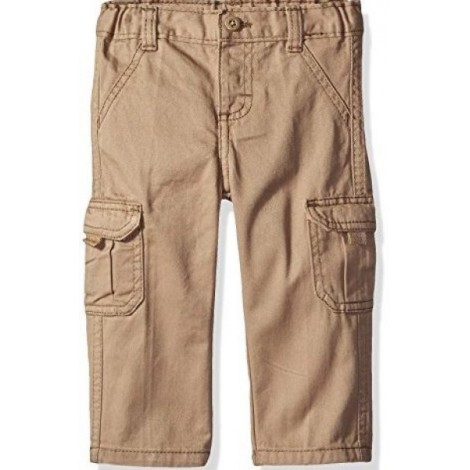 Everything is always cuter when its made in miniature version. There is no exception here. Your tiny tike will be looking just like Daddy with these adorable cargo pants. They have just about as many pockets as you can fit onto such small pants and would genuinely function as cargo pants could your baby fill those pockets up. They are soft and 100% cotton so they will keep your baby comfortable and fashionable.
Velcro Closure
One difference between the toddler version and the full size one is that this one features a Velcro closer as opposed to a button and zipper. This is actually genius as it will help a lot when your child decides they can get themselves dressed or when they are potty training and pulling pants up and down happens way too many times a day to count.
Elastic Waist
When you are clumping sizes into age groups, it is easy for things to not fit quite right. Children and toddlers run all ends of the spectrum as far as growth is concerned and no two 6-month olds are going to fit the same pair of pants exactly the same. This is where the elastic waistband comes in. It compensates for the tall and skinny child but also for the shorter or rounder child. This expands the range of babies and toddlers each size can fit, but also allows for your child to grow into and out of them when the time comes while maximizing time to wear them.
Cost and Value
These pants are no more expensive than a good pair of infant or toddler shorts should be. They are reasonably priced enough that you won't choke at the thought of spending this money for 3 months of wear. They are quality Wrangler brand, adorable, and will keep your child fashionable and happily mimicking daddy for the maximum amount of time they can be. You will be satisfied with this purchase.

Subscribe to our Newsletter