Best Wet Cat Food Reviewed & Rated for Quality
In a
Hurry? Editors choice: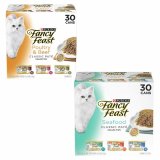 Test Winner: Purina Fancy Feasts

Choosing food for your feline friend is never an easy feat, especially if they are finicky. And if you've made it to this list the odds are that you are a loving pet owner who wants the best for their cats. Wet cat food is a great treat for your furry friend as they usually find it tastier than dry food. Many of today's most popular brands ensure that your pet gets all the needed nutrients needed through their meals. Some even created special recipes for dietary needs such as weight loss and digestive issues. Although dry cat food has its benefits, a can of delicious wet cat food will leave you purring. It comes with all the nutrients needed for a healthy diet and is a great choice for picky eaters.
Standout Picks
Criteria Used for Evaluation
Effectiveness
The big debate among all cat owners is whether to feed their cat wet food, dry food, or a combination of both. There are merits to all styles of feeding and we'll discuss them here.
First off, let's talk about wet food. Maybe the biggest appeal of wet food is the water content. Cats aren't prone to drinking much water. In the wild, they get most of the liquid they need to stay hydrated from the prey that they eat and don't really have to drink much. When you are feeding your cat wet food, they get a substantial amount of liquid in and are far less likely to get dehydrated. Another big benefit of wet food is that is likely has a higher meat percentage. Cats are carnivores by nature and thus require animal protein to thrive - particularly the amino acid taurine. An ideal cat diet should be comprised largely of protein because their bodies aren't built to break down much else very effectively. Speaking of which, wet food also tends to be lower in carbs. This may not be a huge deal for most cat owners, but if you have a diabetic cat it is very important to pay attention to and your cat's life may well depend on it.
What about dry food? There are certainly merits here as well. As long as you are able to get a good, premium dry food your cat will still be eating very well. They have the essential protein necessary and are fortified with vitamins, minerals, and most have added taurine as well to ensure a balanced diet for your kitty. There are many flavors and dry food is usually a little less expensive. One of the biggest things to pay attention to with dry food is how much water your cat drinks. If they don't drink much, they will be prone to getting urinary crystals and having urinary tract issues. Also, dry food tends to have more fillers in it. It is a necessary part of processing the food into kibbles that you are able to feed your cat. This isn't always a bad thing but is something to be aware of.
Perhaps the best compromise would be to do a combination of both wet cat food and dry cat food. This way you are able to get the benefits and nutrients from both, as well as the flavors and textures that your cat loves and craves. It will allow you to still feed your cat a very healthy, well-rounded diet that will maybe save you a little money in the long run.
Texture
Cat, like humans, can be very texture oriented. Unlike dry cat food, wet cat food can come in a variety of textures to either please a picky kitty or offer a little variety to one who can get bored easily. There are three main textures to wet cat food, with a little variation depending on the brand and what it is packaged in.
The first is pate. This looks pretty gross, honestly, and is a large blob of pureed food served up in a can. It has a nice smooth texture that will offer no sort of chewing or chunks. Cats do seem to love it and are often very enticed by the smell that comes along with it.
Another popular option is chunks of food. In this style of wet cat food, the food is processed into chunks that mimic actual meat. They are usually served in gravy and offer just a little more texture for the cat who craves it. They don't look quite as unappetizing to the human, though your senses don't matter too much here.
The final and perhaps less common texture of the three is flakes. This one definitely looks the most appealing probably because it looks like something a human would eat as opposed to the other two. It is actually flaked meat that will really satisfy your cat and give it the sense that it is eating more like it would if it lived in the wild. Flaked food is often served in juices or gravy as well and tends to please even the pickiest of kitties.
Flavors
Just like you were going to be feeding yourself, it is critically important for you to really watch what you are feeding your cat. There are many, many food options out there and some are really great for your cat while others really aren't. It can be the equivalent of feeding your kids fast food every day or a home cooked meal that includes the healthy veggies that their growing bodies need.
So what are you looking for in cat food? It is critically important that meat is in the first few ingredients. It doesn't necessarily have to be the first ingredient in wet cat food because that slot is often occupied by water or broth of some sort - which tends to make up 70 something percent of the wet cat food. But, if not the first ingredient it absolutely has to be the second. You are doing a lot better if there is meat in two or three of the first five ingredients listed.
Another important thing to pay attention to is what type of meat is included. Is it actually chicken or salmon or any other type of whole meat? Or is it a by-product or a chicken meal type of meat. Obviously, the closer to real life meat can be better. Much like it is for a person, the less processed a food is the better it is for you - or your cat.
10 Best Wet Cat Foods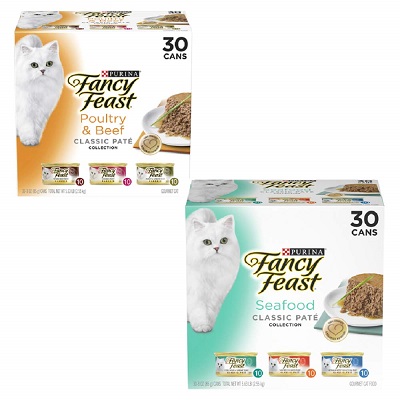 This Purina Fancy Feasts Wet Cat Food is sure to please your cat. It has delicious tender bites in a yummy gravy and will have you feeling really good about treating your cat - but, the jokes on them because this actually serves as a completely balanced meal rather than a treat. It is fortified with vitamins and minerals and comes in a variety of flavors.
Tender Bites
This wet cat food is served in tender bites as opposed to pate. Because of this, it offers an excellent textural element that your cat will love. Your cat will be able to smell the food as soon as you open it and will come running, ready for its tender gourmet meal.
Savory Gravy
The tender bites in this wet cat food are served in a delicious tender gravy - and not a small amount of it. There is plenty of gravy to help your cat feel like this meal really is a treat and will add a mouthwatering finish. This serves the added benefit of ensuring that your cat gets enough liquid in and avoids dehydration. Your cat will especially love this food if they are gravy lovers.
Cost and Value
This gourmet wet cat food comes at a great price. You'll be able to give your kitty a generous serving for well under $1. They will be well fed and completely satisfied with their food and you will feel great knowing that not only have you pleased your cat, but you have also pleased your bank account.

2

. Purina Friskies Classic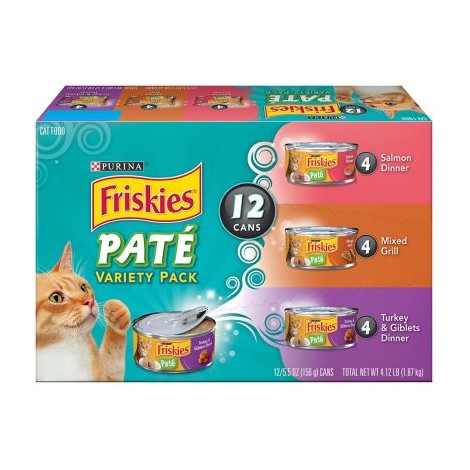 Purina Friskies Classic Pate wet cat food is one that is sure to please even the pickiest of cats. It has a variety of flavors and is ground into a smooth, tasty pate. It contains 100% balanced nutrition and everything cats need to grow - including the liquid that they may refuse to drink otherwise.
Smooth Texture
Your cat is sure to love the smooth texture found in this wet cat food. They take quality ingredients as well as vitamins and minerals and process them down to a nice, smooth texture. Your cat will look forward to meal time when it involves Friskies Pate.
Variety of Flavors
This wet cat food comes in a variety of flavors and can even be bought by the case with variety. This will ensure that your cat never gets bored at dinner time. They will be able to enjoy meat, poultry, or seafood flavors and will appreciate the variety. The flavor combinations are tasty and well-loved.
Cost and Value
The cost to value assessment here is great. These are packaged with more per can than others we have discussed so far at 5.5 oz. This may be good or bad depending on your preference, but considering the fact, the price for 24 of these is about the same as the price for 24 of the others and you get more in each one, you're getting a pretty good deal.

3

. SHEBA Perfect Portions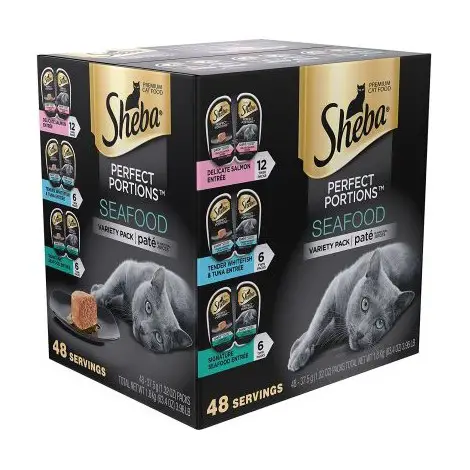 This particular Sheba Wet Cat Food comes in a variety pack and is a pate. That way you can feed your kitty a variety of different flavors throughout the week and know that they are all delicious and high quality. It is grain and gluten-free and contains vitamins and minerals to ensure that your cat is getting all the essential nutrients it needs.
Perfect Portions
This wet cat food is packaged in twin packs. Each individual serving is 1.3 ounces. That means that you can serve your cat fresh portions every time you want to feed him. No serving a little now, packaging and preserving whatever is left, then digging it out again later. Simply open up a pack and feed him the whole thing. You will love having less mess to deal with.
Signature Broths
Each flavor is made with a delicious signature broth. This complements and enhances the flavor of the food really well and also ensures that your cat is getting enough to drink and you won't have to deal with dehydration issues. A hydrated kitty is a happy kitty.
Cost and Value
You are getting a great bang for your buck here. Sheba makes delicious, premium wet cat food that your cat is sure to enjoy and also sells it at a price that your wallet is sure to enjoy. You can get a whole lot of cat food - individually portioned - for not a ton of money. It makes your mealtime easier and far less stressful.

4

. Iams Purrfect Delights


This wet cat food is a flaked variety which is great for picky eaters. It comes in a variety of flavors and definitely ups the standards compared to the other on our list so as far as ingredients and natural ingredient content go. It has an easy open lid and will give your cat a complete and balanced meal.
High-Quality Protein
A great feature of this wet cat food is that it features REAL protein sources and not just derivatives. In this variety pack, you can find real tuna, real mackerel, and real sardines. These are all flavors cats love - especially if they are fish loving cats - and it will be eaten right up. In addition, you will feel good giving this to your cat and not like you're just giving them a treat and calling it dinner.
No Additives
There is a lot of the good stuff you like to feed your cat in this wet cat food and none of the stuff you don't like. There are no artificial flavors or colors. There is no gluten, corn, or soy. Winning on all fronts.
Cost and Value
This wet cat food is a little more expensive than others we have discussed so far on this list, but not by much. If you are a little concerned with ingredients and want to try to give your cat a healthier option that they will still eat but won't break the bank, then this is a great option. It combines good ingredients with good texture and a reasonable price. All in all, you will be satisfied with this purchase.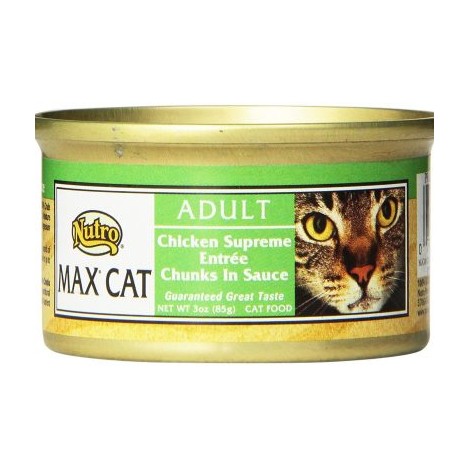 When your first four ingredients are meat based, you know you've found a good wet cat food. You and your cat will be able to feel and see the difference when you make the switch. The ingredients are high quality and this food provides a balanced meal for your favorite feline friend.
Real Chicken
This wet cat food is made with real meat ingredients. There are various flavors, but all have real meat as the first or second ingredient along with broth - chicken, duck, mackerel, etc. This means a real, whole protein that your cat will love and eat right up.
Savory Chunks
Nutro Max serves their wet cat food as savory chunks in a delicious broth. The meat is cooked in the broth so the flavors of both are delicious and your cat will love them. In addition, it is fortified with vitamins and minerals to ensure that your cat will have a complete, balanced meal.
Cost and Value
This is a high quality, even premium, food that is still quite affordable. It is the most expensive one on the list so far, but it is still very reasonable. The cans are 3 oz a piece and they can come in large packs if you wish. If you want higher quality food, are willing to spend a little bit more, but still, want to be money conscious, then this is a great option for you.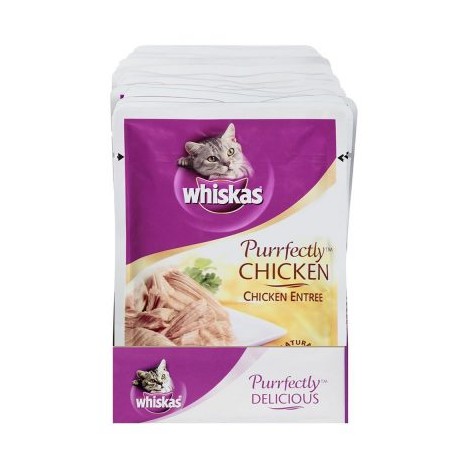 Your cat will love this Whiskas wet cat food. It comes as tender flakes in natural juices that your cat will be sure to finish off. It is nutritionally balanced and will provide a complete and satisfying meal.
Comes in Pouches
Unlike any others on this list, this wet cat food comes in flavor lock pouches. This serves several purposes. First, they lock in the flavor to ensure your cat will enjoy them. Secondly, it is very easy to carry around. Perhaps easier than any can is to carry. However; it is somewhat complicated to get out and will likely require a spoon to do so. Very similar to the tuna pouches that you can buy in a grocery store.
Succulent Meat Cuts
This wet cat food is made with succulent cuts of meat that your cat will surely love. It adds a little more texture than a pate or a chunk would and also packs a powerful flavor punch. The flavor is enhanced by the natural juices it is packed in - that will also give your cat the added moisture that they need.
Cost and Value
This wet cat food falls near the bottom cost wise. It is a standard issue grocery store available wet cat food. It does the job of feeding your cat and providing the nutrients that it needs in a palatable, perhaps even enjoyable flavor, that your cat will enjoy. Is it the fanciest on the list? No, but it is very fairly priced for its value. Your cat will be fed and enjoy the experience and your wallet won't feel it too terribly in the process.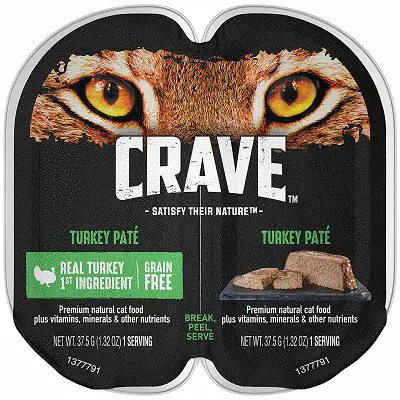 Crave is a company known for the protein-rich food they make for both, cats and dogs. They make their product in the United States using the highest quality ingredients with real meat as the number one ingredient. This grain-free recipe for cats includes 48 servings for an amazingly low price which will leave everyone in the house happy!
Real Turkey
Crave always uses real meat as their number one ingredient to ensure that you are getting a high-quality product that your pet will love. This comes with real turkey, a real treat for the holidays!
No Artificial Flavors
The health of your pet is important, and providing them with food rich in nutrients and free of preservatives and artificial flavors is vital. This not only includes real meat, but also other minerals and vitamins.
Cost and Value
The price is great for the quality and amount you receive. You can count on top-notch ingredients and lots of protein. It also has no wheat, corn, or chicken by-product.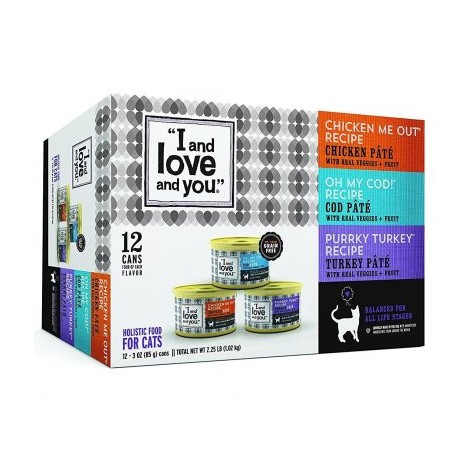 Are you looking for only the best holistic wet cat food out there? Look no further than I and love and you. They make very high-quality wet cat food that your cat will surely love. It has meat as the number one ingredient in every flavor and is one of the best options out there for cats that have allergies. It also comes in pate as well as chunks, if your cat happens to have a preference or just likes a little textural variety.
All Natural
When you check the ingredient list on this wet cat food you will only find ingredients that you know and can pronounce. Things like chicken, salmon, sweet potatoes, cranberries, etc. You will never find artificial preservatives or flavoring, additives or fillers, by-products, unnamed meats. It is also grain free so you will never see wheat, corn, grain, or rice.
Gentle on the Tummy
When you have a food that is made completely out of real ingredients, your cat will be able to digest it better without causing any real upset in the process. Things like real meat as the first ingredient, lots of protein, and real vegetables go a long way in GI health. Another factor that contributes to that is that this brand is always grain free in every flavor.
Cost and Value
High quality demands a high price and that is what you will find here. It is nearly double many of the others on this list. That being said, there are many people who know and love feeding this food to their cats and will praise it all day long. You don't get that kind of following without food that really makes a difference in a cat and their human owner's life. This is excellent food and you are willing and able to spend more on your cat's food you won't be let down by purchasing this.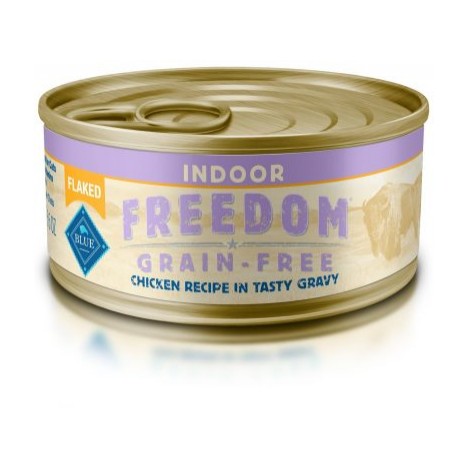 Sometimes the best option for a cat is a grain free option and Blue Buffalo does that very well in this wet cat food. It is nutritionally balanced and includes no grain as well as no gluten in order to avoid any sort of reaction your cat may have to it. In addition to no corn, wheat or soy, there is also no meat by-products or anything artificial.
Cranberries Included
A very common problem in cats is that they tend to get UTIs. In addition to simply being a wet food that will help provide the moisture your cat needs and may not be drinking, Blue takes UTI prevention a step further by adding in cranberries. It really helps to keep the urinary tract functioning as it should.
Natural Dietary Fibers
Do you have an indoor cat who has a hairball problem? Rest assured knowing that you are not alone. Often times the food they eat just doesn't have enough fiber to push those hairballs on through. Blue addresses this issue with their wet cat food by including enough dietary fiber to ensure a smooth ride through your cat's digestive system and fewer issues in the litter box.
Cost and Value
All in all, buying this Blue Buffalo wet cat food is a great buy. It is a little more expensive than most, but it is a high-quality product that you can feel good feeding to your cat. It comes in 5.5 oz containers which goes a long way in offsetting the price when comparing to other brands who package their wet cat food in 3 oz containers. It is good food, at a good price.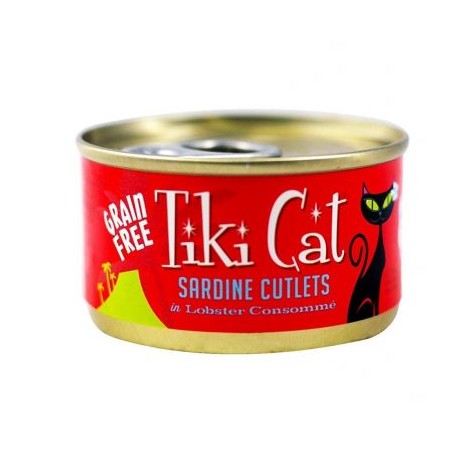 This wet cat food features whole foods - you can actually tell what your cat is eating without having to read the ingredient label. No pate, chunks, or gravy here - just actual meat. It has an excellent taste that will keep your cat coming back for more. It is ideal for prevention and treatment nutrition for cats that suffer from IBS, UTI, Diabetes, and other conditions.
Graded for Human Consumption
Something that no other wet cat food on this list can boast is that Tiki Cat Canned Cat food is graded for Human Consumption. Not that I'd recommend it, but that means you could eat your cat's food in a pinch. The sustainably sourced meat you find here is processed little enough that it is perfectly acceptable for you to eat!
Biologically Appropriate
Tiki Cat designs their wet cat food with a biologically appropriate profile so it really does give your cat the most of what it needs and none of what it doesn't. You will find similar moisture to what a cat in the wild would find in prey, as well as a protein and fat rich food that has 0% carbohydrates.
Cost and Value
For a wet cat food that is good enough to feed to humans, you would expect to pay a pretty penny. Or at least about what you would pay to feed a human a meal. That is not the case here. Yes, it is more expensive than a lot of wet cat foods on this list, but it is not the most expensive and is very reasonable. If you want to know exactly what you're feeding your cat and know that it is also safe enough for you to eat, you can rest assured that it is affordable to do so with Tiki Cat.

Subscribe to our Newsletter