Best Turtleneck Sweaters Reviewed for Comfort & Style
"Winter is coming." said Sub-Zero of the Mortal Kombat franchise (as well as DC's current Injustice franchise). "We must prepare ourselves." And we're here to help you prepare yourselves for the chilly bite of winter. As a matter of fact; any season or area that hands you unrelenting cold. Welcome to the master review of the best turtleneck sweaters we can find. So we better get started.
Featured Recommendations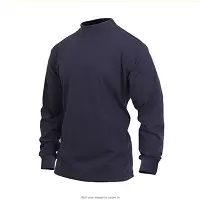 Rothco Mock Turtleneck

Our rating
100% Cotton
Price:

See Here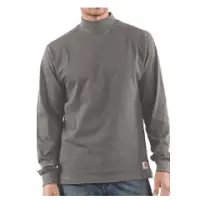 Carhartt Turtleneck

Our rating
Machine Wash
Price:

See Here


Utopia Turtleneck

Our rating
Easy to Clean
Price:

See Here


Why Turtleneck Sweaters
Well for one thing, they look cool. While there was a time when turtleneck sweaters were kind of a mark of goofiness, that has been changed lately, and apparel designers have really invested some creative brainpower into making the turtleneck sweaters look cool again.
Besides, they will also keep you warm, and give extra protection to your neck, where we humans are the most vulnerable to winter's chill. So, why turtleneck sweaters? Because they're cool and will keep you warm. Whether you're a hunter out in the woods, a security officer doing a graveyard shift at a car dealership, a mountaineer who's also out in the woods, or someone who's out in the hoods enjoying the first week of the cold. So read on and enjoy our review of the best turtleneck sweaters for you.
15 Best Turtleneck Sweaters
1. Utopia Wear Standard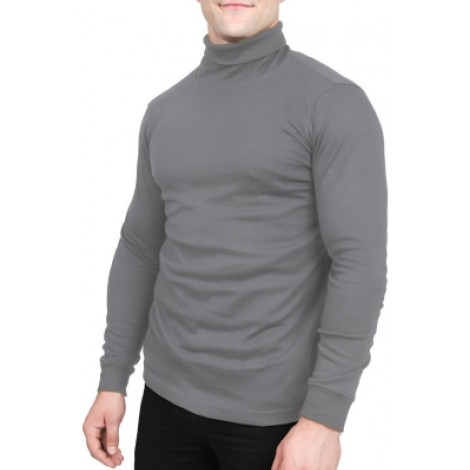 As simple as it gets. Utopia Wear surely aims to be the utopia of clothing, and this hits the mark. Clean, simple, blank design. Made of an almost perfectly balanced match between cotton and polyester, this turtleneck sweater manages to be a perfect fit to almost everyone. The material is stretchy and thin, and while it will keep you just barely warm, it is
breathable
and very easy to clean.
Expand to see more
Breathable

You won't get hot and sweaty in this, it's guaranteed. Feel free to layer two of these one over the other if you want to feel warmer though.

Pre-shrunk

This sweater will stubbornly remain the same size as the day you got it, no matter how many times you try to wash it. It's a sweater with a size set in stone – because Utopia Wear took the time and shrunk it before they sold it to you. We approve and only wish everyone did this!

Features:

45% Polyester and 55% Cotton
Durable and soft
Fits easy and comes in US sizes
Fabric that allows skin to breathe
Machine washable
Breathable yet comfortable
Pre-shrunk so it won't change sizes
Very easy to clean
Stretchy and easy fit for most people
A bit low on the "keep you warm" factor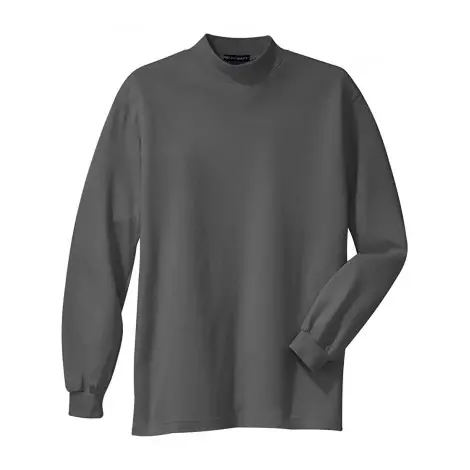 Not to be confused with (quasi-) governmental institutes that supervise sea-bound ports and the participating infrastructures; Port Authority Clothing goes out of its way to make sure that the clothing created by them are "sweatshop-free." Meaning that, for those who are concerned, the products you purchase from Port Authority haven't been made by some severely underpaid group of people at some unknown, yet volatile, part of the world.
Expand to see more
Keeps You Nice And Warm
This turtleneck is awesome when it comes to giving you
extra warmth and layering
. It's "100% cotton with added spandex for some stretching." So it's not really "100% cotton;" probably a larger percentage of cotton and some percentage of spandex.
A Variety Of Sizes
This turtleneck ranges include extra-small, small, medium, large, extra-large, XXL, XXXL, 4XL, 5XL, and 6XL. So anybody in any size can be able to get a turtleneck that's the right size.
Features:
100% Ringspun Combed Cotton
Cover-Seamed Neck
Ribbed Knit Collar & Cuffs With Spandex
Garment-Reinforcing Locker Patch
Double-Needled Collar & Hem
Thick & Warm Material
A Variety Of Colors
Long Lasting
Fits Great
Issues with material after washing
Not 100% cotton
3. Utopia Wear Cotton Blend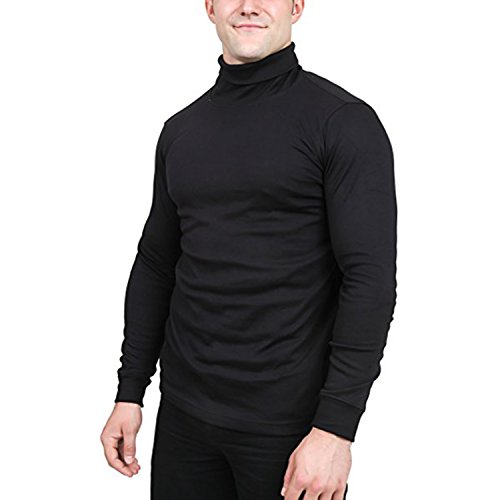 Utopia Wear still remains at the top of the charts for the people's choice in turtleneck sweaters. And lightening strikes twice... Or maybe the better term should be; "a second onslaught of snow commences" with their interlocking mock turtlenecks.

UW is a sub-company under Utopia Deals; a company that's also responsible for the sales of bedding, kitchenware, fitness products, healthcare products, and other household items. Their company is stationed in New York; but it's also well-known in Canada, China, and Pakistan.
Expand to see more
55% Cotton / 45% Polyester

This blend of pre-shrunk cotton and polyester ensures that you get a turtleneck sweater that's durable, long-lasting, and ready for machine washing. (Avoid steam-washing, dry-cleaning, and the use of fabric softener since it might do damage to the materials.)

Knitted & Stitched To Perfection

The materials used for this turtleneck sweater are also lightweight and super-soft; insuring that you'll look great all season long. It's been stitched with care to make sure that you're able to move around in it without any restrictions.

Features:

Comes in a variety of sizes.
Breathable fabric.
Made from combed yarn.
Able to maintain temperatures in cold and hot seasons.

Helps You Look Professional
Great Thickness Quality
Inexpensive
Issues With Material
Wrinkling
4. Alex Stevens Ribbed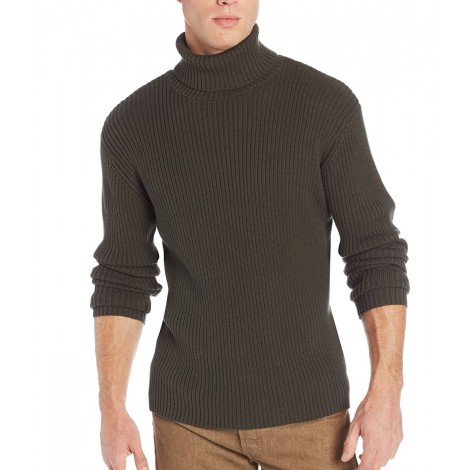 Some deep internet snooping about the company that created this turtleneck had lead me to a site about "ugly Christmas sweaters." "Alex Stevens," a traditional men's brand with no website to sell its products from, had been responsible for said sweaters. A former employee, one New York designer named Amanda Neville, created sweaters that had images of puking reindeers and snowman "marked by dogs," to name a few.

Thankfully for those who don't want tacky images on their turtleneck sweaters, the Alex Stevens men's turtleneck sweaters are sold with nothing on them except for the color of the fabric used.
Expand to see more
100% Cotton

This turtleneck sweater had been made out of cotton that is heavy and surprisingly springy. Questions had been asked about the elasticity along the collar and cuffs; if nylon or polyester had been used. But it just holds its shape amazingly well. As always with cotton, wash it with your hands and dry it out in the air.

Made In China

Despite what you think; not everything from China has to be bad or cheaply made. It all depends on the manufacturer. Just like when American-made products have to be recalled because a few employees had a bad day and, unfortunately, decided to pass that type of buck down to the consumer.

Features:

True turtleneck with rollable collar.
All-over ribbed stitching.
Durable
Durable
Colors Don't Fade
Heavy & Comfortable
Pricy
Size based on Asians' size
5. Port & Company Mock PC61M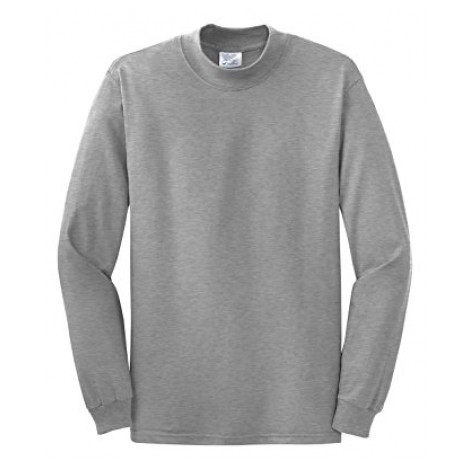 If you own a company that makes clothing and you have multiple brands under your wings, then it's really difficult to keep a product or more (that works so well) under one brand. For example, the mock turtleneck that's featured under the Port Authority brand.

Port & Company, Port Authority, District Clothing (women's wear), Sport-Tek (sports wear), Red House (business wear), and Cornerstone (construction / work wear) each have separate web sites. None of them have "About Us" pages that give out their storylines and placement in the world of clothing. District Clothing, however, gives us a physical address that is somewhere east of Seattle, Washington. A nice bit of info considering how few of the clothing companies hardly have any websites at all.
Expand to see more
A Variety Of Colors

You'll notice right away the several shades and colors being featured on this mock turtleneck sweater. The colors also featured are "Kelly" (which is a lighter tint of green) and "Athletic Heather" (which is a lighter shade of grey).

90% Cotton / 10% Polyester

The blurb says that it's 100% cotton, but maybe that blurb had sorta been changed to address the complaints about how saying "100% cotton" is a lie. Don't let that bring you down, though. The material being used for the turtleneck sweater is still the highly durable, long-lasting material you can come to rely on for those cold-weather days and nights.

Features:

Cover-seamed mock turtle neck.
Shoulder-to-shoulder taping.
Spandex in the collar and cuffs for extra stretch and comfort.
Double-needled collar and hem.
Variety of sizes from Small to 4XL.
Thick Fabric
Durable
Quality Material
Shrinks In Wash (Cotton)
Issues With Material
6. H2h Slim Fit Basic Ribbed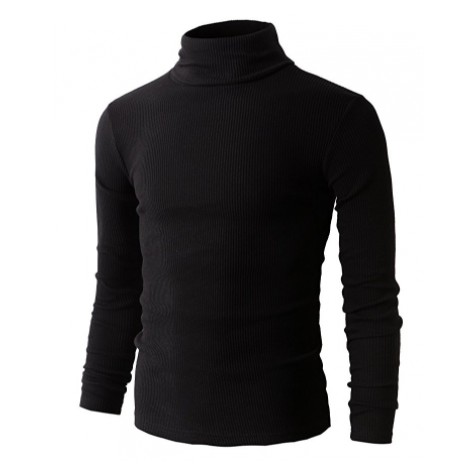 H2H is a Korean manufacturer, so naturally, expect sizes fitting the Asian market. With that being said, this is truly an excellent turtleneck sweater. It's made from 80% cotton but 20% polyester as well, which makes it a slim, snug fit, and the ribbed design of the material enhances its thermal properties. While it may look more on the thin end, it will definitely keep you warmer than expected. H2H offer a variety of colors for this sweater.
Expand to see more
Ribbed Thermal Design

This turtleneck sweater will keep you warm thanks to its clever design. Don't let the thin look fool you.

Slim Fit

The slim fit design will be a joy to many, but it can also be a turn off for some. To each their own, but this is definitely a very stylish piece of clothing.

Features:

80% COTTON / 20% POLYESTER
Mens Slim Fit Basic Designed Turtleneck Pullover Sweaters
Slim fit, long sleeve, basic designed and solid colors, ribbed cotton fabric, lightweight thermal pullover sweaters
Hand wash recommended
Slim fit
Thermal design
Plenty of colors to choose from
Affordable
7. Ohoo Slim Fit Soft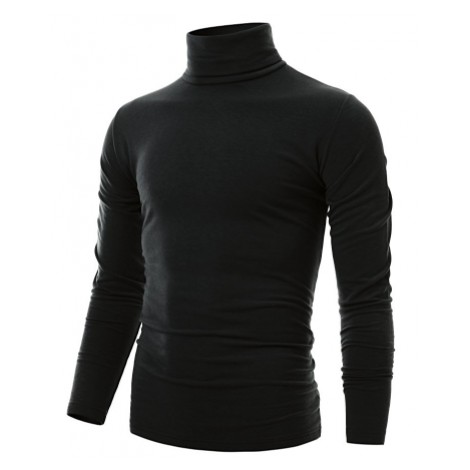 Nice, minimalist design is what makes these Ohoo turtleneck sweaters stand out. Using both cotton and polyester; Ohoo's turtlenecks are make for a comfortable, snug fit that is a bit stretchy. The neck and wrists are also seamlessly designed into the body of the shirt, and the stitching is almost invisible. Whatever you say, this sweater surely looks stylish!
Expand to see more
Cotton Blend

If you happen to miss your size just slightly, then worry not – the blend of cotton and polyester is just elastic enough to accommodate your specific body shape.

US Sizes

Despite being made in Korea, Ohoo have gone one step further and offer US sizes. One thing less to worry about!

Features:

80% Cotton / 20% Polyester – Cotton Blend
Machine wash & Hand wash recommended
Elastic enough for easy fitting
Soft fabric comes in standard U.S. sizes
Made in Korea
Cotton blend material makes for easy fit
Elastic and thin
Affordable
US Sizes
8. Alex Stevens Cable Turtleneck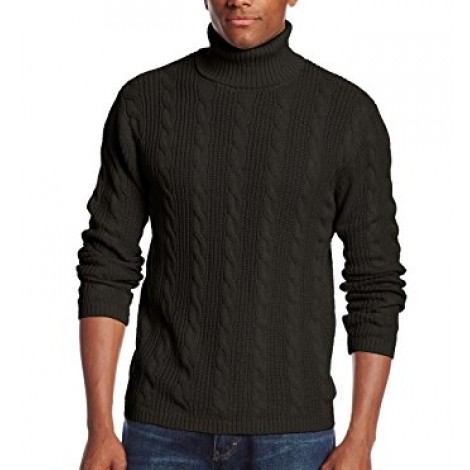 Alex Stevens (the names of two sons of the company's owners) is the mysterious home of men's clothing brands, as well as the home of doggie sweaters and "ugly Christmas" sweaters and jogging pants. They return to the List of Best Turtlenecks with their stylish take on the "braided look."

It seems to be of low stock. So get one while supplies last.
Expand to see more
100% Cotton

No lie. This turtleneck sweater is made of 100% cotton. However, anything that's mostly cotton will come with all its issues. So be sure to wash it by hand and avoid using fabric softener.

Ribbed Cuffs & Hem

The extra fabric around the cuffs and hem make sure that the heat is trapped within this sweater. It'll also keep your sleeves in place whether they're rolled up or left down.

Features:
Guaranteed Authentically Crafted
Textured
Imported From China
Soft To The Touch
Lightweight
Breathable
Easy to see through a bit
Issues with material
9. Devon & Jones Suede Cotton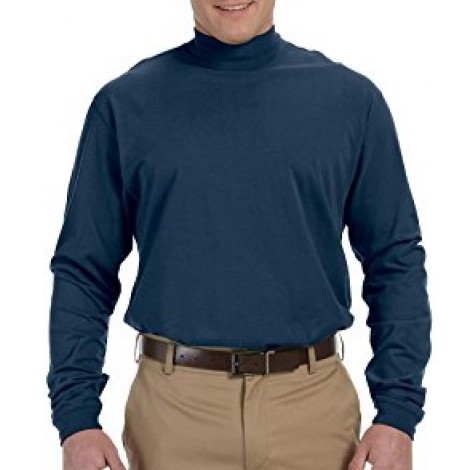 Yet another company that doesn't have a website; choosing to sell their clothing and accessories via online shops and department stores. The goal of Devin & Jones had been found at one site though; to blow the doors off of their competitors.

Devin & Jones' goal is to be the best; equating to, if not going above, the best known and most prestigious clothing and accessory designers out there.
Expand to see more
100% Cotton

Plush Tanguis cotton that's been cultivated in Peru, grown and turned into fabric, and brushed into perfection. The grey heather colored sweater is 90% cotton and 10% polyester.

Comes In Several Colors

Along with the grey heather; there's navy blue, white, black, crimson, dill green, and forest green.

Features:

Double-Needled Stitching Throughout
Spandex In The Collar & Cuffs
Side Vents
Sizes from Extra-Small to 4X-Large
Good Quality At Good Price
Soft
Comfortable
Tags Irritate Neck
Issues With Material
10. Match Casual Basic Knitted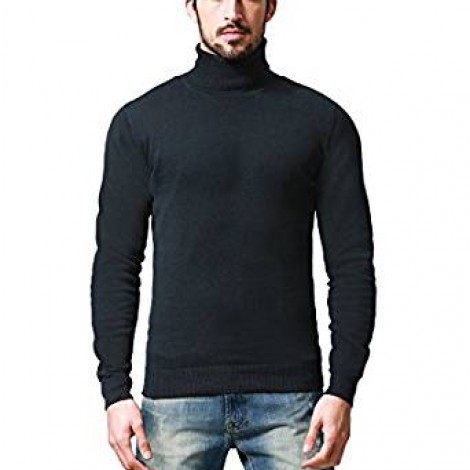 Yet another mysterious company. But this time, the reason is that the word "match" is used everywhere. The Match clothing line (if you search online) has nothing to do with helix stereo systems, coloring utensils, repair tape, or anything like that. The company uses a logo that's much more refined and stylized. Neither does it have anything to do with Matches Fashion.
Expand to see more
Colors & Sizes

One thing you'll notice right away is the variety of colors and sizes to fit your taste. So you can always settle for something that's available if your favorite color didn't come in the exact size. (Be careful: The size is based on Asian sizes. So, say, a "Medium" there would be "Extra Small" in the US.)

100% Cotton

This turtleneck sweater is knitted and made out of 100% cotton. It's soft, warm, comfortable, and adds a slight stretch. It's also machine washable as long as you don't add bleach to clean it.

Features:

Good-quality, medium-weight cotton.
Slim-fit pullover collar.
Comes in 2 available collar styles; traditional turtleneck, or shawl collar with a button.
Quality Fabric
Great Colors
Fits Nicely
Breathable
Issues with material (might be wool)
11. Maks Supersoft Relaxfit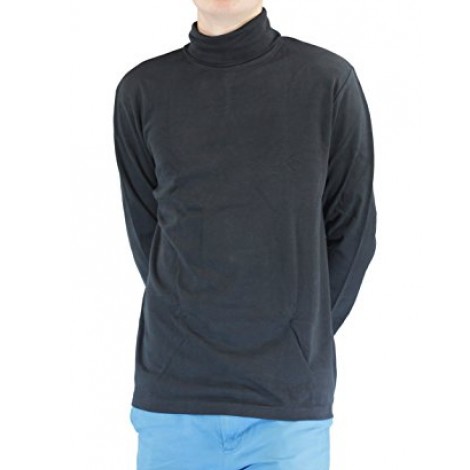 And now here's a turtleneck sweater for those who'd rather hit the slopes instead of being inside the warm, cozy room all day. The Relaxfit Turtleneck is brought to you by Maks, another mysterious company that sells its clothing via online shops yet is kind enough to give everyone an informative blurb about what they're selling.
Expand to see more
100% Combed Cotton

(Except for the grey heather, which is 80% cotton and 20% polyester.) It's soft to the touch, stretchy, breathable, and can either be worn as the main sweater during the spring or one of the layers during the extremely cold winter. It has low shrinkage in the wash (less than 3%), but the company asks not to wash in hot water. So it's cold wash and tumble dry all the way.

A Variety Of Colors & Sizes

Up to nine different colors. And (European) sizes ranging from small to 3X-Large. Never say that you didn't have a wide variety of choices here.

Features:

Double-hammered, reinforced flat seems.
Interlocking knit construction.
Relax / loose fit great for layering.
Medium weight.

Very Soft
Nice Quality Fabric
Snug Collar Covers The Neck
Great Modern Look
Difficult to tuck in
Loose neck
12. Leif Nelson Faux Leather Pullover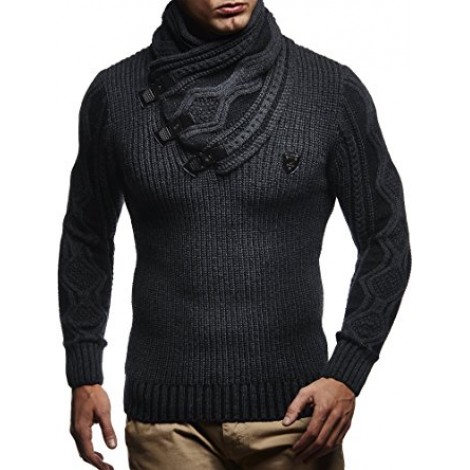 Leif Nelson was started by three brothers in 1999; their goal's to create clothing that hits the fashion scene so hard that it makes a mark in your closet or wardrobe collection. They have a Facebook page and it's all in German. Google-translate it, and it also explains how they made a hit in the active wear as well. Leif Nelson Gym is the name of that spin-off. Leif Nelson boasts vintage looks with the classic taste.
Expand to see more
100 Acrylic

This man-made synthetic fiber, usually found working alongside wool in other clothes, ensures that this turtleneck sweater will last long without sacrificing style points. Lightweight, warm, soft; unable to shrink or wrinkle.

Faux Leather Accents

Great for those who like to look cool in leather but don't have it in you to wear the skin of dead animals. The faux leather accents add enough style points to the suave-looking designer collar; making you look like you just walked off the "Paris fashion show" runway.

Features:

High Quality Construction
Durable Material
Ease Of Maintenance
Stylish Design
Made In Europe
Variety Of Sizes
Well Built
Good Fabric
Pricy
Issues with size (European to US)
13. Modchok Lightweight Slim Fit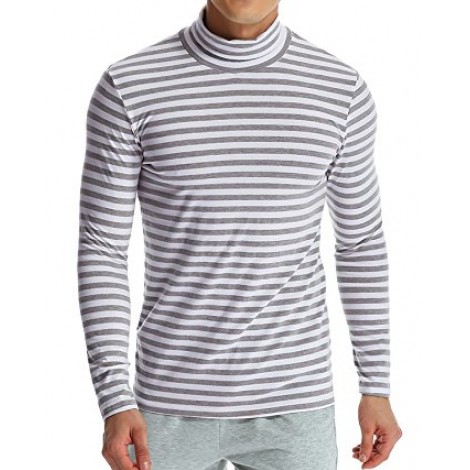 The people who say things against China and the Chinese tend to forget that they have the same type of climate that we in the US have: Extremely cold weather, and times when one needs to snuggle up in a turtleneck sweater. ModChok, based in Shenzhen, China (north of Hong Kong), is more honest in letting you know where the turtleneck sweater you wear is coming from; also making sure to keep you "nuan rong rong" (Chinese for "nice and warm").
Expand to see more
Cotton And Polyester

The percentage of cotton and polyester is unknown. But this mixture ensures that your turtleneck sweater remains durable and long-lasting without sacrificing its softness and heat-trapping comfort.

Variety Of Styles And Colors

They come in plain colors. They come in stripes. The variety isn't big, but it's there. A perfect fit with your denim jeans, chino pants leggings, or whatever else you're wearing. (Be careful, though. These sizes are "Asian Sizes." So check out the size chart before you make a purchase.)

Features:

Soft, breathable fabric.
Slim fit.
Mainly for fashion, casual, or sports.
Durable
Breathable
Lightweight
14. Coofandy Ribbed Slim Fit Knitted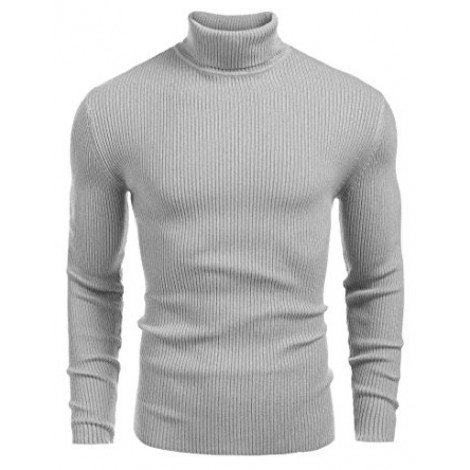 Coofandy is yet another company that's not afraid to admit that it's based in China. It's one of those Chinese companies that proves to the rest of the world how self-sufficient and resilient they can be. (Building manufacturing plants in jungles and "nowhere-lands" that border Kazakhstan is newsworthy and nothing to sneeze at.) Coofandy designs clothing for men who are independent, confident, and uplifting in their spirit.
Expand to see more
Cotton/Polyester Blend

50% cotton, 50% polyester; all soft and durable. The two fibers, one of them's natural and the other's man-made, interlock to create a material that's thick and long-lasting. (Remember to wash it by hand and dry it by hanging.)

Ribbed Design

This classic ribbed knit design insures the thickness and warmth needed to keep you moving in the cold. The turtleneck collar continues with the thickness and keeps your neck warm as well.

Features:

Variety of colors and sizes.
High end knit process.
Does not shrink.
Thick cotton knit trim.
Great Quality
Snug, Slim Fit
Might cause chafing with beard
15. Leif Nelson Knit Designer Pullover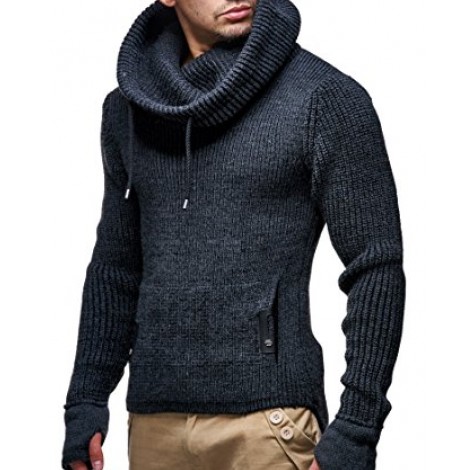 The three brothers from Leif Nelson strike again. This time, with a turtleneck sweater that's "EXTRA THICC." This sweater might be mistaken for a hoodie jacket; front hand-warmer "kangaroo pouch" and all. But this sweater's been designed in mind for the "fashion-conscious urban men."
Expand to see more
100% Acrylic

Leif Nelson utilized this man-made fabric to create the best urban sweater they can. Acrylic may be an inexpensive replacement for natural cashmere, but the sweater itself doesn't come cheap.

Variety Of Sizes

Leif Nelson's knit sweaters don't have much in terms of colors. (Currently there are three of them.) But rest assured; when you're able to figure out the European-to-US sizes, you'll find one that fits you perfectly.

Features:

Thumb loops.
Extended back hem.
Drawstrings at front of collar with metal ends.
Hand-warmer "kangaroo pouch."
Pouch Keeps Hands Warm
Snug Fit
Great, Attractive Design
Issues with material feeling cheap
Decision Time
So, that was some fun time at the catwalk. Just kidding! At any rate, let's recap the most important things about turtleneck sweaters. Besides looking badass, you have to make sure they fit your needs. Do you want something more casual? Something that you could wear out in town, the shooting range, at home, and also take with you out in the wilderness sometimes? Then you have plenty to choose from. Maybe you want to layer several items of clothing beneath your jacket for those long, freezing cold hunting expeditions, or need to do some hiking in winter? There's plenty to choose from as well. Or maybe you want that extra thick and durable, flame resistant sweater that will become your "good old friend" for years to come? We got you covered.