Best Thinsulate Gloves Reviewed & Rated for Quality
In a Hurry? Editors choice: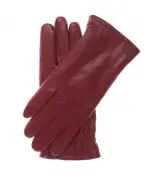 Test Winner: Pratt and Hart Classic

When temperatures drop and your fingers freeze in a bird-like clutch on your steering wheel, you know it has begun: Glove Season. And if you want to provide your digits with the warmth and protection they deserve, you need to think Thinsulate. This synthetic fiber used in clothing and outdoor gear is also a common insulation in gloves–and just what you need to keep your hands toasty when outside is anything but.
Standout Picks
Criteria Used for Evaluation
Effectiveness
Criteria Used in Evaluation
If you're in the market for gloves with Thinsulate, you probably want warmth, comfort, and a good fit. Now, to what degree you want all those things depends on your individual needs: Are you a weekend warrior? A semi-pro athlete? A harried mom with a thousand items on her to-do list? Whatever the case, we offer ten stellar options with various traits. Rest assured, you'll find the perfect pair. When we consider the criteria required for us to evaluate Thinsulate gloves, we're really trying to keep it simple. As in, do they keep your hands warm? That's the baseline really, beyond that, things get really complicated. Synthetic fabrics, versus natural fabrics, form, function, mittens versus gloves. Let's face it: it's hard out there for a reviewer. But we're wading in and we're going to run you through some of the things you should think about when you're working through our list.
Layers
Just like Shrek, a good glove is like an ogre, that is like an onion: it's got layers. But layers of what. For a good Thinsulate glove, we're usually talking two layers, outer and inner. The outer layer is where we're going to be concentrating on waterproofing, and looks, generally nylon, natural fabrics, or leather. The inner layer is where things get interesting. For our purpose, the inner layer is going to be Thinsulate. We'll hit this more in the FAQ but Thinsulate is really thin synthetic fiber that keeps heat in but lets moisture out. That's why we have so many interesting choices on our list. The Thinsulate is the thing, once you've got that layer down the sky's the limit when it comes to the outer layer.
Insulation Levels
Believe it or not, all body heat is not the same. Full grown men radiate more body heat than women for instance. Fact is gender, age, activity level and something called basal metabolic rate are all going to influence the extent to which you run hot or cold. Basal metabolic rate, by the way, is the number of calories required to keep your body running when you're resting, it's basically your metabolism. Some of us naturally run hot, and some cold, it doesn't mean anything in particular in regards to your health, but if you tend to run hot, then think about the insulation level of your gloves. You might not need the same amount of protection as other folks.
Purpose
Believe it or not, not all gloves are created equal. One of the rites of adulthood in our humble opinion is that moment when you begin to realize that you're going to need different sets of gloves for different occasions. Women, generally understand this but us guys might have to do a bit of soul searching before we realize that our work gloves don't go with the tux for that New Year's Ball. So, act accordingly. Snowball gloves are one thing, workout gloves another, and everyone needs to have at least one pair of formal gloves that go with ball gowns, and a tux and tails. For girls, think Audrey Hepburn, guys think James Bond.
Mittens Versus Gloves
This is a toughie, but it's worth noting that sometimes, no matter the insulation, no matter the quality of glove, the cold is going to get the better of gloves. Even with Thinsulate, when you're in the North reaches the brutal temperature are going to seep past the insulate and turn your fingers into icicles. In that case, it's always good to have a set of mittens on standby. It's a robbing Peter to pay Paul kind of thing because you give up finger mobility for warmth. But somedays there's just no way around it. So consider a set of mittens to go along with your snowball making gloves, or your gloves with touch sensitivity for when the going outside gets really tough.
Top 10 Picks
1

. Pratt and Hart Classic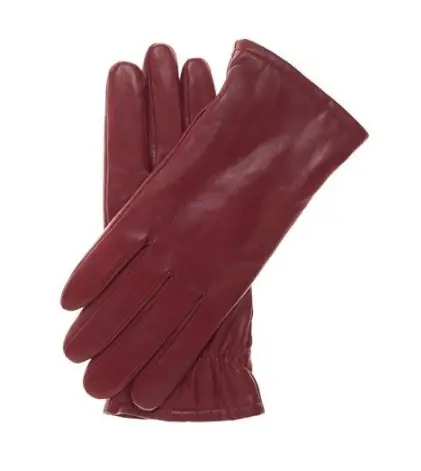 Lined with 100% Thinsulate®, Pratt and Hart make a great glove - and they're highly attractive as well. Good for dressy or casual occasions and thin enough to use for driving, this pair can be your one-and-only on the shopping list. Except for the occasional snowball fight or downhill slalom, the leather ensures that this pair will work with anything, They're appropriate for formal occasions as well as every day. A measurement guide helps you find the perfect size (though they do tend to run a bit small).
Super-soft sheepskin leather
The classic soft and supple leather feels like, well, a sheep's skin, which is super soft under all that wool. It also has insulating properties of its own and looks good for years.
Palm-side elastic snugger
Why don't all gloves have this feature? The elastic forms to the inside of your wrist, preventing cold air and wind chills from seeping in and negating all the good work the Thinsulate is doing.
Cost and Value
Great value here. Maybe they cost a bit more than a random pair you'd find at the five-and-dime, but with the leather and superior warmth feature, it's a good investment.

2

. Isotoner Spandex smarTouch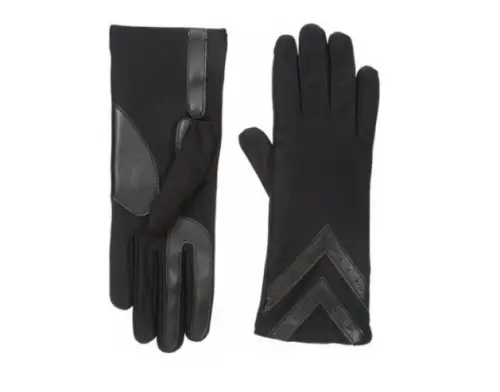 The Isotoner brand is a familiar one, and for good reason. The company began in 1910 as a European company that made fine leather gloves and accessories - and it's been going strong ever since. With hand-hugging design combined with the thinsulation, the gloves are a winner. The v-shaped symbols on the back of the gloves are chevrons, hence this style's namesake.
Classic Spandex Fit
Spandex for all! These gloves are made of nylon/lycra material that will stretch to fit and conform to any hand. Simply slip them on and they become yours, offering a full range of movement and a sleek look.
Smart Design
Technologically sophisticated, these gloves offer the smarTouch invisible coating that allows you to use a mobile without taking them off. The non-slip palm feature also let your pick up slippery things without them sliding out of your hands.
Cost and Value
You can also wash these gloves (air dry, please) so no expensive cleaning necessary.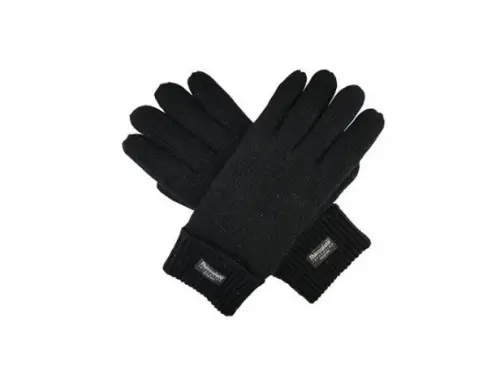 Like being wrapped in a cozy blanket in front of a fire, these are the ultimate warmth and comfort gloves. You may not be wearing them to the opera, but they are ideal for daily activities and outdoor trekking in the cold. The gloves also come with a touchscreen option available in case you're tethered to your mobile or laptop dependent.
So Very, Very Warm
You want super warm, check the materials and look for wool. The outer part of these gloves is made of the best quality wool out there and has the Thinsulate lining inside. No cold and damp are seeping into these babies!
Turn Over Knit Cuff
When you have the warmest material possible, you need to go all out on insulating your wrist from the chill as well - and these gloves go the extra mile by adding a bit of well-positioned material to protect the wrists.
Cost and Value
Great value and the best price on this list for the quality. Many other gloves on the market boast similar qualities but cost much more. Don't buy it - these are a steal for the money.

4

. Carhartt Insulated Suede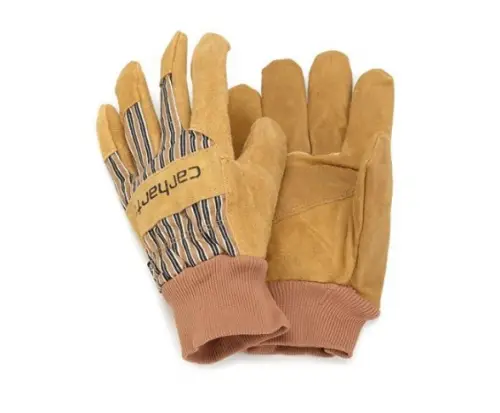 Say you're building a house in the dead of winter. Or your sawing some logs for the town's firepit. Or your building a fence around the farm. These are the glove you want. Made with cotton duck and bits of cowhide on the palms, these babies are the workhorses of the glove list. Plus, they're from Carhartt, a name synonymous with hard, no-nonsense work clothes (though now often seen on trendy urbanites...for some reason) so you know they'll stand the test of whatever sweat and muscle you can muster.
Durability
Carhartt is nearly 130 years old and going strong - for a reason. The company has a reputation for making highly durable goods. They used to make overalls for railroad workers back in the late 1800s and have evolved their lines since, but not their quality. The materials still stand the test of time. When they label a pair "work" gloves, believe it.
Great insulation
Work away outside in the depths of winter and your fingers, even the tippy tips, will remain decidedly warm. On the other end of the spectrum, you can also work with hot metal and the gloves will protect your hands from the heat.
Cost and Value
For gloves that could potentially last the rest of your life, they are an absolute steal and well worth the price. Carhartt is often priced lower than comparable brands, for reasons beyond us.

5

. Mio Marino Luxury Dress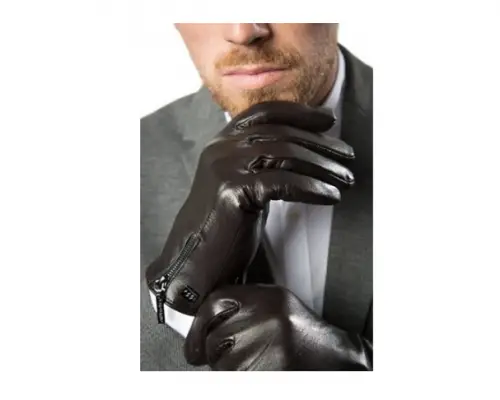 Not only do these gloves look as if they were worn in the last James Bond thriller, but they're as toasty on the inside as they are cool on the outside. Ideal for all urban activities and outings, the Napa gloves will keep your hands looking hot as the temperatures plunge. Reports say they do run small so size up.
Amazing design
Made with a supple material, stitched with quality threads, and adorned with a zipper, the gloves look like seriously top-end leather goods - and they are! One often overlooked quality about leather - it's good for gripping. So clamp on to that steering wheel and drive, baby, drive! Oh, and in case you need to drive the Bondmobile through, say, the Thames, your hands will be fine because they're waterproof.
Premium lining
Buttery leather luxury on the outside, but can we talk about the lining that feels like fur? It's not real fur of course (for this price? No way!) but touch it and you'll know that it's just as luxurious.
Cost and Value
For this good looking, quality-made pair of gloves that keep you warm and stylish, they are a steal and look as if they cost much, much more. Also, good for gifts, present-worthy boxes are included.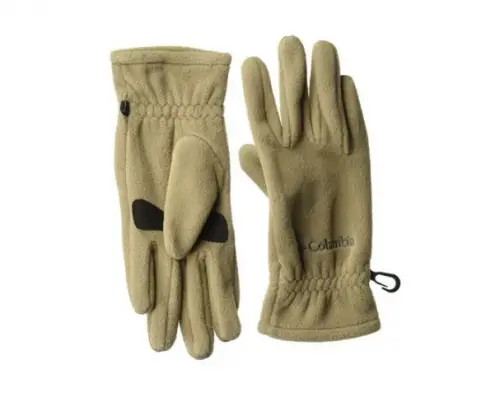 Right to the point, these gloves keep warm in and cold out. Need a pair to stash in the car or a bag to keep handy for running errands? Here's your glove. And - why don't all gloves have this feature - hooks to make sure that you have GLOVES, not glove.
Comfort
Slip them on and let the elastic band at the wrist do the rest. No worries about umbrellas or bags or phones slipping from your hand's thanks to the palm patch on the outside. No drafty wind slips in either. It just fits, well, like a glove.
Soft
Glove owners rave about the feel of these gloves. So very soft thanks to the 250 grams of microfleece Columbia uses to make them.
Cost and Value
For the price and what they are, these gloves are a great purchase. Are you going to use them to protect your hands while working construction? No. But for casual wear and occasional athletic wear, they're a great price. So good you can buy them in multiple colors.

7

. Bruceriver Wool Knitted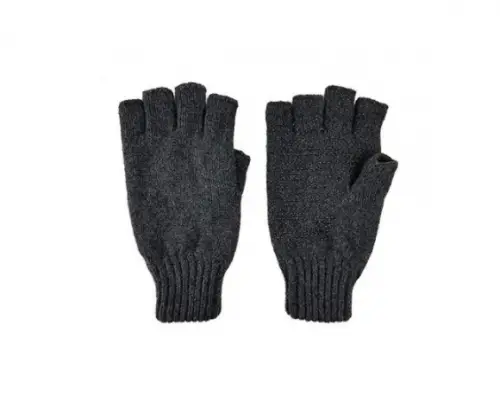 You want to be warm but have to finish your Powerpoint presentation and the vacant park bench is your office. Or your office is freezing. Or you have a habit of walking around the block while chatting with your mom. Whatever the case, these Bruceriver gloves solve the need-to-be-nimble-but-also-want-to-be-warm problems. Be outside, text beautifully stays warm.
Insulation
Forty grams of Thinsulate and a fleece lining make the insulation in this glove superior. Did Bruceriver do this to make up for the fingerless-ness part of the product? Perhaps, because the parts of your hand that is covered are going to stay toasty warm.
Grip
In addition to being warm, your hands can do the job hands were meant to do with the gripper dots all over the inside of the outer material that make handling any chore a breeze.
Cost and Value
Maybe this won't be your only pair of gloves due to the fingerless feature, but for the price, you can afford them.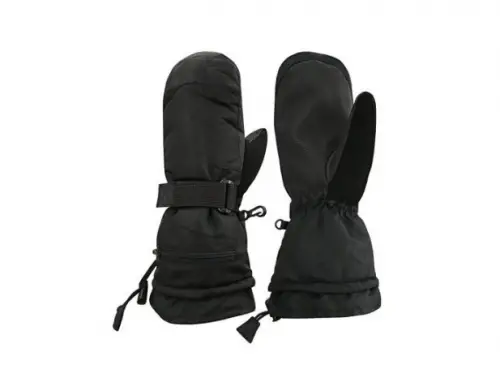 Offered in both glove and mitten styles, these gloves get the job done whether you're on the slopes or stranded in the rain. Waterproof and warm, take them skiing or throw them in a backpack for any outdoor winter activity. Be warm AND dry.
Breathable waterproof tech
They keep the water out but also let the skin perspire yet keep it dry, thanks to breathable fabric lining. This tech, in part, is what makes them so good in freezing weather, particularly if you're being active.
Wrist protection
Cold wrists with warm hands are a big pet peeve and these gloves ensure against that with a 1-2-3 punch. First, they have long cuffs to cover wrists, they have elastic, and they have an adjustable wrist strap.
Cost and Value
A veritable steal! For all the adventures you can have in them, they basically buy themselves. You'll find much more expensive pairs that claim the same qualities as the N'ice Caps. Don't buy it.

9

. Isotoner Stretch Fleece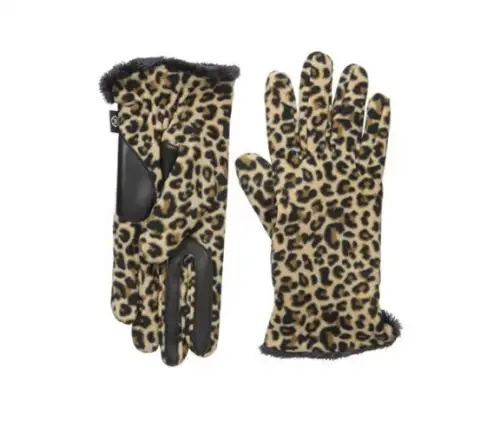 They're super warm, they super stretchy, and the silky soft. What more could you ask for in a glove? Oh! For it to be attractive, perhaps? Sure, they're that, too. (Note the animal print version). What's "spill" you might ask? It's the lining wrapped around the cuff that looks a bit like fringe - a nice detail. Because they're Isotoners, they also have that sure-fit ability to slide right over your hand and form to your fingers and palms - and still, offer the flexibility that busy hands need.
Microluxe lining
Like sliding into silky sheets, the lining of the gloves and ridiculously soft to the touch and rates high on the little-things-that-make-life-worth-it scale.
Quick dry
Armed with water-repellent fleece, these gloves dry on the double, as in three times faster than gloves with no treatment whatsoever.
Cost and Value
Sure, they're a bit more than many on our list, but for the look and the feel, why not treat yourself? Plus, you can scroll, swipe, and dial until your heart's content.

10

. Mountain Made Outdoor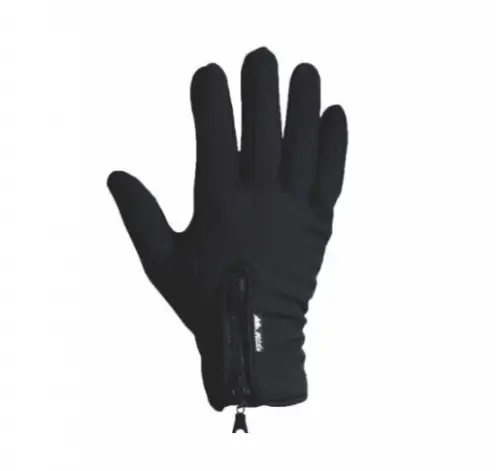 Attention all-weather cyclists, runners, skiers, hikers, outdoor enthusiasts, and drivers with the top down: Here is your glove. Put them on, do your thing without worry about slipping on your handlebars thanks to outstanding grip material that runs down the palm of the glove. No worries either about the hassle of taking them off to take a call. The Touchscreen tech is built right in. And if you work up a sweat, no problem. These puppies will soak it right up and dry quickly.
Movability
These gloves let you move! Your digits can go in all directions, thanks to their combination of materials. Made with a bit of spandex and PVC rubber, the gloves mold to your hands for a great fit. The zipper can be adjusted for fitting.
Comfort
The feel of these gloves isn't sacrificed for the sake of performance. Slip them on and forget them. Second skin material, people. The close fit makes for comfortable wear.
Cost and Value
You can certainly find similar gloves for much less. But they won't have that awesome movability, likely due to inferior materials, like the ones from this Colorado company. Buy the real deal, it's worth the price.

Subscribe to our Newsletter