Best Shredders Reviewed & Rated for Quality
In a Hurry? Editors choice: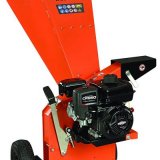 Test Winner: YARDMAX

First things first, all shredders are not created equal. By that, we mean that there is a huge range in price, and it all comes down to how tough the shredder needs to be based on the kinds of things that need shredding.

The products here are going to be for more of a modest lawn cleanup and would be a great way to make mulch or basic shrubbery work clean-up, a breeze. There's a lot to choose from electric, motorized, stationary, handheld, or push shredders and we hope that you'll find the right tool to fit the job in this article!
Standout Picks
Criteria Used for Evaluation
Power Source
It's all just a lot of noise if the shredders aren't strong enough to get the job done. That being said, the more power any of our recommended gear has, the more it's going to cost. In general, the motorized products on our list are going to provide the kind of power that's going to make short work small tree limbs. Some of the electric entries might not have enough zest to power through limbs so we tried to make it clear the kinds of things each entry on our list will and won't be able to do. Also, in general, electric shredders have a lot of things going for them, less noise, fewer emissions, and less upkeep to name a few. However, gas-powered shredders bring power to the table and will just be able to do more when it comes to mulching the lawn.
Capacity
This is the size of the stuff that will fit into the shredder. In a home version of a shredder, 3 inches is going to be about your limit. So if you're looking to do anything with trees or thin down shrubs that have simply taken over the garden you might want to think bigger than what is on our list. Beyond that, some of the small stationary shredders on our list are made to mulch fall leaves and really small twigs and so we are making sure to let you know exactly what each one of our choices will be able to do for you. Generally, these products break down into a few categories.
Style
Mulchers
These are meant to do little more than help deal with simple yard waste and make the process of turning fall leaves and yard debris into the soil in a compost bin that much quicker. They're generally small, electric and relatively inexpensive. Don't ask too much of them in regards to what you're trying to get rid of and they'll do fine.
Shredders
A step up on the scale shredders are designed to deal with yard waste and small twigs 1 inch and maybe up to 3 inches. Useful, electric or gas and in some cases can be pushed around the yard or pulled behind a riding mower and come with a bit more muscle than the basic mulchers. They also come with a higher price tag.
Chippers
These are as big as it gets when it comes to home usage. These are big devices and some of them are designed to be hauled behind a riding mower or ATV. They can handle branches up to 3 inches in diameter and almost anything else that comes its way. Generally, these are going to be gas powered in order to provide the muscle needed to get the jobs done. Like we've said repeatedly our list isn't going to be handling anything over three inches but some of these have the muscle to make a post-hurricane debris filled yard a much easier cleanup.
Compression
Reduction Ratio
Put simply this is a ratio that compares how many bags of stuff you have before shredding and how many bags you have after shredding. For instance, a 5:1 ratio means that if you've got 5 bags of mulch before you start shredding you'll have one bag when you're done. We like ratios like this, and when we find them in the specs we've tried to include them in our reviews.
Advanced Features
Self-Sharpening
Nobody wants to self-sharpen blades on anything except kitchen knives. It's dangerous, and at the very least a pain in the neck if you do it yourself. If you have to have someone else do it for you then it can be pricey as all get out. So we've tried to point out when some of our devices have self-sharpening mechanisms on them. Not only is this handy, but it keeps your shredding time to a minimum and lessens that chance a branch or twig will gum up the works of your shredder.
10 Best Shredders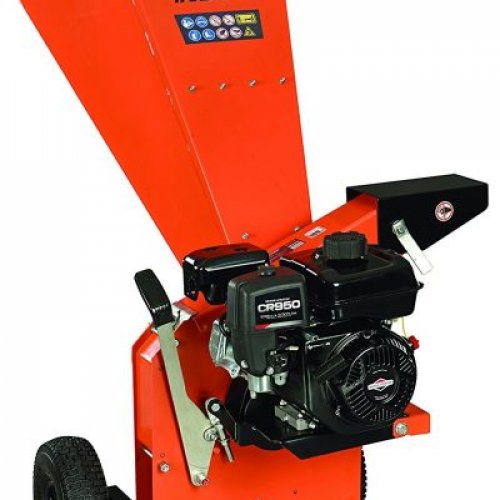 This durable, tough, gas-powered shredder is the real deal. It can handle branches up to 3 inches in diameter. It also has a spacious feeding chute and a powerful 6.5-liter gasoline powered engine. This is our choice for anyone who is looking to make short work of everything from leaves and grass clippings to trees, branches or anything else that needs tearing down.
Maneuverable
Tough enough to do the job but light enough to easily move around the Yardmax is about the best lightweight shredder you're going to find when it comes to getting it around the yard. It has tough rubber wheels and easy to use handles to make it easy to get it where it needs to go.
Large Feeder Tube
This is one of our favorite parts of this shredder. Along self-feeding tube helps not only to make the work go quicker but also to keep excess branches or leaves from bouncing back out of the shredder while it's in use. And not to keep harping on safety but it also keeps hands or eyes, far, far away from the blades
Cost and Value
When you're talking a shredder this tough there's going to be money involved and there's a financial commitment here so make sure you have the kind of yard that will make this baby pay for itself. It's not something to purchase "just in case" unless money is no object. But if routine culling of limbs or shrubs is on your yard work schedule this might just be the shredder you need.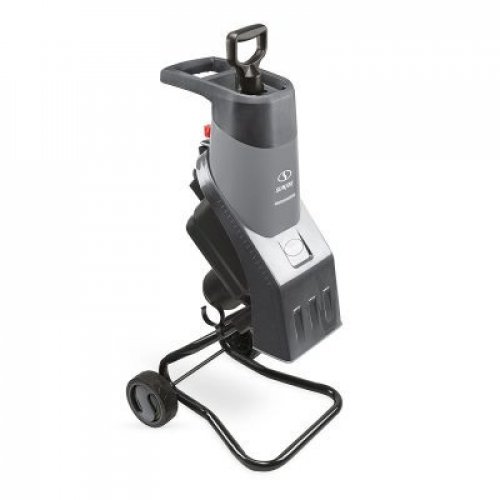 Our first electric entry the Sun Joe 15 amp shredder is a pretty good workhorse even if not up to the standards of the Briggs and Stratton. It can take branches up to 1.5 inches thick and is also pretty maneuverable as shredders go. It also has a reduction ratio of 17:1 which says it will reduce 17 bags of yard waste down to one bag. But as the packaging says this is for 'light duty' fall leaves and some small twigs.
Safety features
When it comes to blades there aren't enough safety features, and the Sun Joe comes with an automatic cutoff switch that engages whenever the top is opened. There's also a locking knob that actually prevents the motor from running when the motor cabinet is opened. There's also a handy hard plastic plunger that makes sure hands never get close to the blades.
ETL2-yearved with a 2 year warranty
An approval mark from the Edison Technical Institute ensure that it's has met all North American safety standards. The Sun Joe also comes with a two-year warranty so if anything goes wrong with your shredder the company says they will replace any broken parts or even send an entirely new product if anything goes wrong with.
Cost and Value
And here's the difference between a big gas powered chipper and an electric chipper. The cost is significantly lower than the bigger huskier gas powered chippers. But again, it's all about what you expect your shredder to do for you. Electrics are for small twigs, leaves, and grass, and that's it. Also, the electric shredder will only go as far as your cords so keep that in mind. But if money is an object (when isn't money an object?) this is a solid chipper for a low cost.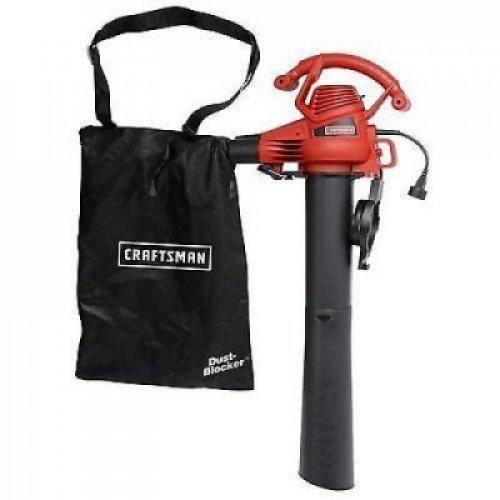 This is our choice for best value. And for the price, it does a great job of dealing with grass clipping and leaves But that's going to be about it. But despite its inability to handle big twigs or branches this Craftsman product comes with a lot of bells and whistles that make it something we can recommend. It's electric but still does a great job with leaves and grass. Also, it converts to a blower without any tools and has a solid reduction ration of 14:1.
Dust blocker collection bag
This nice feature fits easily onto the end of the vacuum shredder and collects all the debris in one place. When the bag is full simply remove it and empty it into your compost heap or spread it without much effort into whatever part of your lawn needs a bit of love. The bag has a comfort strap as well that fits over your shoulder, but it's not so big that it will get too heavy and become unwieldy.
Dual use blower vacuum
This is a really nice feature, not uncommon but it's something you don't realize how easy it can make your life until you need it. The electric motor simply reverses and suddenly it's a leaf blower instead of a mulcher. It's nothing like an industrial blower but it'll do what it needs to and is great forgetting leftover leaves or grass off the sidewalk or even for blowing a small coating of snow off the walkway. It's really useful as a tool and it converts easily with no tools needed.
Cost and value
Well, this is the one that puts all others to shame. It won't handle twigs, it won't handle branches but if you want THE tool to mulch up fall leaves, and grass then this is the tool for you. And the price tag is amazingly affordable. So if you're looking to keep life cheap and simple then this is the tool for you.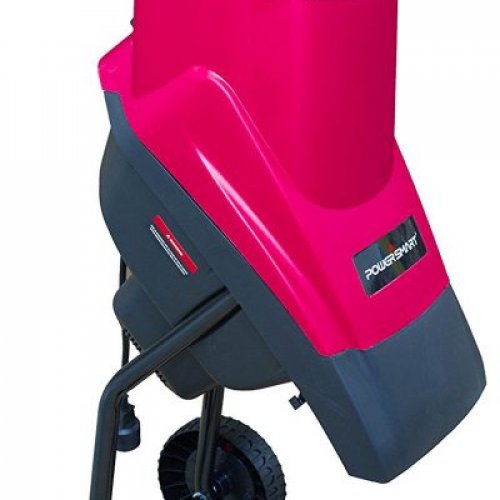 Another electric entry this PowerSmart entry keeps the price down but gets the job done. It's a got a pretty powerful 15 amp motor overload protection and can handle branches a bit of 1.5 inches. That's pretty good for an electric, plus this entry looks cool and is easy to move from place to place with the handle and wheel placement. It also comes with a handy overload switch that will shut the motor off if the shredder starts getting backed up.
Safety Locking Knob
I know, we're always talking about safety. Forgive us for being concerned about the well being of anyone who's working around rapidly spinning blades. This is basically a failsafe that ensure that if the compartment that contains the blades is open those blades aren't' turning. It may seem annoying and yes you should turn off and unplug your machine before you get anywhere the blades but we think it's worth the extra trouble.
Lightweight
The whole thing weighs only 33 pounds. That may seem like a lot but with the well placed wheels and handle this shredder becomes really easy to move around. That's going to make a big difference with an electric because getting it from place to place will always be more problematic than working with an untethered gas shredder.
Cost and Value
A bit pricier than other electrics but still on the low end when it comes to any mulcher or shredder. Of course, you always give up something with the lower powered electrics and that is almost always the ability to handle any big yard jobs. Still, for ease of movement, ease, and safety of use and low price, this product works great

5

. Patriot Products CBV-2455H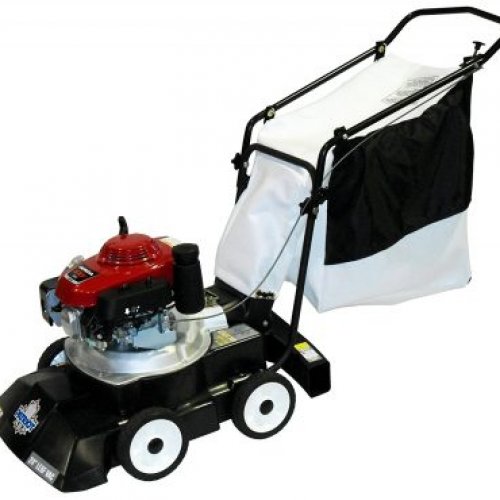 When power is the name of the game this Patriot Products gas powered walk behind is the way to go. It's great post-thunderstorm as a mower, chipper, shredder, and vacuum. And if you come across branches simply feed them into the feeder cone on the side of the engine. A flick of the switch turns this into a blower as well so there's a lot going for this strong entry.
Branch feeding cone
Don't again don't drive over branches just pick them up and feed them into the cone on the side of this walk behind shredder and it'll chip in no time. This is a really nice feature and with the collector bag on the back, a few branches and you've got wood chip mulch ready to apply.
CARB Compliant
This means that it has met California's strict rules about reducing air pollutants. Kind of a big deal these days so it's good to know that even though there's a powerful engine on this shredder it actually tends to be quieter and less dirty than most other gas-powered shredders.
Cost and Value
Getting into 4 figures with this walk along but when we're cooking with gasoline and the power that comes with it the price tag is going to shoot up pretty quickly. But the thing about gas powered shredders is that you're paying for the power to do big jobs. And if you've got a big job than the price tag just comes with the territory.

6

. Patriot Products CSV 3065B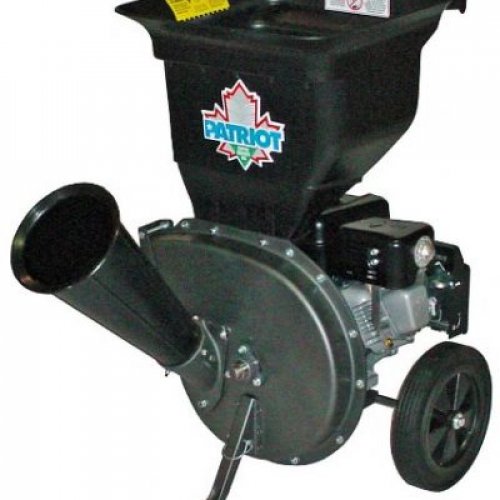 If you just need a powerful shredder that does what it's supposed to this is the product you need. This shredder is all about power with a 6.5 hp Briggs & Stratton engine that should easily handle branches up to 3 inches in diameter, reducing them into small sized chips. It comes with an amazing reduction ratio of 20:1 and that's about as good as it gets for a non-commercial shredder. It also comes with a 3-year warranty for homeowners and 9 days for commercial users.
Side discharge design
This lets you do two things: it allows an easy gathering of waste into the collection bag or if you just want the stuff gone it also will just shoot it out the side plenty far away from the mulcher that you can work in the same place without stopping.
Low Oil Alert
Just one of the great engine alert features that will keep you from damaging your engine when it's being put through its paces. It also has a lo-tone muffler and a one pull start carburetor. A lot of the energy that went into creating this product went into the engine to ensure that it will last for a long, long time.
Cost and Value
Well, you get what you pay for and if you want a shredder that is going to work all the time, handle big jobs, and just generally keep on trucking then this shredder is an investment you're going to want to consider.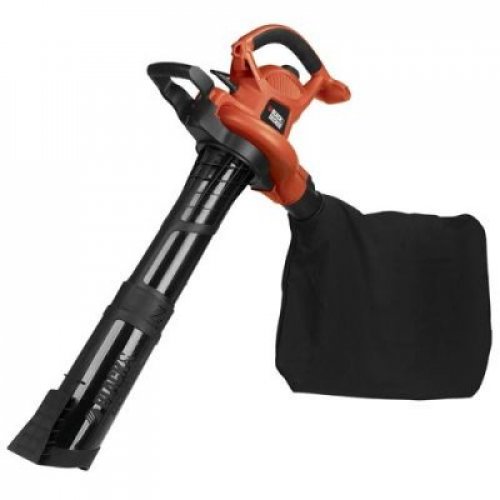 The little blower that could this Black and Decker electric mulcher is great for suburban lawns and doubles as a leaf blower. It's a quiet electric but still has a solid 16:1 Reduction ration. Not the tool for branches or even twigs but if you've got a sea of fall leaves or some leftover grass clippings, this is a great little tool.
2-speed selection
Helpful when you need a little more oomph or of the blower is just getting a bit too uppity, taking it down or up a notch is more helpful than it seems, and this is handy little extra that will make any job just a bit easier
Disposable leaf bag system
The leaf bag sits rights on the back of the unit and goes where you go, it fills fairly quickly but is well-designed for easy disposal and handling
Cost and Value
A great little blower, mulcher, and vacuum for the price this is a great tool for smaller suburban lawns that get a lot of fall leaves, and the blower can even get a light coating of snow off a walkway. It's highly affordable but comes with enough bells and whistles to make it feel like a bit of a steal.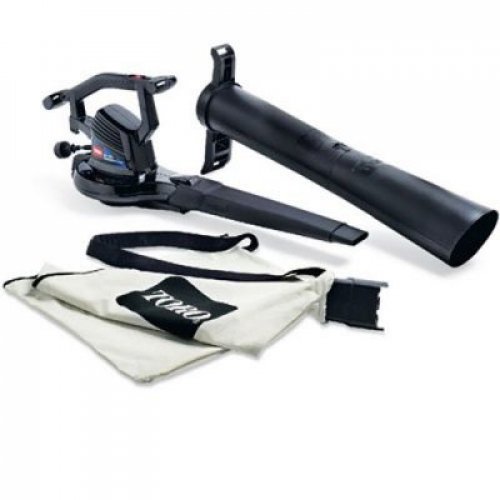 Another small handheld blower, mulcher vacuum combo this toro is well designed, easy to use and will come in handy in most yard situations. It has a powerful blower function that will push out a 225 mph stream of air. That should make short work of leaf blowing. The over-the-shoulder mulch bag is well designed and easy to empty and the Toro has a respectable 10:1 reduction ratio. This is not for big jobs but for a dependable leaf blower, shredder this Toro will get the job done.
No Tools Conversion
Always helpful, this allows for a quick conversion from a shredder, mulcher to a blower in no time. Same with the collection bag it's easy to handle and easy to empty and that can make all the difference.
2-speed motor
Here we go again with the value of the 2-speed motor. It doesn't seem like it would matter until suddenly you flip that switch and you've got a bit of extra power to banish those leaves from the lawn.
Cost and Value
Toro's a great company and this shredder comes in at a great price. The reduction ratio isn't quite on par with some of the other products here but it's a good looking tool and for small jobs, it's a great addition to our list.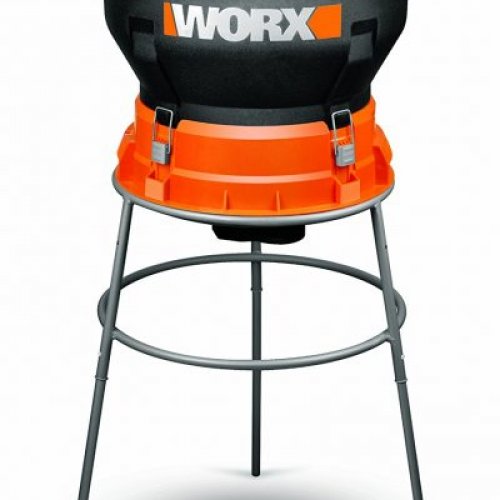 A totally different take on the mulcher shredder idea. Instead of blades this uses trimmer line like the kind you find in a weed whacker but on a bigger scale. So no blades to worry about and no blade sharpening to worry about. These are big pluses in our book but while this line may not dull eventually it will get frayed and there will be replacement lines in your future. That's okay, there are over 20 included. The stand-up design is unique as well, simply put something to collect your mulch in underneath and drop in leaves grass in the top and let gravity do its thing.
Bladeless system
Like we said this is like a nylon blade edge trimmer but on a much larger scale that makes it quieter and a bit safer. But it doesn't mean it's less effective it still has a respectable 11:1 reduction ratio.
Lightweight
Almost surely one of the lightest shredders we've found this one comes in at about 20 pounds so you can take the 'lugging equipment' portion out of the shredding equation.
Cost and Value
Not bad, a little high on the electric scale and don't even think about twigs or branches but for quick and easy lawn cleanup this is a solid entry.

10

. Patriot Products CSV-3100B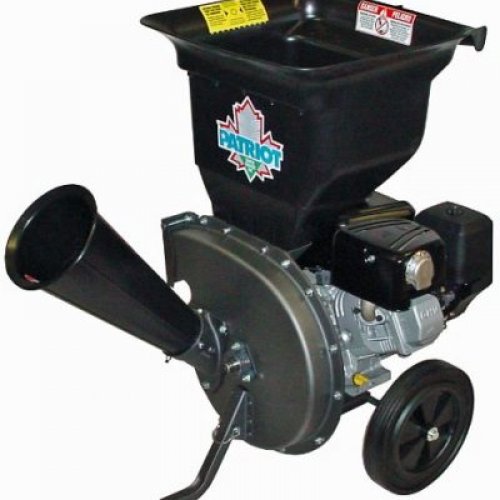 Patriot Products does it again, this time with a strong 10 horsepower gas powered chipper and shredder. This has a more powerful engine than the other stand-alone chipper shredder on the list and that extra boost of power is going to help make short work of almost anything you throw at it including branches up to three inches thick.
10 horsepower engine
The 10 hp Briggs Stratton engine is powerful going to help make short work of your tough lawn jobs so feel free to give it a workout. It can take it.
Side discharge flue
This pushes all the shredded material out to the side of the machine if you don't feel like bagging and just want to get the job done. Since the debris doesn't collect at the bottom of the engine you can shred all day without ever having to move the unit.
Cost and Value
This is considered completely high end. You're going to pay for this power of the 10 hp engine. But again a shredder like this is an investment and it should last for a long time.

Subscribe to our Newsletter