Best Sewing Machines Reviewed & Rated for Quality
In a Hurry? Editors choice: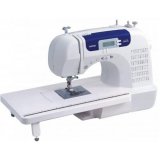 Test Winner: Brother CS6000i

Are you interested in owning your own sewing machine? While it may seem like a lost or dying art, there is actually a lot of practicality in owning your own machine. When used properly, you can produce beautiful creations - anything from clothing to blankets to stuffed animals. You will be able to hem and repair anything that breaks open, thus saving yourself the cost of replacing whatever is in question.
Standout Picks
Criteria Used for Evaluation
Ease of Use
One of the first things you need to take into account is how much experience you have sewing. This range can be huge and have a big influence on the machine you ultimately end up choosing. There are machines that are designed specifically for those who haven't ever sewn a stitch before, and there are machines designed for those who sew for a living. Or maybe you fall somewhere in between those two and just want something that works and is reliable.
For a beginner, less is often more. When you get a machine specifically designed for someone learning how to sew, there are no added features to confuse you. You get all of the basic needs to learn and do a great job. Basic machines are less expensive and rightly so. You don't want to dump a ton of money into a machine for a hobby you are just starting before you know whether you will like it or not. What you do want is to get a machine that is well suited for your needs that will help you learn how to master the art without breaking the bank.
However; if you are an experienced sewer and maybe even do so for a living in some way shape or form, getting yourself a basic sewing machine would be a waste. Because of the skills you have, a fancier machine with more stitches and greater ability is what will help you accomplish the things you are dreaming up and also help you continue to learn and grow. Getting a machine to match your needs will really set you up for success.
Features
What Features Do You Need?
There are likely more features available on a sewing machine that you ever imagined. You can sew buttonholes that are customized to your button in as little as one step. Other machines allow you to embroider on a small area and some will allow you to quilt beautiful designs into the quilt you designed and sewed yourself - often with that same machine. There are sewing machines that will allow the use of twin needles and some that are meant more for sewing high-end clothing more than anything else. There are even options that will do all of the above. Ultimately, assess where you are and what you plan on doing and go from there. You don't need to spend more money on features you'll never use when it could actually be used to buy fabric to use on your new machine!
Flexibility
What Do You Want A Sewing Machine For?
Similar to the last point, you need to consider what you want the sewing machine for. While most are multifunctional and can perform a wide variety of tasks, some are best suited for singular or similar tasks. Sewing things like thick denim or leather will require a machine that is a little more heavy duty and can more easily work it's way through so much thick fabric. If you plan on sewing baby clothes, however; that fabric is likely fairly thin and very soft and will be better served with a more delicate touch.
Brand
In the sewing world, there are names that are well known and well loved. You can easily spend thousands of dollars on a machine, but we don't discuss any of those models here nor the brands that make them. However; you can get a very high-quality machine for a much smaller price and there are two brands that dominate the market there. Brother and Singer are long-lived and well-known companies that produce hard working machines. You can purchase almost any one of them and know that you are getting a good machine that will last you for years, or even decades - and are warrantied to do so. However; there are other options that are good too - such as the Janome we have also included on this list. Ultimately, do your research and ask your friends and family their opinions. They will guide you to the brand they know and love and give you all the reasons why. Do be prepared for a somewhat polarized discussion when doing so, however.
10 Best Sewing Machines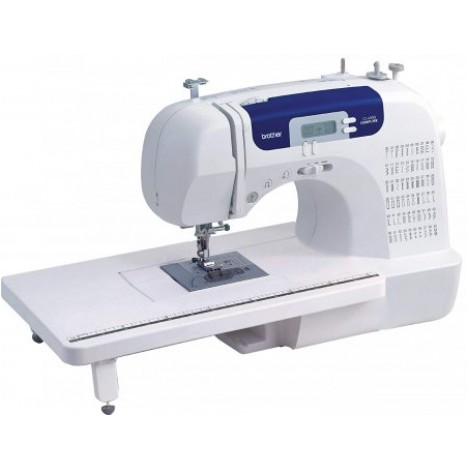 This sewing machine is great for both beginners and old pros. It is easy to use and also does a lot of neat stitching. It has a wide table for easy quilting and also has a free arm built in so that pant legs, sleeves, and any cylinder shaped items are quick and easy to sew. It features an adjustable sewing speed and can even do up to 850 stitches per minute!
Automatic Needle Threader
One of the hardest parts to getting started with any sewing projects is getting the machine threaded. Fret no more, this Brother Sewing Machine has you covered. There is an automatic needle threader built right in that pushes the thread through the eye of the needle with no sweat lost on your part.
Wide Table
As this machine is built for large projects like quilting, it includes a wide table to better hold your large projects. This helps you to have a better handle on the material and get a better visual of intricate projects. You will have all the space that you need, but still be able to successfully sew all the small stitches that you need and want to.
Cost and Value
For all of the features on this sewing machine, you are really getting a good deal for it. It will help you complete almost any project that you want to and will even be great if this is the first sewing machine you have owned. This sewing machine easily lives up to it's price tag.

2

. SINGER Heavy Duty 4423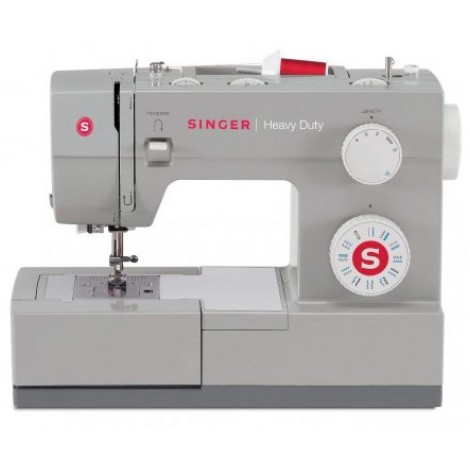 This machine is truly a workhorse. It can sew up to 1,100 stitches a minute and will have you making your own clothes, costumes, and accessories in no time. It is easy to use, made of metal for heavier use, has a stainless steel bed plate for smooth feeding of material, and offers 23 different stitch options.
Presser Foot Control
This machine is heavy duty enough to sew heavy denims, but is also capable of sewing the lightest sheer fabrics as well. By simply adjusting your pressure on the presser foot, you will have seamless control over any material you want to use with this machine.
Drop In Bobbin
The drop in bobbin feature here is great and very user friendly. It is easy to insert and remove. In addition to that, the covering is clear so that you can always see the thread and about where you are at. This will ensure that you don't run out mid project and have to get all set up again in order to finish.
Cost and Value
This sewing machine comes at a great price. With all the money you'll be saving by making your own creations instead of buying them, this unit will have paid for itself in no time. It's heavy duty enough to be used for home or business us and also functions great for personal use. Your money is well spent when you buy this machine.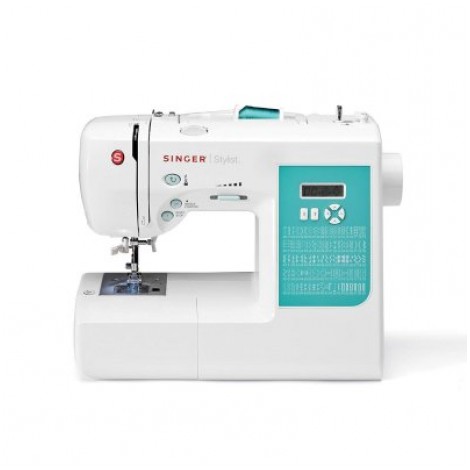 If you are looking for a fancy machine that can nearly sew by itself, this may be the one for you. That is a bit of an exaggeration - but it does have many preset, optimized options and makes doing all types of tasks like sewing curtains, applique work, buttonholes, and threading your needle incredibly simple.
Stitch Selection
Unless you use a sew a very large variety of items, you may never actually use all of the available stitches on this sewing machine. It comes with 100 different built in options. To choose, you simply push a button to select which one you want. The machine knows what the optimum settings are for that stitch and has them preprogrammed. However; if you want to customize beyond that you absolutely can on the computerized screen.
LED Lighting
This unit is built with an LED bulb to illuminate the workspace. This allows for a constantly bright light that will never heat up the machine around it no matter how long it is on for. You will be able to see every detail you need in the bright light and won't have to change out the bulb for 100,000 hours.
Cost and Value
When you get one of the fanciest units available with all the extra features, your price should reflect that or else you are probably being duped. The good news, and bad news, here is that this is one of the most expensive sewing machines on our list. However; it without a doubt lives up to it's price and will satisfy beginners and pros beyond what they could have hoped for in purchasing this unit.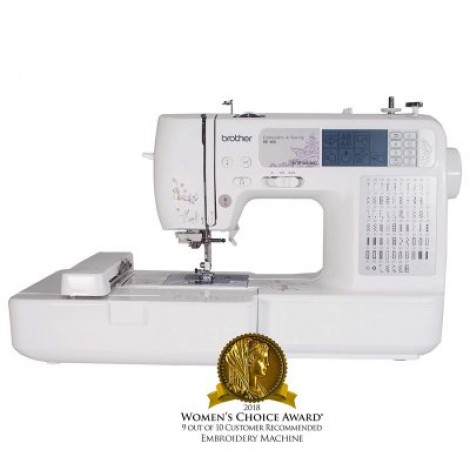 The motto of this machine is "If you can imagine it then you can create it!". That holds true as it allows you to both sew and embroider. It can connect to the computer to both download new patterns for you and update itself as technology improves. Feeding fabric is easy and smooth, an automatic needle threader is included, and preparing and dropping in your bobbin is a quick and easy process.
Embroidery Area
One unique feature found here is the 4x4 embroidery area. It is spacious and will expand your ability to create so much more than a standard sewing machine will. Through computer connection, you can even download designs to help get your creative juices flowing.
Touch Screen Display
This sewing machine is literally a mini computer and also features a touch screen display. It is LCD backlit and very easy to use. You will be able to select from among the 98 stitch functions and 67 stitches with ease. You will even find tutorials and how to guides built right in with simply the touch of your finger.
Cost and Value
In no way is this a standard sewing machine. It is capable of many stitches and even embroidery and even includes a touch screen display. You can connect it to your computer and download or update things and all of those tricks cost a little extra. As such, you will be paying more for this machine than most of the others on this list, but if you're serious about sewing it'll be worth every penny.

5

. SINGER Quantum Stylist 9960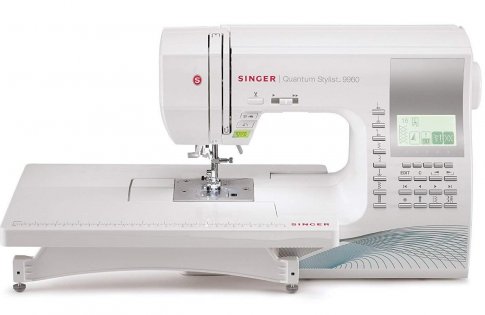 This is a very nice sewing machine that is sturdy and well built. It will produce quality stitches all the way to beautiful decorative stitches without missing a beat. In fact, It has models that will do either 600 stitches, 820 stitches, or 960 stitches - if the standard hundred or so aren't enough for you. It has an easy threading system, comes with a top drop in bobbin, and an extension table.
Twin Needle Setting
One of the many options on this machine is the twin needle setting. It will allow you to use two needles for stitches or looks that you are trying to get that require a twin needle. It simply reduces the stitch width so that the needle can successfully clear the presser foot during the process.
One Touch Stitch Selection
Selecting the stitch of your choice is made easy with one touch stitch selection. All you have to do is select the button with your stitch and you are good to go. In addition, the 8 most commonly used stitches have buttons located right on the front of the machine and are available with a direct selection.
Cost and Value
This machine is capable of doing all that a much, much more expensive machine can do. It will give you the quality of a dealer sewing machine for a small fraction of the price. If you have a lot of complicated projects that you want to do and plan on getting heavy, consistent use out of your sewing machine but aren't prepared to spend thousands of dollars, this may be a great option for you.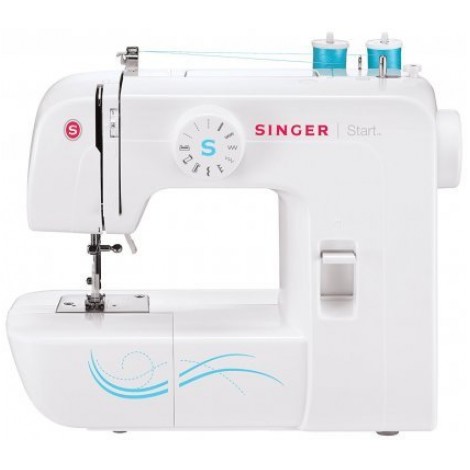 As it says in the title, this is a simple beginner sewing machine. It has everything you need to get up and started with sewing, but none of the frills or extras that you would find in a fancier one. That isn't necessarily a bad thing though, because often the best way to start is with a simple machine and really wrap your mind around what you are doing before moving on to more expensive, fancy, and confusing models.
6 Stitches
This machine comes with 6 preset stitch selections. They all have preset width and lengths so there is no confusion about what is appropriate for that stitch. All you have to do is select the one you want and get started!
Heavy Duty Metal Frame
While the function of this machine is meant to be basic, the frame is anything but. It is made of metal and very heavy duty, yet light. It weighs in at 11 ½ pounds but is strong enough and sturdy enough to hold up to heavy use. This machine will last for years. The metal frame also helps to ensure skip free sewing by aligning everything just right and keeping it there.
Cost and Value
The price of this machine may very well be the lowest on our list. As long as you have your expectations appropriately set, this machine will absolutely live up to them all. It is a good quality machine that comes at a very small price. It performs all the basic functions you'll need it to and really help you get started on your sewing journey.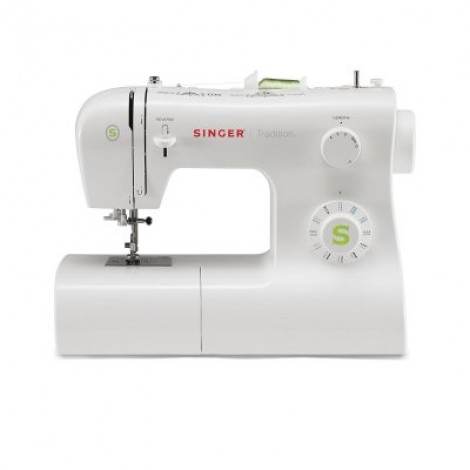 This sewing machine strikes a nice middle ground. It isn't the most basic model you can find, nor is it the most fancy. What it is is a high quality machine that has a metal frame for extra stability and minimized stitch skipping, and includes all the basic functions you need with a little added flare.
Free Arm with On Board Storage
The arm of this machine is considered a free arm which makes it perfect for hemming your pant seams and other similar tasks. It also has a little cubby inside so that you can store small, important to have around but not flying around items such as buttons, bobbins, velcro, etc.
Available Stitches
This machine has a total of 23 different stitches. There are 6 basic stitches that will cover most of your standard needs, a 1-step button hole stitch that will blow your mind if you've never experienced that before, 5 stretch stitches, and if you are feeling fancy, there are also 11 decorative stitches.
Cost and Value
As a machine that boasts the basics just slightly elevated, you can expect the cost to reflect that. It isn't the cheapest on our list, but isn't too far off that mark. It is a good machine that will perform all basic tasks and a few others to boot. Overall, if you need a nice machine that will hold up to heavy use and last you a long time but maybe don't need anything extra or fancy, then this is a great option.



Here we find another high quality sewing machine for those who need something good and reliable but aren't likely to use all the fancy stitches and features that more expensive models offer. This is a well thought out machine that includes an automatic needle threader, and easy stitch selector, 27 different stitch options, and even a one step buttonhole option.
Bobbin Love
Do you struggle with bobbins? No more thanks to a couple neat features on this machine. It has a top drop in bobbin that is jam resistant and because it will stay in place, you will have the smooth even stitches that you need and expect. In addition, threading your bobbin couldn't be easier than it is here. Once your bobbin is on the winder, all you have to do is click it into place on the right and the machine does all of the work for you.
Instructional DVD
It is standard that everything comes with a set of instructions - especially things that tend to be more complicated like a sewing machine. Brother takes it a step further here and includes a DVD with all the instruction you need on how to work your machine. Sometimes seeing something is a lot more powerful than simply reading it and you get that advantage here.
Cost and Value
While this is a quality machine, it is also a very inexpensive one. That being said, it doesn't have any really fancy extras that would drive the cost up which allows it to be much more reasonable than some. As long as you aren't looking for something with a ton of extras, you will be more than happy with the quality of this Brother.



If you are someone who likes to sew their own clothing, sews for business, or likes to sew clothing for others then this is the sewing machine for you. It is designed specifically for sewing clothing that looks and feels high end. It comes with 6 different feet specific for special stitches and fabrics and has a vertical spool pin that is similar to those you see on high end models that helps maintain more consistent thread feeding especially on specialty threads.
Button Ability
Many machines have the ability to do buttonholes easily. A good number will also allow you to do one step buttonholes. This machine takes it a step further and gives you 5 different one step buttonhole options that can be customized to your specific button! The effect here is a truly custom look and feel.
Designer Solutions
There are many options right on this machine that will allow you to give the items you create a truly high end and designer finish. There are 50 different stitch options, you have the ability to free arm to better sew pant legs and cuffs, it comes with 6 specialty presser feet, and even specialty needles.
Cost and Value
Surprisingly, this machine is fairly inexpensive. It is mid to low range price wise on the sewing machines on this list and gives you a lot of functionality and customization options - especially if you are looking to sew clothing. Once you truly learn how to use it and can take advantage of all the high end designer options, you'll save yourself a lot of money by making your own fancy things!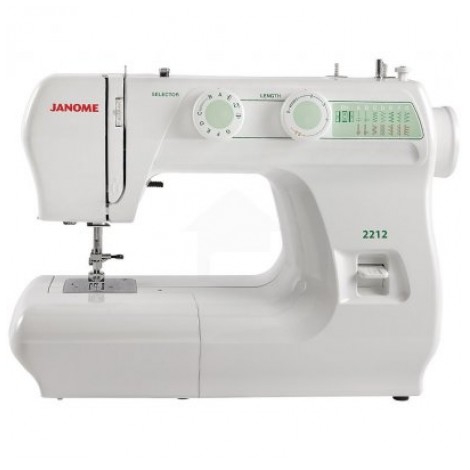 This sewing machine is the only one to be featured that is not a Brother or a Singer. It is a great option for those looking to buy a sewing machine that have had bad experiences with either company. The features are comparable and it sews quality, consistent stitches. It doesn't have too many frills, but is meant to be entry level and includes 12 stitches and even a buttonhole option to get you started on your sewing journey.
Stitch Selection
Selecting your stitch is easy and straightforward with the stitch selection dial. You simply turn it to the stitch you are wanting to use and go for it. You can further customize the stitch by adjusting the length and width using the other dial. In addition, there is a stitch chart printed on the front of the machine for easy reference.
Drop Feed
Another neat feature of this machine is that it has the ability to free motion sew and quilt. Not all machines have the ability to actually perform quilting so this gives you a big advantage is that is something you are interested in.
Cost and Value
This is a middle of the line sewing machine - not too basic, not too fancy - and is priced accordingly. As long as you are aware that it doesn't have any computerized component and isn't meant to be the fanciest model out there, you will be more than happy with how capable it is.

Subscribe to our Newsletter