Best Running Leggings Reviewed & Rated for Quality
In a Hurry? Editors choice: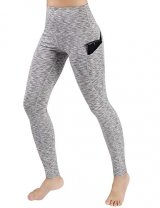 Test Winner: ODODOS High-Waist Leggings

We know that not all people are able to run or enjoy running. But these days everyone seems to enjoy running gear, or workout gear to be less specific. Like the yoga pant, running leggings not only work great for a workout, they also look good, so we've created a list of the best of the best.
Standout Picks
Criteria Used for Evaluation
Style
Of course, running leggings per se do not have to be worn just for running. They are designed to be versatile for a great many activities and even for lounging. The stretchiness provides much welcome flexibility and comfort when you're out for your morning jog, and the lightness of modern leggings allows for full freedom of movement. There are a great number of manufacturers of every type of legging you can think of a use for, the evolutionary process this item of clothing has gone through, has ensured it as a global favorite with a versatile use and application.
Compression
Contemporarily, running leggings are increasingly becoming more influenced by, and incorporate scientific methodology in the production. Compression gear is more popular than ever and is basically worn like a second skin that has either high intensities of lycra included in the product; or other elastic materials. It has been known to have medicinal properties for quite a few years and has benefits when used in the prevention of thrombosis, by promoting blood flow.
The growing use of compression gear in athletics is commonly endorsed by successful runners globally, and the rise of its popularity in general use is widespread. It has been recognized by some that the use of compression gear for running can help to maintain a pace, and reduce recovery time after a run. As far as science goes, however, it is arguable that it is simply a psychological effect - in the way that if you feel better, you perform better. It is then, up to you whether you decide to use compression running leggings, but ultimately, if you feel more comfortable wearing them then all the better for you.
Materials
When you've made the decision to start running or to continue and you're looking for some smart running leggings; you need to make sure you choose the right material they are made from. If you choose all cotton, they may well be lovely and cool to start with, but as moisture builds up - they will soak it up either from you or the elements. This makes them heavy, uncomfortable, can result in chaffing and worst of all - can make you really cold. Severe drops in your temperature can be potentially dangerous so it's best to check the materials.
Synthetic materials are by far the best to go for, they should have a good blend with polyester and spandex. A good pair will have moisture wicking included, but even so, synthetics are very good at wicking and are quick to dry if they do get wet. And these qualities can help to keep you both dry and warm when you are running. They are also versatile because they come as shorts, knee length, calf length, and full length so no matter the season - there will be a suitable pair for you.
Features
Running leggings can come in a variety of thickness levels, standard leggings are light and flexible and suitable for any use. There are thicker designs that are especially for colder weather running, likewise, there are lighter leggings that you can use as a warm-up pair before your big run. This is practical because once you've warmed up, a fresh pair will sustain the warmth you have gained and allow you to carry on no matter the weather. Most running leggings will be comfortably elasticated at the waist, this is not the only snug around your waist, but also means you can remove them and put them on without any hassle. So all items that need securing whilst you're out running.
10 Best Running Leggings
1

. ODODOS High-Waist Leggings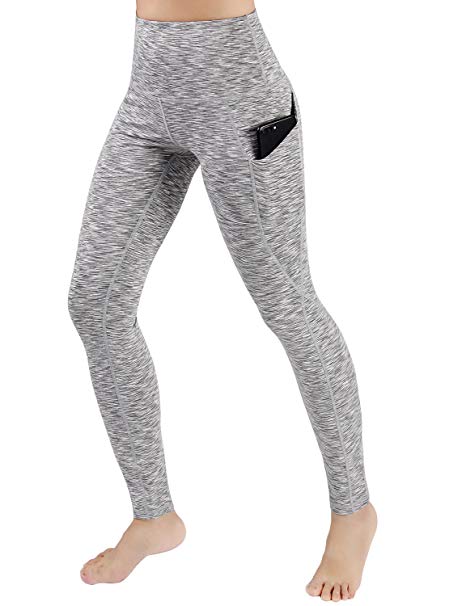 Available in many colors, the ODODOS leggings reduces muscle soreness while boosting your performance and while keeping you feeling your best. These leggings can be worn in cold or warm temperatures. Affordable and comfortable, they also retain their shape and stand up to many washes.
4-Way Stretch
The 4-way stretch fabric is perfect for runners. The fabric moves with you and allows you to move freely on your run. They won't make you feel restricted, but instead, keep you comfortable.
Contoured Fabric Fits Your Body
These leggings are designed to contour your figure perfectly, which gives a streamlined look and will make you feel put together.
Cost and Value
Compared to the cost of your average pair of yoga pants, these leggings made especially for running are excellent, affordable, featured in many colors, and will ensure a safe, injury-free workout with circulation and muscle support as well as keeping you secure with tummy control.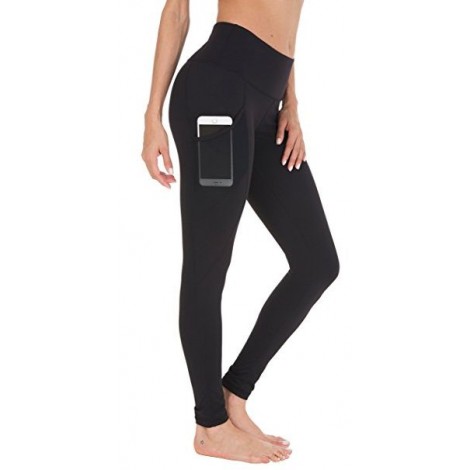 If you're looking for a high waist with tummy control, the Queenie Ke Power Flex leggings are a great choice. Available in 5 colors, they combine fashion with function for running and more. The longer-than-most length provides extra coverage, and the 4-way stretch fabric wicks sweat away. The snug, but comfortable fit hugs your curves and has an overall slimming effect.
Interlock Seams
The interlocked seams pattern not only adds to the design but also prevents rubbing and chafing, which is helpful during a long, intense run. They are also reinforced so you won't have to worry about rips or tears.
Waistband Pocket
The best running leggings include a pocket, and this pair has one right along the waistband. Store your phone, keys, money, or other essentials right at your fingertips.
Cost and Value
The color options, durable, yet stretchy material, and the money back guarantee to ensure these leggings will be a solid purchase. They wick moisture away while keeping you warm and dry. It also features a wide waistband to serve as comfortable shapewear.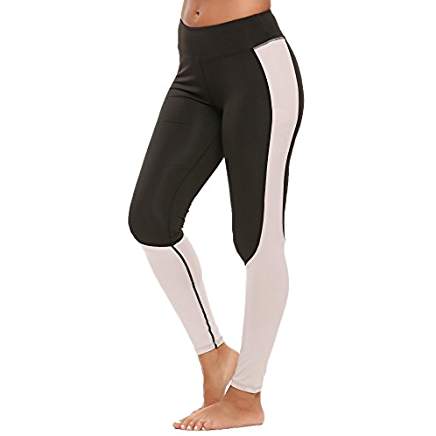 These workout/running leggings from COORUN are available in over 30 colors, both striped and solid! Choose from full length or capris to suit winter or summer temperatures. They are breathable, soft, and have a relaxed fit. The material dries quickly when in contact with sweat or water. They also won't ride up or slide down.
Versatile for Many Purposes
Whether you're running outdoors or on the treadmill, relaxing at home, or running errands, these versatile leggings are great for sports and everyday use. Wear these with a sports bra, t-shirt, tank, or sweatshirt.
Maintains Shapes After Many Washes
The flexible material retains its shape after many washes, as this fabric is tough and durable. From lifting weights to running uphill or other high-intensity workouts, you can depend on COORUN.
Cost and Value
One of the most reasonably priced pairs on this list, these leggings are great for building your workout wardrobe. The elasticity is excellent, and the black designs with blocks of bright color will keep you safely visible if you run at night. This brand also offers 2 colors with knee-cutouts, which are great for biking.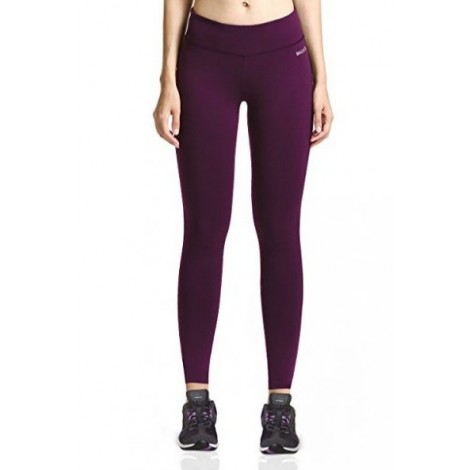 Featuring a hidden pocket in the waistband, these colorful Baleaf Ankle leggings have a flat seam for added comfort. Choose from 9 different color stories to match any other workout gear you own. The slightly cropped length works well for everyone regardless of height. These running leggings are suitable for year-round, indoor or outdoor use.
Thick, Solid Fabric
You'll feel confident in these leggings knowing they are completely opaque. They are also breathable and resistant to sweat, keeping you dry and comfortable throughout your workout.
Pocket for Your Essentials
Rather than having to carry your keys, phone, or ID (or leave things in your car), you can discreetly store essential items you want to keep with you during your workout.
Cost and Value
These running leggings are a great value for the price, and the manufacturer offers free returns should you need a different size or color. The elastic waistband and flat seams add the comfort you're looking for.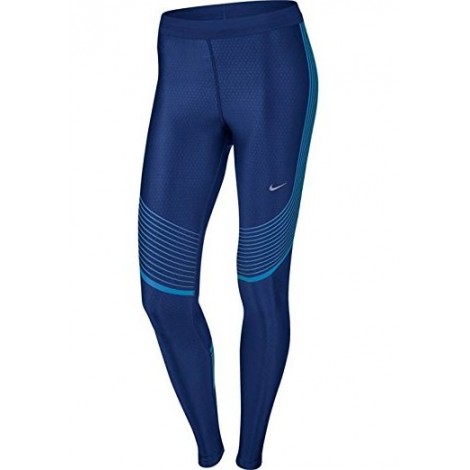 Made with Nike's Dri-FIT fabric combined with polyester and spandex, the Power Speed is a great option for runners with goals to hit. Available in solid colors and patterns, these running leggings combine style, function, and visibility. The graphics aren't simply there for looks--they provide support designed especially for high-intensity activities. They also compress your legs for added muscle control.
Mild Compression
These leggings combine the benefits of compression leggings with the comfort of regular leggings for mild control that will help you run faster and with better form. Key muscles will be supported when you need it.
Hidden Drawcord
Most leggings stay on better with a drawcord, and these have one hidden in the waistband for easy, dependable adjustments. No more slowing down to pull up leggings that have slid down your waist as you run.
Cost and Value
While these are more expensive than others on our list, the quality and unique features, such as the zipper pocket with a moisture barrier (and much more), make them a good investment. They will last a long time and reduce muscle soreness as well.



These Spalding Ankle Leggings feature a classic-design solid with a contrast logo on one hip. The slightly cropped length ensures they won't be too long. Choose from black, navy, or grey. Made of 92% cotton, these are a great choice for warmer temperatures as they will keep you cool.
Great for Fitness & Fashion
The versatility of this simple design means you can take these leggings from a casual lunch date to the treadmill. The neutral colors will complement anything else in your workout wardrobe.
Relaxed Fit
If compression leggings aren't your thing, these classic cotton leggings just might be. The fit is snug, but relaxed, which keeps sweat from sticking to your skin during intense runs.
Cost and Value
Affordable and good quality, these leggings make a great addition to your basics. The thin elastic in the waistband prevents it from digging in. Overall, these are comfortable and classic.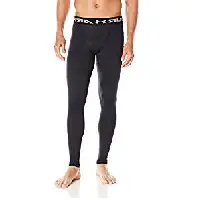 The Under Armour ColdGear Compression Leggings are a men's legging with 4-way stretch material. They have strategic ventilation technology built-in, which is crucial for running in any weather. There are six colors available and they are available in regular and tall lengths. The fabric is also dual-layered for added comfort.
Stretch Mesh Gusset
It's important for form-fitting leggings to be breathable, which is why these feature a stretch mesh gusset. They also have inseam panels for increased flexibility.
Exterior is Fast Drying
Since sweating is unavoidable during an intense workout, leggings with a fast drying exterior will minimize the discomfort and prevent painful chafing.
Cost and Value
For a moderate price, you're receiving leggings with a comfortable compression fit and warm material. Not only are these great for running, they can also be worn underneath work pants for those who work outdoors often; they will keep you nice and warm.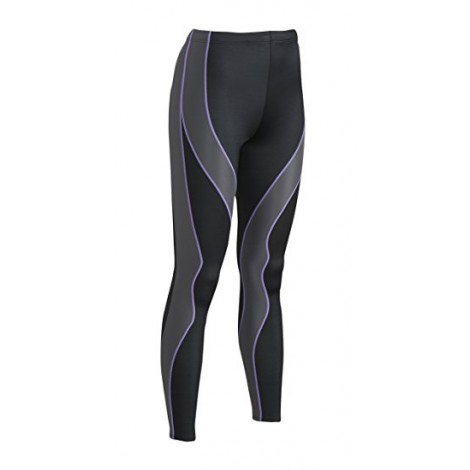 These leggings are perfect for conditioning as they provide optimal muscle support. The flat seams ensure they won't dig into your legs, and the logo is reflective for additional visibility. The bright purple stripes provide a nice contrast to the black and gray. You're also protected well from the sun while wearing these.
UPF 50+
If you frequently run outdoors while the sun is out, these leggings are a fitting choice for you. They have built-in UPF 50+ for complete protection from UVA/UVB rays.
Great Muscle Support
The design of these leggings hugs and support your leg muscles, which make them great for those recovering from an injury or running while slightly sore. The gray curved pattern is both stylish and functional.
Cost and Value
For a moderate cost, these leggings come with UPF 50+ technology, which you don't find in many designs on the market. The reflective stripes and logo make these a great choice for early morning or evening runs outdoors.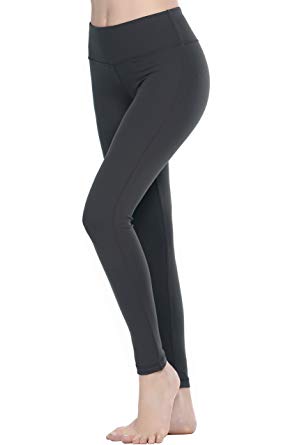 With a pocket long enough for your phone, the Oalka Power flex legging is available in many styles. These leggings are not only great for running, but also work for yoga, Zumba, weight lifting, and lounging after a tough workout. The material is both stretchy and breathable.
Interlock Seams
These leggings have interlocked seams that reduce irritation because the edges lay flat, which eliminates chafing. This is perfect for runners so you can keep going without being held back by discomfort.
Shaping High-Waist Waistband
A high-waisted design with tummy control shapewear makes sure that you feel secure wearing these leggings. They also won't slide down and become distracting while you are trying to run.
Cost and Value
These leggings are very affordable and versatile for any intended purpose. They are completely opaque and the material is very durable.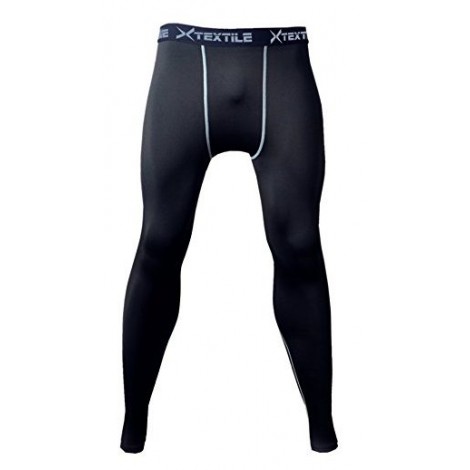 These men's leggings from Xtextile provide a secure, snug fit for excellent muscle support. The black design with white stitching matches any workout attire. They increase performance while boosting blood flow. The material keeps its shape even after several washes.
Seamless Design
These running leggings for men have a seamless design, which makes them feel more like part of your skin. This feature makes them great for increasing your speed while keeping you warm.
Dry and Comfortable
With moisture-wicking technology, these leggings will keep sweat from building up and sitting on your skin, ensuring you stay dry throughout the entire workout.
Cost and Value
The price and quality combined make these leggings a steal. Simple, sturdy, and reliable, runners will feel confident in the elastic material.

Subscribe to our Newsletter