Best Propane Fire Pits Reviewed & Rated for Quality
In a Hurry? Editors choice: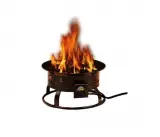 Test Winner: Heininger 5995

You and your posse get your thrills from exploring the previously unexplored, finding new places, and sleeping in them too, and talking and laughing under the night sky, whether that sky is starry or cloudy makes no difference to you. But the cold–oh, do you hate the cold. It doesn't bother you to start a fire–it may be annoying, kind of, but it's part of it, part of being an outdoor enthusiast. Like the mosquito situation, it's just something you have to deal with. Right? Wrong. Forget starting fires; opt for a propane fire pit instead!
Standout Picks
Criteria Used for Evaluation
Value
Criteria Used in Choosing the Best Propane Fire Pits
Maybe you're not even a particularly outdoorsy person. You're just someone who is proud of their home–who's installed a pond or a flower bed or some kind of specialized garden or even an outdoorkitchen in their backyard, all in the name of aesthetics, in the name of beauty. You like to entertain guests in your backyard to show off your sense of style and your meticulousness. You may like to unwind out there with your friends and your loved ones, in mirth, enveloped in just a little bit of nature. But of course, none of this is fun when the temperatures start dropping. That means you have to limit showcasing or enjoying–or both–the outdoor living space that you're so proud of. Oh well, guess you'll just have to get over it.
Wait a minute–that's not true at all!
You have a choice between two types of propane fire pits. The first is the portable kind; this is great for those outdoorsy people. Portable propane fire pits were designed specifically to light in weight and easily packable. So if you're looking to go camping or traveling in an RV, you'll want to take a close look at some of the portable options. But if you fall into the other category, the category of the meticulous, stylish homemaker, you'll want to take a look at some of the nonportable options. These are big and heavy and powerful–and some of them are also sleek and have a very elegant look that can blend in and even compliment the rest of your set up. Can you imagine it? Sitting around a crackling, glowing, beautiful fire pit outside in your own patio, surrounded by people you love, all on a crisp, chilly night–feeling warm all the while? Well, you can stop imagining. There are plenty of great options out there for you. You just have to look for them.
For campers, it's all about a clean burning stove that will help keep the chill away and not create that wall of smoke that makes you smell like an old cigarette. For drier areas of the country the smaller firepits on our list are easily storable and CSA compliant which means you'll be able to light them up in some areas where more traditional firepits are off limits.
So how do you choose a propane fire pit? There are tons of them available out there and they're all designed differently, have different features, and even different uses. Some even have different heating capabilities.
Most of the entries here are eminently affordable as well. There are high-end products out there that will break the bank, but for our list, we tried to stick to products that are durable, strong, and attractive but fall into a 'reasonable' price range.
As you can see, there are plenty of options to choose from when it comes to propane fire pits. Many of these options may even seem similar to one another. And things become even more muddled when you realize these aren't the only kind of fire pit you can choose from: there are gas-powered fire pits and fire pits powered by bio-ethanol, too! You may be wondering why this list focuses solely on propane fire pits. Is there something about propane that it makes it superior compared to other sources of energy? Is it less expensive perhaps? But if that's so, is that a good enough reason to completely disregard other fuel sources? After all, other fuel sources may even be more effective than propane, couldn't they?
These are, of course, valid concerns.
First off, there are a few things you may not know. The first is that natural gas is actually a composite of multiple gases. These gases are butane, ethane, methane, and–you guessed it, propane. Or maybe you didn't guess it. And that's okay because you're not alone. A lot of people don't know this. And another thing you may not know is that when raw natural gas is processed at gas facilities–to prepare it for commercial use–propane is actually forcibly separated from the other components (butane, ethane, and methane). This separated propane is then sold to dealers who specialize in selling propane, who sell it to consumers by the gallon.
You may have also noticed that all of the fire pits on this list boast of being capable of an output of up to tens of thousands of BTU's. The higher the maximum BTU output, the more heat a fire pit will emit. Well, it may interest you to know that propane has more than two times the amount of energy than natural gas. To be specific, one cubic foot of propane contains 2516 BTUs; while one cubic foot of natural gas contains 1030 BTU's. That's a huge difference, to be sure. It means that propane is by and large more efficient than natural gas.
Another thing that may or may not be important to you–although it probably should be–is the fact that propane is actually non-toxic. That is, it doesn't have any sort of adverse effect on the environment; it's eco-friendly. This is true before combustion, as well as after it. Indeed, it's considered what is known as a "green fuel" for a reason. Natural gas, on the other hand, is a greenhouse gas–which means while it's burning, it traps heat in the atmosphere, which has the effect of keeping the earth's surface warmer for a longer time. You've probably heard of global warming. If you believe it–and most scientists do–you probably want to reverse it, or prevent it. Natural gas actually contributes to it, or exacerbate it, and that's just another reason why propane is the superior choice for fuel. This is especially true if you're an outdoors enthusiast, looking to enjoy the natural world without contributing to destroying it.
Mobility
One of the main things that should factor into your decision is that of mobility. This much should be obvious. But this list was compiled for both types of people, the outdoors traveler–the adventure seeker–and the person who just wants to enjoy a little bit of nature right outside their own. There are several portable propane fire pits on this list, and you'll notice that they are all quite similar. These portable fire pits are designed to be lightweight and easy to carry. In fact, most of them come with covers and a carrying kit. Some of them don't, however, so it's important that you pay attention. They vary too in maximum BTU output, in construction, and of course in design. One even includes adjustable roasting sticks so you can cook right over the fire–just like a naturally made fire, except without all the hassle!
There are also several stationary propane fire pits on this list. These also have many similarities between them. These differ almost entirely on design. Remember, you want something that's going to compliment and accent the style of your patio, so you're going to want to pay close attention. Many of the models on this list also come in different color schemes and patterns; if you don't like one, do look at your other options. It's possible you'll find one to fit your needs. Moreover, these stationary fire pits all have propane tanks stored directly into the structure itself, and the tanks themselves are hidden from view so as not to be displeasing to the eye or cluttering in any way. They're much like cars in that way–cars are designed so that their fuel tanks are hidden, too.
Features
Each propane fire pit on this list has been chosen with an immense focus on features. As has been said already, most of the fire pits on this list are similar to each other. This is because a fire pit is only supposed to do one thing: keep you warm. To get back to the car metaphor, cars are supposed to get you from point A to point B, without breaking down. So how do you choose between cars? Big cars, small cars, low cars, cars high off the ground, radio types, seat construction, leg room, push to start or turn to start–and on and on that list could go. You choose based on the features. And these features must align with your wants and needs. If you're a big guy, you probably won't opt for a small Fiat, for example. It just wouldn't be comfortable–and you'll probably be embarrassed driving around in it.
The same applies to propane fire pits. Some of the propane fire pits on this list come with some great features that are unique to them. For example, some come with a ten-foot hose with an attached regulator. This is so that you can keep your propane tank far away from you and the source of the fire. This makes your view a little better, and less clutter, but more importantly it makes you safer. What makes you even safer still is that some of the propane fire pits also include–along with this ten-foot hose–a safety ring with which to secure the propane tank, and make sure it doesn't fall over and potentially cause a disaster. And there are other propane fire pits that come with safety shutoff valves, in case of emergencies. You can never be too safe, and there is no cost that is too much to ensure not just your own safety, but the safety of your loved ones as well. So do make sure–remember your decision doesn't only affect you; it affects your friends, your family, your fellow campers, or your guests as well.
Cost
And of course, there's the cost. Who isn't concerned about cost? Even the richest among us care about cost–we work hard for our money, why waste it on products that lack quality? Each product on this list was chosen specifically because it was affordable or because it was deemed a good value. This latter means that if a fire pit on this list is expensive, it's only because it offers features that other comparable fire pits do not; or it's tried and tested and proven to be durable and functional. Remember, the value of anything isn't simply a reflection of its cost at face. A product can be dirt cheap, but if it lasts only a few days, that means you'll have to keep buying it every few days if you really needed to use it–in the long run, you could end up spending a small fortune. If you by an item that seems expensive from the outset, however, and it lasts you years, that could end up meaning that you actually saved a small fortune. That said, you don't always get what you pay for, but sometimes you do. That may seem like the most unhelpful statement you've ever read, but it should serve as a reminder to you to always do your homework, to always pay attention, to know what you want, and what you need, in order to make the best decision for you.
10 Best Propane Fire Pits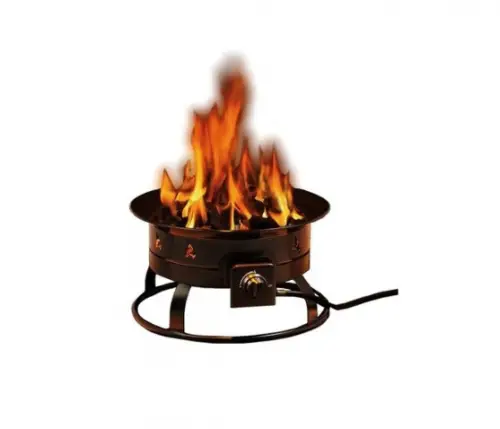 Number one on the list is the Heininger 5995. This is a small, portable propane fire pit, perfect for bringing along on camping trips or setting up on your backyard or patio to keep you and your company warm on cold nights.
Safety
This propane fire pit from Heininger features a ten-foot hose with an attached regulator. This way you can keep the propane tank out of sight and out of mind as you enjoy the outdoors.
Smokeless
There's nothing more aggravating than having the wind change direction and wafting smoke into your face as you're trying to have a good time. With this propane fire pit, you won't have that issue, as the fire burns clean and smokeless.
Cost and Value
You can choose to buy this with or without the cover. Either way, it's incredibly affordable--even cheap for a fire pit. And it's quality, too. In short, it's a great buy.

2

. AZ Patio Heaters GS-F-PC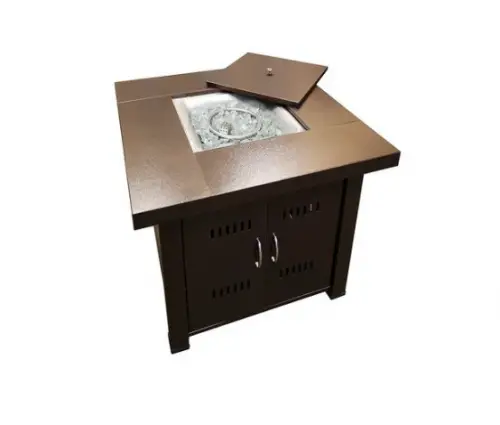 Number two on this list is an excellent choice for someone who's looking for a fire pit with a sleek design, with an antique bronze finish, to complement his or her patio. It's 28 inches tall and features a 38-inch square table top. Its heat output is 40,000 BTU's.
One year warranty
Sometimes products and parts wear and tear--with time or because of weather pressures or just improper use. It happens and you need to be prepared for it. Some products are subject to less wear and tear than others; the difference lies in quality. A company who believes in their products will put their money where their mouth is. That's what AZ Patio Heaters has done.
Ignition system
With its integrated Piezo ignition system, it's easy to get warm with. It instantly ignites, utilizes 40,000 BTU output power, and works to warm everything within a fifteen-foot radius. What's not to like?
Cost and Value
Bottom line is that it's affordable. If you're looking for a great quality tabletop fire pit, you've found it here.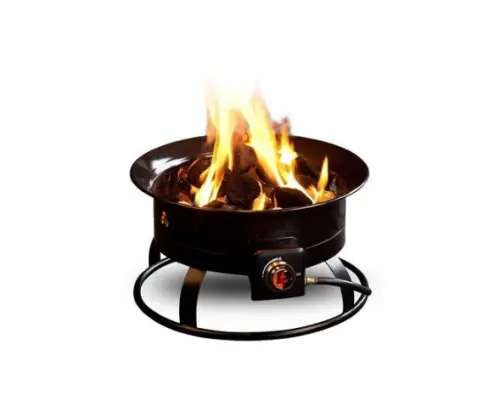 You thought we were finished with Outland? Think again! But don't worry--this is the last of the Outland propane fire pits on this list. And it may be the last one you'd want to consider. It's lightweight and portable and offers the same features that landed the other Outland fire pits on this list. The difference is in the design, which may or may not appeal to you--so check it out! It can't hurt.
Safety
You've seen this on this feature list a few times already. This one is no different--it features a ten-foot hose with an attached regulator to keep your propane tank out of sight and out of mind. That way you can concentrate on enjoying the outdoors instead of on the cluttered mess before you.
Durability
Like some of the other Outland propane fire pits, this one also features a steel construction, finished with a high-temperature coating and protective enamel. This ensures that you get the most bang for your buck.
Cost and Value
This is the cheapest of the Outland products on the list. But as you can see from the features alone, it's just as effective and is constructed with the same quality materials. It's up to you--if the design appeals to you, this is a great addition to your outdoor activity arsenal.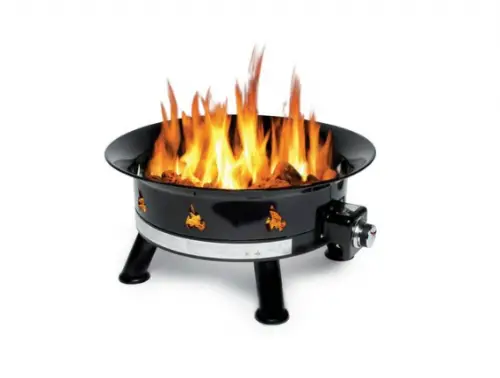 Here's another great propane fire pit by Outland that's perfect for camping trips. This one features a 24-inch diameter, which means it has a 75 percent larger surface area than standard Outland fire pits.
Safety
Just like number one on this list, this one also features a 10-foot hose with a regulator, so you can keep the propane tank out of sight and out of mind.
Propane Tank Stabilizer Ring
In keeping with the safety theme, this propane fire pit comes with a propane tank stabilizer ring, to keep your propane tank secure, even as it's out of sight and out of mind.
Cost and Value
This is a strong, durable, tested product--and it's an Outland fire pit, so you know it's quality. It isn't cheap, and it sure isn't expensive; really, it's well worth the money.

5

. Endless Summer GAD1401M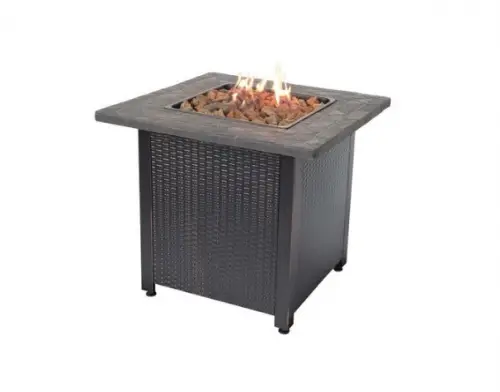 This is another great propane fire pit for your patio. It's handcrafted and features some of the same elements of high-end furniture. To add to its elegance, it comes with lava rock, which adds an aesthetic flair to its flames. It has a 30,000 BTU output.
Easy assembly
Sometimes you get a product that seems promising on screen or on display. But then you get it and you try to assemble it. Even though you're close-reading the instructions, you find yourself getting angrier and angrier, with each step. Then you finally throw something against the wall and call it quits. You won't have that problem with this fire pit; its assembly is easy and you don't need tools to do it.
Elegance
It even includes a decorative base in which you can securely store and conceal the propane tank and control panel--so that it actually makes your outdoor living space more attractive, instead of clunky and cluttered.
Cost and Value
Not much to say about its cost. It's right where it should be--if a reliable, quality, durable propane fire pit for your patio or outdoor living space is what you're looking for, you've found it here. It does come in different colors and styles for your convenience, and each of these has a different price--so pay attention!

6

. Outland Firebowl 863 Gas Fire Pit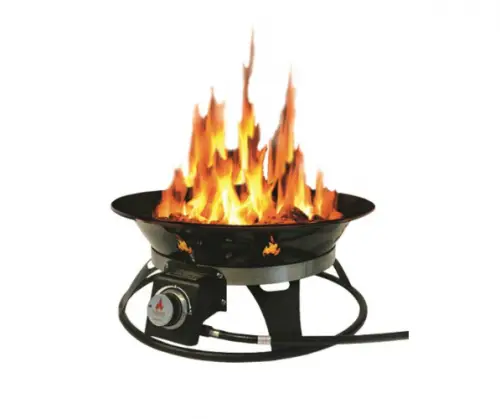 Okay, sure it's another Outland product but they're just so dang good at what they do that we thought that we'd better include this in there. Everything about this little baby just breathes simplicity. It's easily transportable and easily attachable to a basic 20-pound propane can. It's also pretty cheap but built tough. So if camping is your thing, but secondhand wood smoke isn't on your to-do list. This is a great option.
Campfire Ban Compliant
This is a big deal for a lot of campers. This is certified safe to use during most fire bans because it's off the ground and spark free. Take note that we say 'most' so always check your local fire regulations before assuming you can set up this puppy at a dry campsite.
Durable
This is made of high-quality durable steel and has a protective enamel finish. The burners are also stainless steel so they'll resist rust, and the fasteners are also built to last.
Cost and Value
This isn't the most expensive piece on our list by any means but it's a nice piece of equipment and worth every penny if you're looking to have a portable fire pit you can just toss outside on a cool night, or are looking for the perfect piece of car camping equipment.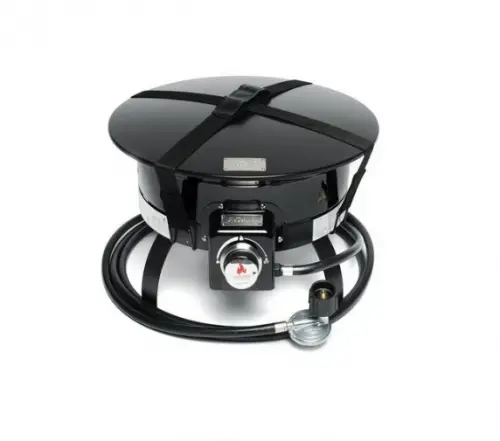 This is another portable fire pit perfect for camping. It features a 58,000 BTU output and a stainless steel burner and fasteners, a chrome knob, a rubber grip for comfortability.
Construction
This one features a steel construction. The steel has been finished with a high-temperature powder coating protective enamel coating--meaning it's made to last.
Burns clean
Just like number one on this list, this portable propane fire pit by Outland burns clean and smokeless--so you'll never have to worry about smoke wafting into your face.
Cost and Value
It's not cheap, but it's not at all expensive either. If you're looking for something to bring along with you to keep you warm on camping trips, this is as good a choice as any.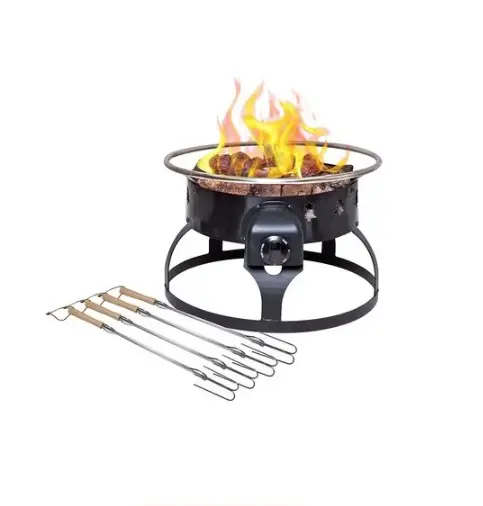 Here's another excellent portable propane fire pit--but this time from Camp Chef. It's perfect for camping, for a tailgate party, or even on a patio. It features a 53,000 BTU output.
Matchless ignition
Again, this feature can't be stressed enough. There's nothing more annoying than a hard to start--or even dangerous to start--item. With this propane fire pit from Camp Chef, ignition is easy and safe.
Includes Roasting Sticks
How's that for value? Not only is the propane fire pit itself worth the cost, but it also includes four roasting sticks--that are adjustable! So if you're looking to roast some tasty marshmallows on a chilly day, you'll be alright.
Cost and Value
A cheap, effective, durable, and functional fire pit. It features a safety shutoff valve and it comes with four adjustable roasting sticks--what is there not to like? It's a great value for sure.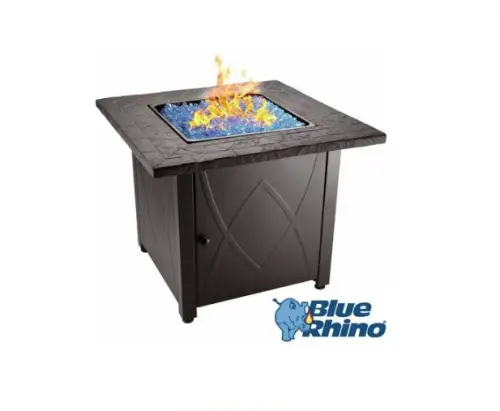 Maybe you've had enough of the portable fire pits--you need something sturdy and strong for your patio. Well, here's another great option for you. This propane fire pit features a 30,000 BTU output and a sleek look and decorative twin peak side panels.
One push ignition
Once again, we're talking about ignition. This one is simple, it's easy, and it's safe to start and use. Just push one button and it's on, no hassle, no drama.
Aesthetic
Most propane fire pits that were made especially for patios are designed specially to look good on your patio. That means the control panel and propane tank must be hidden from view. This one is no different.
Cost and Value
You can choose from five different colors, each of them accompanied by a different cost. This is generally more expensive than the other propane fire pits we've seen so far. But it's a quality product and it wears weather well.

10

. Bali Outdoors Gas Fireplace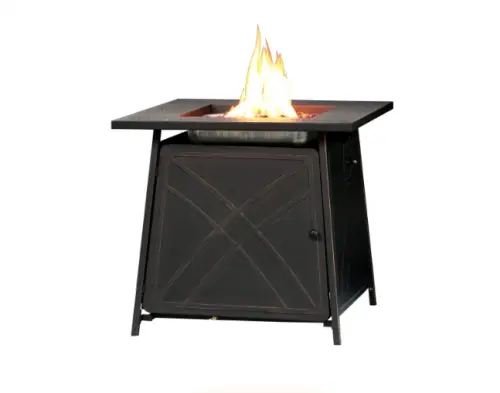 This is a nice piece and will look good wherever it ends up in your yard. The fire burns with a clean clear flame and the lava rocks conduct heat so it'll keep the chill away quite effectively. It's big, and it's heavy so it's not particularly mobile so this is a product that you should set and forget. But once it's set up it'll keep you warm on cold nights like a champ.
Hidden Controls
This is kind of a big deal when it comes to outdoor firepits. The Cabinet hides the propane tank and the controls. We think this is a good thing as it makes for clean lines and hides all the ignition panels that are right out in front in a few other models.
50-thousand BTU
BTU's we admit is a bit fudgy when it comes to outdoor space but the point is that a 50 thousand BTU device is going to be able to warm your circle of friends pretty effectively. Of course, wind and the elements will cut into that range but the point is that this is a powerful burner that'll keep you warm on most chilly nights.
Cost and Value
Definitely on the high end, but not out of the ballpark if you're looking for a reasonable high-end portable fire pit that comes in a box. Compare this to any landscaping service or garden designer and we guarantee you're getting a comparatively great deal.

Subscribe to our Newsletter