10 Best Monoculars
In a Hurry? Editors choice: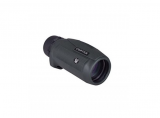 Test Winner: Vortex Optics Solo

So, you need to see for miles and miles and miles as the story goes, but you just don't have the tools to do it. We've all been there, and the problem is that binoculars are just a bit too cumbersome. Well, it's hard to beat the convenience and seeing the power of the monocular. Designed to fit easily on a belt or even easier in the glove compartment of a car this is the perfect tool for when you need some distance viewing.

Bring them to the ballgame, the beach, or keep them in the car for when you come across that beautiful view that prompts you to get off the road and take a look. Some of them even come with mounts that will allow you to hook up your phone to the lens so you can capture the images your seeing in the monoculars.
Standout Picks
Criteria Used for Evaluation
Features
Criteria Used to Evaluate Monoculars
That's a wrap! Now, after spending a wealth of time scanning the market for the very best monoculars for consumers, such as yourself, we realized that, it's incredibly important to be careful before purchasing just any monocular. Reason being, if you are planning on getting a crisp view of the birds – you need to make sure you are purchasing a high-quality, well-built, and highly-advanced product. The last thing that you want is to have a monocular that breaks or cannot focus properly when a rare eagle passes by. Can you imagine that let down? Now, rather than having consumers purchase the wrong monocular and having to communicate with customer service departments for a return – we created this handy, highly-informational guide.
Now, we understand that it can be challenging to figure out what type of monocular matches your needs. Here, it's not really about the colors and designs, but really about the innovative features and quality of build. Ultimately, our goal was to help you, and any other consumer to finally get their money's worth for a product. In fact, whether in-store or online – there are no better products than the ones we shared with you. So, let your journey begin with us!
What monocular will help you catch the sight you want to see?
As we have said above and throughout the article, when you take a minute to look at the many different monoculars that are available for consumers to pick from – it's kind of overwhelming. In truth, when we first started our research for this project, it left us thinking, "Are there really this many different brands and types of monoculars?" Now, what we realized is that, because there are so many different products to pick from, consumers were simply not taking their time in making a purchase, resulting in impulsive purchases. Now, our goal with this article was to eliminate the idea of purchasing a product simply based on its appeal or design. In fact, our goal was to help consumers learn that there were things they can do to ensure they are getting their money's worth for a purchase.
It all comes down to the art of evaluation. Think about it this way: when you are in the market to buy a home or car – you do the proper research, right? Well, the same is true with monoculars. So, when we began to do our research for this list, we began by creating a list of the most important criteria that each product should be evaluated on. The list below is the exact list that we used, which helped us figure out what products were best for nature, hunting, or other wildlife adventures. So, before you are quick to purchase just any product, consider the following criteria.
Quality of Build
Whenever we look at any product and perform a thorough analysis, the first aspect we always look at is the quality of the build from the inside out. It's our goal and intention to learn how the machine works. This entails studying the materials from the exterior to the interior software if there is any. From there, we look at each of the innovation's features and really look at the overall value of the entire package. This step helps us create a background setting for the product prior to getting into any major specifics. In our experience, this is a crucial step that is often skipped because people are more interested in the designs, colors, or features of the product.
Magnification
If there is any feature that truly matters when it comes to a monocular it's the ideology of the magnification. Think about it this way: without magnification, you can't see anything in the distance, which is the entire purpose of this product. So, as we began to evaluate each product for our list, we wanted to figure out what products offered the best magnification. We looked at the optics and lense of each product and what the company offered. Typically, what we noticed was that the best products in the industry offered over 30x magnification. In this, each monocular offered consumers clear, crisp, and high definition images of the birds or any nature environment.
Features and Innovation
When it comes to the market for monoculars, it can be challenging for manufacturers to make a product that stands out from the competition. If you think about it, the sole purpose of these products is to make it easier for a consumer to spot some game, a wild bird, or even the beautiful waters when traveling. So, at the core, a monocular is a monocular, there is nothing special to it, which is why if a company plans to stand out and be considered the best, they need to do something different. When we began doing our research for this project, what we found was that the top end monocular brands all did something unique or different as far as their features and innovations. For example, some products included intensive magnification features and others included new smartphone capabilities, all of which influenced the price and cost of the product.
Durability and Longevity
When it comes to any product on the market, one of the most important features that a consumer needs to look out for is the durability and longevity of the product. Would you really want to purchase a pair of monoculars that break after a few hours of use? Of course not! Now, when it comes to monoculars, the best way that one can find out how durable a product is is through looking at the exterior materials of the product. Not only did we measure this, we carefully evaluated the innovations and features based on their quality and fragility. To ensure that what the manufacturer was saying was truthful, we always checked with customer reviews to see what people were saying about their experience.
The Cost to Value Ratio
In our opinion, one of the most underrated aspects of evaluating a product has to do with the cost to value ratio. The reason being, by evaluating a product based on the relationship of its cost to the value – it can help a consumer ensure they are purchasing a high-quality product that is worth every penny. Now, to figure out what the cost value relationship, it's not hard. For beginners, start off by looking at the price point for a specific product. From there, keep track of all the value offered by the manufacturer. You can start by looking at key features, the material, unique innovations, or even what previous customers are saying in their customer review. All of this information can be compiled to create some conclusions about the value of the physical product. Now, from there, start to look at the competition and repeat the same process. In doing this a few times, you can have a great understanding of what products are worth their price range – given the quality offered in that price range.
Close Focus
This is one of those little things that are worth checking into. Close focus is the monoculars ability to focus on up-close objects. Why is this important? Well, it's only important if you decide at some point you want to use your monocular to do some close-up photography. If so, then it's really valuable, and if your monocular doesn't have close focus well then you're completely out of luck, so take a look at this feature if you think you might find yourself at some point shooting flowers in springtime, as a pollen covered bee does its thing. Because who doesn't love those photos?
Top 10 Picks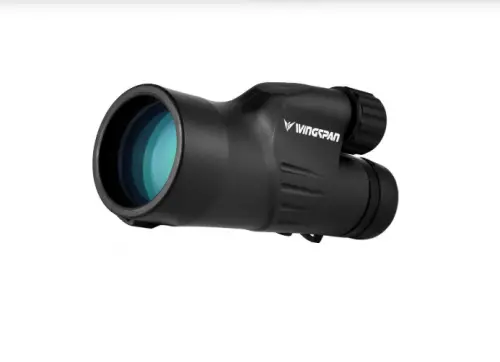 It is clear what an individual is looking for in their perfect monocular. A great external armor, extreme clarity, and best of all a quality design. All these things and more is what this expert manufacturer of monoculars offers. As the first product on the list, we can say that this is a complete steal with a new and dropped price.
Single Hand Focus
Whether you are sightseeing on top of a cliff or on the bay overlooking the ocean looking for a beautiful dolphin, these monoculars offer a design that is extremely beneficial and helpful for pure clarity in an instant. With a single hand focus adjustment system, any individual can quickly and accurately focus on their target with the simple swipe of the wrist. This is an extreme benefit for a person that wants to get the perfect shot in their memory bank.
Durable Exterior
A monocular for an adventure seeker is the opportunity to have close-up items or things that would normally be extremely far away. With that said, an individual does not have the time to worry about the protection of the device that they are holding. Therefore, this monocular offers an extremely durable external armor that provides a non-slip, and secure external protection. With this, a person can focus completely on the outside world rather than the worries of whether the monocular is well built. Let alone, these monoculars offer peace of mind for an individual that is an extreme explorer.
Cost and Value
When we take the cost to value into consideration for a specialty item such as this, what we look out for the most is durability, design, and technology. With that said, we are pleasantly surprised at the cost of these monoculars. In fact, the price has been recently dropped and for the many features, we consider them worth the price. It is evident that this brand cares about quality pieces that are meant to last.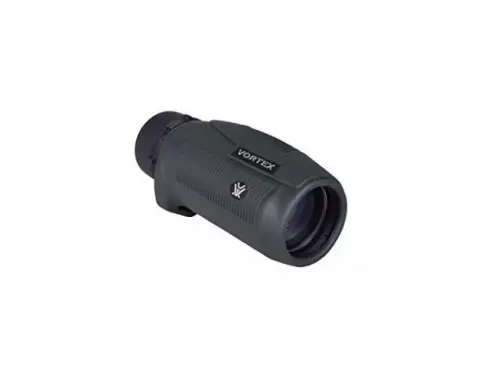 Now, we are eager and excited to share with you one of the best and superior mid-grade monoculars on the market today. This brand clearly understands the importance of having a monocular that is long-lasting, durable, and made from premier grade materials. Let's talk about the Vortex Optics solo monocular, a step towards a better viewing experience. Let's begin!
Magnification
What is the most important aspect of a monocular? Other than portability and durability, the monoculars need to offer a pleasant viewing experience. This is done through a fully multi-coated lens that allows for increased light to enter through the monocular to produce a clear and crisp image. With that said, this brand understands the importance of long-range magnification, therefore, an individual can magnify up to 10 times. This opens a world of viewing possibilities.
Waterproof
When developing something as important as a monocular, brands think of everything possible to make them even better. From one of the most signature brands, comes a monocular that is not only durable, but it is waterproof. In fact, these monoculars are also fog proof and offer excellent performance in any environment. Therefore, an individual can receive a clear image even on rainy days. We think this is a feature that highly increases the value of these monoculars.
Cost and Value
For waterproof monoculars, one would expect a high price for them. However, we were pleasantly surprised during our research to find that these monoculars were priced as a low-grade to mid-level monoculars. Therefore, we can say that the cost to value is worth it. With four choices to choose from, these monoculars are a fan favorite even for expert sightseers.

3

. ROXANT High Definition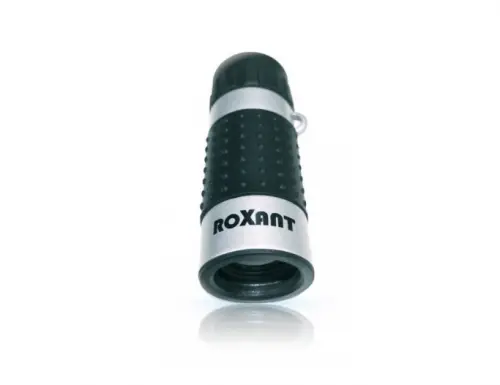 Now that we have started this list with a bang, let's talk about a more compact monocular. These monoculars are suited for everything from hiking to travel to backpacking. With that in mind, the creators focused on a compact pocket scope that can be taken anywhere and still offer plenty of versatility in a small package. With a carrying pouch and neck strap, these may just be the perfect monocular for the well-seasoned traveler. Let's talk about the Roxant High Definition Mini Monocular.
Compact
As one would expect from a pocket scope, these monoculars serve as the perfect travel companion for any sightseer. Whether you travel with them or take them on a boat for a bird sightseeing trip, these monoculars are easy to pack an easy to store without losing powerful focus. Small enough to fit in a pocket or a purse, these monoculars are durable and easy to use. Highly recommended as a single pocket scope, the compact size is extremely appealing and perfect for little kids.
High Definition Glass
Whether a person buys a full out monocular or something as small as a pocket scope, the purpose of a monocular is to offer clear and crisp viewing. With that in mind, the high def an optical glass allows for superior light focus and brightness for a simple and pleasant viewing experience. Get up close and personal to a bird, dolphin, or deer with this pocket scope monocular.
Cost and Value
As one would expect from something as simple as a high-def in mini monocular, the durability and hi-rez is a primary focus. However, mini monoculars do not offer the same superior features as expert monoculars. What we can say, is that this brand has produced an expert monocular for the novice sightseer or parent wanting to gift their child an exciting gift. When considering the cost to value, we can say that the cost is pleasantly low making these the perfect starter monocular.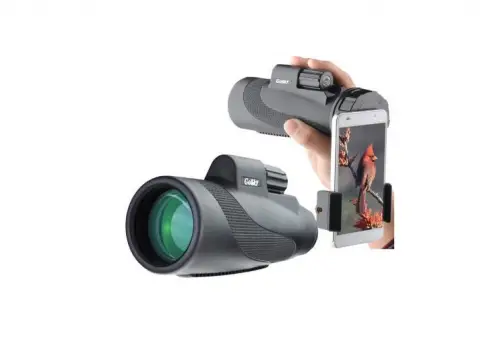 The technology industry has completely shifted over the past couple of years. This shift has transcended at almost every single item that we have today. With that said, if you are an individual that is a fan of monoculars and beneficial technology that makes life a bit easier, we have the perfect monoculars for you. The Gosky Titan High Power Prism Monocular offers a unique benefit that is only a part of a custom-made of monoculars. Let's dive in and talk about two of the most important points.
Build Quality
Before we get to the technology aspect of these monoculars we want to talk about the build quality. These monoculars offer a solid framework that makes it extremely easy to use and hold for long periods at a time. With that said, these monocular include a rubber armor around it making it easy to hold without dropping it. This design is perfect for the person that plans to hold them for hours without end, making them easy to grab without your hand getting sweaty. This type of durable framework is what makes a brand such as this one receives rave reviews.
Smart Phone Technology
Now, let's talk about the most notable aspect of these monoculars. These monoculars offer a design that allows an individual to use their smartphone and record whatever they are seeing. The high-power prism design includes an FMC green film lens with 12x the power, offering a high-resolution image. However, it is the included smartphone adapter that allows an individual to capture and record any beauty that is around. This allows for an exciting experience that is unprecedented.
Cost and Value
The most exciting aspect of these monoculars maybe the fact that an individual can use them in tangent with a smartphone. However, it is the newly dropped cost that is very pleasant to the eye. We can say that these monoculars offer plenty of value for the cost compared to other monoculars that are priced in the same range. If you are looking for a high-quality monocular that offers 12X the zooming experience in a generous and clear image, these may be it.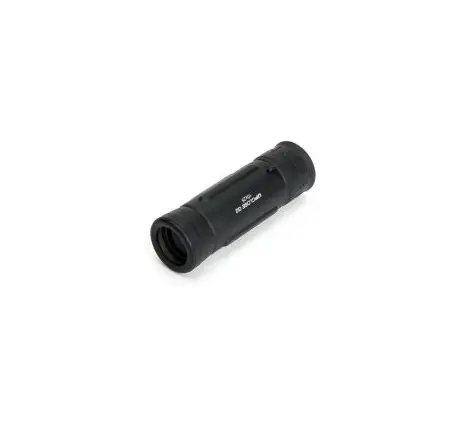 If you are an individual that enjoys boating, camping, or other sporting events and wants a pleasurable viewing experience, we have the simple monoculars for you. These monoculars offer some of the many features of high-end monoculars in a simple package. We are eager to share with you the Celestron UpClose G2 Monocular, a simple and easy to use monocular.
Multi-Coated
Does anyone know why a monocular includes multi-coated optics? Well, the primary reason is that without a multi-coated lens a monocular cannot transfer light to create a crisp and beautiful image. With that said, these ones are designed with easy viewing in mind. Receive and view a sharper image with high contrast and brighter resolution thanks to the multi-coated optics.
Design Benefits
No individual ever wants to take their most important items out on the water for fear that they might drop in. Well, this is not a concern when it comes to these monoculars. In fact, the design includes a water-resistant exterior to ensure peace of mind for the individual holding the monocular. Alongside this, the rubber exterior hides an aluminum body that protects from any possible drops or spills. Lastly, the design includes a thumb indent and finger ridges for extra non-slip support.
Cost and Value
When taking the cost of these binoculars into consideration, one could be fearful of the quality. However, it is the simple design and safety measures, alongside a beautiful viewing experience that makes these monoculars valuable. As cost is concerned, we can say that these monoculars offer plenty of durability alongside a beautiful and sharp image for the novice monocular user.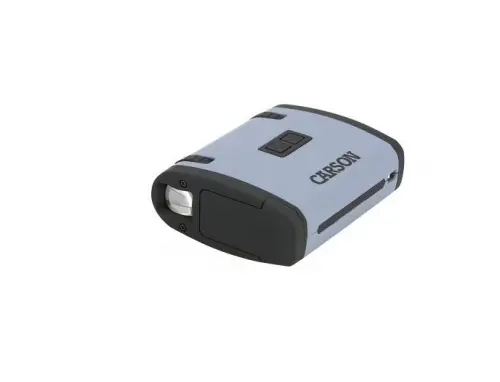 Now that we covered simple monoculars and more high-end monoculars, how about we introduce an interesting feature into the mix. These monoculars are not only as small as regular house keys, they offer plenty of features in a small compact size. In fact, these ones showcase a completely digital image that appears in black and white alongside other cool features. Let's talk about the Carson Mini Aura Digital Night Vision Monocular.
Features
As we just stated it is the many features that make these monoculars really one of the best in the industry. For example, these monoculars offer an infrared intensity that can be easily adjusted thanks to the push of the side button. Other than that, these monoculars showcase a digital image that appears in black and white all through a 19-degree viewing angle. This allows the viewer to view more of what is on the sides. Lastly, a viewer can view up to 82 feet in the total dark. Now, this feature worth having if you want to spend all day and night sightseeing.
Design
You probably picked up on the fact that I said these monoculars are as small as regular house keys. Yes, they are. With a total weight of 3.4, the dimensions are 2.6 inches by 2.2 inches. This size can fit in the palm of your hand, but do not fear - the exterior is designed with a grip exterior shell. Lastly, these monoculars come with a wrist strap in the case that they fall out of your hand they never fully fall on the floor.
Cost and Value
When we take the cost to value into consideration we look at everything from the durability of the product to the features that it offers. For a product such as this, from a brand that offers plenty of value, we can say that the price for the features is reasonable. However, to some people, the night vision abilities may not be so important. In turn, the price may be considered somewhat expensive. If you see yourself enjoying the night vision mode and the black and white digital image often we highly recommend these monoculars.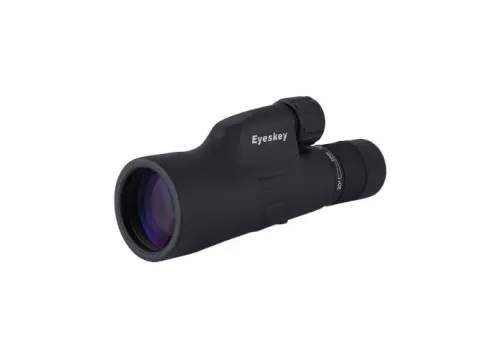 Now that we have covered simple and easy to use monoculars, let's get back to high-powered monoculars that offer plenty of features. As what may be the perfect Zoom monocular in a compact size, we are eager to share with you this one-handed monocular that is perfect for hiking, sightseeing trips, and any outdoor sport. The Eyeskey High-Powered Zoom Monocular is a full range scale monocular offering plenty of appealing aesthetics features in one small package. Let's talk about the two most important points.
Zoom Lens
If you are looking for a high-power monocular that allows you to see everything beautifully up close, this may be at. With a clear and crisp image, the viewing capabilities of this monocular are unsurpassed by many other brands in this genre. In fact, these monoculars offer an HD Zoom experience over a 50 mm objective lens. Receive a 10- 30x viewing experience that will stir up many pleasant emotions. With a high-grade optic system, this Zoom monocular allows the perfect amount of light and sharpness to appear through a somewhat wide-angle lens.
Design
When it comes to building quality monoculars and binoculars, this brand knows exactly what to do. With that said, they have included a smooth and large central knob that allows an individual to easily focus on their objective even if it is a fast-moving object. With a feature such as this, an individual can ensure that they will never miss a moment of the game or beautiful bird passing by. To add to this, these monoculars offer and anti-slip rubber armor in the case that your hands get sweaty, only adding to the durability of these monoculars.
Cost and Value
When taking the cost to value into consideration, we have by now looked at different aspects of a monocular that make them appealing. Now, we can say that the HD lens with high-powered zoom alone is worth the cost of these monoculars. What is even more surprising is the newly dropped cost for such amazing features. With a brighter range of viewing, a 50mm lens, and a crisp and clear image, we can say that these monoculars are extremely high quality and well-constructed by a brand that thought about virtually everything.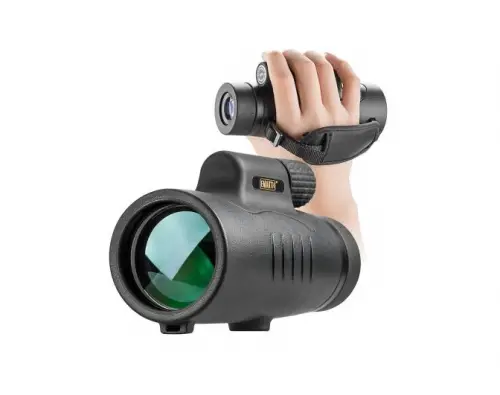 Whether you are an individual that is bird watching or out in nature enjoying a beautiful view, having the right monocular is the difference between a good experience and a great experience. Therefore, it is our assurance that these monoculars offer a high-powered scope alongside a great and flexible design. For the Wildlife lover or travel Junkie, this high-powered monocular offers a crisp and clear image in a compact size. Let's talk about the Feemic Monocular Telescope.
Wide Angle HD
It goes without saying that a wide angle offers a better viewing experience than a regular lens. With that said, an HD lens attached to a wide angle offers for the best memories to be created. We are eager to share with you that this brand has manufactured a high-quality lens with a clear-cut precision design that offers full-scale within a 42mm objective diameter. What this essentially means is that an individual can have 8X the zoom for better viewing outdoors.
Comfortable
If an individual plans to be outside with their monoculars for an extended amount of time the last thing they want is for their hand to get tired. Therefore, it is detrimental that the design of a monocular is lightweight and durable. These monoculars are not only that, but they are also, act and convenient to use with one hand. Alongside this benefit, these monoculars include a hand strap that goes around your hand for better protection and reassurance. Lastly, for better comfort, these monoculars offer a tripod connection at the bottom, which also aids in a steadier viewing experience.
Cost and Value
As we have mentioned before the cost to value is extremely important to us. They are not only waterproof and dustproof, for the reasonable cost, they are also shockproof and offer a tripod connection. In fact, the features alone make it a worthwhile monocular that can compete with high-end grade monocular. What is most surprising is the fact that the cost is reasonably low, making them the perfect gift and companion to any trip.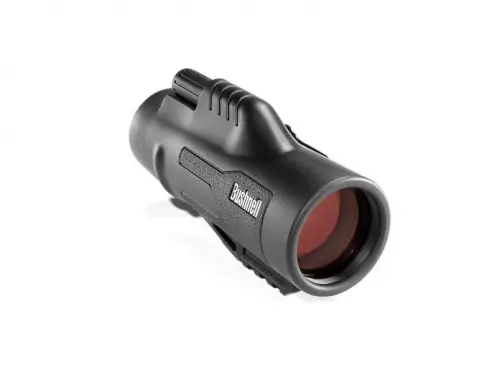 Now that we are coming towards the end of the list, we could not have finished without including this quality item. In fact, this may be one of the best most high-grade Ultra HD monocular in the industry today. From one of the most touted brands, this monocular is everything an individual would want from an A-grade monocular. Let's talk about the Bushnell Legend Ultra HD Monocular. With so many features, we are going to talk about the two most important.
10x Magnification
Now, what is the primary purpose of high-end? Well, of course, it is to produce a clear and crisp image that the viewer can fully enjoy. With that said, these monocular offers a 100% quality experience thanks to the 10x magnification abilities. With an exceptional optics prism and a fully multi-coated design, the Ed Prime glass allows full light to come in without any motion blur. Simply adjust the magnification with an easy twist to focus completely on your target.
The Exterior Quality
If you are going on a fishing trip and happen to spot a dolphin far away these are exactly the monoculars you want to take out. Other than that, these are the perfect monoculars for any day excursion out with friends or a single day trip. Made of 100% quality materials that have been extensively tested, this brand offers a 100% waterproof and fog proof Construction to ensure the peace of mind of any individual. Alongside this, these monoculars are beautifully designed and built to last with a durable exterior shell.
Cost and Value
What determines the cost of an item? Well, this question is subjective, but we can say it is the durability and construction that goes into building a quality item. With that said, people will consider this item somewhat expensive. What we can say is that considering the cost to value the image quality is worth a thousand words. Considering the fact that this monocular is fully waterproof and fog proof, an individual is receiving a monocular that is meant to last a lifetime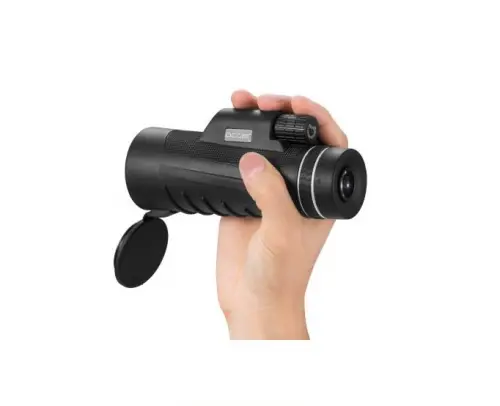 To recover from the last shocking monocular, we want to go back to the simple design of easy-to-use monocular. As the last monocular on the list, we felt that they were worth a notable mention. We are eager to share with you this high-powered focus monocular offering plenty of functionality and features. Let's talk about the Occer High Power Monocular.
Design
If you have ever used a monocular before you know how difficult it can be to view through the eyepiece, especially if the eyepiece is small. This is one design element that makes this monocular so appealing. With an 18 mm large eyepiece an individual will receive a fully immersive clear and crisp experience. In fact, the lens is fully multi-coated at the size of 42mm for a more stable and bright viewing experience. Lastly, a height color reduction design allows for the perfect contract.
Compact Use
Going back to the roots of our very first monocular on this list, we wanted to share one last extremely calm monocular for single hand use. The monocular is covered with a durable environmental rubber that prevents the potential of fog and water from getting inside of the monocular at only a weight of 281 grams, this monocular is easy to use with one hand and convenient to carry even in your pocket. Thanks to the compact size an individual can carry it anywhere.
Cost and Value
How does one determine the value of a monocular? Well, it all depends on the needs of the individual. With that said, if you are looking for a compact monocular that is perfect for bird watching, hunting, camping, or simply seeing far away items up close without much effort, these are cost-effective monocular. At a reasonably low cost, we think that this product ends the list on a positive note.

Subscribe to our Newsletter