Best Kids Sleeping Bags Reviewed & Rated for Quality and Warmth
Families that take their children on outdoor adventures when they are still very young are sure to build a treasure trove of great memories that will last a lifetime. One of the good things about taking your kids camping is that they are adaptable to sleep almost anywhere.
A significant feature to consider in searching for sleeping gear for kids is keeping them warm. Toddlers don't have the body mass that an adult has to provide warmth for their body. So, when searching for a sleeping bag, look for one that is intended for outdoor use, and put more clothes on kids before tucking them in for the night.
Featured Recommendations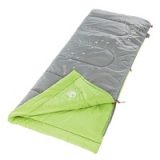 Coleman Kid 45

Our rating
Warm & Comfortable
Price:

See Here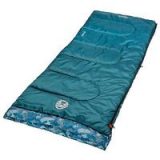 Coleman Kids 50

Our rating
Cold Weather Camping
Price:

See Here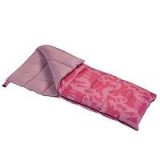 Wenzel Moose

Our rating
Comfy Materials
Price:

See Here

The kids will be particularly interested in selecting their very own sleeping bag. Sleeping bags with bright colors, decorated with characters or television shows catches the eye of children more often. There is a significant difference between a slumber sack and an outdoor sleeping bag.
Slumber sleeping bags are lighter in weight, and most of the bags are for indoor activities only. They are ideal for sleepovers with friends or with grandparents. They are also great to take advantage of when camping out in front of the TV for a family movie night. But, slumber sleeping bags are not insulated sufficiently to keep young ones warm outdoors, even when you decide to bundle them up in warm clothing.
You must be willing to swap elegance for function when choosing sleeping bags for your kids. Look for sleeping bags that are heavier and thicker. Also, check the temperature ratings and compare them alongside the temperatures that you expect on your camping trips. Most of the sleeping bags come in very colorful styles that appeal to kids. But, you can use the slumber sacks at home.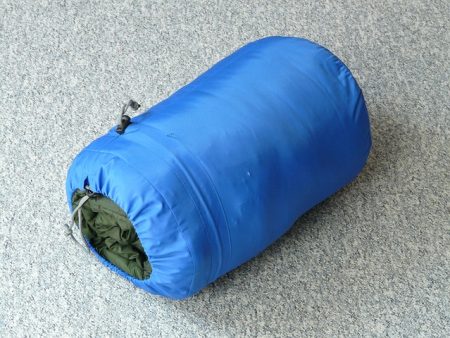 The best sleeping bags for children will also have many other features that make them worth buying. Most of the sleeping bags have age-appropriate designs and colors that can be related to famous movies – you will find a few Disney princess sleeping bags on the market today.
Having your personal sleeping bag and learning how to take care of it appropriately can be crucial to inspiring responsibility, care, and pride for your belongings in young ones. As these sleeping bags are all reasonably inexpensive so, you can simply get hold of one.
10 Best Kids Sleeping Bags
1. Coleman Kids 45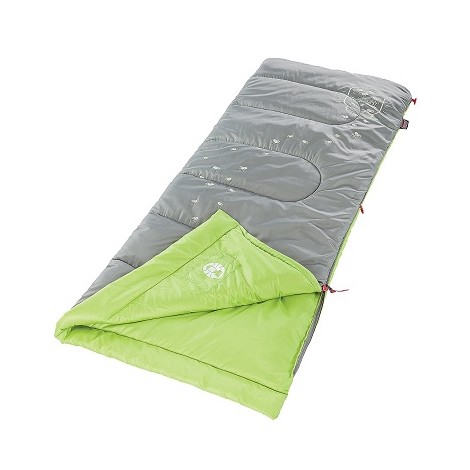 The is first on this list because it is one of the top, if not the finest you can find on the market today. The manufacturers of this sleeping bag designed the bag in a way that the light green color scheme glows in the dark which makes it enticing to children.
Expand to see more
The sleeping bag has a design called the quick cord system – this quick cord system, are types of cords that help keep your sleeping bag packed up when it is being rolled up. The insulation keeps you
warm and comfortable
.
The sleeping space in the bag is 66 x 26 inches, and it possesses a temperature rating of about 45 degrees Fahrenheit. That sleeping space will fit most youngsters with ages ranging from 8, 9, 10, 11, and 12. It can meet a higher age range than the ones listed above depending on their size.
Features and specifications
The Kid Camo 45 is designed for young ones
The Roll Control system that comes with the sleeping bag keeps your bag straight while rolling it up
The Comfort Cuff design that comes with the bag surrounds your face in softness
ThermoTech insulation of the sleeping bag keeps you warm and comfy
The sleeping bag possesses an Interior tuck pocket to store minor items fittingly
The bag comes with a stuff sack
Price
You don't have to worry about the price because it is very affordable, at the same time worth every penny you spend on it.
Conclusion
Every parent intending to take their kids on outdoor adventures should endeavor to buy this bag because the bag excels in all criteria needed for a good sleeping bag. It has a great temperature rating, comfortable for the kids, possesses enough room, and most of all affordable.
Great design
Enough room to accommodate children with an age range of 8-13
High-quality material
Warm
Comfortable
Great temperature rating
Affordable
The storage pocket does not accommodate the sleeping bag comfortably
2. Coleman Kids 50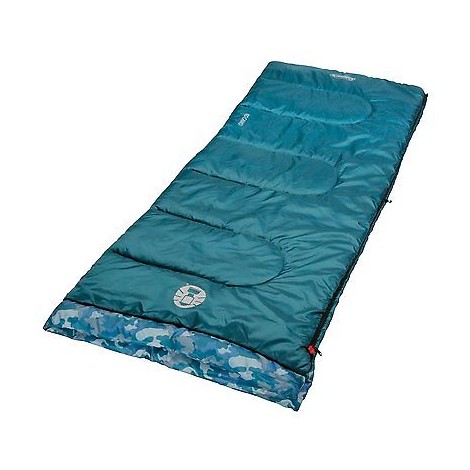 Coleman Kids 50 Degree sleeping bag has somewhat an attractive rectangular design, the zippers are very easy to use, and the materials used are very comfortable.
Expand to see more
The exterior of the bag is turquoise in color, and the interior has a fun design which kids love. The Kids 50 Degree bag has a temperature rating of 50 degrees – which is perfect for those cold weather camping adventures.

To attract kids, Coleman has unlocked a new design called "glow in the dark". It shines repeatedly, but softly when it is dark. Though the glow is elusive, kids seem to love it anyway.

The material used in making the bag is polyester, and it weighs 40 ounces. The sleeping bag also features a lock design called thermo-lock draft tubes which are used for securing the heat in the bag.

Features and specifications

The Comfort cuff design of the bag surrounds your face in softness
The Thermo Lock draft tube avoids heat loss through the bag zippers
The sleeping bag comes with a design that glows at night
The bag is rectangular in shape
Recommended for kids from ages 6 to 14

Price

It's affordable and also will give you your money's worth because of its durability.

Conclusion

It comes in second place because of its storage bag, but overall it is a sensational sleeping bag to buy for your kids. It keeps them warm during your cold weather outdoor adventures. It is comfortable to sleep in, its zippers don't break easily, and it glows at night, which we're certain your kids will love. Great bargain!
Comfortable
Soft
Zippers don't snap easily
Rolls up easily
Bag material is high-quality
Thermo Lock draft tubes
Enough room for kids with age ranging from 6-14
3. Wenzel Moose
The Wenzel Moose Sleeping Bag is an exciting option for children. The funny moose print incorporated into the design is the reason it is called "moose." The stuff sack used for storing the sleeping bag also has similar moose designs on it!
Expand to see more
This is a warm sleeping bag, which is ideal for outdoor adventures, but in-between the comfy materials and good design, your child will be happy to won it. It's made for kids up to heights of 5 feet of your kid's leg. Nevertheless, an individual of 5 feet 5 inches with the slim body will be able to fit inside this sleeping bag.
The bag has a temp rating of 40 degrees, which will keep your child warm in
cold weather conditions
. The insulated thermal material used to produce the bag is what lets you stay warm while sleeping.
The zippers are compact and straight, and you will not have to face any difficulties with them. On the other hand, the stitching is a bit lacking.
Features and specifications
The sleeping bag comes with a temperature rating of up to 40 degrees Fahrenheit
The bag comes with a thermal insulation
The Wenzel Moose weighs 2 pounds
The bag is designed for outdoor adventures
Price
The Wenzel Moose is highly accessible. You can get this sleeping bag for a meager amount of money.
Conclusion
Apart from the stitching, the sleeping bag is one of the best bags on the market today. We recommend getting this bag for your kids as it offers durability, comfort, and keeps your children warm in harsh weather conditions.
Comfortable to sleep in
Great temperature rating
Keeps your children warm in extreme cold weather conditions
High-quality material
Affordable
The stitching of the sleeping bag is destitute
4. Lucky Bums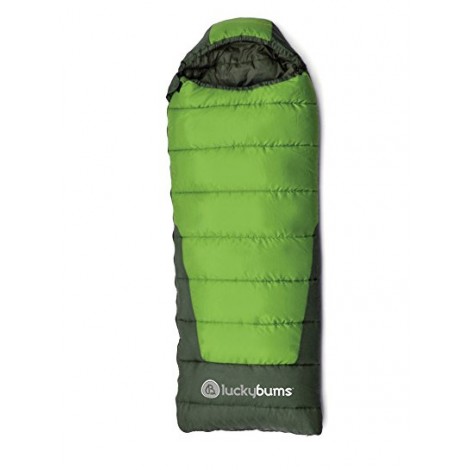 The Youth Explorer will effortlessly fit a kid with a height of up to 5 feet 5 inches. This is a synthetic bag, making it one of the heaviest sleeping bags in this guide, as it weighs approximately 49.6.
Expand to see more
The temperature rating is said to be 10 degrees Fahrenheit. So, this sleeping bag is excellent to take on adventures during the winter season.

The materials used are of the highest quality. This bag has been designed excellently and to cap it all; it is also durable.

It's enormously warm and comfy, which makes the sleeping bag an excellent choice for your kids to take on outdoor adventures.

Features and specifications

The bag comes with a lightweight, compact design
The bag was produced using the best materials in the market
The bag offers safety and comfort
It is a perfect sleeping bag for outdoor adventures
Total assurance

Price

One of the highs is the price. If you purchase this sleeping bag and it does not satisfy you, the producers of the bag give you a chance to return it, and a new one will be given to you.

Conclusion

The Youth Explorer 10 Degree sleeping bag is warm and cozy. Your kids will love it as it is for young ones specifically. Except for the weight, this is a top choice as it is comfortable and gives you your money's worth.
Great temperature rating
High-quality materials
Good stitching
Due to the synthetic material used, the bag is hefty
5. Kelty Big Dipper
This Kelty Big Dipper 30 Degree Bag is perfect for young ones. Individuals that possess a height of up to 5 feet or lower can effortlessly fit in this bag.
Expand to see more
One of the finest attributes of this bag is that at the bottom an extension has been added to add more length to the sleeping bag.

The Big Dipper 30 Degree Sleeping Bag weighs a mammoth 49 ounces which are not exactly lightweight because of the synthetic filling material used in making the bag. The material contains a 66D Polyester Taffeta, and the bag also possesses cloud loft insulation.

The fabrics, zippers, and filling are high quality. iT is comfy and will keep your kids warm up to 30 degrees Fahrenheit.

The sleeping bag comes with a stuffed bag joined to the sleeping bag itself so that children will not lose it. The stuff bag can be used to store your sleeping bag.

Despite it narrows towards the bottom of the bag, it does not feel confined. Nonetheless, the upper part of the bag is not that comfortable and hence feels drafty now and then.

Features and specifications

The bag comes with 66D Polyester Taffeta
Imported
Designed for ages ranging from 4-12 years
Cloud Loft Insulation
Fits up to 5 Feet
Stuff Size: 10 x 16 Inch

Price

It's a bit pricey compared to other sleeping bags in this guide, but worth every penny spent on it.

Conclusion

After looking at the pros and cons of the Kelty Big Dipper 30 Degree Sleeping Bag, we believe it is a great value bag, and you should certainly consider it for your kids.


Affordable
Durable
Comfortable
Great for extreme weather conditions
Good insulation
Extendable leg to keep up with your kids grow
High-quality material
The bag is a bit heavy due to its synthetic material
6. Slumberjack Kit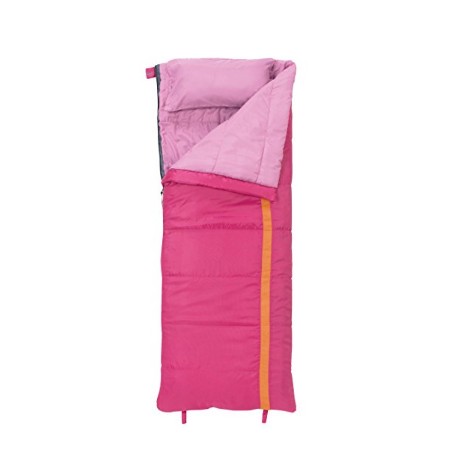 The Slumberjack Kit 40 Rectangular Sleeping Bag possesses a temperature rating of almost 40 degrees, and it makes for a great bag for autumn, summer, and springs. Warm weather to be precise.
Expand to see more
Though the filling might be synthetic, the sleeping bag is not as heavy as the other synthetic bags on this list and weighs around 38 ounces.

There are draft tubes present to trap the heat and avoid the loss of warmth in the bag.

Even though it's made of a synthetic material, the bag is not only lightweight, but it is also warm and comfy. The sleeping bag can fit children who are 5 feet or shorter. An integrated pillow pocket has been included; the pillow pocket stuffs into its storage pocket when it is not in use.

The main drawback is that the bag is a bit contracted, and packing the sleeping bag in the sack is quite a bother sometimes.

Features and specifications

The sleeping bag comes with an Anti-snag zipper protection
The draft tube on the zip line get rid of cold air and averts heat loss
The soft-touch lining of the sleeping bag is inviting
Cold spots are prevented by a Two-layer, offset construction and differential cut
Synthetic fill design
Temperature Rating of 40º F / 4ºC
Integrated pillow pocket

Price

The price of the Slumberjack Kit 40 is relatively affordable. Great bargain for its unique features.

Conclusion

The Kit 40 Rectangular Sleeping Bag is a good quality bag. The material used in producing the bag is very soft and subtle. You can wash this sleeping bag by using a washing machine.
Comfortable to sleep in
It is durable
It is affordable
Provides warmth for your kids
Lightweight
High-quality material
Easy to wash
Packing it into the stuff bag is somewhat burdensome
7. Eureka Grasshopper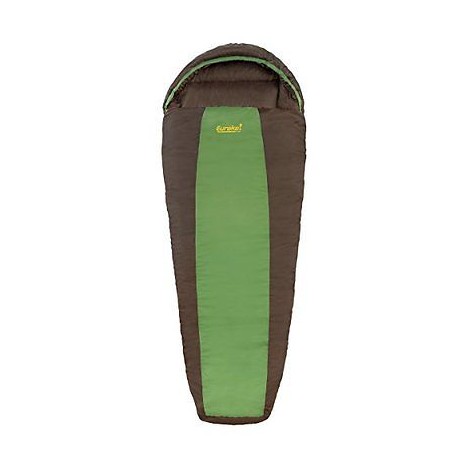 The Eureka Grasshopper Sleeping Bag is a high-quality sleeping bag which your children can take on
camping exhibitions
during the autumn, summer, and spring.
Expand to see more
The Eureka Grasshopper 30 Degree Sleeping Bag makes your kids feel warm and cozy when they sleep in it. It's extremely comfortable as well.

Talking about the overall attributes, it possesses a temperature rating of 30 degrees Fahrenheit; it weighs 37 ounces and is perfect for kids below 5 feet height.

Draft tubes have been included in the Eureka sleeping bag to provide additional warmth for your children. It also possesses an internal pocket which can be used to store your kids' stuff. Additionally, it features a two-way anti-snag zipper.

It comes with comes a with a compression sack which can be used to store the sleeping bag.

Features and specifications

ThermaShield synthetic insulation
Warm to touch peached polyester lining
Ultra cozy camping sleeping bag
Adjustable hood
Gadget storage
Tapered external pocket
It possesses a temperature rating of 30 degrees Fahrenheit

Price

The price is quite affordable. If you are low on budget and you still want to purchase this bag for your kid(s), this is a great option for you.

Conclusion

The Eureka Grasshopper is a nice choice for parents looking to purchase a sleeping bag for their kids. It is comfortable, soft and affordable. The only flaw is that it is not that durable as the stitchings tend to come apart easily. Nonetheless, the Eureka Grasshopper 30 Degree Sleeping Bag is a great value sleeping bag which comes with satisfactory features for a very sensible price.
The bag is comfortable for kids to sleep in
Excellent insulation
Warm
Has draft tubes
Affordable
Lightweight
Stitches come apart too quickly
Not durable
8. Kelty Woobie 30 Degree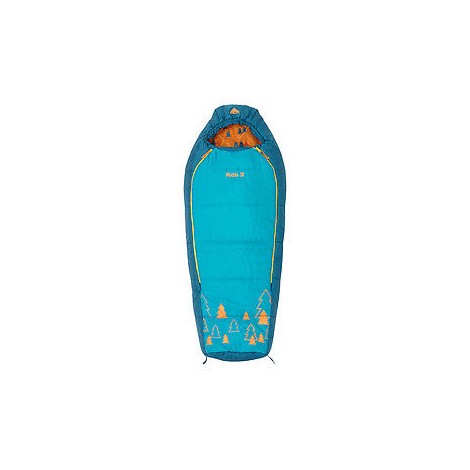 The Kelty Woobie 30 Degree Sleeping Bag, though not on par with its brother the Big Dipper 30 Degree Sleeping Bag, yet the bag is still is one of the top sleeping bags in the market for your kids today, and offers a high competition to the remaining bags in this guide.
Expand to see more
It weighs approximately 36 ounces and therefore is lighter compared to the Kelty Big Dipper 30. The temperature rating of both bags is the same, though with the Woobie 30 also coming with a rating of 30 degrees Fahrenheit.

The filling material inside is also synthetic just like the Big Dipper 30. This sleeping bag will be appropriate for kids who are 4 feet 6 inches or shorter only.

The bag is warm and comfortable. The zippers are anti-snap and can be opened on both sides of the bag, making it very easy to get in and out.

Features and specifications

Comes with a Cloud Loft Insulation design
Recommended for ages up to 6 years
Fits up to 4 Feet, 6 Inches
Sidewall construction technique
Flip down top panel
Stuff sack included

Price

The price of the Woobie 30 is not that different from the Big Dipper 30 sleeping bags. The bag is affordable and is completely worth the money because of its durability.

Conclusion

The Woobie 30 is one of the best sleeping bags in the market today due to the bag being comfortable, durable and it is also affordable. If you fancy going for outdoor adventures with your kids, then you should consider getting them this option as it offers almost everything kids love in a sleeping bag.
Comfortable for kids to sleep in
Easy to carry from one place to another
Anti-snag zippers
The bag compresses well enough
Storage sack
9. Big Agnes Wolverine 15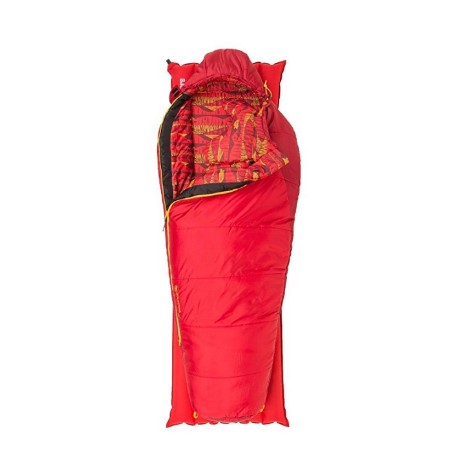 The Wolverine 15 Bag is a human-made bag that weighs up to 37 ounces and the producers' claims it can fit children with heights of close to 4.5 feet.
Expand to see more
It has enough room, and it is very comfortable. The sleeping bag has been constructed well with good quality materials.

These Big Agnes System bags have an integrated pad sleeve, which means the kids won't slip off their pads at night and the bags are insulated with a cozy synthetic insulation.

The temperature rating is 15 degrees Fahrenheit, which is fantastic for severe cold weather conditions.

Double zippers have been equipped with it. It also has a pillow barn so that the pad will remain in place.

Features and specifications

The size and shape of this sleeping bag are meant for comfort
Perfect for mid to cold temperatures
Half pad sleeve design
Double zippers
Synthetic insulation
Temperature rating of 15 degrees Fahrenheit
Weight is 4.68 pounds

Price

On the pricier side.

Conclusion

The Big Agnes Wolverine comes in sizes designed to fit outdoorsy kids, toddlers, and teenagers, and are an excellent method to keep the family geared up to get out - all the way through the growing years. The bag is comfortable for the kids, and they are going to love it. Moreover, outdoor adventures spur the imagination, encourage exploration, and it also creates happy campers!


Enough room for kids to sleep in
Comfortable
The bag is durable
The sleeping bag has a pillow barn
Double zippers
Excellent temperature rating
Heavier than most bags in this review
A bit expensive
10. Mountain Goat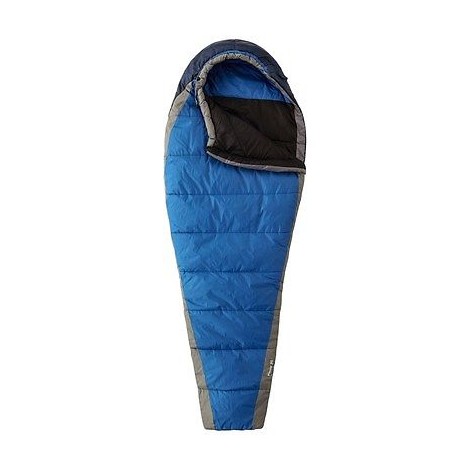 The Goat Adjustable Bag by the producers Mountain Hardwear possesses material made with nylon and has a synthetic filling.
Expand to see more
When you hear synthetic, you expect the sleeping bag to be a bit heavy, but in the case of the Mountain Goat Sleeping bag, it weighs just 35 pounds which are relatively
lightweight
compared to other sleeping bags in this review.
It's comfortable and warm for the kids to sleep. It will keep them warm even in the severe cold weather conditions as its temperature rating is 20 degrees Fahrenheit.
Insulated side draft tubes are provided to prevent warm air from leaving and cold air entering. The draft tubes traps the warm air in the bag and also prevent cold air from entering.
The length adjustment also features a draw cord, which allows the inside length of the bag to be adjusted as your child grows.
Features and specifications
Nylon material
Imported
Draw cords to adjust the height as the child grows
The included face gasket comfortably blocks drafts at the opening of the hood
Insulated draft tube
Synthetic fill
Price
The price of the Mountain Goat is affordable. It is worth every penny you spend on it too, given it is durable and comfortable for the kids.
Conclusion
Looking at the features, we believe the bag is a bargain for its price. A fabulous choice for your kids as they are going to love every bit of this sleeping bag.
Equipped with draft tubes to keep warm air in the bag
Lightweight despite its synthetic material
Comes with a draw cord system
Warm
Comfortable
Affordable
Durable
Criteria Used to Evaluate Kids Sleeping Bags

The ten sleeping bags above were evaluated based on the following criteria:
Build quality
Material
Maintenance
Insulation
Weight
Build Quality

The build quality of the sleeping bag is essential when you come in contact with rough surfaces. If the sleeping bag is not made well, it might fumble when you come in contact with rough surfaces.
Material
Another important criteria we used to evaluate the sleeping bags is the material used in producing them. The resistance of the material used is crucial to the survival of a sleeping bag. If the material used is poor quality, then the sleeping bag will not last. Therefore, a sleeping bag with a suitable material is the ideal bag for camping and other outdoor activities.
Maintenance
The maintainability of a sleeping bag is also very essential. The key to maintaining a sleeping bag is keeping it as clean and dry as you can, especially when you are on the trail. After some days of your adventures, you are probably sweaty and dirty. The dirt transfers to your sleeping bag when you sleep in it. The dirt can cause the down to clump and traps moisture in the bag exposing the bag to cold.
To keep your bag clean, make sure the cloth you are sleeping in is clean, you can also wear a hat and use a sleeping bag liner. You can get the liners at affordable prices on Amazon. Also, make sure to air your bags out in the sun if you can before you stuff it in your backpack.
Insulation

One of the best features of a sleeping bag is the type of insulation used in producing the bag. We have several types of insulation materials in the market today. But, the best insulation type any sleeping bag can have is the fill down. The fill down can be of any kind. Whichever way, the fill down insulation is the best of them all.
The fill down technology doesn't come without a disadvantage though, when the bag gets wet, it loses its comfort because it takes a whole lot of time to dry. But most manufacturers have solved this problem by implementing DownTex nanotechnology to preserve the sleeping bags.
Weight
The weight of a sleeping bag is vital to this evaluation. A good sleeping bag must be lightweight so that it will not be a burden to carry on your adventures. Heavy sleeping bags are not ideal for outdoor adventures.
Washing Tips

It is significant to take good care of your sleeping bag and its accessories if you want the bag to last long enough and get your money's worth. Most sleeping bags are machine washable, so it is safe to wash them in the washing machine.
Other Factors to Consider
You as a parent might have numerous motives why a child's sleeping bag is on your procurement list. Either it is meant for outdoor adventures or for camping closer to your home. Whatsoever the reason might be, there are essential factors to deliberate on when choosing your kid's sleeping bag.
The purpose of the purchase of a child sleeping bag will often define where to look to buy one. These stores could be a camping shop or a multipurpose warehouse. Below are the most important factors to consider before the purchase of a sleeping bag for your kid(s);
Season
Since we have different seasons in a year, it is imperative to know the season you are going to the outdoor adventure. There are several types of sleeping bags out there; some are best for summer while some are perfect for winter. Most summer bags are made of lighter materials, making them very lightweight and also able to be packed down into minuscule size. Most summer sleeping bags come with full-length zippers to be able to open the bag completely in cases of extreme heat. Winter bags, on the other hand, are made of a more thermal material which offers more insulation but more burdensome in size.
The shape of the bag
You will find a lot of sleeping bags on the market with different shapes. The choice of what sleeping bag shape to choose is more of an individual choice as it is for your comfort, your body form and the reason for requiring the bag. The different types of sleeping bag shape on the market today include:
Mummy Sleeping Bag: this kind of sleeping bag shape is cut wider at the top and tapers towards the feet. It also possesses a hood that can be pulled up over the head and drawn in with a cord. This type of sleeping bag is great for warmth, as the design is favorable to trapping and insulating air.
Rectangular Sleeping Bags: as the name implies, this type of sleeping bag is rectangular in shape, and it offers enough room for the foot. The rectangular shape is a more traditional design that is not so good for colder temperatures. Nevertheless, you can zip two of this type of sleeping bags together to give the just one sleeping bag. The two bags formed can be used as a blanket cover.
Semi-Rectangular Sleeping Bag: the Semi-rectangular sleeping bag is a blend of both the mummy sleeping bag and the rectangular sleeping bag shapes. The Semi-rectangular bag provides extra warmth than the rectangular bag and offers more room for the leg than the mummy bag.
Double Sleeping Bag: The Double sleeping bag has been designed so two people can use it at the same time. Therefore, it is a wider version of the rectangular sleeping bag.
Size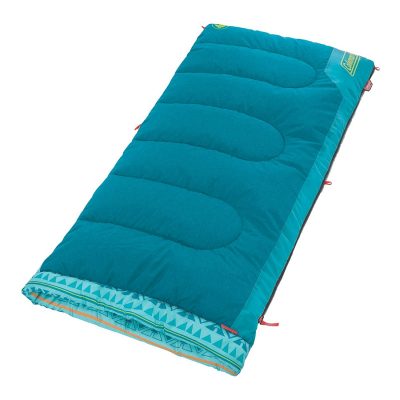 Two main factors determine the size of a sleeping bag, comfort, and size of the one sleeping in the bag. Generally speaking, a sleeping bag that is larger will lose a lot of heat, while a bag that provides a snugger fit to the user will retain the heat easier.
In addition to the size, it is important to look at the added accessories in the sleeping bag. Some of the good points to bear in mind are:
Is the zip two ways? Does the zip extend to the whole length?
Hood: does the sleeping bag possess a hood? Is the hood adjustable?
Do Hook and Loop Tabs Cover the Zip? If it covers the zip, it can provide additional protection to the zip and stop it from catching on its surroundings. If the tabs cover the zip, it will assist in maintaining the condition of the sleeping bag, preventing it from any unnecessary wear and tear.
Temperature Rating
All sleeping bags ought to have a temperature rating. Temperature rating will provide a suggestion of the lowest or highest temperature it can handle easily. It is essential to use these recommendations as a guide to purchasing your sleeping bag. Though, sometimes there is no general rating guide in place. But, the producers of the sleeping bags will offer a relatively accurate overview of their products.
FAQs
Frequently Asked Questions
Q: How can you fit sleeping bags into the storage sack?
A: Flatten the sleeping bag to remove excess air and start stuffing it from the bottom, close the bag as you stuff it.
Q: Where can I buy one?
A: You can purchase one from Amazon or other online stores of your choice.
Q: Does sleeping bag liner add warmth?
A: Yes, but not that much.
Q: What is the best time to start using a kid's sleeping bag?
A: Even though a baby can sleep inside a sleeping bag right from birth, many parents elect to wait until the baby is a little older. Most parents would rather have newborn babies wrapped in blankets for the first few weeks after birth. Many manufacturers of these bags will tell you that at about the age of six weeks, your child will safely sleep in a sleeping bag.
Whichever time you decide to start your child sleeping in a sleeping bag, ensure that the baby's head is bigger than the neck hole, otherwise, there is a possibility that they will slip inside and get trapped.
Q: How do I know that a sleeping bag is right for my child?
Sleeping bags are measured by age. It is important to ensure that you never place your child in a sleeping bag that is either too big or too small for their age. Otherwise, there is a risk that they could wriggle inside the bag and get trapped inside.
The reason why you need to buy the right size sleeping bag is that if you buy one that is too big, it will not be able to hold in warmth which will leave the kid cold. If you buy one that is too small, the child will have a feeling of being restricted. Restricted kids can become quite restless.
Q: Should I buy a sleeping bag for my kid online?
A: Yes, you can buy your sleeping bag online. There are a number of large retail stores such as Amazon from which you can choose your bag. The good thing about these good retailers is that they offer you a chance to read reviews from other buyers who have used the product you are looking for. On Amazon, all buyers are verified to have purchased the items that they are rating.
Buying your kid's sleeping bag online presents several advantages, you have all the time to compare different products without the pressure of shop assistants. It also gives you relief from crowds that are a common feature in most huge retail stores at particular times of the year. Apart from it all, it serves the money and time you were going to invest in going to a brick and motor store.
Of course, buying online is not the same as buying in a brick and motor store, so you will need to do your homework well. You will also be relieved to know that most of the online retailers will allow you to return any goods if they are defective or prove not to be the right ones for your needs.
Q: Should the kid sleep naked in a sleeping bag?
A: Whether a kid sleeps naked or with clothes in a sleeping bag depends on whether it is warm or cold outside. If the idea is to keep warm, then the child should sleep with some form of clothing on. Sleeping bags are designed to trap body heat and stop it from escaping. Sleeping with clothes on will enhance this insulation and ensure that the kid remains warmer when sleeping inside the sleeping bag.
However, if it is not very cold and the kid does not want to feel too warm inside a sleeping bag, they can sleep naked. Teach the child to unzip the bag in the event that they start to feel too warm when sleeping inside it to get some cool air inside. If they are too young to unzip it themselves, you as a parent may want to keep a close eye to ensure that they are not sweating inside it and when they do, unzip it for them.
Q: Does the kid need blankets when using a sleeping bag?
A: Usually, you have your child sleeping in a sleeping bag because you are in a situation where you do not have blankets. These situations would usually be in the outdoors where you do not have the luxury of carrying around a lot of luggage. If you feel the need for blankets, the reason could be that you are afraid your kid may feel cold while sleeping.
There are a few things you will need to do to ensure that the child remains warm when sleeping in a sleeping bag. Ensure that they have long underwear, a warm woolen hat or balaclava, woolen socks and, and booties to ensure that heat does not escape through the body.
Q: Can I use a sleeping bag for the kids at home?
A: Yes, you can use a sleeping bag at home. Sleeping bags used at home are sometimes referred to as slumber bags. These bags are usually used when children go for a sleepover, or during visits by family members that leave you without enough beds for everyone to sleep on.
Q: Can it be washed?
A: Most sleeping bags can be washed both in a washing machine and by hand. The specific method you use will depend on the instructions from the manufacturer. Refer to the care instructions.
Care needs to be observed, especially when using a washing machine because the process could damage both the machine and the bag. Ensure that the machine can take the weight of the bag you want to be inside. Also, make sure that the zippers of the sleeping bag are secured. This should be safely done in a heavy-duty front loader running on a gentle cycle.
If washing by hand, you can soak the bag for a period ranging between 1 and 4 hours in a tub of warm water and a mild soap. Drain and add fresh water after soaking and gentle massage the water into the bag. Keep draining and adding fresh water until there is no dirt in the water. Expel the water from the bag before drying.
When drying the bag, ensure that it is not in direct sunlight. Ultraviolet radiation can damage the fabric from which the bed is manufactured.
Q: How can I prolong the life of my child's sleeping bag?
A: One of the best ways to ensure that your sleeping bag lasts you long is to make sure you look after it well. This starts by ensuring that you never go to sleep with the clothes that you were putting on during the day. Your day clothes pick up lots of dirt including dust, pollen and sometimes insects. This is especially the case if you are out on a camping trip. Before sleeping inside your sleeping bag, ensure that you are putting on clothes that you only put on when you go to sleep.
In the event that you do not want to carry a lot of stuff to your camping trip, you can always buy a sleeping bag liner. This will ensure that you do not clean the sleeping bag too often as all you need to do is to take out the liner and clean it separately.
Another way of ensuring that your sleeping bag remains with you longer is to ensure that you dry it in the shade to remove excess moisture after sleeping in it. Ensure that the sleeping bag is not exposed to direct sunlight as this could interfere with the material from which it is made.
Above all, ensure that you follow the instructions of the manufacturer on how you should maintain your kid's sleeping bag.
Q: What safety tips should I observe when using a kid's sleeping bag?
A: It is always important to remember that your kid may not have the capacity to know what's safe and what's not. This is the reason why you should always ensure that a kid sleeping in a sleeping bag has the right level of supervision as your kid can easily end up trapped inside the sleeping bag.
Q: Is there one that is good for all seasons?
A: Yes, you can get a sleeping bag that is good for all seasons. All you have to do when you buy is to ensure that you buy one that will be suitable for all seasons. These types of sleeping bags come with an inner lining which can easily be removed in the summer when it is hot. When it gets cold, you can also easily attach the liner so that the sleeping bag becomes warmer.
Q: What factors should I consider when buying a sleeping bag for a kid?
A: First of all, you will need to consider the age of the child that will sleep in the bag. As has already been indicated in answering an earlier question, you do not want it to be either too big or too small. You will also need to decide whether you will be using the sleeping bag in the winter or in summer. Price is also an important factor to consider. Also, ask questions about any warranties and guarantees given by the manufacturer.
Sources