Best Flip Up Glasses Reviewed
Sunglasses can be key to a successful hunt. Protection from the sun and some hi-def sight capabilities can be the difference between spotting your game and missing it completely. But you also don't need to crack open your wallet for an expensive pair of Oakleys or sports sunglasses, especially if you wear glasses yourself. You still need to be able to see without breaking the bank for prescription shades.
The answer is flip up sunglasses that clip onto existing frames and give you the freedom of eye coverage or flipping them up when you don't need them. So below are among the best flip up sunglasses out there for you.
Our Top 3 Picks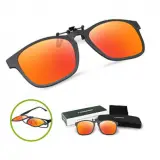 Torege Flip Up Sunglasses

Our rating
Good UV protection
Price:

See Here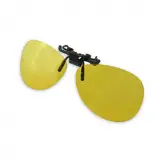 AVIATOR Flip Up Sunglasses

Our rating
Glare resistance
Price:

See Here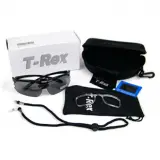 MODEL: BP-6351 Flip Up

Our rating
Impact resistant
Price:

See Here


10 Best Flip Up Sunglasses
1. Torege EMS TR90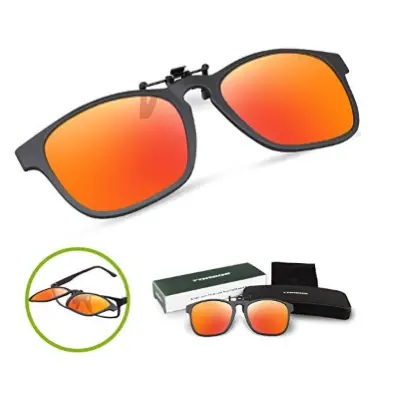 These are the glasses that make the best attempt at doing it all. They're sporty and fashionable, they've got great UV protection. They have polarized lenses for
optics
. And they're durable for repeat use.
Expand to see more
Light and Durable

These are rimless and lightweight, which makes them ideal for outdoor sports. The polycarbonate lenses are designed for protection from impact and are resistant to scratches.

Good Protection

The UV protection coating offers 100% blockage and restores true color to your vision while eliminated reflected and scattered light. All of this works to ensure your eyes are safe and your vision is the best it can be.

Features/Specifications

These feature a TR90 frame that is lightweight and streamlined on the face. The design is structured to help lower field vision. The whole package comes with a cleaning cloth and black case as well.

Price/Value

These sit at the highest end of our price range but they're also, as mentioned, the glasses that do it all. This is a pair of shades you'll buy once and use forever, at least according to the lifetime warranty.

Decision Time
If you want great sporty and fashionable shades to slip over yours while you're out doing some extreme sports or hiking, these are a great buy. They won't break the bank and they'll last you while keeping your vision and eyes protected.
Designed for outdoor use
Good UV protection
Durable
Sporty design
Don't function well with thick frames
2. Athlete's World Night Vision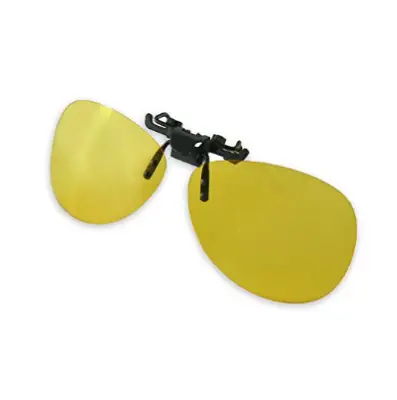 These glasses standout as the only ones on this list with a promise of some
night vision
action. While they're not polarized, they do improve your vision and reduce the glare from light. They're designed for use with metal and plastic frames and feature rubber with proprietary coating to keep them protected.
Expand to see more
Night Vision
While these aren't full on
night vision goggles
, they do offer some nice sight in the dark. They have a unique color and coating and glare protection that makes them optimal for use in low light.
Optics
These aren't polarized, but they're just about everything else. They have UV protection and nice glare resistance. This is especially important for night driving to avoid blindness from the glare of oncoming cars.
Features/Specifications
These weigh .3 ounces and measure 5.6 x 2.6 x 2 inches all the way around. They come in a vibrant yellow and are plastic with some proprietary coating.
Price/Value
These are low in price for everything they offer you and they have some unique components that you don't find in other glasses on this list, so it's in your favor.
Decision Time
If you're going to be doing any night time hikes or drives, these are a smart option. However, they're not going to do much for sunny days.
Glare resistance
Durable
Usable with plastic and metal frames
Can be slightly difficult to attach
3. T-Rex BP-6351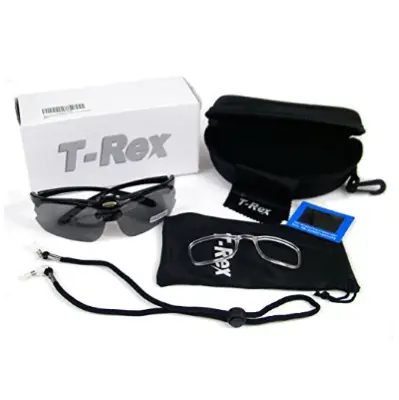 This is a sporty design for outdoor use and any sort of intense activity. They're rated for protection from harmful UV rays as well as debris. The lenses flip up easy for reading or use with
binoculars
or gunsights.
Expand to see more
Designed for the Outdoors
Unlike some of the others, these are designed with outdoor sports in mind. They're ideal for anyone who needs something they can quickly flip up or down while looking through binoculars or a
scope
and have awesome UV protection.
Polarized
These feature TAC polarized lenses to protect the eyes from harmful UVs while maintain a
high definition image
through the lenses. They also do well against the debris or precipitation.
Features/Specifications
They're lightweight at .3 ounces and feature ANSI and EU safety standards for both impact resistance and UV light protection. The kit comes with a bag and cleaning cloth and a prescription optical insert.
Price/Value
These are nicely priced, especially for everything you're getting. They're sporty and well rated for outdoor activities and come with some nice extras, so the price and value are on your side.
Decision Time
If you want something sporty that has the outdoors in mind, these are a great way to go.
Designed for outdoors
Good UV protection
Impact resistant
Kit with extra accessories
The prescription insert can run small
4. WODISON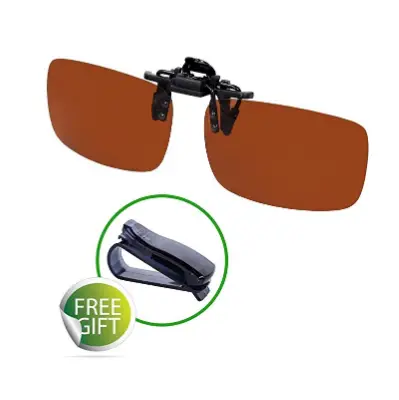 These are another pair of lightweight, plastic lenses and frames. But they've got a nice polarized feature and offer 100% protection against UV rays. The polycarbonate material makes them durable as well and they're rimless for clear lower vision as well.


Expand to see more
Easy to Use

The clip mechanism on these is a one hand job, designed to be used by anyone and everyone. They clip on easily and seamlessly and flip up with a flick of the finger. They also include the added gift of a second clip.

Lightweight But Durable

They're made of a solid polycarbonate plastic material. This means they're light to use and hold while being durable to wear over the course of many years. Without rims they may not stand up to bumping and bruising as much, but for everyday wear they'll take it on well.

Features/Specifications

These measure 2.36 in x 1.57 in x 5.11 inches all the way around for a total weight of .31 ounces. They come in three color options and feature a rubber coating on the clip to protect it from damage and excessive use wear. They fit most prescription glasses and include a pouch and visor clip.

Price/Value

These are reasonably priced for what they offer. And it should be noted they don't offer much more than that. So you won't break the bank, but you won't be getting a ton in return either.

Decision Time

These are good for everyday use and casual use. They'll work out in the wilderness as well but they might not hold up as much as you need them to.
Lightweight
Easy to use clip
Color options
UV protection
Clip can come into the peripheral view
May not fit glasses
5. Barricade bar605pol-bkbk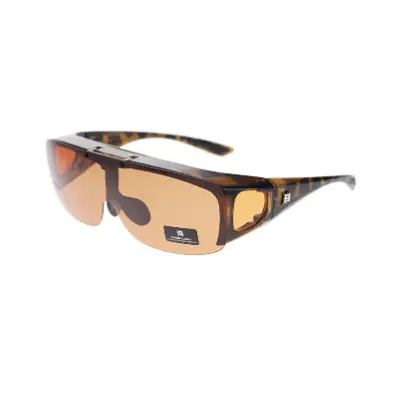 This is another option made of plastic frames and lenses but with a little bit more durability to offer and a little less customization. They have 100% UV protection promise and polycarbonate lenses, so don't let the word plastic fool you too much.


Expand to see more
Unique Overall Design

These glasses are "fitover" as well as flip up. This means the whole mechanism goes over every part of the glasses, not just the lenses and the frames. This means nice protection for your existing glasses.

Polycarbonate

Plastic, while it sounds a little cheap right off the cuff, can have some real benefits. They're a little less durable but they're lightweight, which is by design for these glasses which fit over existing glasses. This offers comfortable protection without weight or any tight squeezing.

Features/Specifications

These measure 6.3 x 2.4 x 1.5 inches all around and provide coverall protection for your existing glasses. They weigh about 1.6 ounces thanks to the lightweight polycarbonate plastic. They promise a 100% UV protection grade.

Price/Value

For the amount of glasses you're getting here, this is a pretty nicely priced buy. You're getting full coverall protection for a low price on the flip up glasses spectrum.

Decision Time

These are great for anyone wary of the clipping mechanism. They sit over glasses which provides all around coverage and protection.
Protection for entire glasses
Polycarbonate material
Good UV rating
Can be slightly uncomfortable to wear over certain glasses
6. Style Vault W111-vp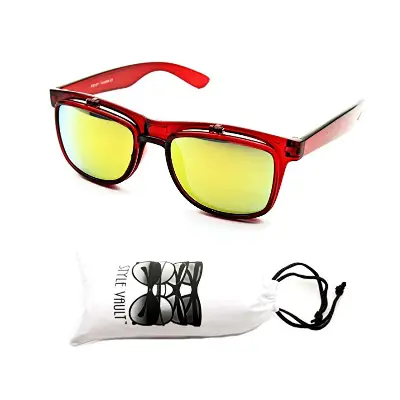 These are unique for a few reasons. First off, they're plastic frames, not metal, as are the lenses. Second, they come in a wide variety of colors and even novelty designs, depending on your needs. They're one size fits all for the most part and, while not polarized, offer 100% UV protection from the sun.


Expand to see more
Unique Designs

These frames come in several color options and shading options and levels. If you want brighter colors, they're there. If you want plain black or neutral blue, that's also an option. There's even an orange if you wanted to get hunter orange while you're out in the wilderness.

Plastic

Unlike the other glasses on this list, these frames are lightweight plastic in the frames and the lenses. This offers a very lightweight design though it may compromise the durability, depending on how you plan on using them.

Features/Specifications

These measure 7 x 3 x 1 inches all around and are extremely lightweight. They come in several color options and levels of shading, all of which promise 100% UV protection.

Price/Value

These are low cost but they also lack any real amenities of sports glasses. If anything, these are designed best for casual wear, so keep that in mind when buying them.

Decision Time

If you simply want something to act as a barrier between you and the sun, these are a good choice. They won't offer any durability or lasting results, but they get the job done in the short run. So don't bet on them being your long term go to flip up glasses.
Customizeable options
UV Protection
Lightweight
Not highly durable
Colors can be off from advertised pictures
7. Costyle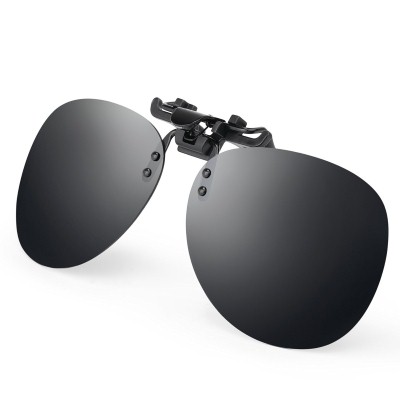 These are some uniquely and fashionably shaped aviator frames, which means they'll be sure to fit over virtually any frame type with room to spare. They offer 100% UV protection and feature a proprietary coating on the clip mechanism for ensured functionality.


Expand to see more
Shape

Unlike many of the other lenses which are narrow and designed for smaller framed glasses, these are aviator frames, which means they'll cover virtually any lens type. On top of that, they'll provide a fashionable look for you you while wearing them.

Clip Durability

The clip features a newer design that's intended to make it stronger in grip and lasting durability. It fits both metal and plastic frames and features a proprietary coating over the legs on the clip to ensure maximum strength and wear capabilities.

Features/Specifications

They measure 5.9 x 2.4 x .8 inches all around and weigh less than an ounce for maximum comfort and compact design. They're specifically designed for outdoors activities like fishing and hunting as well as long drives and are intended as a unisex option for men and women. They offer 100% UV protection. They have a metal frame and a low profile squeeze-to-open at the top.

Price/Value

These are on the lower end of the pricing spectrum and you get a fair amount for that price. The design is unique and the outdoors, UV protection is there so you're getting a pretty good package for your buck.

Decision Time

If you want something with optimal shade coverage that's also a fairly unique and fashionable design, these are a nice buy. The shades can be dark and the lenses aren't polarized to counter it, but they're not a bad option either way.
Unique design
Unisex
Optimal for outdoors activities
Lightweight
Good UV protection
Lenses can be dark
The clip can ride a little too high
8. Besgoods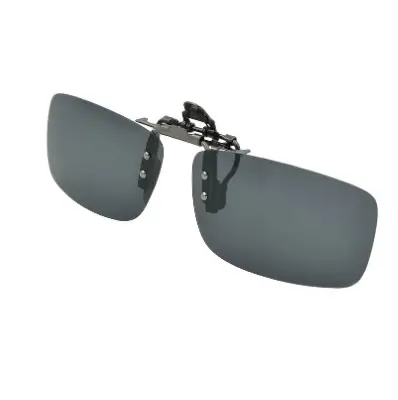 These are a solid pair of polarized clip on glasses that are lightweight and compact in design. They've got a nice UV rating and takes on a promised 99% of harmful rays within the UV spectrum, so they're optimal for excessive outdoor use for any outdoorsman.


Expand to see more
Premium Design

The clip is always crucial on flip up sunglasses and this clip is designed with that importance in mind. It's crafted with premium metal and rubber coating to keep it safe and in place. It provides a sturdy hold on your glasses for the flip up shades.

UB Protection

These shades are designed for anyone who'll be spending a lot of time out in the elements. They absorb 99% of harmful light in the UV spectrum and have an overall rating of UV400 on the lenses.

Features/Specifications

They measure 1.42 x 2.36 x .59 inches all the way around with the lenses themselves making up 5.31 inches. They've got a UV400 protection rating and polarized lenses to keep vision as high def as possible. There's a rubber cover on each leg of the metal clips.

Price/Value

These are nicely priced and come with a nice UV rating and polarized lenses. You'll want to make sure the sizing works for you but otherwise the value vs. the price is very much in your favor with these.

Decision Time

These are less sporty than some options on here, but still provide excellent UV protection and durability out in the elements. So if you want a nice pair that you can use on hunts and hikes, these are a good choice.
Durable clip
UV protection
Compact design
Can be a misfit for many glasses
9. ElementsActive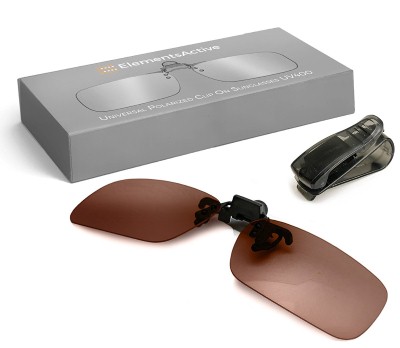 These flip up glasses want to be the low cost alternative to more expensive prescription options. They're specifically designed to help protect perscription lenses as well as your eyes. The clipping mechanism can go on easy with one hand and the mounting arms are highly durable and protected from damage with a silicone coating.


Expand to see more
Protect Your Rx Glasses

Though flip up glasses seem like a natural fit for prescription glasses, these are actually designed with those expensive, custom glasses in mind. The tinting on these and the shape work pretty well with virtually any Rx glasses you could have.

Good Tinting

There's actually some tinting options you have here, depending on the type of light you'll be out in. There's amber for general day usage without too much heftiness. And there's also a deeper black for long days under the sun (such as fishing or hunting on a bright winter day with snow on the ground).

Features and Specifications

The lenses measure 1.5in x 2.3in which creates a pretty optimal fit for you and your existing glasses. They have polarizing tech that creates excellent clarity without smudging any visuals. They're rimless lenses with a polycarbonate material for maximum durability. They reduce reflections and feature a UV400 rating for protection against the sun.

Price/Value

These are pretty averagely priced but come with quite a bit of options and nice protection. So the value versus the price here is certainly in your favor.

Decision Time

These glasses are designed for use with prescription glasses, so if you need to cover those, these are a great option. These are also designed for more sport than some of the others so they'll work great for an avid hunter or hiker.
Easy to clip on
High UV rating
Shade options
Durable material
Clip can be fragile
The black shades can allow in blue light
10. Opsales DTRUXGR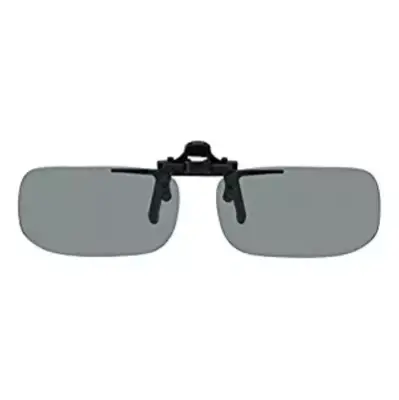 These are a durable pair of shade lenses that can sit over existing glasses frames. They have a lower profile which makes them more comfortable and easier to situate. The construction is a durable metal alloy and they clip onto to frames easy. There's even a guide to help you size your frames to the shades to ensure you're getting exactly what you need.


Expand to see more
Durable
These shades are impact proof thanks to an all metal alloy construction, especially on the clip mechanism, which can often be a weak point in flip up sunglasses. They're low profile and clip on tightly to prevent any unintended accidents or drops.
Protection
There's a proprietary coating on the lenses that protect them from shifting and scratching. It also protects you from the rays of the sun. They're resistant to dust scratches or more intense scratching from drops. They also work well in inclement weather.
Features and Specifications
These weigh a little over an ounce and are 51mm x 29mm x 113mm although away around to create a nice, compact style and product. They're polarized and offer
100% UV protection
for your eyes. The flip up mechanism is patented and protected, as well as resistant to damage.
Price/Value
These shades have a low price, which works well with what they have to offer. They're essentially just sunglasses to go over glasses so if that's all you need, these are a great buy.
Decision Time
If you're just looking for eye protection that'll last you quite a few rounds of hunting, these are a good option. They don't feature too many sporty bells and whistles, but they'll get the job done.
Durable
Polarized
Good UV protection
Damage resistant
Lenses can be small for many types of glasses