Best Digital Luggage Scales Reviewed & Rated for Quality
In a Hurry? Editors choice: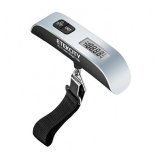 Test Winner: Etekcity

In order to check in your luggage at a U.S. airport without an additional cost, your
suitcase
cannot be over fifty pounds. By weighing your belongings at home, you'll be able to subtract any items that will put your luggage over the limit. This will save you money since there is a charge for luggage that exceeds that specific weight. A digital
luggage
measuring tool will let you know the weight of your luggage in advance so that you can skip the long line at the airport and get to your gate earlier.
Standout Picks
Criteria Used for Evaluation
Support
You want the scale to made from the most durable materials, so it can hold up during more than one travel. Most of these are made from stainless steel, which ensures a very low chance of cracking or breaking. The majority of the straps are sturdy, so the scale will stay tight and secure to the handle of your bag. The grip should hold up as well, whether you are holding it with one or two hands. In spite of some customer complaints, all of these scales are made for secure and long-lasting use.
Size
There's no point of bringing something as heavy as your luggage, and then having to carry it with you, adding to all that weight (and stress). All of these scales weigh under two pounds, which is extremely portable and convenient. You don't want to worry about your digital luggage scale while you're on that vacation or business trip. You can toss these into your bag, forget about it, then take it out when you're ready to use it for the flight home.
Value
None are over twenty dollars, which is affordable for most people. In fact, a few of these scales are under ten dollars. Some are more expensive than others, but that is probably due to the brand and cost of material. For such a useful and quality product, it is surprisingly (and fortunately) inexpensive. No matter which scale you choose, you won't be making a hole in your wallet at all. Taking this into consideration, as well as its functionality, of course, a digital luggage scale is a great investment.
10 Best Digital Luggage Scales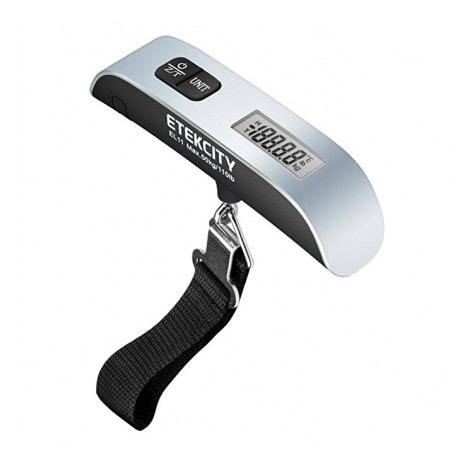 Listed as an Amazon bestseller, as well as being on the top of many official lists, the Etekcity digital hanging luggage measuring tool gives precise, high accuracy readings. This glossy silver measuring tool includes a thermometer temperature sensor in both Celcius and Fahrenheit to ensure your luggage is in an ideal climate. Its heavy-duty design lasts through multiple trips with rubber paint technology and a utilized textured hand grip. The LCD display will let you know if your battery is running low as well as if your contents exceed its limit. Tare and auto off functions allow for energy conservation, and the battery is included with the measuring tool. This product has a one-year warranty provided by Etekcity.
Etekcity ensures this measuring tool is easy for weighing as well as packing. You can slide it back into your bag or purse without adding any extra excessive weight. The strap is not too long or bulky, and the measuring tool part is not too heavy. The whole thing folds up easy for storage and is lightweight enough to tuck away while traveling, so you can use the Etekcity measuring tool on the go.
All you have to do for the Etekcity measuring tool is hook the strap to baggage, suspend it, and the measuring tool will display the results in either kg or lbs in a few seconds. You may need to use two hands for heavier items. Customers say this method for attachment is easy to use and allows for flexibility, especially compared to other measuring tools that use a metal hook. The strap is adjustable depending on the size and weight of your luggage.
This high-quality measuring tool comes at a low cost. Customers praise the Etekcity measuring tool for being very affordable, with a sale price that is under ten dollars.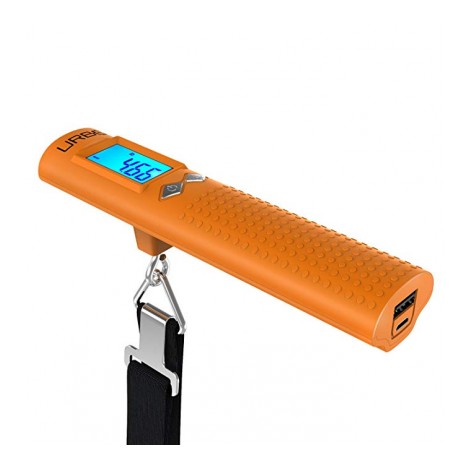 Not only is the Urbo 3 in 1 a luggage measuring tool, but it is also a power bank and a flashlight. The easy to use strap allows for a comfortable and easy grip and comes with a backlight. This device packs in 6000 mAh of power for charging cell phones, laptops, and tablets. Its flashlight feature consists of a bright 60 Lumens LED torch on the other end, and you would hold it like a regular flashlight.
Now more than ever, portable chargers are all the rage. Nothing is worse than wanting to listen to music or take a photo, and then your phone dies. Because of this measuring tool doubles as a charger, you don't need to buy or take a separate one. Flashlights are essential for safety in case of a power outage and can help you locate an item in your purse. These additional features, on top of the measuring tool function, are very handy and impressive.
There were several comments praising the Urbo 3 in 1 for its aesthetic. You can get this measuring tool in either black and orange or just orange. Its vibrant orange hue makes the measuring tool pop, so if it's attached at baggage claim, it can help you find your suitcase easier. If you're looking for it in your purse, it'll be easier to find.
Considering you're getting a measuring tool, power bank, and flashlight all in one, the Urbo 3 in 1 measuring tool comes at a great value. It is more expensive than some of the other measuring tools on this list, but it can be understood considering its additional features. The orange one is cheaper than the black and orange one.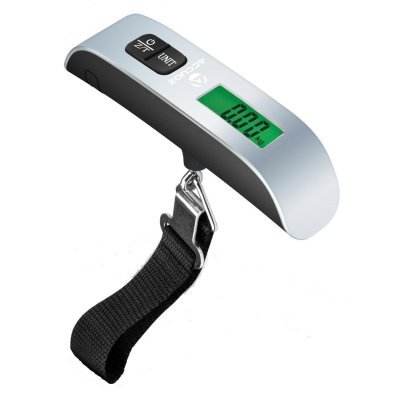 A measuring tool is a measuring tool, but we like this one because it's cheap, because it works and because it's got some heavy-duty equipment that should keep it working forever. It's small enough to fit in a pocket and if you don't like it they'll send your money back. So for all of these reasons, it makes one of our top choices list.
This will handle up to 110 pounds and not bend or break. But let's be honest if you're worried your bag is over 100 pounds and you're carrying the thing around an airport then props to you. We are glad that it's tested up to 110 pounds but let's hope you never have to max this thing out.
This always a plus and we like to advertise companies like Accuoz that stand behind their product and guarantee your satisfaction with a money back guarantee. Now we're fairly certain they won't pay your luggage fees but that's on you anyway.
There's plenty of both in this little luggage measuring tool. It's cheap and it works and it's heavy duty enough that it should be the only one of its kind you'll need for some kind. So if you've got a need to weigh your luggage and not much dinero then the Accuoz is the option for you.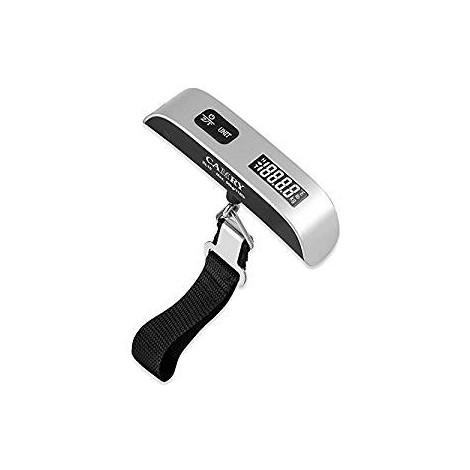 The Camry digital luggage measuring tool is small, handy, and sleek. Its compact design makes it easy to carry and store, providing the ultimate convenience. It shows similarity to Etekcity in design. The rubber paint handle allows a comfortable grip. Some of its key features include an LCD display, temperature sensor, and low battery/maximum weight indicators. It comes with a one-year warranty in case you aren't satisfied.
Engineered with the most updated and latest sensor technology, the Camry measuring tool ensures ultra-precision for the most accurate weights. There were no complaints about weights from reviewers at all. Another helpful tool for precision is the data lock.
Say you decide to buy this measuring tool, but it is defective. Camry has hassle-free 30-day money back guarantee along with a one-year warranty. This means they will repair the product for you and return it fixed. If you buy this item on Amazon, you can return the product permanently for no extra fee.
This is a relatively inexpensive measuring tool. There is also a coupon you can use when you buy this product from Amazon. Customers say the Camry digital luggage measuring tool is really good for the price.

5

. Eat Smart Precision Voyager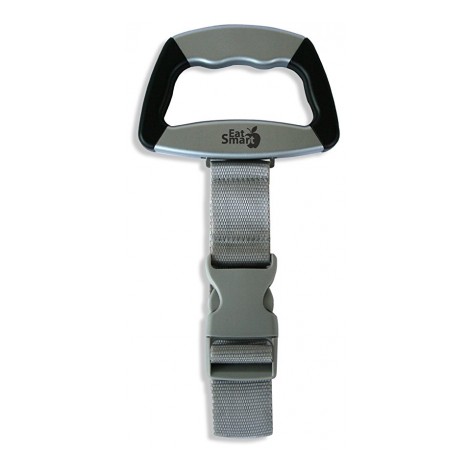 The EatSmart Precision Voyager Luggage measuring tool is portable and lightweight for travel. It is a clip on the measuring tool, and the scale will beep, instantly revealing weight on the backlit LCD screen. Due to its compact and durable design, the Precision Voyager can be easily stored in a suitcase or bag for your trip home. A lithium battery is included.
This brand's measuring tool features a soft, proprietary, two-handed Smart Grip which assists in lifting. The handles on the top and the side allow for a two-handed grip. If you have a particularly heavy suitcase, this will facilitate the lift, resulting in a more accurate and precise weight.
A few customers had some issues with their measuring tool working or turning on (which could honestly just be bad luck). After getting in touch with customer service though, the EatSmart company sent them a new product. This resulted in giving both the product and the brand itself a five-star review. Customers say the company is excellent in customer outreach, issue resolution, and response. Therefore, if you experience problems with your EatSmart Precision Voyager digital luggage measuring tool, customer service will most definitely be there to help.
The EatSmart Precision Voyager digital luggage measuring tool is a little pricier than the majority of the items on this list but not by much. All in all, it is pretty affordable for such a product, and probably what you'd expect to spend.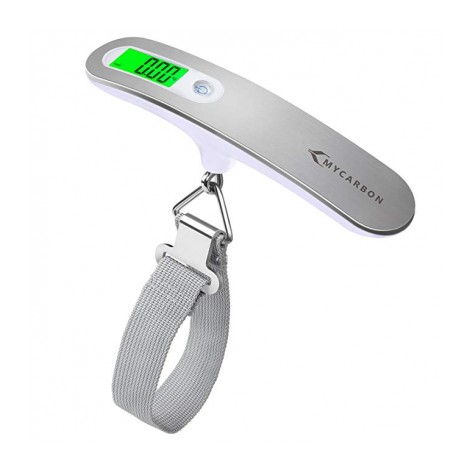 The design of the MYCARBON digital luggage measuring tool is stylish, made with stainless steel material and black or bright red detailing. Combined with its high precision sensors, the measuring tool is also lightweight and portable. Functions include a fast auto-lock function for balance, auto-off function, tare function, a low battery function, and an error function that will appear when your baggage is too heavy (more than 110 lb./50 kg). Luggage News UK reports a very good 90% buyer satisfaction with this measuring tool.
Like a few of the other measuring tools on this list, the MYCARBON is notably light. Weighing in at 89 grams, which is under a pound, this option is convenient to pack, even including a storage pouch for safe keeping. Its small size makes this scale compact and perfect for on the go.
You don't want a flimsy strap or clip with your luggage measuring device. Fortunately, buyers have reported that the clip is tough and durable. The strap is flexible and functional as well.
The MYCARBON digital luggage measuring tool fits in with the general range of prices among its competitors. It is generally inexpensive and affordable for the product.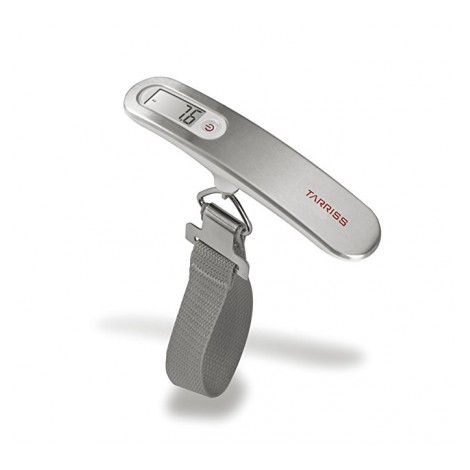 At number seven, we have the Tarriss Jetsetter, a device that boasts a modern and stylish design made from stainless steel. It comes with an LCD display, lock weight, an automatic shut-off, capacity overload, and low battery indicator. This option prides itself on being highly accurate and dependable, with a lifetime warranty. It even comes with a free insider guide to traveling through airports.
Customers have tested this product with other weights compared with their luggage, and it read the same number. In fact, it is actually more accurate than advertised and is usually around one pound off as opposed to two pounds. The accuracy is quite notable.
The sturdy strap for the Tarriss Jetsetter offers much more stability than a hook that provides an accurate measurement. The tough and durable stainless-steel top plate and plastic high strength bottom plate (which contains the battery) for nearly infinite use.
When comparing all of these items, this measuring tool skews a little more towards the expensive side but is overall in the same range. In spite of this, the Tarriss Jetsetter certainly still affordable.

8

. Travelon Micro measuring tool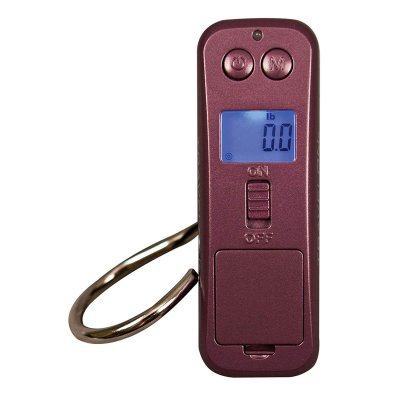 We like the look of this baby it's small, and its lightweight and unlike a lot of our other offerings it has an on-off switch so it won't engage accidentally when it's pressed up against luggage and run out of batteries.
This doesn't seem like such a big deal until you toss your measuring tool into your carry-on or your luggage and then it stays on constantly during your flight and you arrive back at the airport with a dead luggage measuring tool. And since batteries are expensive the price of your cheap digital luggage measuring tool just went up by 50 percent or so. So don't ignore the on off switch when you're doing your purchasing due diligence.
This is pretty cool too as it takes some time for the measuring tool to get settled and with this lock no light you'll know when the weight displayed is the real deal. Trust us it helps avoid a fair amount of confusion when it comes to weighing your stuff and might help you avoid a nasty surcharge.
Pretty cheap really. Not as cheap as some of our other options but for the price we like what we're getting with this product so it gets a solid recommendation from us. Plus it has a bit of a different look than a lot of the other measuring tools on this list so if aesthetics are your thing, consider the Travelon.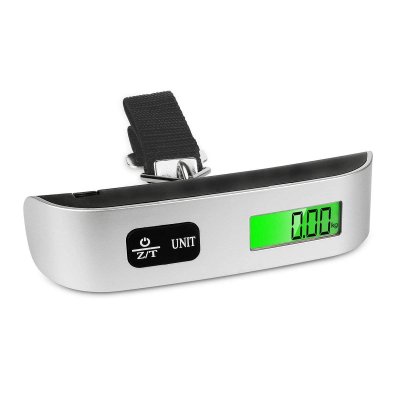 The Wirezoll sells it's accuracy and precision so we'll judge it on that. It is sturdily made and has an auto-off function and we like that it has a nice textured hand-grip and day and night visibility. It's a nice little tool and if you use it right it might just save you some money at the ticket counter.
The Tare function and the auto-off function are valuable additions. One saves battery life and one allows you to easily reset the measuring tool to get a number of decent weight readings so you can make sure you're luggage weights exactly what you hope it does.
We like this function a lot because it means it works in all kinds of light conditions. Day or night this is guaranteed to give you a easy to read weight display. As an aside we also like that this displays the temperature as well as the weight, but make sure you're sure which one you're seeing.
Welcome to Cheapville! Not quite as cheap as our best value choice but right there in the running. The Auto-Off switch, the day night display, the temperature display. All of these things make this a great choice for your luggage measuring tool.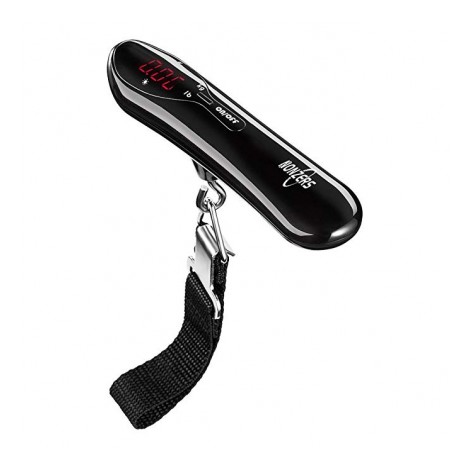 The NONZERS digital luggage measuring tool has a compact and portable design. Its high quality makes guarantees long time used for both home and travel. This product prides its precision in its accuracy, for its sturdy strap provides the right stability for a more accurate measurement. A backlight LCD display prevents you from straining to see the display and allows for in the dark use. The NONZERS brand allows a 100% satisfaction warranty if you are not satisfied with the product; you can return it at no extra cost.
You might worry that a digital measuring tool may be one or two numbers off, but that is not the case with the NONZERS measuring tool. Several customers praised this particular digital luggage measuring tool for being extremely accurate. There were no "surprises" when arriving at the airport and double checking on the airport's measuring tool. There is no wait time either; the measuring tool will immediately show the weight once attached to the luggage.
TrustoreReview puts the NONZERS measuring tool on its list at number six for their Top 7 Digital Luggage measuring devices. They complement the stylish and sleek black design that goes well with black suitcases and bags, in case you don't want anything too flashy. They also take note of the sophisticated backlight LCD display which makes for easier reading in dark settings.
You may think you're going to drain your wallet for such a quality item, but this option is not expensive at all. For a price of under ten dollars, the NONZERS device is a bargain.

Subscribe to our Newsletter