Best Cat Litters Reviewed and Rated for Quality
In a Hurry? Editors choice: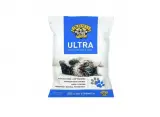 Test Winner: Dr. Elsey's Ultra Premium

You've just fallen in love with that adorable furball in the pet shop, and the irresistible eyes are drawing you in. Then you have that lightbulb moment and think, 'why not?'. And why not indeed, purchasing your kitten, or rehoming a cat is a special time that you may never forget. Cats being clean animals, they require their cat litter.

Cats are, on the whole, great pets and companions, they are smart and loving when they decide you are the right human for them. The hours of fun you can have with your cat are endless and the adoring purr you receive, or the welcoming nudge reminds us how humble we all really are.
Standout Picks
Criteria Used for Evaluation
Effectiveness
Criteria Used in Choosing the Best Cat Litters
These litters are all variants on the best way to solve the 'cat' problem, and each one has its own merits. And there should be one in here that is right for all of you. This review will look into some basics for when you're deciding on the best litter for your furry friend. Choosing cat litter may sound like a simple exercise, but cats can be very particular – especially when it comes to toileting habits and preferences. So this breakdown will hopefully give you a bit more insights into the nitty-gritty world of cat litter.
The full top ten are listed here and each review will be dedicated to providing useful insight for you when you're looking for the right cat litter to keep you, your cat and your home a happy and sweet-smelling retreat.
The basics
One of the first things you need to think about before you try out cat litter is to decide what type of litter box you want. Simple as it sounds, there are quite a few variations on the standard litter box and you need to make sure your cat is happy with it just as much as the litter that will go inside it. The basic box is just that, a simple rectangular box that you can line with an odor/moisture seeking layer before you put the litter in. These come in many sizes and if you choose this type, make sure the sides aren't so low the litter just flicks out, or so high your tiny furball can't get in easily.
Hooded litter boxes are fast becoming a favorite on the market because they not only contain and cover the litter, they offer the cat some privacy and many newer versions have carbon filters on the hood to help reduce odor release. You can make sure the flip-door is easily opened and if your kitten is struggling to climb in – you can even buy small stepping devices to help until they reach maturity. Another good idea with either type of box is a mat at the entry point that helps to get a loose litter from speedy paws when they are on the way out.
Litter Box Placement
You may think anywhere will do for the position of the cat litter box, but think again. Try not to put it in areas of high activity or footfall, so avoid near doorways or hallways. Don't place it in a room where the door isn't left open if your cat can't get to the box you're in trouble and if the cat gets trapped after using the box they may never go near it again. Try not to put it close to where you or your cat eats – none of us wants to eat around it. Avoid strong-smelling cleaning products and don't hang or place an air freshener in it or too close (tempting as that may be, your cat won't appreciate it and may avoid the smell). And on a final note, don't put it on a shelf or high up, and make sure it is safe and stable – the last thing your cat wants is to topple the entire litter box when it's rummaging for a good spot.
Types of Litter
There are quite a few different types of litter available today, and all proffer to do the most excellent job. Litter was originally simply designed to recreate the cats natural digging and burying ceremony at toilet time, and sand was commonly introduced into the home. Dried clay pieces are very popular, some types are specifically designed to clump around moisture, and this makes cleaning a lot easier and faster and can help to reduce odor. There is also non-clumping clay litter that works in basically the same way but it just doesn't clump, this makes it harder to remove excess lumps and is easier to get trailed through the house.
Crystal litter is silicone-based and it is formed into pieces which can come with odor neutralizers. Crystals are very effective at soaking up both moisture and odor, they are also very absorbent, they do tend to cost a bit more than other types of litter but on the plus side – you need to use less of it each time you change, and it is easier to remove any offending lumps to prolong the overall life.
Recycled paper is a great biodegradable option, the paper is smashed into lumps or pellets that soak up moisture and don't get stuck in tiny paws, it can be less messy and also offer up some odor neutralizing. Other biodegradable litters can be made with pine, and even wheat – it is natural and like the paper litter, it is formed into small lumps that break up as soon as moisture hits them, these are also marginally reputable when it comes to odor reduction.
Disposal
We all know that even the best cat litter comes to the end of its life and then comes the job of the disposal. There are a few options for responsible disposal, if you are using a biodegradable litter then one idea is to reuse it by turning it into fertilizer – as long as it's done properly there should be no harm caused in this method. (Always check composting instructions to be sure). You may be tempted to flush it away but you should really think twice before doing so, apart from the damage you may cause to your plumbing and pipe works, cat waste contains potentially harmful bacteria that can have detrimental effects on health and may lead to contamination. However, you could check with local guidelines to see if it's ok to flush, and if it is – do it in small batches to reduce possible damage and blockages.
The best solution is probably the simplest, secure a strong bag (a sound biodegradable bag is preferable) into a bucket and tip the used litter into it, then tie the bag and then put it into another secured bag before putting into the trash. This will keep the litter contained and reduce the possibility of spillage between the trash to the dumpster, and from the dumpster to the waste disposal center. And by placing it into degradable bags you are doing your bit by ensuring it won't be around for many years after you have gone.
As a final option, you may be able to locate a recycling service that will collect your cat litter on a regular basis, find out where you live for availability and fees. Some recycling and/or refuse sites may allow you to drop the litter there yourself – again, it may be a good idea to check your locality for full availability and any charges you may incur.
Top 10 Picks
1

. Dr. Elsey's Ultra Premium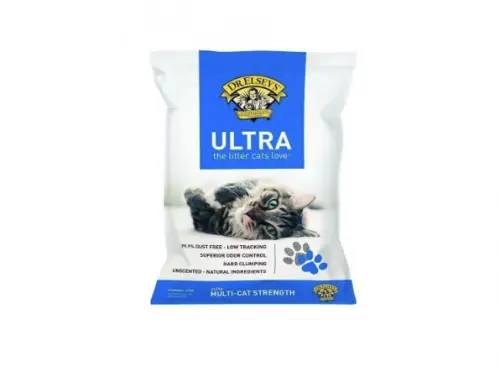 This premium cat litter is ideally sized in either an 18 lb or 40 lb bag, it boasts being 99.9% dust free and promises no tracking with heavy granules. The hypo-allergenic litter benefits from having no proteins from plants and results in hard clumping make daily sifting and changing a breeze. The all-natural ingredients contain no perfumes or deodorants which can put a cat off using the litter box altogether. The premium litter has odor control that enables moisture retention that helps with the build-up of unpleasant smells.
Practical
Dr. Elsey's ultra-premium litter offers a superior but no-frills product that is suitable for both scoopings manually and in mechanical litter boxes. The two sizes mean it is ideal as a cost-effective method of purchasing the right size in one go whether there is a single cat or multiples to clean up after.
Composition
This premium litter is made using a medium grain clay, which not only assists in the clumping but also offers reliability because it boasts holding the clumps together. So no more time wasted collecting smaller lumps from the box.
Cost and Value
The overall cost and value of Dr. Elsey's premium litter are very well balanced, it comes highly recommended and the unique stay put clumping and increased odor control, make any money spent on this litter money very well spent.

2

. Arm & Hammer Multi Cat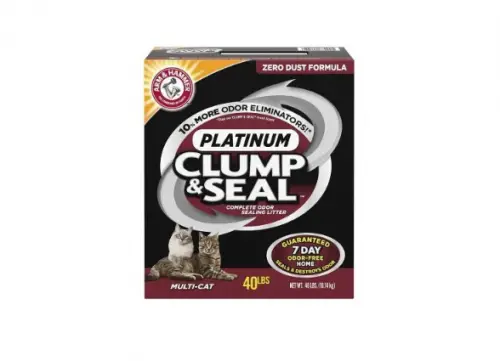 This premium cat litter promises up to seven days of an odor-free litter box, it also boasts being 100% dust-free so is less irritating for the cats and the home environment. The option for size variants is very useful for however many cats are being catered for; a 14 lb bag, a 27.5 lb bag. A 38 lb bag and a generous 40 lb bag. It is produced to service multi cats within the home and offers hard clumping results that are convenient and easier to scoop on a daily basis. Arm & Hammer are so sure of this product they even go so far as to offer a full guarantee.
Patented Formula
The patented formula provides superior sealant properties when it comes into contact with moisture, and it also boasts being able to destroy unpleasant odors immediately on contact. This provides a more hygienic litter box and benefits all in the home.
Clump and Seal
The Arm & Hammer multi-cat litter uses particles obtained from plants and a unique blend of moisture-activated granules with baking soda to provide a seal and clump for guaranteed ease in scooping, and the heavy-duty odor eliminators keep the whole box fresher for longer.
Cost and Value
This premium cat litter is reasonably priced, and when taking into consideration the superior clumping, sealing and combined odor control, this litter also offers a seven-day odor-free home, overall this product is excellent value for money.

3

. Fresh Step Multi with Febreze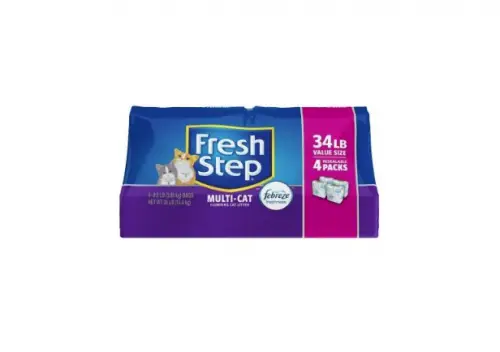 This litter is available in handy in four-pack combinations of varying weights, a 20 lb pack comprising four 5 lb bags, a 34 lb pack comprising four 8.5 lb bags and a generous 42 lb pack comprising four 10.5 lb bags. This clumping scented litter boasts having a unique formula that releases a non-harmful but pleasant fragrance when the cats tread and work for the litter. It benefits being low dust and proffers to trap any odors before they leave the box and retain odors twenty-four hours a day.
Formula
The Fresh Step multi-cat litter with Fabreze incorporates carbon that actively traps and eliminates odors. It produces tight clumps that won't crumble and break up, which make scooping and general cleaning maintenance more practical and easier to stay on top of.
Efficient
The litter manufacturers boast this litter enables a ten-day odor control function, which means less time dealing with freshening the home. It achieves this in part by its ability to lock both moisture and odors immediately on contact, so is better equipped to contain unpleasant smells.
Cost and Value
The value these varying sized packs offer is great when considered in relation to the cost, the long life it promises enables an easier daily scoop and freshness that will permeate every time a cat goes to work on it. This is also benefitted with easy to use and store packaging.

4

. Purina Tidy 24/7 Performance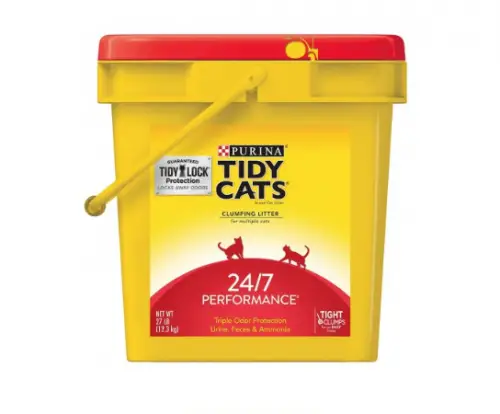 Purina provides a variety of options for purchasing this 24/7 performance litter, it is available in 2 x 20 lb jug form, a 40 lb box option and two pail options being 27 lbs and 35 lbs. It uses a TidyLock system for locking away odors from the box and absorbs moisture on contact as well. It boasts having the capability of having the 24/7 odor control so the litter box isn't the first thing that protrudes from the home upon entering. The lasting odor control provides a better and more hygienic litter box for the cats and the home.
Absorbent
This litter benefits in a whole variety of ways, including super absorbency that soaks away not only moisture but locks away unpleasant odors that are often associated with indoor litter boxes.
Clumping
The TidyLock performance litter forms strong and firm clumps that won't break or crumble, so making the daily scoop and regular cleanup more functional. This is even more of a bonus if there are more cans and more litter boxes to scoop and clean.
Cost and Value
The practicality of the handy and easy to use pack sizes add to the overall equality between both cost and value. The strong clumping formula combined with both the odor locking, ensure that this product is great value – less on money and resulting in less time cleaning.

5

. World's Best Scented Cat Litter Scented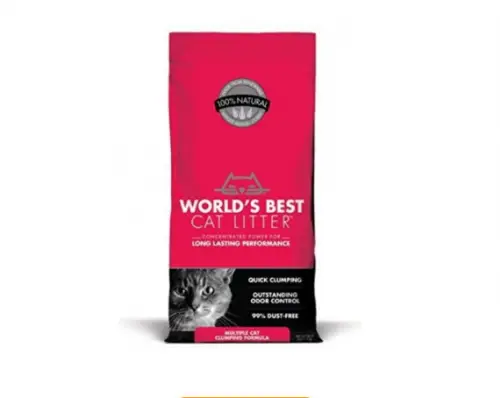 The World's Best Litter boasts having an outstanding long and lasting performance, and it claims to be flush friendly thanks to its special formula. If stored in a sealed container, this litter is designed to have an optimum long life for added convenience and overall performance. It offers super-fast clumping which enables easier scooping and cleaning so less time is needed for this necessary, but essential task. It benefits having great odor control so it's easier on the nose too.
Friendly
This litter is 99% dust free, so reduces the associated unpleasantness for humans and cats alike, the formula is designed to be friendly with the inclusion of corn and an all natural plant ingredient which makes is safe and friendly for use and for the environment.
Useful
The World's Best Cat Litter is offered in using different sized packs for convenience in any household, no matter if there is a single feline occupant or several. A small bag is an option, moving to a handy 14 lb bag size and a 28 lb bag size for larger families.
Cost and Value
The cost and value of this product are well balanced and quite well reflected. The friendly formula and septic safe flushing add to its overall appeal. The clumping and odor control means less time and effort needs to be spent on cleaning and this increases its value even more.

6

. Purina Tidy Cats Breeze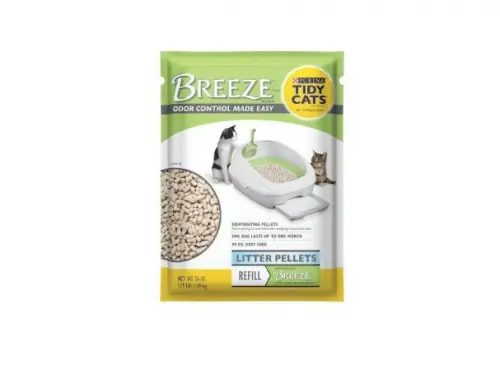 This Purina Tidy Cats Breeze litter is (designed to be used in conjunction with the responding litter system), formed as pellets and is available in a range of sizes, one being 6 x 3.5 lb pouches, and also a 4 pack of 3.5 lb pouches. They are designed to allow moisture to pass through them which enables an efficient method of reducing related odor. It is formulated to actually dehydrate hard waste, which not only hardens it but also enable fast and quick scooping and cleaning. It boasts having a capability of a 3.5 lb pouch being able to last up to a month.
Dust free
It benefits from being 99.9% dust free so is friendlier for both cat and human, and when used in the litter system with the moisture locking pads, this unique approach allows for a tidier and less mess and hassle than clay clumps alone.
Long lasting
Because of the system capability of being able to separate both liquid and solid waste, the benefit is less time cleaning the entire box with an only daily removal of solids required. Once the pads are loaded, they just simply pull away and easily disposed of.
Cost and Value
Because this product is designed to be used in a specific system, the overall price may be higher, but on the plus side, there is no reason why this great pellet product cannot be used on its own instead of conventional litter. The freshness they allow gives it added attraction and value.

7

. EverClean Extra Strength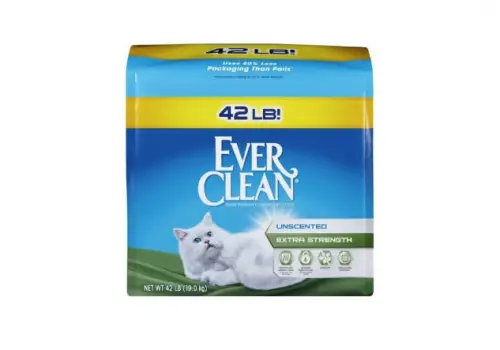 The EverClean Extra Strength cat litter is offered unscented so is kinder to delicate and sensitive noses. It is available in two bag sizes, a 25 lb bag, and a handy 42 lb bag. It boasts being fortified with an ammonia shield which proffers to reduce and eliminate unpleasant litter box odor and has an advanced moisture locking system for improved formation of clumps. Aside from the daily removal of clumps, this litter has up to ten days worth of long-lasting freshness.
Formula
This litter has the bonus of activated carbon, this is bonded to and also mixed in with the litter granules and provides superior elimination of odors which keeps noses happy all around the home. The litter soaks moisture on contact and this also helps to cut down on odor.
Bacteria
A build-up of bacteria can commonly be associated with litter boxes, here EverClean has introduced an antimicrobial agent that actively reduces and protects against bacteria build-up that can be harmful to a cat, the home, and even humans.
Cost and Value
The benefits that are offered with this litter, including the lack of scent and the special multi-purpose formula, not only balance well on cost and value but also give extra peace of mind harmful bacteria and odors are treated at the source and reduce health implications.

8

. Purina Yesterday's News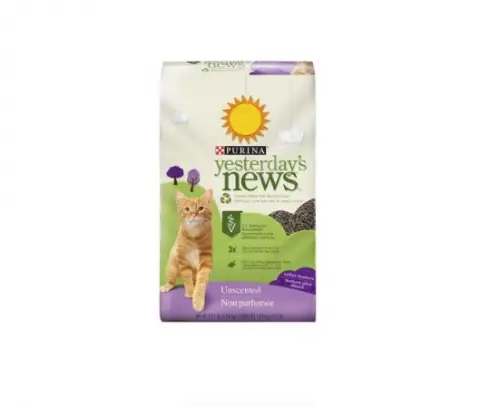 Purina's yesterday's news cat litter if formed into pellets and offers less tracking than many other cat litter formulations. It is made from recycled paper so is friendly for the planet, the cat, the home, the human and the environment. The eco-friendly litter is completely toxin free and contains no potentially harmful chemicals. It is designed to soak up moisture and is non-clumping, so is ideal for cats and kittens alike.
Soft
The paper pellets are soft and provide a comfortable place for the feline to trace and deposit safely and easily. It also boasts staying in the litter box and not scattering around it or tracking all over the surrounding areas.
Control
Purina's yesterday's news model offers effective, safe odor control so unpleasant smells are kept to a minimum, and the pellets are 99.9% dust free so there is less risk of discomfort for sensitive noses.
Cost and Value
The overall cost and value of Purina's Yesterday's News are well balanced and equally justified. The safe alternative to clay pellets and litter make it safer for a variety of worthy causes and reasons. Once a cat has grown used to this litter – it will provide great value for money.

9

. Fresh News Post Consumer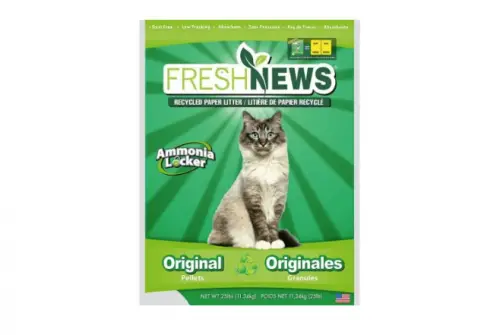 This fully recycled cat litter is offered in three size options for convenience, a 12 lb bag, a two-pack of 12 lb bags and a 25 lb bag. The soft litter if formed into pellets that benefit from being just the right size so they won't stray out of the litter box much less be tracked all over the home. It has the addition of baking soda which offers a particular neutralizing action so helping with unpleasant odors. Another upside is that this recycled litter is great, not only for the litter tray and cat but is also environmentally friendly too.
Safe
The Fresh News post-consumer cat litter benefits from being completely dust free and also is non-allergenic. The soft pellets are comfortable for paws to tread, trace and cover without fear of damage to soft pads and delicate noses.
Absorbent
The unique quality of recycled paper in this litter is fully optimized for superior absorbency, the pellets soak any moisture and the addition of the baking soda helps to prevent nasty odors escaping and building up around the home.
Cost and Value
The overall cost and value of this Fresh News product are on a level bar, the ideal eco-friendly product is safe, chemical-free and easy to dispose of. Combine that with the practicality of the manufacturing process – means this litter is a good value for money.

10

. Just the Crystals Premium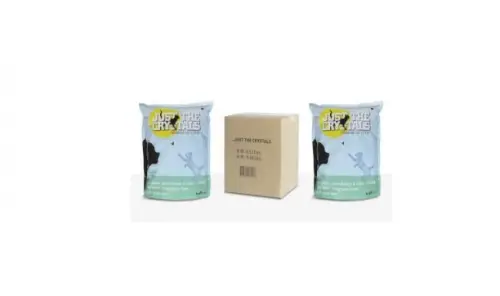 This litter is conveniently offered in pre-measured packs of 4.4 lbs, it boasts being super cost-efficient due to it being able to last up to five times longer than man other litter types. It benefits from having a high absorption rate when compared to others. The crystals soak up moisture and odor, they require less complete box emptying than other types of litter and last a lot longer before they need changing completely. Once the daily lumps are removed, the crystals just require a rake over to distribute over the box.
Fragrance-free
These Just the Crystals premium are totally fragrance-free so there is less possibility a cat with refuse to use them, they are also dust free which is another bonus for pets, humans and their homes. They are easy to scoop from and even easier to do a complete change.
Absorbent
The crystals absorb any moisture as soon as it comes into contact, and the unique manufacturer also gives them an edge when it comes to odor neutralizing. The practical formula is designed so that the litter box is not the first thing friends smell when they visit.
Cost and Value
Just the Crystals premium are slightly more expensive than their counterparts on the market, but when considering the super moisture and odor absorbency they provide, along with the longer use per pack, it is easy to justify. These crystals are excellent value for money.

Subscribe to our Newsletter