Best Birdbaths Reviewed & Rated for Quality
In a Hurry? Editors choice: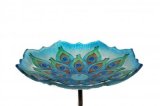 Test Winner: Evergreen Peacock Glass Bird Bath Bowl

Ahh, the humble bird bath. The pool that keeps our friendly sparrows, or invasive starlings fresh and clean year round. There will be no pothole bathing for birds in our neighborhoods. Nope, these bird baths will not only provide our feathered friends a place to get clean, but they will also add a dash of color or class to every garden or backyard. Choosing the correct bird bath for the yard should be carefully considered, here's a comparative list of bird baths.
Standout Picks
Criteria Used for Evaluation
Bottom Line
What should be considered
Once you're ready to hit the store, don't be taken aback by the number of birdbaths a store will carry. There are factors to consider that will help you decide which birdbath will work best for you. Remain focused on your needs for the birdbath rather than the wants, this will help you choose a birdbath that will be functional.
This is where the benefits to you come into play, why make the maintenance portion of the bath harder on yourself. Placing the birdbath near your bird feeder isn't a wise decision, birds are messy eaters at times. Debris from the seeds you fill your feeder with can contaminate the water in a bath rather quickly. In the general area would be okay, just not too close or you will be out there quite frequently cleaning the bath.
Consider the ease of which you want for filling and cleaning the bird bath. The closer you can get the bath to the reach of your hose the better. For cleaning purposes, this gives you the option to spray the bath clean using your hose. Sometimes this can be done with little to no scrubbing, depending on the pressure your hose carries. When filling the bath, having it closer to the hose is way better than filling containers to carry over.
One last placement for your benefit, is can you see the bath from your window? I mean think about it, don't you want to enjoy the fruit of your labor. Watching birds can be very relaxing, so placing the bath in your view is a wise choice. In the event, you don't have a window in the area to view the bath, try placing it where you can see it from your deck or porch. Doing so might even entice you to step outdoors and relax for a bit.
Size
You have to consider what size bird bath you would want to have. One that is smaller in size can be easier to clean and care for. The downside to a smaller bird bath, they won't hold a large amount of water. Birds that are territorial have been known to cause issues with other birds when the smaller bath is used.  A birdbath that is larger in size will hold more water but is more work in the cleaning department. Larger baths can be harder to move, so relocating them isn't always a wise decision.
Some types of bids are particular about how high their water source is. Birds that are smaller in size will bathe in a water source that is higher from the ground. A birdbath that is higher from the ground gives smaller birds a better view of their surroundings. Keeping a bird bath that is lower to the ground can attract ducks or maybe even doves. Depending on which type of birds you have in your yard, you may want to offer them a source of water at different levels. This will require spending a little more money, as you will need more than one to achieve this.
Accessories
Let's face it if you pick a bird bath that doesn't suit your style you will probably just ignore it. Slacking on both filling and cleaning, eventually, the birdbath will be forgotten. Finding one that matches your style, will more likely get more attention from you.
Versatility
This simply means that you want the size and design to match where the bath will be located. If your yard is smaller in size, you're not going to want a huge fancy fountain style bath. That would look far too out of place for your yard. The same can be said for a yard that has many fancy ornaments, steer clear of baths that are too plain. This will cause your birdbath to stick out like a sore thumb.
Capacity
On the contrary to popular belief, the depth of the bird bath is extremely important. It should not go over three inches deep in the center while being shallow toward the edges. Bird baths designed in this fashion are great for two reasons. The first, it allows the birds to ease into the water, which makes the birds more comfortable in their surroundings. Secondly, baths that have a range of depths will accommodate all different types of birds. Should you choose a bird bath that is too deep, you can negate this by adding some rocks to the bottom. This will raise the level of the bath floor. One thing to keep in mind when adding the rocks, you will have to clean the bird bath more frequently.
Effectiveness
To better cater to the birds, consider purchasing a bird bath that doesn't have a slippery bottom. The last thing the birds in your bath want is to lose their step. Baths made from cement have great bottom potential but are more commonly heavy than some of the other options. You can find newer models, that are made to be more lightweight. They will also include a simple texturing on the bottom of the bath, to give the bird better traction.
Water Capacity
Water that moves will be a better attractant to birds than water that is still. Have you ever seen a Hummingbird bathe? It is for sure a sight to see, they typically bathe while in the air. Unlike other types of birds that prefer to slowly enter into the pool. Hummingbirds will fly through the droplets when they find a bath that has a fountain. When water is circulated it helps to keep the water cleaner. As moving water will deter insects and slows the growth of algae.
Weather Resistance
A bird bath can be offered year-round, but one must consider the seasons in their area. For those that live in areas with colder winters, a heated birdbath will keep the water from freezing. When planning to offer the birds water in the winter, the construction materials of the bath will also play a factor. You need to be sure the one you have chosen will indeed stand up to the weather conditions. After all, a bird bath that falls apart during or right after winter, is no good for your wallet or the birds.
For those who live in areas with a warmer and more humid climate, a bird bath that will hold more water is more beneficial. This will help to eliminate the inevitable issue of evaporation, preventing you from having to fill the bath as frequently. Again the materials you choose are important to the success of the bath. You will need one that can withstand being out in the sun for longer periods of time.
Value
The amount of money you have to purchase a bird bath should also be a large factor in your decision. When shopping on a smaller budget, find one that offers the most potential for the money you have. Even if this type of bird bath isn't the most fancy, the birds will be more than happy to use it.
Protection
Placement for the bird bath
Where you put your birdbath is as equally important as the cleanliness of the bath. You need to consider the safety of the birds using the bath while keeping the practicality of the bath in mind as well. When placing the bird bath there are several tips that you can follow to improve the success of the bath and the safety of the birds.
Safety Hazards
As we all know, birds are sought after by many types of predators, which makes them very vulnerable while bathing. This is due to the fact that when a bird has finished bathing, they can not fly as well with wet feathers. You can trust me when I say those predators are very aware of this vulnerability.
Predators will try to conceal themselves, then spring into action when the time is right. Placing a birdbath away from areas that offer cover for predators is a great idea. This will give the birds an opportunity to see what is coming, therefore improving the level of safety.
As we have already touched on, birds that have wet feathers can't fly to the best of their ability. They can, however, flutter to relatively lower hanging branches. Think about placing the bird bath near trees with low lying branches, typically these branches should be within a couple of feet of the bath. This will give the birds the capability to escape when in danger. It also offers them an area to properly dry their feathers before taking flight.
10 Best Birdbaths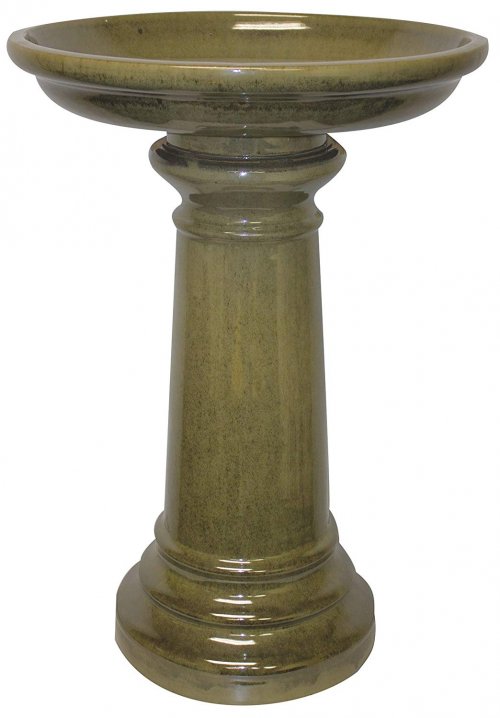 First up on the list is a durable style bath, that fools you with it's looks. Designed for birds of all sizes, to better ensure the bath gets used. Offer the birds some water while keeping your yard looking sharp.
Materials
The look of this bird bath will have you think it is made from metal, which in fact isn't true at all. This bath is made from a heavy duty resin, designed to stand up to harsh conditions. Should you need to add stability to this bath, the pedestal is hollow. So feel free to add sand or rocks to provide a more stable bath.
Design
Designed to attract birds of all sizes, this bird bath has a depth of 2.5 inches. The edges of the bowl are designed so that any size bird can feel comfortable enough to perch upon it.
Cost and Value
This birdbath will make a valuable addition to your yard for attracting birds. For a lower cost, you get a bird bath that has durability and it is easy to set up. Simply use the threads provided on the base and bowl to screw the two pieces together. Fill the bath with water and your birds are all set.

2

. Outdoor Garden Lily Leaf Pedestal Bird Bath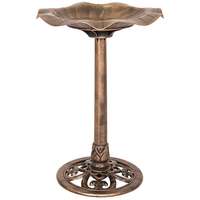 This is a really nice piece. It's made of plastic of course but the copper finish is fairly convincing. It also has a strong base that will keep it anchored and it's easy to put together. But other than looking nice it holds a fair amount of water and allows birds to do their thing to the hilt.
Weather Resistant Resin Construction
Made of the same material as things like rain barrels this will stand up to the weather and should do its thing no matter the season. The point is that it should last season after season without too much trouble.
Center Pedestal Pole
This is one of those add-ons that you don't really think about until you need it. The center stability pole makes sure that your birdbath stays put on uneven soil or if a wind storm has knocked over everything else in your yard.
Cost and Value
We like the price point for this bird bath. It's eminently affordable puts together easily and looks quite nice. And that is why it's sitting near the top of our list.

3

. Evergreen Peacock Glass Bird Bath Bowl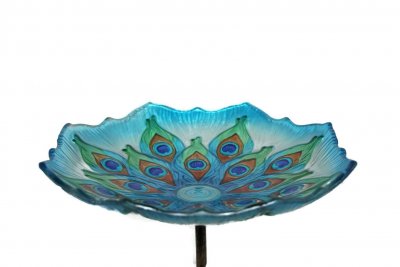 This is a beautiful little bird bath. It's dainty and translucent like stained glass. But don't let that fool you, it's plenty tough and will make a great hosting location for birds of all sizes. The metal pedestal is also quite classy. This will make a mark in your front lawn and will add to the overall aesthetic even if it's not festooned with birds.
Weather Resistant Finish
This is a nice option for the center pole because they tend to rust. But that won't happen with the Evergreen as the pole is designed to withstand weather of all kinds and maintain its black steel finish, and resist rust.
Sturdy Three-Pronged Stake
This nice stand will make sure the bird bath stays where it belongs. This isn't a particularly tall model so the deep prongs should provide more than enough stability when the weather gets tough.
Cost and Value
This one definitely makes our best value category. But it looks like it should cost way more than it does because it's simply a beautiful but very functional piece. It's not particularly deep nor incredibly large but it's a nice little addition for any garden big or small that wants to add an extra splash of color to the outdoors.

4

. Miles Kimball Daisy Bird Bath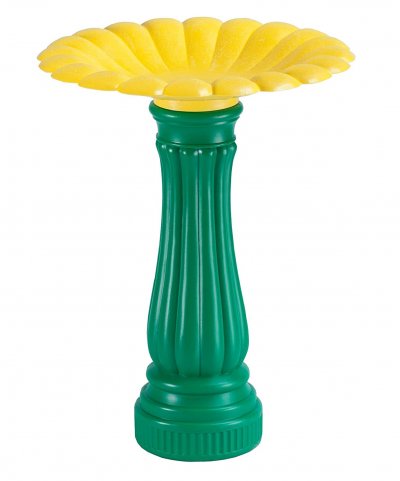 We're not huge fans of whimsy for whimsies sake but we just kind love this bird bath. The colors are unmistakable and the statement it'll make in your garden is just as forthright. Kitsch is as kitsch does and this plastic kinda novelty birdbath ain't for the faint of heart but might just be the thing if you're looking for a conversation piece as well as a functional bird bath.
Made In the USA
Always worth pointing out where we're concerned. What in these days of tariffs and unsettled economics it's good to know that you're products are being made right here in this country out of durable blow mold plastic that should stand up to wind, weather and sun.
Easy Assembly
Super easy in fact. This is a pretty much no-tools-required install with just three included screws so unpack it, pop it together and its good to go, and it'll be host to birds in no time. It's also pretty deep for a decorative birdbath so that'll give birds more incentive to try out this bright little bath.
Cost and Value
Not bad. Not bad at all. Less expensive than a number of baths on our list but not quite in best value territory. Still, this is a special bird bath for someone with a special garden or an even more special vision of their garden. So if this one speaks to you, it's worth it.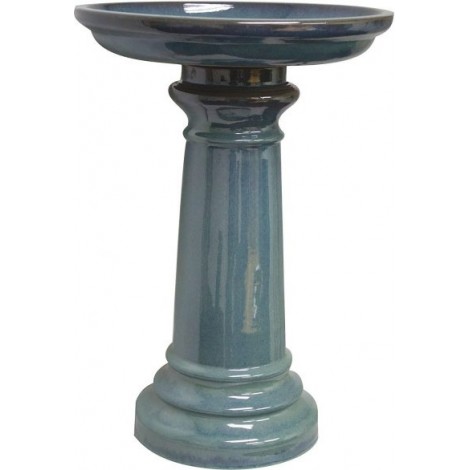 A bird bath like this one gives you a totally new look at materials for making the bath. Offering several choices for color, you are sure to find one that will match your existing yard decor.
Material
This type of bird bath gives you another look at a different type of material option. Made from ceramic, that has been treated in a kiln to add to the durability. It is then coated for protection, which simplifies the cleaning process as well.
Color options
Available in five different color options, you can choose one that will blend in with the surrounding decor. You can also take a walk on the wild side, choosing a color that really makes your birdbath pop.
Cost and Value
Due to the materials and process used to create this style of bird bath the cost will come slightly higher. It's potential to resist weather while holding the true beauty of the color, is a value that you shouldn't be afraid to spend for.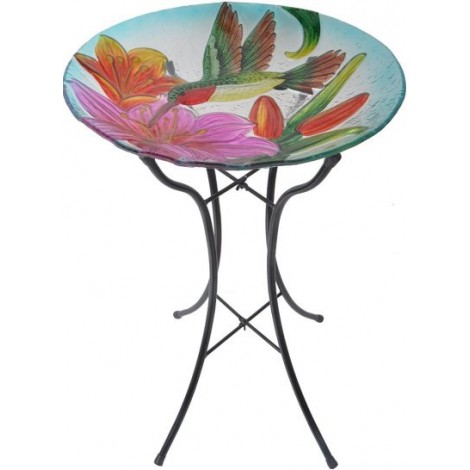 The unique design style to this bird bath will be the envy of your neighborhood. Dress up your garden while doing the birds a favor, the bright colors are sure to attract a frenzy. This bath is offered in several style options, which are sure to please you.
Design Style
Let your bird bath make a statement on your behalf, turning heads as your neighbors stroll by. The stand for this birdbath will set yours apart from the others. This stand is made from metal, giving the bath a more ornate appearance.
The Bowl
The bowl for this bath is made from glass and has been painted beautifully. You can choose from several design styles as well as colors. These are sure to be pleasing to both you and the birds who use it.
Cost and Value
This is a unique piece of art for your garden or yard. Each bowl has a pleasant picture painted upon it, available in several different designs and colors. You are sure to turn some heads when you add a piece like this to your yard.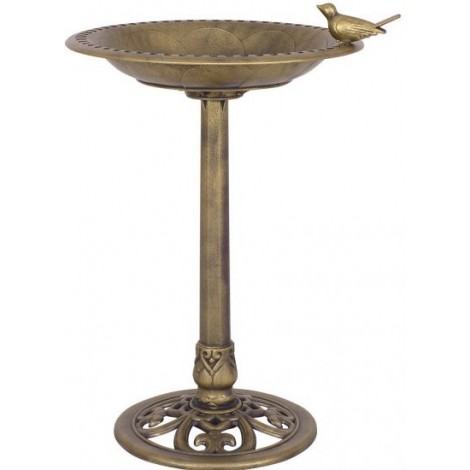 Here we come to another bird bath that is made from a resin material. This one has the potential to withstand a certain amount of exposure to the elements. When needed you can add some weight to the birdbath to keep it level.
Weather Resistant
Since this birdbath is made from a good quality resin, it has the capability to survive a decent level of exposure to the elements. You can continue to leave this bird bath out when the weather starts to cool slightly, as it can handle some exposure to frost as well.
Stability
To make this bath as stable as possible, it comes with stakes to secure it in position. When you need a higher level of stability, add some materials to the inside of the pedestal for an added measure of protection.
Cost and Value
With the potential to stand up to the elements, you won't mind making the investment into this birdbath. Made from a good quality resin, this birdbath can even resist some exposure to frost.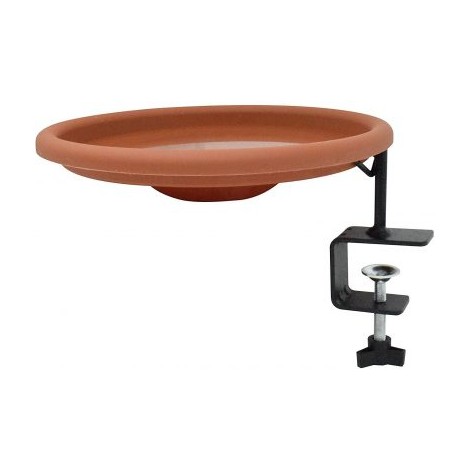 With this birdbath, we come to a new design within our list. This one allows you a more close, personal experience when watching the bird. With quality materials like these, you can be sure that this birdbath will stand the test of time.
Deck Mount
Being able to mount this bird bath to the rail of your deck, gives you a closer look at the birds that are bathing. Simply clamp this to your deck rail for hours on enjoyment.
Construction
Made from top-notch materials, this entire bird bath will last you for years to come. The framework for the bath is made from materials that will withstand corrosion, therefore keeping the bath suspended for years to come. The thickness of the bowl gives it the potential to stand up to the elements when it is needed.
Cost and Value
With a coat as low as this one you can enjoy the value of an up close and personal experience with the birds. Given the strength of the bath, you will be getting every penny worth with this purchase.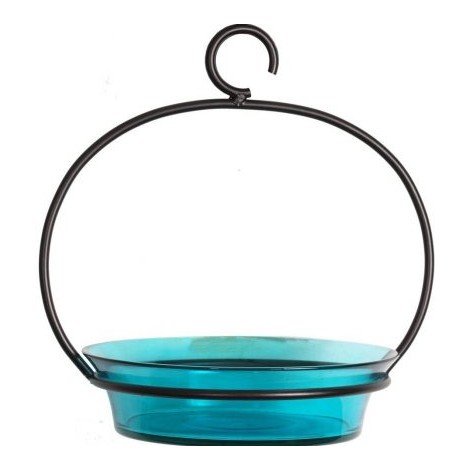 Here we come to another hanging style bird bath, offering the birds plenty of space to bathe. Add a pop of color to your trees or yard with this bath hanging from them.
Hanging Style
This bird bath is simple to hang due to the open hook concept. The open frame design offers the birds space, so territory shouldn't be an issue here. The placement possibilities are endless with this bath, hang it from a shepherd hook anywhere in your yard. Maybe you have lower branches on your trees you intend to use, truly the where is up to you.
Bowl Options
This birdbath comes in six different color options, you can have it stand out or blend in. Add some decorative rocks to the bottom of the bowl to control the depth of the water. Giving smaller birds the confidence they need to use this bath.
Cost and Value
Adding style to your yard, this bird bath has a value all its own. Choose a color to your liking, hang more than one around the yard. You can choose to have the water at different depths to accommodate all types and sizes of birds.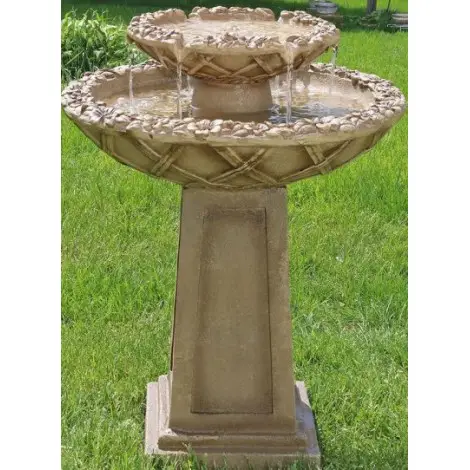 Last up on the list will have us looking at a fountain style bird bath. This type of bath is accommodating to any size bird. These are easy to care for while holding an amazing amount of tranquility while listening to the running water.
Two-Tiered
This fountain style bird bath offers two tires, each with their own depth. The bottom is the larger of the two pieces, offer the perfect depth of water to those larger species of birds. The top section, being the smallest, is perfect for those smaller birds in need of bathing.
Tranquility
It's a commonly known fact that the sound of naturally running water is one of the more peaceful sounds there are. This bird bath has achieved that by using a pump to keep the water flowing. You can relax on your patio watching the birds as they bathe without a care in the world.
Cost and Value
I am sure you realize that with this fountain and tranquility comes a higher price tag. You have to first ask yourself if this type of purchase is in your budget. If it does fit within the budget, the value of this bird bath will speak for itself.

Subscribe to our Newsletter