Best 5.11 Pants Reviewed for Durability & Performance
In a Hurry? Editors choice: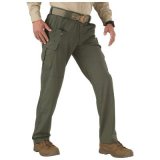 Test Winner: 511 Tactical Stryke

Tactical pants were first created for soldiers who needed more pockets to store their necessary items. But over time, it has become a fashion staple for outdoor adventurers as well. They were initially made of cotton, but now - with the amazing developments in materials and design -they're constructed from more resistant, technologically advanced fabrics.

Nowadays you're just as likely to see a pair on a policeman as you are on a neighbor walking the dog. If you're passionate about outdoor activities, you'll find that this outdoor apparel provides you with the durability and storage you need. We have scoured the globe- to find you what we believe are the best of the best out there today.
Standout Picks
Criteria Used for Evaluation
Materials
Build Quality
The most important feature and criteria for evaluating the best 5.11 Pants stem down to how the physical product was made. Now, when it comes to the materials and build quality, manufacturers have a wealth of materials that they can choose from when creating a product. As far as 5.11 goes, it was very clear that they only use the very best materials in each of their products. This company is a great model for consumers who are interested in the very best tactical pants as they describe, in-depth, the materials that are used in manufacturing and the many different techniques and methods used to support a greater build quality. Every product that has made our list has surpassed what we thought was standard for build quality for tactical pants. Now, if you are ever curious and want to cross-reference a manufacturer, check-in with previous customers and see how they feel about the build quality or other features.
Pockets
After build quality, one of the most important features that you must look out for is space and pockets. Since we are reviewing and evaluating different tactical pants – this is a critical consideration. After all, the sole purpose of tactical pants is to have an assortment of pockets and space, allowing the individual to store important tools, equipment, or personal belongings, without having to carry multiple bags. With that being said, as we began to evaluate products from 5.11, we were keen on looking at how the company catered towards their consumers, as far as pockets and spacing were considered. With this, we were quite taken aback by the amount of innovation and space their products offer. Every single product on our list today is designed with the same intention: to provide consumers with the absolute best tactical pants. Now, as you might have noted, we tried to share a wide variety of options to pick from, which may include 12-pocket pants, 9-pocket pants, and, in some cases 8-pocket pants. Depending on your need, 5.11 has a tactical pant for you.
Maintenance
When you go to the store to purchase a pair of pants, do you often think about the maintenance that is required? Typically, consumers don't. If you don't – that's okay! However, what we can say is that, when you are not careful when picking out a pair of pants, chances are, you might wear the product quicker, causing them to rip or speed up the wear and tear process. With that being said, when it comes to tactical pants – it's incredibly important to take into consideration the maintenance required of you. For one, these pants are much more expensive than typical pants. Additionally, these pants are made from unique materials and may require specific attention to remove stains or washing and drying. As we developed our list, we considered that consumers most often don't want to spend hours taking care of their pants. What is nice about 5.11 is that each of their products, especially those on this is a list, are made from the very best of materials, minimizing the amount of time anyone spends cleaning.
Value
Cost to Value Ratio
In our opinion, out of the many different facets that consumers make take into consideration, the cost to value ratio holds incredible value. In truth, without properly evaluating the cost to value, consumers can never ensure that they are receiving their money's worth. As a result, it may leave an individual at the expense of a broken product or stressful conversations with customer service departments. With that being said, prior to creating our list of the best 5.11 Tactical Pants – we knew that cost and value may be challenging to gauge. Reason being, we are not comparing the costs and value of a wide selection of brands or products. To our benefit, and consumers, 5.11 is one of the most notable brands on the market. In this, we were able to quickly conclude that value would never be of concern. Furthermore, as we began to compare the value between all of their pant products, we also kept in mind what the price tag was. If you are interested in securing a product that's worth your money – it's important to weigh the benefits and value of a product in comparison to the price that the manufacturer is charging. As far as this company is concerned, you can expect reasonable and cost-friendly prices, given the amount of value they packed into their pants.
Style
Design and Colors
When we were evaluating 5.11 pants for our list, the last area that we took into consideration was the design and color options. Now, this specific section is not regarding the quality or build materials. What we are referencing is more the aesthetic appeal of the product. Now, prior to jumping into the research part of the process, we knew moving forward that 5.11 Tactical is one of the most infamous brands in the market. In fact, this is a company that professional companies and agencies utilize for their employees and workers. In other words, we anticipated that 5.11 would rise to the occasion and offer consumers visually appealing pants. As you might have noticed throughout the article today, each product comes with numerous casual designs and colors, all of which are aesthetically pleasing.
10 Best 5.11 Pants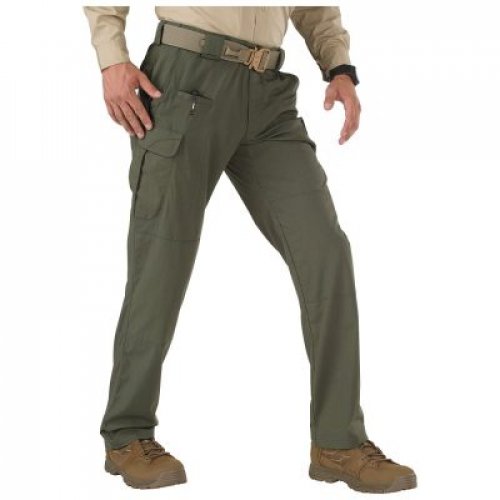 Another great creation from 5.11 is their Tactical Stryke Pant. A blend of breathable technology and functionality alongside comfort creates a product that is a must-have for anyone in a professional environment needing extra pockets and heavy-duty work pants. These running, kneeling, crawling, and do-everything-you-need-to pants allow you to quickly and effortlessly move about your day without the fear of them tearing or staining. With technology built by professionals for professionals, let's dive in and look at the two most notable features of these tactical pants.
Material and Construction
It is without a doubt that tactical pants and well-built materials go hand in hand. In fact, tactical pants are made for professionals needing professional-grade pants with a high-level of functionality. This is where this manufacturer succeeds. With heavy-duty reinforced construction, Teflon finish for soil, stain, and water resistance, and gusseted construction for quick and easy movements, these tactical pants are the epitome of quality. You can focus more on the task at hand, than fussing over construction and functionality.
Plenty of Pockets
As professionals know, there are many items that are carried around at one time. A person in the law enforcement field does not have enough time to focus on whether or not they can take them all. Taking these items is at times crucial at the moment. Therefore, these tactical pants solve that situation by offering 12 different pockets all with numerous functionalities. Whether you need cargo pockets for a magazine round or cellphone charger, or a knife pocket for emergency purposes, these tactical pants enhance your feeling of security.
Cost and Value
When it comes to cost per value, we are dedicated to bringing you the best bang for your buck. These tactical pants offer endless amounts of functionality, practicality, comfort, and durability all in one package. Purchasing these tactical pants brings a level of security that goes unmatched, something that cannot be measured by price. In fact, for the cost, these pants are known as one of the best options for anyone needing this level of functionality from their pants. It is important to note that the price will vary slightly in accordance with the color that you chose, which there are close to 10 colors to choose from.



Unlike the predecessor to this list which is made of polyester material, these tactical pants are 100% cotton. However, the added level of comfort does not remove any of the functionality and durability of these well-constructed tactical pants. In fact, the added level of comfort only enhances the many features and benefits of this professional-grade build material. Let's talk about 5.11's Tactical #74251 Men's Cotton Pant and the many benefits of having such a quality-grade tactical pant.
Construction
The construction of tactical pants is heavily focused on a blend of functionality with durability. The reason being. many professional industries use tactical pants in case of emergencies, heavy running, climbing, hiking, and for the importance of carrying around different items. This is where these tactical pants shine. It is built from 8.5oz cotton canvas that includes 7 pockets, rear strap, slash pocket design, and is also double and triple stitched. This level of security only enhances the confidence that a person feels when wearing these pants.
Compatible with Knee pads
As we said before, tactical pants are primarily used for professional industries such as EMT's, law enforcement officers, and other emergencies local. With this in mind, there is a risk that the person wearing these may be on their knees for long periods of time or suffer from an accidental fall, etc. Therefore, the kneepad compatibility gives an added level of comfort and security to these pants. In the case you need kneepads, 5.11 also includes compatible with their level D30 kneepads.
Cost and Value
For those seeking comfortable tactical pants that are made from a quality material such as cotton, you would expect it may be a bit more costly than other tactical pants made of items such as polyester. However, the opposite is in fact true. These tactical pants run around the same range as the previous pants without losing the value that they offer. Therefore, we can say that these tactical pants are not only superseding the cost with value, but they are also surpassing it with an incredible amount of comfort in the process.

3

. 511 Woman's Tactile Pro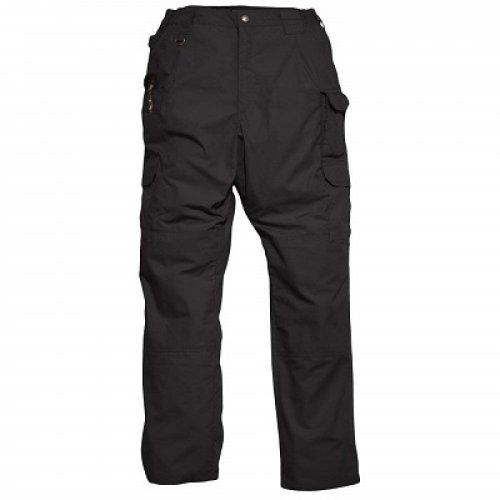 The 5.11 woman's tactical pants are ideal for any outdoor activity you may enjoy, including hiking, fishing, and hunting. They have an elastic waistband which allows you to move freely. Moreover, these pants are made of 65% polyester and 35% cotton with Teflon finish. These materials make them perfect for outdoors, no matter the weather conditions. The seat and knees are reinforced to ensure that these last through the toughest conditions.
Elastic Waistband
The 5.11 Tactile Pro pants have an elastic waistband that allows them to be adjusted according to your waist circumference. Therefore, these tactical pants are comfortable for activities that involve movement.
Teflon Finish
These pants are also stain and soil resistant. The Teflon finish works as a barrier against the factors that usually stains your clothes. Thanks to this design, 5.11 Tactile Pro pants will remain intact even after a muddy hunting game.
Cost and Value
This piece of equipment is necessary for those who want to fully enjoy an outdoor activity, even when the environment or weather isn't as expected. They include 7 spacious pockets, YKK zippers, and triple stitching!

4

. 511 Tactical Ridgeline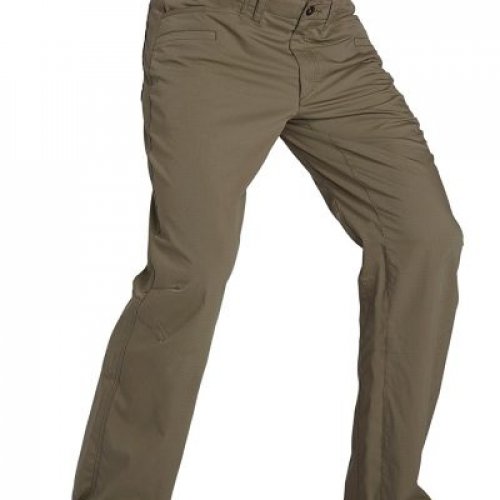 Known as the 'Covert pant', the 5.11 Tactical Ridgeline Pant is ideal for covert operations and casual wear. This high quality and A-grade tactical pants offer many of the conveniences of the previous tactical pants on this list in a package that is also incredibly appealing and easy to wear. With extra pockets for tactical use and stain resistance technology, these tactical pants look more professional than many other with a focus still on functionality. Let's talk about two of the best highlights.
Build Quality
As with many of the products from this particular tactical pant manufacturer, A-grade build quality has become synonymous with their name. With a double-stitching build, these tactical pants also have bartacking at major seams and stress points for ease of use and resistance to many forms of stress. The Nylon-reinforced pockets and zippers also mean that you can carry heavy and large items easily and effortlessly, without worry that your tactical pants will break.
Pocket Space
What makes tactical pants a unique creation is the method of functionality that you use them for. Whether you are a nature photographer needing to take a lot of equipment or a law enforcement agent needing to carry must-have items, there is never a lack of pocket space. With 8 high-capacity pockets and two hidden rear pockets, you can hide and secure practically any item you wish to carry.
Cost and Value
This particular brand of tactical pants is known for offering an incredible high return on investment. This is could clearly be seen when you consider how comfortable and stylish these tactical pants are, or the functional use of these pants. Alone the black tactical pants look like professional casual pants that you can take to a business meeting. However, there are five more colors to choose from that make this cover pants an ideal choice for anyone seeking heavy duty casual wear for important tasks. With added fabric features to ensure durability and a build quality that is meant to last, the value is high above the cost of these tactical pants.

5

. 511 Tactical Covert Cargo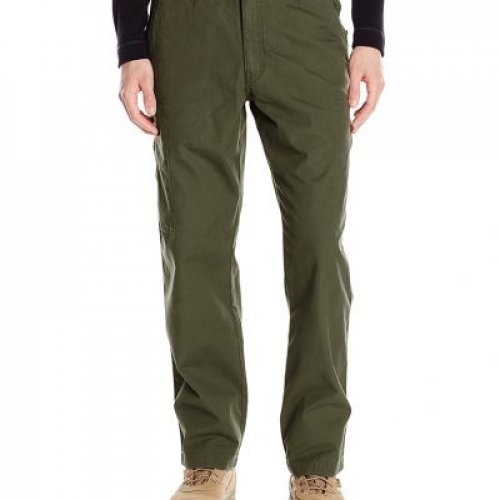 Tactical pants are known as the ideal pants for professional occupations such as EMT's, law enforcement agents, and SWAT teams. When you blend such A-grade materials used for tactical purposes along with a seamless and simple design, you receive a subtle and tactical creation known as the 5.11 Tactical Men's Covert Cargo Pants. These tactical pants offer the benefits of build quality and storage alongside a low-profile design that makes them appear as if they were any regular pants, but they are not. These are considered one of the best tactical pants in the industry. Let's see why!
Stylish, Flat Front Design
What makes these pants completely unique compared to other tactical pants on the market is the flat front design that is considered 'covert'. This type of design is used as a method to appear inconspicuous while offering the many benefits of tactical pants. With this type of design, anyone can go from a day on the job to a night out on the town.
Plenty of Pocket Space
The fear that many people hold with covert pants is that it may be lacking in tactical support. However, this manufacturer has mastered the blend of both, offering plenty of functionality and usability alongside a pleasant design. With plenty of pocket space, these tactical pants have double deep front and rear pockets with secondary internal pockets that are sized appropriately to the average pistol magazine.
Cost and Value
As with many covert pants, the value is another thing that people fear compared to the cost. However, with these particular tactical pants, the value is not diminished by the design nor by the cost. In fact, the design only adds credit to the ability of the manufacturer to create a tactical pant that can be used practically for any occasion. In turn, the cost is only a fraction of what a consumer receives in value. Additionally, don't forget to consider that these tactical pants not only offer plenty of functionality, but they are extremely comfortable due to the material, 100% cotton.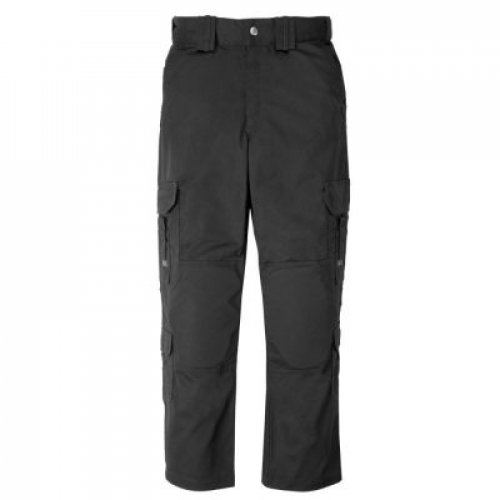 MS is known as Emergency Medical Services and, in a field as demanding as this one, an individual must be prepared for every case and scenario. With this, 5.11 makes it easy for an individual to feel secure in what they are wearing. Let's take a look at the specialized and highly popular, 5.11 Tactical #74310 Men's EMS Pant. These specially formulated pants were created with durability and functionality in mind, making them a must-have item for any professional industry that demands tactile pants.
EMS Specific Pockets
It goes without saying that these types of pants are created with functionality in mind. Almost any item that a person can imagine can be carried within the many pockets of quality tactical pants. However, this product is slightly different. In fact, with these specific pants, the pockets are EMS Specific, able to fit some of the many items that an EMS may need to carry in the case of emergencies or daily use. These specific pockets are considered full-size and have internal dividers to better keep track of every item.
Durability
Tactical pants are known as the most durable pants for professional personnel available today. No expense was overlooked with these specific EMS pants, offering numerous durable features such as Teflon treated material for stains and spills, a self-adjusting tunnel waistband, a rear web strap, and double-time belt loops for better security. With all of this in mind, there is an obvious reason why EMS personal trusts this particular tactical pant manufacturer – they are that impressive!
Cost and Value
The common belief is that something that is worth more money must be more valuable, right? Well, these tactile pants, in particular, are reasonably priced and offer a plethora of functional purposes that you would think the product could cost hundreds. Fortunately, for many consumers, this manufacturer makes it easy for consumers to purchase quality tactical pants at a cost that is tremendously lower to value. Alone, the value that these pants offer a professional occupation or EMS personal goes without measure.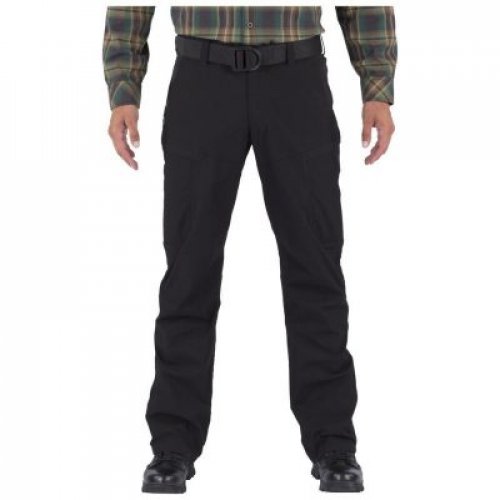 In an industry focused on providing durable and resilient solutions for people that work in the professional or emergency service field, 5.11 has always reigned supreme. With the 5.11 Men's Apex Pants, any professional person or emergency service member can trust in a new form of redefined confidence with their gear and tactical pants. Combining precision craftsmanship and functional design, these tactical cargo pants are the next-generation cargo pants that exceed any past expectations. With a focus on flexibility, durability, and premier materials, there is a reason why everyone is flocking to these new tactical pants.
Materials
As we have come to expect from this premier brand by now, these tactical pants are built with premier construction and materials in mind. The 7.2oz Flex-tac Mechanical stretch canvas is intently used with flexibility, mobility, durability, and ease-of-use in mind. With this exclusive construction material, you are guaranteed to wear tactical pants that are not only water resistant but also stain and soil. Lastly, the materials used include bar-tacked stress locations, for the areas that receive the most stretch and friction. Alongside this, there are seven reinforced belt loops to ensure optimum comfort and endurance.
Storage
When it comes to cargo pants, everyone knows that storage is of prime importance. If you combine that with tactical pants that are meant for endurance and resistance, you have a winning combination. Therefore, we should not be surprised that these tactical pants have plenty of storage space for anyone wanting to store important items. The storage space included are cargo pouch magazine pockets and a flex-cuff pocket inside of the front waist. Lastly, for emergency service members and law enforcement officers, there are handcuff key pockets inside of the rear waist for maximum storage.

Cost and Value
As many people have come to expect from tactical pants, the cost can be somewhat 'pricey'. However, all of this is subject to consideration when you take in mind the amount of value you receive. There is no other industry where the value for cost is as high as buying tactical pants. The reason being is that tactical pants are designed with endurance and resilience in mind while combining a blend of A-grade materials and extremely comfortable stitching. When you add this winning combination cargo storage as well, it is evident that it is worth every penny.

8

. 511 Tactical Taclite Pro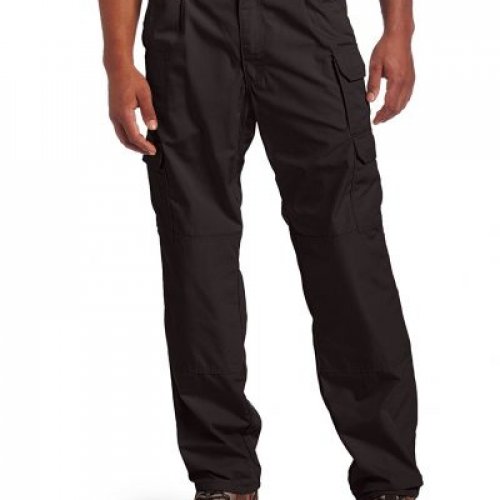 Known for quality, durability, and functionality, tactical pants are gaining traction now more than ever. However, used for years by professionals such as EMS, Firefighters, law enforcement officers, and the SWAT Team, 5.11 has created a tactical pant that is perfect for daily use with added functionality. Whether you need extra storage space or a durable and easy-to-use pant that allows for quick movements and more, 5.11's Tactical #74273 Men's Taclite Pro Pant is the must-have equipment clothing item for you.
Build Quality
Tactical pants are known to be lightweight and this particular pro pant has followed the trend with 65% polyester and 35% poly-cotton. This isn't the only noteworthy aspect regarding the build quality of these tactical pants. In fact, the material is also HT Teflon wear-resistant in the case of stains, soil, water, and potential messes. Alongside this, the gusseted construction quality is designed for easy movement and quick maneuvers, making it a great tactical pant that even the professionals would want to wear.
Plenty of Pockets
Tactical pants are also known to have multiple pockets for multiple uses. Whether you are a photographer looking for cargo like pants to carry a lot of your equipment or a law enforcement agent needing something with plenty of cargo pockets, these tactical pants offer a wide range of usability. With two cargo pockets for either a magazine round, cellphone, or any other item and an external knife pocket, you can feel safe and secure caring your most valuable items. Lastly, the front thigh pockets will fit any large phone, knife, or important must-have for your day out and about.
Cost and Value
Tactical pants can range in cost, depending on the size and color, this particular brand brings us over ten different color options and numerous sizes. However, the amount of security that any consumer feels when using these tactical pants is unmeasured by any cost. The value of having such a heavy duty and well-built item is priceless, making this one of the best purchases for any professional needing a lightweight and easy to wear tactical pant.

9

. 511 Tactical Taclite Jean Cut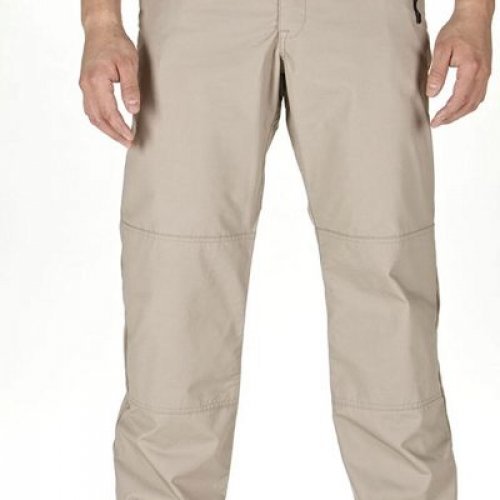 Another phenomenal creation by this particular tactical pant manufacture! This blend of five-pocket jeans and tactical pants creates a design that offers functionality, aesthetically pleasing designs, and durability in one simple package. The design team at 5.11 created the 5.11 Men's Taclite Jean Cut Pant, offering a design that is sure to turn heads for fans of tactical pants. Their new design is known as the '5+4 pocket design' offering the best of both worlds. With multi-use pockets and A-grade quality build materials that are known to last, there is a reason why these khaki tactical pants are gaining momentum in the industry. Let's discuss two important features!
Appearance
Everyone knows that high-quality jean pants offer comfort and design-build quality that is only matched by superior style. This is where these tactical pants shine. If you are desiring tactical pants that offer the look and aesthetics of jeans or professional dress pants, these are the one for you. The appearance is a blend of slim cut look, shaped waistband, and trim professional design. Therefore, the appearance results in tactical pants for the perfect covert operations, undercover occupations, or important night out with the family.
Pocket Space
Let's discuss further the 5+4 pocket design. With a total of 9 pockets, these pants offer the ability to carry around virtually any item the consumer desires. With pocket space to fit everything from tools and cellphones to magazine rounds and knives, these tactical pants were created with consumer functionality in mind. The pockets are durable to prevent wear and tear, and the exterior is treated with Teflon to prevent any possible stains.
Cost and Value
Tactical pants have always offered endless amounts of value to industry professionals that need a lot of pocket space, durability, and flexibility. With this new design, the value is only heightened with reinforced confidence and mystery that many covert operators and undercover personal need. These tactical pants peak with quality and are known to last years to come. With the finest of materials used to create these superior pants, you can be guaranteed that the cost is only a small fraction of what the user receives in return.

10

. 511 Tactical Ripstop TDU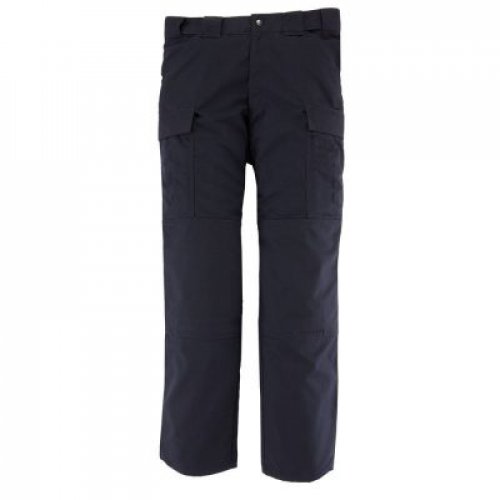 Tactical pants offer the functionality of cargo pants in a specialized design that is both durable and reliable. With this in mind, 5.11 has created the #74003 Men's Ripstop TDU Pants with the help from operators in the field. This direct insight into what people need in tactical pants has helped formulate one of the most durable, functional, and high-performance pants in the industry today. Known for their innovative design features and quality assurance, let's take a look at why we chose this product for our list.
Design
Tactical pants are known for their innovative design, and these go one step above innovation to provide comfort and functionality. The most notable is the Ripstop Fabric, also known as Teflon treated fabric for stain, dirt, and liquid resistance. Thanks to the no-tear technology, it makes it easy to move around in. The design is intended to be function-free, meaning you can climb, run, hike, and practically perform any quick maneuvers in these tactical pants, all while carrying some of the most important items you may need.
Storage
Tactical pants are also known for the many pockets they include. However, only particular products and brands offer internal storage or secondary storage pockets for the storing of any important item. With these, any consumer is able to carry magazines with them, heavy and large items such as a knife or large cell phone, or any other important emergency equipment you may need. The purpose of such storage is so it does not fall out of your pocket while you are running are moving about in a quick manner.
Cost and Value
Tactical pants are known as some of the more expensive cargo pants in the industry. However, what makes them different is the quality products used to create such high-functioning and durable everyday pants. With professional personnel in mind, these pants offer an unprecedented amount of value to EMS, law enforcement officers, and people that need such important functions such as ripstop fabric and adjusting waistbands.

Subscribe to our Newsletter