Best Waterproof Dog Beds Reviewed & Rated for Quality
last updated:
Jul 29, 2019
Does your pet suffer from incontinence? Are they aged, injured or in need of support? This is where your selections can have a huge impact on the quality of life for your furry companion. There are waterproof dog beds for incontinence that can shield your dog for embarrassment and save you hours of cleaning. They get their own spot to sleep and you won't have to worry about clean up afterward.
These selections work not just for this purpose but many of them offer great orthopedic support for your pet. You can even use some of them as an outdoor waterproof dog bed, ideal for nature lovers who enjoy taking their companion on trips with them. The best models available in 2019 are listed below in decreasing order of consumer satisfaction.
In a Hurry? The test winner after 12 hrs of research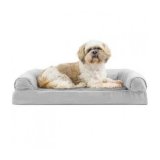 Furhaven
Why is it better?
Three bolster design
Faux fur top mattress
Egg crate foam base
Orthopedic support
Wide range of sizes available
In a
Hurry? Editors choice: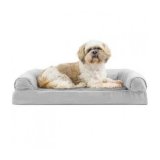 Test Winner: Furhaven

14
Researched Sources
11k
Reviews Considered
12
Hours Researching
10
Products Evaluated
Size
Color
Style
Comfort
Materials
By Default
10 Best Waterproof Dog Beds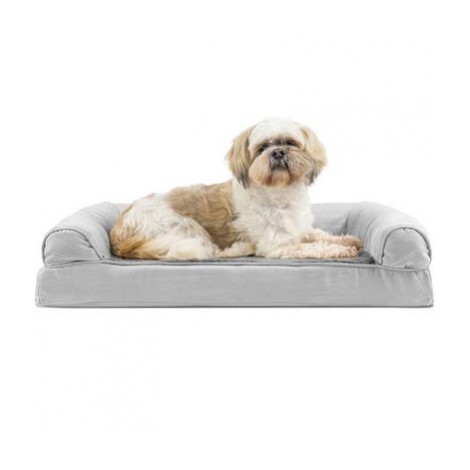 Three bolster design
Faux fur top mattress
Egg crate foam base
Orthopedic support
Wide range of sizes available
Can be incorrectly packaged
Fabric can be quite thin
The Furhaven waterproof dog bed is specially designed so your pet can sleep in multiple positions and still stay comfortable. This is great for companions of any age with a suede finish that gives it a stylish look. It maximizes comfort as the fur sofa design gently hugs the joints and offers support. The foam base relieves pressure points and improves circulation so your dog gets a good night sleep every time.
Size
Sizes small through to jumbo are available with the purchase of this waterproof dog bed with a small measuring twenty inches by fifteen inches and a jumbo clocking in at forty-four inches by thirty-eight inches. There is even a jumbo plus available for that extra-large friend.
Color
There are six color variations available for selection starting with dark earthy colors such as espresso, stone grey and french roast followed by brighter selections such as clay and deep pool.
Cost and Value
The Furhaven has a low price range with bolsters used to fill this structure comes from recycled fibers making it lightweight yet supportive. Its foam base has a peak and valley design which is used to improve circulation.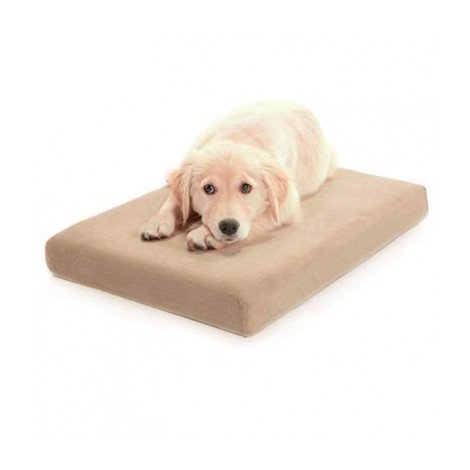 Foam base
Memory foam top layer
Washable cover
Rubber grips
Chemical-free materials
Quality control may be low
May not perform as advertised
The Milliard Premium offers support and comfort by featuring a foam base with a memory foam upper layer. It features memory foam which contours to the natural shape of your pet. Features such as these help to relieve pressure and give additional support to the joints making it ideal for aging pets or those that have suffered an injury. There are two layers of foam, high density for support and memory foam at the top for comfort.
Style
There are two layers of foam used to construct this item. At the base of the structure is a two-inch layer of polyethylene which is where the support comes from and that is layered with two inches of memory foam at the top to provide comfort.
Comfort
If your pet has a problem with incontinence this is the ideal selection as it features a cover that is waterproof and quick to dry. This means your pet will not be left wet and uncomfortable after an incident.
Cost and Value
The Milliard Premium has a low price range. It's not just for around the house, due to its convenient shape and size you can also use it in crates when you need to transport your pet to alternative locations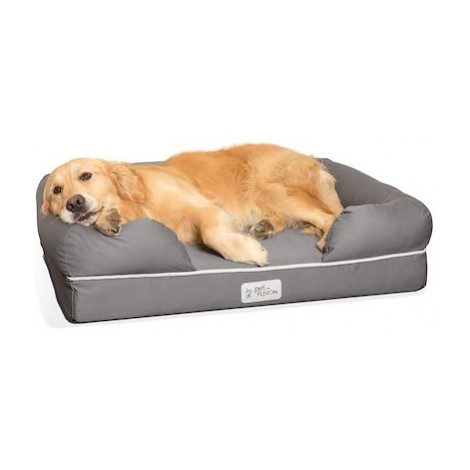 Memory foam adjusts with size
Support bolsters
Polyester and cotton construction
Water-resistant
Tear-resistant
Fixtures can become faulty
Quality control may be low
The Petfusion Ultimate bed has a four-inch memory foam base to reduce pain and durable construction of polyester and cotton. This waterproof dog bed is filled with recycled polyester as a nod to the environment. It is water-resistant with a cover that can be removed which features a machine washable construct so your pet can be clean and dry at all times. The inner liner is also waterproof which prevents the foam base from being destroyed from moisture.
Material
Memory foam is used on the upper layer of this structure and known for its pressure-relieving benefits. Excellent for older pets who may have joint pain or injured companions in need of recuperation.
Size
Sizes for this selection range from small to jumbo with the smallest selection measuring 25 inches by twenty inches and the largest clocking in at fifty inches by forty inches. Getting the right size is important with this type of design.
Cost and Value
The Petfusion Ultimate has a medium to the high price range that mirrors sizes according to the breed of your dog. They provide one on one assistance to ensure you get the fit that is right for you companion.



Waterproof encasement
Four-inch thick bed
Provides pressure relief
Machine washable cover
Hypoallergenic design
May run smaller than expected
Replacement covers not sold separately
The Brindle features a case that is completely waterproof which not only protects against moisture but dust and dirt. It has to inches of memory foam providing relief to joints with a high-density base for support. The zippered cover can be easily removed and laundered in the machine for a consistently clean bedding surface for your pet. Beneath the surface is another waterproof layer to protect the foam and integrity of the item.
Color
There are up to six color selections available with this item and while a few of them are quite standard such as charcoal and moca there are others that offer a splash of light and life such as the red sherpa and the navy trellis.
Style
This mattress has a total thickness of four inches with two being used up at the base with high-density foam while the rest is found at the upper level and is made up of memory foam for comfort during use.
Cost and Value
The Brindle has a low price range. It is designed to be used in a number of ways including in the lining of your pet's crate so they can be comfortable whenever you need to travel with them.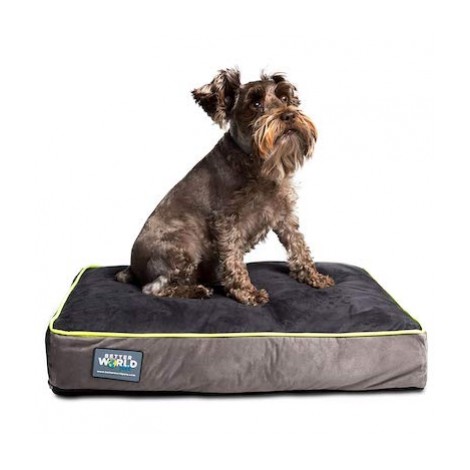 Five inches thick
Durable cover
Waterproof lining
Non-skid bottom
Sleek silhouette
Quality control may be low
Quality can decrease over time
The Better World Pets option packs five inches of memory foam into its construction to avoid sagging and increase support during use. It is quite thick which offers superior support for pets that may be along in age or injured. It is waterproof which protects your companion should they have any accidents leaving you with less work in terms of clean up effort and clean up time. The memory foam on this selection promotes comfort your dog will thank you for.
Comfort
The more memory foam you have the more comfortable you'll be and these manufacturers took this to heart as their brand stocks more than twice the foam padding of other leading brands.
Materials
The lining of this cover is constructed from polyurethane which is what gives it the water-resistant properties. Not only is this material stronger than common types of rubber but it is also much more flexible.
Cost and Value
The Better World Pets option has a low price range. It has a polyester cover that is tightly woven to avoid any damage and increase its ability to withstand heavy wear and tear which is ideal for an active pet.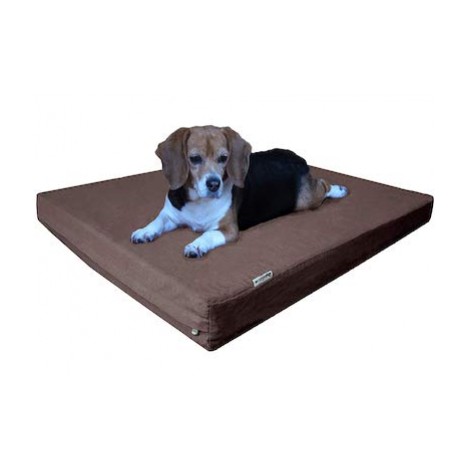 Internal zipper cover
Washable denim cover
Suede external case
Foam pad insert
Machine washable
Quality control may be low
Multiple layers to assemble
The Dogbed4less Cooking waterproof dog bed has a waterproof internal zipper which protects the foam inside from water damage. It is able to accommodate dogs of various sizes including large ones. The external cover is made from heavyweight denim for increased durability and is machine washable so your pet can be clean and dry at all times. The memory foam is four inches thick with a suede cover for increased comfort.
Size
The sizes provided with this company caters to ranges instead of specific sizes with the smallest design being a small to medium and the largest offering jumbo. Measurements run from a thirty-five by twenty up to fifty-five by forty-seven.
Style
This selection has a denim cover with zipper inserts that have been waterproofed for protection from moisture. It also has a suede insert pad and a nonslip cover at the bottom for ease of use by your pet.
Cost and Value
The Dogbed4less has a medium to high price range with a replacement cover included in your product kit which sets them apart from others who do not offer this accessory separately.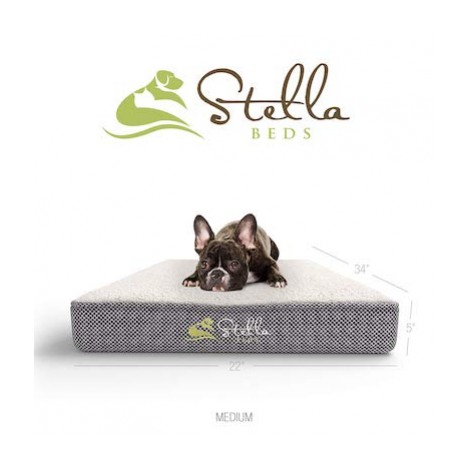 Gel-infused foam
Crate memory foam
Washable bed covers
Waterproof lining
One year warranty
May be too firm
Quality control may be low
The Stella Beds has a unique feature whereby the memory foam has been infused with gel for superior performance. It is designed specifically for pets that may be sensitive to changes in external temperatures. You have the option of using one side of the waterproof dog bed for the summer and another for cooler months out of the year. The difference in materials helps to control their temperature during the changes in season.
Color
Although this design comes in one standard color it is able to blend in with any decor and fit the mood of your home. Its earthy ash grey color means it can be ideal for a classically designed home.
Comfort
The memory foam on this selection is infused with gel which allows it to keep your pet cool during warmer seasons such as summer while the layer made from density foam is ideal for colder seasons such as winter.
Cost and Value
The Stella Beds has a warranty that lasts up to one full year with a satisfaction guarantee from the manufacturer. Temperature control is great for pets that have issues adjusting to changes in temperature.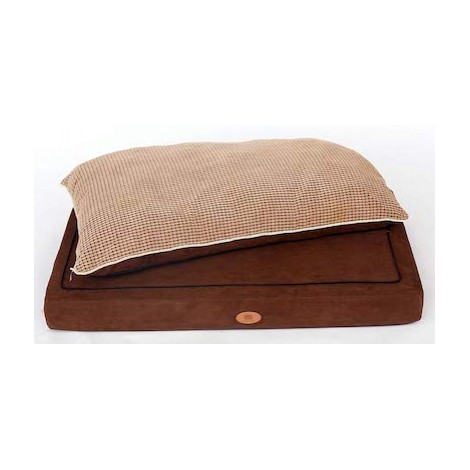 Unique design
Foam base
Plush pillow
Medical grade foam
Machine washable
Pillow stuffed with fiberfill
Can become lumpy despite the massage
The PLS Pet Paradise features orthopedic foam is designed for pets that do not exceed 50 lbs such as English Bulldogs and Beagles. It has orthopedic foam which is ideal for relieving the pain and stress in the joints of your pet. The top pillow is comfortable with a rich texture your companion will love. Both the base cover and pillow top are machine washable for easy cleanup and waterproof to prevent moisture damage.
Style
The brown suede used on the cover fabric gives this design a stylish and exotic look. It uses corn kernel fabric which is very comfortable and the entire surface of the pillow features corduroy that is golden in color.
Materials
Suede is not the most durable material available for product construction, however, it is a type of leather. This means that features a lot of the same qualities though not at the same intensity this material still works well for these selections.
Cost and Value
The PLS Pet Paradise has a high price range, however, once unwrapped and fully expanded, there are lots of measures you can take to ensure your selection is as comfortable as possible for your pet.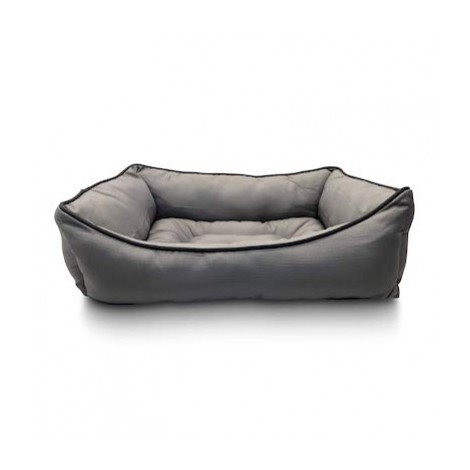 UV treated
Fade-resistant
Polyester construction
Water-resistant
Padded sides
Padding can be a challenge
No protective rubber base
The Pet Craft Supply is UV treated and fade-resistant making it a great choice for both indoor and outdoor use. It comes in two colors and can be used indoors as well as outdoors. It is both warm and supportive which are two main areas in which your pet needs to be serviced. The water-resistant fabric is able to wick moisture from its surface ensuring your companion is dry and clean at all times.
Comfort
The design structure of this selection comes with high sides that have been padded which provides head and back support for your pet as they rest in their waterproof dog bed. Instead of foam, this selection uses a polyfill to offer both support and comfort.
Size
There is not a range of sizes when it comes to this particular selection, however, the parameters are large enough to accommodate a companion weighing up to fifty pounds. Measurements are thirty inches by twenty-three inches.
Cost and Value
PLS Pet Paradise waterproof dog bed has a medium price range. There are two colors available with this selection and it is quite easy to clean as it is machine washable allowing you to keep your pet's environment clean.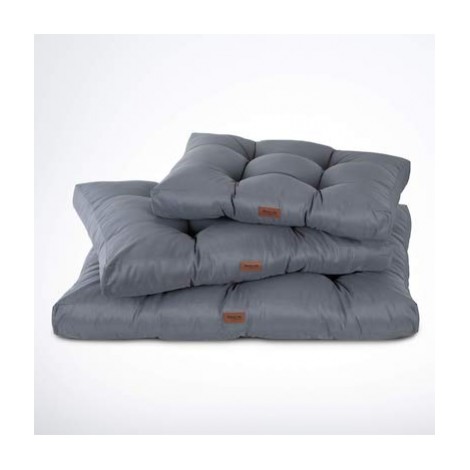 Cushioned design
Microfiber crates
One-piece mattress
Neatly stitched
Machine washable
May run thin
Quality control may be low
The Petsure is filled with microfiber to create a warm and comfortable space for your pet. This waterproof dog bed has quilted cushions that create a unique design unlike anything else available on the market. It is constructed with soft microfiber and is large enough to accommodate a range of sizes when it comes to pets. Extremely comfortable this selection is easy to take with you wherever life takes you.
Materials
Constructed from oxford fabric this selection is high quality and machine washable for easy use ensuring your pet is clean and comfortable at all times. This material offers odor-resistant properties in addition to basic benefits.
Color
There is one standard color with this design but there is no need for elaborate blends when you see the microfiber chambers and bedding creates which make this item stand out from others visually.
Cost and Value
The Petsure has a very low price range. Not only is the design eye-catching but the pattern is quite seductive. Due to its versatile nature, this selection is a must-have utility product.
Criteria Used for Evaluation


Size
When selecting a bed for your pet paying attention to the size is important as it directly affects how the item performs and how effectively it meets the stated criteria. Most especially in the case where the structure is not flat, the size will dictate the amount of support your pet receives during use and their level of comfort. This stands to reason the perimeters may be a vital factor but so is the weight that the structure can handle.
A selection that isn't designed to handle the weight of your companion can easily lose its shape and support and become damaged which not only becomes a detriment to your dog but an unnecessary additional expense. The good news is that most companies offer a range of sizes that stem from small all the way up to jumbo plus. Of course, each manufacturer would have its own size range that may not be standard across the board.
This would call on pet owners to ensure that they assess the right size for their pet and ensure that they don't automatically buy a small design because their companion is considered small. They need to ensure that their friend is fully supported and their entire body fits inside or upon the structure with enough room for maneuvering. The parameters for each size category should be listed on the manufacturer's website while some online retailers also stock this information.


Color
Having a range of selections when it comes to the color of a waterproof dog bed is a huge benefit. For one thing, it gives you the opportunity to show you individuality as everyone has their own personal preferences and leanings to what suits them and looks beautiful in their eyes. Colors have the ability to affect your mood and when you choose a color that makes feel good it can brighten your day and really make your life shine. There are other reasons why color selection is so important.
Persons may have a general feel to their home which may be presented as classic, abstract, bold or modern. There are specific colors that blend well with each type of decor and your selection can either keep your home in harmony or cause a conflict that makes your home disjointed. That is why many companies offer a range of options from dark and earthy to bright and bold. Each with the power to influence the look and feel of your home.
When it comes to beds for your pet you certainly won't want them to stick out like a sore thumb, you would want their furniture to blend as seamlessly as everything else in your home. Dark earthy colors are an excellent choice for classic homes and ideal for outdoor use as they can absorb dirt and stand up to heavy wear and tear. Brighter colors give a modern home the splash of color it is looking for and can really add that special something that sets your house apart from everyone else.


Style
Many designs come with a high-density foam base as this is the part of the structure that provides support to your pet. Although the goal is to have a soft comfortable area, the base needs to be firm enough to avoid your companion falling off or the structure becoming lopsided and sagged over time which will do more harm than good. If your friend is aged or injured this part of the item will provide relief for their joints during use. This area is usually anywhere between three to five inches thick.
Laid over this high-density foam is memory foam which offers a much softer touch and is the part of the structure that promotes comfort. Memory foam has the ability to contour the body of your pet, making them feel like they are laying on a soft cloud. This area can vary when it comes to thickness as some companies may provide a thick two-inch layer while others may go all out with up to four inches. The thicker the layer the greater comfort and support your friend will receive.
Some designs come in the form of a mattress with a flat surface that allows your pet to really spread out. They generally come with rubber grips to avoid the structure from slipping or sliding around during mount or dismount. These are ideal for use around the house and in cages to provide a comfortable surface for your pet to rest. Other designs resemble sofas or chairs which offer your companion an air of sophistication.
These are more challenging to size but it allows them to assume different positions with a built-in headrest. The mat-like designs are quite extraordinary and are typically used in the outdoors as well as in the house. Great for summer days outside with the family or out on camping trips amongst a rugged environment. These tend to be treated for resistance to heat and other elements you may face while out of doors.


Comfort
The older your pet gets the more of a problem they may begin to experience with conditions such as incontinence. This bed wetting not only makes your pet uncomfortable but it is likely you may experience some inconvenience as well, especially if you let your companion sleep on your bed or sofa. It can be a drag having to clean up after accidents which is why companies have provided a waterproof surface to these beds so both you and your pet can sleep soundly.
Extra layers of memory foam may seem excessive but it really makes a difference when it comes to the comfort of your pet. The reality is that most designs have an upper layer of around two to three inches which is sufficient, however, manufacturers also know that this thickness needs to increase as the size of your pet increases. While some companies pay attention to this practice there are some that avoid the problem altogether and place a whopping five inches of foam on their upper layer.
This is almost three times competitor brands which is why the companies that practice this stand out from the rest of the competition. They provide advanced performance in every area as this upper layer works in addition to the traditional high-density foam base. That is a level of support and comfort your pet will be thanking you for as they lay in bliss upon their high-performance waterproof dog bed.


Materials
Memory foam is a very common material used in the construction of this type of waterproof dog bed. This is due to the fact that it is able to relieve pressure experienced from aged joints and is able to minimize both pain and sensitivity during use. This makes it a great alternative to regular sleeping surfaces such as beds and couches. It is able to contour and hug the natural shape of the body increasing user support as well as user comfort during use.
Polyurethane is an organic compound called a polymer but it behaves in a similar way to rubber and plastic. This makes it an excellent choice when it comes to lining the covers of beds for pets. As it is a non-toxic coating, there is no danger of injury or illness should your pet ingest the compound due to chewing. This is the material that gives a great majority of these types of waterproof dog bed their waterproof properties and true to its design it is both strong and flexible.
High-density foam is used typically at the base of design due to its strong cellular structure. It is highly durable and the perfect material to lend support to the joints of your pet. It is firm enough to give support yet quite soft compared to other materials so you don't get uncomfortable during use. The higher the density of a selection the stronger the overall quality which is why this material of the choice of most companies for this particular product.
Expert Interviews & Opinions
Most Important Criteria
(According to our experts opinion)
Experts Opinion
Editors Opinion
Users Opinion
By Default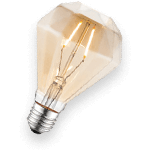 Safe to Use
If you've got an energetic pup or hardwood floors, you know first hand how items can slip, slide and practically run away from them. It is important, therefore, especially with this type of item, to ensure it has some kind of base material that can produce enough traction to keep the product from sliding around. This can reduce the chances of injury and make it easy for older or injured friends to get in and out of their bed with relative ease and convenience.
Service Range
For many manufacturers, their service to consumers goes way beyond supply and demand. They ensure that customers best interests are addressed which lead some companies to deliver their beds in a compressed package. This may seem like an insignificant gesture and may take some time during setup, however, it is an ideal way to ensure damage is not done to the delicate interior of the structure be it from delivery or moisture. Others may offer provisional warranties to ensure buyers are well satisfied with their purchase.
Other Factors to Consider


Advanced Features
Cleanliness is very important when it comes to pets as an unclean environment can lead to illness and other unwelcome conditions. This is why some companies have made it their focus to ensure that fixtures for your pet's bed such as the outer casing and pillows are machine washable. With this feature, you can easily remove these and launder them before replacing. Your pet will appreciate being dry and clean, pl you will be able to quickly remove any unsanitary conditions that can cause illness.


Use
As your pet gets older they are likely to experience aches an pains just as humans do and they also need a measure of support for their aching joints. These types of products are able to give them a comfortable feel while offering the support they need to alleviate any pain. They are also great for companions who may have issues with incontinence as the waterproof surface helps keep them dry and comfortable.
This can also be the case if your pet has been injured and needs a comfortable place to rest and recover. It is also ideal for taking your friend out of doors and make great bedding for their cage during travel.


Ease of Use
Removable covers make these selections easy to use as they can be taken off via zippers. These zippers can be single on one side of the structure while some may be present on both sized. This allows you to take off the covers and have them laundered in the washing machine before replacing so your pet always has a clean, dry bed to rest in. The fabric used on the surface of these products generally allows you to see and remove hair which also helps you to maintain the cleanliness of our friend's bed.


Accessories
Selections with a mattress design are made flat and do not offer support other than that which is designed underneath. This limits your pet to the positions they can rest in as it has to head or side rest for them. Due to this fact, some manufacturers have opted to include accessories such as pillows which gives your pet that needed headrest and elevation while the lounge on their orthopedic beds. Just as the main structure, they are typically machine washable with a cover that is easy to remove.


Versatility
Being able to multipurpose your pet's sleeping accommodations is a huge bonus and there are manufacturers that give you that option. For example, there are many designs that can be used both indoors and outdoors. In addition, due to their size and construction design, there are some beds that can be placed at the bottom of a crate so your pet is comfortable during transport. Using this product as a temperature controller is not unheard of either.
Frequently Asked Questions
q:

If these are waterproof dog beds, how do you clean them?

a:

These waterproof selections typically have removable covers that are made of fabric that can be safely laundered in the washing machine. You simply remove these outer layers and replace them after washing. In most cases, you will need to do this on the lowest setting to avoid any damage to the waterproof dog bed.
q:

Do these waterproof dog beds have temperature control?

a:

There are some designs that are specifically constructed to be adjusted based on the season. They are typically dual-sided using the soft fluffy upper layer during colder months while the gel-filled lower layer can be used during warmer months such as summer. This feature needs to be confirmed via details on the manufacturer's website.
q:

How to your accurately select a waterproof dog bed size?

a:

Some manufacturers have a sizing chart that matches the breed of your dog and this gives you a simple and easy way to pick the correct size. Others offer a one on one consultation where you can contact the company directly and get the guidance you need to make the right choice.
q:

What if my dog chews on the waterproof dog bed?

a:

These selections are not designed to be chewed on by pets and can become torn and damaged from this practice making it ineffective. The materials used for the construction of most of these products are non-toxic so although the mattress may be damaged beyond repair your companion will be safe.
q:

Is the waterproof cover the only protection these selections have against moisture damage?

a:

While the outer cover of most of these designs is sufficient to provide protection from moisture there are some selections that also feature an inner layer that is placed over the foam to ensure it remains dry and is not destroyed from moisture or any other external factors whether the cover is on or off.
Subscribe to our Newsletter