10 Best Ice Skates
In a Hurry? Editors choice: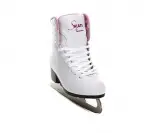 Test Winner: Jackson Ultima GS 180

With any form of skating, whether it be figure, speed or hockey, the main tool lays in your skates. What is the best for just starting out? We are here to help you decide which skate is best for you based on size, sturdiness, comfort, price, and level of time on the ice. We want to help you pick not only the right gear- but the best gear for the time you're looking to spend on the ice.

Just going out and getting any pair you come across can prove to be a waste of money and quickly end in disappointment. We want you to have the best and safest time you can in your new skates and this is best done when you are well informed on all the facts that go along with any sport- from ice skating to hockey!
Standout Picks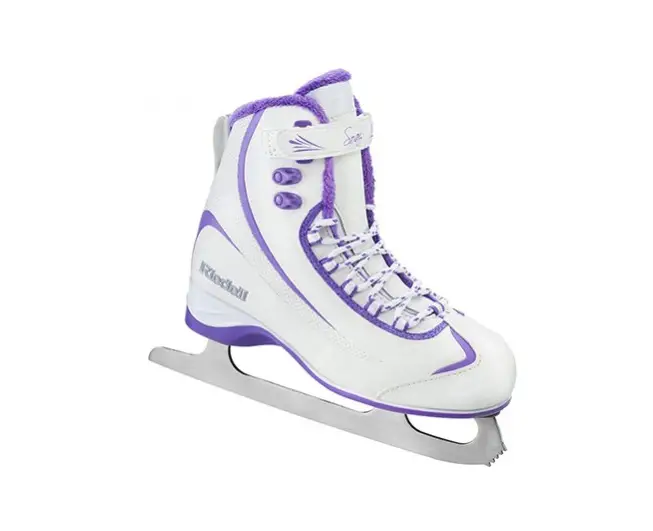 Riedell skates in for a second display of skill on our list with the 625 Soar, a skate built with comfortable lightweight designs in mind. Easy to find fit and comfortable to wear for the long term, Riedell's 525 Soar is a great choice for any beginning skater.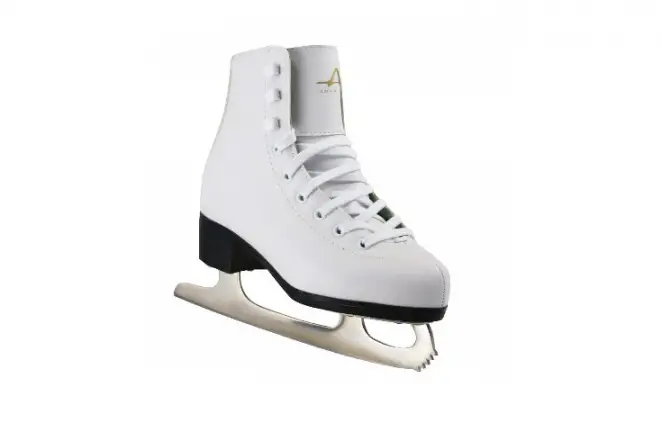 Looking for a warm and comfortable ice skate for recreational use on ponds, or around the rink? These skates are built for the beginner or occasional skater to enjoy simple laps around in comfort and a bit of style. Instead of going for the traditional white, American Athletic wanted to make you feel more stylish with hints of gold throughout the shoe while you enjoy your day out on the ice.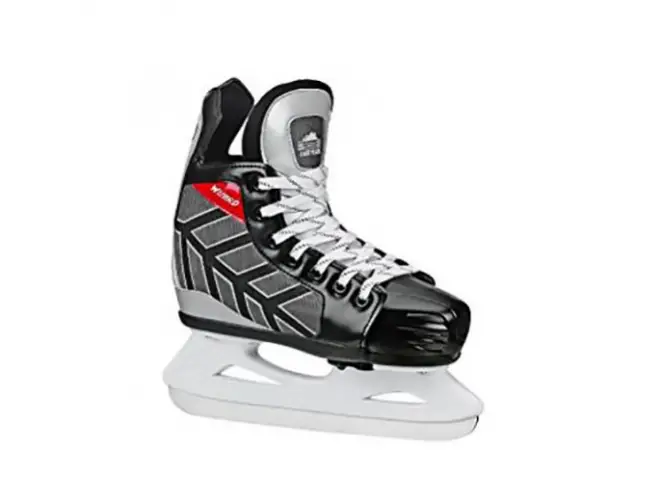 Want to be able to help start up your child in skating while not breaking your wallet and knowing the boot will grow with you? If you need the right hockey skate for your growing child, Roller Derby has just the thing. Their adjustable hockey skates allow a onetime purchase for years' worth of skating.

Criteria Used for Evaluation
Comfort
Criteria Used in Choosing the Best Ice Skates
So, if you're looking for the best skates for the season as a beginner, look no further than our top ten. All of our skate choices were looked at based on a lot of sleuthing around for the best guides in how to decide if a skate matches the activity desired, and we put a mix of all the activities we found onto the list based on cost, value and what other customers had to say. Some of the brands are well known, while others are new or lesser known brands of just as good quality.
We gave you the best we could find in high quality at affordable prices, and skates don't come cheaper anywhere. Once you make your selection, and we do recommend taking a deeper look at our criteria, faq, and sources where we provided you with everything we found while looking for the perfect gear. Once you feel you have picked the best gear for your new or continued hobby, get ready to hit the ice for hours of ice skating fun!
Insulation
When picking out your skates it is important to note how well insulated they are for the activity that you have in mind. For outdoors you'll definitely want to have well-insulated boots because it isn't just the ice itself you have to worry about, but the cold weather as well. The insulation needed for professional and/or inside skating isn't quite as great because you are inside and only have to deal with the in-rink temp. That being said we tried to make sure to provide both types of skates on our list so that either way you can find exactly what you need and want in your skate.
Most skates also come insulated with the right thickness of material as well for the activity. The reason it is important to know if the boot has the proper insulation is that when you are wearing them properly, you aren't actually supposed to wear any type of socks. Wearing thick socks in a skate can actually cause safety issues by making them not strap securely or correctly in order to support your ankle for the activity. Unlike with other footwear, having the proper support for your foot and ankle are extremely important in any skating activity since all of your weight and balance is being placed on a thin line of support, the blade.
Type of skate
This may not seem important right away, but once you have decided on your activity and are passed your baby steps, this becomes extremely important. During our research, we discovered there are four distinct types of skates: Figure, Hockey, Speed, and Recreational. Each type of skate has unique qualities such as the amount of insulation, give of material, support, the shape of the boot, shape of the blade and weight. For our list, we stuck mainly to beginner's boots so that you could select the type you wanted and have the extra support for a beginner. Most of these work for recreational use as well, especially the heavier adjustable boots, but not all of them are good for a long time or heavy usage. However, if the blade is shaped wrong for the kind of activity you are looking for, or if the boot is too heavy/light it can be cause for serious injury. Please take a look at our sources to learn more about how to select the right skate for you.
Cost and value
At Gearhunt we try to make sure all of our lists bring you the best products at the best cost. We weigh each positive with each negative and make sure that the prices meet what you should expect from the product. This means that while you may find less expensive items, you are probably getting exactly what you pay for: an item that doesn't stand up to the pressure of use. We don't want to give you skates that will fall apart in less than a few days use just because they are cheaper, instead, we extensively research to make sure each positive and negative review stands up to scrutiny. This way we can tell you that we know for a fact, we are giving you the best product for your money. No one wants to end up short several dollars and out of one product.
Quality of the blades
Some skates come with pre-sharpened blades, others don't. Before going out onto the ice, you have to know which you're looking at with your purchase to prevent injury. Since the majority of the skates on our list are for beginners, chances are you won't know what to look for to know whether or not you will have to have your blades sharpened. In order to best meet safety requirements, we checked which of these you are most likely to need to be taken somewhere to be sharpened. The reason this is important is that dull blades can cause your skates to get stuck, or to not move easily across the ice as they should. In either case, it is a cause for ankles to get twisted or falls to more easily occur- especially when you are getting involved in a sport like hockey.
Additional information
Skating can be fun for everyone, but safety must always come first. Always keep in mind your physical health before stepping out onto the ice in any skate. Weak ankles, knees or hips can send you to the hospital with broken bones even with the best of support. Also keep in mind that whether you are inside or out, this is a cold activity, even rinks have to be kept at lower temps to keep the ice frozen solid for you to skate on.
Be aware of scratches, breaks and any other obstacles visible in the ice. A deep groove or spotty area of dead plants in the ice can cause an accident. If the ice looks like it has minor cracks in it, don't be fooled, it is probably not solid enough for you to skate on. Check with the local area information to see if ice is ready or able to be skated on before doing so.
Don't wear the wrong gear. A hockey skate is going to be much heavier than a true figure skate. This means making jumps and doing tricks will be much more likely to cause you injury. Always check with someone who knows what to look for before deciding on whether your gear is suited for your purpose.
How to Find the Right Ice Skates for Your Skill Level
Purchasing the perfect ice skates is part of becoming the best ice skater you can possibly be. However, ice skating is not only fun but it's expensive. There is a lot of money that goes into the sport from hiring professional teachers to purchasing long lasting skates. Before making your big purchase, we recommend renting a pair of skates, trying them out for a few days and seeing how much you like them, this way if you decide the sport is not really for you then you haven't spent an excessive amount of money. Here are some tips on how to find the right ice skates for your skill level.
Beginners: Basic Skates
As a beginner, you want to go for a basic skate, the reason for this being you want to get comfortable with the skates before you have all the bells and whistles added on.
Size and Comfort
The very first thing you should be aware of is: boots and blades are sold separately. The boot you purchase is meant to provide the comfort and stability, while the blade will help you navigate the ice with ease. Therefore, it is very important to focus on the boot itself and finding one that is comfortable and the right size. A common issue beginning ice skaters tend to have is wearing the wrong size boot and having no idea. The boot should feel snug enough to hold your feet in place yet have some sort of comfort level. Let's face it ice skates are not exactly comfortable due to their narrow design, however, wearing the right size will help make the boot feel as comfortable as possible.
As a beginner, you want to have a boot with about three to four hooks and minimal tongue padding. The more hooks you have, the tighter the boot will feel. Furthermore, you want to ensure the boot fits tightly around your ankles as most of your support will come from them.
The Blade
When selecting your blade, you want to keep in mind sharpness, and how big is the toe pick. As a beginner you will not be swirling or twirling on the ice, so you want to keep your toe picks to a maximum of three or four. Any more than that will make the foot feel a bit clunky, which is the last thing you want while you learn the ropes of the whimsical sport.
Proper blade placement
Every time you purchase a new boot you want to ensure your blades are placed properly. Blades are screwed on to the bottom of the boot, so you want to make sure they feel secure and stable before getting into the rink. The key is making sure the blade glides through the ice without pulling or tugging. For the perfect balance, your blades should be correctly centered, allowing your feet to stand upright and feel natural.
Breaking them in
Just like any other shoe, it is important to break your skates in. The key is wearing them around your home or on a frequent basis. Doing so will help you break them in faster while allowing you to feel more comfortable walking with them.
Intermediate and Advanced: Time to Jump
If you are at the intermediate level, then you already own your basic boots that you know, love and trust. However, it may be time for a new pair, particularly when you are prepared to begin jumping and twirling or even working with a partner.
Ankle support is a must
Now that you are no longer a beginner and have plans of expanding your ice-skating knowledge, it's time to truly focus on having the best ankle support. Having great ankle support not only helps prevent injuries, but it helps you feel more stable and confident in your turns. Your new skate boots should feel stable and a bit snug but with enough room to wiggle your toes, move your ankles, and bend if needed.
Blades need an upgrade
As a beginner, you selected blades that have three or four picks now as an intermediate or advanced skater your blade type will depend on what you want to do while you skate. For example: if you plan on dancing while you skate you want a blade that is shorter at the heel end, meanwhile if you are advanced and want to freestyle your blade should have intricate picks with deeper dents.
Following these tips will allow you to find the perfect ice skates for you and your needs.
Top 10 Picks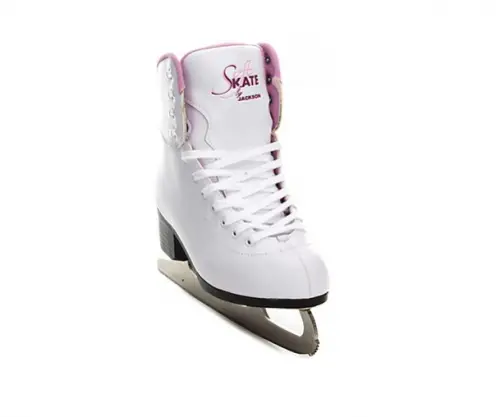 Well insulated and ready for use the Jackson brand shoe lives up to its name as usual for beginning skaters. This brand is trusted for its ability to both hold up and last through the needed lessons as a beginner skater and keep you comfortable while you do so.
Size What?
Jackson made sizing easy, and without the need for complicated charts. Based on US women's shoe sizes, these skates are only one size difference- so if you're an eight, you need only look for an eight and a half size skate.
Nice-n-Cozy
No one wants cold feet on the ice, and JacksNylexows it. The Ultima GS 180 is nylex lined for your comfort and warmth. Providing you with support without a loss in heat. Enjoy skating without having to worry about wearing an extra layer of socks just for padding, unlike some other brands.
Cost and Value
Jackson offers the enjoyability of their skates without too heavy of a price tag, sitting at just above the lowest costing skates on our list. They don't sacrifice their value either, providing you with good, durable skates without gouging out your pockets, despite being one of the best-known brands on the market.

2

. American Athletic Shoe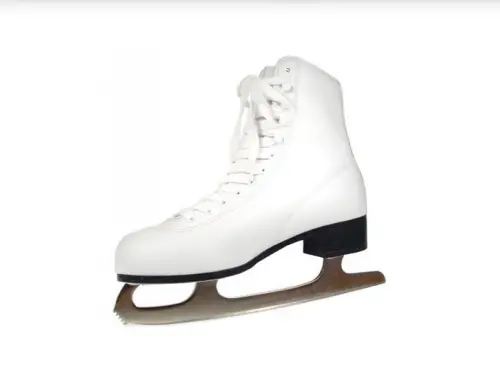 Beginner at skating? Not really looking to go professional, but want a comfortable and easy to wear skate for recreation? This would be the perfect fit for you! American Athletic provides great skates at an affordable rate.
It fits!
When picking out any type of footwear, you want to know if the shoe will fit right. Don't just jump in thinking you know the size is good just because of your normal shoes- use the sizing chart provided by the company and you'll get a better if not perfect fit every time.
I'm new
When just starting out, you may immediately think that jumping into a professional grade pair of ice skates is the best plan, however, not all skates are equal. The Tricots are made with the beginner in mind and are easy to use accordingly.
Cost and Value
When hunting for skates you're going to find that that buying cheap will cost you in most cases. Your boots will fall apart or the blades won't stay put. Bringing you both a good price and a worthy pair of skates, American Shoe has earned its place as number one for a reason.

3

. Bauer Senior Supreme 140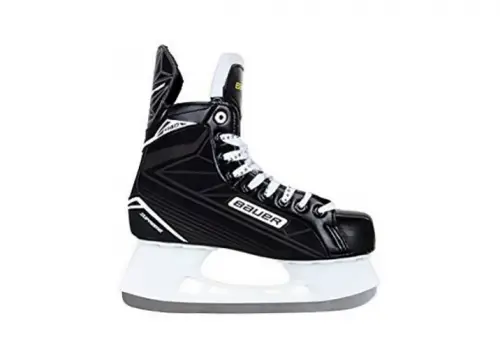 Want to get involved in hockey, and want a brand you can trust to get going? Bauer is one of the leading brands for hockey skates, and it's no wonder with all the positive results in making ice skating a great experience for everyone.
You sure?
While a little more expensive, Bauer offers the support system needed when playing hockey. Not all ice skates are meant for all types of skating, and hockey needs a pair that can support your ankle while going at higher speeds and rougher turns. So if you're sure hockey is your aim, Bauer is likely where you want to start and end your game.
Long lasting
We need to mention durability when it comes to hockey skates. After only a few uses a lot of the cheap brand ice skates may wear down and begin to fall apart. When you are playing hockey, you need a skate that will stay as well put together at the end of the season as it does at the beginning, that is where Bauer takes the floor by storm.
Cost and Value
Bauer is not on the cheap end of the spectrum, but it certainly doesn't try to tear every penny from your pocket either. Given their reputation for being a top sporting equipment, you can bet that every dollar spent is well places when purchasing a pair of their skates.

4

. Jackson Ultima Excel Series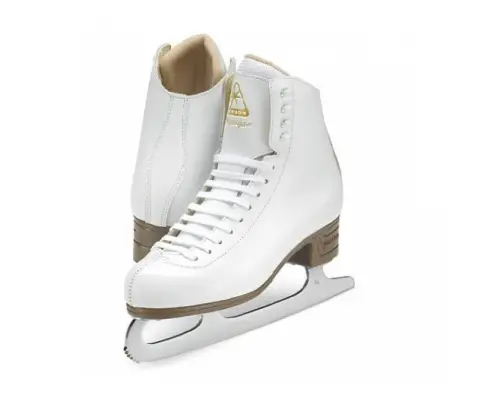 Don't want to guess what you're paying when you go to buy your skates, and want a well-known brand? Look no further than the Jackson Ultima Excel Series ice skates. Offering a great comfortable shoe at a reasonable price, Jackson doesn't try to sugar coat the beauty of the shoe or how convenient they are for beginners.
Easy Sizing
One tricky aspect of purchasing ice skates online is not having the proper knowledge on sizing. Jackson makes it easy by having a simple size chart that makes selecting the correct size a lot more accurate than most.
Comfort and Padding
Padding is important for any skater due to needing an extra level of comfort. These ice skates offer a full quarter of padding and extra padding around the ankles along with foam backed vinyl and a mesh comfort tongue. The combination of these materials together put your feet at ease even when you are working on breaking the shoes in.
Cost and Value
For those that are seeking a pair of excellent skates with added comfort at a reasonable price, these are the perfect ones. These shoes offer the perfect balance between quality and effective pricing.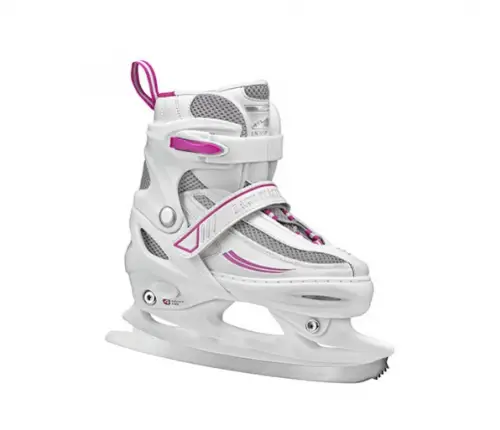 When looking for an ice skate for kids and you want something that works outdoors, you find yourself wondering if it's all worth it. Kids grow up so fast, and paying even for the cheapest skate you find in their size can seem daunting. That is where Lake Placid has stepped in to provide the perfect choice for you.
Adjust-ability is sustainability
Kids simply grow up too fast, and you don't want to keep having to buy new skates along with new coats, gloves, and boots every year. That is where the innovation for Lake Placid's adjustable skates comes in for the rescue. Now your child's love for the ice can grow with them!
Nice and warm
There is no doubt that ice skating is one of the coldest outdoor activities for someone to enjoy. A frozen pond is only inviting until your toes are numb! Lake Placid doesn't want your child's enjoyment to come to a close over cold feet, so they have lined their skates to let them skate longer and more comfortably in safety.
Cost and Value
Can you really put a price tag on your child's warmth in the winter, or the memories enjoyed when pursuing a hobby like ice skating? Lake Placid doesn't think you should have to either! Their adjustable skates come at an affordable price that lets you save for years before needing a new pair. At only half the cost as most of the skates on our list, it's like you're not only getting a deal for the first pair but at least two more for free!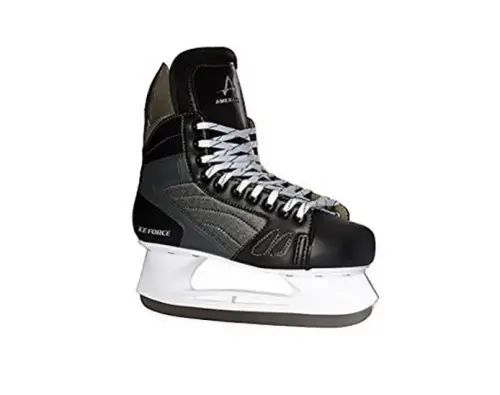 Sometimes a brand just outdoes itself with expectations, and this is the case with American Athletic Shoe. Coming into our list again at number six, they bring us their Ice Force Hockey skates. These are professional grade hickey skates and they may work for a beginner, but doing a little research goes a long way in safety. It is suggested that you break these particular skates in for comfort, as the support offered is meant for professionals.
Game Time!
Unlike most of the skates on this list, Ice Force Hockey skates aren't made with the beginner to hockey in mind. The difference is in how you need to take care of them before full use. They require some breaking in to be both comfortable and still maintain support for the player. That being said, be sure to check our source links for information on skate baking.
Size Matters
Most skates are not true to shoe size, however, American Athletic assures it's buyers that the skate is true to actual US men's sizes. This means you do not have to go hunting for a chart if you live in the US- your size, is your shoe size.
Cost and Value
For its quality, this skate is at a very good price range. Like most skates, however, the price may vary based on the size you wear. If you already are a hockey player, though, or are planning to pick it up permanently as your sport of choice, they still are in the low-end cost range for a hockey skate without sacrificing on quality.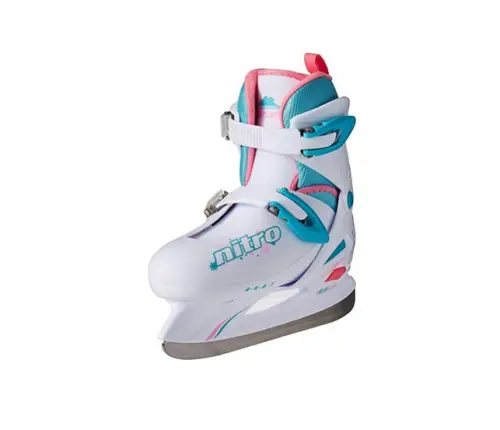 Another brand which has re-entered the list, Lake Placid returns with another style of skate for the growing beginners. Unlike the typical boot skate, this particular version is designed to fit more like a figure skating boot. While it may be too heavy to perform high scale jumps, in all truth, it is meant for starting out and not for professional use.
Perfect sizing
As with the previous Lake Placid skate, the Nitro is meant to grow with your child so that you can not worry if they will fit the same skate next year. Allowing for adjustments, the boot scales up 3 full shoe sizes with each selection (small, medium, large) so that you get years of use instead of months.
Keeping Clean
While most may not think about the importance of skate liners staying clean when they make their purchase, Lake Placid has a surprise guaranteed to make them one of your top picks. This skates liner removes easily so you can wash it in with the laundry, keeping the hours of fun on the ice from becoming hours of misery in the car or closet.
Cost and Value
Once again, Lake Placid saves the parent money without sacrificing on anything else. The boot is comfortable, supportive and durable making it just as valuable in the normal styles as it is in the fact that it can be adjusted to keep up with your child's growing speed.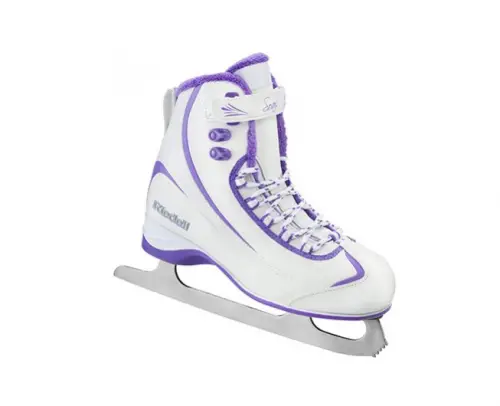 Riedell skates in for a second display of skill on our list with the 625 Soar, a skate built with comfortable lightweight designs in mind. Easy to find fit and comfortable to wear for the long term, Riedell's 525 Soar is a great choice for any beginning skater.
Women's US sizes
Once again making easy sizing possible, the Riedell 625 Soar uses U.S. women's shoe size to size their boots. No need to worry about checking charts or guessing what size might fit you, just put your normal shoe size in and your good to go!
No Pain
The comfort of this skate has proven to be one of its best features. With its soft insulation and support, even the most sensitive feet aren't sore when you go for a few rounds on the ice. Though intended for occasional use, you may find yourself wanting to spend more time on the ice just because you don't have to worry about aching feet later.
Cost and Value
No one wants to have to worry is the cost is too much when they purchase their first skates. For these, the entire range is within great reason. The value of being able to enjoy your activity without paying out large amounts to do so is a great peace of mind, especially for the beginner.

9

. American Athletic Shoe Girl's Tricot Lined Ice Skates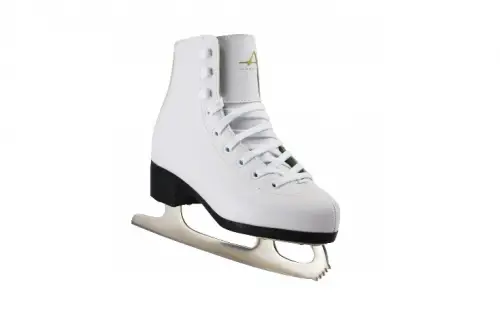 Looking for a warm and comfortable ice skate for recreational use on ponds, or around the rink? These skates are built for the beginner or occasional skater to enjoy simple laps around in comfort and a bit of style. Instead of going for the traditional white, American Athletic wanted to make you feel more stylish with hints of gold throughout the shoe while you enjoy your day out on the ice.
Easy Care
If you are looking for a pair of high-quality ice skates that are easy to take care of, look no further. These ice skates have a durable PVC upper exterior. They can easily be wiped down if any dirt and grime were to get on them.
Comfort
Some skates just need to be broken in at first, others lose support for comfort, and some put safety over comfort. American Athletic took it to a new level for the occasional skater, placing comfort, safety and support all into one package. With these skates; there's an even balance between what you want, need, and should have in an ice-skating shoe. Due to this, even the most sensitive feet can withstand pain while ice skating for quite some time.
Cost and Value
This is one of those times where you do not have to sacrifice having what you need for the price. These skates are on the lower end of the price spectrum without cutting corners. Of course, the value shows in how durable and versatile the shoe is.

10

. Roller Derby Wizard 400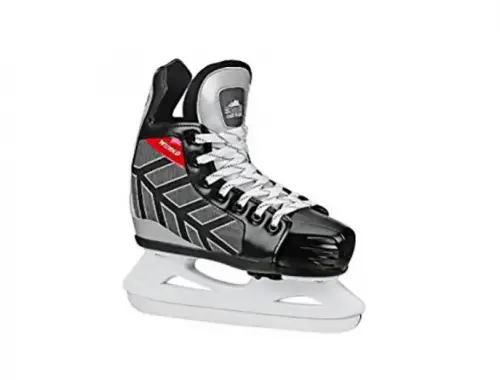 Want to be able to help start up your child in skating while not breaking your wallet and knowing the boot will grow with you? If you need the right hockey skate for your growing child, Roller Derby has just the thing. Their adjustable hockey skates allow a onetime purchase for years' worth of skating.
One size fits
From size 13 youth to size 3 adult, Wizard 400 fits your child's growing needs as they get into the sport of hockey. With easily adjustable straps, you don't have to keep going out and buying a new pair every year.
Length isn't everything
Not everyone has 'skater thin' feet and finding the perfect size in length doesn't necessarily mean it'll fit. For those with wider feet, this is the perfect skate. It fits both directions and on the same size chart. Don't be afraid to try breaking out onto the ice with the wrong size shoe again.
Cost and Value
Comparatively to other hockey skates for beginners on this list, Roller Derby's Wizard 400 skates are inexpensive which makes their value all the more impressive. Not only do you pay less, but you will get longer use than most other hockey skates and not have to buy new ones just because of a growth spurt!

Subscribe to our Newsletter